Important Note: When you buy through our links, we may earn a commission. As an Amazon Associate we earn from qualifying purchases. Content, pricing, offers and availability are subject to change at any time - more info.
Who doesn't love seeing birds in the yard? And you don't need fancy, high tech feeders to keep them happy. We've rounded up some easy DIY bird feeders plus tips for another DIY project that birds will love – a bird friendly garden.
---
Advertisement
---
Tea Cup
Glue an old tea cup and saucer together, rough up the center of the bottom where you glue a copper cap. After the glue dries, slip the cap over a copper pipe or pole/stick of a similar diameter. Stick the post in the garden and fill with seed. Even when they're empty, they look cute.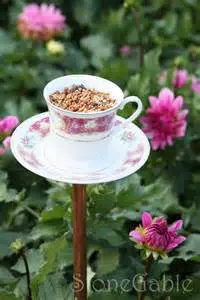 Source: www.pinterest.com
Muffin Tin
This one pictured is from junkmarketstyle.com but you get the idea – a bird buffet! Attach chains to the edges of a muffin pan (drill holes if none are there). The cover is optional. You can instead gather the chains together at the top with a hook to secure and hang.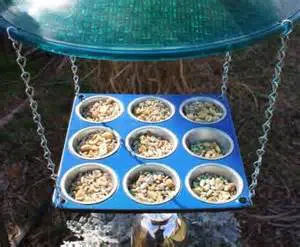 Source: www.pinterest.com
Pine Cones
If you've got pine cones littering the lawn, put them to work! Affix a hanging wire, twine or ribbon to a good sized pine cone then stuff it with store purchased suet or create your own mix of peanut butter, seeds and nuts.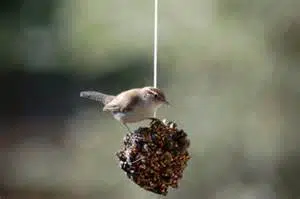 Source: micritterchitter.wordpress.com
Re-purposed Cans
Cleaned an painted cans of all size make decorative and functional feeders. Larger cans will give the birds a place to hide. Just not so sure that these ribbons are going to be all that sturdy. Punching 3 holes – 2 at the opening at around 10 and 2 o'clock and one in the back and then slipping wire or twine (making a knot to hold) might be more secure.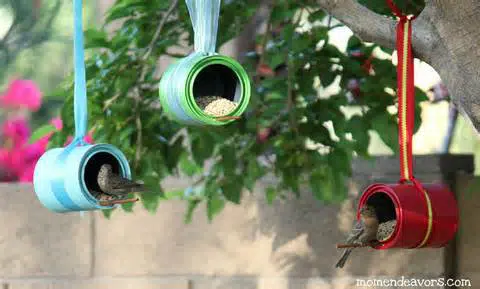 Source: www.momendeavors.com
Oranges
This is so clever – not only because it's entirely edible but the orange rind attracts Orioles, Tanagers and other species you might not normally see. Hollow out your orange (you can chop the insides and use as food if you're not using it) and fill with seed. For a hanging version, make a several holes to thread the twine through (I use 2 pieces instead of the one shown) and gather/knot at the top.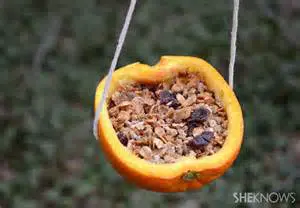 Source: gurutotheoutdoors.com
Slinky
Woodpeckers, Jays and a host of other birds and "critters" love in the shell peanuts. An old Slinky makes a great wreath to hold them. Make a large circle out of heavy gauge wire (or an "unraveled" wire hanger) then thread it through the slinky. Finish closing the wire circle and overlap the slinky to attach the ends. Secure the slinky connection and at 3 inch intervals to the circle to keep the slinky in place.
Source: birdsandbloomsblog.com
Sock Feeder
Finches and other small birds love thistle seed. Use any of the materials shown to make a sock/bag to hold this small seed and provide enough "grip" for birds to cling. If you have a large mesh bag fill that with shelled peanuts for the bigger birds. A pull thread is a nice touch, but you can gather the top and secure with twine instead.
Source: www.pinterest.com
Clay Pot and Saucer
Thread wire rope through 2 saucers between an orchid clay pot (they have drain holes on the side) and you've got an all-weather and good looking feeder. Make the perching saucer the size shown for smaller birds or use a larger diameter saucer for larger birds. Full instructions here: http://www.thegardenroofcoop.com/2013/02/flowerpot-feeder.html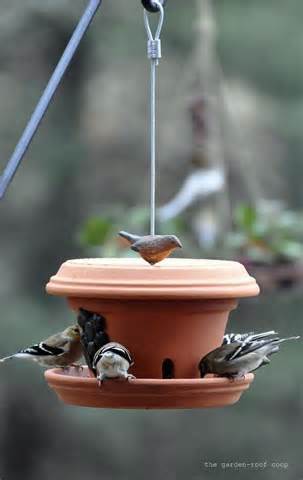 Source: www.pinterest.com
Shaped Suet
A silicone mold or cookie cutter is perfect for these formed seed bundles. Use the suet recipe here – http://birding.about.com/od/birdfeeders/a/simplesuet.htm or mix 3 cups of birds with 2 1/4 ounce unflavored gelatin packets. (Note that the gelatin version doesn't hold up well in the rain…). You can use these in suet feeders, to place on trays or branches, or make a small hole for a twine hanger.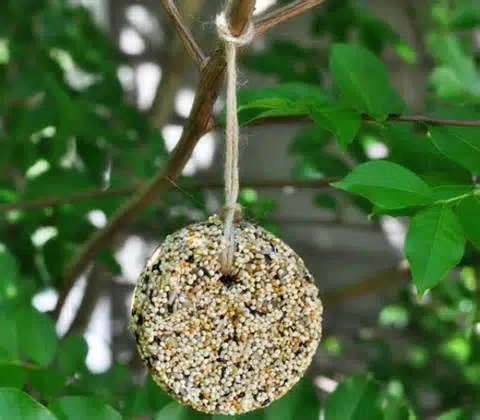 Source: www.pinterest.com
Bird Garden
Instead of spending money on seed, spend it on bird friendly plants. Shrubs or small trees like chokeberry, serviceberry, dogwood, junipers and holly are just a few easy to grow berry producers that birds love. Add seed bearing flowers like daisies, sedum, marigolds, asters and of course, sunflowers and you'll have not only a bird paradise but a beautiful, all season garden.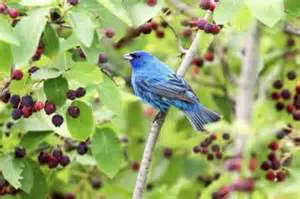 Source: www.birdsandblooms.com