Can You Really Get Free Cell Phone Service and a Free Phone?
Important Note: When you buy through our links, we may earn a commission. As an Amazon Associate we earn from qualifying purchases. Content, pricing, offers and availability are subject to change at any time - more info.
We got a message the other day asking if we knew of any free cell phones and service providers. So we decided to do a little research. The short answer is yes. But, there are some things you need to know. Read on for our overview of free phone services and low cost providers.
Free Government Phones and Service
The federal government's LifeLine plan has been around for decades. US citizens can get a free phone and free cell service if they qualify. States run the programs and each has its own set of requirements so search for LifeLine in your state.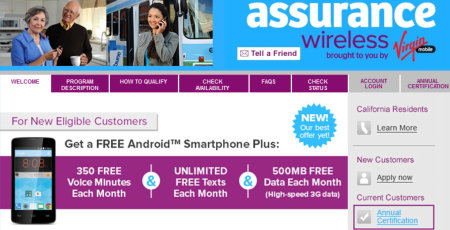 The state plans are managed through authorized third parties. Unless the sites say they're a LifeLine supported service, they're likely one of the many fraudulent sites looking to cash in on the program. To find a list of authorized LifeLine partners, search for LifeLine providers in your state.
Free Phone and Service Providers
Companies like FreedomPop and Ring Plus will give you a free phone and a free cell plan BUT there are several catches. There can be activation fee – plus, when you sign up for the free trial, paid services which take effect after the free trial may be added to your account by default.
After going through the hoops to "uncheck" these paid services, you can actually get free service. BUT, the talk time, number of texts and data quota are all skimpy. And, if you go over the free limits, you'll be charged pretty high fees. Worst of all, the phone features, call quality and data speed on the free plan leave a lot to be desired. Watch the video at the end of this section for all the gory details on FreedomPop. While they do offer better paid, plans, unless you only want a phone for emergencies and limited communication, these free plans are a bust.
Bring Your Own Phone and App WiFi
If you have a cell phone with wi-fi – and, if you're lucky enough to live in an area with a lot of public wi-fi networks – you can make calls, text and browse the web using free networks and your existing phone. You'll just need a mobile app like Viper, MagicApp, Vonage, Tango, Skype or Google Voice to do it. In most cases, the people you want to call or text need to be on those networks. If not, you can buy "credits" for out of network activity. And while some give you an actual phone number, others charge for one. Review the features, upgrade pricing and coverage (US, Canada, etc…) to determine which service has the features that work best for you. And a tip for Android users – take a look at
CSipSimple
– an easy to use, open source app for voice and text that doesn't require membership of any kind.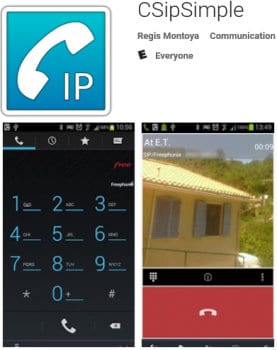 Low Cost Providers
If none of these sound appealing, how can you save money on cell phone service and get decent coverage? We stumbled on this
round-up of low cost services on PC Magazine
. Bookmark it!! It's a roundup of cheap cell phone providers organized by your usage needs.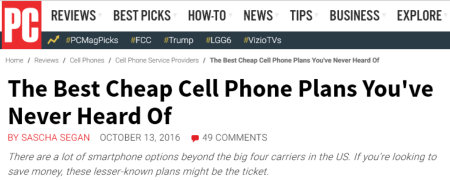 Pre-paid phone plans can also work. There are two kinds. Those with flat, monthly charges and "pay as you go" plans. Monthly plans run in the $25 – $30 a month range. Pay as you go are priced by the text call or amount of data (e.g., 5 cents per minute call time) or by an allotment, e.g., $3 for 30 minutes' call time. Check for coverage (Cricket is well rated for those who live in rural areas), data rollovers and whether you can bring your own phone. One more category to look at is "wifi first" providers. Scratch Wireless and Google (Google Fi) both offer special phones built to look for wifi signals first before connecting to a cellular service. The reviews are mixed on how well these work, but it's something to keep an eye on as we continue on our money saving mission.