Best Free TV Apps For TV, Movies, Sports, Games & More
Important Note: When you buy through our links, we may earn a commission. As an Amazon Associate we earn from qualifying purchases. Content, pricing, offers and availability are subject to change at any time - more info.
Key Takeaways
There are many free streaming services available to the general public.
Some streaming services will not allow you to connect to them if you are not in the US. You can use a free VPN service like ProtonVPN to help.
Not all streaming services are legal, so ensure you read about them before using them.
Free tv services usually use advertisements to fund their shows and pay their employees, so you can expect regular ad breaks. 
Not all of these free tv services are the same, and most offer different content. Some may also swap out the shows on offer or have older content only.
Also, don't forget your cell phone plan or library card for free TV options as both can be hidden sources of free entertainment.
Everyone loves watching their favorite shows, and it is just so much better when it's free. With the sheer amount of streaming services on the market, it's nice to find all your favorite shows in one place and with no extra cost. Not all free streaming services allow you to watch the same shows, though, so it's also good to know what's available and where to find it.
---
Advertisement
---
The Best TV Apps & Services You Can Use For Free
There are many reasons you might want to use a free tv service. The most common reason is to save some money. With that in mind, many people have been able to create apps and services and allow you to use them free of charge.
However, not all of these tv streaming services are created equal, and some offer shows and streams that others don't. The reason for this is usually distribution rights that have to be bought or rented, and that is also the main reason why free services generally use ads.
Some apps and services on this list will require you to be located in America to use them, though this is not the case for all of them. If you are traveling or do not stay in America, you can use a Free VPN service to help you access these apps or websites without any problems.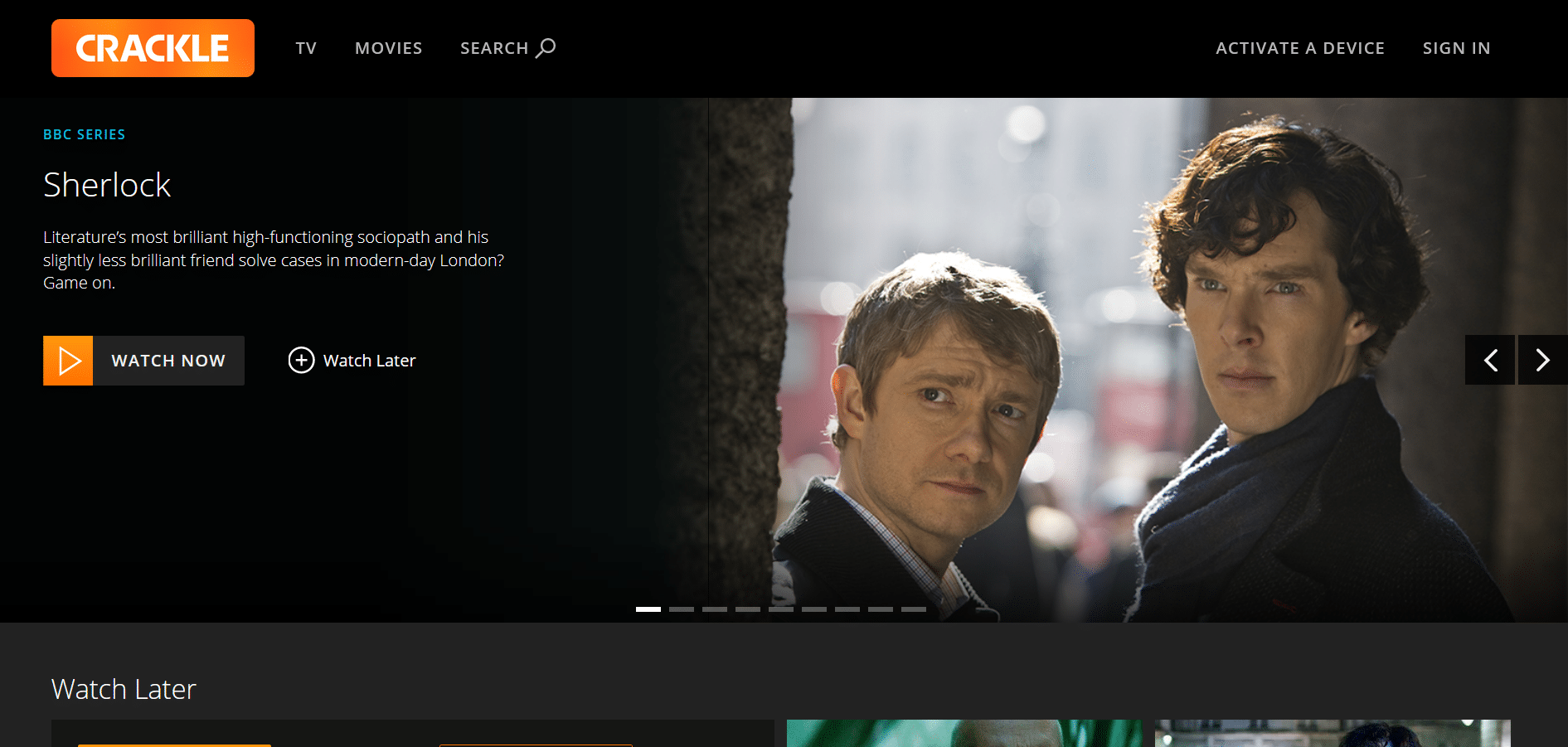 Sign-in Required: No
Offers: TV series & Movies
Offline Capabilities: No
Ad-breaks: Yes
Available on Devices: PC (web player), Android 6.0 +, IOS 4.0 +
Crackle is one of the leading free TV and movie services available today on PC, Android, and ISO devices. Crackle is also accessible on different internet-connected consoles such as the most recent Xbox and PlayStation.
Crackle aims to provide free TV series and movies to its users in the US and US territories through ad sponsors. Ad sponsors mean that you will have to watch ads every so often, as this is how the business is supported and kept accessible.
The variety of content available on Crackle is limited, though, and some shows may appear and disappear from time to time as the licenses have to be renewed and paid to continue airing a specific show.
Crackle does its best to consider the recommendations of its users and continue to add new shows and movies as they can. Crackle is also working on adding features to help the visually impaired.
To use the Crackle Web Player, visit their website or download the Crackle app on Android or IOS.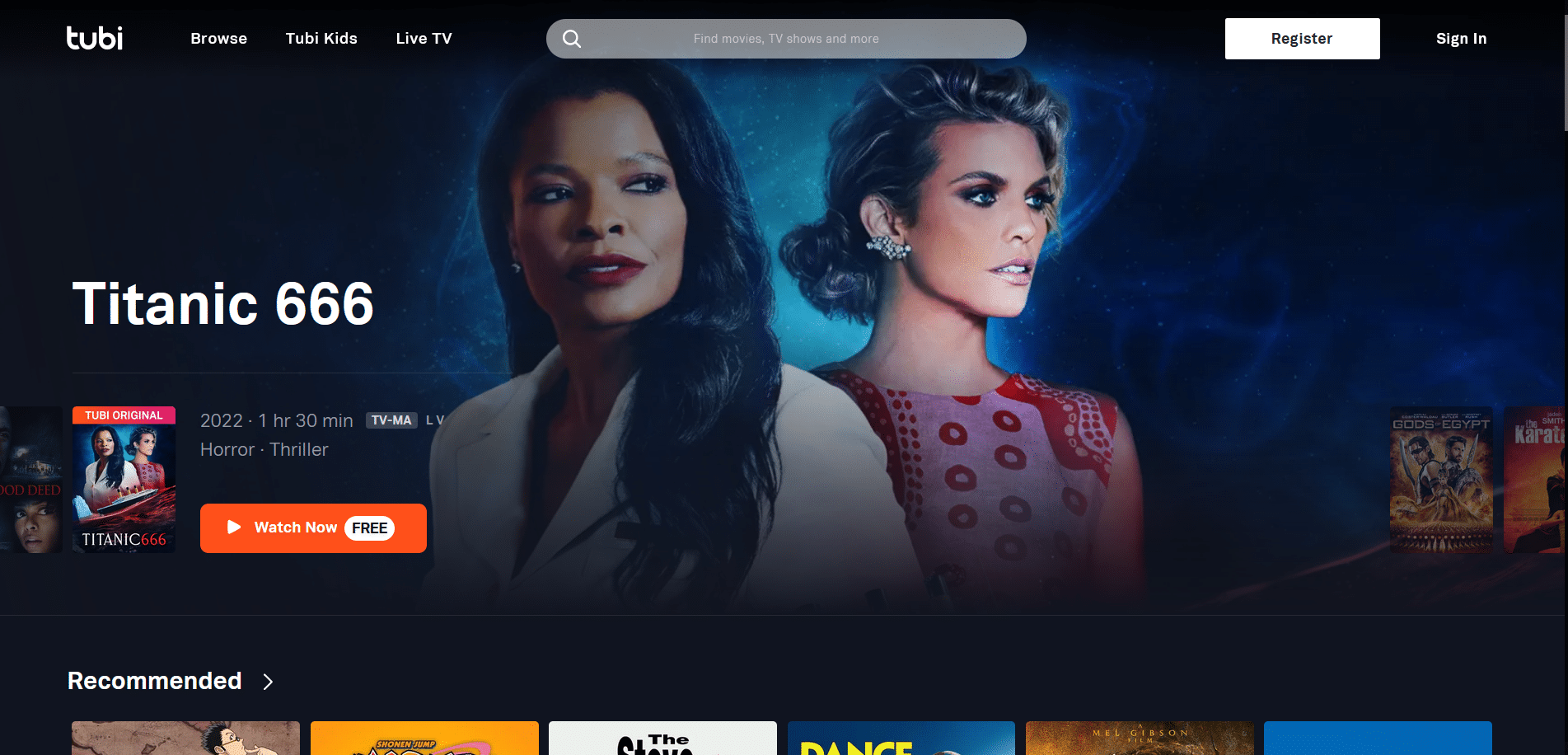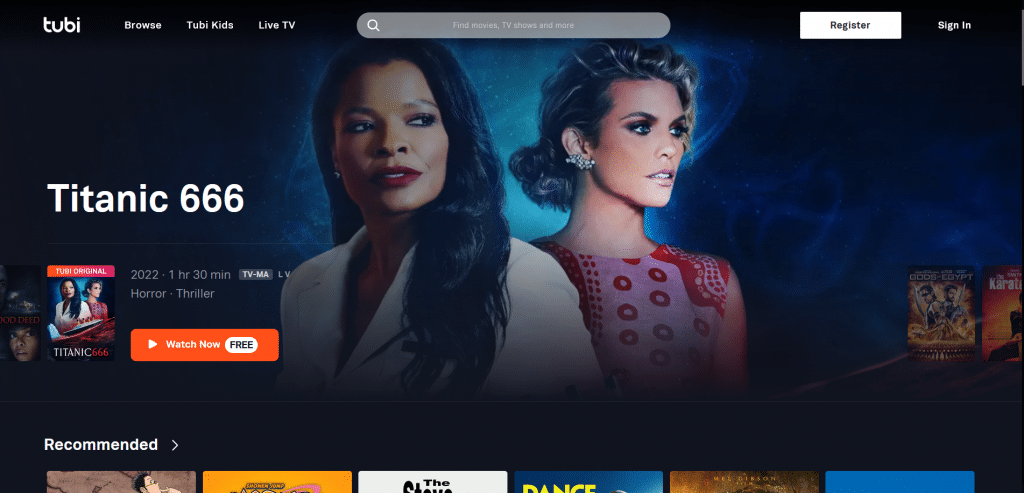 Sign-in Required: No
Offers: TV series, Live News, Anime, Movies & Sports
Offline Capabilities: No
Ad-breaks: Yes (Fewer ads than cable)
Available on Devices: PC (web player), Amazon Fire, Android & IOS
Tubi is a free tv service that forms a part of Fox Entertainment. Tubi is an ad-sponsored service accessible on many devices such as your PC, Amazon Fire, Android, or IOS devices.
This service is available to those in America, Canada, Mexico, Australia, and New Zealand but is accessible through a VPN from anywhere in the world. Thanks to Tubi's partnerships with other entertainment organizations, this service offers plenty of content, including live news and sports, which some other services cannot do.
Tubi allows its users to make recommendations to help keep them interested and satisfy the people the app and service aim to help. The content this service offers is also constantly changing, and they are always busy adding new shows and movies.
To find out more, install the app, or watch tv on your PC, visit the Tubi website.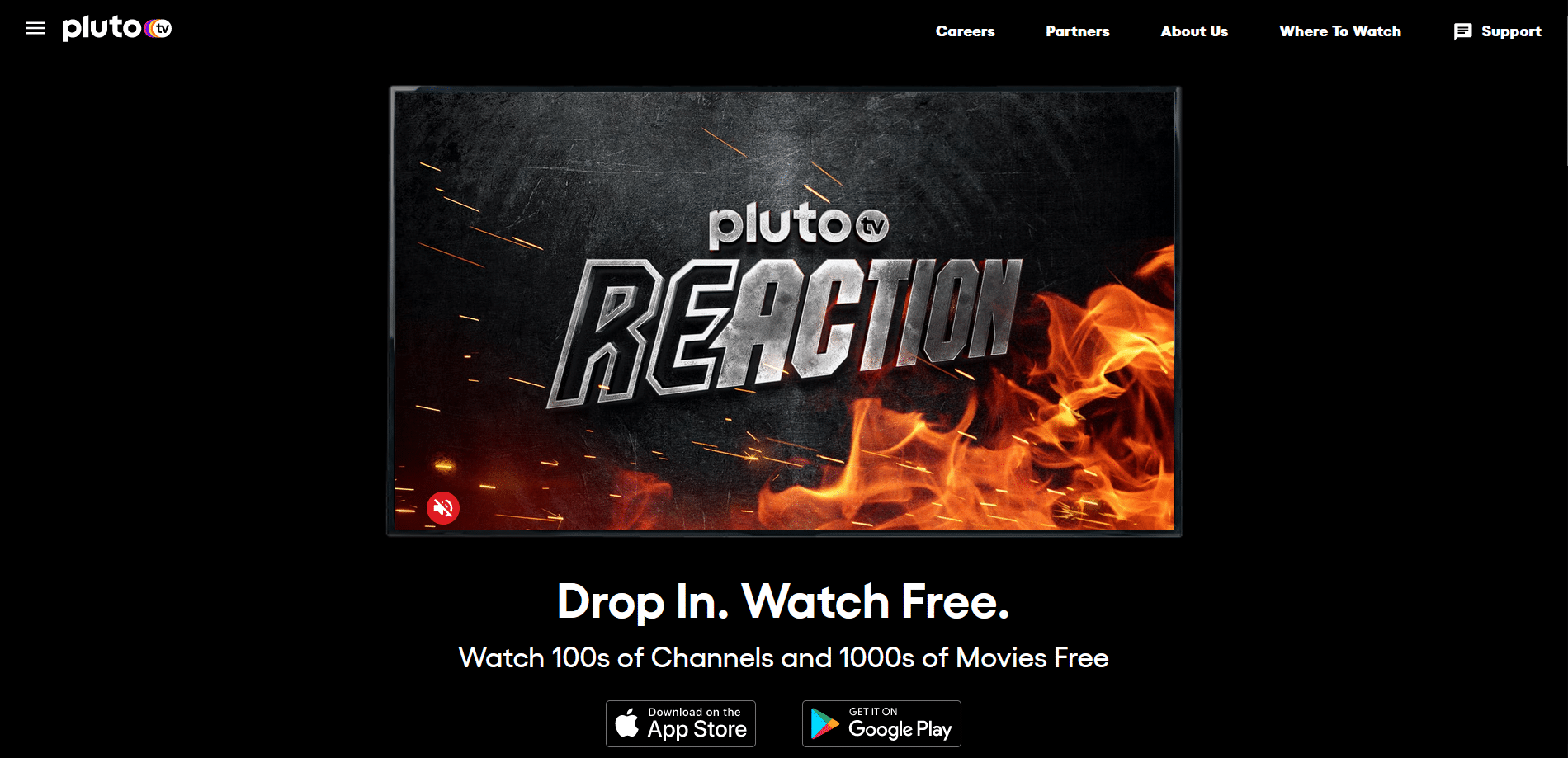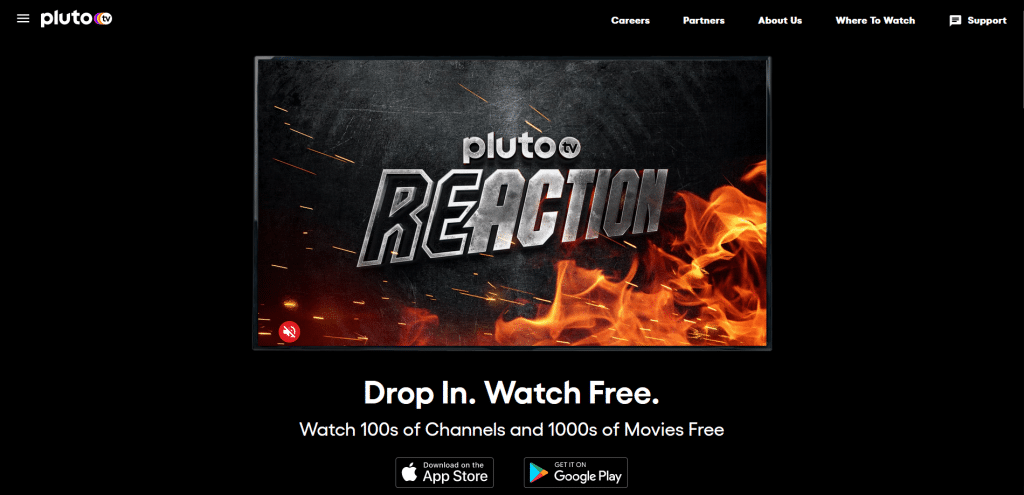 Sign-in Required: No
Offers: TV Series, Live News, Movies, Sports & Different Live Channels
Offline Capabilities: No
Ad-breaks: Yes
Available on Devices: PC, Amazon Fire, Android, IOS, Smart TV & consoles
Pluto TV is a brilliant, easy-to-use, and overall, very accessible TV streaming service. This service offers you the ability to watch both live TV and on-demand tv from many devices using their website or the apps available for many devices.
Pluto TV is also one of the most popular free TV services, with around 50 million monthly active users that use this service. Like most other free TV services, Pluto TV is an online-only service and does not allow you to download content, this is because the live content features ads and ad sponsorships keep this service free to use.
Another feature of this TV service that makes it stand out is the inclusion of a channel guide, which is less common on free tv services. This guide makes it easy to see what is on live tv and when it is on, allowing you never to miss a show.
If you want to learn more about Pluto TV, start watching, or download the app, visit the Pluto TV website.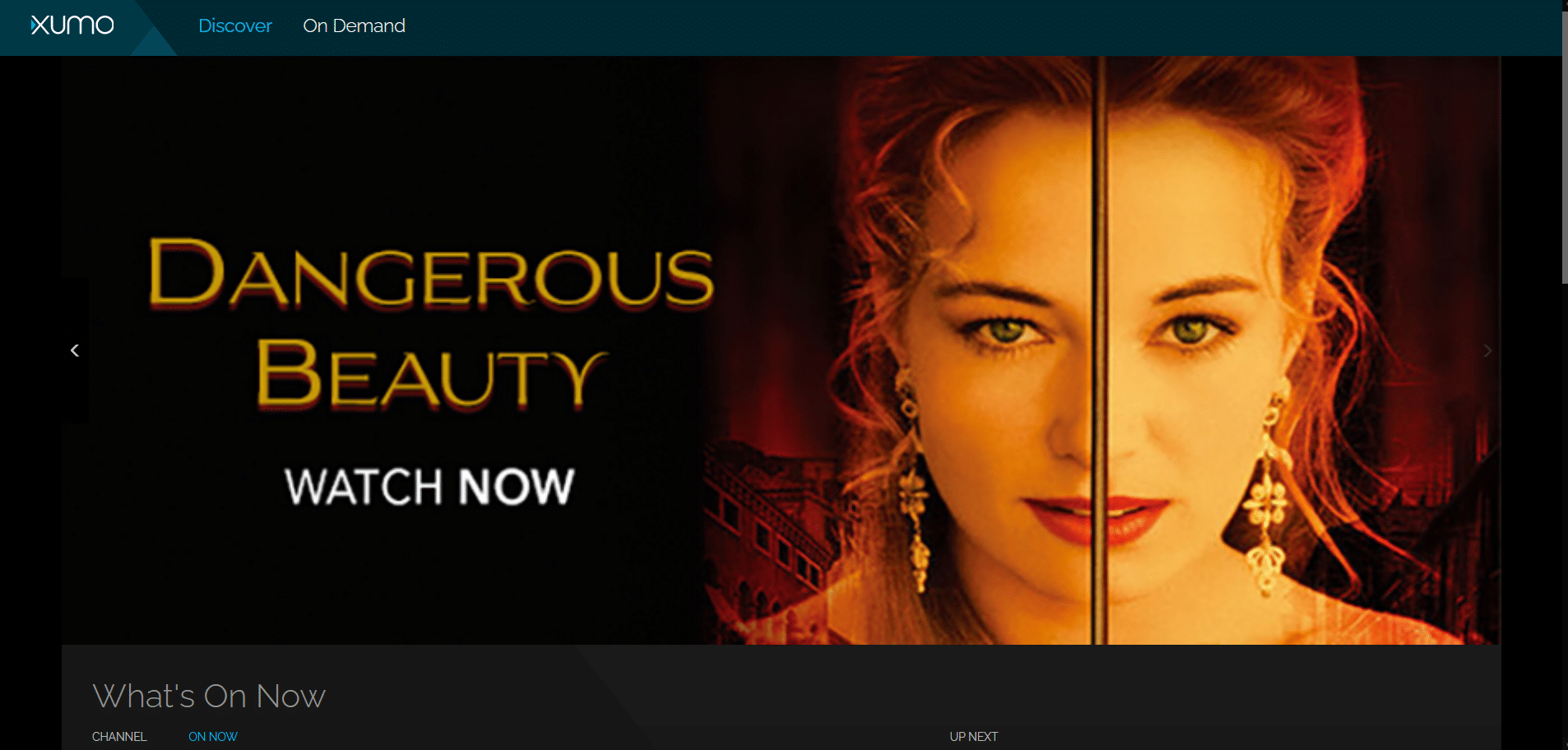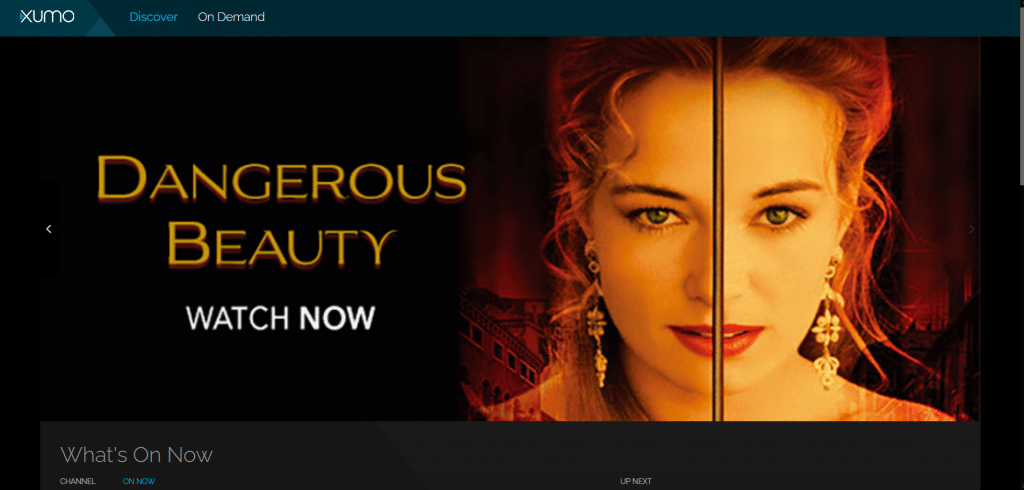 Sign-in Required: No
Offers: Live TV, Sports, News, TV Shows & Movies
Offline Capabilities: No
Ad-breaks: Yes
Available on Devices: PC, Android, IOS, Smart TV
Though the Xumo website can be tricky to navigate, they offer an online tv service as good as paid services. Xumo is available on most online devices and has made deals with some Smart TV manufacturers such as Hisense and Sony to available there too.
This service offers a vast library of shows, movies, and more that you can access without signing in or creating an account, primarily if you use the web player. Xumo is also an international business, allowing you to use their service from various countries around the globe.
Not only is Xumo a free service, but it is also constantly looking to improve and make the service easier to access and free for all people. Xumo has partnered and is still looking to partner with as many device manufacturers as possible to ensure that their app is freely available to anyone wanting to use it.
To find out more or download the app, visit the Xumo website.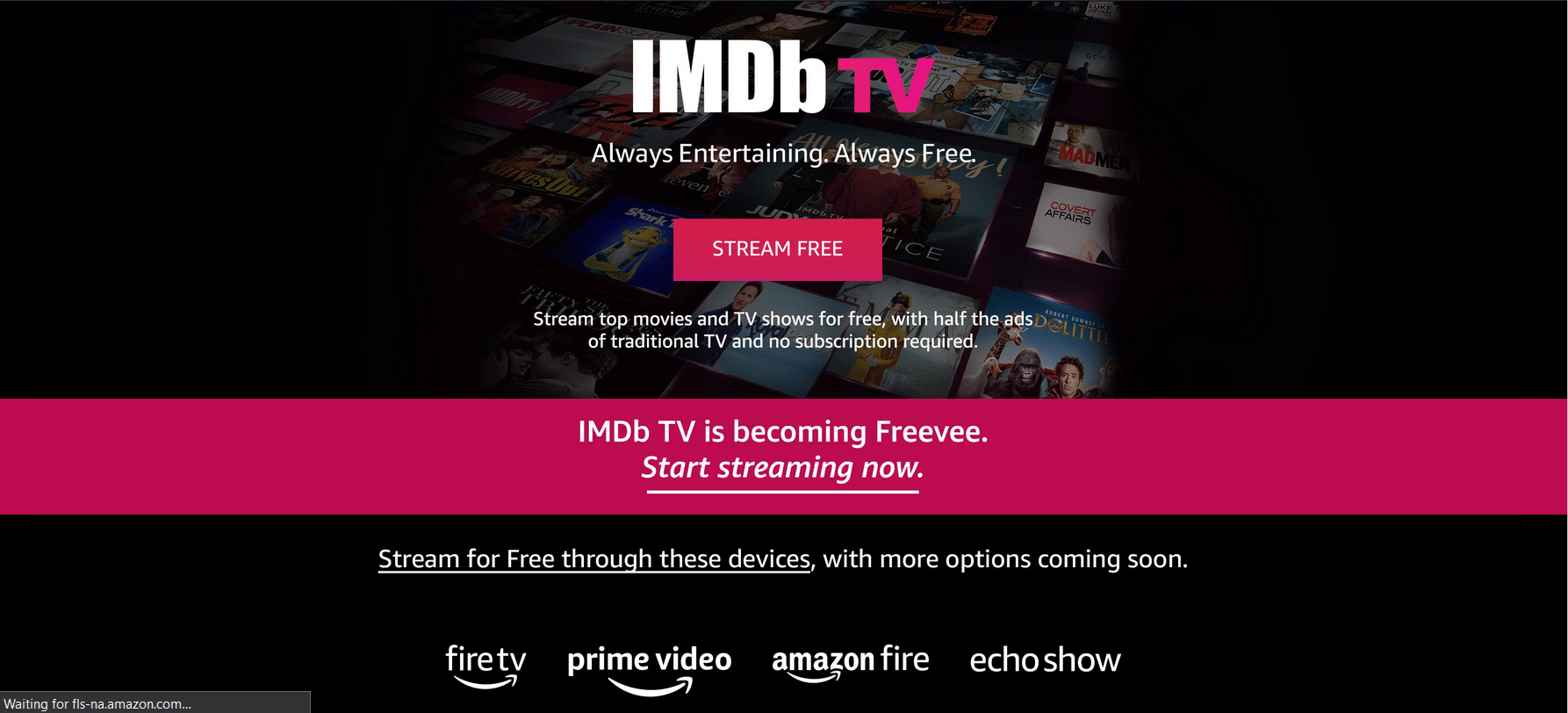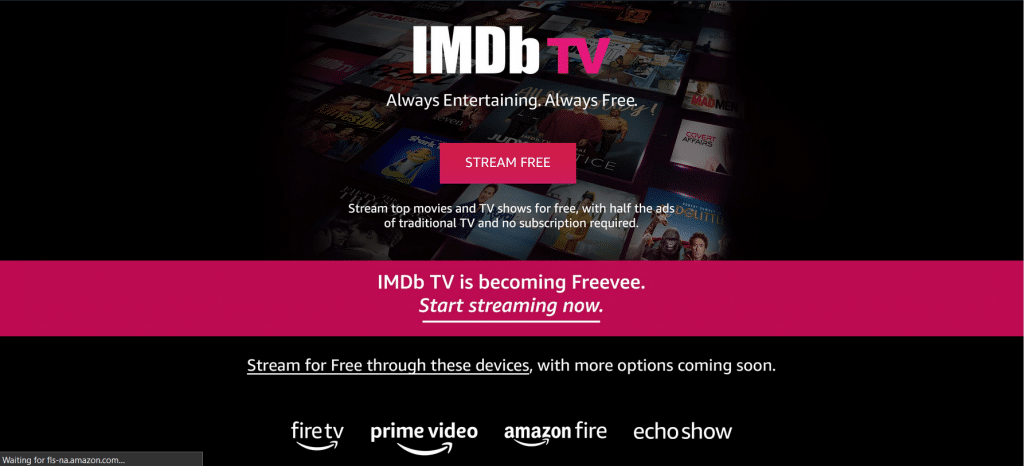 Sign-in Required: Yes (Amazon)
Offers: TV Shows & Movies
Offline Capabilities: No
Ad-breaks: Yes
Available on Devices: PC, Android, IOS, Smart Tv
Freevee from Amazon is partnered with Amazon and Amazon Prime, making it an easy to use, widely accessible, and content-rich free show and movie streaming service. When using Freevee from Amazon, there is no option to download content, as downloading content is done through a paid service also given by Amazon called Amazon Prime.
Freevee from Amazon does not offer you the chance to watch live tv, news, or sports but does offer a wide variety of movies and series that you can watch with small ad breaks during the content. Freevee from Amazon uses ads to sponsor the content it provides to ensure that it stays free and easily accessible.
Since Freevee forms a part of the Amazon services range, you will need to create an Amazon account, and you must be signed in to watch anything more than trailers.
To watch content on Freevee from Amazon or to download the app, visit the Freevee from Amazon (formerly IMDb TV) section of the Amazon website.
Plex
Sign-in Required: No
Offers: TV Shows, Movies & Live TV
Offline Capabilities: No (Not For Free Version)
Ad-breaks: Yes
Available on Devices: PC, Android, IOS, Smart TV Etc.
Plex is another free tv service that you can use both on your PC's web browser or in the form of their app that you can download on almost any device. This service offers a library full of content from Plex and other streaming services.
This service claims to be the best and says that "Plex marks the spot" for all your free streaming needs. Plex offers you the option between live and on-demand tv and movies but does not seem to include news or sports channels.
The Plex website allows you to watch content online without signing in to an account. However, if you want to download your content, you must create an account and upgrade to premium.
Plex is a highly rated service and has four stars or above on all app stores and platforms you can use to download the app. Plex is also adamant about being the one proper replacement for cable tv and wants to be a household name supplying tv to all.
For more information on this service, watch online, or download the app, visit the Plex website.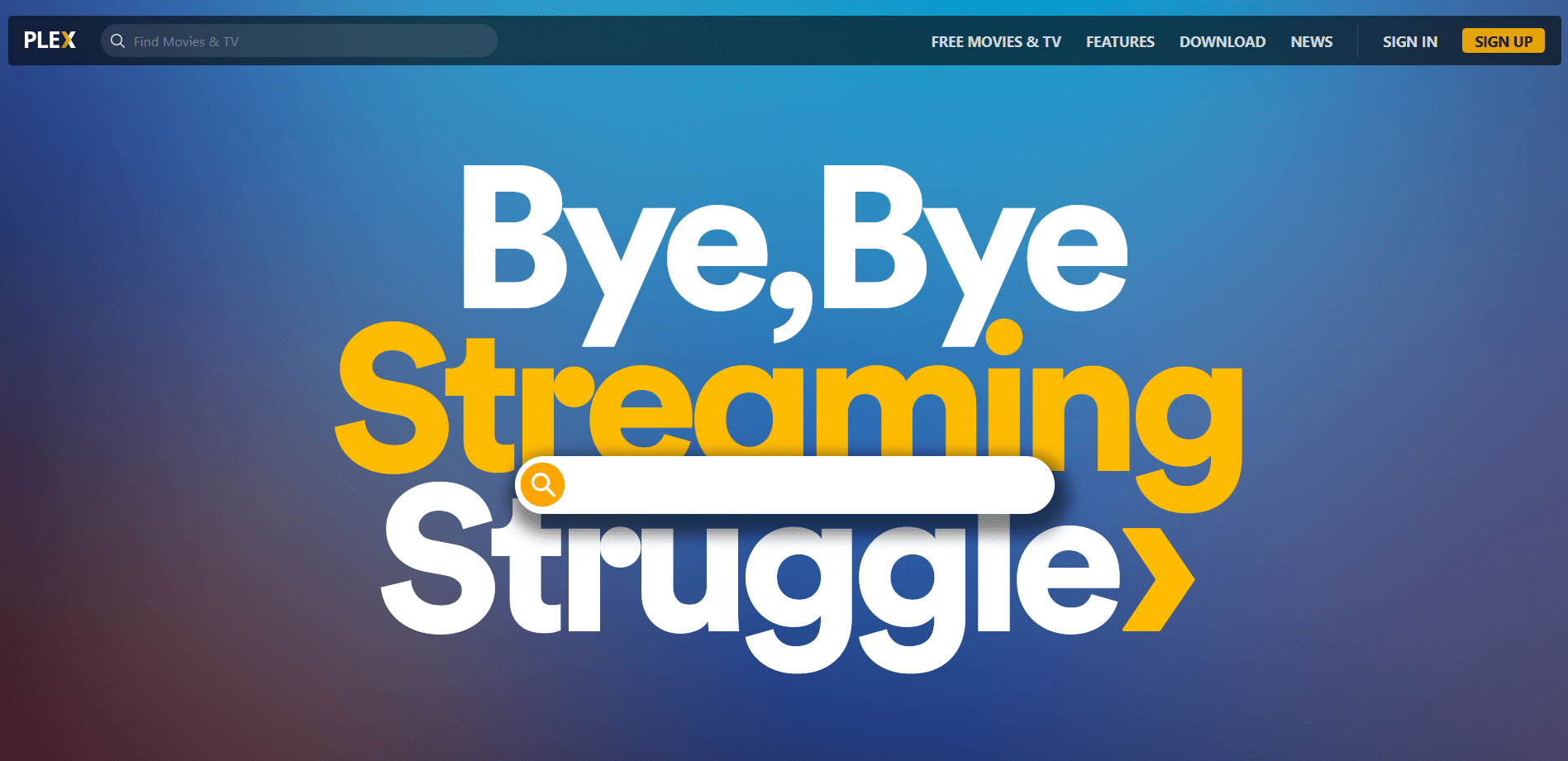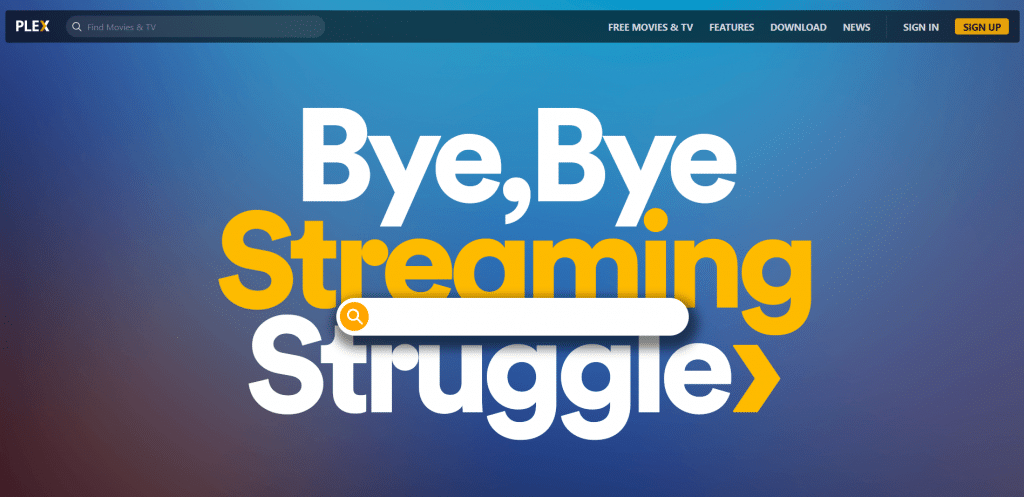 Sign-in Required: Yes
Offers: TV Series & Movies
Offline Capabilities: Not On Free Account
Ad-breaks: Yes
Available on Devices: Windows PC, Android & Apple App Store
Though a brilliant service with a lot to offer, Vudu requires you to sign in before watching any content on its platform. Vudu also has a premium offer to watch all available content with no ad breaks.
Vudu is accessible both on your PC through a browser or the app available for most Android, IOS, and Windows devices, but is also available on other devices such as smart TVs and consoles.
Originally Vudu started as a "set-top box," but it has since evolved to allow more for more users and better features. Vudu is also widely used, with over 60 million registered users in the US alone. The wide variety of content available for free, purchase, or unlocked when you make a premium upgrade makes Vudu one of the most desirable Online TV services available.
If you wish to learn more about how Vudu works or download the app, visit the Vudu website.
Also Consider
Consider your internet or cell phone plan. AT&T for example offered free HBO. Netflix was free for Verizon FIOS users. Free TV subscriptions are commonly being used to lure in new customers, or even for existing customers. Be sure to look over your promotions for your cell phone or internet bill, you may have a free subscription waiting for you already.
Do you have a library card? There are loads of freebies that you can get with your local library card. The best benefit being access to Kanopy which is an entertainment subscription service where you can watch free classic movies and more with a library card.
Related Questions
Knowing what the best free tv services are is all good and well, but there might still be some other questions you would like answered.
If you have a question, we might have the answer. Some commonly asked questions are answered for you below.
Why Aren't All The Shows I Know Available?
Most of the free tv apps and services available to the public have a limited amount of shows that they can allow you to watch at any given time. This unavailability of tv series or movies is usually due to the money needed to sustain this service.
Some of the reasons your favorite shows or movies might not be available include the following:
There isn't enough space on the servers to host these shows or movies, and upgrading the space can be very expensive.
The licenses that the company needs to purchase or rent to allow the service to air the show or movie are too expensive.
The amount of people wanting to watch that show or movie is too little to justify the additional expenses to the company offering a free service.
Why Do Free Apps & Services Use Ads?
When a company or organization offers a service for free, they are not making any money to pay their staff or to pay for the content they provide. For this reason, these apps and services use ads and partners.

By having ad breaks and ads for users that are using the service for free, the service provider can make money to keep the service free, maintain the servers and provide the staff with payment for their work. If you are using a free TV service that is not using ads to make money, there is a rather big chance that the app or service uses illegal practices to get its content.
Can I Use A Free TV App Without A VPN
Yes, most of the time, and if you are in a supported country, you can use a free TV app or service without using a VPN. However, there are upsides to using a VPN for watching content on a free TV app or service. For example, not all available services are 100% safe to use. Safety is something a VPN, even a free one, can help you achieve. 

If you are not in a country where this service or app is available, you might have to use a VPN if there are no apps or services that include support for your country. There are loads of free-to-use VPNs that you can use to watch online content, though most of them are not the fastest.