Important Note: When you buy through our links, we may earn a commission. As an Amazon Associate we earn from qualifying purchases. Content, pricing, offers and availability are subject to change at any time - more info.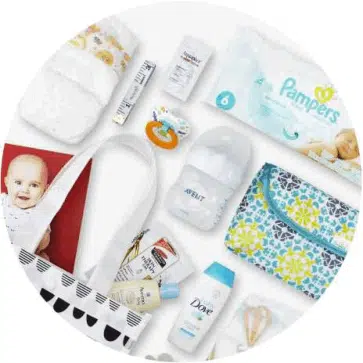 If there's a baby in your future, congratulations! And whether you're having a shower or not, setting up a registry is a good way to get free product samples, checklists, advice and coupons and discounts on all things baby. Plus, for good or bad, you'll be on the "list" which means you'll be getting email and snail mail offers – some of which will be quite useful.
---
Advertisement
---
Here's the lowdown on the freebies and discounts for all the major baby registries. We've also included some manufacturer sites that have bonus/loyalty programs for using their baby products.
New this year is the "universal registry" feature. Stores and sites offering this require you to add a bookmark to your browser. Once installed, you can click on the bookmark (you will need to log into the store site) if you find something you want to add to your Registry. If a link isn't provided for the bookmark, check the site's Registry FAQ for how to get and install it.
You'll also find that stores with mobile apps now include the ability to scan products directly into your Registry. So, if you're out and about and see something you like, scan the barcode and it will appear in your Registry list.
Store Baby Registries
Target
Welcome gift (pick up from Guest Services in store) with $50 worth of coupons and samples plus 15% off anything left on your registry (called a completion discount). Returns for unused items are accepted up to a year after your due date. Integrates with TheBump.com plus there's a special Target Registry mobile app separate from Target's store app. New features include a universal registry that can add items from other sites, gift tracking and gift grouping that lets people contribute towards more expensive gifts.
Amazon
You'll need to be a Prime member to get the freebie Welcome box (requires a first purchase of at least $10), opportunities to claim rotating special offers and get the higher completion discount (15% vs 10%). Still, with hundreds of thousands of well-priced product, free 90 day returns, integration with TheBump.com and a universal registry feature Amazon's baby registry a must
Babies R Us
Up to 10% cash back on purchases others (or you) make from your registry, 15% completion discount, free classes, one year returns and price matching guarantee. No sign-up gift but has integration with TheBump.com and they've got their own baby registry mobile app.
Kohl
No free gift, but you do get announcement cards to send with a 20% off $100 or more spent on registry items, a 15% competition discount, integration with TheBump.com and a mobile app.
Walmart
Welcome gift box, price matching and free returns. Plus integration with TheBump.com and your registry is accessible from Walmart's mobile app. Many items will ship for free in 2 days.
Buy Buy Baby
Goody bag (in-store pickup) with coupons and samples, registry announcement cards, baby guides, access to exclusive offers/savings, price match guarantee, discounts on personalized stationery, referral program, integration with TheBump.com. New features include a universal registry (called Quick Picks) plus an option to share/copy registries with friends.
Pottery Barn Kids
20% completion discount plus 10% discount on "multiples" purchases (i.e., more than one of the same baby item), design services, integration with TheBump.com.
Baby Earth
Eco friendly/sustainable products for baby plus 5% rewards programs for you and those who buy from your registry. Also offers a 10% completion discount, integration with TheBump.com and one year returns.
The Land of Nod/Create & Barrel
10% competition discount, 10% multiples discount, integration with TheBump.com and design services.
The Baby Depot/Burlington Coat Factory
Baby guides, discount on 2-year subscription to Parents Magazine and contests/sweepstakes entry signup.
Other Registries
While there are no registry benefits for signing up from these companies, if you have an interest in the store's products or these stores are nearby, here's where you can sign up.
And don't forget to check out our regularly updated list of free baby samples and offers right here!