Apple iPhone & Google Android Phone Trade-In Deals List
Important Note: When you buy through our links, we may earn a commission. As an Amazon Associate we earn from qualifying purchases. Content, pricing, offers and availability are subject to change at any time - more info.
Key Takeaways
Many smartphone brands offer some kind of official buy-back, trade-in, or upgrade option.
Some cellular networks or mobile carriers offer trade-in deals.
Sometimes other stores like Amazon or Best Buy will also offer trade-in deals.
When all else fails, simply trading or selling your old phone on an online marketplace or to a friend is also an option. You may even get better value this way.
Smartphones can be almost like a drug. We're not even talking about social media addiction; we're talking about the smartphones themselves. We can get the latest and greatest today, and when the next model releases tomorrow, we already want the bigger, better one. Thankfully, there are options to trade in our smartphones. Let's look at some of the best deals for iPhone and Android.
---
Advertisement
---
You can get the best trade-in deals for your old iPhone or Android phone from these 10 places, depending on its condition:
The 10 Best Options To Trade-In Your Old Smartphone
To stay on top of the latest technology, or just the latest trends, we definitely want to have the best smartphones. A trade-in deal is always a good option. But as you will soon see, it's not always the best option. Sometimes it's better just to sell your phone and buy a new one. But let's compare some of the best options out there so you can decide for yourself which one is best for you.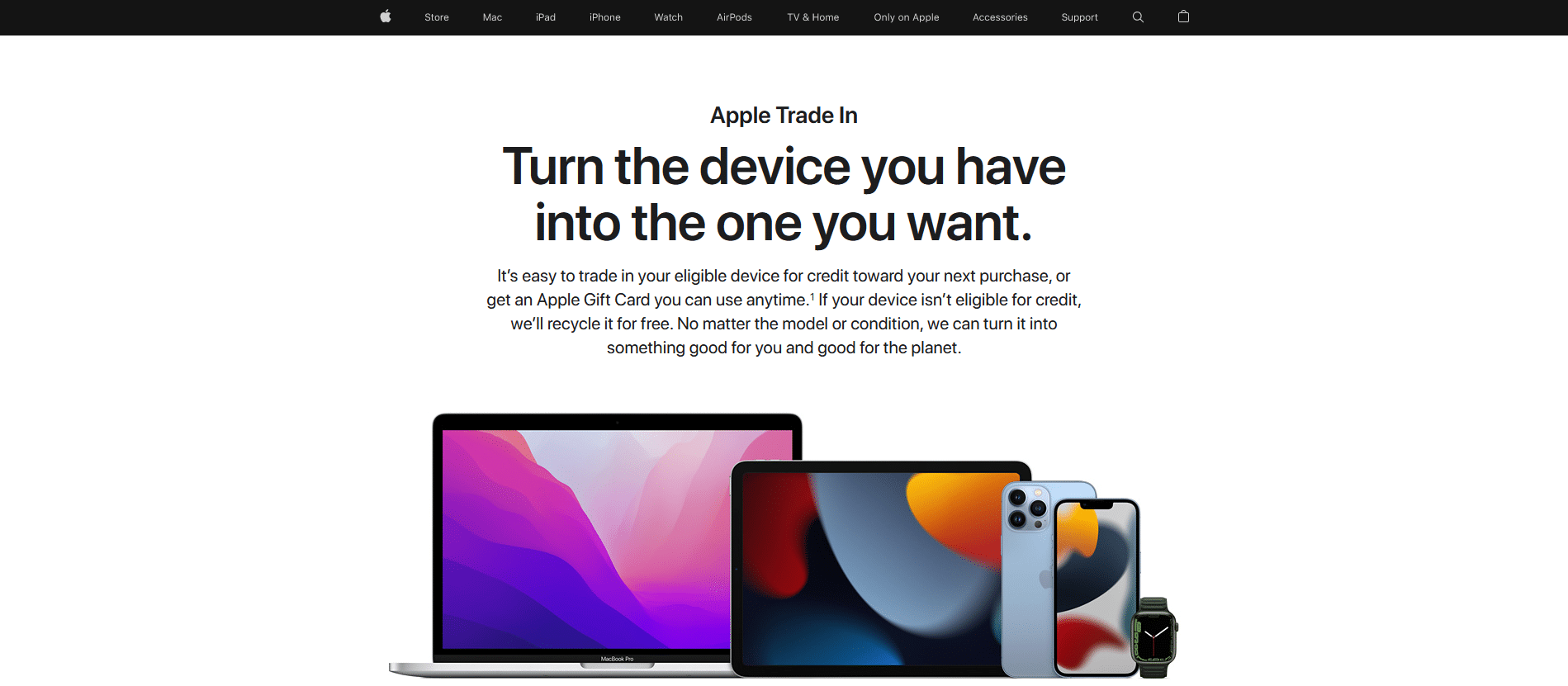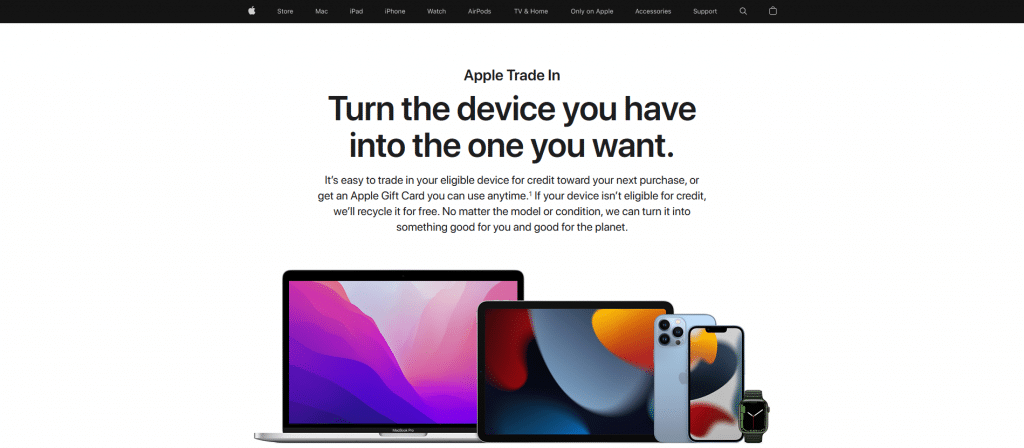 If you want to upgrade to the latest iPhone, this might be the best option for you. Whatever phone you're upgrading from, Apple's got you covered. Depending on where you are in the world, there are a few ways to trade in your old iPhone directly at Apple.
The first is Apple's Upgrade option. This option applies to people who already have an iPhone, but they want the latest model. To do that, you simply take your iPhone in to Apple and apply for an upgrade. They will complete the paperwork and make an offer based on the model of the phone you're trading in, its condition, and the current market value of the phone.
If you're happy with the agreement, you can go ahead and upgrade. They will give you a certain amount off the price of the new iPhone model you're buying, based on the offer they made you. This only applies if you're buying a new iPhone immediately, though, and the iPhone you're buying must be brand new, not second-hand.
Apple also offers an option that they call Trade-In. This is for those who are currently using an Android phone, but they want to switch to an iPhone. Apple will make you an offer for your old phone that they will pay out as credit towards buying a new iPhone. They accept a wide range of different devices, brands, and models. If they do not wish to buy the phone, they will recycle it.
You can trade in your iPhone at Apple for anything ranging from ±$30 for an iPhone 6S to ±$650 for an iPhone 12 Pro Max. iPads can be traded in for anything between $200 and $700. You can get between $30 and $370 for a Samsung Galaxy and $35 to $215 for a Google Pixel.
When you trade in your old phone, Apple's staff will assist you with transferring all your data and information from your old phone to your new iPhone; they will then also show you how to safely erase all your personal data from the phone before you hand it in to them. After handing it in, they will often refurbish the phone and re-sell it as a second-hand phone.
With all the extra effort the Apple staff put in, this is one of the best trade-in options if the latest iPhone is the phone you want.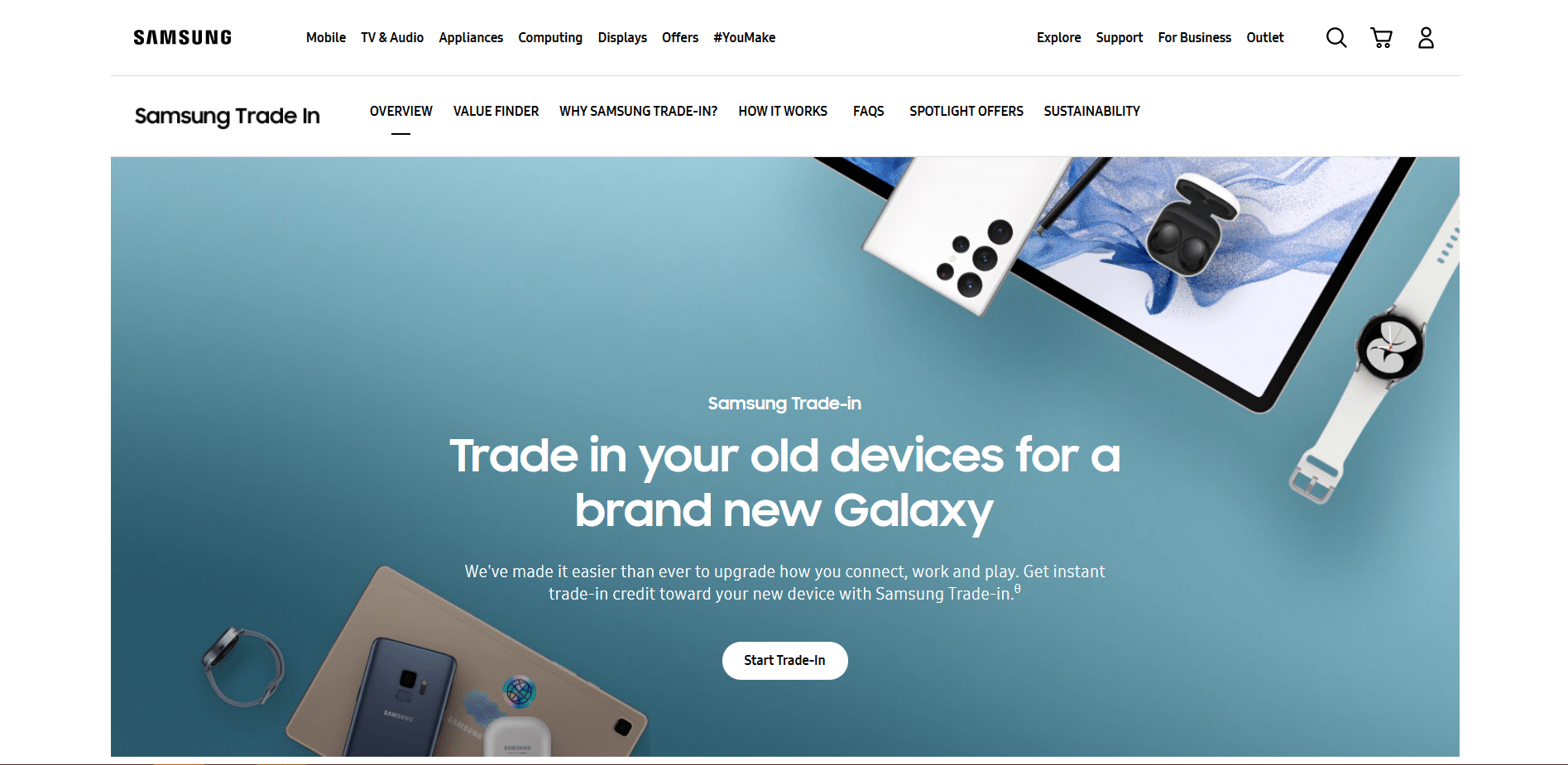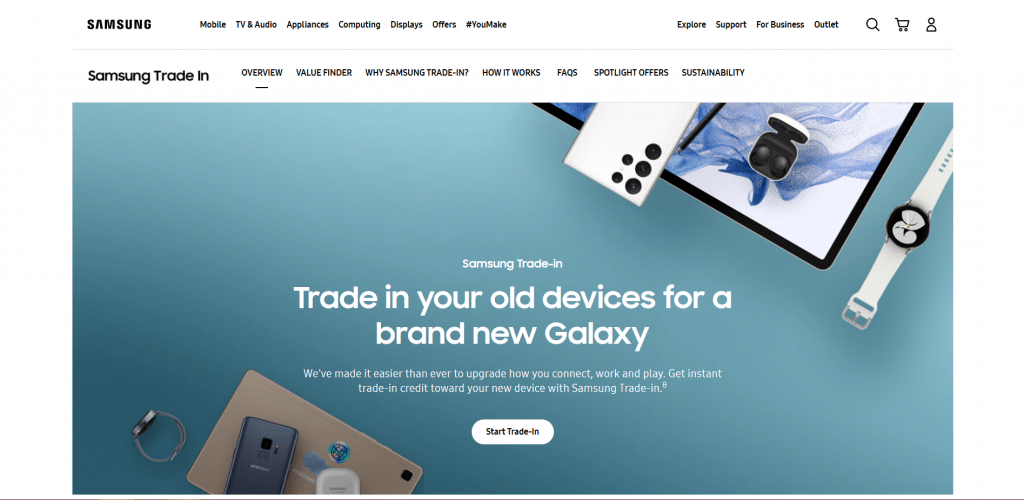 Similar to Apple's offering, Samsung also offers trade-in options if you want to upgrade to the latest Samsung Galaxy model. They also provide the ability to trade in either a smartphone, a tablet, or wearable devices like smartwatches. They are not limited to only Samsung brands; you can trade-in devices from a few different brands. Their range is even more comprehensive than Apple's.
In terms of smartphones, they will accept any Apple, LG, Samsung, Google, OnePlus, Motorola, or Razer smartphones. Samsung will also take tablets made by Apple, Microsoft, Samsung, ASUS, Google, Lenovo, LG, or Sony. In terms of smart wear, they accept Apple, Garmin, Samsung, Fossil, and Fitbit devices as trade-ins. This list is far more extensive than what Apple buys.
Unlike Apple, though, they do not freely offer an indication or estimate of how much you will be able to get for your devices, but according to users who have done this, the range of credit you receive is on par with that of Apple. It is determined by the model and condition of the device you're trading in and also by the type of Samsung phone you're taking. More expensive phones get more credit.
One thing that Samsung offers that stands out from Apple is that they accept phones with cracked screens. According to Samsung's website, they don't offer you less just because your screen is cracked. That fact will make most of those who are reading this sigh with relief. Cracked screens are one of the most common reasons why people can't get reasonable prices when selling their phones.
However, one area where Samsung is lacking is the "personal touch." Once you've applied for the trade-in on Samsung's website, they will send you instructions on how to back up your data for transfer and to prepare your phone for collection. Then a courier will arrive, collect your old phone and hand over your new one. This may be a bit complicated and impersonal for many people.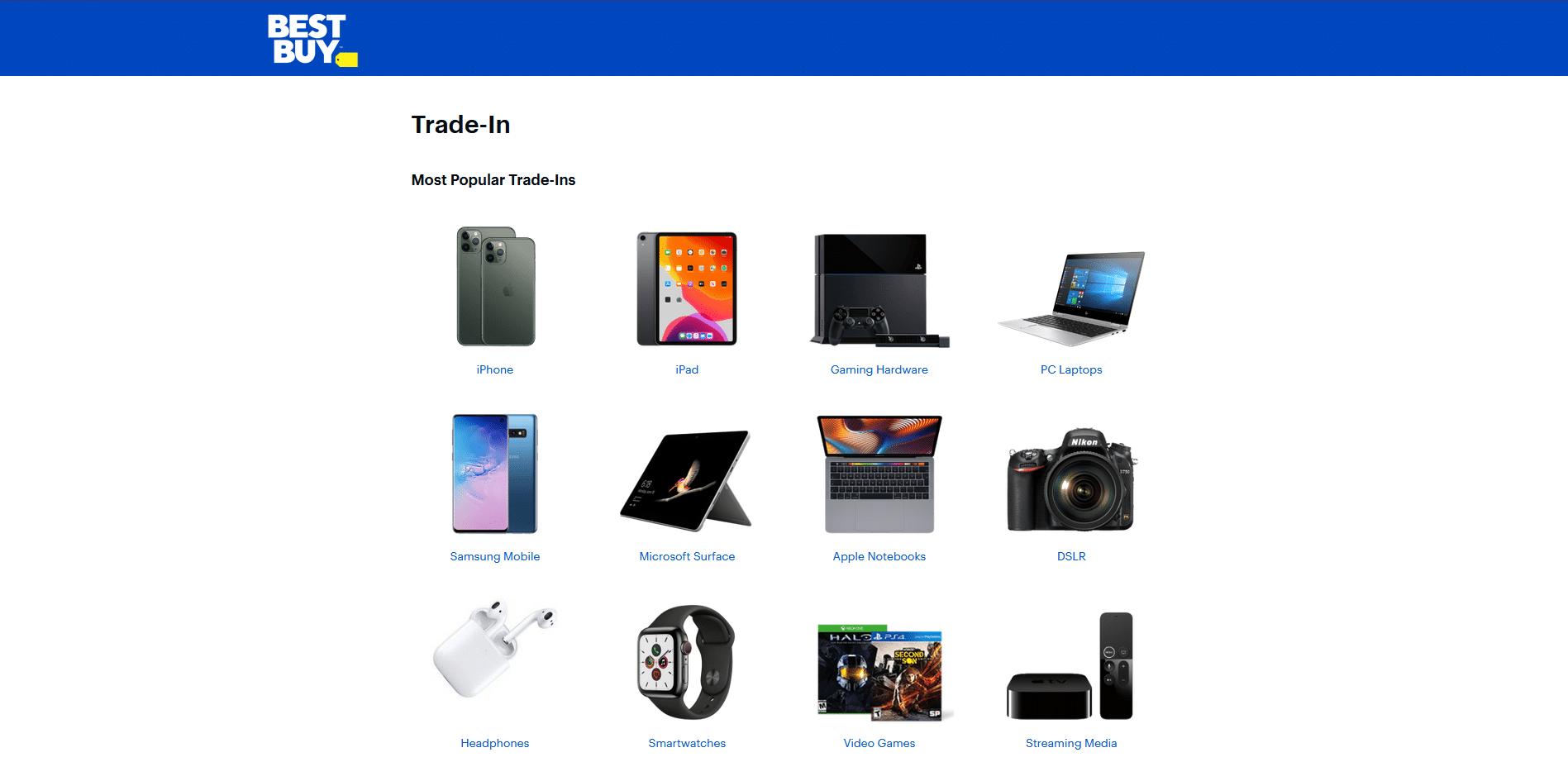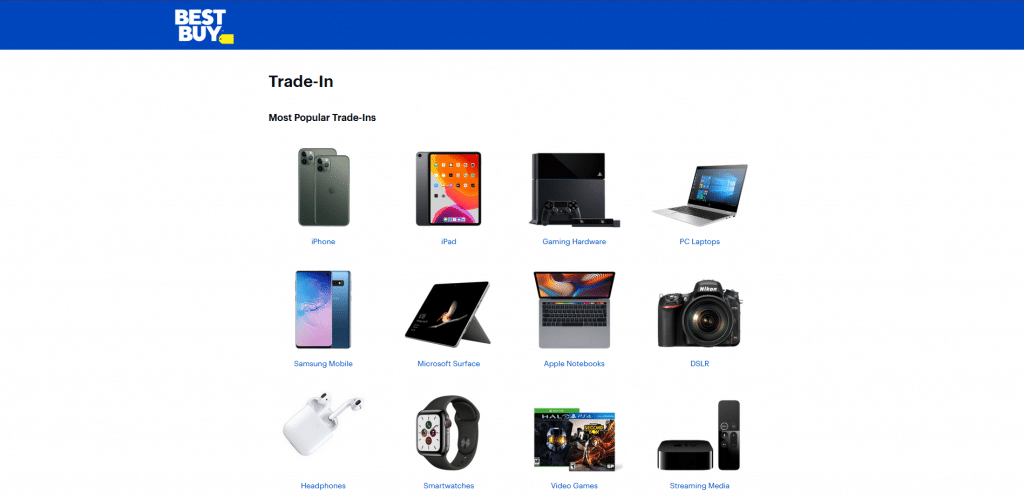 Best Buy needs no introduction. They are one of the best-known electronics retailers in the United States, Canada, and Mexico. Even international customers can shop at Best Buy and have it delivered to specific locations. And the most remarkable thing is, Best Buy has an excellent trade-in system for your old smartphones!
And it's not only smartphones, either. Like Samsung and Apple, Best Buy will let you trade in smartphones, tablets, and smart wear devices from a wide range of manufacturers. But they also accept trade-ins of tablets, e-readers, video games, gaming hardware, computers, cameras, smart home devices, and fitness devices. The list of trade-in options is nearly endless.
Like other options, the trade-in gives you in-store credit that you can use towards other purchases. Unlike Samsung and Apple, you don't have to use your trade-in to buy a new smartphone. You can use your in-store credit for anything that is sold at Best Buy.
Your old devices will be erased, refurbished, and re-sold as second-hand devices in Best Buy stores. The trade-in values are similar to what Apple offers. An unlocked iPhone 11 Pro Max with 64GB of storage that's still in good condition will get you around $375, and a Samsung Galaxy S21 256GB will get you $320. Quite a good amount of money to get for a second-hand smartphone on a trade-in.
Unlike Samsung's option, the Best Buy website's trade-in platform is speedy, efficient, and easy to use. They also lack the personal assistance, though, which may be a bit of a downside for non-tech savvy people. But the simplicity and the fact that you're not limited to trading in for a smartphone makes Best Buy an excellent option to trade in your old smartphone.
Amazon's trade-in service, unsurprisingly, specializes in Amazon products. When you open Amazon's website, you are greeted with a list of devices to trade in consisting of Kindles, Echos, etc. It's only when you scroll down further that you get to the part that says "Other Trade-In Categories." This is understandable since Amazon would like to give its devices a high re-sell value.
However, once you get to the other categories, smartphones and gaming devices are at the top of the list. They accept trade-ins of Apple, Samsung, Google, LG, and Motorola smartphones directly from the Amazon website.
Amazingly, Amazon offers a bit more than Best Buy and even Apple in some cases. An iPhone 11 Pro Max that's in good condition could give you Amazon credit of up to $390. The iPhone 12 Pro Max gets you slightly less than at Apple, at ±$570 worth of Amazon credit. Amazon will give you between $12 and $165 for your old Google Pixel or $281 for a Samsung Galaxy S21.
One thing to note about Amazon is that they accept even much older phones. Whereas all of the companies mentioned before mostly limit the phones to only a few years old, after which they recycle, but they don't reward you for it, Amazon accepts even phones that are almost ten years old.
The apparent reason for this is Amazon's booming second-hand business side. For almost every product that you can order on Amazon, there is a "used" option listed as well, where you can get a second-hand device at a reduced price. This is what will happen to your old smartphone if you trade it in through Amazon.
Like both Samsung and Best Buy, everything in Amazon's trade-in system is online. This makes sense since Amazon is an online retailer. But again, this means that you don't have the personal support and assistance from a real human being. You prepare your phone, a courier collects it, and you get your Amazon credit.
As with Best Buy, the positive side is that you can use Amazon credit to buy whatever you wish from Amazon's catalog. You are not limited to smartphones.
Your Mobile Carrier Or Network
Most people know that if you change your mobile carrier, you are able to trade in your old smartphone for a newer model. However, it is possible to do this even without changing your carrier. Most carriers offer a trade-in option if you purchase a new smartphone through them, some even offering you upgrade options every year or two.
The prices that they are willing to give you depend on the carrier, the model of the phone you're trading in, the condition of the phone, and the model of the phone that you're purchasing. Some also give extra credit if you're on a more extensive mobile service package.
None of the popular mobile carriers are very open and up-front with the prices they are willing to pay, so it's difficult to compare. But if you are serious about trading in your old smartphone, it might be worth going through the process to find out how much credit they are willing to offer you. Of course, the catch with this is that you must use the carrier that you get the trade-in through.
You can find out how much the carriers are willing to pay for your old smartphone by following the steps on their websites:
Compare the prices they are offering to pay you with the prices that the smartphone manufacturers are offering before you make any decisions. You can find the manufacturers' values here: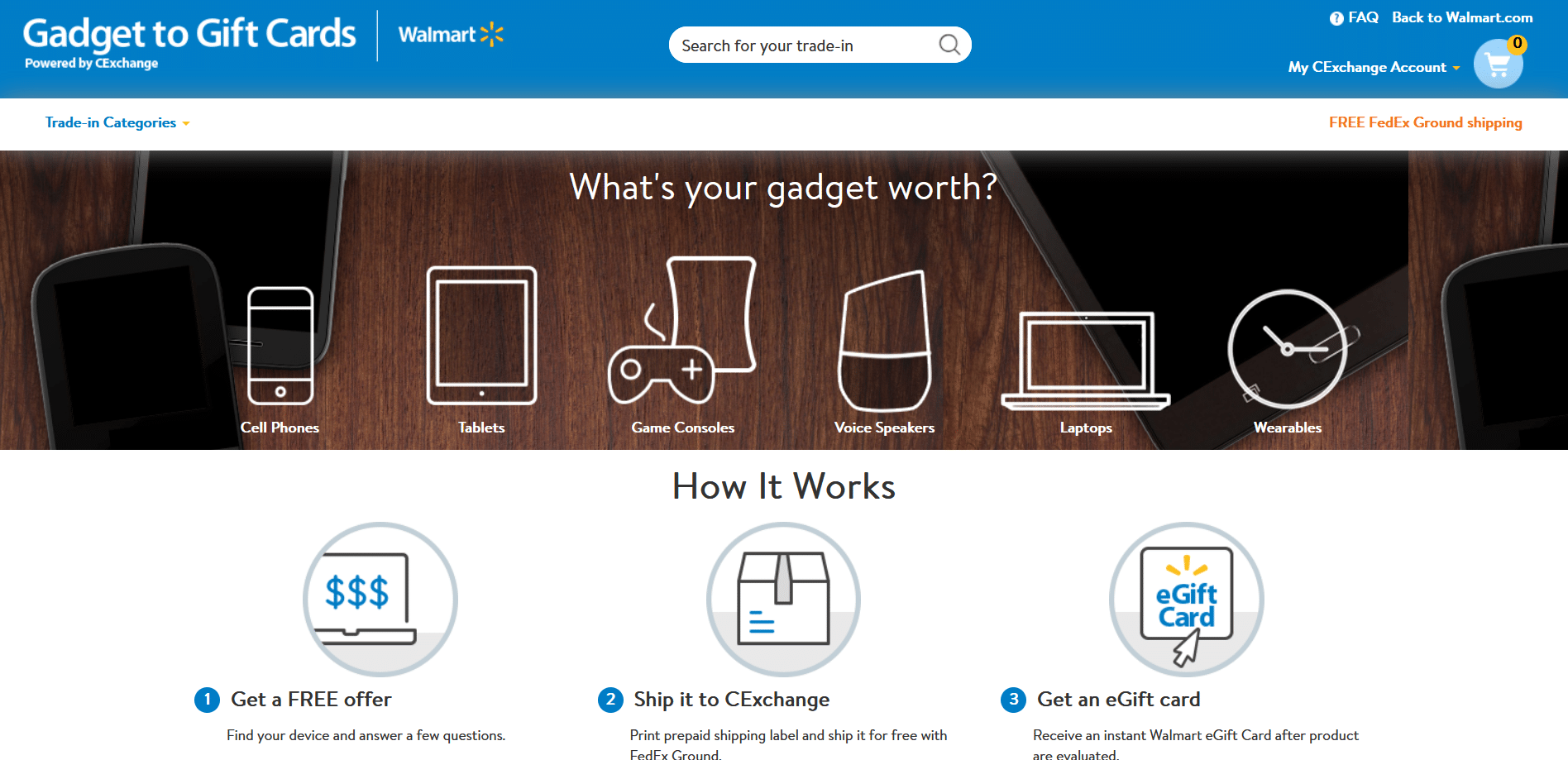 Walmart launched its smartphone trade-in program in 2013 in a bid to keep more electronics out of landfills. The program will let you trade in any smartphone (or selected other devices) for immediate in-store credit ranging between $50 and $300.
This amount is much lower than some of the other options. Still, there have been reports of people getting as much as $450 for high-end smartphones that are in excellent condition, so they may have revised their maximum credit offering if the reports are accurate.
Walmart's smartphone trade-in platform is not primarily electronic. Their entire approach is to do it in a store, where staff can help you to transfer your data and prepare your phone for the trade-in. The trade-in service is available in more than 3,600 Walmart stores and Sam's Club locations across the United States.
You can, however, use the online platform if you prefer. You will get an instant offer, ship your phone if you agree, and receive your electronic gift card in return.
Walmart credit is also versatile; you don't have to use it to purchase another smartphone if you don't want to. You may use the in-store credit to buy anything from any Walmart store in the US.
It is unclear which smartphones are accepted and how much you will be offered for them. But if it is reasonably new and in fair condition, it is safe to assume that you may receive anything from $50 to $300 for your old smartphone if you take it to any Walmart or Sam's Club.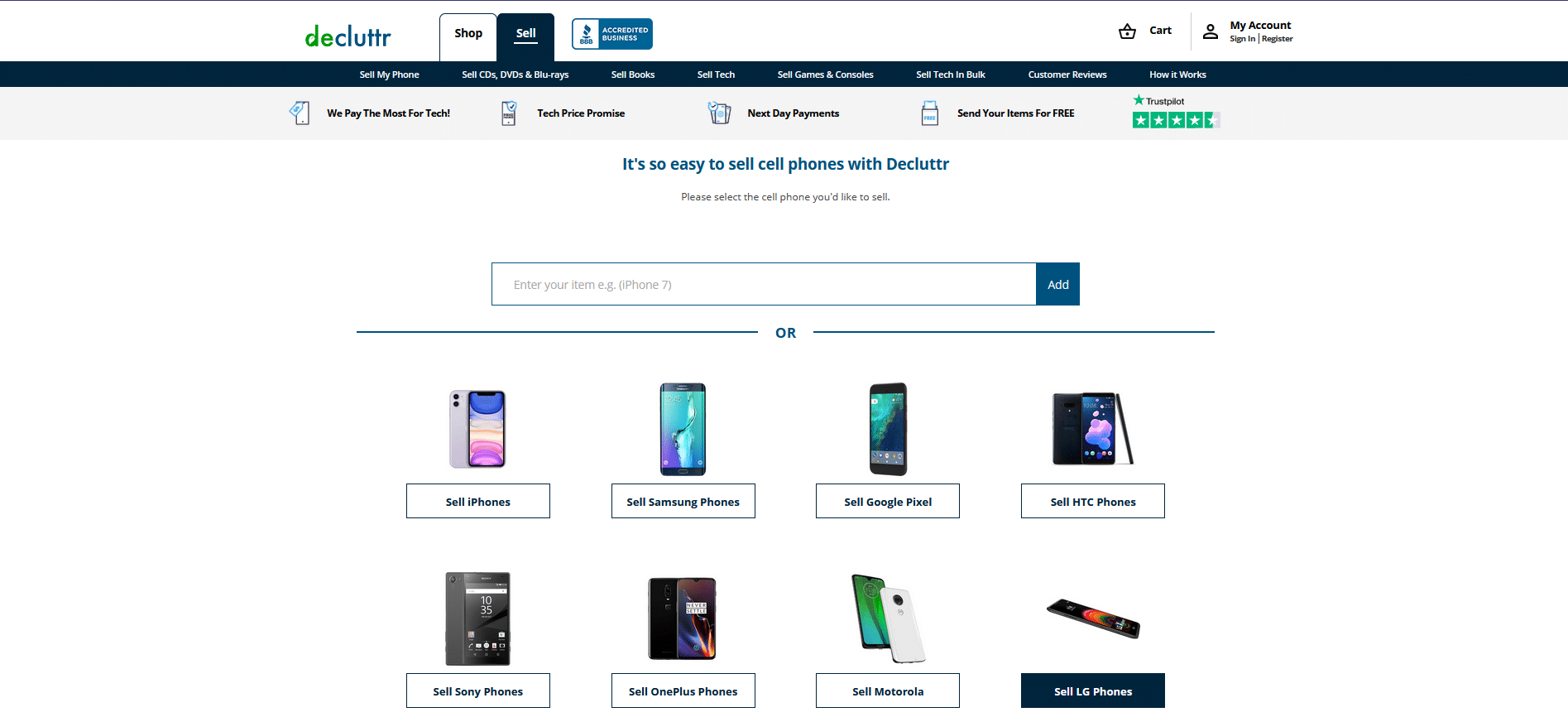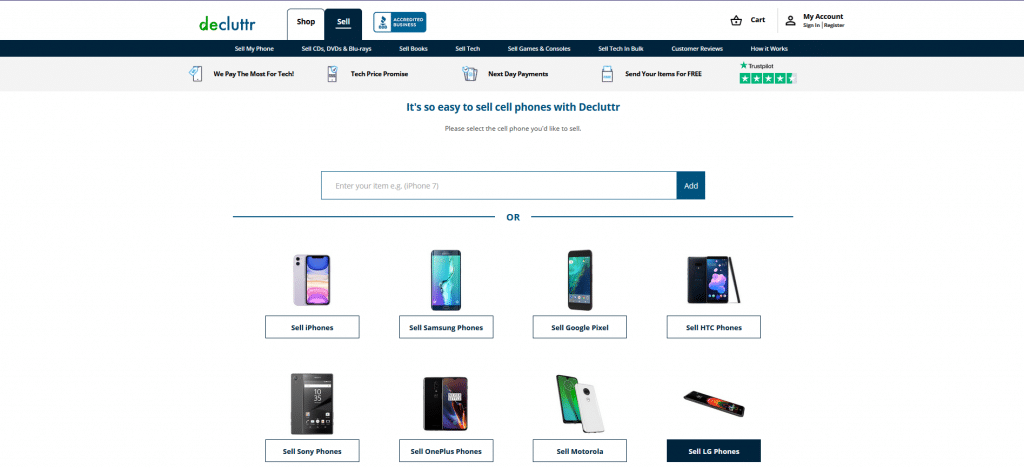 Decluttr is still a relatively unknown online retailer with a very active second-hand market. Decluttr, as the name suggests, specializes and focuses on getting people to sell their old devices and other things that are just cluttering up their homes so that Decluttr can then re-sell those same items at a profit. Having said that, Decluttr offers pretty good value for used smartphones.
An iPhone 6S with 64GB of storage will sell on Decluttr for around $15. This is the oldest iPhone that Apple still supports. But when you go up to the iPhone 11 Pro Max, they offer about $420 compared to Amazon's $390. That's quite an improvement!
There's no hassle with Decluttr either. It's a simple online registration; you select your device, they make an offer, your device goes to them via free courier, and you receive your payment. Again, this takes the personal support out of the picture, but if you know what you're doing, you will be able to backup and factory reset the phone without any issues.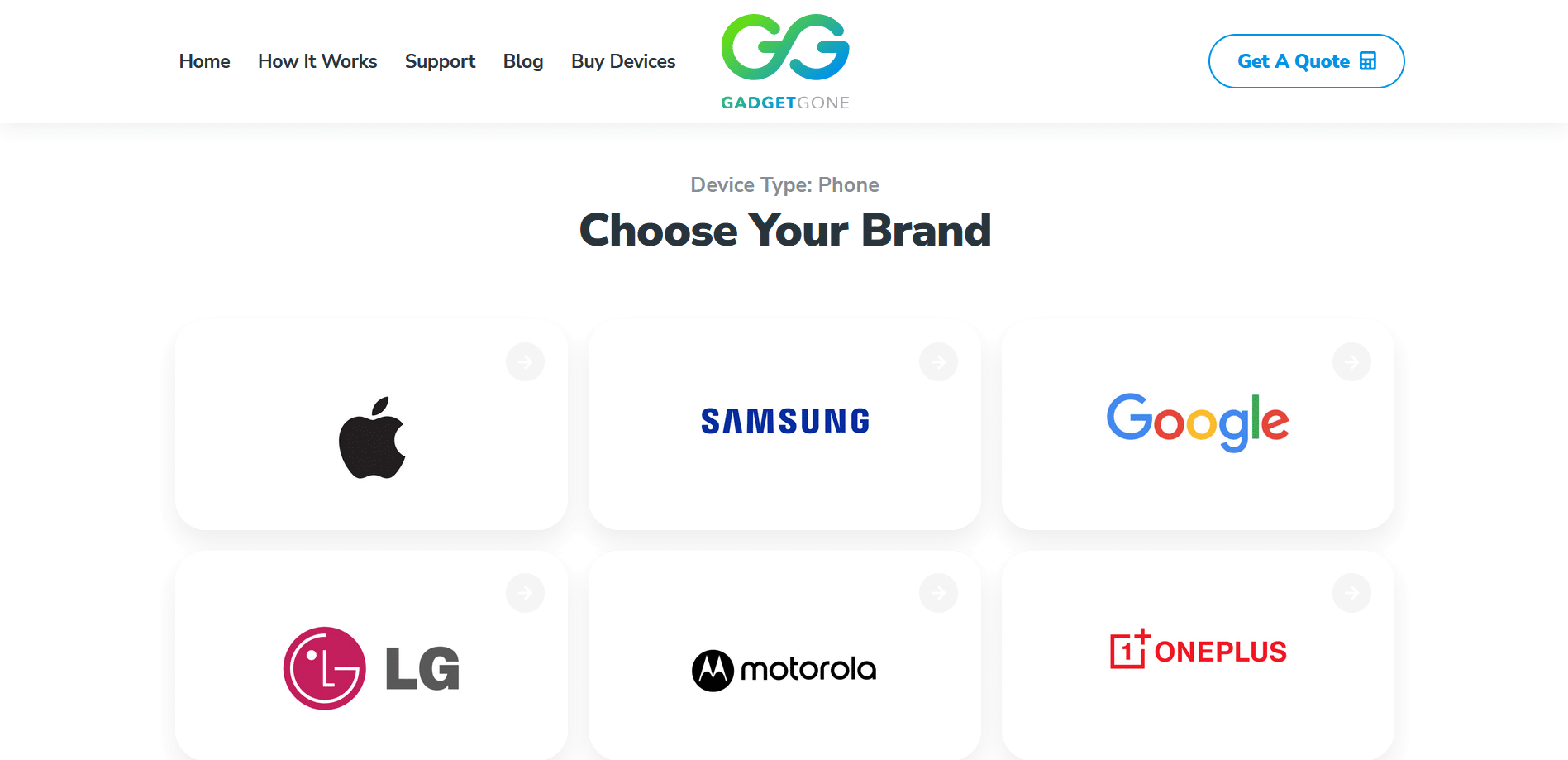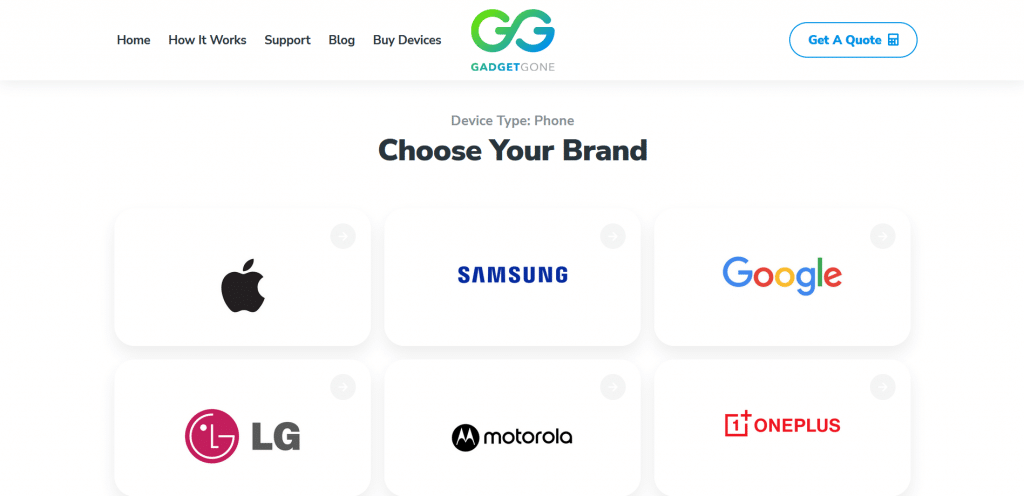 Similar to Decluttr, GadgetGone is a simple online platform that enables you to sell your old smartphone for cash. GadgetGone is not limited to smartphones, either. You can also trade in tablets, smartwatches, MacBooks, Mac Minis, Game Consoles, and even pet pics! Okay, the last one is not for payment, but it is a fun thing that they added to their website, and we like that touch.
There's a very simple "Get A Quote" button on GadgetGone's website that will tell you instantly what you can expect to get paid for your old smartphone. And here's the amazing thing: they tend to offer even more than Decluttr.
In the comparison of the iPhone 11 Pro Max that we've been using, Decluttr offers ±$420. GadgetGone beats that by offering around $60 more! They also have the other advantages that Decluttr offers, like free shipping and instant payments.
Another aspect that makes GadgetGone excellent is the human touch they add to their website. Even though it's an electronic experience and lacks the human support you get from companies like Apple and Walmart, GadgetGone went a long way to make you feel like you're dealing with actual human beings and not just an electronic webpage.
Online Marketplaces
Though this cannot truly be labeled as a trade-in, it's worth mentioning. All the smartphone trade-in deals we've mentioned so far are companies that want to re-sell your phone for a profit. The problem with that is, the more they pay you, the less profit they will make when they sell it.
That's usually not the case with an online marketplace. You can often get almost double the amount of money through an online marketplace than you would through a corporate trade-in deal. You don't need to pay for staff overheads and the company's profit margin. All that money is extra money in your pocket.
This is not without its disadvantages, of course. There's quite a bit of effort involved to get the words of your ads just right so people will know what you're selling and why you're asking the price you want. There might be some negotiating involved and some back-and-forth with people who aren't serious buyers. Then there's the ever-present threat of scammers and thieves.
But all in all, if you know what you're doing, you should be able to sell the phone for a bit more than you would get from another company or network. You may even find someone who's willing to trade what you have for what you want if they have it. It's always worth a try.
Two excellent online marketplaces you could try are Craigslist and Facebook Marketplace. There are others as well, some better and more specialized. Shop around. Search Google. You should find some excellent options.
Friends & Family
This one is similar to the online marketplaces. You can get more money than a company would pay you, or you can trade your old smartphone for something that you actually want. This should also eliminate the potential problem of scammers or thieves if you're careful and if you hang out with the right crowd.
Of course, you might have another problem. Friends and family tend to think that you should give them a better deal or allow them to pay you in installments just because you know them. Again, it all depends on your family or the friends that you hang out with. If you're firm with your expectations, it's always possible that you could find someone who's willing to give you what you ask for it.
Related Questions
What Do Companies Do With The Phone That I Trade In?
It depends on the company. Most will refurbish the phone and sell it as a second-hand device. Many Apple stores, for example, have a very active second-hand market for those customers who can't afford a new iPhone. Samsung shops have similar marketplaces. Second-hand sales are a core component of Amazon, Decluttr, and GadgetGone's business model.

Some companies use these old phones as spare parts to repair other phones. This is a very competitive market, especially with older Apple devices. They may sell your phone to smartphone repair shops for that very purpose.
Sometimes they simply recycle them. This is rare, but especially in cases where brands like Apple or Samsung buy another manufacturer's phones, they may not have much that they could do with the phones. For them, it's profitable enough that they already have a new customer that they "stole" from the competition, and they see that as an absolute win.

Lastly, some of these phones are donated to the less fortunate. There are non-profit organizations that donate smartphones and other electronic devices to third-world countries and those less fortunate to help them get online. Companies that buy second-hand phones may donate these devices for these NPOs, and they get to write it off as tax-deductible charitable donations.
Is It Better To Trade In Or To Sell?
It is up to you to decide which will be better for you. Trade-ins are not often the most profitable route to take, but they are convenient. If you know what you want to do, for example, get the new iPhone or Samsung Galaxy, then a trade-in is a great solution. 

If you need more money than you would get offered for a trade-in, selling your old smartphone outright is far better since you can make nearly double the amount of money from a direct sale without third-party involvement.