Important Note: When you buy through our links, we may earn a commission. As an Amazon Associate we earn from qualifying purchases. Content, pricing, offers and availability are subject to change at any time - more info.
Key Points
Is Sampler a scam? No, Sampler, more precisely Sampler.io, is a marketing company that connects merchants with consumers who want free samples. Instead of giving stuff out on street corners, the Sampler business model targets free product samples to niche demographics and gets useful feedback from consumers.
Are there fees? There are no fees for using Sampler.
Do you get locked into a commitment? The company brags on page one of its site that there are no commitments, spam, or fees.
Does the company or its partners spam you? No. You receive coupon offers and other messages directly on your Sampler website for members. The company will send you periodic email messages when new offers appear, so you'll know to visit the site and check them out.
Do you need to give credit card info? You don't have to give any credit card info to join or use the site.
What kinds of freebies can you receive? There are many different products, with new ones appearing all the time. Most are food-related or personal care items. Specialty snacks, body care items, and detergents are among the top giveaway samples.
Will you automatically get tons of free products delivered right to your door? No, you will not. Some members complain that they infrequently receive items.
What can users get besides free samples? Once you sign up and take a few interview quizzes to see if you qualify for certain items, you will gain access to coupons on items that you indicate you frequently buy. Also, you can leverage the power of your social media to tag photos of the samples you receive. For your effort, you'll have the chance to win $25 gift cards in a monthly drawing.
Sampler is one of the several "free sample" sites that boasts hundreds of thousands of users and satisfied members. So, what's the deal with Sampler.io's main website and company, Sampler.io? Is there a significant catch? Do they send you free stuff? In general, is the whole operation legit?
---
Advertisement
---
Signing Up
New users can sign up either with their Facebook or email address at the Sampler.io website. The process takes a couple of minutes. The company does ask for a phone number so they can verify accounts.
As soon as you sign up, you'll need to answer several questions (about five more minutes of your time) so that Sampler can create a basic demographic profile and learn your product preferences.
Getting Free Samples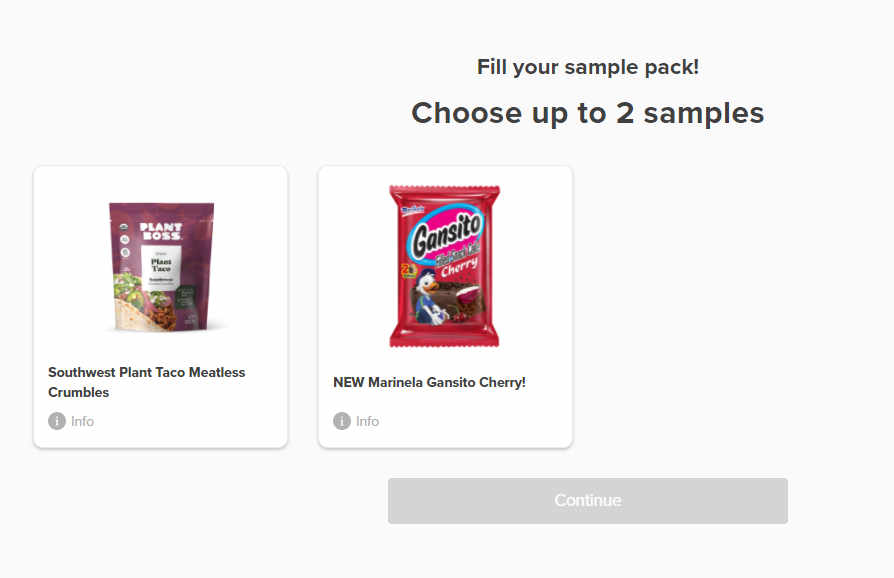 It's not all that easy to get free stuff these days, even with dozens of so-called "freebie" websites. Sampler is a 100 percent legit company and does deliver free stuff to you. The thing to remember is that you will not be deluged with products, even after being a member for several months.
Depending on your stated preferences, demographics, and other factors, you might receive more or fewer free samples, which arrive monthly. Some months, you might not qualify for anything. You could get a box full of stuff containing several products the following month.
Social Media
You can vastly increase your chance of receiving more items and getting stuff every month by following Sampler on social media and tagging photos of your sample boxes on sites like Instagram.
Geographic Coverage
You must live in the U.K., the U.S., or Canada to use Sampler. Also, your phone number must be in one of those countries.
Surveys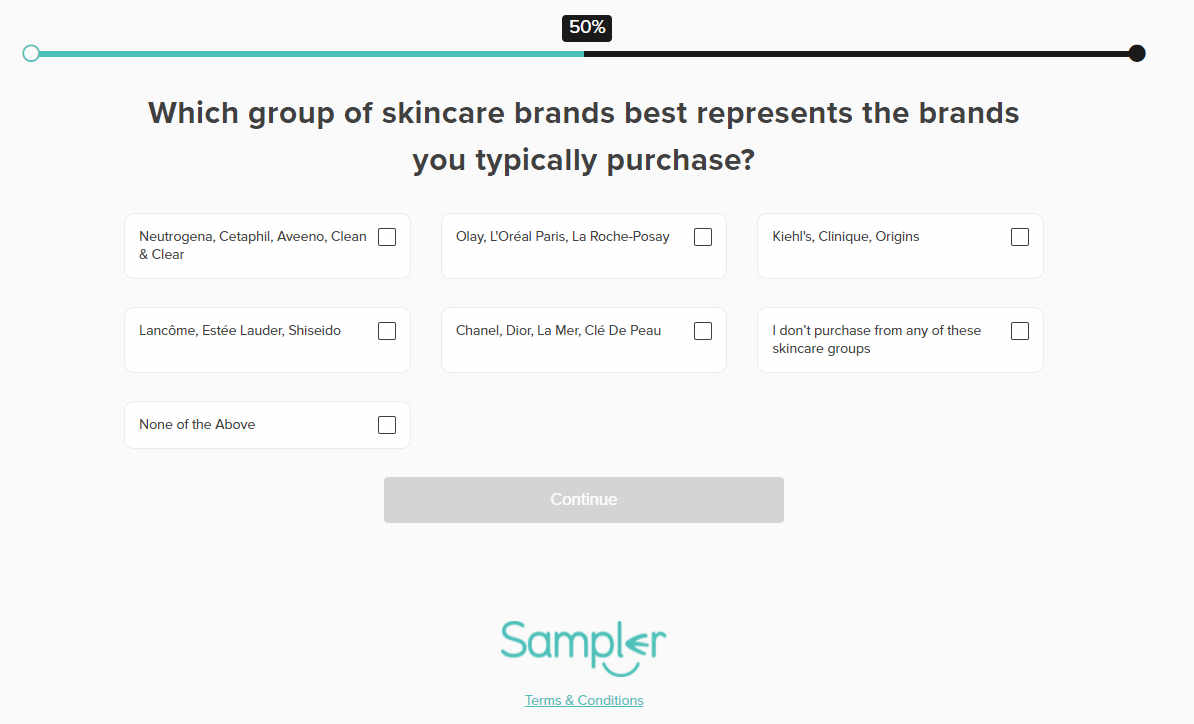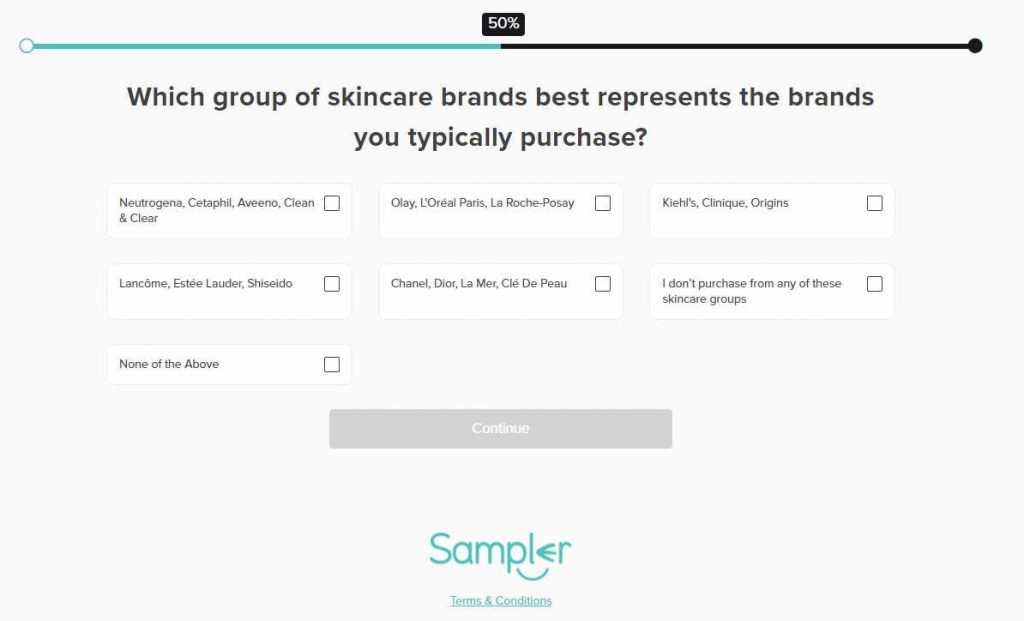 Surveys are at the heart of the Sampler process. At signup and other times during your membership, you'll receive short surveys. Fill them out honestly and completely. That's because Sampler uses the information to determine what items to offer you.
The company builds your demographic profile over time based on your answers. For example, if you are male, you won't get any offers for makeup, eyeliner, or leg razors. Likewise, if you say that you are vegan and don't consume sugar, Sampler won't waste their time or yours by offering you things like candy or non-vegan snacks.
The whole business focuses on helping you get free things from companies that expect you to be a potential long-term customer, at least theoretically. If you state that you are unmarried and have no children, don't expect free baby wipes or diapers.
Why Do Companies Give Stuff Away?
Random giveaways, like free chicken fingers in grocery stores and free candy bars from street-corner stands, are incredibly costly for companies. They have no control over who gets the items, and they get no feedback about the customer experience. Targeted samples, like the ones from Sampler, are a different story.
Companies have seen sales shoot up as much as 2,000 percent due to focused, demographic-based giveaways. When a seller can put a new snack item, for example, into the hands of a consumer who already eats snacks regularly and who is willing to post reviews about the sample, it's a win-win situation.
Consumers get free stuff, and merchants learn what potential customers think about the new product. Is it too salty, not flavorful enough, or too spicy? Corporations can find out all these things and more when they hire a company like Sampler to route items to people who are likely to buy them someday.
Types of Products
Sampler offers thousands of different items to users. The most common categories are drinks, baby-related goods like wipes, makeup, snacks, food, hygiene goods, beauty and skincare products, and more.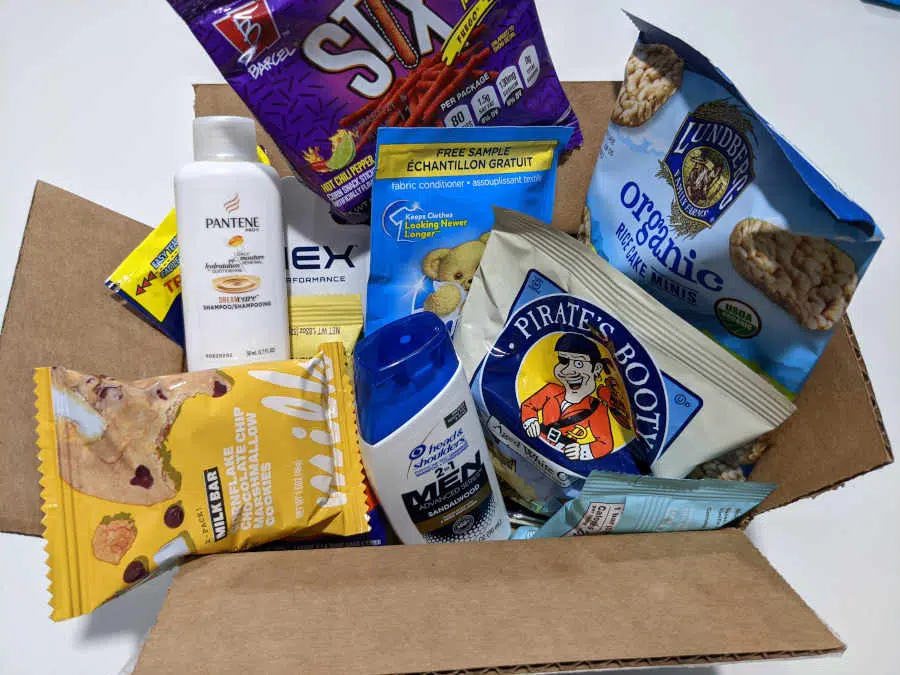 Recent Sampler.io Offers
FAQs
Do you have to leave reviews on social media?
No, you are under no obligation to review the products you receive. But, guess what? The more interactive you are with reviews, photo-tagging, and following Sampler's social sites, the more apt you are to get offers for freebies and valuable coupons from their partners. 
What if you don't answer the Sampler questions honestly?
You defeat the entire purpose of the process if you don't give truthful answers. For instance, if you say you are married or have children when neither is true, you might receive baby products that you have no need for. Also, you might cause Sampler to stop sending you items because your demographic profile contains conflicting data. Don't try to game the system or you'll end up losing out on the chance to receive worthwhile products for many years.
Should you post unboxings on YouTube?
You'll notice many Sampler videos on YouTube. If you have a channel, it's a good idea to post short video reviews. Putting up videos is one of many ways to engage with the process and up your chances of receiving more offers. 
Sampler is an excellent way to receive some free items. However, don't expect to receive vast numbers of products frequently. Instead, if you post reviews, follow Sampler's social sites, and fill out all surveys completely, you can get several samples throughout the year. But, there are no guarantees. Bottom line: you have nothing to lose and some pretty decent free products to gain by joining Sampler.io.