6 Tips for Growing Out Relaxed Hair
Important Note: When you buy through our links, we may earn a commission. As an Amazon Associate we earn from qualifying purchases. Content, pricing, offers and availability are subject to change at any time - more info.
Even with gentler processes, relaxing methods can not only do a lot of damage to your hair, they're time consuming and often costly. So it's time to embrace your natural curls! In fact, going natural is on trend with stylists seeing a big jump in the number of people who want to go back to their God given locks.
---
Advertisement
---
First of all, because your hair is relaxed, you are using gentle shampoo, aren't you? If not, choose one without sulfates or one made for chemically treated hair. How often you shampoo doesn't need to change but the way you treat it after shampooing will.
Though it takes about a year for chemically relaxed hair to get back to its natural texture, there are several tricks that can make the transition easier. But a head full of soft, healthy curls will be your reward!
Condition
There's a new wave of conditioners that smooth hair but they come with residue build up. They can be fine for a special occasion, but better to treat your hair to a longer term strategy. Work some olive oil or purchased hair oils through your hair while it's soaking wet before adding other products or styling. The oils will add a little strength and shine.
And make deep conditioning a once or twice a week ritual. You can make your own with 2 parts coconut oil and 1 part honey or mash half of an avocado and mix it with 1/4 – 1/2 cup of coconut milk. Cover with a shower cap and leave it on for 15-20 minutes (or overnight!) then rinse.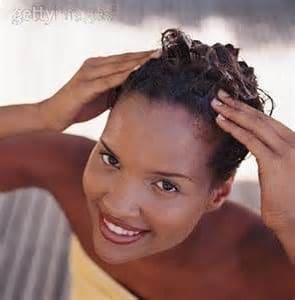 Source: www.stepbystep.com
Blow Drying
You should try to keep heat away from your hair during the growing out stage. But if you must, stick to once a week and always use a heat protecting product since relaxed hair is prone to breakage. And though it might take longer, use lower – not high – heat.
Start by detangling hair with a wide tooth comb. If you have a comb type dryer or a comb attachment, that's ideal to gently smooth hair, particularly at the roots. Or use an extra-large round, styling brush with soft and/or wide set bristles. Avoid pulling on the hair when styling.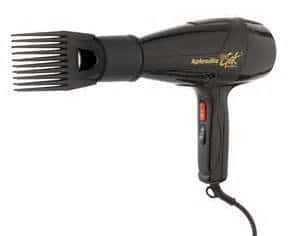 Source: www.beautyhair.co.uk
Curlers
Large curlers can smooth the hair or produce soft waves to make your new growth blend better with your still relaxed ends. If you're using hot rollers, use a heat protector treatment on your hair and don't let the curlers overheat – keep them just warm to the touch and keep them in for just a few minutes.
But you can use non-heated rollers to smooth out hair, too. If your hair is wet, let it dry a bit before placing rollers (or put them in at night and let your hair dry as you sleep). If dry, place the rollers and spritz with a little water when finished. Let air dry. But if you're in a hurry, finish off with a hair or blow dryer on low.
Or use smaller rollers (even straws) to get a look at your future hair filled with tiny, perfect curls.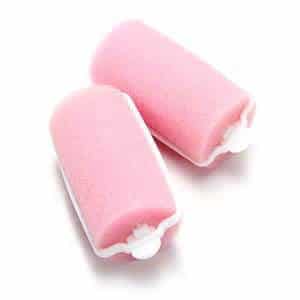 Source: www.banggood.com
Cut/Styling
Don't let the damaged ends break off! Better to blunt the damage with cutting. Trim off the relaxed ends an inch at a time – usually every 6-8 weeks. If your ultimate look is short, work towards a simple bob that you can change up after your natural hair has fully grown in. If you want to keep your hair longer, you can style your hair in knots or twists to hide the different hair textures.
You might also consider hair extensions but only when you have enough natural growth to attach them to. Or check out the do it yourself extensions that uses combs or bands to temporarily attach to your hair.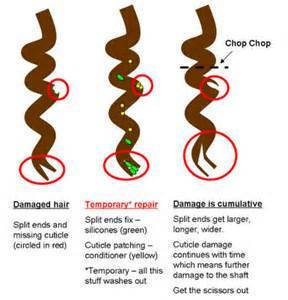 Source: www.thenaturalhavenbloom.com
Gels and Creams
During the growing out phase, hair gel will help tame unruly locks. Use it to spot set strays or areas that aren't laying the way you'd like. Or use gel to create slicked back looks or smooth pony tails. Just don't pull the hair back tightly and use soft bands to hold hair in place.
A styling cream or leave in conditioner will soften your hair and let you finger style your hair for an easy, un-fussy beach hair look.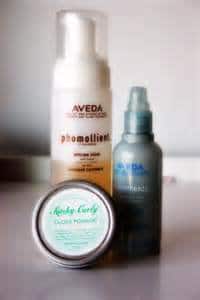 Source: en.paperblog.com
Hair Accessories
Wide headbands will keep new growth in place – and they work for hair of all lengths. If your hair is longer, roll it up into a hair donut (you can find them in drugstores or online) for a loose chignon. Adventurous types can place barrettes, pins or other hair decorations strategically to keep hair in line.
And let's not forget hats! At the very least, use them whenever you go outdoors to protect your hair against the elements. Not everyone can get away with wearing hats indoors, but if a beanie, beret, baseball cap – or whatever – suits your style, go for it!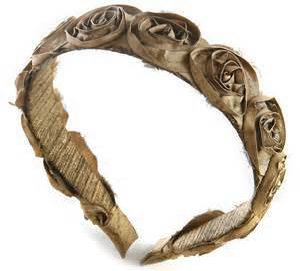 Source: www.olddurhamroad.com