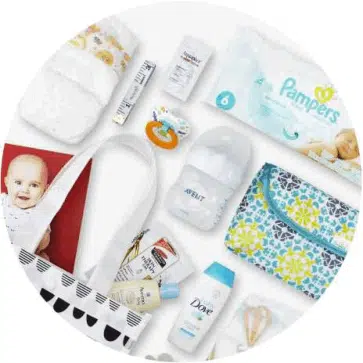 If there's a baby in your future, congratulations! And whether you're having a shower or not, setting up a registry is a good way to get free product samples, checklists, advice and coupons and discounts on all things baby.  Plus, for good or bad, you'll be on the "list" which means you'll be getting email and snail mail offers – some of which will be quite useful.
Here's the lowdown on the freebies and discounts for all the major baby registries.  We've also included some manufacturer sites that have bonus/loyalty programs for using their baby products.
Store Baby Registries
Target
Welcome gift (pick up from Guest Services in store) with $50 worth of coupons and samples plus 15% off anything left on your registry (called a completion discount). Returns for unused items are accepted up to a year after your due date. integration with TheBump.com. Special Target Registry mobile app separate from Target's store app.
Amazon
Prime members get a Welcome box once you make a $10 purchase. There's also a 10-15% completion discount (the higher discount is for Prime members) and 90-day returns (amazon usually only allows returns before 30 days). Rotating offers and freebies including e-books, 15% off exclusive offers, 20% off baby diapers and food. Amazon's baby registry integrates with TheBump.com and there's also an Amazon Registry mobile app.
Babies R Us
Up to 10% cash back on purchases others (or you) make from your registry, 15% completion discount, free classes, one year returns and price matching guarantee. No sign-up gift but has integration with TheBump.com and they've got their own baby registry mobile app.
Kohls
No free gift, but you do get announcement cards to send with a 20% off $100 or more spent on registry items, a 15% competition discount, integration with TheBump.com and a mobile app.
Walmart
Welcome gift box, price matching and free returns. Integration with TheBump.com. The registry is accessible from Walmart's mobile app.
Buy Buy Baby
Goody bag (in-store pickup), registry announcement cards, baby guides, access to exclusive offers/savings, price match guarantee, discounts on personalized stationery, referral program, integration with TheBump.com.
Pottery Barn Kids
20% completion discount plus 10% discount on "multiples" purchases (i.e., more than one of the same baby item), design services, integration with TheBump.com.
Baby Earth
Eco friendly/sustainable products for baby plus 5% rewards programs for you and those who buy from your registry. Also offers a 10% completion discount, integration with TheBump.com , one year returns.
The Land of Nod/Create & Barrel
10% competition discount, 10% multiples discount, integration with TheBump.com and design services.
The Baby Depot/Burlington Coat Factory
Baby guides, discount on 2-year subscription to Parents Magazine and contests/sweepstakes entry signup.
JC Penney
Wonder what happened to JC Penny's baby registry? It's currently being re-vamped, so check here to find out if it's up and running – and let us know!
Other Registries
While there are no registry benefits for signing up from these companies, if you have an interest in the store's products or these stores are nearby, here's where you can sign up.
Big Brands for Baby Stuff
To save on diapers, baby food and formula from big brands, create an account with any of the companies below. You'll have access to coupons and other offers.
And don't forget to check out our regularly updated list of free baby samples and offers right here!