Important Free Sample News Updates: WebSEO Fake Freebie Network Exposed, Coconut+, Levium, Devil Daves, Java Jakes, FatWallet, Abe's, Hebrew Bible, Happy Wax, Funko Toys, USA Toyz, Dirty South Vintage, FavoSpa, Kids II, Lion Mane For Dog, Finger Vibrating Massager, Neuromax Pain Relief Gel & More
Important Note: When you buy through our links, we may earn a commission. As an Amazon Associate we earn from qualifying purchases. Content, pricing, offers and availability are subject to change at any time - more info.
Hello fellow freebie hunters,
Welcome to another freebies news & mailbox update. Your source for information about freebies after the sign up.
Since the last update summer has come to an end and so has most of fall and winter is ahead. And that usually means more promotions and freebies are ahead which is excellent. My mailbox certainly had an uptick in freebies received, see below for what I got only in a month. There were also a healthy amount of fakes that didn't make it on this website. And I finally broke the case about a network of fake freebies which is included in this update. And as usual I'm doing with the Clint Eastwood theme of "The Good, the Bad and the Ugly" for this update. Let's start with the good news.
The Good – What Keeps You Coming Back To Sign Up For More:
Samples & Deals from Free Samples September 21st 2017 Through November 15th 2017: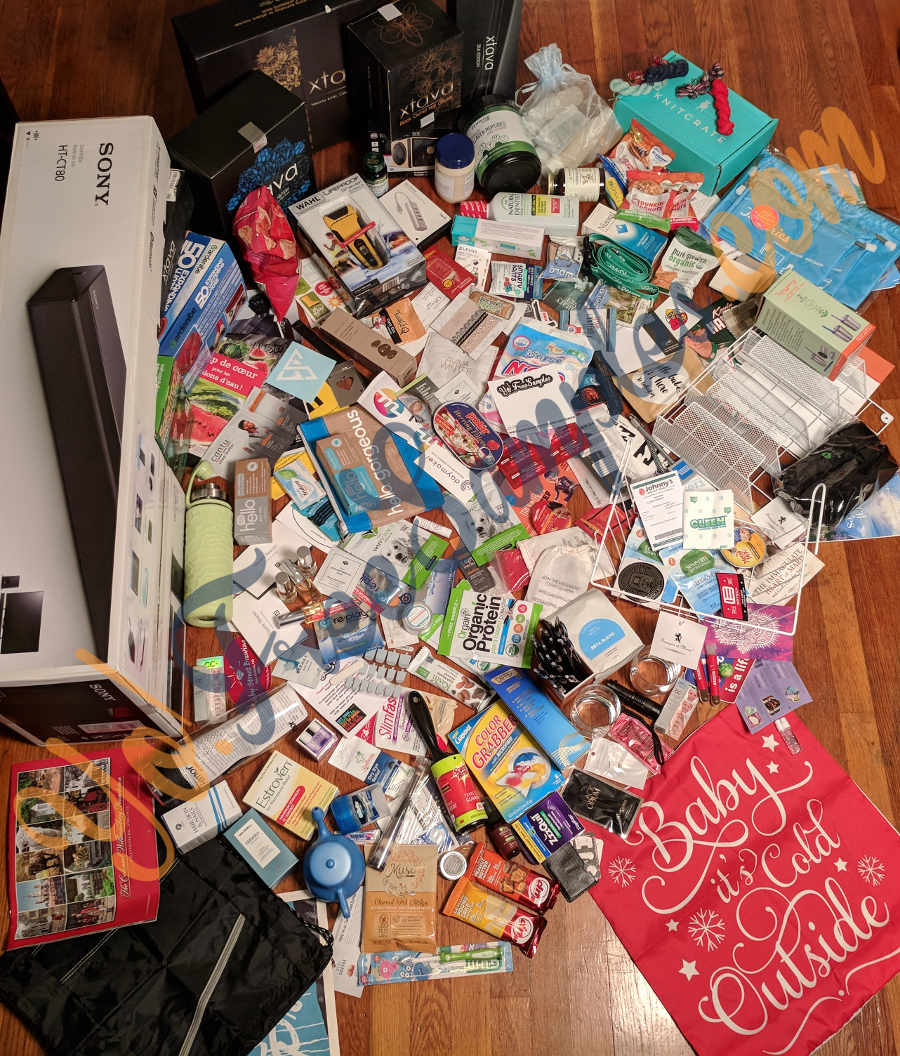 Psst.. you can click on the image above to open the image full-size in a new tab.
---
Advertisement
---
Mailbox Highlights: Most of these are freebies. A small portion of these are Amazon deals which are usually 75-99% off that are posted mostly exclusively to the Facebook group due to how fast the deals expire. There are a few items missing, for example if a company didn't want to be featured or it was just too big or I was using/and or consumed the freebie already. If you have any questions about a specific one feel free to ask in the private Facebook group post about this (need to be member) or just email/contact/tweet and I'll answer you personally. Anyhow, here are a few highlights and how I got them. Either way, this mailbox photo is the best news of all, this stuff actually comes if you sign up for enough of them!

Others: If you have any questions about other stuff in the photo and how I got feel free to contact me on Facebook, Twitter or email and happy to answer how I got it.
A. N. Other: Beyond smelling amazing, A. N. Other had a generally great communication about the samples, they had a delay but were very clear and concise. Kudos to great product and great company. They are a solid example of how a sample campaign can have a long lasting impact, this is one of those companies that did it well.

Detach Coconut+: They sent out an email basically saying they will try to ship all the samples, but you needed to update your information: "This will require us to be a bit creative on how we manage the shipping and handling. We'd like to do this at no cost across the board but we are still investigating best options." – so this is pending if it will come or not but it appears they intend to try to ship the samples which is good news.

"FREE" Items with shipping: I found this article that is a great teardown about these crappy 'free' offers. Some might be a good deal, but if you look on AliExpress you can likely find it for free shipping and 10x cheaper. 90% of these websites are simply marking up AliExpress and placing orders through there as you pay them which can result in long shipping times and if they run out of stock, oh well for you. Either way, great tear down of these type of "free" stores. I prefer more trusted, established and customer-first companies like Amazon over these stores any day.

Levium Anti-Anxiety: Not fully good news as another sample is coming, but Levium had a pleasant and prompt response to the overwhelming hoard of freebie hunters looking to try their product. In short, you are all on a waitlist which is better than it's not ever coming so it's good news in my book. "Due to overwhelming demand we have run out of Levium sample supplies. To create a solution to Levium's demand for samples, we're creating a Wait List. If you already filled out the form with your address, you are on the Wait List."

Korrito Kimchi: This one isn't coming anytime soon, if at all, but the email was good news that it might come, here is a quote: "However, we've been overwhelmed with requests for our free samples. And believe it or not, this has presented a very unique problem for our small family business. We never anticipated the amount of interest we received over the past month and we're ashamed to say we've fallen behind on fulfilling our free sample requests. Many of you will not receive your order for quite some time and we're open to hear your feedback as we do consider you, now, our family. <3"

Devil Daves Bloody Mary Sticks: Not exactly great news as the samples may not actually come, but speaking with Ryan was a real pleasure and his priority seems to be customer focused as you can tell from this email update he sent out: "It's just that I feel reaching out to you guys about it is priority #1. If you do not get one within 4-5 weeks, it's coming later. I will try my best to get one to you fast." – if you love a good Bloody be sure to keep an eye out for Ryan's Kickstarter email, I know I will.

Rogue Pet Feed: They sent out an email saying they won't have too many samples going out because: "We were completely unprepared to be featured on this amazing site. We are a new start up and have given out a total of 300 samples since starting that in June. The Yo Free Sample community drove over 3000 requests in 24hrs! We are going to be figuring out how to get samples out to everyone over the coming weeks." – they were also kind enough to include a 50% discount on their products in the same email. If the samples come or not you can't dislike a company that is customer focused and communicates.

Hydroxycut Class Action: If you signed up for this, you need to print out an email they sent you and mail it in to get your check, I got $28 coming estimated, what about you?
The Bad – Not Good News:
Loacker Gift Box: Some people actually got this sweet-filled gift bag. Most of us did not. I checked my account and it appears the 650 points needed originally were refunded. Loacker also sent out an email saying "Regretfully, our enrollment system was recently compromised by malicious malware, making it impossible to determine recipients of the Insider Box and Shopper Bag. You will notice that points were returned to you if your redemption took place during this time." – not sure I agree with the malware part, it was just freebie hunters, but we are 'viral' in a sense. So that happened, you can still earn points to get prizes on their portal but it takes a little extra work/more surveys.

Java Jakes Coffee: I'm putting this bad because I'm not sure on this one but I think it's fake. This looked like a page from a free sample that did come called Zuma Greens, but there were many other samples like the Smoking Redneck and Basic Greens samples that didn't come. What stands out about is how it looks the same as the other forms, it was registered recently and the lack of "About Us" pages. It also has the exact same contact us form as Smoking Redneck (which did not come) so I assume it's someone that was copying the Zuma sample page, I can't trace the contact us page back to the Zuma or Basic Greens pages as they aren't up anymore but I'd assume one of those 2 were copied. There is also the possibility it's all the same consumer packaged goods company and it's legit (hopefully that is the case!). It also had an odd "copy / paste" character in the title of the page. So because of that I decided not to post it even though coffee is 'wildly' popular. Here is the URL to avoid: http://javajakescoffee.com/

Naturel Beau Lip Balm: To follow up the Java Jakes Coffee point, this freebie also has the same contact us form and it appears to accept any information on their form. Not sure it's real, my gut says no so I didn't post it. It seems more likely it's fake.

Halloween Postcard from Weird Cali: They sent an email saying it's only for the state of California: "Thank you for signing up to receive a Halloween Postcard from WeirdCA.com. We are very sorry to report that we did not anticipate the interest in our postcard and had far more people sign up than expected. As a result, we limited those receiving our postcard to only those residing in California. We apologize profusely. We know they are poor substitutes, but here are links to some graphics wishing you a Happy Halloween" – least they tried to make up for the mistake, always appreciated!

FatWallet: It's sad to see FatWallet is now shutdown after so many years and replaced merely by a redirect to Ebates. For those that didn't know, they stood up for the legality of bargain hunting in court against Walmart and other large retailers. Without them coupon and deal sites may have been pushed underground! Luckily, "Phat" Wallet has popped up to replace it.

Honeydew Natural Product Sample: I am just getting a bad feeling about this one. I keep getting the same person emailing me to promote this product here on this blog, the sender clearly doesn't realize it's already up but I keep getting this email to post it. The emails remind me of the fake Greek Olive oil products and the related freebies. The website links to a legitimate Amazon seller and it appears to be above board beyond emails. If anyone gets this in the mail please let me know so I can sleep easier.

Abe's Organics Superfood: Got an email saying they ran out unfortunately, "Thank you for your interest in my organic 34 ingredient superfood capsules. I became flooded by so many sample requests that we we're unable to fulfill them all. If you're receiving this email it's because we have run out of free 3 day sample inventory to send to you. Full transparency, the rest of our inventory is in Amazon fulfilment centers around the country in 1 month supply glass bottles of 124 capsules. (4 capsules per day)" – least they were kind enough to offer an alternative deal.

Hebrew Bible: No dice on these shipping as I was told directly from them. Don't expect it to ship.

Kelib Charcoal Mask from Mary Kay: No dice on this one, stock was limited as predicted. Least if she ever offers another sample you are on her email list now.

Microlife: They updated to say their page was "linked to without permission. We are so sorry for the inconvenience. There are no free samples of products." – oh well, this isn't coming.

Power Crunch Bar: Fellow freebie hunter Kyndal spoke with customer service and was told this sample was paused/not accepting more. The form is still up but it appears unlikely they will come if customer service folks are saying this. Thanks Kyndal!

Happy Wax: This was a good looking sample until I got an email asking for proof of purchase, this free sample was clearly meant for previous customers only. So if you signed up, don't expect it to arrive.

Funko Toys: This was clearly too good to be true (as mentioned in the original post about this freebie). Fellow freebie hunter Laisha confirmed that this freebie won't be coming with this support email if that wasn't clear already when it mysteriously stopped working.

USA Toyz: They reached out to say "we unfortunately no longer have a reviewer program." – so don't expect any toy emails. That being said they have tons of cool giveaways going on their various pages here if you want to check them out here are the links: https://www.facebook.com/usatoyz/ and https://www.facebook.com/ILoveDronesCommunity/ and https://www.facebook.com/shoplivinwell/ and https://www.facebook.com/force1rc/

Kids II's Friends & Family Program: This tester community deactivated everyone's account that used any invite links here, this community might be closing down or it just isn't meant for wider public, either way bad news!

Liquid Chips & Armorguard: I thought this sample offer was for residential homeowners, it was not. My apologies, took this one down by request.
The Ugly – Suspected Fake Freebies & Worse:
Fake Freebie WebSEO Russian Network: Ever sign up for Greek Olive Oil, InTur Travel Agency, SoundPRO, Fire & Spice Peppers, Textile Sale Bracelets or maybe even F&D Upholstery? If you have, it's a network of fake freebies that I have covered more than once if you need a refresher. I have finally tied these network of fake freebies to two freebie sites, one US based (freesamplesmail.com) and one Russia based (halyava-besplatno.ru). How did I do this? I tied their advertising code together on all the sites. I prefer not to publish the code as it's confusing/might be against certain terms of service that I want to respect, but you can look on any of the sites mentioned and see it in the code. I also found users named "WebSEO" (thus the "WebSEO" Fake freebie network) on all of them. That's right here: halyava-besplatno.ru/webseo/webseo/and here: freesamplesmail.com/webseo/webseo/

Case closed. It's a fake network meant to game search engine rankings and boost profits for a freebie site. If you are a freebie or deal blogger you may want to think twice about linking to this network of websites.

PS: Found another fake one here is the WebSEO user and the website to avoid it like the plague: adrasoap.com/free-sample/ and adrasoap.com/webseo/webseo/

Lion Mane For Dog: To put it simply, this is as fake as you can get.
First off, they claimed to be associated with Lion Aid, so I reached out to Lion Aid, they said nope that is not true.

Second, the emails tied to their Shopify store are the same as a DJ in Canada. I did not like the DJ's page on Facebook to say the least.

Lastly, to drive it all home, they said "We are not a factory mass produced product in any way, shape or form." but if you do a reserve image search on the dog mane, you get a lot of hits on sites like Alibaba. Oh big surprise it's factory mass produced. You cannot trust anything from this site, it's a fake, don't sign up. Here is the URL to avoid: https://alloicshop.com/collections/frontpage/products/the-dog-mane

Dirty South Vintage: So, it appears at least one person got the sunglasses for free, maybe I was wrong that it was a fake. Someone from the company reached out to me a few days ago asking me to take the negative commentary down about them and explained the free promotion with this post. All I took away from reading the post was that I'm a scammer/fake and a troll. I signed up and did all the right stuff and never got anything. Most people did and got nothing too. At the end of the day, they kept all our personal information for their own marketing benefit. When normal business chumps like myself have to pay large amounts of money to acquire customers, they did it for free, called us trolls and then kept our information. The negative commentary stays. Not a fake, but certainly was a mishandled promotion and in my opinion, a scam to acquire information for marketing purposes.

Degorilla: This is highly likely to be a fake offer. It's too early to tell but everything points to fake. It's got the same terms of services as the fake 9OOS freebie which has some pretty big red flags and even a possible child abduction claim (unverified). 9OOS never came and they just shut down their site after, I doubt Degorilla will come either. Beyond the tie of the terms of service containing a reference to "Mulko g. Kaunas LT 72211" which is Kaunas, Lithuania. The fact it's based out of Lithuania should be concerning. Maybe the fact that they lied on Reddit about taking all the photos on their website and then being proven wrong with stock photos should tell us it's a fake too. Or maybe we can consider it fake because of the radio silence after being called out as a fake. Or maybe because they banned me/others for asking questions on their Facebook page?

The only communication since they went radio silent has been two of an update email saying "the first 500" "who get selected" will get t-shirts which is very deceptive because they are still accepting orders without free shipping for all countries. The second email is this email I got today which says it's being shipped. Both emails included a coupon to buy something on their site. This implies to me that they just wanted to acquire loads of personal information to use for marketing purposes, in other words, a deceptive act also the definition of a scam. Time will tell if it's fake but my fake meter is going off the charts.

Neuromax Pain Relief Gel: I don't know if this is a fake or not but my gut just said "no" to this one so I didn't post it. The privacy page had a pop up for a weird unrelated Photoshop eBook (it has since disappeared but here is the photo that popped up which should give anyone concern when you look into that humans eyes). The main website is in Spanish and there is no actual content except for this free sample page which means this could be a hacked website or web server. The video on the free sample page is hosted by "Zantric Agency" which doesn't exist anywhere when you Google it. And their YouTube page is unlisted which means they do not want to be found for some reason. Not a good sign it'll come so I'm putting this in the fake box for now. URL to avoid it: http://muscleachepaingel.com/neuromax-free-sample/

Finger Vibrating Massager: Here is the first "Can You Help Us?" fake freebie of the update, the rest below are pretty much all the same deal in terms of being fake. This finger vibrating massager seems like a new innovative product that you'd like to try… until you hit submit! Then you get taken down a dark, sad waste of time. Here is an example of the "Can You Help Us" pop up that appears for fake freebies so you know to avoid taking the extra steps/know that the freebie won't come. URL to avoid: https://www.facebook.com/VirginiaBeachMassageTherapy/app/201742856511228/
Car Sponge & Car Anti-slip Matt: Here is another "Can You Help Us?" pop up that appears on this Urgent Care Bumper Repair Facebook page. They also keep your information in plain-text on the thank you pages which is a nice touch so even more people can grab your personal information. URLs to avoid: https://s3.amazonaws.com/urgentcarebr/index.html and https://www.facebook.com/urgentcarebumperrepair/app/128953167177144/ and https://www.facebook.com/urgentcarebumperrepair/app/190322544333196/

Dragon Knife Pendant: Just another fake freebie popup when you sign up. Thanks to Kelli for the heads up on this fake freebie! URL to avoid: http://incustomrailings.com/samplerequest.html

FavoSpa: They had a Himalayn Body Scrub last time, now it's a relaxing essential oil. How clever. When you sign up you get the tell-tale "Can You Help Us" but this time it isn't a pop up until you say you want to help, doesn't make it any more legit though, it's fake as can be. URLs to avoid: http://favospa.com/free-relax-essential-oil-sample and http://favospa.com/free-relax-essential-oil-sample

M Coiffure Spa: This is an old fake freebie from 2010 and it still goes around. It has "the pop up" whenever you sign up, here are the URLs to avoid: http://salonanddayspa.org/free-hair-treatment.html and http://salonanddayspa.org/freebodyscrub.html and http://salonanddayspa.org/freehandmadepeachsoap.html and http://salonanddayspa.org/freecastoroil.html and http://salonanddayspa.org/freeserum.html

Mailfinity: Mailfinity has been offering free a letter Opener, Eraser and even scissors since 2008. And they have never, ever arrived. Why? The "pop up" shows up so you know it'll never come. URLs to avoid: http://mailfinity.net/letter-opener.html and http://mailfinity.net/free-eraser-set.html and http://mailfinity.net/scissors.html

Louisiana Design & Printing: They offer a notepad, Christmas gift bag and spiral node pad. And it won't ever come thanks to the "pop up" red flag. URLs to avoid: http://printinglouisiana.net/an_form/ and http://printinglouisiana.net/pb_form/ and http://printinglouisiana.net/sb_form/index.php
---
Do you want freebies like the ones mentioned in this post? Sign up for our daily email newsletter. And keep in mind, I don't ship samples, you need to sign up for each one yourself. The more you sign up for, the more you'll get.

That is all I have for the sample update today! Do you have any updates to contribute, send me an email at freebie-updates@yofreesamples.com anytime.

– John 'Samples' Clark