DailyGoodieBox / TryProducts / Treatspot / HealthySnackBoxes Review: It's More Like A Contest Than A Real Free Sample Box
Important Note: When you buy through our links, we may earn a commission. As an Amazon Associate we earn from qualifying purchases. Content, pricing, offers and availability are subject to change at any time - more info.
Bottom line: I'd head to their Facebook instead of their website because that seems to be the only way to get freebies from them reliably. Using their website is less reliable at getting freebies.
Jan 2023: HealthySnackBoxes has entered the room, basically a clone of all their other sites.

May 2022 Update: DailyGoodieBox is trying to re-brand as "TryProducts.com" or TryProducts. And now trying to rebrand as Treatspot / Treatspot.com – Basically the same contest-based site with low chances of freebies. And the same Facebook strategy of offering boxes for commenting and borderline begging for freebies. They are paying to get sign ups for TryProducts.com and just look no further at how PINCHme turned into a scammy survey time-suck over time. They have to make money off you somehow. Usually with scammy surveys or affiliate offers. Stick to Social Nature or Home Tester Club or another company that isn't trying to pay people to sign up which, in the long term will likely pervert their incentives to "monetize" you more with endless surveys/etc. Not to say you will NOT get freebies, plenty of folks have, self included (after begging) but I personally do not waste my time with this company as a freebie hunter of many years.
Edit: Some folks claim to have gotten free stuff from them regularly, maybe I'm wrong and it's worth a shot but I would only stick to Facebook commenting.
Signing up for TryProducts.com or Treatspot? You get endless surveys like this below and I also got over 5 or so "Free sample" offers taking you to endless survey sites. Each step is trying to make money off you immediately and if you sign up, your phone and email will explode with spam. Facebook appears to be the best way to get free samples from either DailyGoodieBox or TryProducts. If you must try, try on Facebook.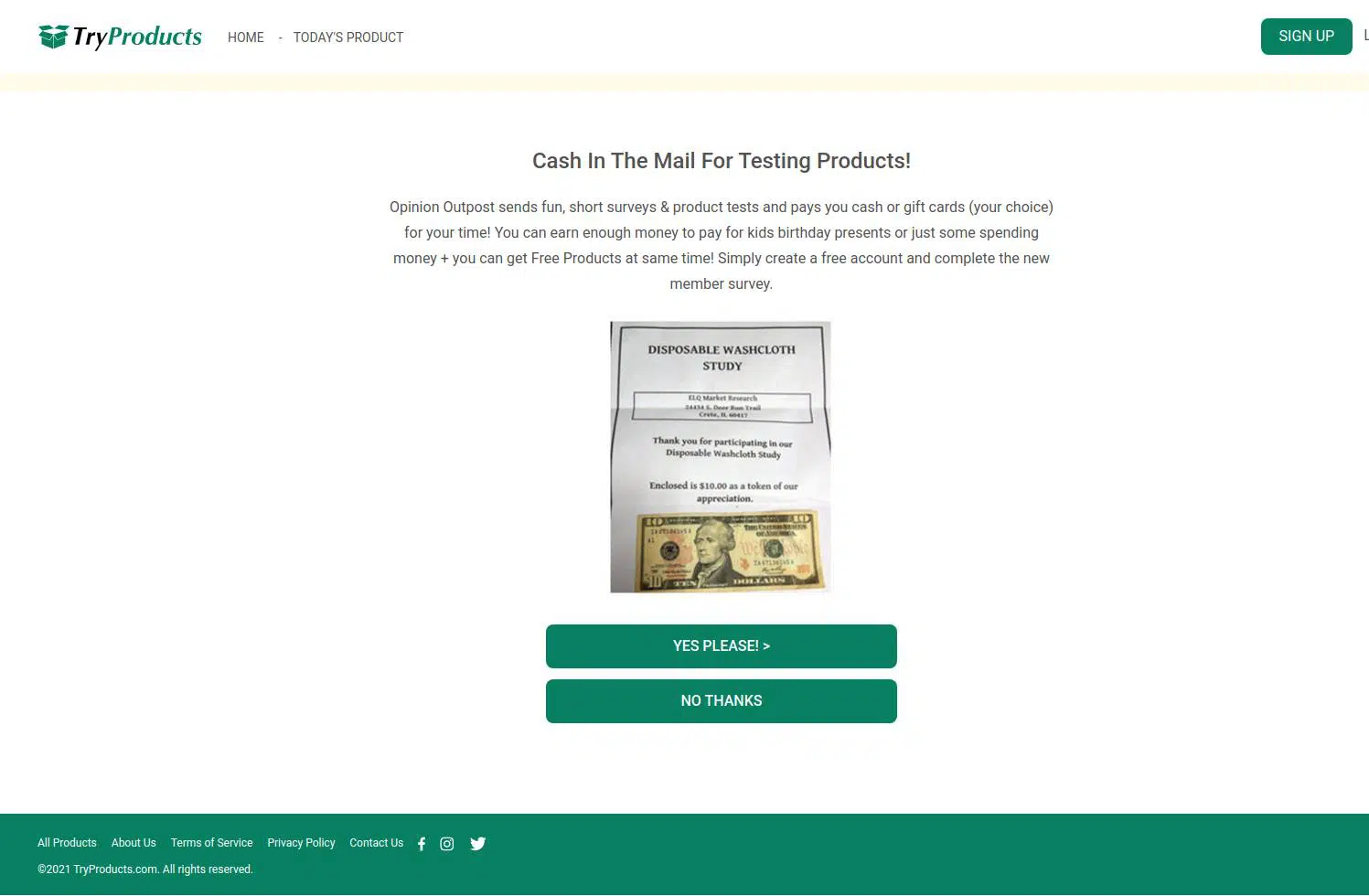 DailyGoodieBox is more like a contest than a respectable free sample box company like PINCHme or SampleSource. With Daily Goodie Box you have to spam their Facebook posts with comments to really even get a chance to get a box as of August 2017. It's not even close to the quality or quantity of free samples you can get from a PINCHme or a SampleSource in my opinion.
They are also run by LuxeAds which is an affiliate advertising network so they have an incentive to send you ads. And I mean, they send you a lot of ads via email. But so does PINCHme and SampleSource to be fair. They are also based out of Australia and not the United States. DailyGoodieBox's US address is rentable month to month mailbox or workspace. The LuxeAds network also switched the payment terms when I partnered with LuxeAds for a short 2 months which was disturbing but not unusual for smaller affiliate networks in general to be "sketchy" in my opinion. So, on the consumer end you get deceived to think it's a real free sample box, but it's a contest at best and they have sole discretion to choose who gets awards a box. A big difference from what they promise when you sign up. And they deceive you on the business end too? In my opinion, it's a waste of time to deal with them unless you view it as part of your contest routine.
DailyGoodieBox can and has sent boxes, self included, but for most, it's pretty unlikely you'll get one unless you are really motivated. But don't get too vocal, you may find your account deleted the next day. Many readers have complained of about DailyGoodieBoxs' rudeness on social media as well. Here is a private link if you'd like to read more feedback from members of the group, but you'll need to be a Facebook group member which requires applying to read it. I've been following them since before they launched in May 2016. I've given them the benefit of the doubt too. But it's been over a year at the time of signing up for their service. It is clear that DailyGoodieBox is basically an advertising network first (and not a good one in my opinion). And a sample box second. Here is my final opinion: DailyGoodieBox is a big fat scam box. Maybe things will change, but I doubt it for now.
-John 'Samples' Clark
---
Advertisement
---
How to win a free DailyGoodieBox:
Visit their Facebook page and beg, that's about the only way you'll get a box sadly.
* DailyGoodieBox post updated 8/25/17. Any link to their website has been removed in protest of their business practices.