Wedding Registry Freebies for 2018
Important Note: When you buy through our links, we may earn a commission. As an Amazon Associate we earn from qualifying purchases. Content, pricing, offers and availability are subject to change at any time - more info.
We're always looking for the freebie angle and when it comes to weddings, we've found some. Just for making a list of gifts you'd like you can score a few gifts of your own. Yes, I'm talking about wedding registries.
---
Advertisement
---
But first, a little wedding registry lingo. Called incentives, bonuses or just free gifts, some stores – in conjunction with home goods manufacturers – offer these as a way to encourage you to pick their brand. Can't decide on the china you want? Maybe that free serving dish from Mikasa will help sway you.
Of course, there's always catch. When you put Mikasa china on the list, your guests need to purchase a certain number of items for you to get the free serving dish. But if you're starting from scratch, most of the time, that serving dish is a slam dunk.
But what about a sign up gift?! Unlike baby registries, wedding registry freebies are scare. And you have to sign up in-store to get them. We've "bolded" any mention of free stuff for registering in the store descriptions, below, but keep in mind these offers are subject to change.
There's also something called a completion bonus. If you don't get everything on your list, the store will give you anywhere from 3 months to a year to purchase those un-bought items at discounts ranging from 10%-20%.
You'll also find free mobile apps (including the new "universal registry" type that let you save/keep track of items at various sites), sweepstakes to enter, extended returns, group giving and, if the store has a bonus or points programs, extra opportunities to rack those up. Plus, most registries integrate with The Knot so your friends and family can find everything about your wedding all in one place.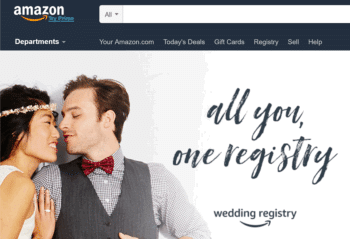 One thing to keep in mind. For some stores, you need to be a store credit card holder, or, if you aren't a card holder, some of the discounts are limited. The good news is there are plenty of stores in the wedding registry pond, so you're likely to find a store that has what you want and doesn't require hoops to register.
And now, here's our handy list of the most popular registries and what they offer.

The world's biggest online store with everything from electronics to furniture to kitchen and dining. Prime members get a 20% completion discount (non-Prime members save 10%). Lots of bonus gifts plus a universal registry app. Unique to Amazon is their "package x-ray". Tap and scan so you can see what's inside a package without opening it.
Quirky and unique home furnishings and accents. 15% completion bonus and mobile app (IPhone only).
All things home including linens, china, gadgets, curtains, towels, flatware, small appliances and seasonal goodies. While BB&B doesn't offer much in the way of discounts, they do have "The Freebook," an all in one brochure of current incentives from brands they carry.
Popular department store with name brand home and bath goods. Check out their Registry Rebates before creating your registry list to earn free stuff from brands like Lenox, Waterford and Calaphon.
Electronics, major and small appliances. Extended returns, 10% completion bonus, group gifting (great for those big ticket items) and a mobile app to keep you organized.
Home furnishings and lots of fashion and accessories for the bridal party. You'll get 20% off wedding party/bridal clothing purchases plus a 20% one time discount on a purchase up to 3 months after the big day. Completion bonus (10%) for unfulfilled items on your registry and tons of incentive gifts from major brands.
A little bit of everything department store and the only one that offers a couples 15% off shopping pass and a 10% rebate on YOUR purchases. Ten percent completion bonus, free gift wrap and enclosure cards for shower invitations offering guests a special discount.
Home and bath furnishings small and large with a modern style. Free gift (two stemless wine glasses) when you register in-store and 10% completion bonus.
Popular department store in the southern US. Generous 20% completion bonus and lots of incentive items. However, you must be a Dillards' cardholder to create a registry.
JC Penney has everything – and it's usually on sale. An app, 10% completion bonus and many incentives and special pricing from brands carried by JC Penny.
Linens, bedding, decorative home items plus small appliances…and lingerie if you're so inclined. You'll receive a 10% reward on any purchase made from your registry and there's a 15% completion bonus. Free gifts (incentives) from Kohl's brands plus easy ways to share your registry on social networks.
Wide selection of home goods, china, flatware and small appliance brands plus luggage and wedding party clothing. Lots of perks including a 20% completion bonus, Star Rewards and special discounts in selected departments for card holders, incentives, sweepstakes, store events plus a "dream fund" where guests can contribute to a single gift card.
High end home furnishings plus clothing for the wedding party. You'll get expert advice from stylists and registry experts plus a 10% completion bonus, free shipping, retufns and gift wrap and 10% off catering services.
Post-modern style furniture, china, flatware, linens, curtains and decorative home items. Ten percent completion discount, plus bonus gifts/incentives for selecting Pottery Barn brands.
Everything from major appliances to home and bath plus luggage, furniture and tools. But except for a mobile app, nothing special about their registry.
Wide selection of china, flatware, glassware and decorative home objects. Free gift when you sign up plus incentive from high end home and kitchen brands. 10% completion bonus and a personal registry concierge service.
Do I have to tell you what Target has? What I will tell you is that Target now offers group gifting, 15% completion discount, a full year return policy, mobile/universal registry app and many incentive items from Target brands.
Some of the lowest prices around on home and bath items, small appliances, electronics and more. Registry integrates with the Walmart mobile app.
All things home from decorative accents to major pieces of furniture. Group gifting helps with the bigger items. Free returns (for store credit) and a 10% completion bonus round out Wayfair's registry offerings.
The original kitchen and cooking store, registry members get a 10% completion bonus plus incentive items for high end brands like Le Creuset, All-Clad and Wusthof. Mobile app scans items directly into your registry list.
Wide selection of home items – furniture, kitchen/dining and bath and they offer trips to add to your registry. Group gifting, mobile apps and price matching are included. Plus Zola offers a unique shipping hold where you can elect to have items sent at a later date and an online exchange to swap registry purchases for others or turn in for cash.