Free Sample News Update: Sam's Club Baby Box, Pistaché Skincare, Jupiter Balm, scünci 3X Stronger Braided Elastics, Today Show VR Viewer, She-Tea Green Tea In 3, 10 Speed Coffee Sticker, Etekcitizen's Review Program, ORAX Sonicare Toothbrush Head, Pokemon Plush, Tigi Hair Color For Stylists, Child Safe Kit, Grill Masters Club, Vinyl+Flooring PonToonStuff.com & MARCO Promos
Important Note: When you buy through our links, we may earn a commission. As an Amazon Associate we earn from qualifying purchases. Content, pricing, offers and availability are subject to change at any time - more info.
Hello fellow freebie hunters,
Welcome to another update on my mailbox, what freebies + deals worked and what didn't work out so well. And as usual I'm doing with the Clint Eastwood theme of "The Good, the Bad and the Ugly" for this update. Let's start with the good news.
---
Advertisement
---
The Good:
Samples & Deals from August 12th 2016 through August 23rd 2016: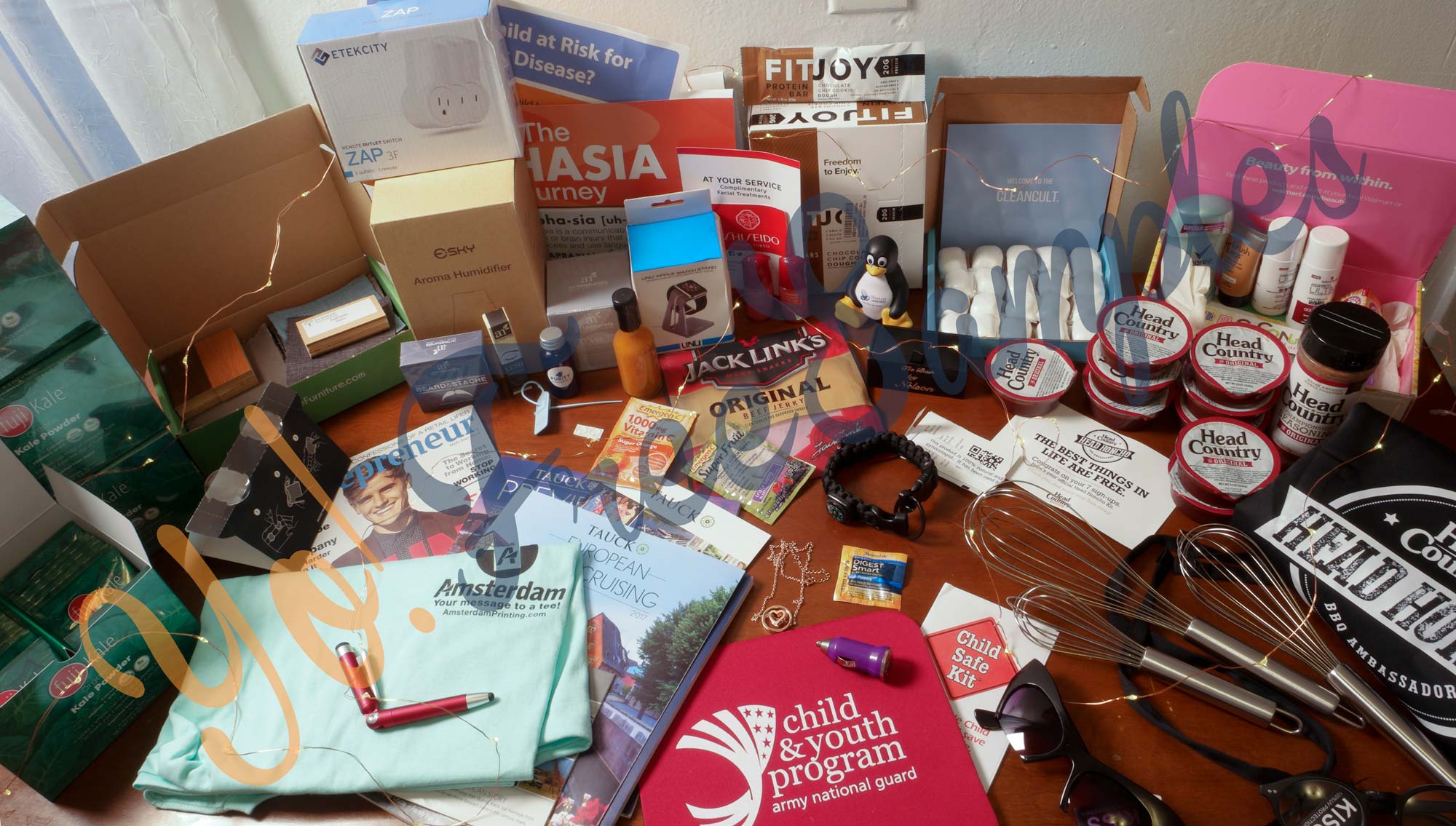 Psst.. you can click on the image above to open the image full-size in a new tab.
Freebies received:

Aphasia Journey Poster: Still active too.
Kidney Disease Poster: Came in under a month which is pretty fast. Still active too.
FitJoy Bars: This was a 2nd box that came later from this promotion (not active).
30 FujiKale packets: First off, thank you for everyone who referred me for this one, I really do love powdered greens and I did NOT expect so many of you to use my referral number. So, thank you so much, I got way too much though and I'll be giving them away to you for our next giveaway ASAP.
Thrive Furniture: This is an awesome designer box, came really fast and it's still active.

Etekcity Wireless Remote Control Electrical Outlet Switch: This wasn't a freebie but a coupon code to save about 50% off on these for Amazon. This one is most likely expired (I can't test most coupons more than once on Amazon as per Amazon policy).

Esky 100ml Essential Aroma Humidifier: This wasn't free either, I only posted it in the Facebook group and it was about 40% off ($14.99 total at the time vs $24.99). Here is product on Amazon if curious.

Shiseido: This offer sent two for some reason, assuming I was testing out the form for one of you which might explain it. It is expired though so you can't get anymore.

Apple Watch Stand: This was posted on the Facebook group as a freebie for a short time, I think I was the only one who got one, doh. Least I got my mother a cool present.

Purity Body Wash: This one is expired, but it came fast and it wasn't that bad once I tried it.

Emergen-C: This is still active if you want one.

Trini Scotch Bonnet Pepper + Scorpion Pepper Sauce: This one isn't active anymore, but I'm excited to burn my taste buds trying this out!

Art Naturals Beard & Mustache Balm: Elite Deal Club freebie, total cost $0.00.

$25 In PayPal: I got that from the Coupons.com savings guarantee. Not shown in photo but nothing is better than free money!

Child Safe Kit: This was a valid "kit" but more like a life insurance ploy rolled into a brochure, sorry for posting it.

Stress Linux Penguin: Came from QualityLogoProducts. Removed from site because it wasn't free anymore.

Entrepreneur Magazine: Signed up awhile ago, still coming!

Walmart Beauty Box: It took almost 2 months to arrive but alas it's here and still active for $5 shipping.

Pen, Shirt, Mousepad & Car Charger: Amsterdam Printing provided these, not a bad place, I might have to consider them instead of 4imprint for prizes!

Tauck's 2017 Travel Calendar: Came with a bunch of extra stuff but worth it. Also it's still active.

Micro Fairy LED String Lights: These were 84% on Amazon, not sure if the coupon here is still active but they are still discounted if you are interested.

Necklace: That was a deal posted in Facebook group, ultimately it took awhile to get here too.

Intimacy Gel: It's that unlabeled one, it came pretty fast. And it's still active.

2X Sunglasses: Those cost $0.00 (thanks to Amazon Prime) and were both free. Study builds too. And yes I reviewed them already, who do you think I am?!

Head Honcho Kit (BBQ stuff): Ordered July 5th, finally came here. This promotion isn't active but it continues to taste good. Yum.

Digest Smart: This one is over, but it came.

3 Whisks: Posted this deal on Facebook group, went fast as it was a lightening deal. I got it for 69% off, it's still 60% off as of the time of this writing if you are interested.

CleanCult Non-Toxic Laundry Pods: These came very fast, can't wait to see more from this company. The promotion is still active to my knowledge.

Multi-Function Utility Band: Expired but as usual with tobacco freebies, it came in the mail!

Clips, Medical Thing, Engineering Thing: These 3 came too, nothing special here. If you really want me to dig this up feel free to email me.

Pistaché Skincare: If you ordered one of these on Sunday, August 14th or Monday, August 15th 2016 they said on Twitter you should be set to receive samples. Otherwise you are out of luck. They also wanted to pass along to check out their jars on Amazon here too.

Sam's Club Baby Box: This one is confusing, still waiting to hear back from them about good or bad news. I followed up with them on Twitter and they said "Due to high demand, we quickly ran out of inventory, but your box is now officially on its way!" and then when I inquired about why their baby sample box form is still accepting submissions they told me they are contacting an internal team about this and will get back to me. I have not heard back but pinged them again today to see if anything else came up and will update this post if I hear anything. For now, if you ordered the box the first few days I would assume it's going to be shipped at some point and their open communication is always good news too.

ORAX Sonicare Toothbrush Head Sample: They got very overwhelmed due to a glitch that did not acknowledge their sign up "limit". But who wants to send all those interested people away? According to their email: Yes, that's a lot more than we had predicted… But we will fulfil all of them! We'll just need a little bit more time to setup our logistics. – so they are working on it and this is good news.

Etekcitizen's Review Program: I had a mix up with my account where they wouldn't let me login, apparently they switched to a new system. I just wanted to leave a positive note about their customer support staff being responsive, even in the face of admitted grumpiness. If you aren't aware you can request a product once per month that you must review on Amazon. Bad news though, it's harder to get into the program!
The Bad:
MARCO Promos: They asked to be removed from this site so don't hold your breathe for any requests to be honored.

10 Speed Coffee Sticker: No dice for most of us, they are working on a second shipment according to their email here but if you didn't make this one, it's not looking good.

Grill Masters Club: They silently increased their prize limits (well within their rights) for all the prizes. Maybe I missed the email but the lack of communication is bad news bears in my eyes if you are counting on them to fulfill all of their prizes. Who knows, they may just raise the limits again the last day? I'd stop investing time in this one unless you really want the goods.

Tigi Hair Color For Stylists: I didn't sign up for this one (or the other hair stylist freebie that day if you remember it), but it saddens me to say even if you were a licensed stylist or salon professional you got left with this email (thank you Kelly) saying basically that you are out of luck unless you follow up with them further.

scünci 3X Stronger Braided Elastics: Most folks got this unlucky email here saying you'll get our emails but not our sample. I got accepted in time somehow according to this email, but I think most people aren't getting this one is my prediction.

Vinyl+Flooring PonToonStuff.com: They also asked to be removed from the site and said "We don't send them to the general public for promotional purposes." so don't expect those to come if you requested them.

Jupiter Balm: This one has turned into a random giveaway, not a sampling program as expected according to this email. Not a big surprise they seemed legitimate but fairly small.

She-Tea Green Tea In 3: I never posted this because I stick to US based offers for the time being. But if you ordered it outside of Australia then you aren't going to be getting this. I can agree with their shock they expressed in their email when they said "We apologise to you as we were shocked that our tea has been included in a "FREEBIE" website for the US as this is not an accurate offering at all." Side note, if you see a website ends that in ".au" that is a good sign the sample is Australia only. Thanks for the heads up on this one Michael!

Today Show VR Viewer: Today is the day of the DNCE VR show, so if you didn't one, it's clearly not happening. They sent out an email saying "Thank you for your interest in our free VR viewer offer. We fulfilled thousands of requests, but the response was overwhelming and demand far exceeds our supplies. We wish we could share this experience with all who signed up for it, and are very sorry we were not able to do so."
The Ugly:
Cooler Bag: These fake offers never seem to end. I hate seeing them on other sites too because sending people you are supporting you to them just hurts the entire deal industry as a whole. Anyways, this is another "Can You Help Us?" fake. For those unaware, this is what it looks like after you sign up for these types of fake freebies, usually you don't even have to enter any valid information for it to pop up. The scammer makes around $1.25-$3.00 if you fill out the "Can You Help Us" offer which isn't enough to even buy the value of the freebie or ship it, making the economics impossible for you to even get a freebie, therefore proving that this is just fake offer run by a clever fraudster. Here is the scammy URL so you can avoid it: http://variouspackaging.com/freesample.php

Pokemon Plush: I am not talking about the legitimate one from Walmart from July. This is from "Mary's Tailor Shop", right so, some small shop is making all these by hand for thousands of people, sounds like a charity and not a business to me. Or a scam. You don't even have to fill out the form to know it's a scam, just hit their submit button and you see "Can You Help Us?" – URL to avoid: http://marystailorshop.com/formdprocessing.php
That is all I have for the sample update today! Do you have any updates to contribute, send me an email at freebie-updates@yofreesamples.com
– John 'Samples' Clark