What Is eBay Certified Refurbished?
Important Note: When you buy through our links, we may earn a commission. As an Amazon Associate we earn from qualifying purchases. Content, pricing, offers and availability are subject to change at any time - more info.
Have you ever shopped for a new item for your home, only to be discouraged by how much it costs?
---
Advertisement
---
The Certified Refurbished program from eBay is designed to help consumers bring home expensive, desirable items for a lot less than original retail.
Does that sound too good to be true? It might to some people, but the more you learn about eBay Certified Refurbished, the less outlandish the idea sounds.
In fact, this might become your new favorite way to shop for items.
Refurbished Products?
Many people feel a healthy skepticism when they hear that a product is "refurbished." What exactly does that mean?
Typically, something that has been refurbished has been updated or restored to virtually like new condition. This might feel like you're taking a terrible chance with your hard-earned money, but if you're shopping via the eBay Certified Refurbished program, your money might be less at risk than you imagine.
Shopping refurbished simply makes sense for a lot of people. Essentially, it's a great way to get the items you want without draining your bank account.
Shopping refurbished goods also is more sustainable than always purchasing brand new products. You're helping the environment with every purchase of a refurbished item.
Many retailers and manufacturers sell some refurbished products, but the biggest player in this game has got to be eBay. Simply by performing a search on their website, you can find brand-name products in like-new condition without paying high prices or worrying about the quality of the item you receive.
The eBay Certified Refurbished program makes it possible to shop for products that were professionally refurbished by the manufacturer or vendors that have been vetted and approved by the manufacturer.
Let's take a closer look at eBay Certified Refurbished so that you can shop with confidence.
What Does eBay Mean by "Certified Refurbished?"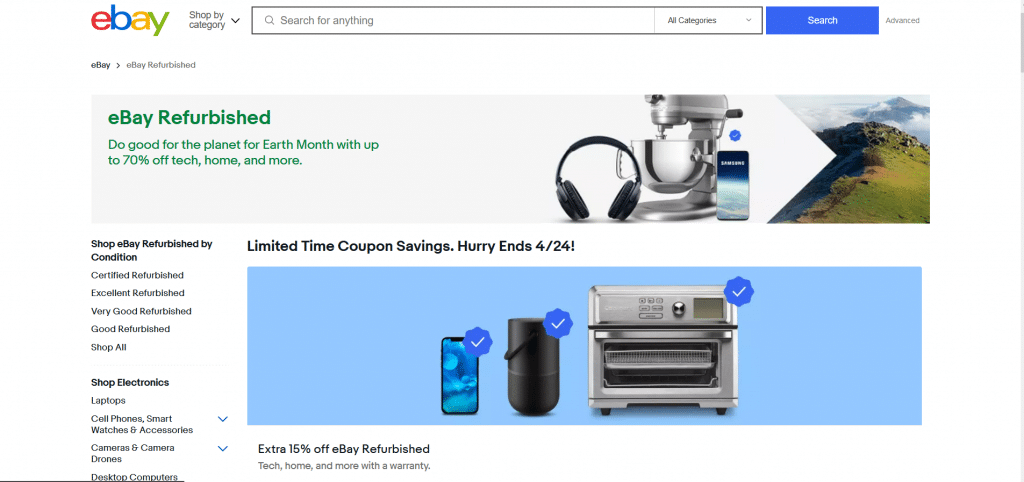 A refurbished item is a product that has been restored by an expert to reflect the function and quality of the product in its original state. It's pretty easy to locate refurbished products all over the Internet, including on huge, well-known websites like Amazon and eBay. Numerous independent shops and sellers also make big business out of selling refurbished goods.
The caveat is that it's possible for absolutely anyone to label an item that they are reselling as "refurbished," but it's almost impossible to know precisely what that means.
Did they just put in a new battery and call it good, or did they thoroughly check out the product and repair or replace any and all issues?
If you don't buy this type of goods through a program like eBay Certified Refurbished, then you really are gambling with your money.
This program, by contrast, is designed to let you save some serious cash while still getting the items you want. Best of all, the quality of these refurbished products is unmistakable.
Now, eBay also sells uncertified refurbished products, but if you want extra peace of mind with your purchase, it is wise to opt for only those that are a part of the "Certified Refurbished" program.
Through this program, it is possible to buy things that were refurbished by the manufacturer or a vendor that is approved by the manufacturer for doing this work.
To ensure that quality standards are upheld, eBay has instituted certain Certified Refurbished requirements.
These include that Certified Refurbished products must be:
Professionally refurbished to an exacting standard, exhibiting few or no apparent blemishes
Sourced or sold directly from the item's manufacturer, including proof of authorization or purchase
Covered by a manufacturer's warranty
Shipped without cost to the consumer
Returnable within 30 days
Shipped in new packaging and including all accessories whether original or new.
Additional requirements include that the manufacturer or vendor must be in the United States and have a solidly positive reputation on eBay.
Certified Refurbished Items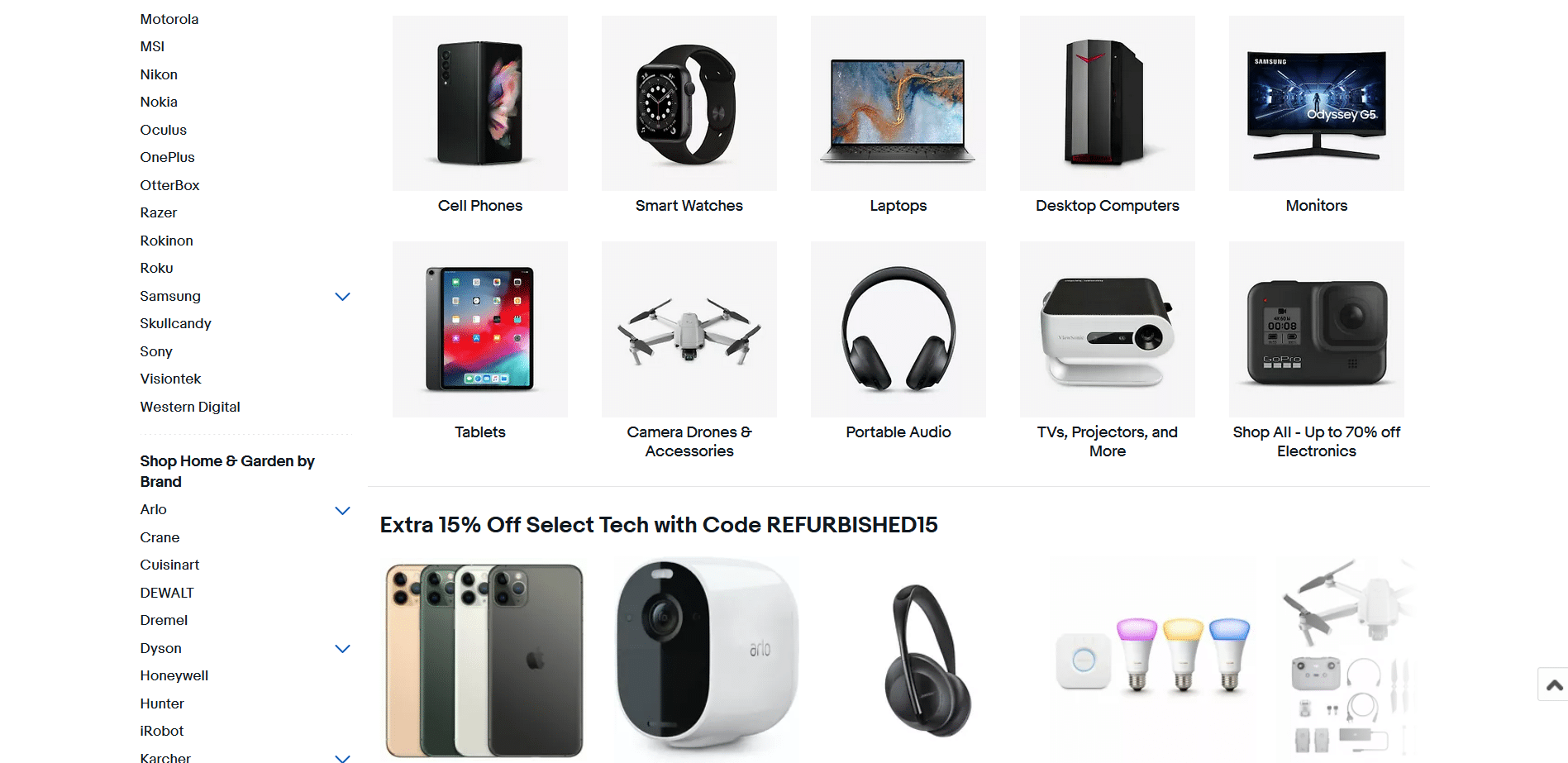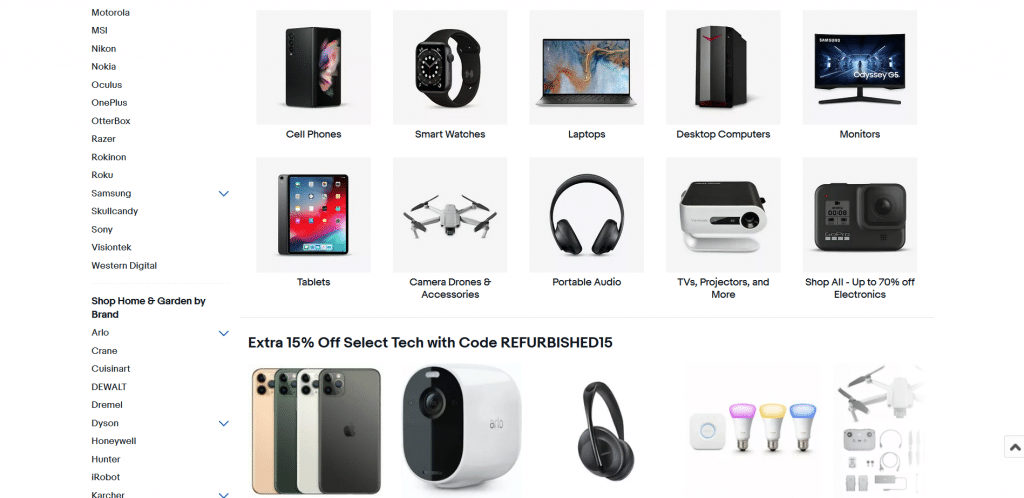 Now that you know more about what it means when a product is "certified refurbished," you probably want to learn what kinds of products on eBay you might find within this program.
EBay only allows certain categories of products to be eligible for the Certified Refurbished program. These include lawn mowers, power tools, tablets, smart watches, vacuums, smart lights, door and window sensors, Apple laptops, smart phones, gaming headsets and many others.
In fact, you might be impressed when you see all the well-known brand names that are offering Certified Refurbished items on eBay. These include things like gaming monitors from Acer, iRobot with its Roombas, Jabra and their wireless earbuds and Bose with their noise-canceling headphones.
What About Quality?
The brand names and items listed above have probably intrigued you, but you may have lingering doubts about the quality of these refurbished products.
Rest assured that there is little cause for concern. EBay only allows the "Certified Refurbished" tag to be applied to listings that are in like-new, virtually pristine condition. Before any item is listed with this label, it must be cleaned, restored and inspected to ensure that it meets the original specifications of the manufacturer. All packaging is required to be new, and any included accessories must be those that originally came with the product or are brand new.
Before one of these products is actually sent to a consumer, it is extensively tested by the vendor to ensure that it meets quality standards. This ensures that any Certified Refurbished item that you order from eBay should be in at least excellent condition if not like new.
Keep in mind that eBay does have other tiers for refurbished products. These items are guaranteed to be in excellent, very good or good condition, having been tested by qualified vendors to meet these standards. However, it is only the Certified Refurbished products that come with the highest level of guarantees.
Should you order a Certified Refurbished product and find that it isn't up to the mark in terms of quality, just take advantage of the 30-day return policy. Items purchased through this program also have a two-year warranty, so make certain that you stick to the terms of your warranty if you need assistance after the 30-day period.
How Can You Tell If A Product Is Certified Refurbished?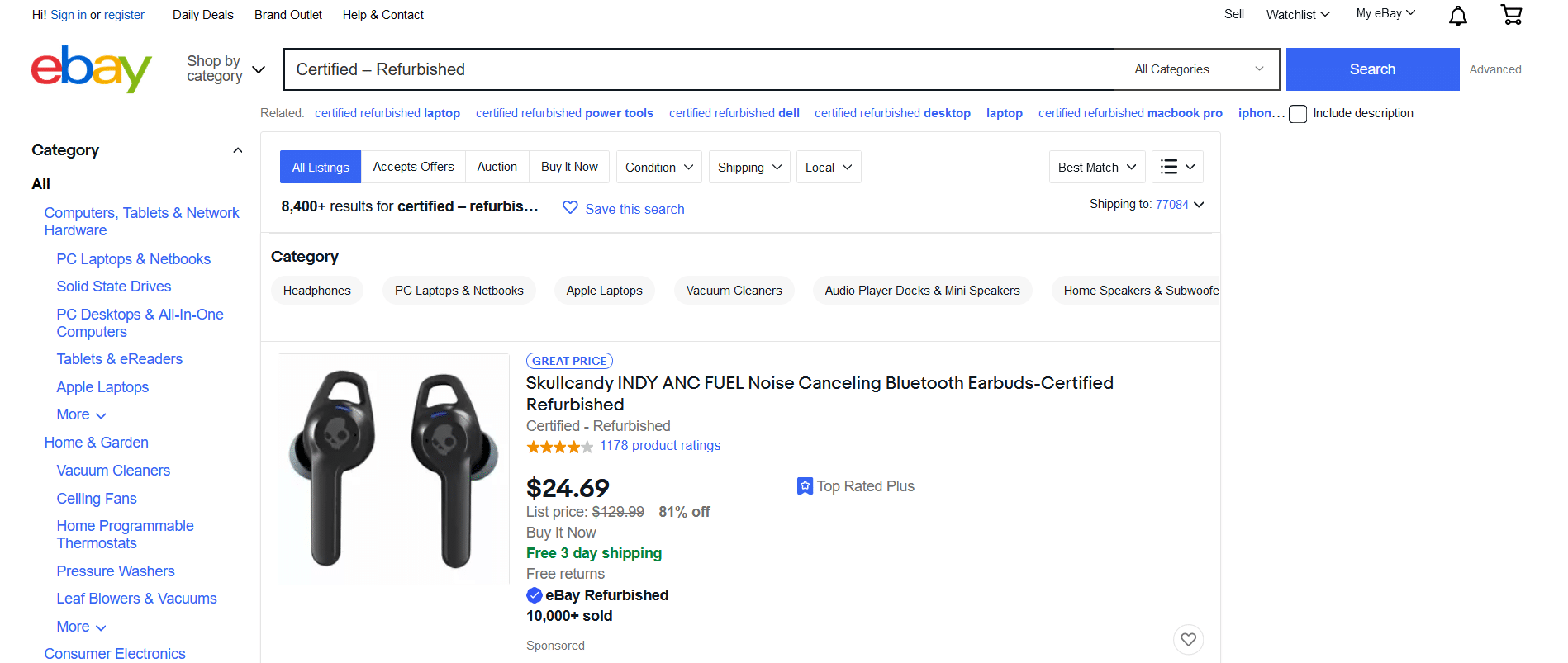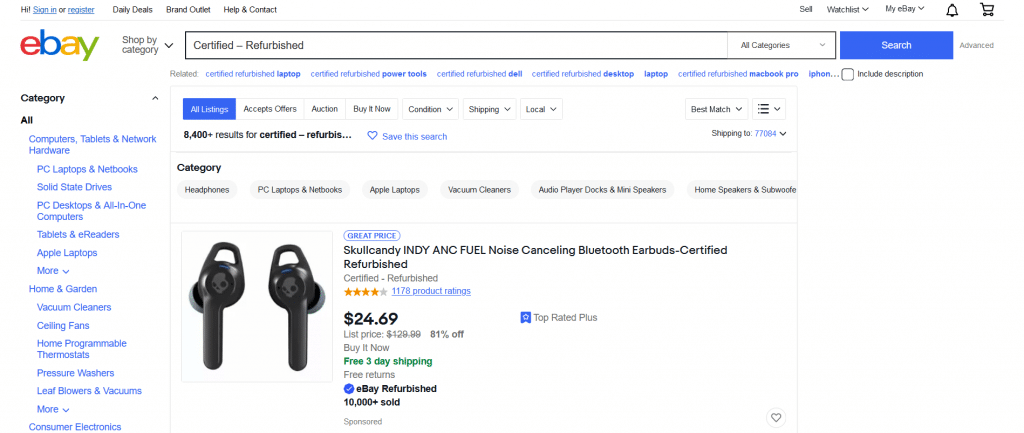 While on eBay's website, you can search specifically within listings of Certified Refurbished products. Alternatively, you can search for the item you want, and then check listings to see which ones carry the "Certified – Refurbished" label.
Be certain that you carefully read all of the product description before buying any item. This will help to ensure that you are actually buying a Certified Refurbished product.
FAQs
Why should I choose Certified Refurbished goods on eBay?
Consumers may choose eBay Certified Refurbished goods for many reasons. Most of them are simply looking for items they want from brands they trust at a reasonable price. This also is a more sustainable way to shop, and the return policy and two-year warranty are particularly generous.
What makes eBay Certified Refurbished products different?
If you browse through the listings at eBay, you'll find that several categories of refurbished items are available. Some of these have not gone through a rigorous vetting process. Others are for items that have been refurbished but couldn't quite attain "like-new" quality. When you choose eBay Certified Refurbished products, you'll have the peace of mind of knowing that the item was restored and inspected by a qualified professional. Extensive testing ensures high quality, and your purchase is backed by a 30-day return policy and a two-year warranty.
What are the different refurbished conditions on eBay?
EBay classifies refurbished items with moderate signs of wear as "Good" while a product that shows only minimal wear is listed as "Very Good." The higher echelons are "Excellent," which describes a product in like-new condition and "Certified," which describes an item that is in like-new and pristine condition.