What Does Open Box Mean & Are They Worth It?
Important Note: When you buy through our links, we may earn a commission. As an Amazon Associate we earn from qualifying purchases. Content, pricing, offers and availability are subject to change at any time - more info.
Key Takeaways
Items from open boxes typically fall into three categories:
1. A returned item, which has a maximum return period of 45 days. So it could be brand new or barely used.
2. It could be items that were on display. Often, items sitting on shelves for a long time could have been used and tested over the period while it was on display.
3. It could be a refurbished product, which is a product that came back with a defect and was repaired.
Many businesses offer open-box deals, including Amazon Warehouse, Best Buy, Wayfair, Newegg, eBay, and Overstock.
The most crucial characteristic to consider when purchasing an open-box item is the price. However, there's always the possibility of receiving a defective item, so if the discount isn't substantial, or there isn't a return policy, you might want to think again.
Because our culture is preoccupied with buying all things bright, shiny, and new, it's no surprise that millions of items are returned to stores each year due to merchandise issues and buyer's remorse. As a result, customers stumble across "open box" offers and question whether there is a catch. That said, let's examine the "open box" concept.
---
Advertisement
---
When a customer buys a product and then returns it, the store might not resell it for full price. Instead, they evaluate the item and, depending on the goods, ensure that it functions correctly before re-releasing it for sale at a reduced price. As a result, it is considered an "open box" deal.
What Is There To Know About Open Box Items?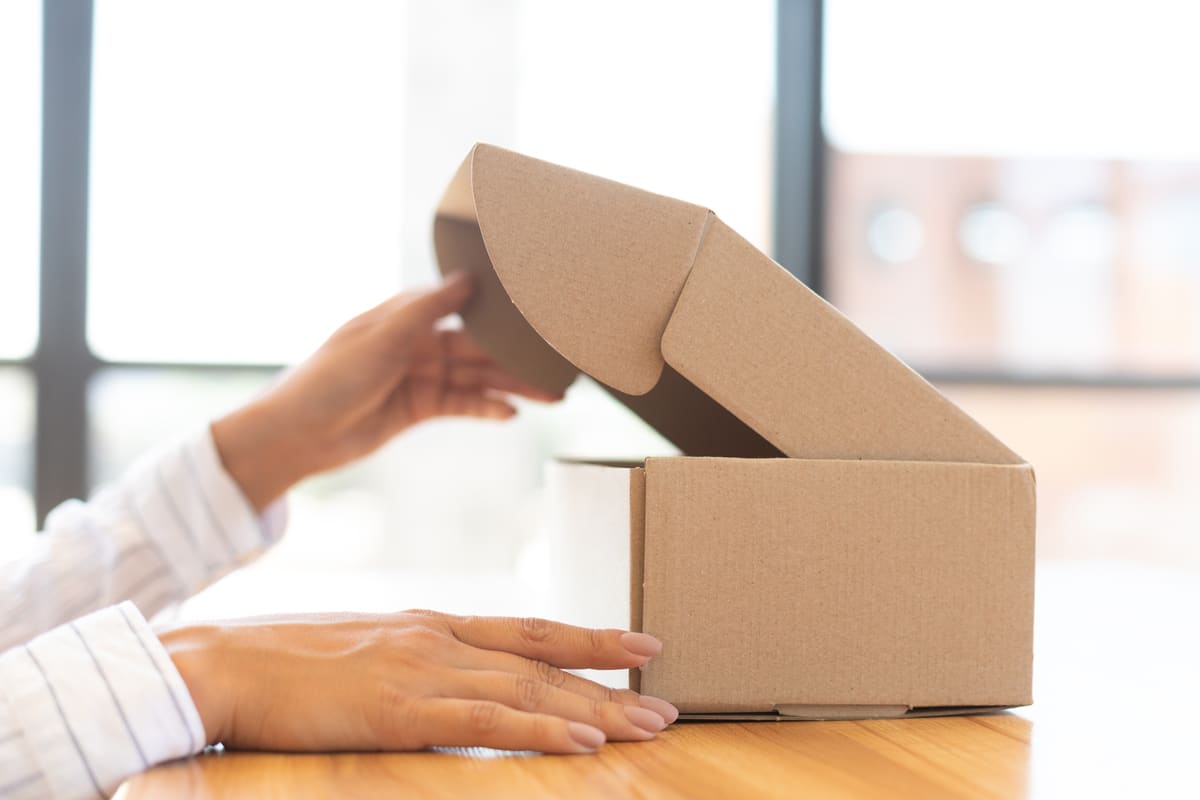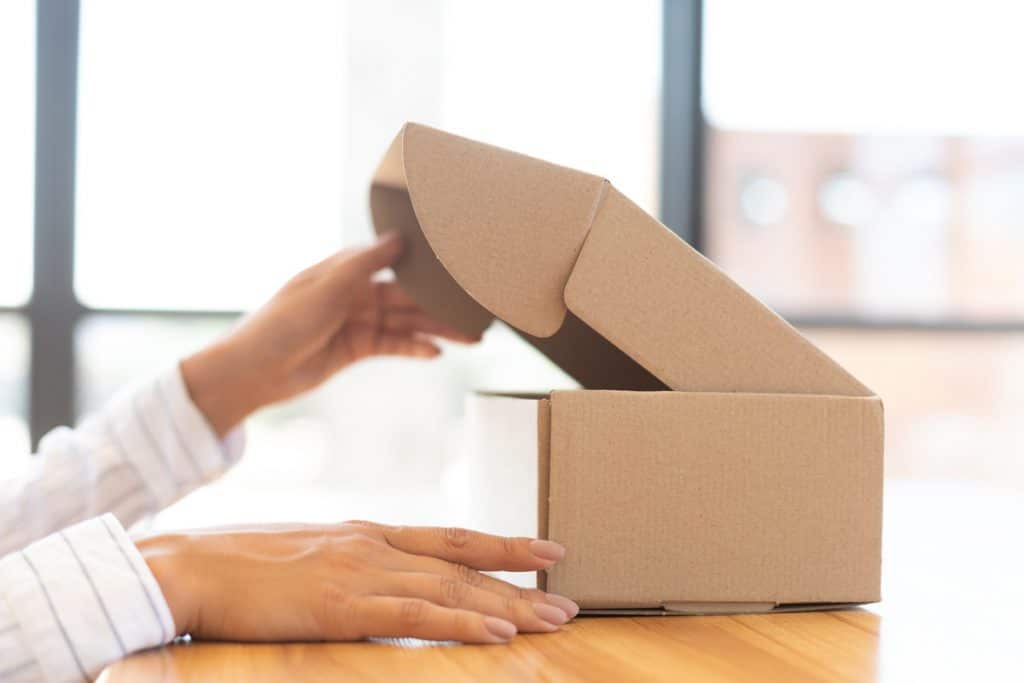 When it comes to spending your hard-earned money on a new product, you want to be sure you're getting the best bargain possible. That said, there's been a lot of talk about the Open Box deals that customers are getting from retailers who specialize in these sorts of sales.
In essence, an Open Box item is one that a client has returned for whatever reason inside the return policy window of the merchant, which is usually a month or a little over a month. Because these stores can no longer offer the goods as new, they repackage the goods and sell them at a discount.
Open Box products, unlike refurbished items, are only examined by the store after being thoroughly tested and fixed to a "like-new" state. As a result, the item will likely function correctly. Even so, you should shop as an educated consumer and be aware that buying an Open Box item may have drawbacks.
While open-box items might be a terrific value, this isn't always the case. If you're thinking about purchasing an open-box game, there are a few things you should know first.
Open Box Items Are Formed From Three Categories
When you find an Open Box deal, knowing what the item could result from would be worthwhile. Unfortunately, finding trendy items with excellent deals listed as an "Open Box Special" could be very tempting to skip out on. Many shoppers skip out on the product's history or why it was placed on a special.
As a result, Open Box products generally fall under three categories: Returned items, shelf displayed goods, or refurbished items. With that in mind, let's take a closer look into what distinguished each of these categories.
Returned Items
Returned items are a list of things individuals returned within the return policy period. They frequently merely swapped the stuff for something else or decided they didn't want it. Because they are practically new items, buying them is usually a safe bet.
If the consumer had declared that the item was defective, the retailer would not have placed it back on the shelves. Moreover, you can return the item to the retailer if it is damaged or missing components within the normal return period.
That said, many educated buyers hunting for open box items find that returned items directly returned to the shelves and placed as an Open Box special are the better option to go for.
Shelf displayed goods
Stores eventually sell their display items since they are no longer needed. Usually, these are functional items that have been in use for a year and are still in good condition but have some wear and tear. These things are typically fine as well, although you might want to spend part of the money you saved on a store warranty.
Refurbished items
These are damaged products that were exchanged for another product and then sent to a service facility to be fixed. These goods are then returned to a retailer and sold as "opened items."
The boxes are commonly damaged from shipping, have missing screws, or are erroneously assembled. Look for shipping labels or a little white sticker with the words "Store Stock" on it. Depending on the product, they are often not recommended as the best option.
However, suppose you do decide to take a risk on them. If that is the case, you should test the equipment within the return policy period (if there is one) in order to ensure full functionality. You must also purchase a guarantee on these things.
Buying Open Box Items: What To Look Out For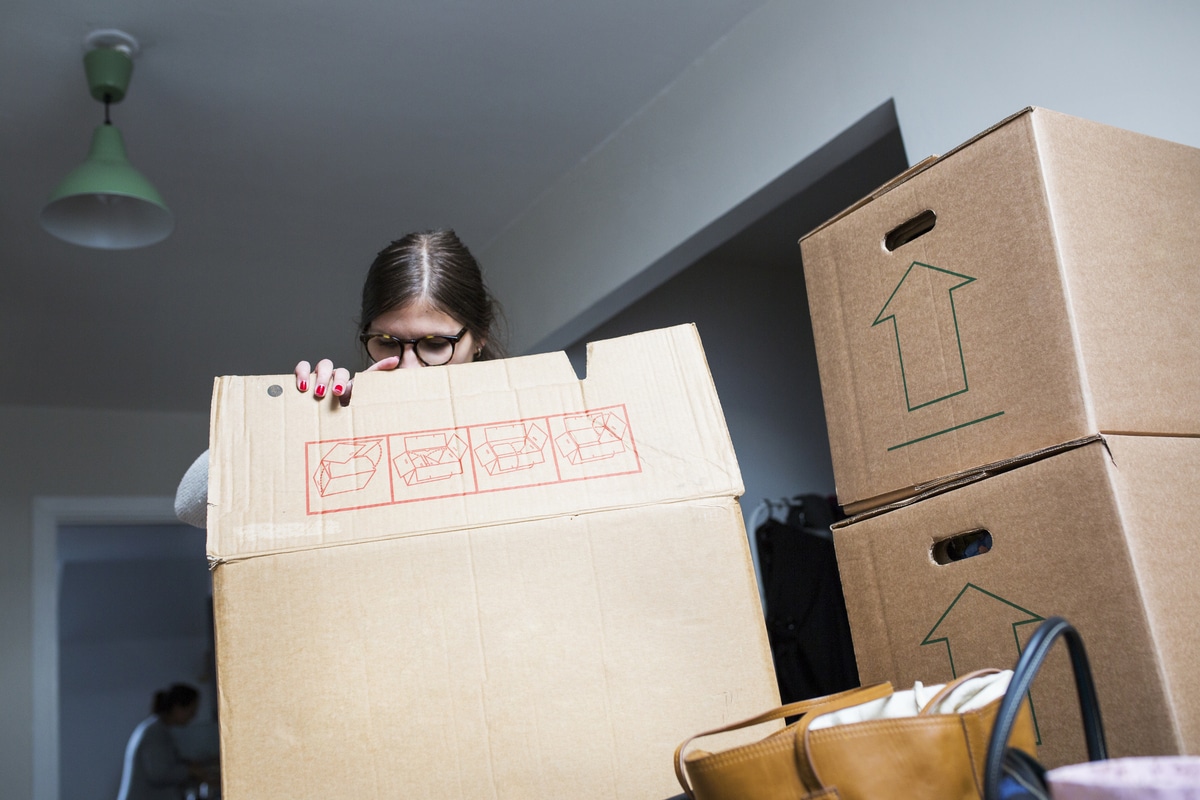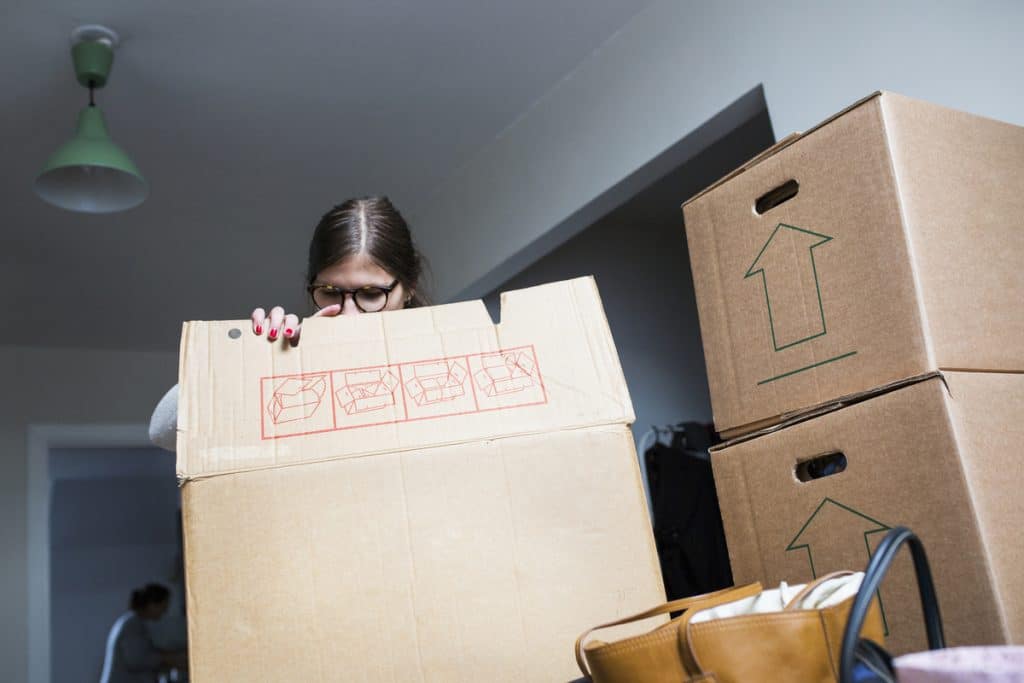 Now that you have an improved grasp of what may be a potential gamble when blindly purchasing Open Box specials, there are a few significant factors to consider when dealing with issues connected to the product that may make you want to reconsider. In that regard, let us examine some things you must know.
Open Box Items Are Not Inspected Or Repaired By The Factory
All open box goods at Best Buy are tested and examined to ensure that they operate correctly and are assigned a condition: Excellent-Certified, Excellent, Satisfactory, or Fair. The company's open-box merchandise, on the other hand, is not examined or repaired by the factory or a factory-authorized facility.
A limited number of open box items were returned and fixed owing to a problem. Unfortunately, it's hard to tell whether the model you're interested in has been fixed and, if so, how thoroughly it's been tested.
However, some Best Buy product categories are eligible for Geek Squad certification. According to Geek Squad, open box items in this condition appear brand-new, have no physical faults, and include all of the original parts, attachments, and packaging.
Furthermore, the product has been carefully cleaned and packed to provide an experience that is as near to purchasing new as possible. So if you're doubting about Best Buy open box devices but come across a certified model at a substantial discount, it might be a decent compromise that gets you what you want with less risk than an open box gadget.
Warranty Information Is Important To Keep In Mind
While the manufacturer's warranty protects open box items from stores like Best Buy, the company's buying guide states that "exceptions may apply" to that guarantee. It isn't a deal-breaker, but you should know what you're getting yourself into before purchasing a gadget.
Although Best Buy claims that their return and exchange "commitment" extends to open box products, you should double-check the warranty or guarantee that comes with the product you're contemplating. Under no circumstances should you buy an open box item from a shop that will not stand by it if something goes wrong.
According to Consumer Reports, the original purchaser of an item may not have returned the warranty card, which may still remain in the box. If that's the case, you may mail it in to start the warranty process.
An open box item may be protected by the warranty even if the card is missing. You should preserve your receipt in any instance in case something goes wrong within the warranty term.
Sometimes Security Policies Aren't Stringent Enough
It has been reported that merchants have sold open box gadgets without wiping the data of the original purchaser. While you could argue that the original owner should be responsible for removing such data before returning an item, the truth is that most individuals don't think of doing so.
Therefore, policies and training should be in place at these shops to account for this. Despite promises to the press from some of these merchants that they remove customer information from returned devices, at least a few devices have still fallen through the cracks.
As a result, some open box goods, such as cellphones and laptops, are still linked to the accounts of their original owners, and some still require the old passwords to check-in.
Savings Made On Open Box Items Are Not Always Worth It
Open-box products should only be considered if the savings are genuinely worthwhile. According to Consumer Reports, you should aim to save at least 20% on the cost of an item when purchased new.
However, many open box goods are just slightly reduced from their total retail price, so don't assume that every open box sale on Best Buy's website is worthwhile. Open-box items can save you money on products you like, but you should always consider if the savings outweigh the increased risk of buying used rather than new.
Are Open Box Deals Worth It?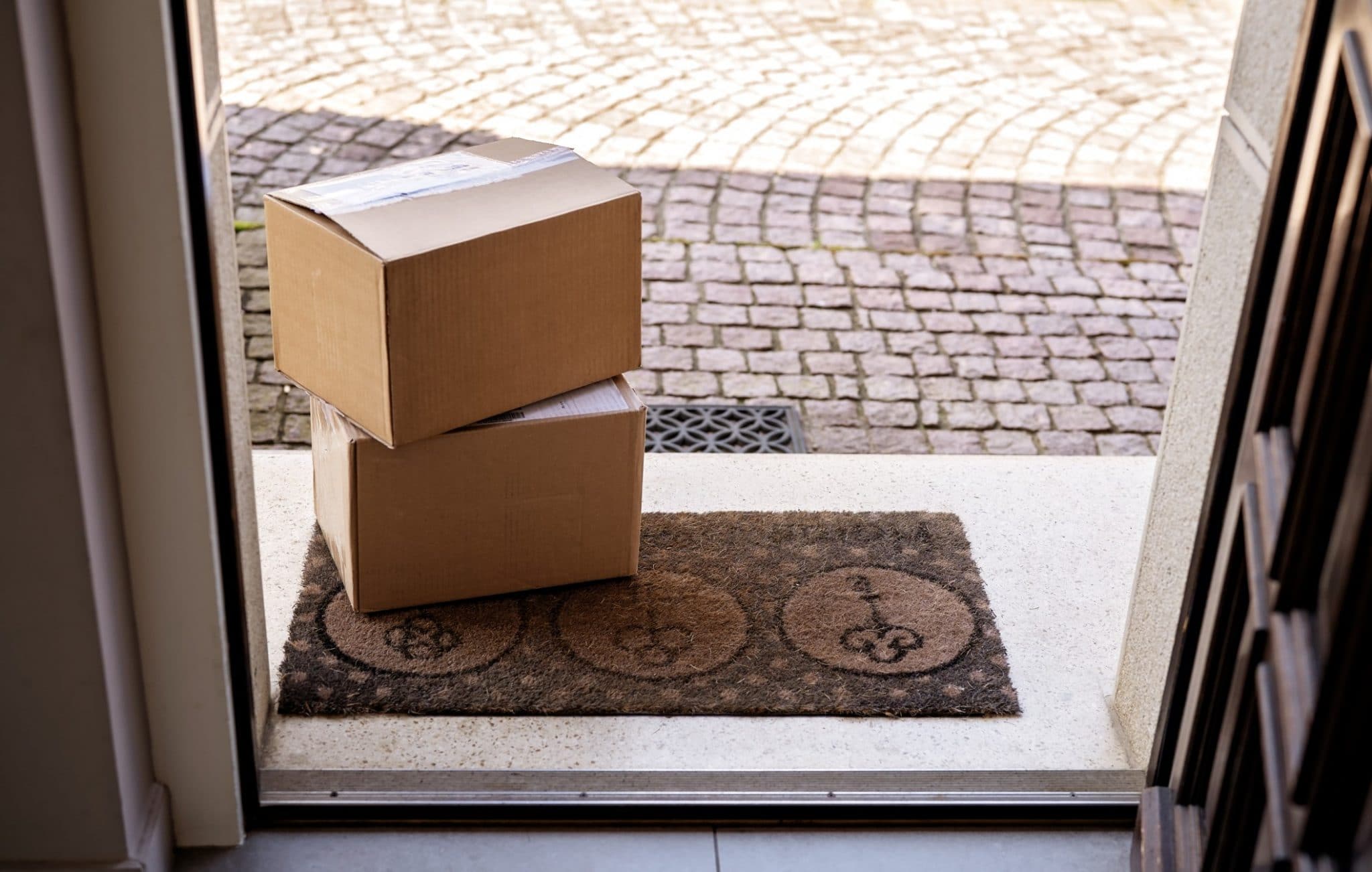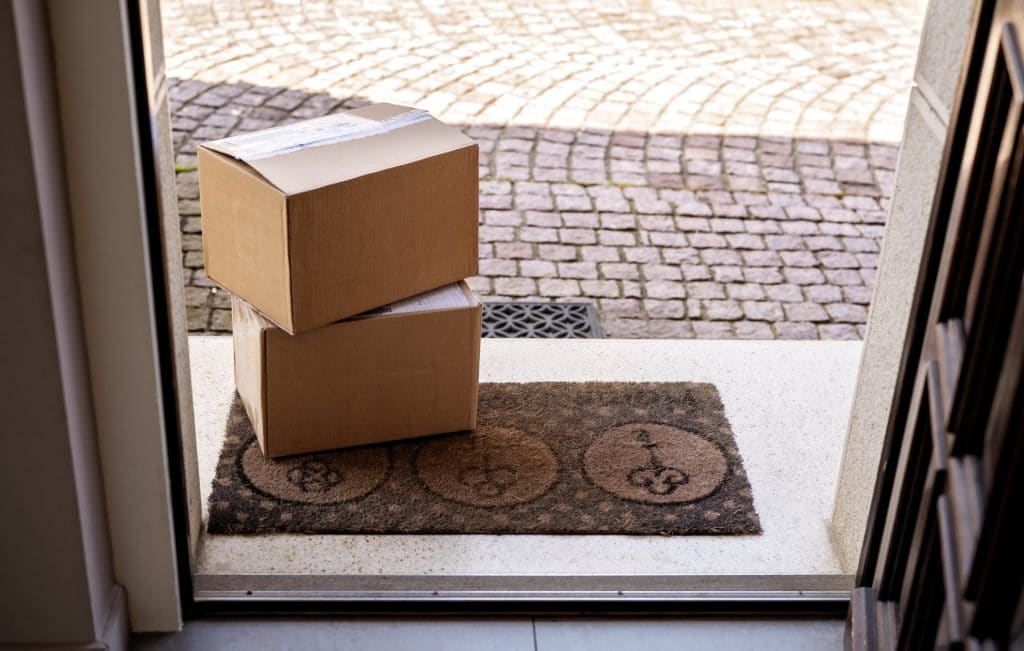 The mere prospect of an item being returned may be frightening, yet there are several causes for its return. First, customers return open-box items inspected by the merchant, determined to be in functional order, and resold at a markdown instead of being returned to the manufacturer.
Though open-box electronics are most commonly associated with taped-up boxes on tables and unique displays in brick-and-mortar stores, they are now readily available online.
Best Buy and Overstock.com, both continuously well-rated in Consumer Reports' annual Electronics Retailer Ratings, are examples of such sites. They're also available at WarehouseDeals.com, Amazon.com's reconditioned and open-box products site, which is a perennial favorite among e-tailers.
Open-box items, unlike refurbished goods, are not often fixed by the factory or a factory-authorized facility, which is why you won't typically see open-box items on manufacturer's retail sites.
The only remedy commonly performed by retailers is to wipe any data input by a user from open-box PCs, followed by a restoration of the hard drive's original configuration.
According to one estimate, only 5% of retail returns are genuinely faulty; therefore, an open-box item is likely to operate correctly and was returned for other reasons. However, open-box electronics may have dents, scratches, or other problems; some trustworthy sites list such issues.
All accessories are usually included; however, the manual may be missing, which you can usually get as a PDF file online.
Open-box products are offered in stores and on some websites, and many refurbs are sold "As-is" with no returns or warranties. So naturally, we'd be hesitant to buy such final-sale things, just as we would with reconditioned gadgets.
However, returns are usually accepted on the same terms as new items, which is 30 days for reputable retailers like Amazon and Best Buy. Furthermore, as with any internet transaction, be skeptical of discounts of 50% or more from merchants you've never heard of.
Overall, open-box purchases should not be viewed as a means to get a deal, but rather as a way to save money on some items, maybe enough to justify the slightly increased risk these items carry over buying new.
What Companies Offer Open Box Deals?
So, considering all the factors mentioned above, there are still many outstanding offers for Open Box deals. If you're prepared to buy anything that has already been used, you might be able to obtain a great deal. Want to see what's on offer? Here are a few prominent online stores where you may locate open-box discounts.
Amazon Warehouse
Hundreds of thousands of goods are available at the Amazon Warehouse, which is all "hand-checked" for quality, qualify for Prime delivery, and have a 30-day return policy. However, even though Amazon claims to "thoroughly test/s the functional and physical condition of each item," it does not provide a guarantee on open-box items.
Deals are divided into categories, such as:
Digital cameras
Grocery items
Furniture of all sorts
Items in the outdoor recreation section
Baby
Video games
Amazon devices
And televisions
Before being sold, all of the items go through a quality check. Amazon then gives a condition to each item based on this quality inspection, which might vary from "Acceptable" to "Like New."
Finally, other than its massive choice of product categories, what puts Amazon at the top of our list is that Amazon's Returns Policy protects all items purchased from Amazon Warehouse. This implies that you may return a product if it isn't what you expected.
Best Buy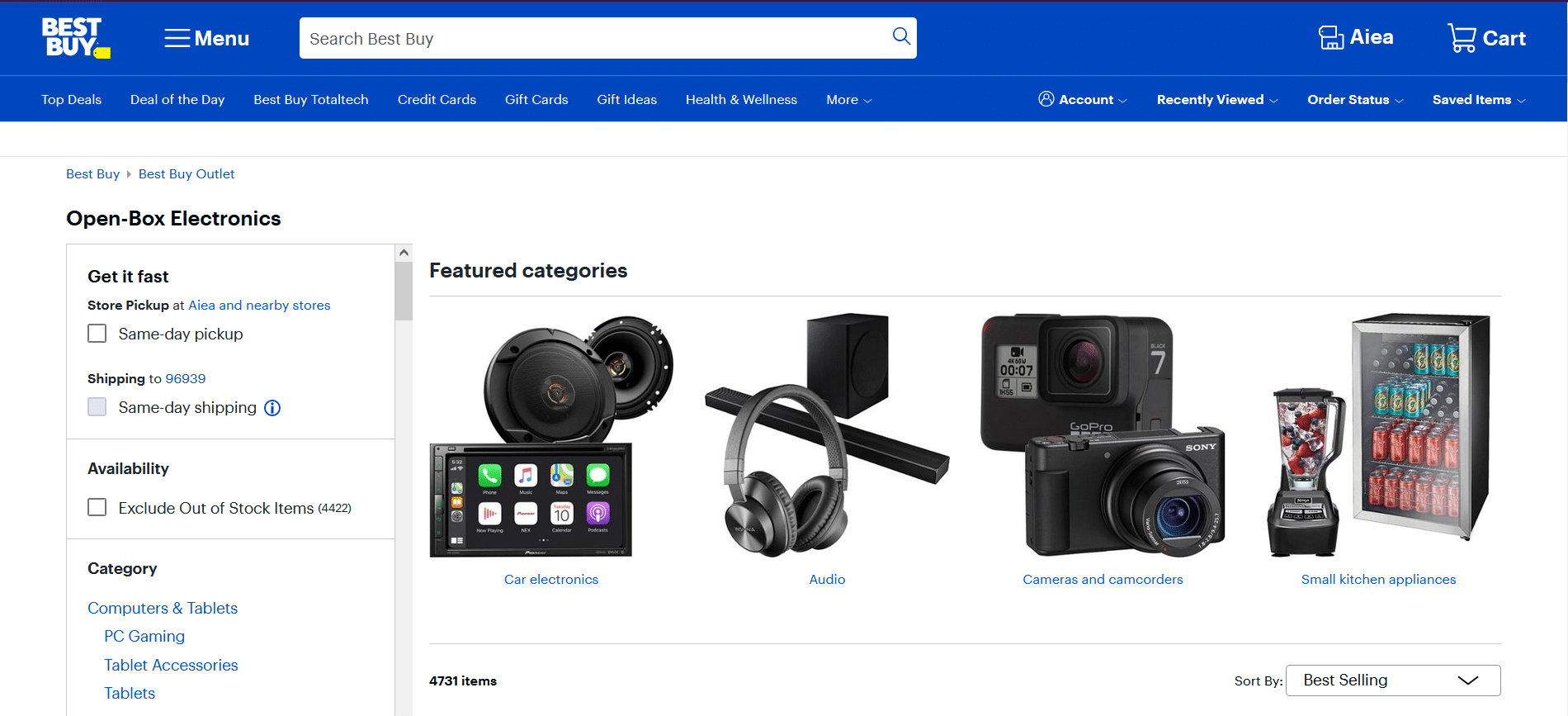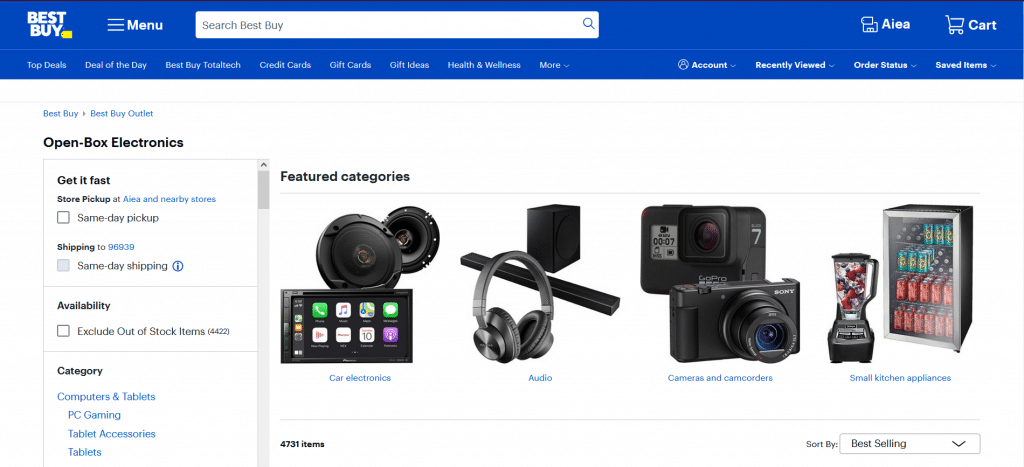 Even though Best Buy was used in a few examples mentioned above, the Best Buy Outlet can fulfill all of your technological needs with discounts on laptops, tablets, TVs, phones, cameras, and more. In addition, the "Return & Exchange Promise" is included with open-box purchases from Best Buy, as well as a manufacturer's warranty.
Best Buy is a terrific place to go for open box electronics discounts. The store provides discounts on a wide range of items. For example, you can get discounts on:
Computers & tablets
Video games
Cell phones
Appliances
Home, furniture & office
TV & Home Theater
Overstock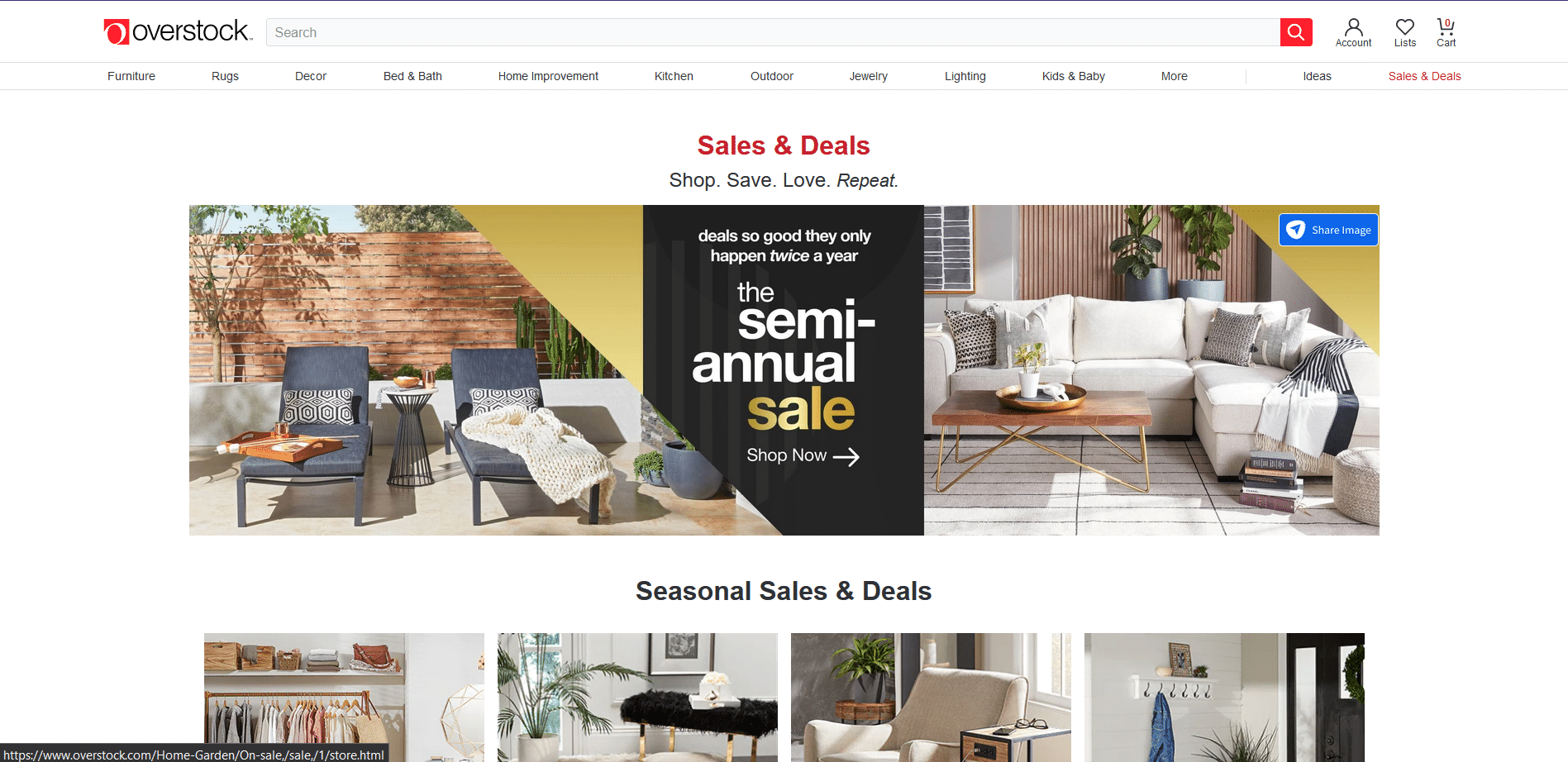 Overstock.com, as its name implies, sells Overstock and open-box products in almost every area, from apparel to furniture. It provides free delivery on orders of $50 or more, as well as a 10% discount if you join their email list.
The clearance and liquidation part of the website has overstock open box offers. Items marked "As Is" can be found there. Keep in mind that they are non-returnable. However, you may save a lot of money with these offers. What makes Overstock so appealing is that you may find bargains in many areas. For example, you can save money on:
Kitchen appliances
Jewelry
Bedding
Wall art
Light fixtures
Wall shelves
If you're looking for free bedding, Overstock is the place to go because most of the bargains I found were for bedding. Another excellent feature of the website is that it provides free delivery! As a result, you'll be able to save even more money.
Newegg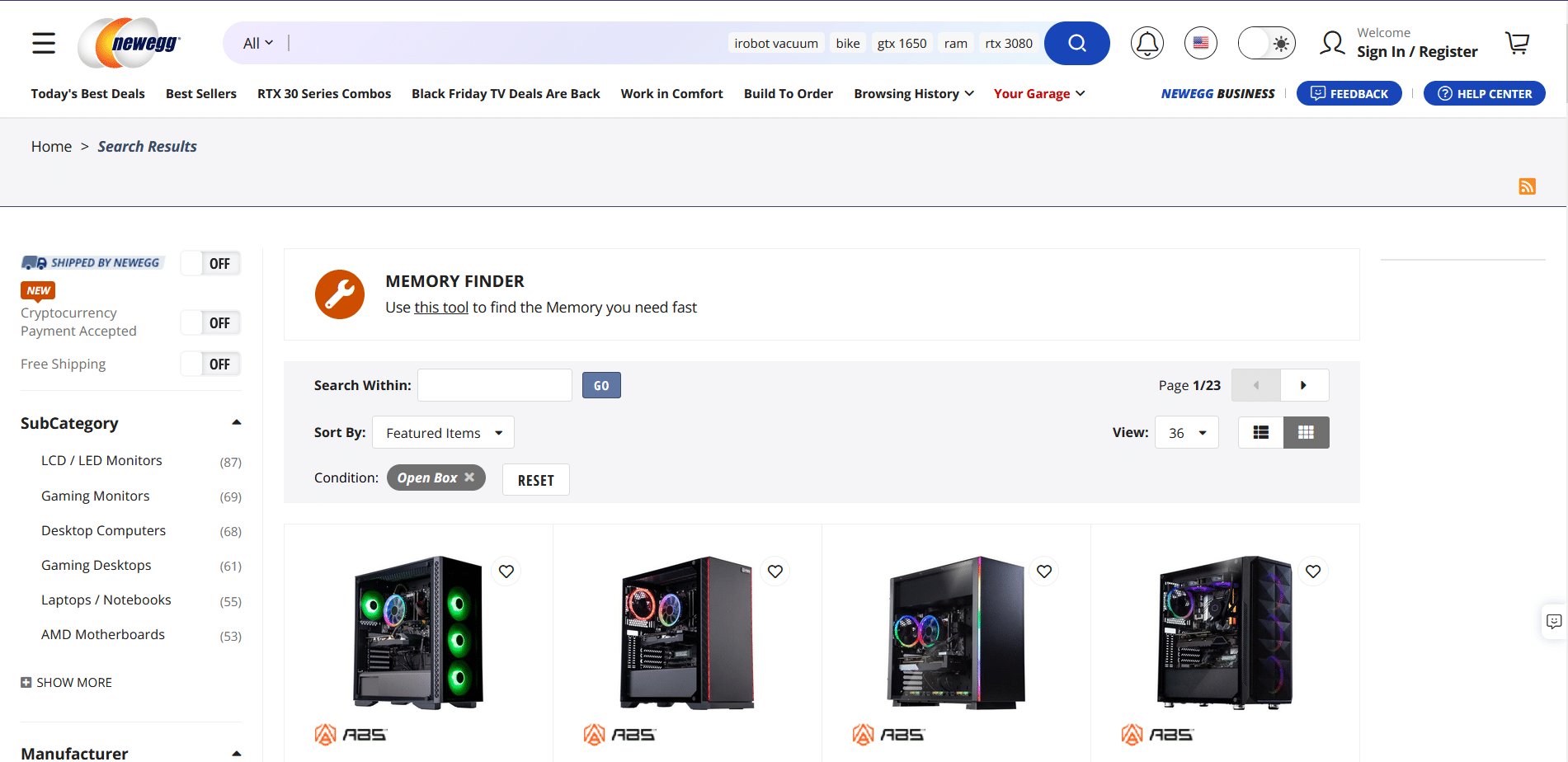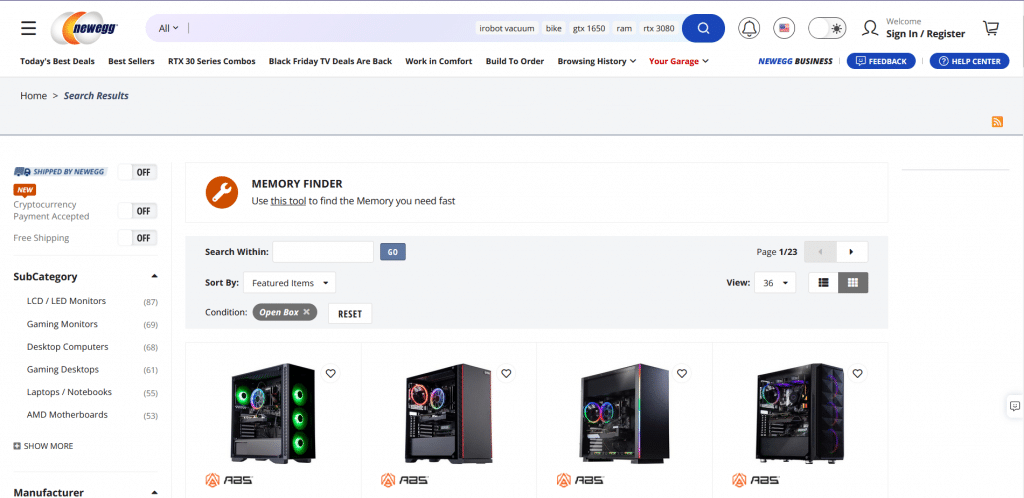 Newegg's open-box shop, which is known for its electronics sales, focuses on significant discounts on laptops. Several things were reduced by 50% or more while perusing the site. In addition, you may get free expedited shipping and returns if you join up for a free 30-day trial of its Premier membership.
Newegg is the go-to store if you want to buy an open box computer or computer parts. It has discounts on:
Laptops
Computers
Computer components
Gaming systems
Gaming seats
Gaming mouse pads and other gaming gear
Related Questions
What Should I Ask Myself Before Buying Open Box Goods?
It never hurts to come equipped with a few questions before investing in a used item to save money potentially. As a result, before you buy, be sure to find out the following:
What is the policy on returns? 
While most open-box items are acceptable, a few aren't. So if you buy anything and it turns out to be a waste, a return policy protects you.
Question if returning it will cost anything 
If the shop has a return policy, you should find out if there is a restocking charge or if you have to pay the postage to return an online purchase.
Is there is a warranty? 
The manufacturer's warranty may still apply to an open-box item in some cases, but it may not in others.
Where had it returned from? 
Find out if the item was a return (and for what reason), a floor model, or something else if you can. Knowing where something comes from might reveal a lot about its state. For example, it might be described on an in-store sticker on the product packaging.
What kind of wear and tear does it have? 
Ask whether you may look at an item before buying it if you're at a store. Look for sites that include many photographs so you can detect whether a product has any evident physical damage while you're shopping online.
Whether or not accessories are included.
Manuals, cables, and other accessories are sometimes missing from open-box devices. For example, a digital copy of a handbook is simple to replace, but cables will just add to your buying list while depleting your finances.
How Great Is The Deal? 
You might believe that all open-box items are lovely bargains, but this isn't always the case. As a result, Open-box may not be worth the risk unless you're getting a decent deal.
Can You Negotiate Open Box Deals?
For example, walk-in stores like Best Buy are often up for negotiation on particular Open Box products. As a walk-in customer in Best Buy, you would occasionally see HDTVs marked down for a quick open box sale. However, they don't always sell quickly.

So, if you find an open box floor model for sale, think of it as a chance to get a better deal. As a general guideline, start at 25% and expect to meet somewhere in the middle. 

You would often find that negotiation is more likely to happen when goods have been on display for some time. Generally, the longer it has been on display, the better the negotiation may go.
When Should I Avoid An Open Box Offer?
Even if the price is extremely low, there are reasons to avoid purchasing an open-box item. First, a lack of return policy may be a significant red flag, especially if the best prices are only available on goods that the company will not stand behind. 

There may be little you can do if the goods are faulty because open-box items may not have a manufacturer's guarantee.

It's also challenging to determine how worn these goods are. You may not know why they were returned or whether they were floor models, and if you're not cautious, you may end up with a heavily-worn item.