Top Websites For Free Online Courses
Important Note: When you buy through our links, we may earn a commission. As an Amazon Associate we earn from qualifying purchases. Content, pricing, offers and availability are subject to change at any time - more info.
Key Takeaways
Depending on which skills you're looking to develop, there are many websites for free online courses that you can use to access valuable educational materials from anywhere in the world. Some of the most popular platforms include Skillshare, Khan Academy, Codeacademy, Udemy, and Coursera.
Skillshare, Google Arts & Culture, and Open Culture are among the best platforms for creatives, while LinkedIn learning is geared towards job seekers, and others like Coursera, Skill Success, edX, and Academic Earth aim to provide open access to undergraduate and graduate degrees and diploma materials from world-renowned institutions.
Khan Academy, Codeacademy, MIT OpenCourseWare, and several others offer completely free educational material that you can access at any time, from anywhere. However, platforms like Skillshare, LinkedIn Learning, and others only offer free trials.
Are you looking to skill up and take your career to the next level? One of the greatest things about the Internet is how easy it has become to get an education. Even if you don't have money, you can do free online courses. Here's our list of the top websites for free online courses.
---
Advertisement
---
28 Best Websites For Free Online Courses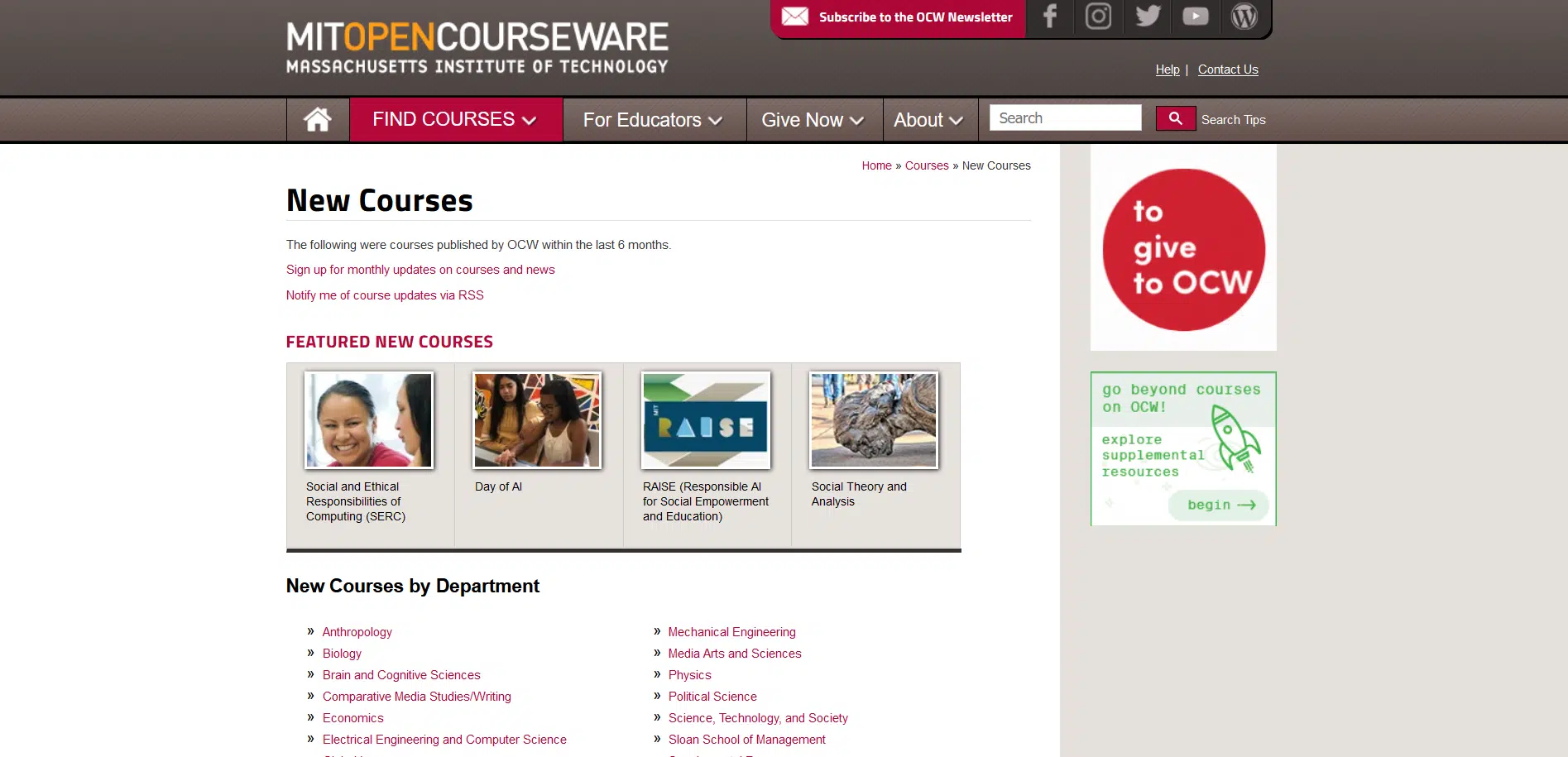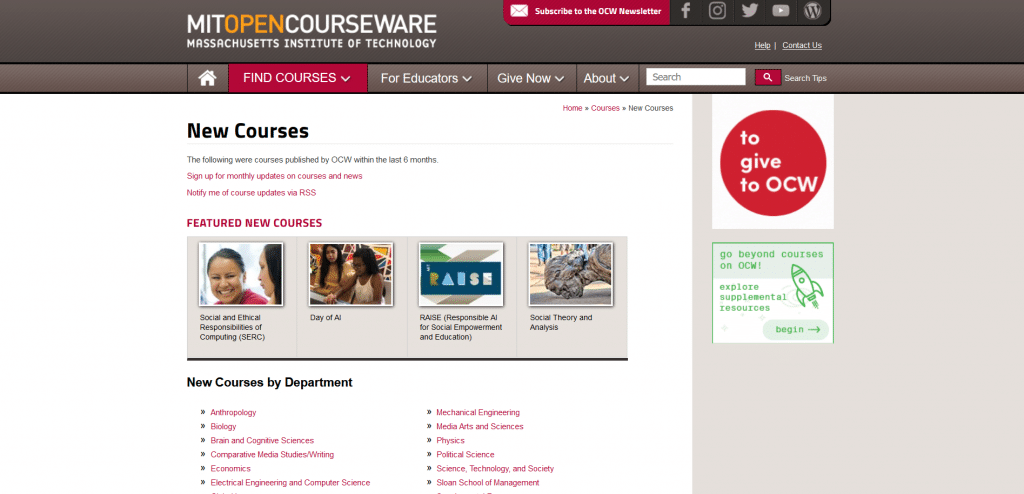 MIT OpenCourseWare also offers a range of free online courses, including comprehensive course materials, covering topics like business, energy, engineering, fine arts, health, humanities, and many more. The courses can also be split into sub-topics and specialties. You can go through the courses at your own speed while completing the assignments set by the MIT instructors and writing exams to gain a comprehensive education for free.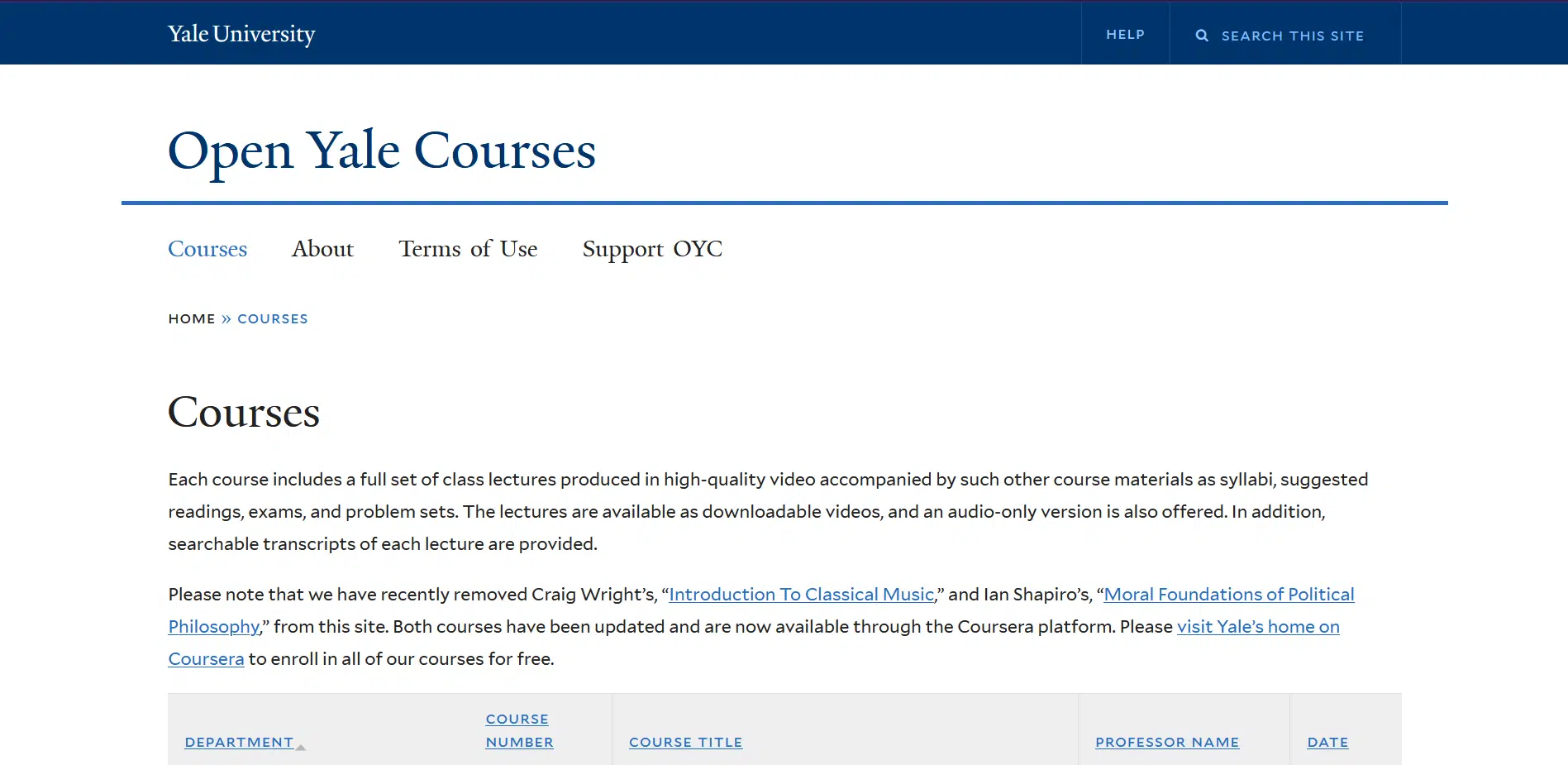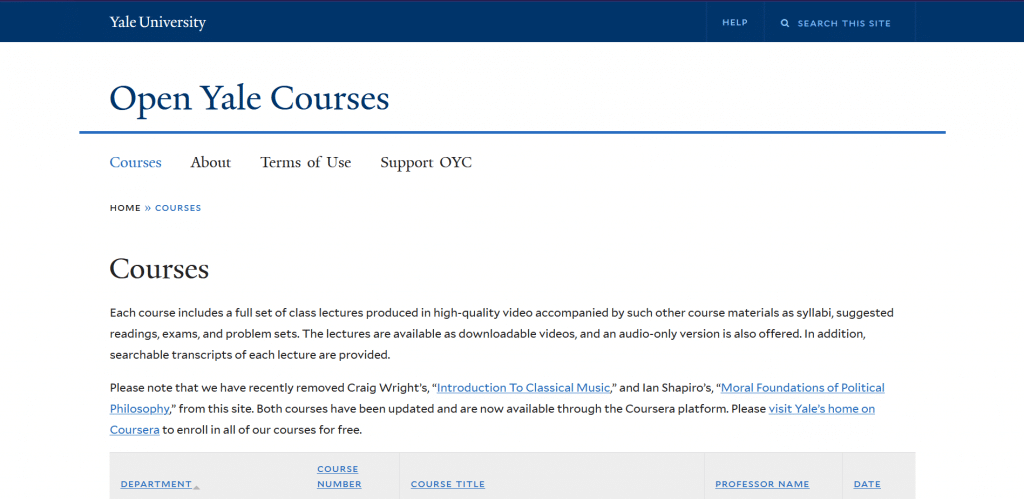 Much like Stanford Online, Open Yale Courses provides free online courses with an open-access platform featuring beginner-level courses that have been curated by Yale's revered staff and hard-working scholars. It is part of the project to expand access to educational materials for anyone with a thirst for learning.
You will have access to the lectures provided at Yale through transcripts, audio recordings, or videos. However, you will not receive course credits for learning through Open Yale Courses.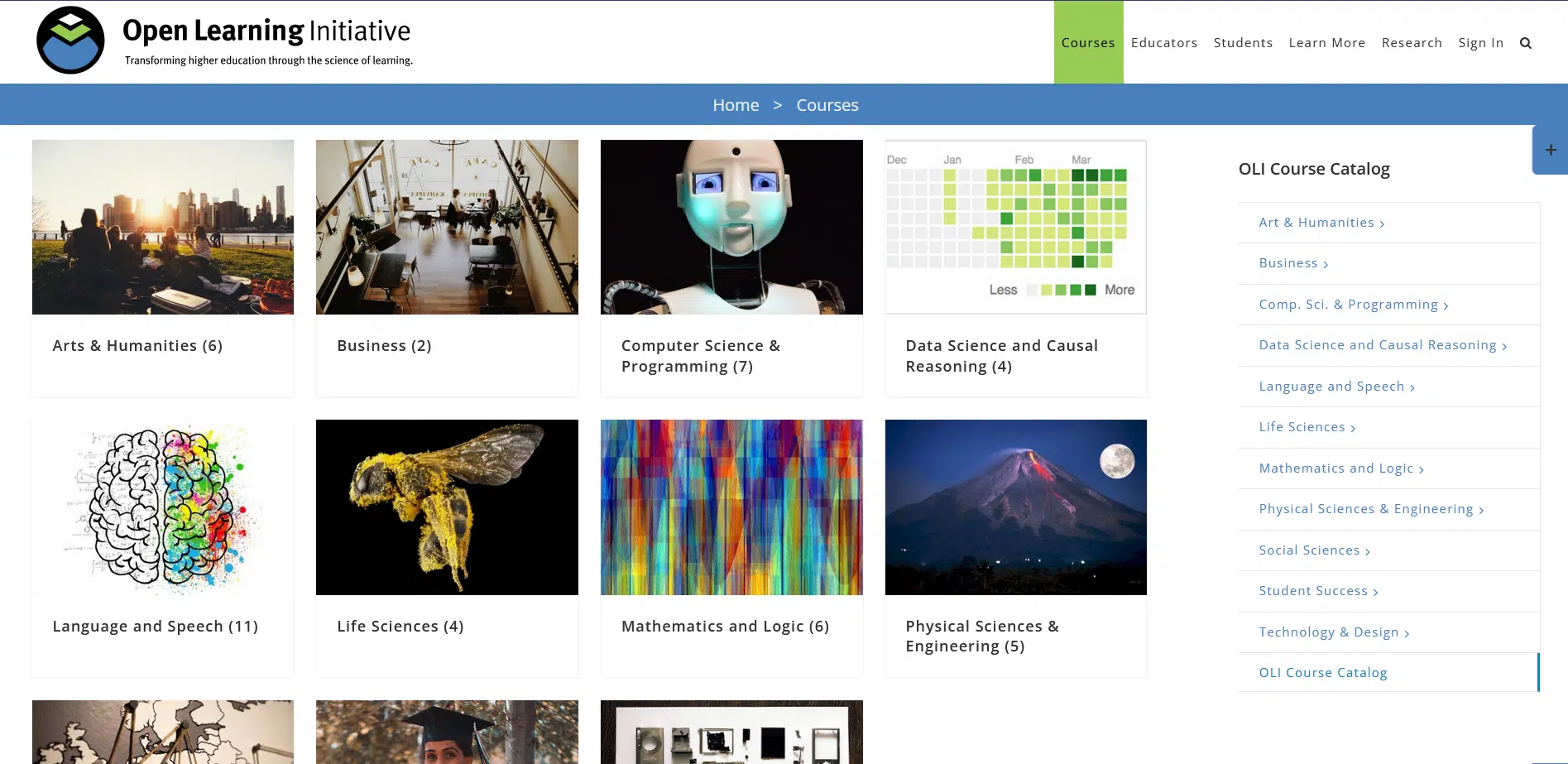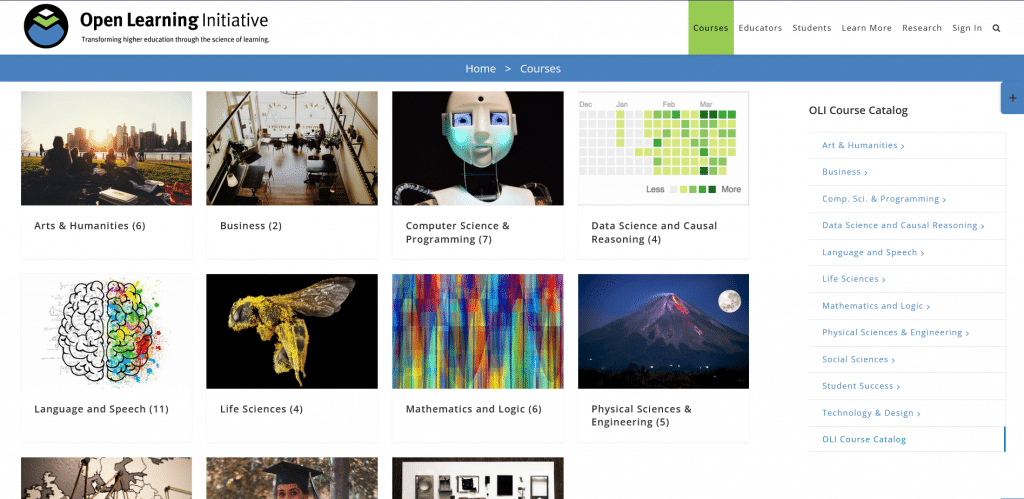 Similar to the other schools' online learning platform, Carnegie Mellon's Open Learning Initiative offers free online courses for students and educators.
However, the Open Learning Initiative doesn't feature any teachers and only offers learning materials, which requires a course key that makes the Open Learning Initiative a comprehensive digital textbook.
The great student-centered design optimizes your learning experience and allows you to immediately put your new skills to practice, followed by targeted feedback from instructors.
The Open Learning Initiative has stated its key goals as improving teaching and learning methodology, democratizing learning and opening access to independent learners, and creating a community committed to opening learning opportunities for all.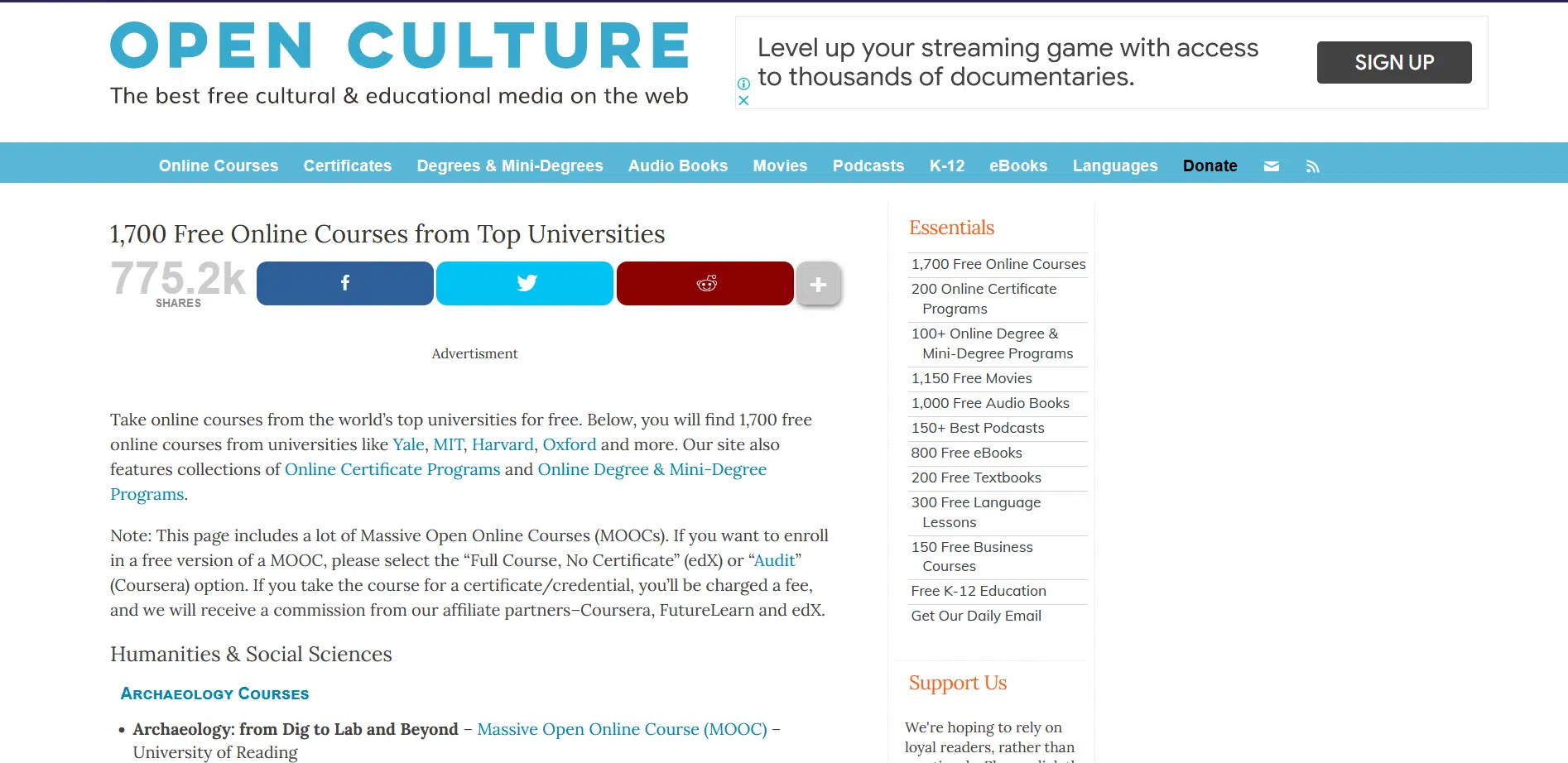 Open Culture's free online courses are sourced from top universities, offering educational material for all academic levels, from kindergarten to degrees and mini degrees. They also have a language learning section.
In total, the platform has more than 1,700 free online courses that you'll be able to access, including lectures, podcasts, and videos, created at top universities around the world.
It also features materials that are only accessible through the private websites run by the universities that created the content. However, it does help you to pick out a university course that perfectly suits you without having to visit hundreds of university websites.
Some of the remarkable lectures featured on Open Culture were delivered by academic legends like Carl Sagan, Michel Foucault, Margaret Atwood, Richard Dawkins, Walter Kaufmann, Toni Morrison, and Bertrand Russell.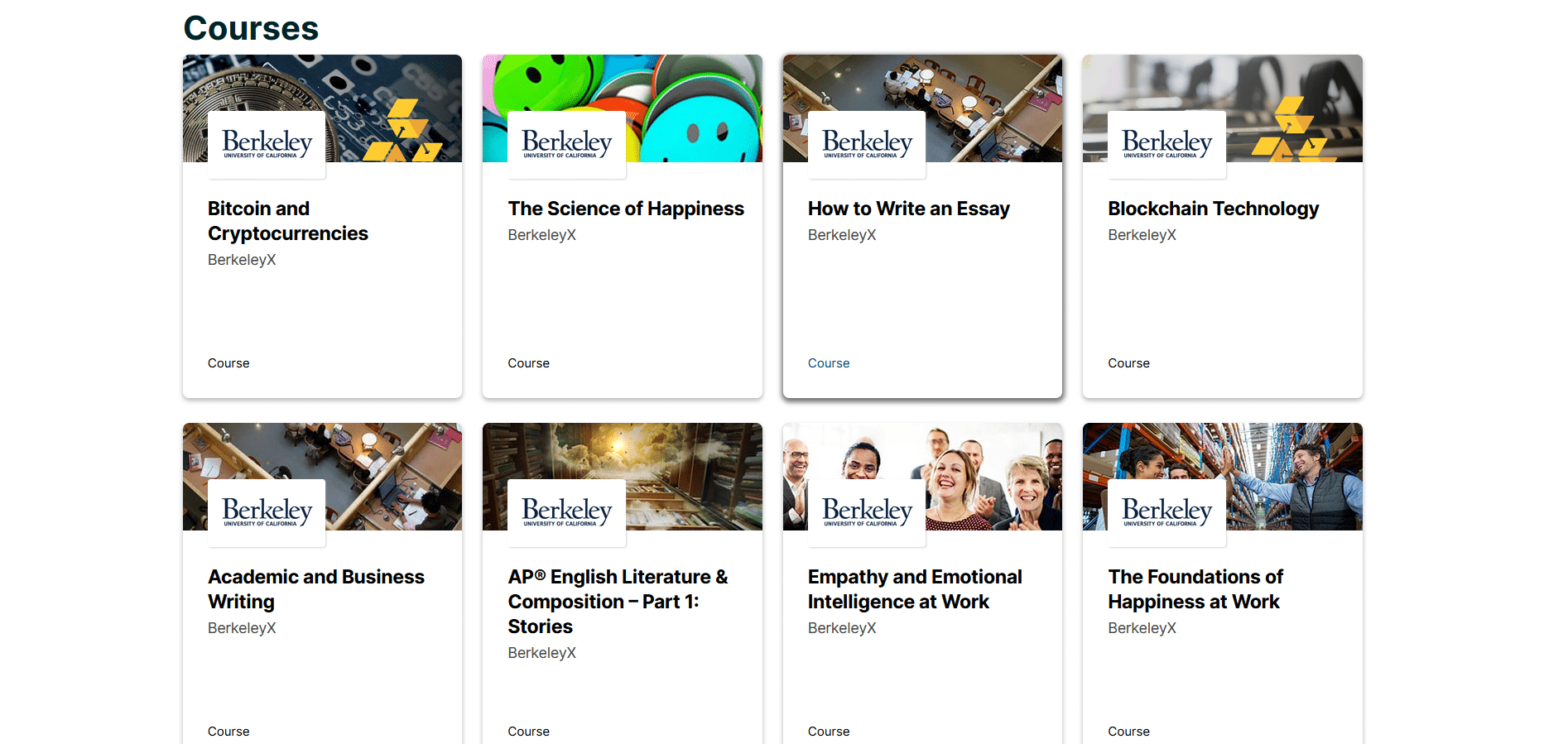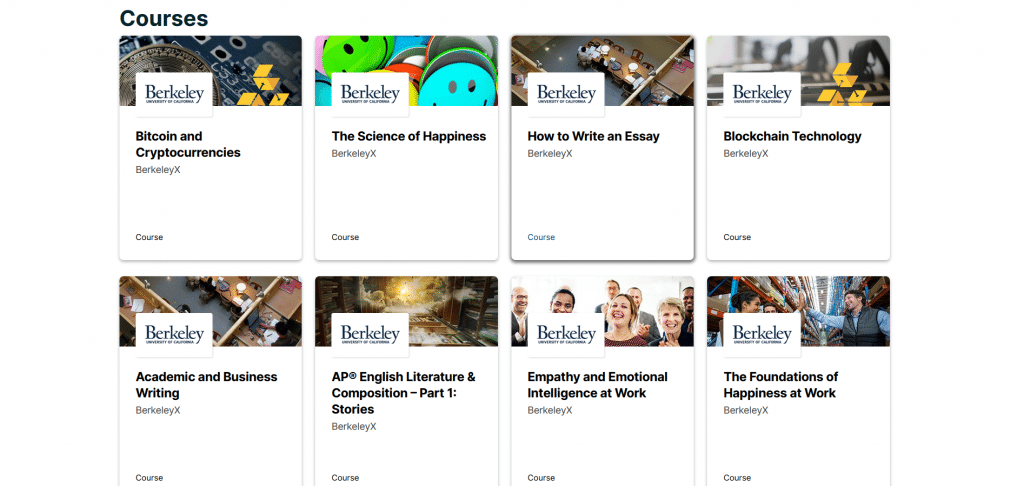 UC Berkeley's CalCentral website also offers free online courses, but the range of topics they cover isn't quite as extensive as some of the other websites that we've covered.
However, CalCentral prides itself on its well-designed platform that prioritizes curating an online platform that eliminates confusion and inefficiencies in the eLearning environment that often seems to be missing something.
Their platform, curated for students, teachers, and delegates, also includes materials and tools for job seekers, helping you receive valuable knowledge about what you ultimately want to do — get into and succeed in the workforce.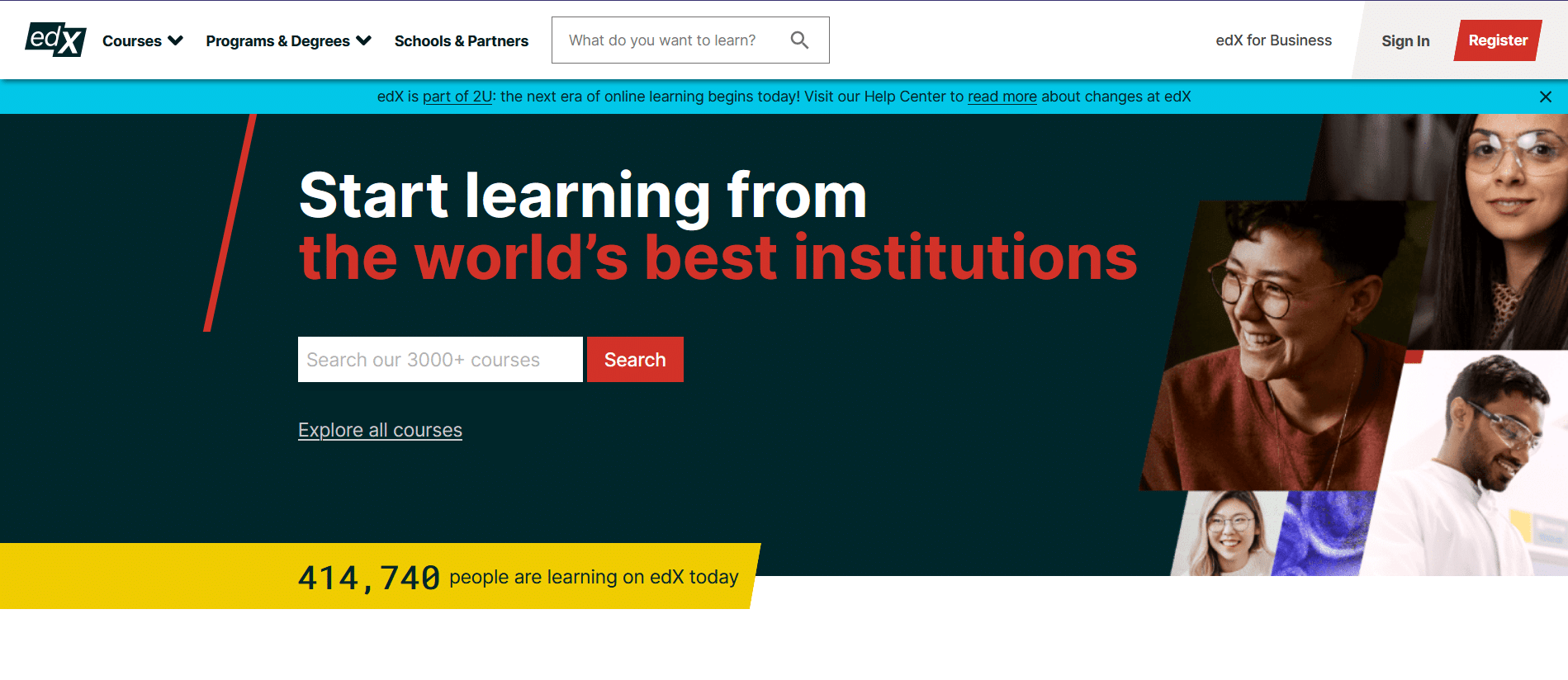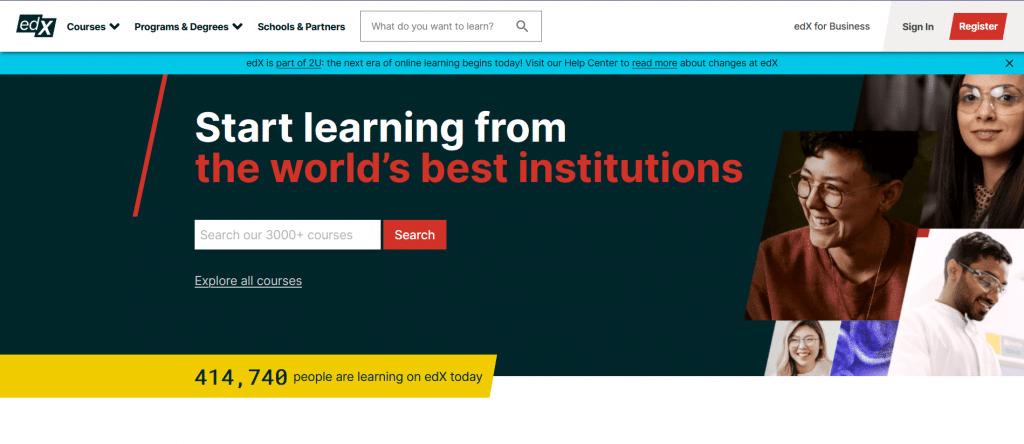 edX is a platform that offers more than 2,400 free online courses for over 20 million students. The coursed are curated from more than 160 leading institutions from all over the world.
They have partnered with Harvard, MIT, UC Berkeley, NYU, and countless others for highly reputable degrees and courses in fields like data science, business, healthcare, and education.
This global non-profit offers its courses for free and uses an open-source platform accessible for educators and anyone looking to develop new educational tools.
edX also offers specialized paid courses for those who want to expand beyond their vast library of free courses.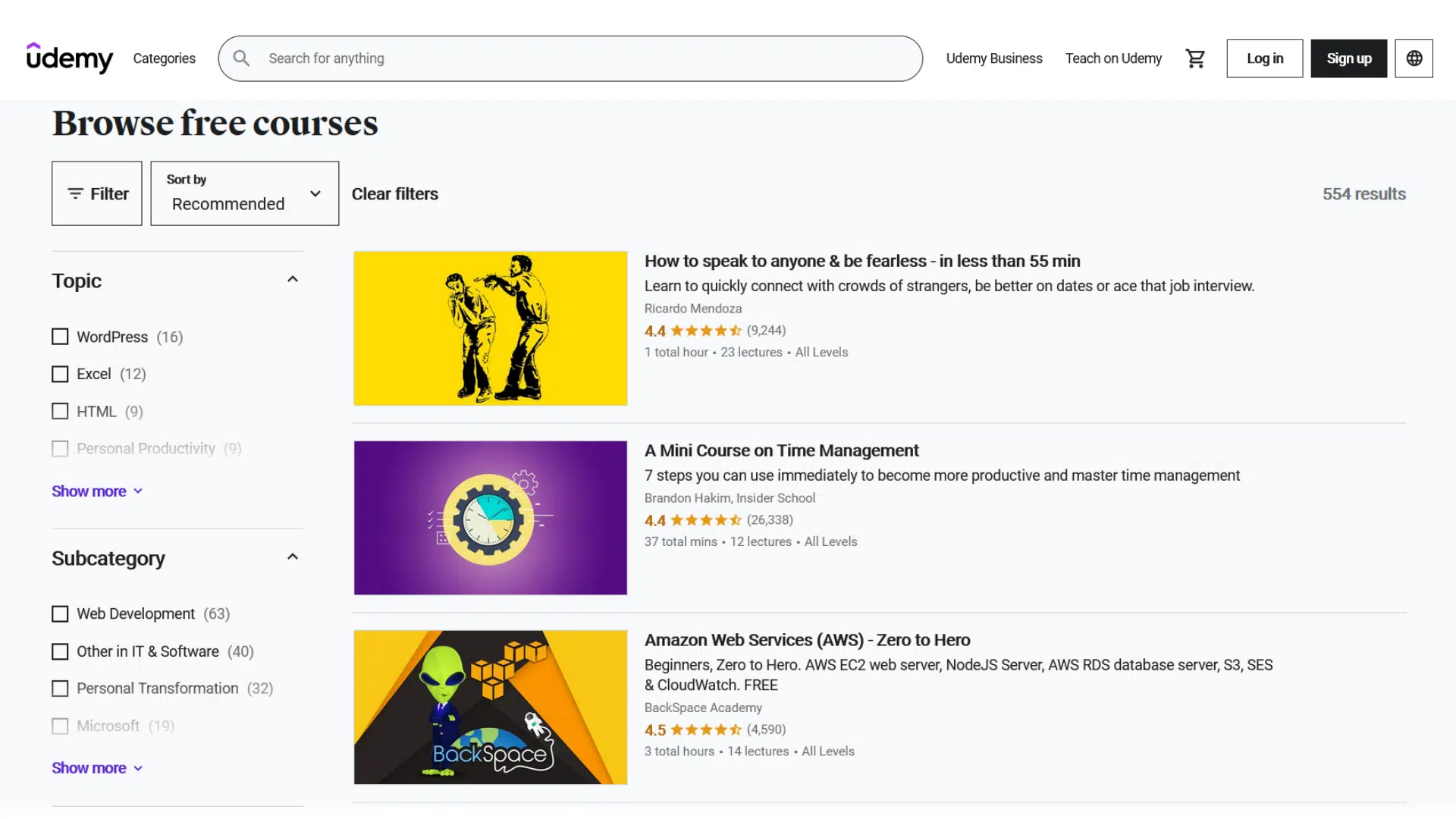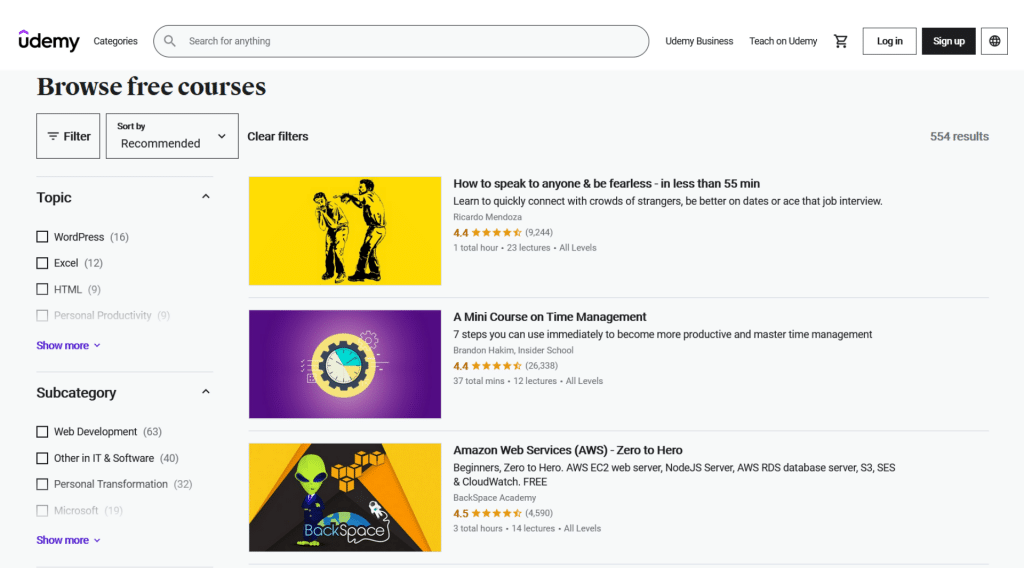 Udemy is probably the biggest online course provider, with over 30 million students enrolled in their 100,000 online courses from 42,000 instructors, offered in 50 languages.
But what makes Udemy different is that its courses are provided by content creators who want to teach their courses online and share their skills with the world.
You can learn skills from categories such as business, design, marketing, education, and IT. Also, when you buy an online course on Udemy, it comes with a 30-day guarantee, meaning that you can return it in 30 days if it's not for you. We have a great lists of coupons that make paid courses free here. But there are thousands of always free courses on the platform as well.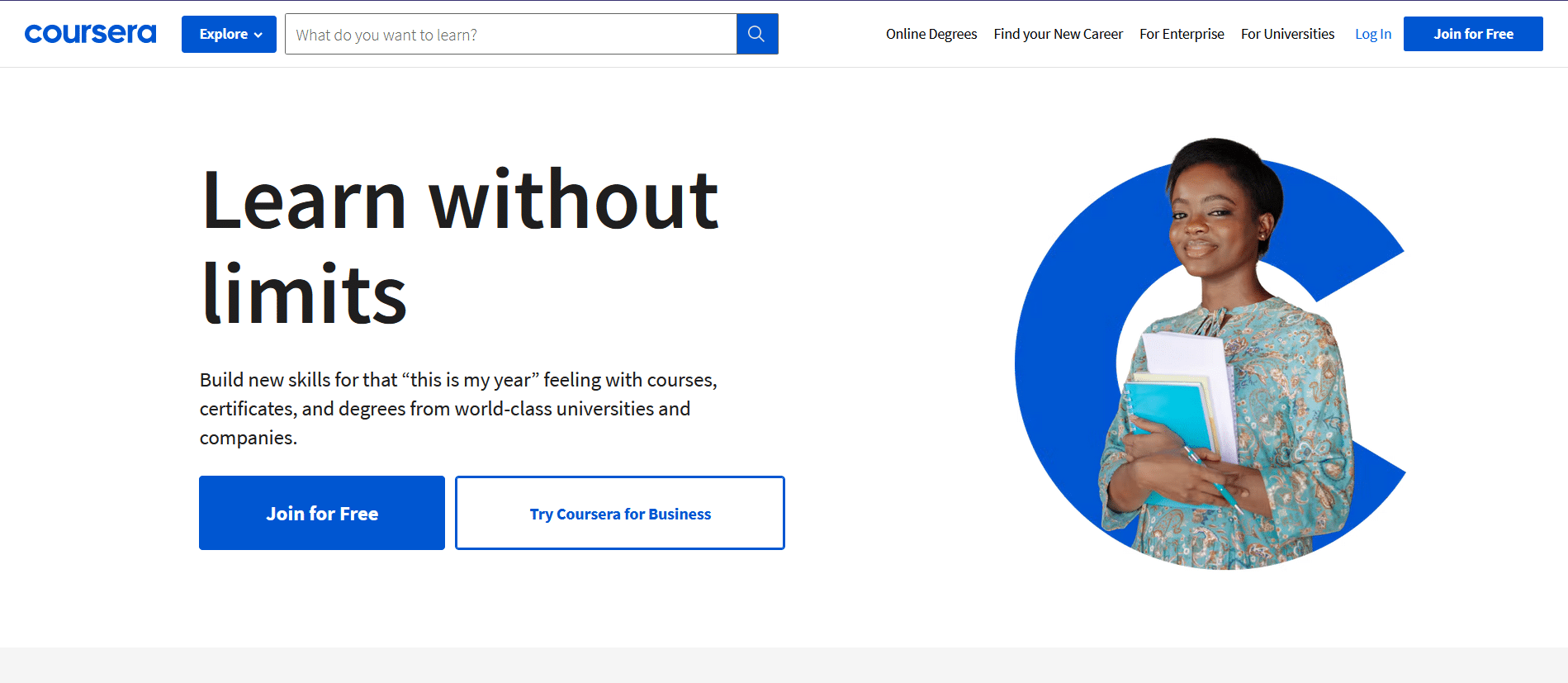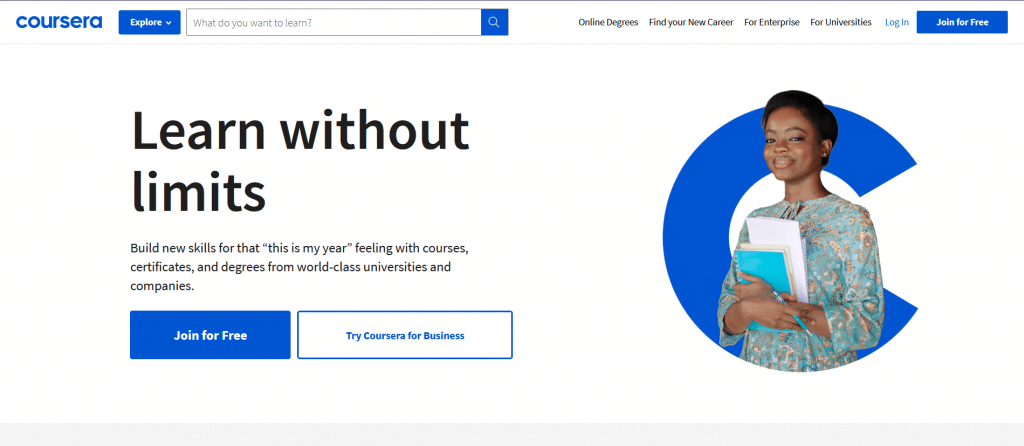 Coursera is an online learning platform that offers courses sourced from world-renowned universities and global organizations, museums, and schools all over the world to cover a broad range of courses.
What's truly great is that Coursera offers internationally accredited degrees that can take your career to the next level. They offer courses for anyone, from people who don't have a high school diploma (or equivalent) to Ph.D. candidates.
You can get degrees in MBA and Business, Computer Science and Engineering, Data Science, Public Health, Management, Data Analytics, and Social Sciences. However, the free courses available are few and far between.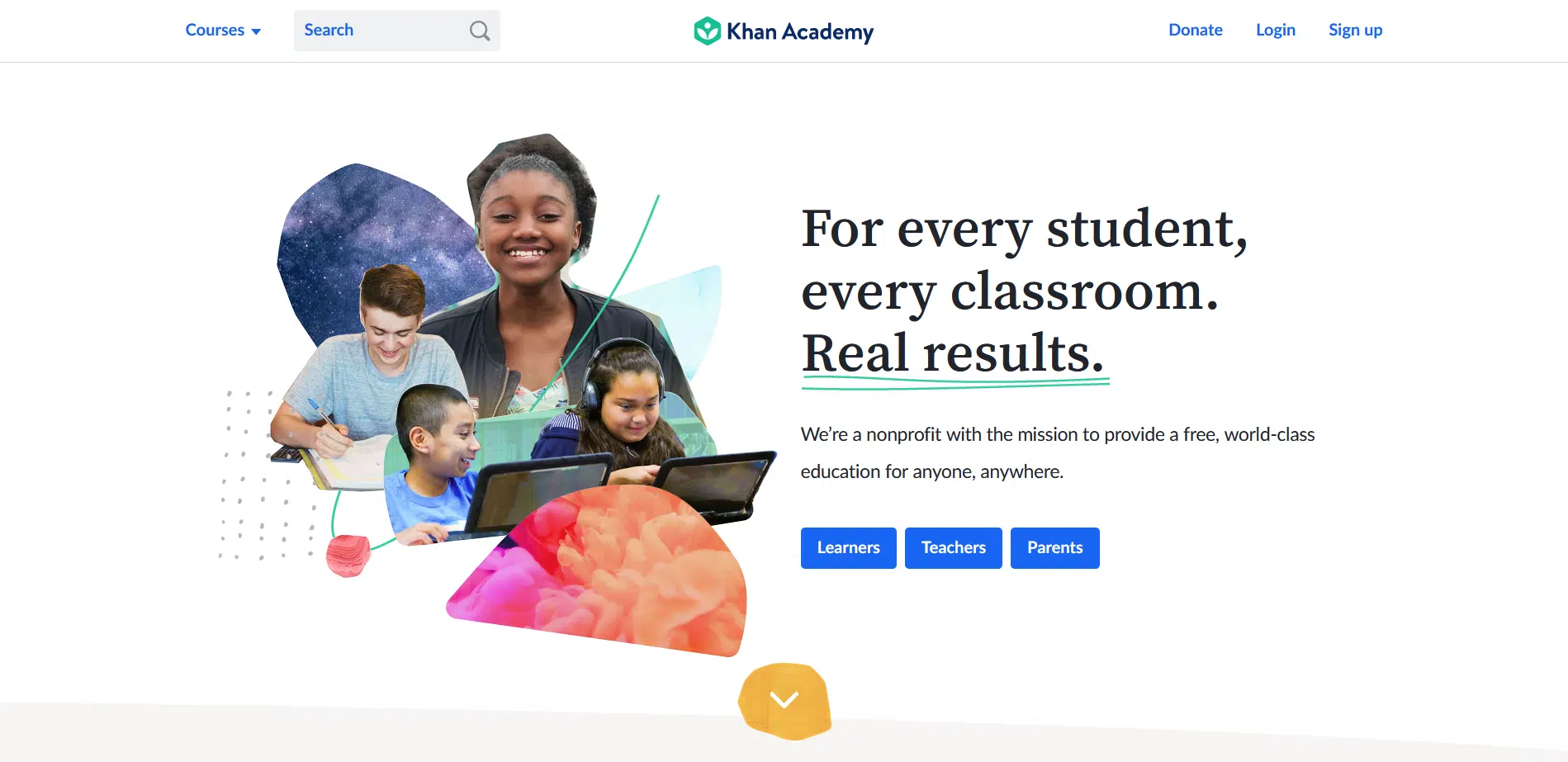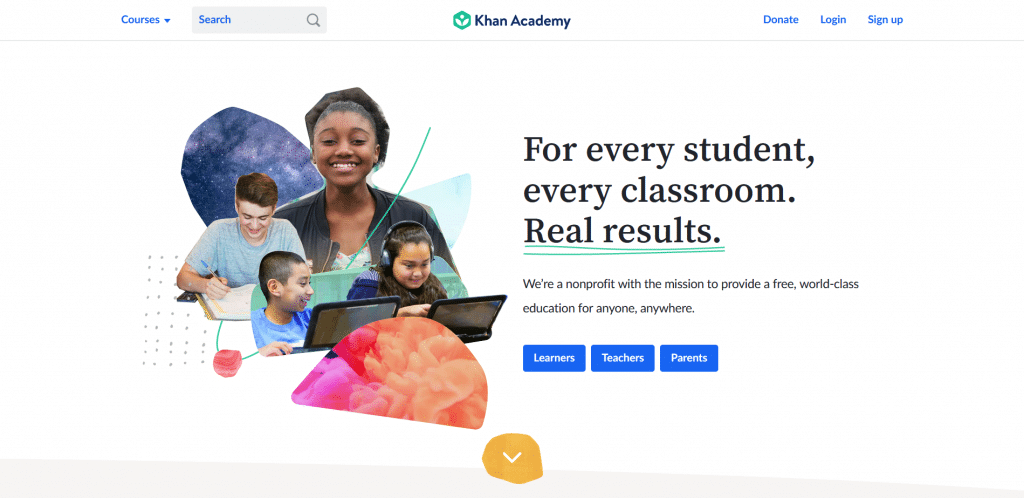 Khan Academy is a non-profit platform that offers completely free courses for anyone from any level of education from kindergarten to early college. It allows students to tackle the courses at their own pace, offering content from experts, covering subjects like maths and science.
Teachers can also access Khan Academy to identify any noticeable shortcomings in their students' understanding of a topic to use tailored instruction to fulfill each student's competency and needs.
Khan Academy receives support from major charitable organizations such as the Bill & Melinda Gates Foundation, Bank of America, AT&T, Google, and General Motors, so that you can get free education from anywhere.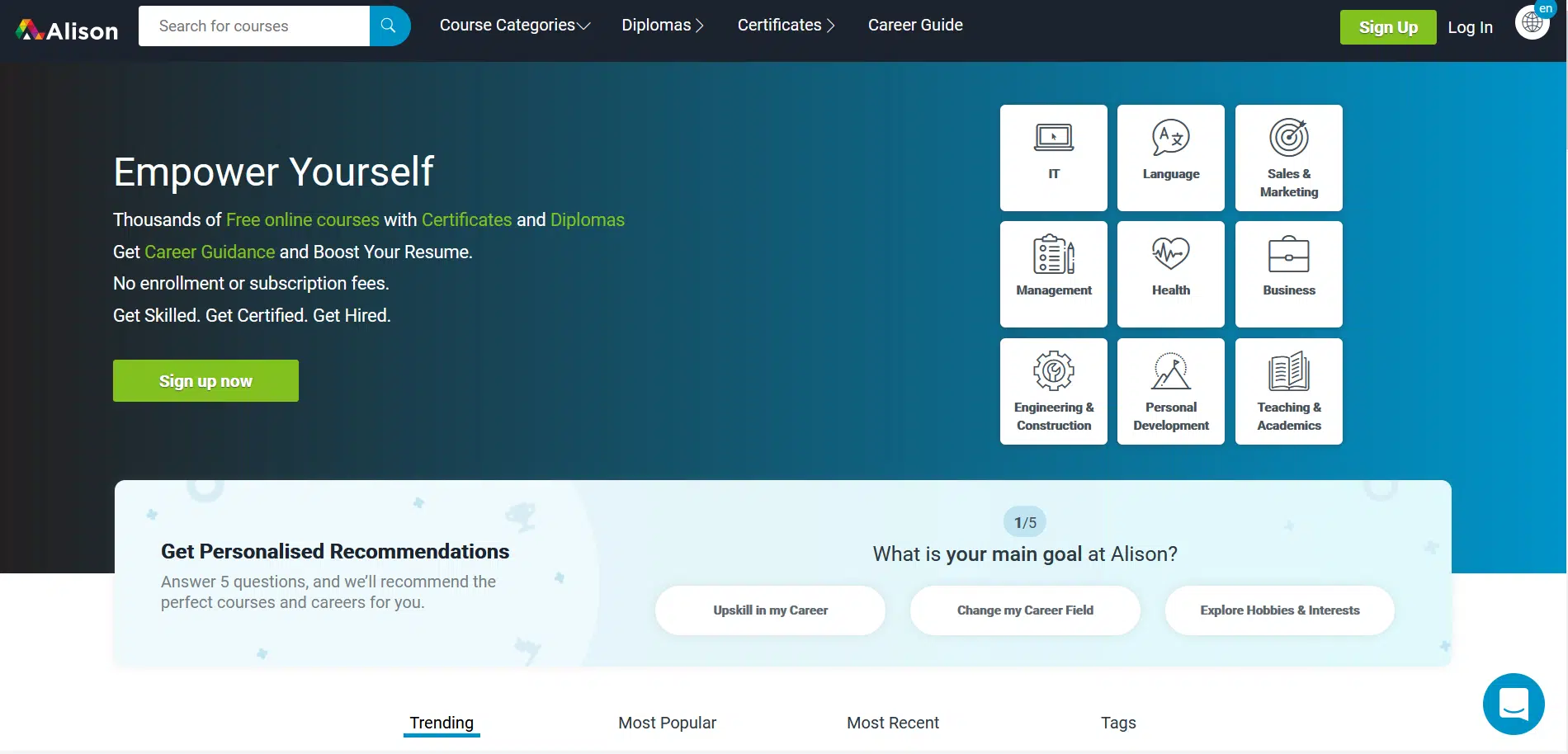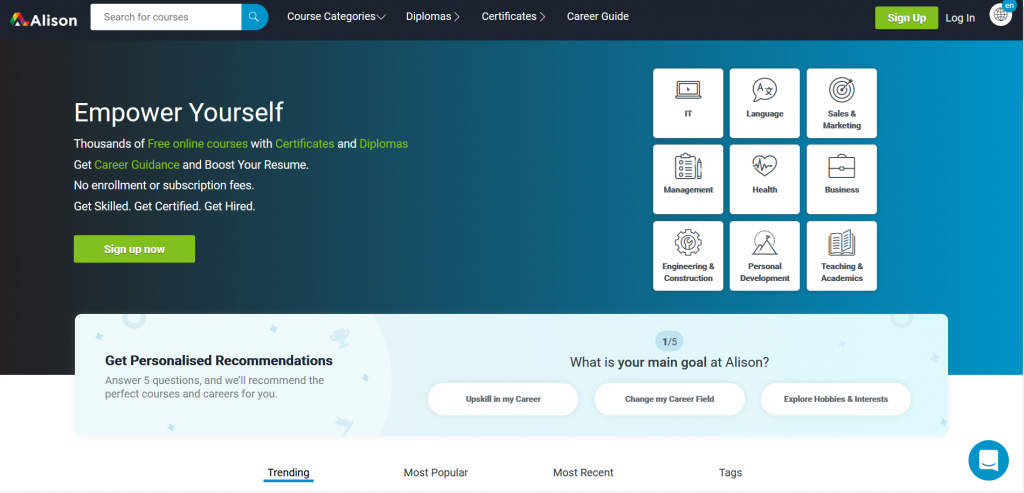 Alison is one of the best websites for free online courses, and it offers certification for courses in IT, sales and marketing, language, health, management, business, engineering and construction, and teaching.
Without having to pay for enrollment or subscription fees, you can earn certificates and diplomas and receive career advice that will help you create a resume and give you all of the information and instructions that you need to get started on the career of your dreams.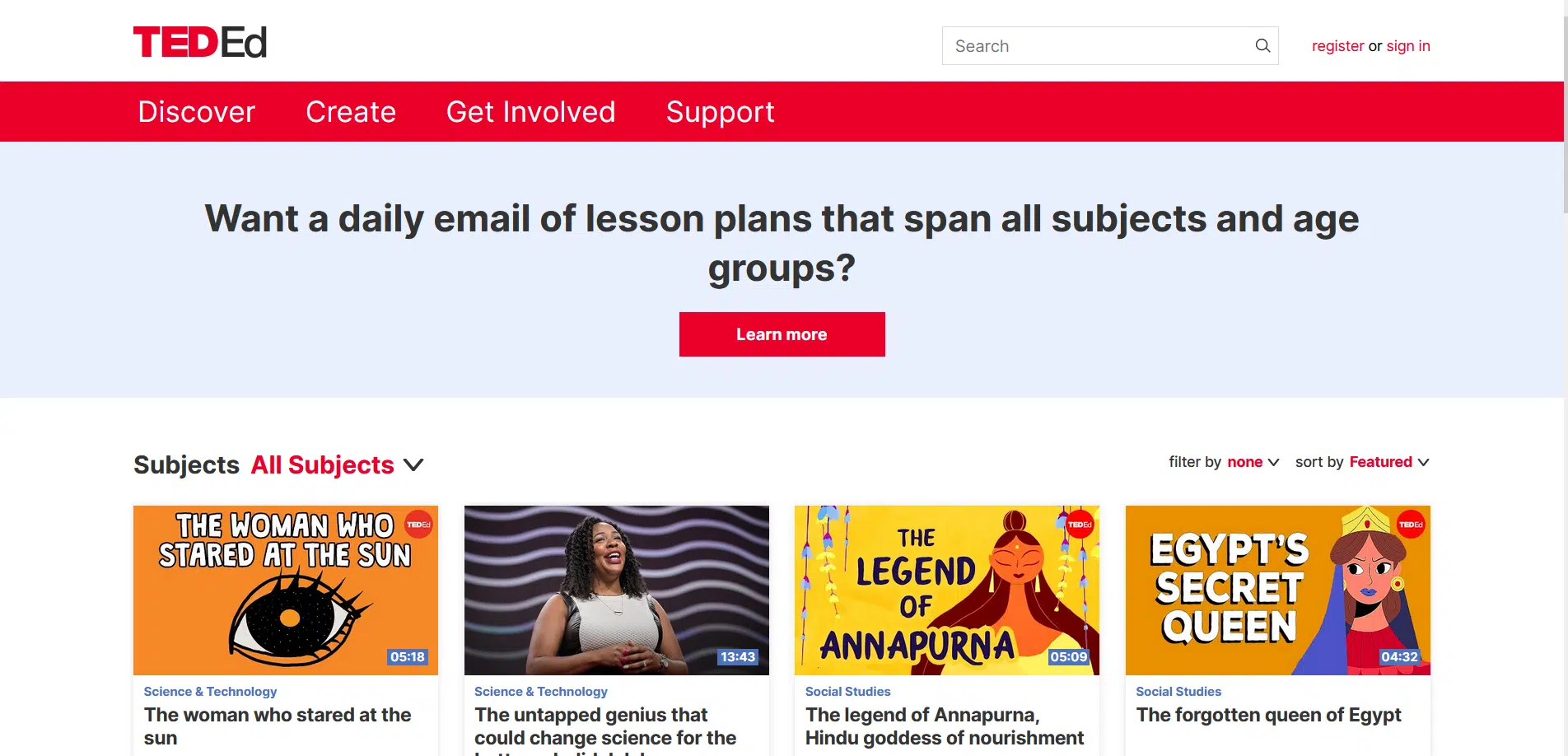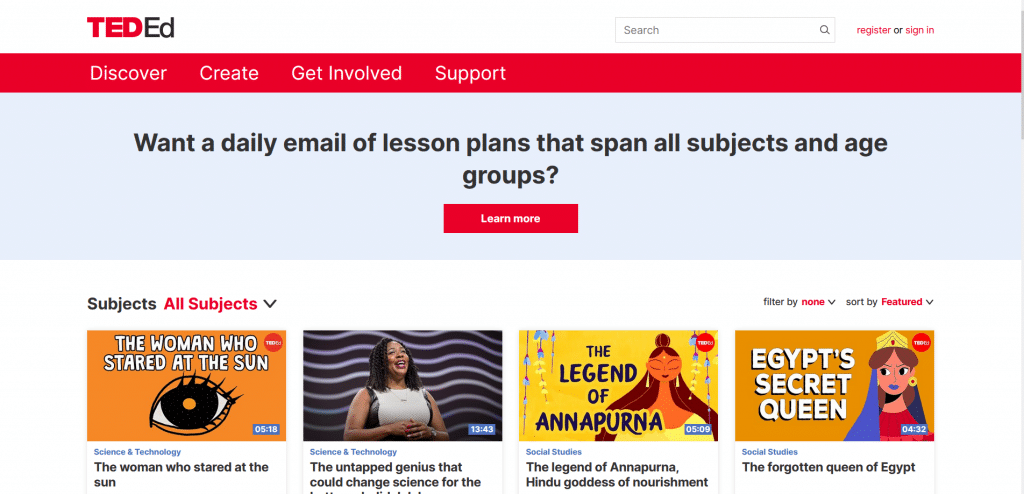 TED's youth and education arm, TED-Ed is a platform for "lessons worth sharing" that brings millions of students, more than 250,000 educators, and parents together to learn and instruct on innovative content that could break barriers with interactive learning that could be the key to spreading access to education and improving the quality of our education systems.
There are video lessons categorized by age and subjects, including everything from the arts to science and technology. You can also donate to TED-ed to help fund their community and keep their instructional videos free to access from anywhere.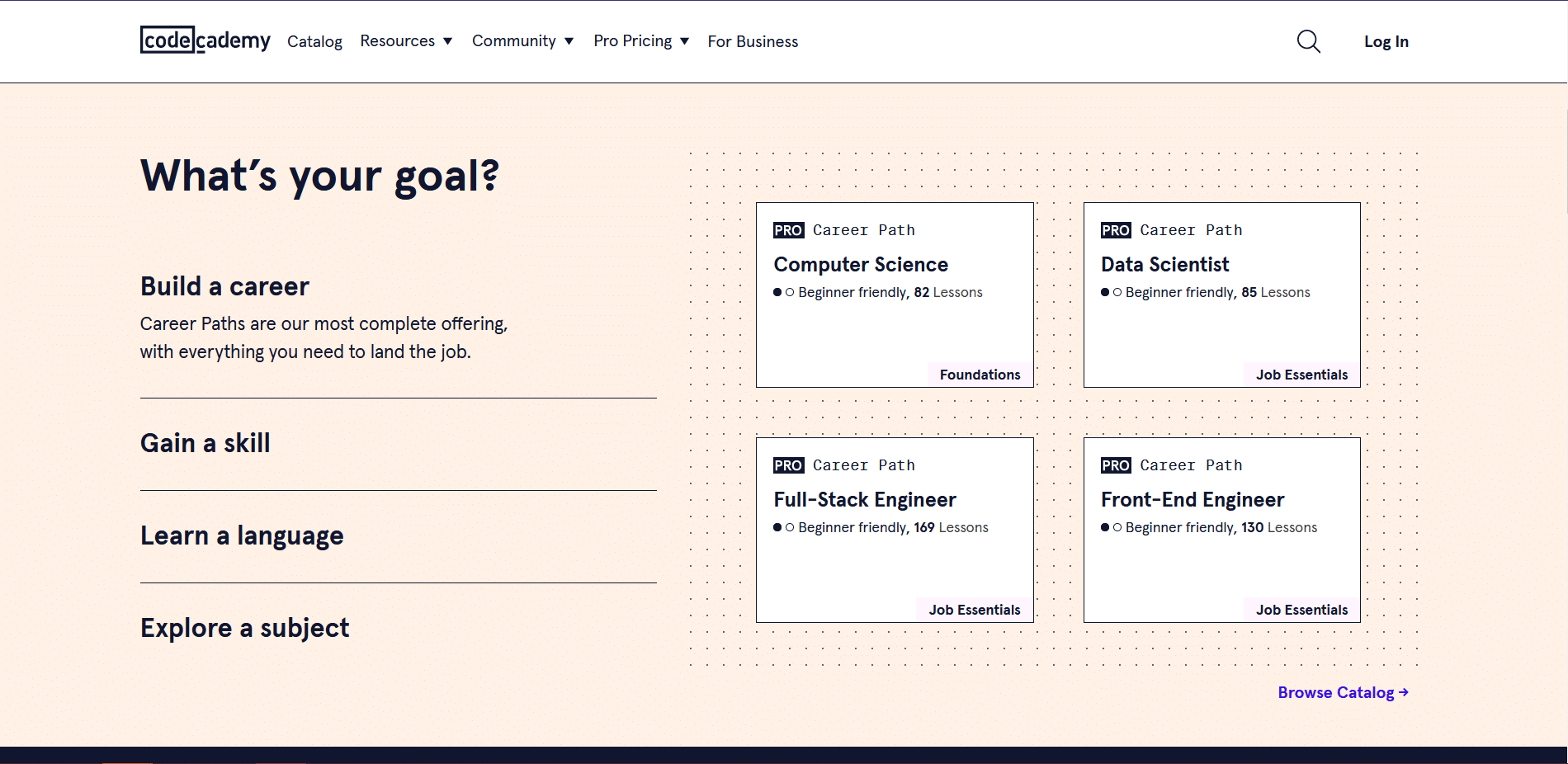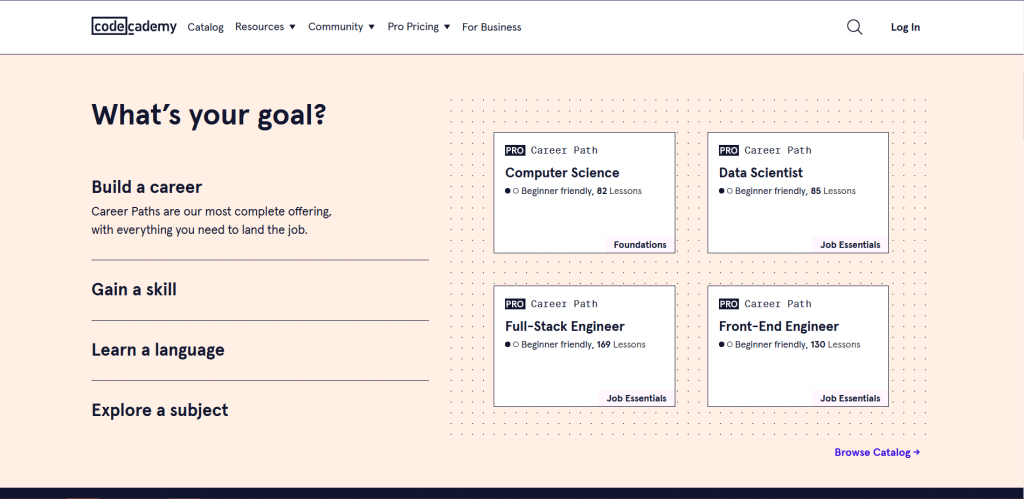 Codeacademy is not an online course provider — it's an interactive platform that offers free coding classes to familiarize yourself with coding, becoming one of the most sought-after skills in any workplace.
Employers around the world are rushing to snap up anyone in a specialized field that can read and write code, and it certainly wouldn't hurt to take on Codeacademy's beginner-friendly lessons to help you build a career in computer science, data science, as a full-stack engineer, or a front-end engineer.
Or, if you want to expand on your existing skills, you can follow the pro skill path to code foundations, analyze data, and build a website. You can learn any language from Python to JavaScript to HMTL to Java. You can also explore subjects like cybersecurity.
There's no question that if youu\re looking for the best websites for free online courses, Codeacademy is the place to be for careers of the future!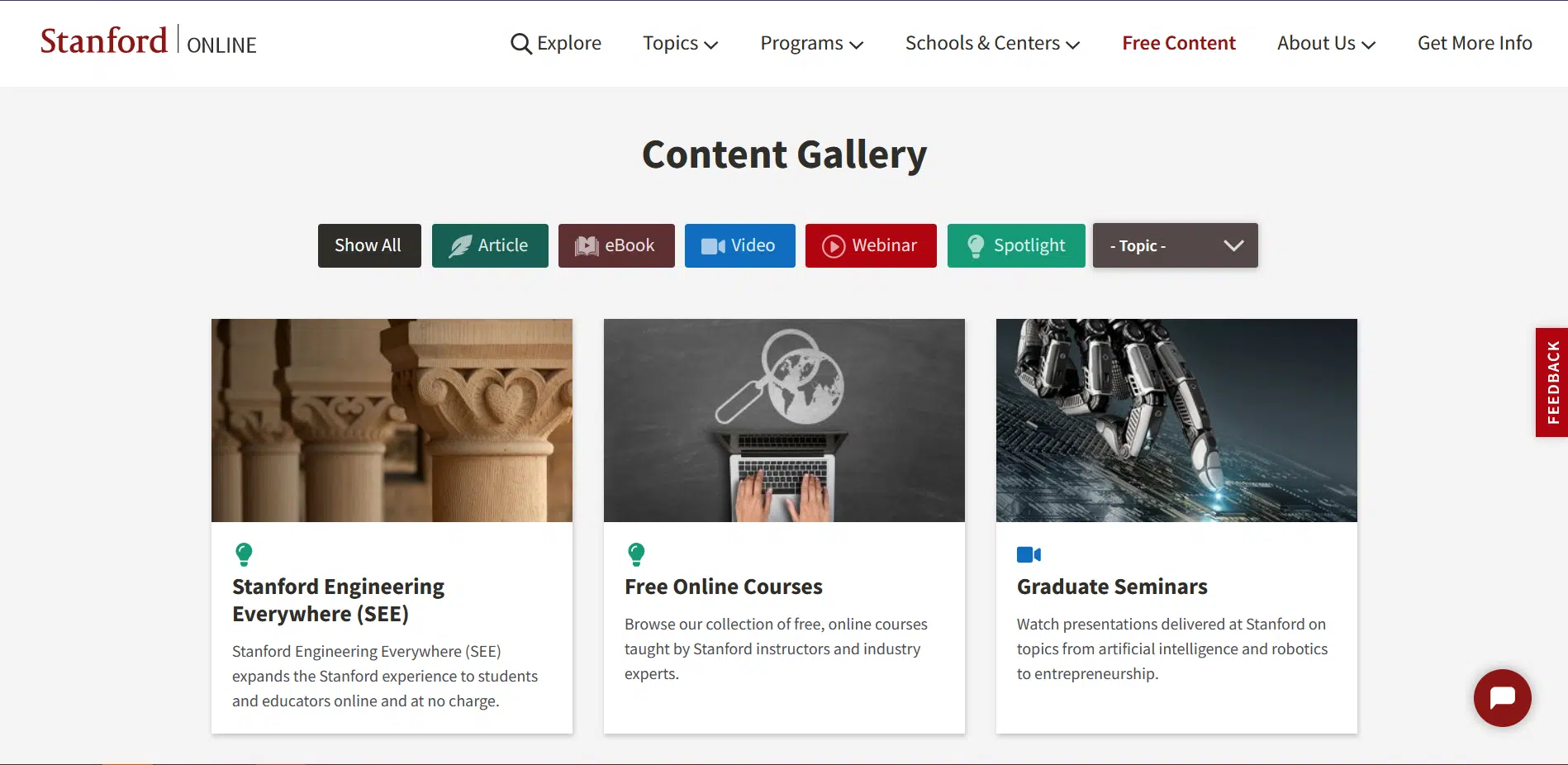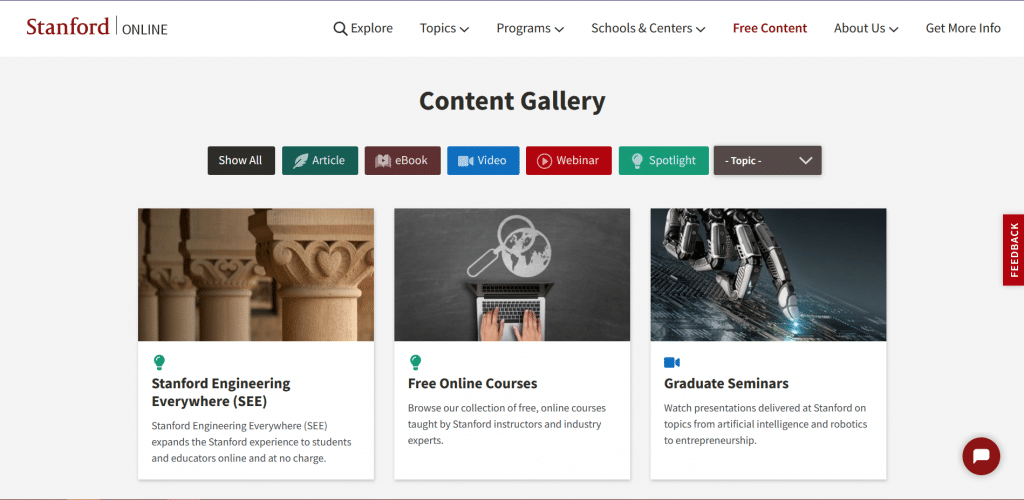 Stanford Online is an initiative from Stanford University that features courses, such as deep learning, data science, maths, and statistics, offering degrees, graduate certificates, and professional programs.
Their platform also features loads of free content in the form of articles, eBooks, videos, webinars, and spotlights, covering topics such as Artificial Intelligence, health and medicine, and innovation and entrepreneurship.
The courses are sourced from Stanford's undergraduate and graduate schools, including the Stanford Business, Medical, Law Schools, and many others.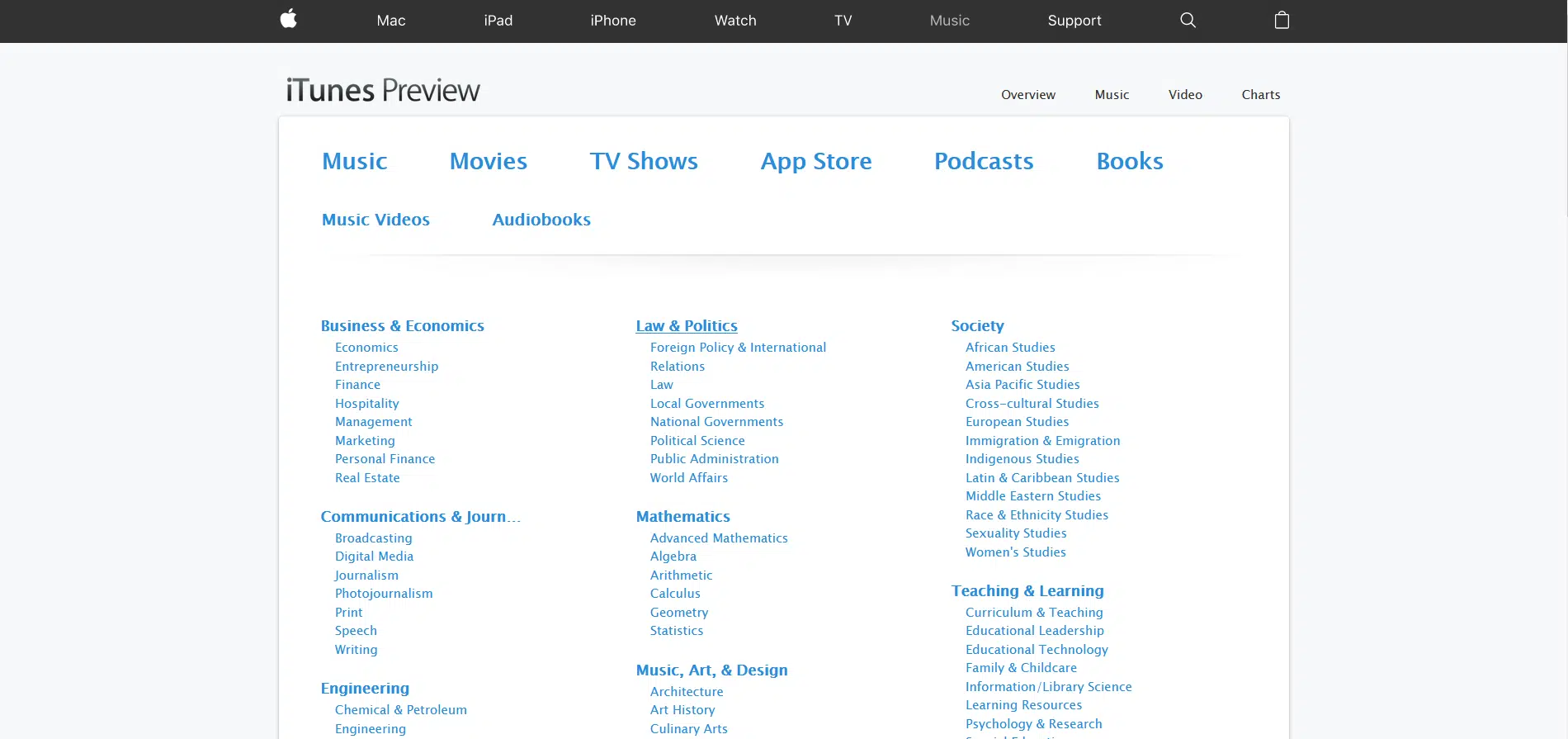 iTunesU is a great place to get free online courses for Apple users that will benefit from accessing their open university through their iPhone, iPad, or MacBook. You can access all of their courses in subjects like arts, business, ICT, education, engineering, social sciences, health, environmental development, law, languages, maths, science, and research for free.
Whether you're simply looking for short courses to update your professional knowledge or seek certified programs, diplomas, and degrees, iTunesU offers free online courses to help you develop new skills and advance in your career.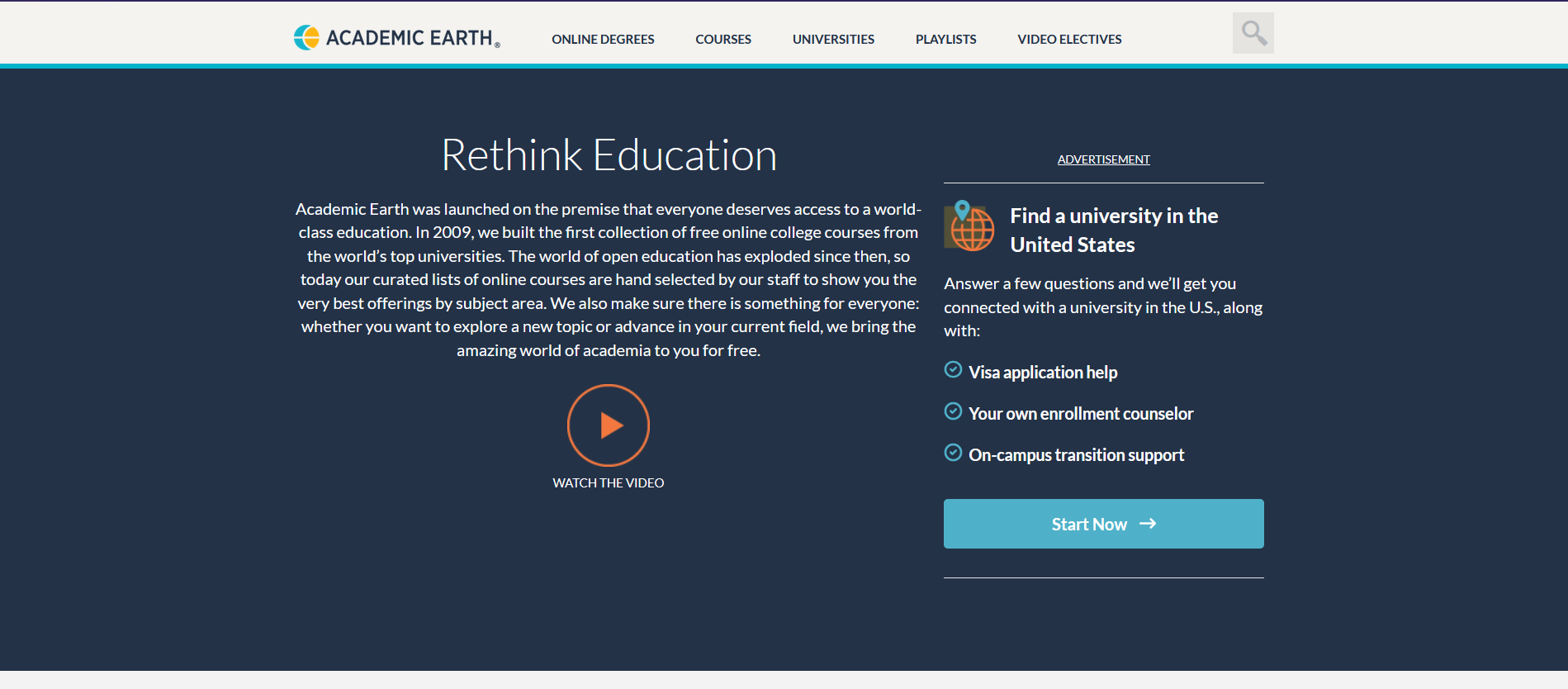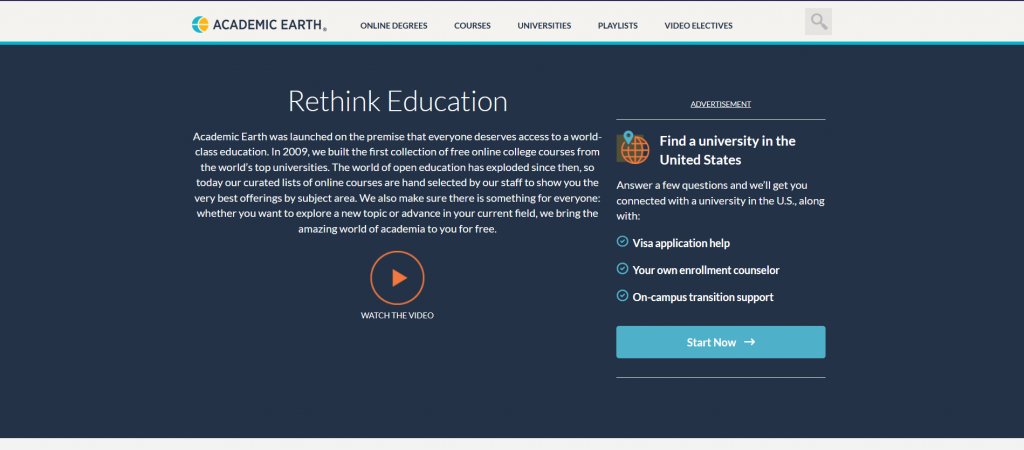 Academic Earth is another website for free online courses that sources their learning materials from colleges, universities, and other institutions worldwide. Their courses are completely free and cover subjects including accounting, art history, chemistry, computer science, business, biology, finance, engineering, and many others.
They also offer certificates, associate, bachelor's, and master's degrees, curated by world-renowned institutions like Cornel, Johns Hopkins, Oxford, Princeton, and others.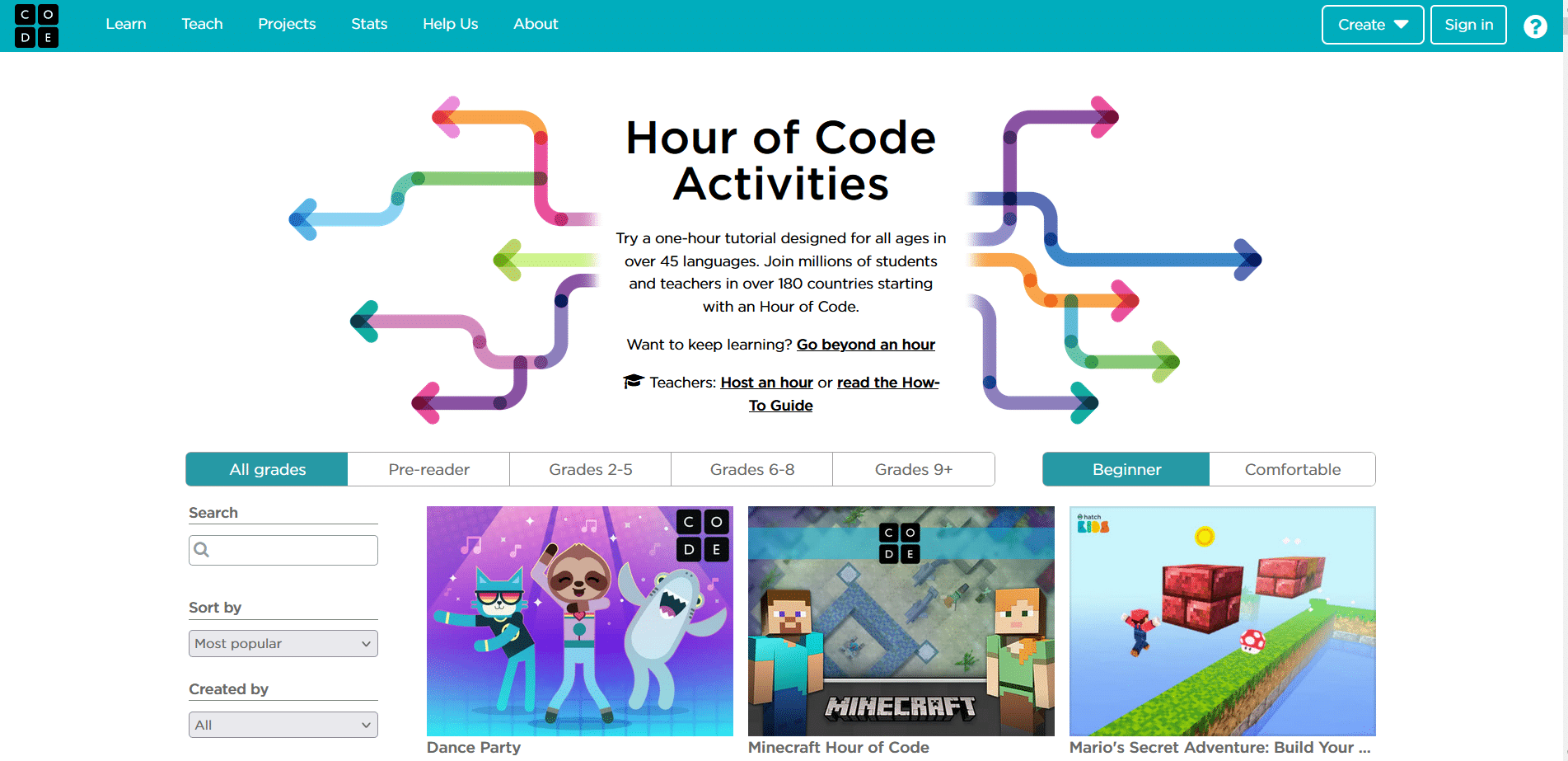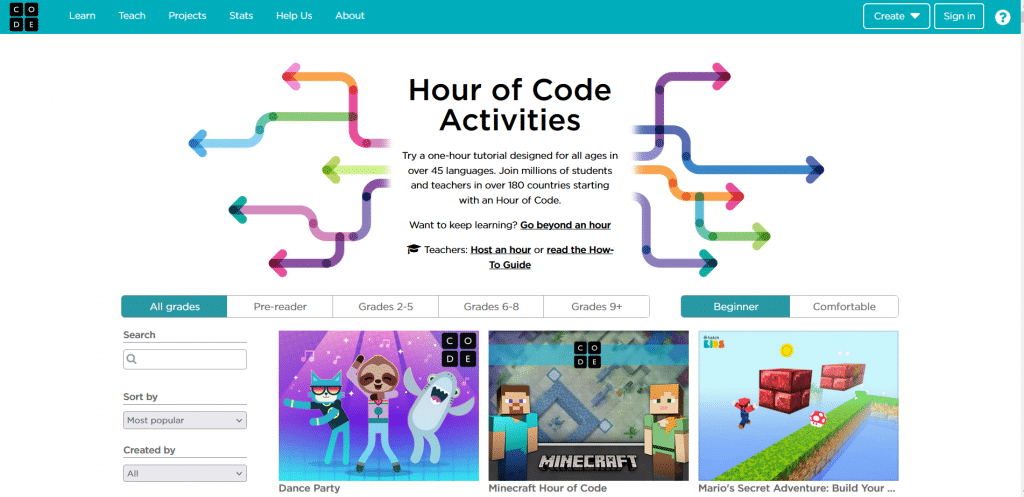 Code is another website that offers coding activities, including kid-friendly courses geared towards a "learn by doing" approach. They offer free online courses, with fewer courses, and personal, pro, family, and teams' subscriptions, giving you access to more features, courses, and other learning resources.
With free online courses that cover several technology-related streams, you can access classes that teach skills in app writing, robotics, JavaScript, and many other core aptitudes.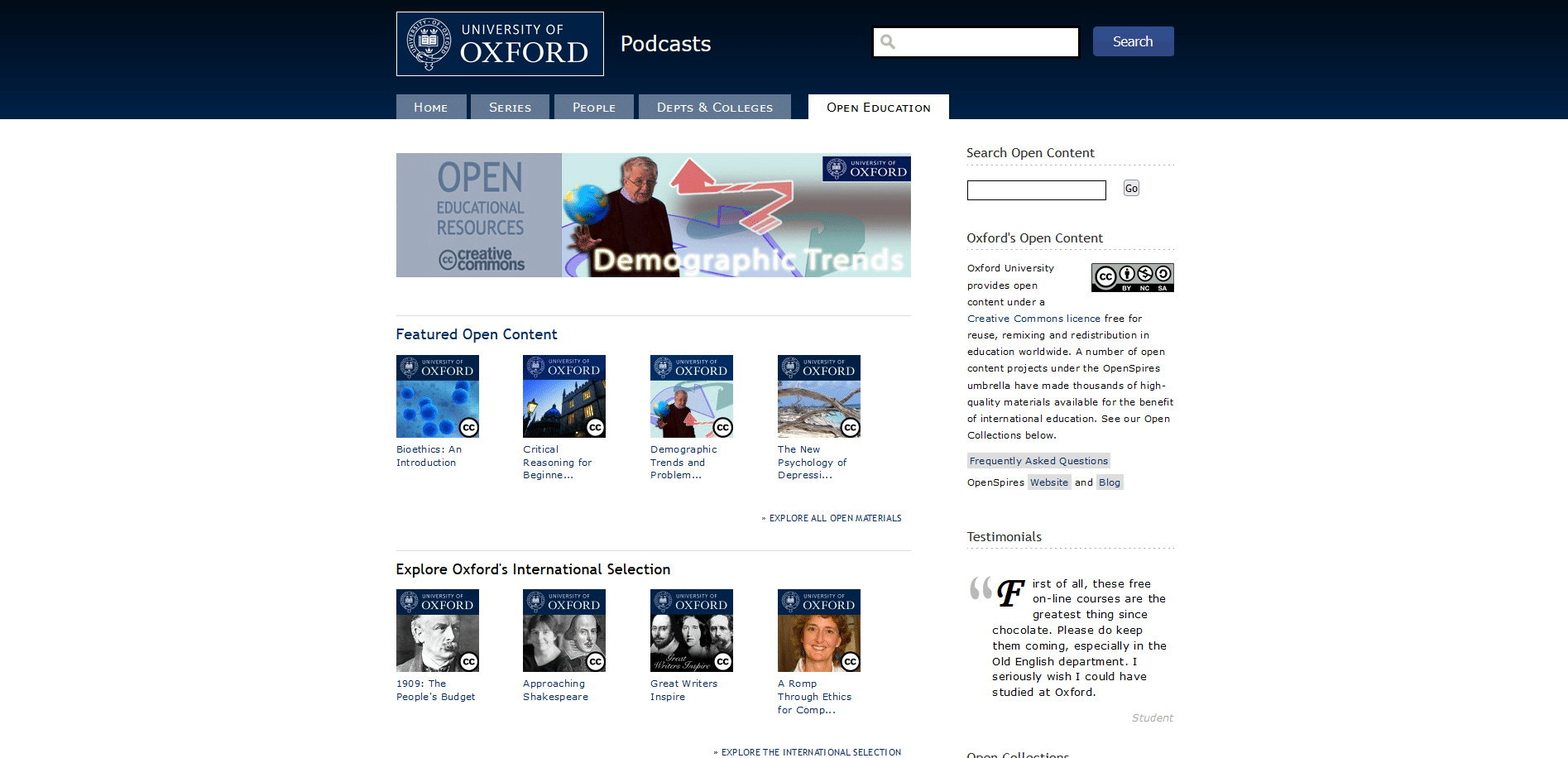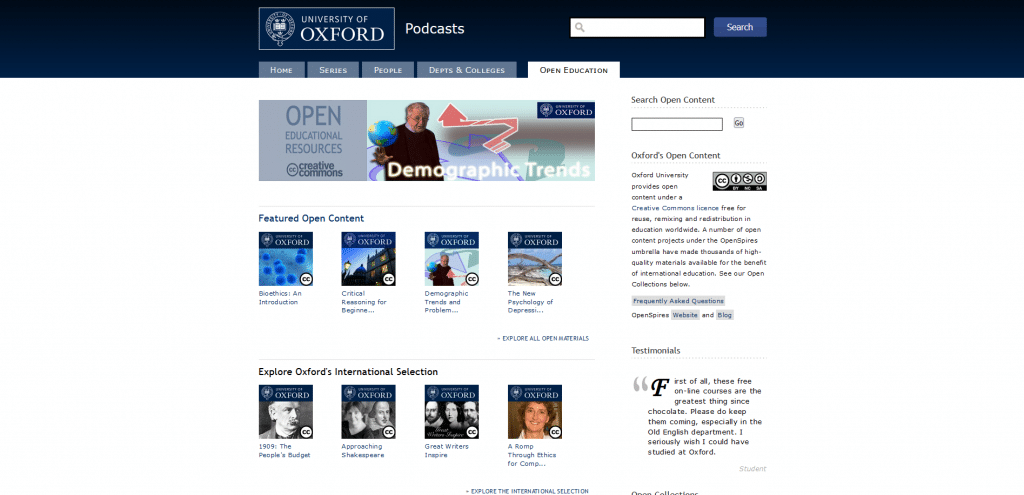 If you're looking for in-depth lectures on a range of topics, curated and available as a podcast series, the University of Oxford Podcasts features an Open Education section with course materials and audio recordings that take deep dives into niche subjects, such as traditional health sciences, regional classics in literature, the future of business, and environmental psychology.
So, while it doesn't exactly offer a linear learning method, it can be very helpful for specialists who can subscribe to a topic and keep up with the latest lectures to explore the limits of their fields.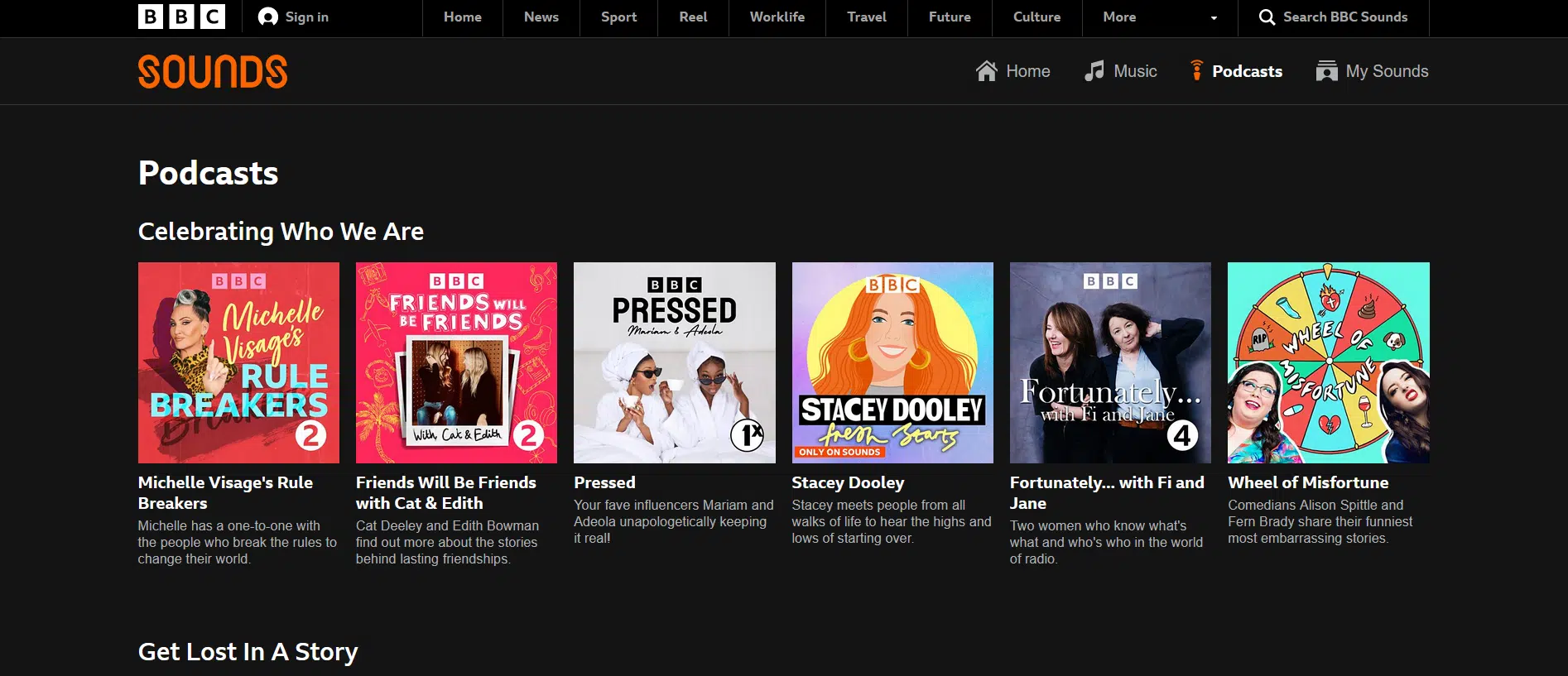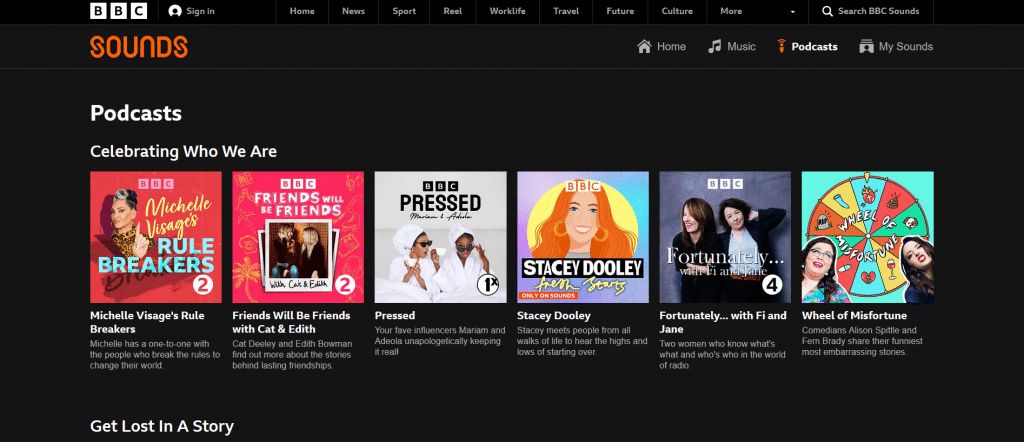 BBC Sounds is another great way to get free online "courses" as a casual learner. Their podcasts are updated weekly, focusing on every topic you can think of. You can delve deep into a lecture series to improve your professional knowledge with less theory-based clutter.
BBC Podcasts is a great free online learning platform, made accessible for the average person as well, and many of their podcasts are also broadcasted in different languages.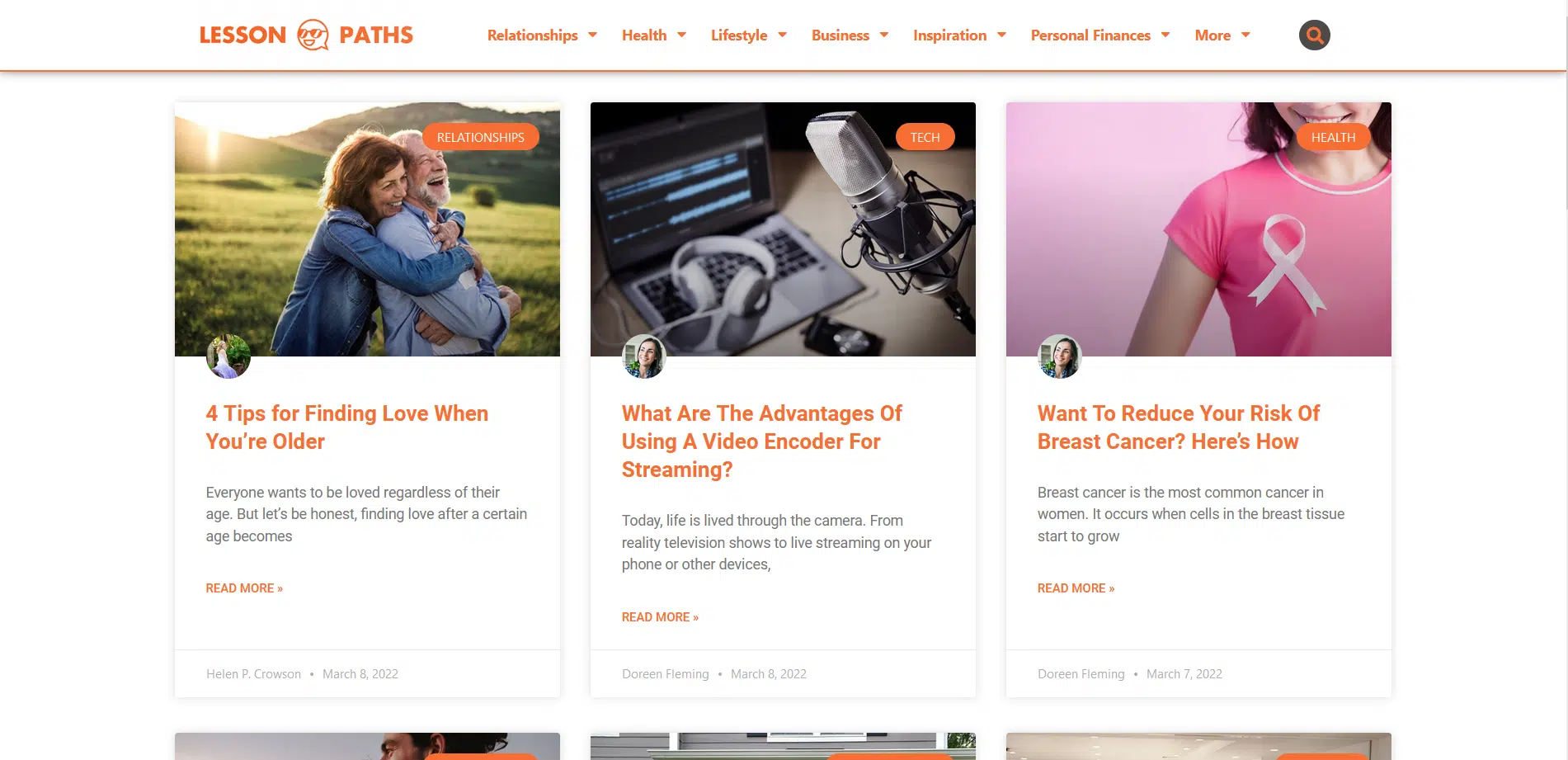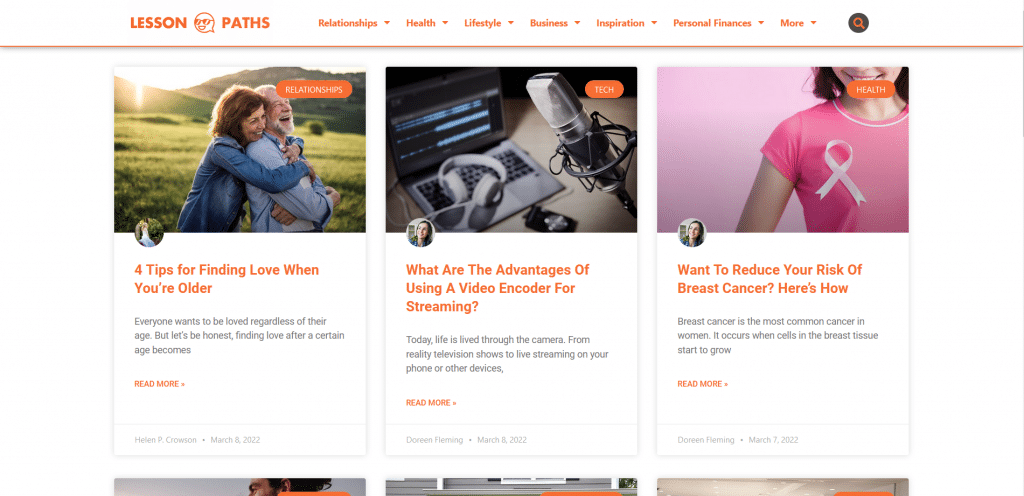 LessonPaths is less of an educational platform and more of a blog, but it is perfectly curated for free online learning because of the user-friendly and convenient way to access some incredible learning material that was put together as blog content but may as well be course material.
On the website, you'll be able to educate yourself on a broad range of topics such as health, home DIY, gardening, business, and personal finances. Users can also rank the free online courses so that you can sort through the most popular ones if you don't know what skills you'd like to acquire.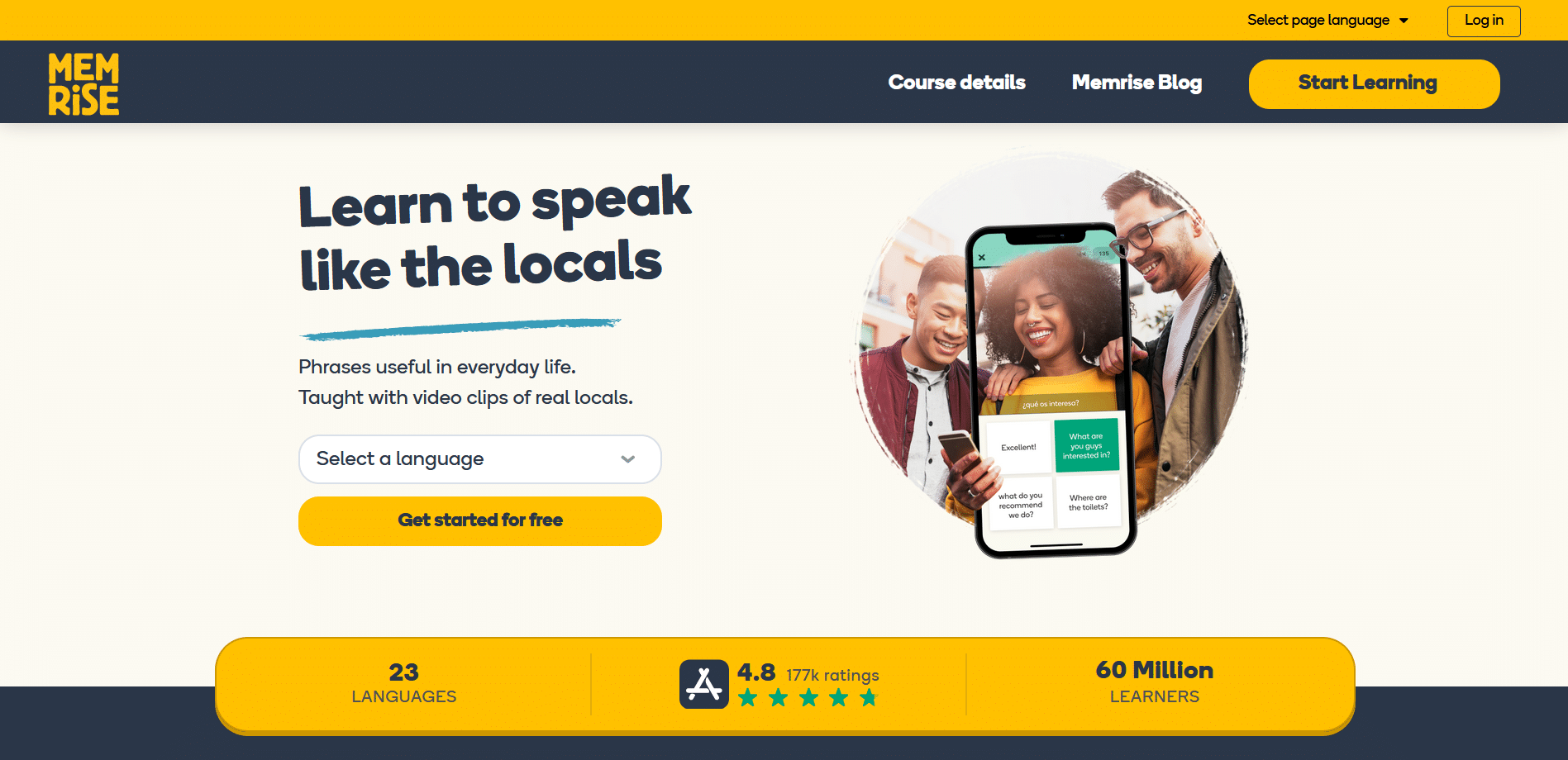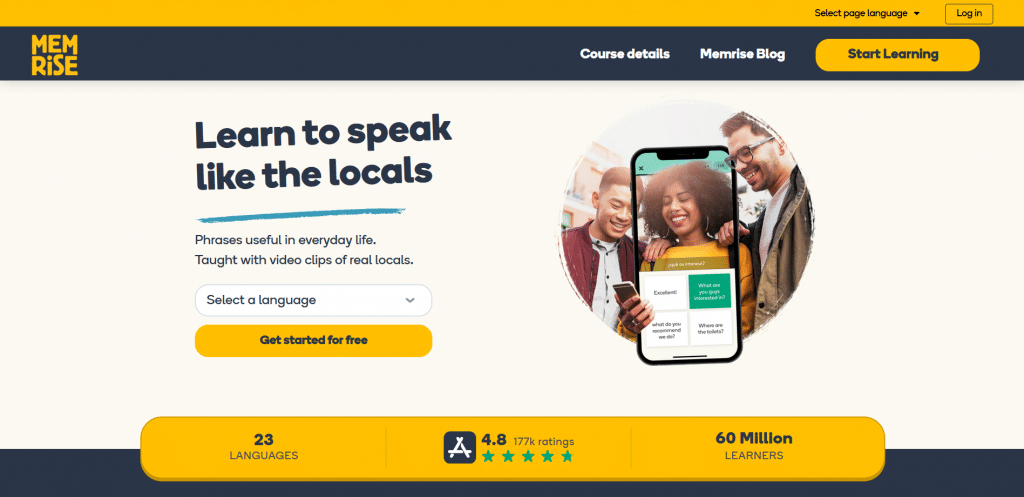 Memrise is an app geared towards language learning that uses a different learning philosophy to teach you with proven memory techniques and immersive learning that makes it possible for you to pick up a language twice as fast as you would in a regular classroom setting.
Memrise is a special platform due to its achievements in gamifying its learning material and activities. As an educational tool, Memrise is probably best equipped to teach you a new language, although it offers other free online courses from user-generated content.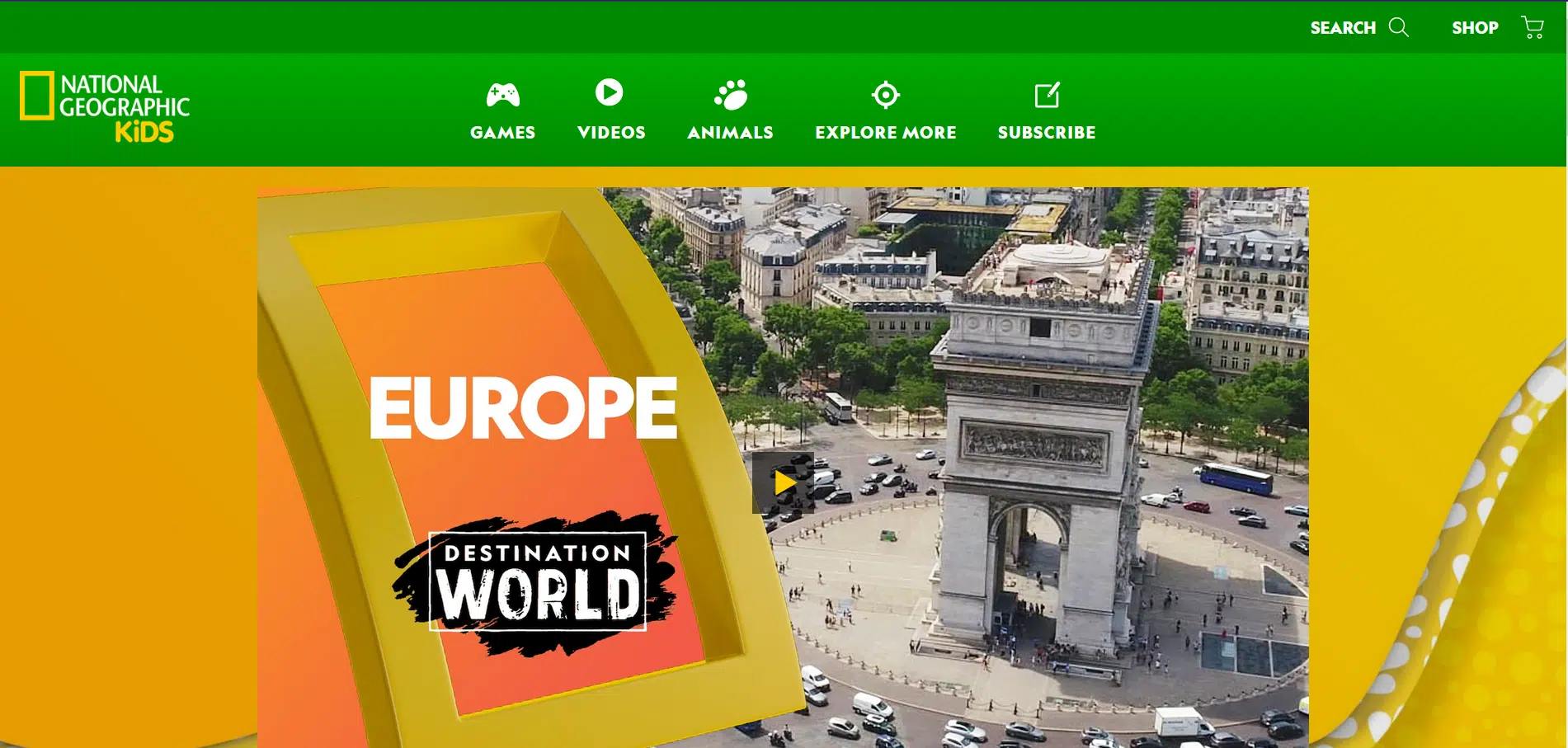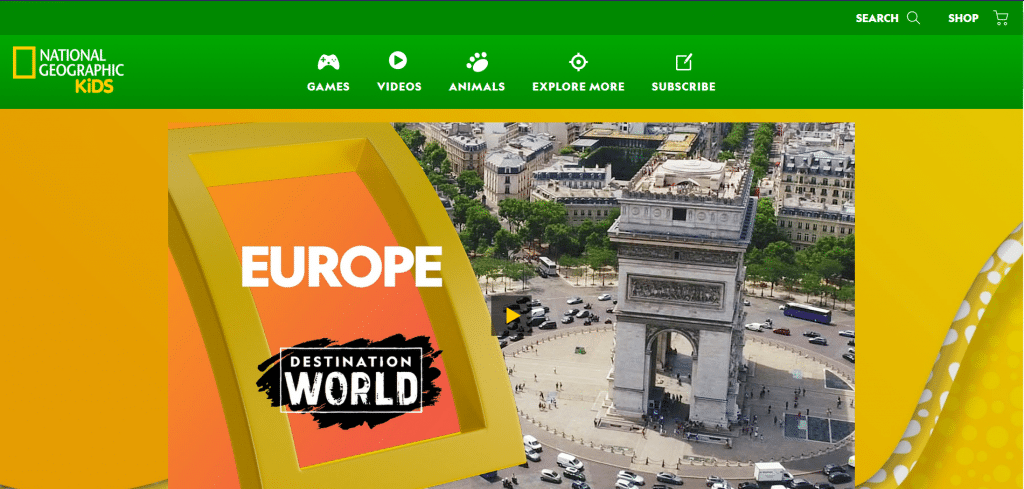 If you're looking for great learning material for your children, National Geographic Kids is one of the best places to get free online courses that will teach your kids through games, videos, quizzes, and reading material.
Not only is this website for free online courses comprehensive, but it's beautifully designed and easy-to-use, meaning your kids can access it at any time without your help. And who knows, you could explore the wonders of mother nature with your kids and learn something new yourself!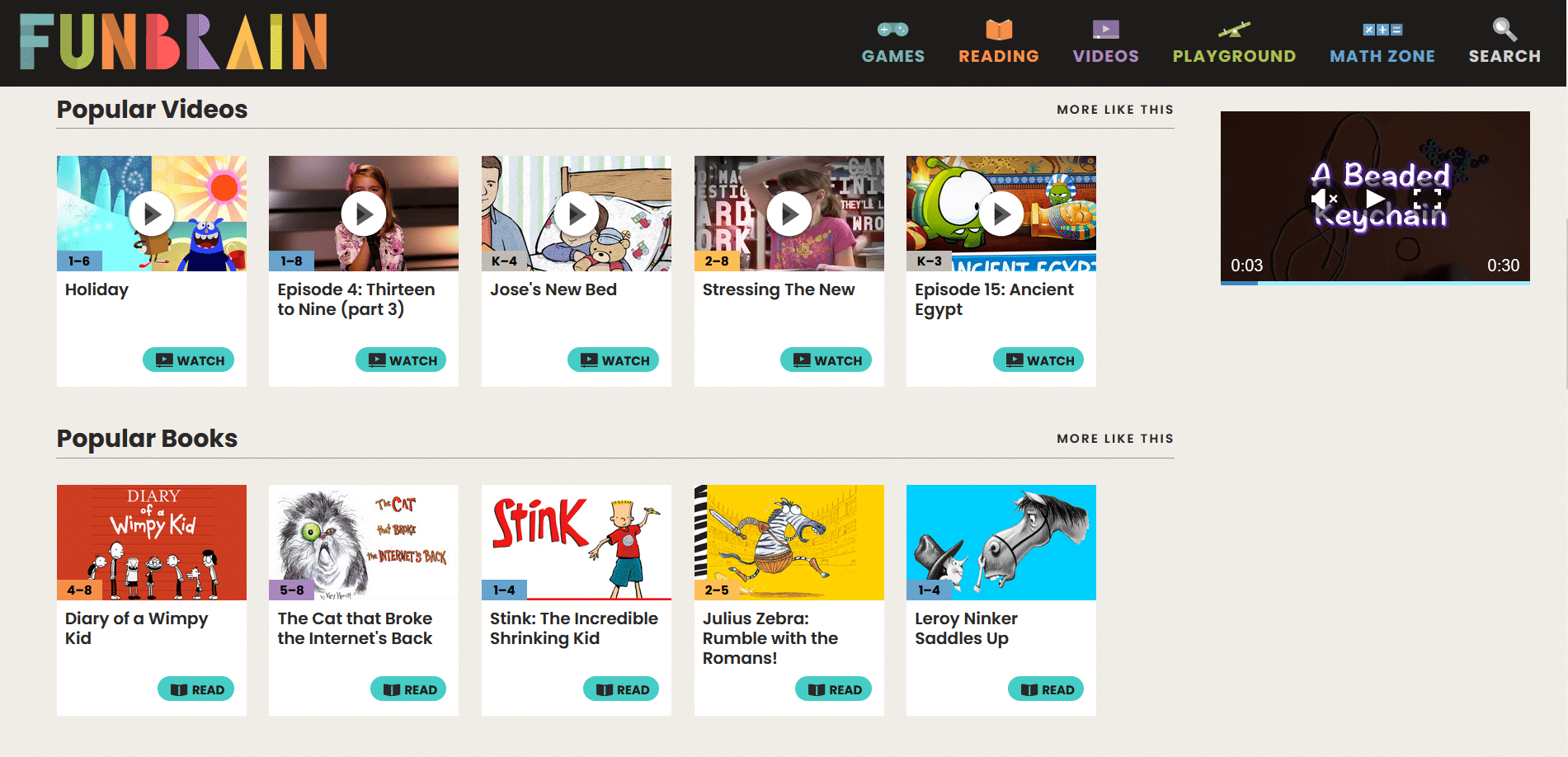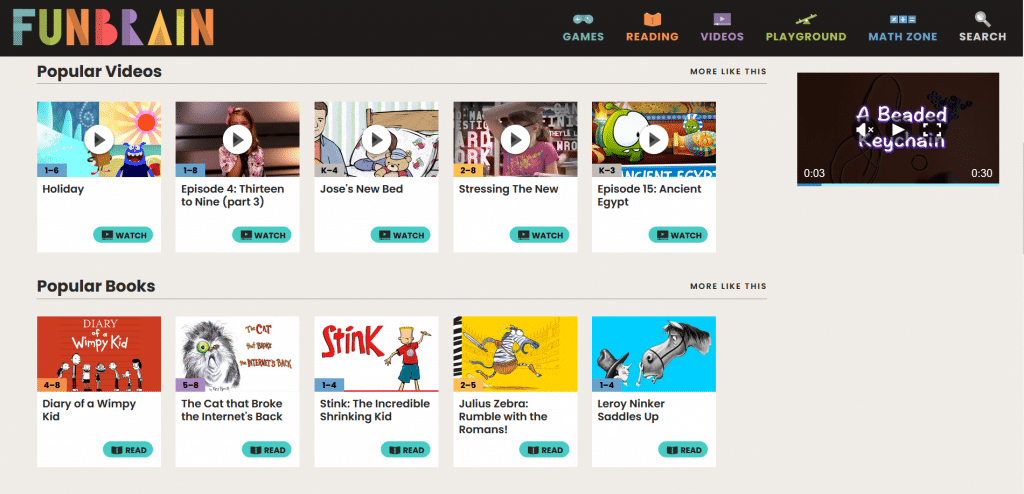 Fun Brain is one of the other great options for you if you're looking for free online courses that are curated for kids. It also takes a gamified approach to free online courses for young kids with puzzles and other fun games to keep them engaged when acquiring elementary skills like arithmetic and reading.
It also offers some rewarding activities for older kids, from K-8, to create a casual learning experience that allows them to have fun. They also offer reading materials, videos, and a playground section.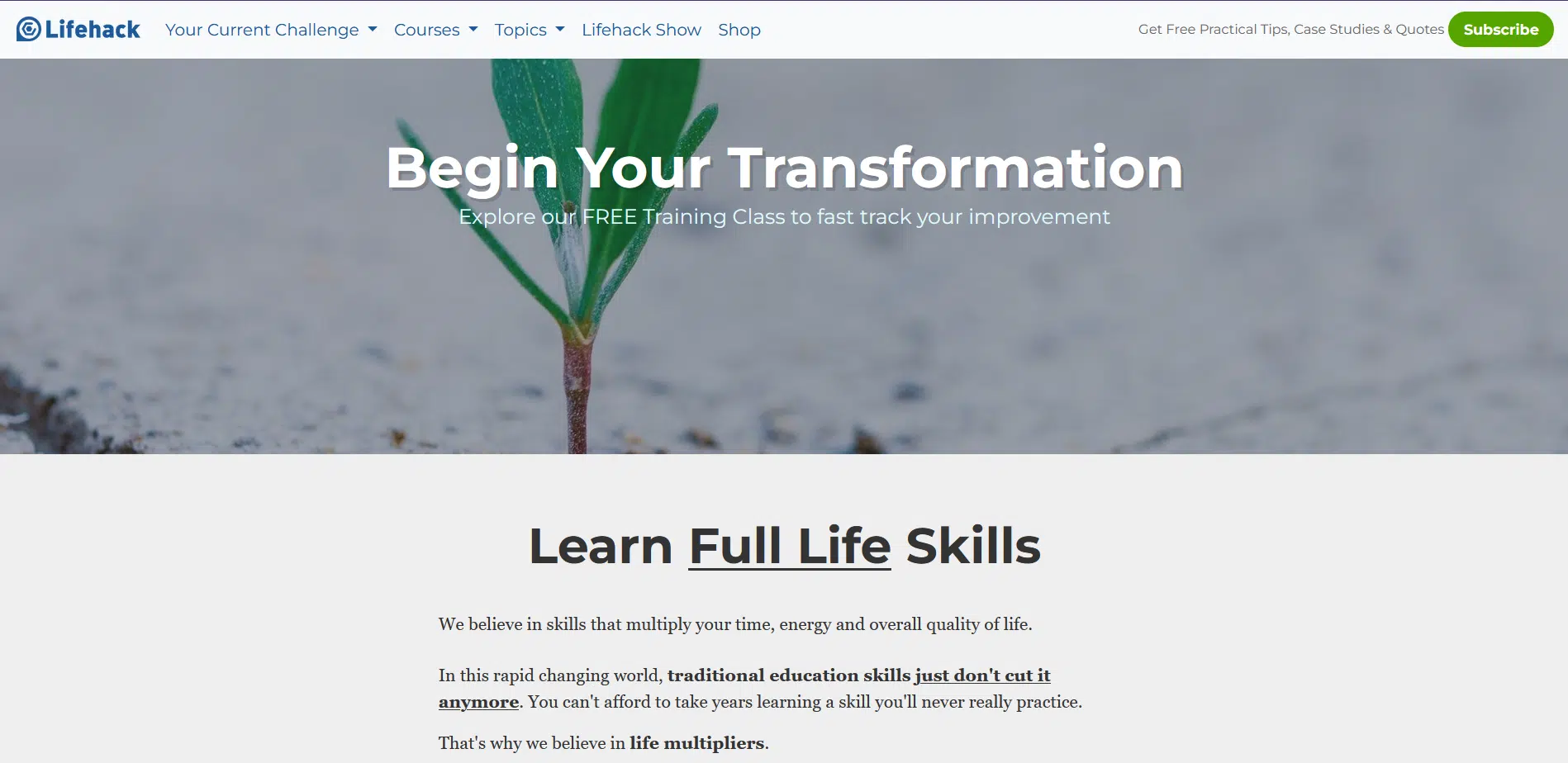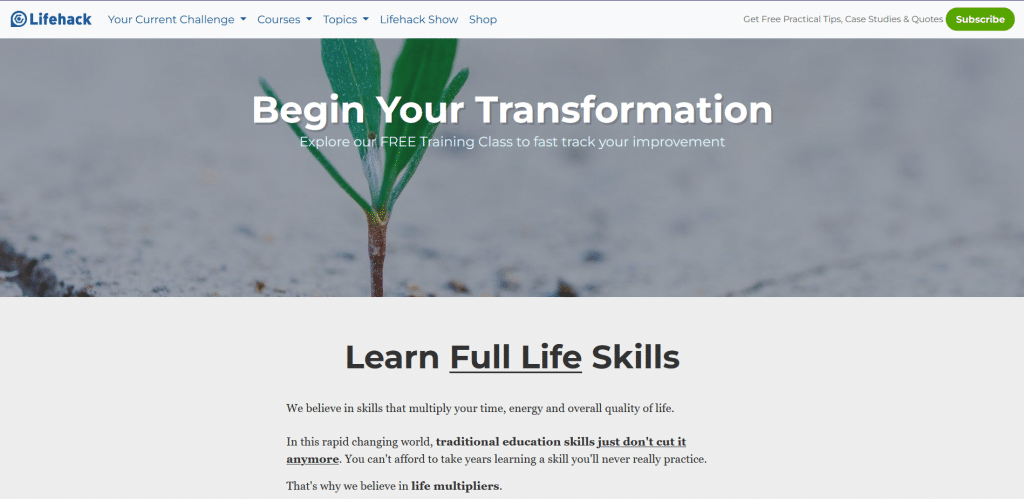 Lifehack is a website that takes an alternative approach to education and skills development by offering instructions in cross-functional skills that will impact many aspects of your life and aren't exclusively geared towards specialized skills.
They reject the traditional approach to education, offering a more holistic approach, instructing you in skills that you would put to practice.
They offer master courses and free courses covering a broad range of less formal topics, including staying motivated, life potential, success mindset, mental wellness, life balance, and relationships.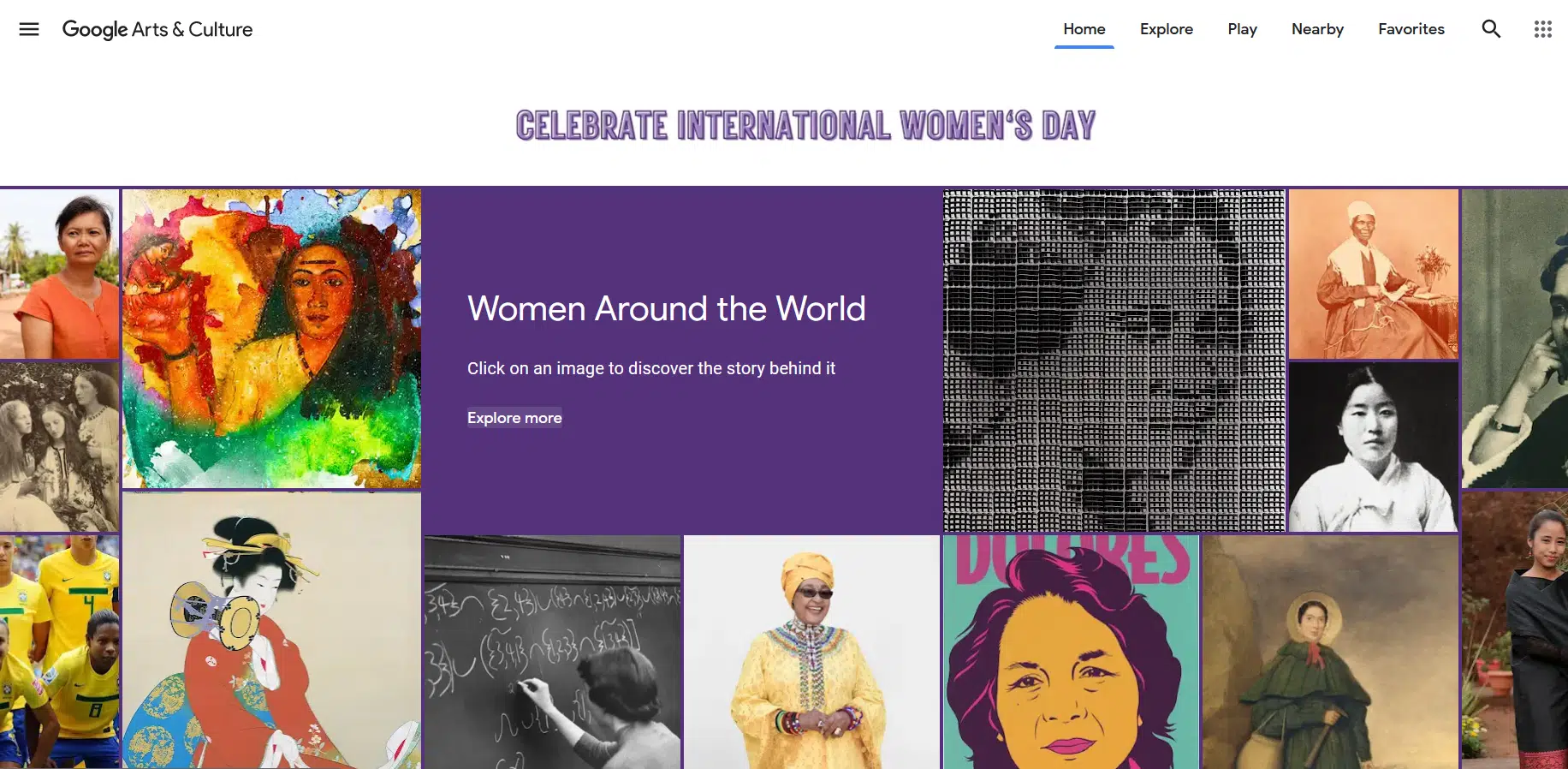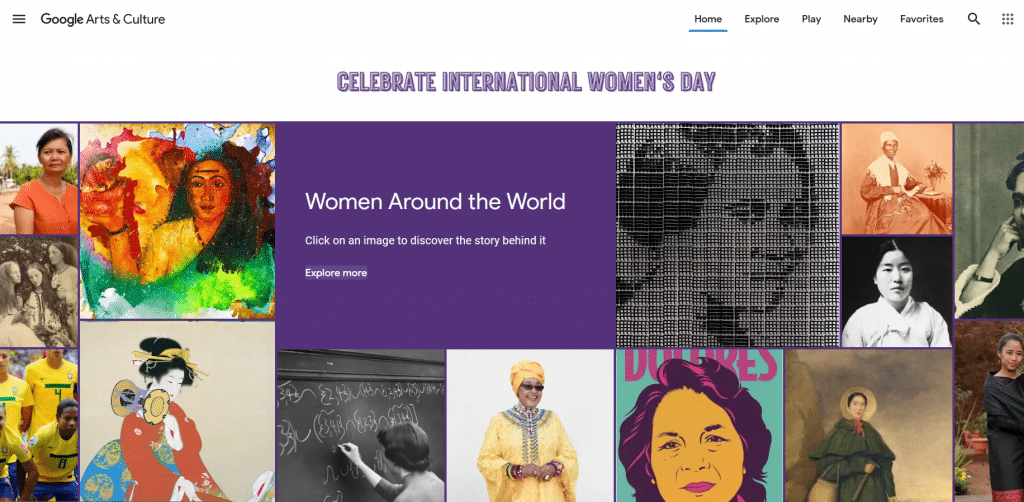 If you're a creator, artist, or art enthusiast, Google Arts & Culture is the place to be for a museum experience powered by virtual reality. It's also a perfect place for kids to explore incredible exhibitions and engage with natural history.
But art enthusiasts will be most impressed by the works of art contained in Google Arts & Culture that you can access, from art movements such as realism, modern art, renaissance, modernism, minimalism, pop art, and so much more.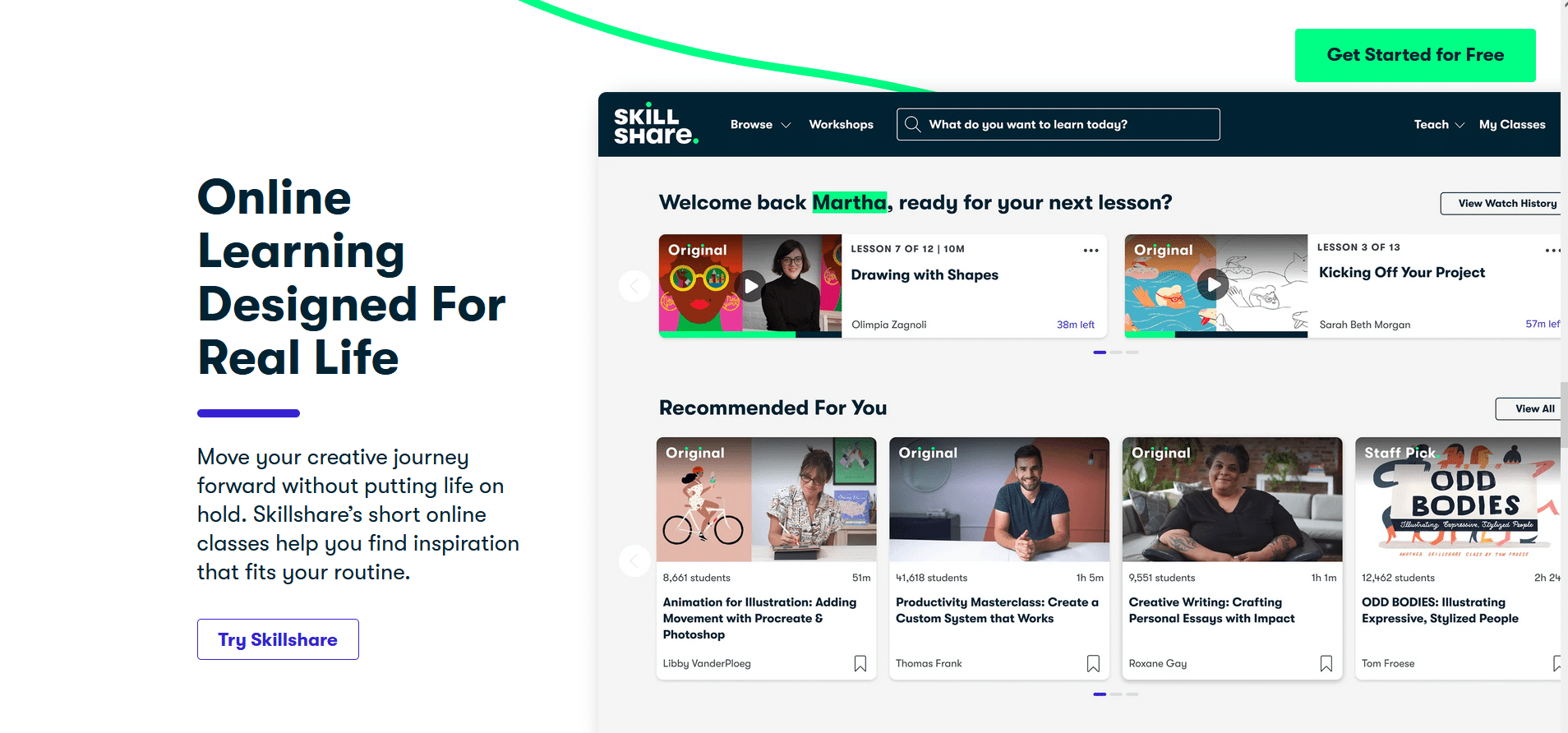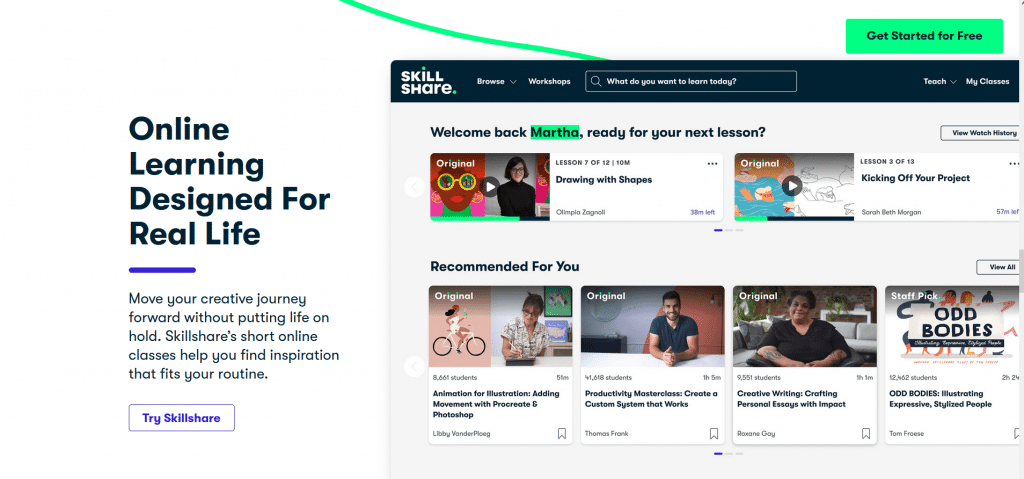 Skillshare has more than 26,000 courses covering various creative skills in animation, design, illustration, photography, business, and writing. The courses are instructed by some of the most recognized names in their respective fields and are designed to equip you with skills for real life.
The classes are available on all digital devices, so you can take classes anywhere and download them for offline lessons. Skillshare offers a 7-day free trial to familiarize yourself with their content before committing to their monthly fee of $2.49.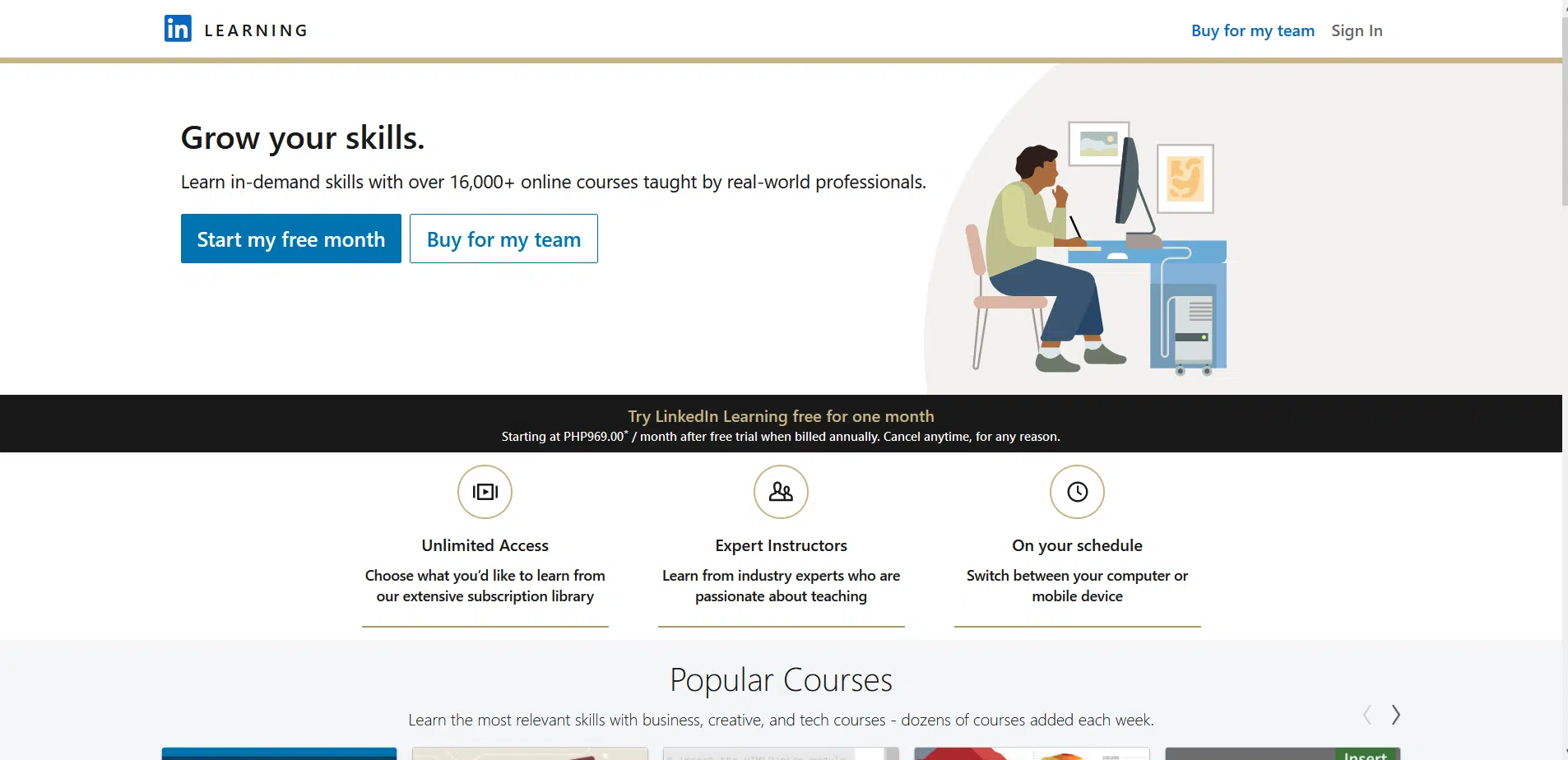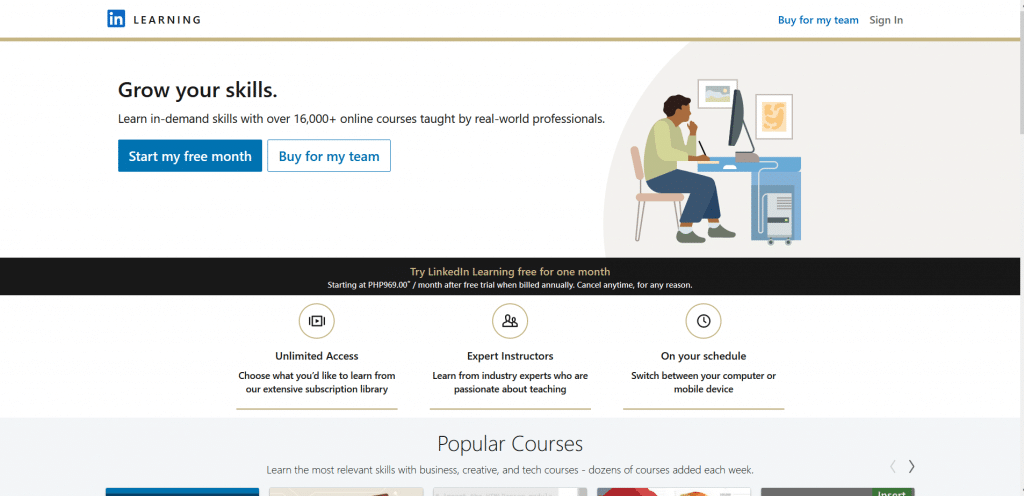 LinkedIn Learning is a great website for free online courses, particularly job seekers and working in teams. On their platform, you can sign up for subjects and courses specifically designed for each stage of your career. As a job seeker, it's great because the certificates are added to your LinkedIn profile.
The instructors all have plenty of real-world experience, and you can choose from countless courses, divided into business, creative, and technology topics. You can get a month-long free trial so that you can get started on the courses without having to pay a cent.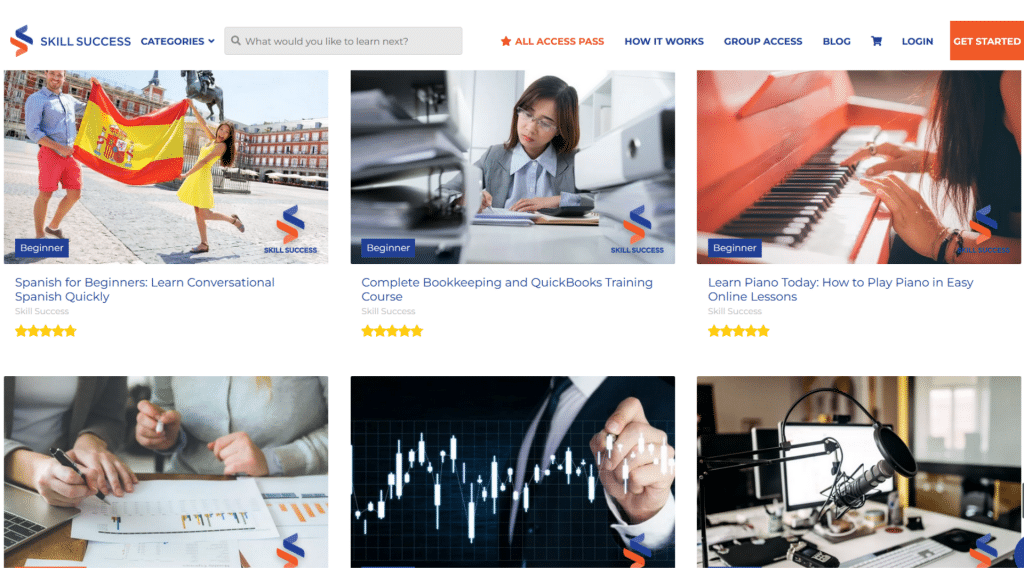 With half a million students enlisted in Skill Success courses, their platform features purses for just about any skill you can imagine, from foreign language courses to project management, for all levels of competency.
You can access their courses for free with a 30-day trial and gain a quick introduction to just about any topic, with most of their content offering instructions that are curated for beginners. You can continue up-skilling with an All-Access Pass for $15 per month if you like the courses.

The free trial is hard to find on the website, if not nearly impossible but Groupon and Amazon or LinkedIn have free trial offers that you can redeem easier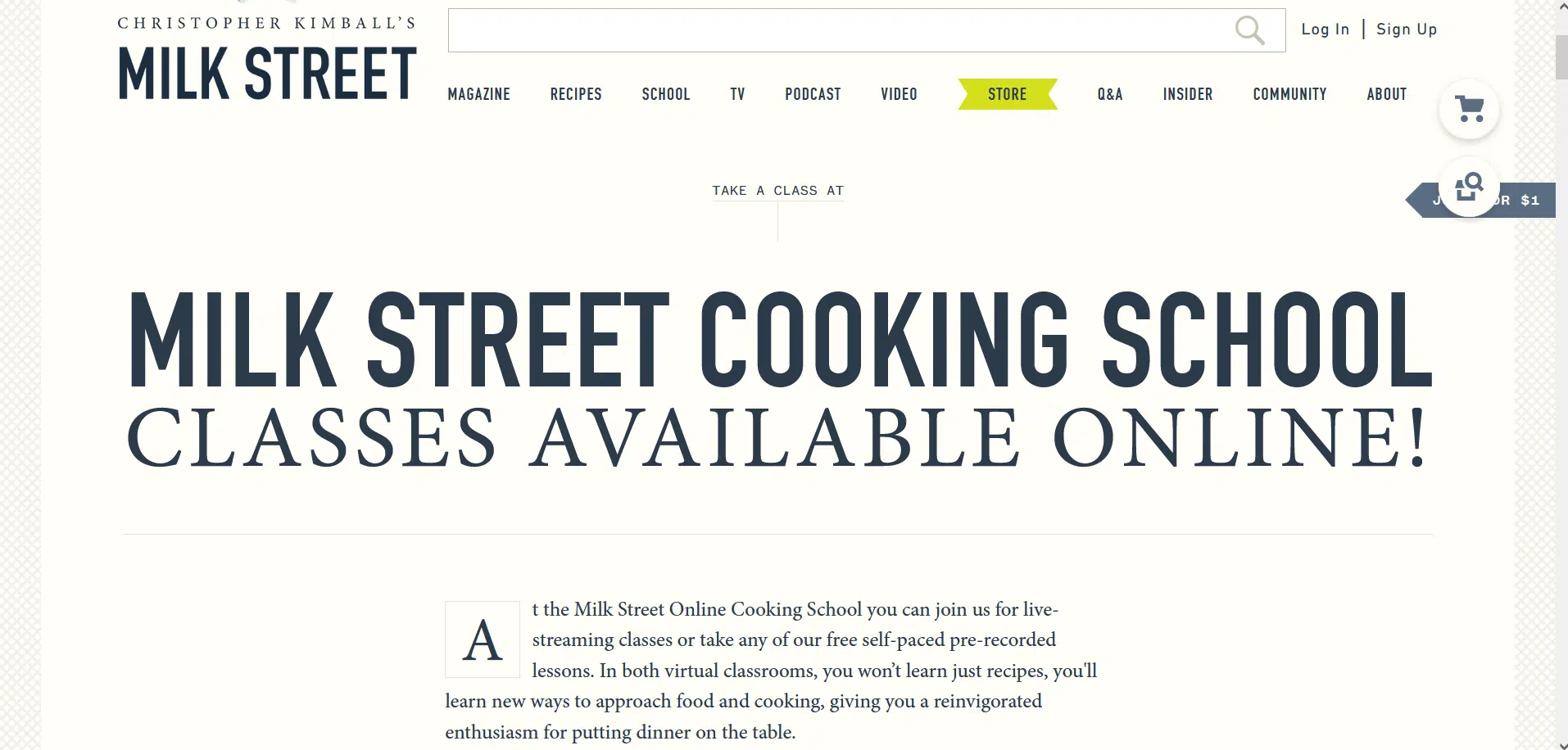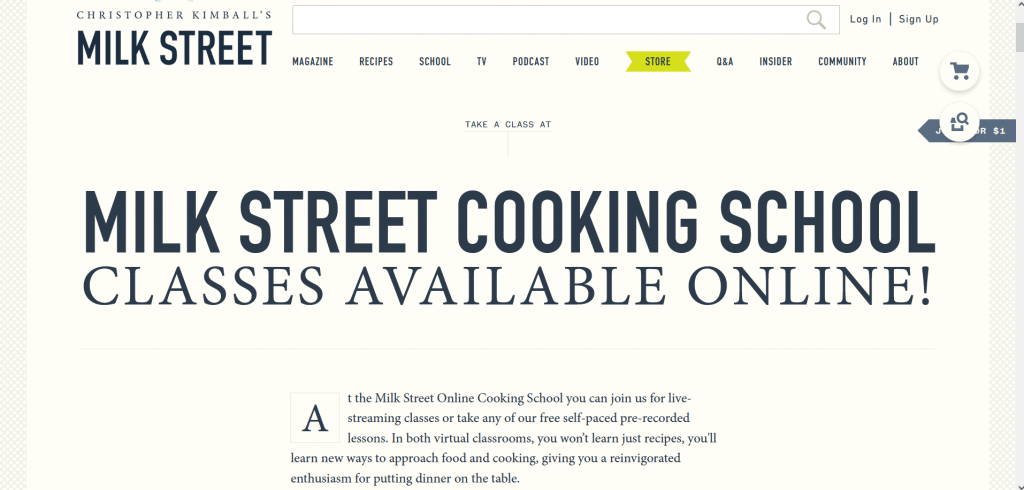 While it's not completely free, you can join the Milk Street Cooking School and access their classes for just $1.
They offer live-stream classes and self-paced pre-recorded lessons in virtual classes where you can learn incredible recipes and about some key skills that will incite a paradigm shift in how you approach the art of cooking and your perception of the food itself.
Livestream classes allow a maximum of 500 students to take a class introducing them to a new topic, ingredient, or technique for 60 to 75 minutes. You can use the chat function to engage with the instructor.
They also offer workshops that take an in-depth approach to topics, ingredients, and cooking techniques for 90 to 120 minutes. The instructors will answer your questions directly, offering personalized feedback that will allow you to improve your cooking skills in real-time with challenges and practice recipes that you can do on your own.
Related Questions
Are free online courses accredited and internationally recognized?
Whether an online course is accredited or not would require them to be regulated by an awarding body, similar to those that accredit traditional academic institutions. These bodies will determine whether you've received the appropriate level of education to qualify you for the professional settings in which you will execute your skills. Check whether an awarding body has accredited their courses, degrees, and certifications with your online course provider.
Is an online course as good as a regular degree?
Online education used to be considered lesser than traditional, full-time university courses, but they have been gaining more and more respect as the years go by, to the point that one in four students are enrolled in online platforms. And as time has gone on, more employers have started to embrace online education as a reputable method to acquire various skills.
Can you homeschool your children exclusively using free online courses?
Technically, "virtual schooling" is not considered a like-for-like alternative to homeschooling. However, online schools keep track of transcripts report cards, offer testing, award credits and fulfill similar functions to mainstream schools.

They are especially beneficial for kids that are highly involved in extra-curricular activities. However, remember that enrolling your kids in virtual learning means that you will have to closely monitor their progress to ensure that they remain on track.