How To Stack Coupons On Shein & Other Shopping Hacks
Important Note: When you buy through our links, we may earn a commission. As an Amazon Associate we earn from qualifying purchases. Content, pricing, offers and availability are subject to change at any time - more info.
Key Takeaways
You can't stack coupons on SHEIN, as it is against their website and app's restrictions.
Customers can only redeem one coupon code per order.
You can take advantage of many other SHEIN discounts, such as savings upon your first purchase, flash sales, or the SHEIN student discount.
With every SHEIN purchase, you will earn bonus points and use these bonus points to add to a coupon for a significant discount, free returns, or even free merchandise.
On SHEIN, you can always get those trendy outfits you desire without costing you an arm and a leg! SHEIN's deals are often so good that they can make you wonder if it's too good to be true. Well, it's not! Are you wondering whether you can stack coupons on SHEIN and how you can use tips and hacks to save even more? You have come to the right place!
---
Advertisement
---
How To Get The Best Deal On SHEIN Without Stacking Coupons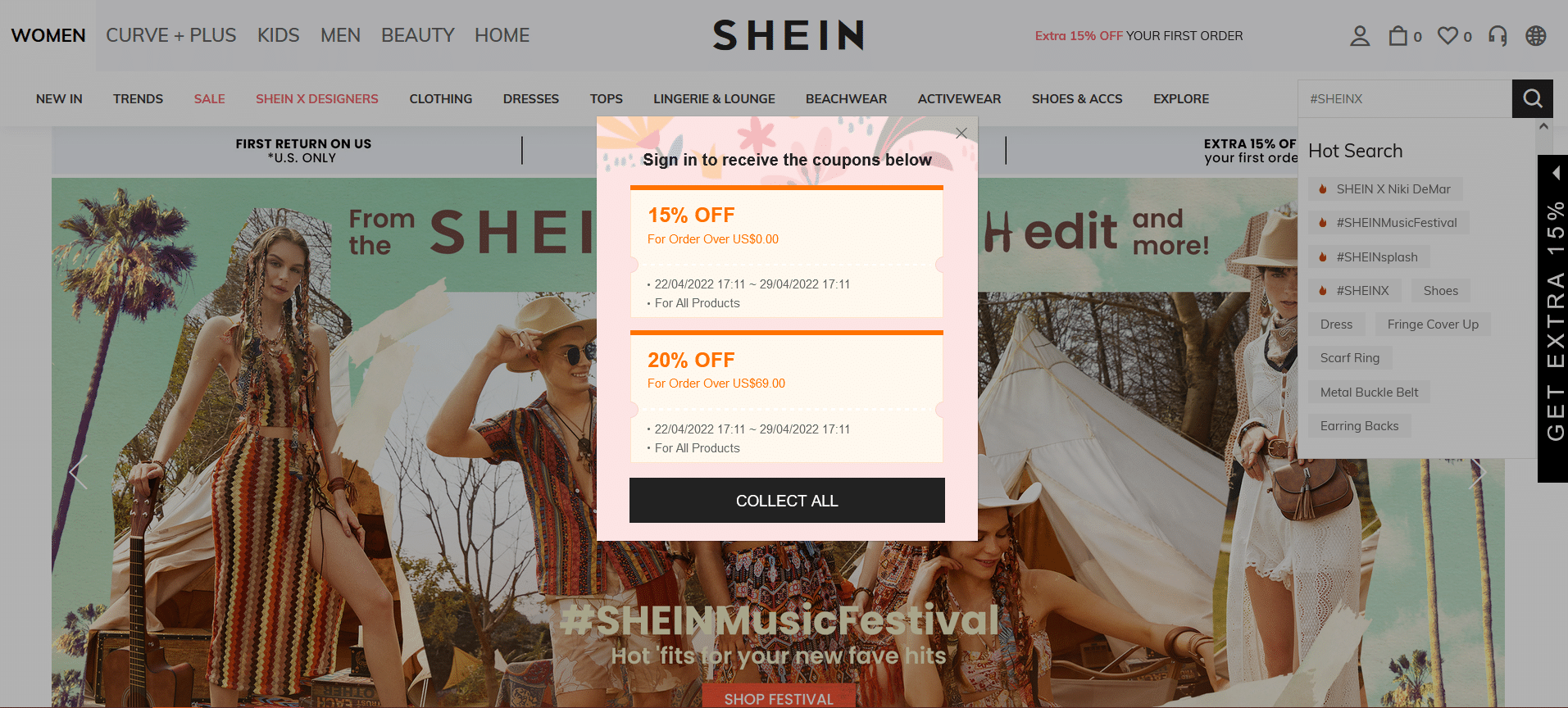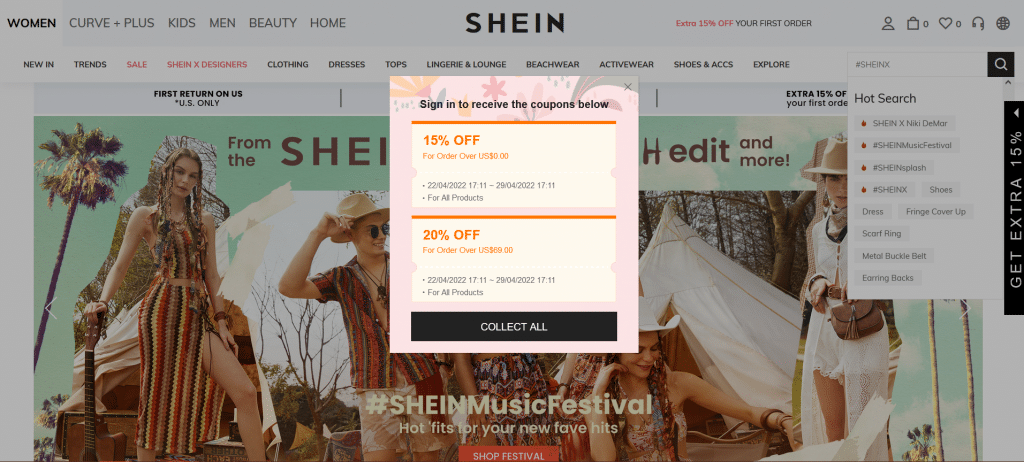 Unfortunately, you cannot stack your SHEIN coupons, as it is against their terms of usage.
This is because, with all the coupons available, your purchase might end up being totally free of cost! This will take up all SHEIN's profits, running this huge company into the ground, so it only seems fair that you can't stack your coupons.
In all honestly, the whole idea of stacking coupons is to get the best possible deal. But, with SHEIN's enticing deals, you might be wondering if there is more money to save on top of coupons.
Fortunately, there is! It is not only possible to save more money on SHEIN, but it might actually be easier than you think.
Get 10% Cashback On The SHEIN App Or Website
Most of you may know that you can get a discount by using one of SHEIN's promo codes, but not many of you may have heard of or even tried cashback.
Cashback with SHEIN works like this: you sign up for the cashback platform and shop on SHEIN's website or app using the platform links.
Even though SHEIN states that you can only use one coupon per order, Cashback services can almost give you the same effect as stacking coupons.
You will get the money back without extra cost! cashback services such as TopCashBack offer up to 10% cashback on SHEIN, which means you can get an additional 10% off your order while still using coupons.
If you want to start getting cashback in no time with no effort, you can simply sign up on TopCashBack and start your shopping spree. You will earn cash back on every order automatically.
Aside from SHEIN, TopCashBack supports more than ten thousand stores, which means you will usually be able to get extra discounts from other online shopping platforms as well!
Go to TopCashBack to sign up and get 10% cashback on your next SHEIN order.
Get Some Extra Discount By Using SHEIN Gift Cards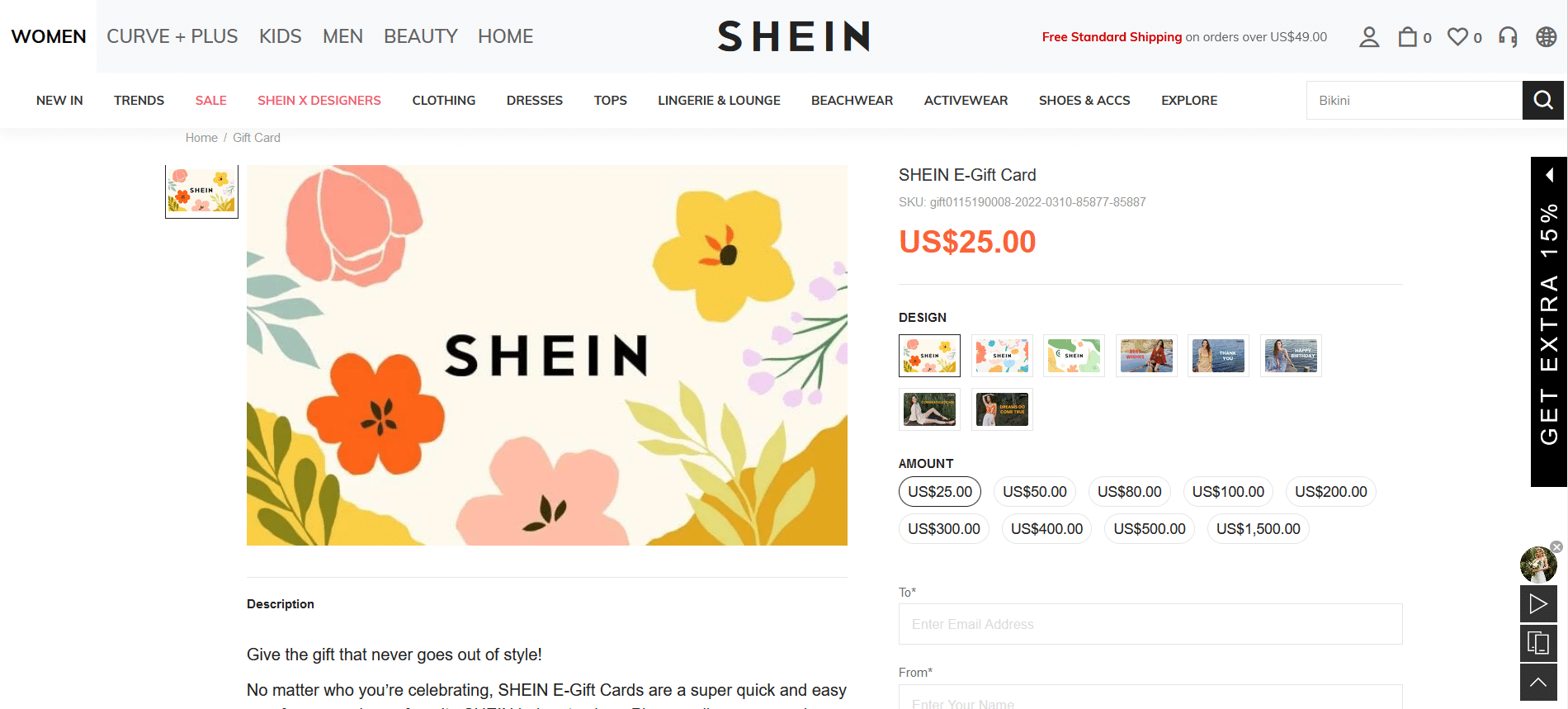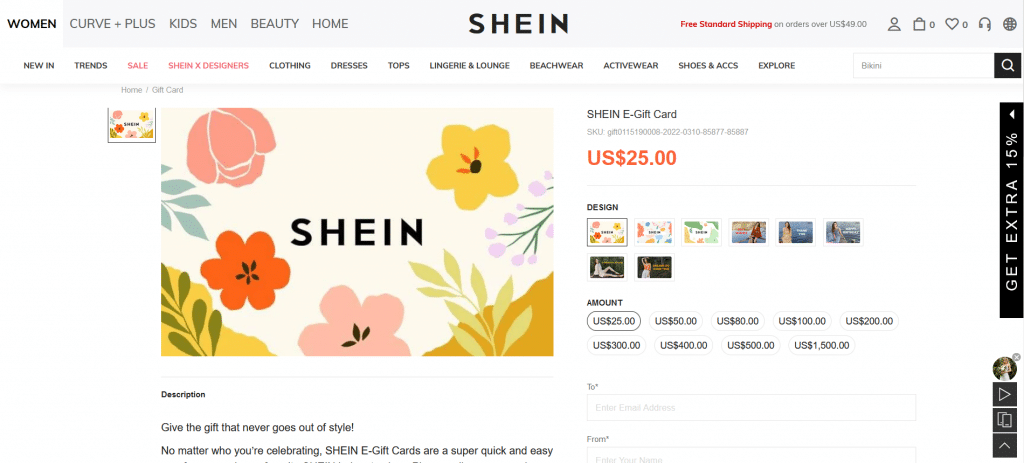 Just like several other online retailers and retail stores, SHEIN shells gift cards in both physical form and electronic.
These gift cards are like actual money, and you can use them on almost every item on SHEIN. And, the most important thing is, you can get an official discount on them when you exceed a certain amount.
SHEIN gift cards might be your best option if you're on a heavy shopping spree.
To buy a SHEIN gift card, visit SHEIN gift cards.
Apply To SHEIN's Free Trial Program For Free Merchandise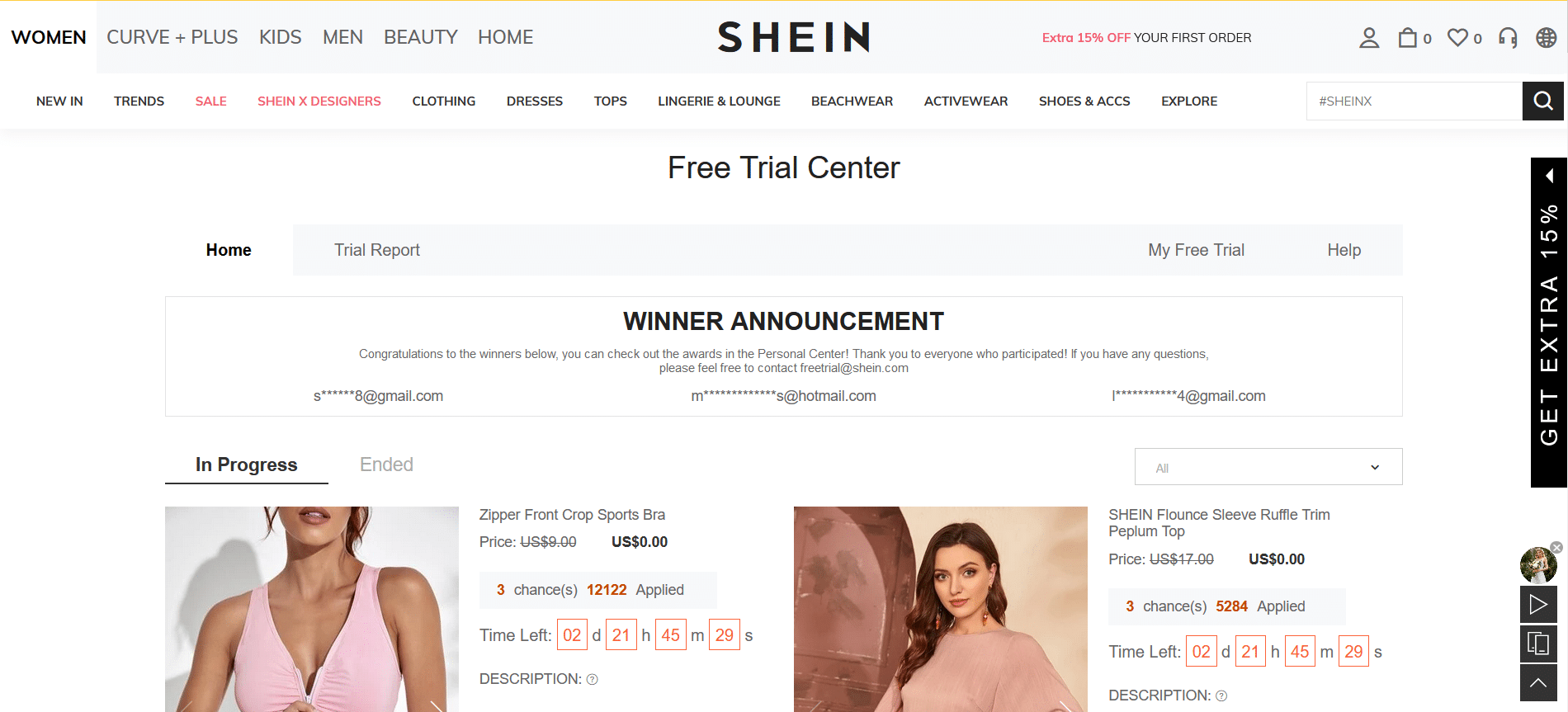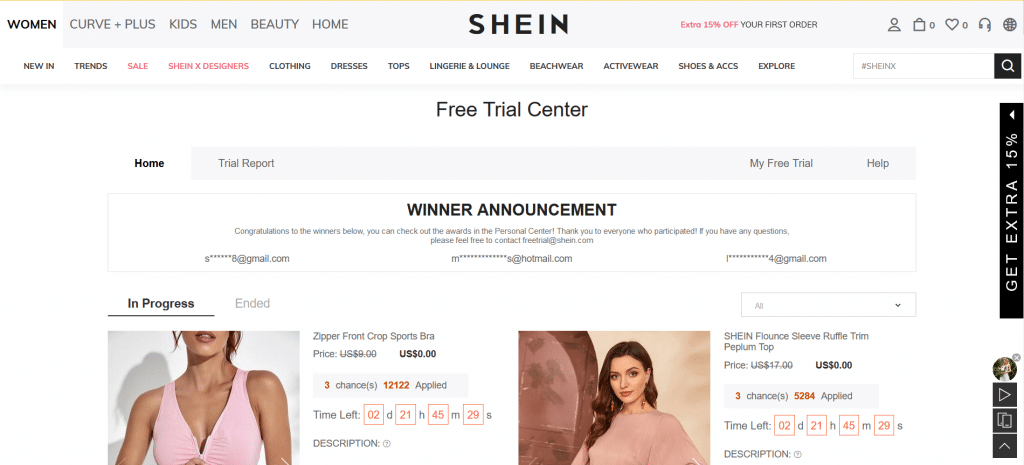 Get excited, because you can get free clothes from SHEIN! SHEIN offers a Free Trial program, which allows their customers to receive merchandise free of cost, up to three times a week!
In exchange for obtaining these free clothing items, customers have to agree to submit an honest, helpful review on the product's overall quality and materials, along with a detailed description followed by good-quality photos.
SHEIN ultimately offers this Free Trial program to get opinions on its merchandise to improve the quality and increase customer satisfaction.
Sign up for SHEIN's Free Trial program.
SHEIN's Free Trial participants are chosen by an automated database. However, this system does consider your activity level with previous Free Trials, what you have bought in the past, and how good you have done and communicated with other free trials in the past.
Shop SHEIN's Sales For The Most Savings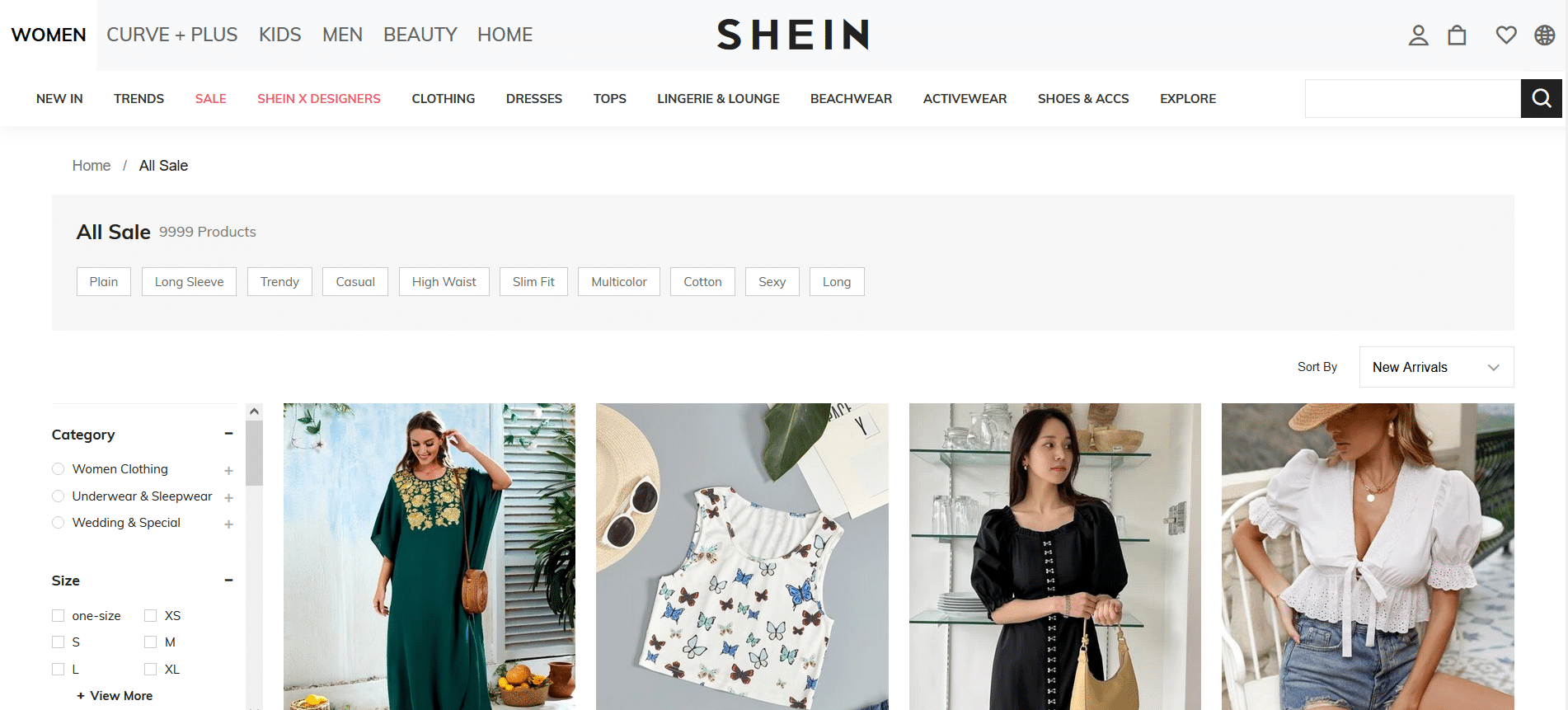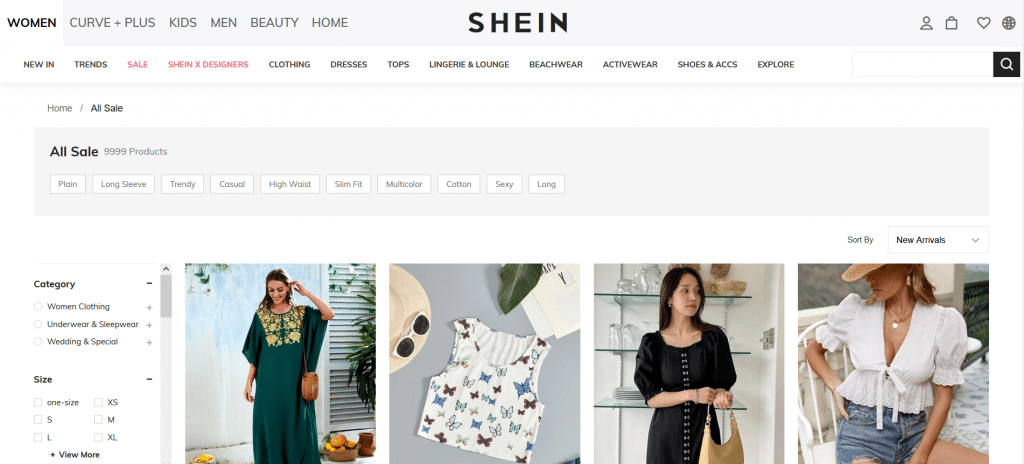 SHEIN is well-known for its impressive ability to add hundreds and even thousands of new items and designs to its wide selection of clothes and merchandise every day! So, to make room, it gets rid of some of the older and more outdated styles.
As low as SHEIN's prices are, there are still many opportunities you can take advantage of to score even more discounts on more than six thousand items on sale each day!
SHEIN's sales generally include savings of up to or more than 60% off their regular prices across several categories.
Visit SHEIN sales to buy their sale items before it sells out! Or visit our own round up of the best deals on SHEIN here.
If You're New, You Receive 10% Off Your First SHEIN Order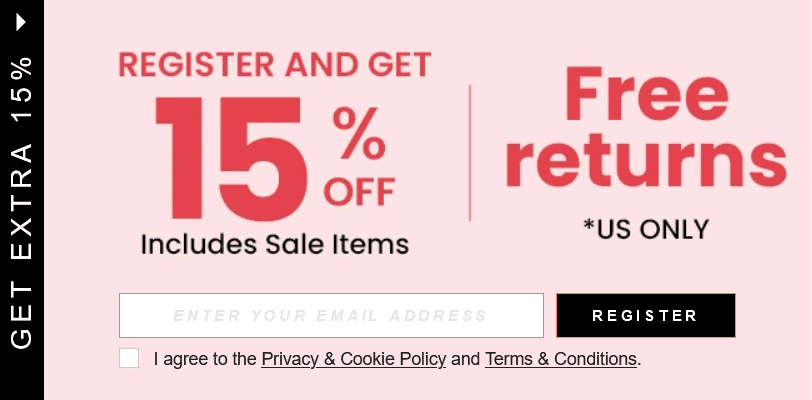 If you're a new shopper and new to the whole SHEIN experience, you can save money on your first order by just giving their clothes and services a try!
New SHEIN email subscribers receive a 10% discount on their first online order, and this induces their sale items. This is a helpful feature that attracts thousands of new customers daily, and it comes as no surprise! Watch for the pop up when you visit Shein.com to see the offer, sometimes it varies to 15% or even 20% off for signing up for the newsletter.
Bring In Old Items To Recycle, Receive A SHEIN Gift Card
As a retailer of fast fashion, SHEIN isn't particularly known for its sustainability. With this being said, SHEIN has made a statement that it is making efforts to improve its sustainability.
One way it's making its efforts involves giving out free gift cards. When SHEIN hosts a pop-up event, its customers are encouraged to bring in their gently-used or unwanted SHEIN clothes, and they will get a free gift card in turn.
Donated clothes will then be refurbished and donated to charitable organizations.
To recycle customers' old clothes, SHEIN has opened a recycling program but it's only in select regions.
Order $49 And Qualify For Free Shipping On SHEIN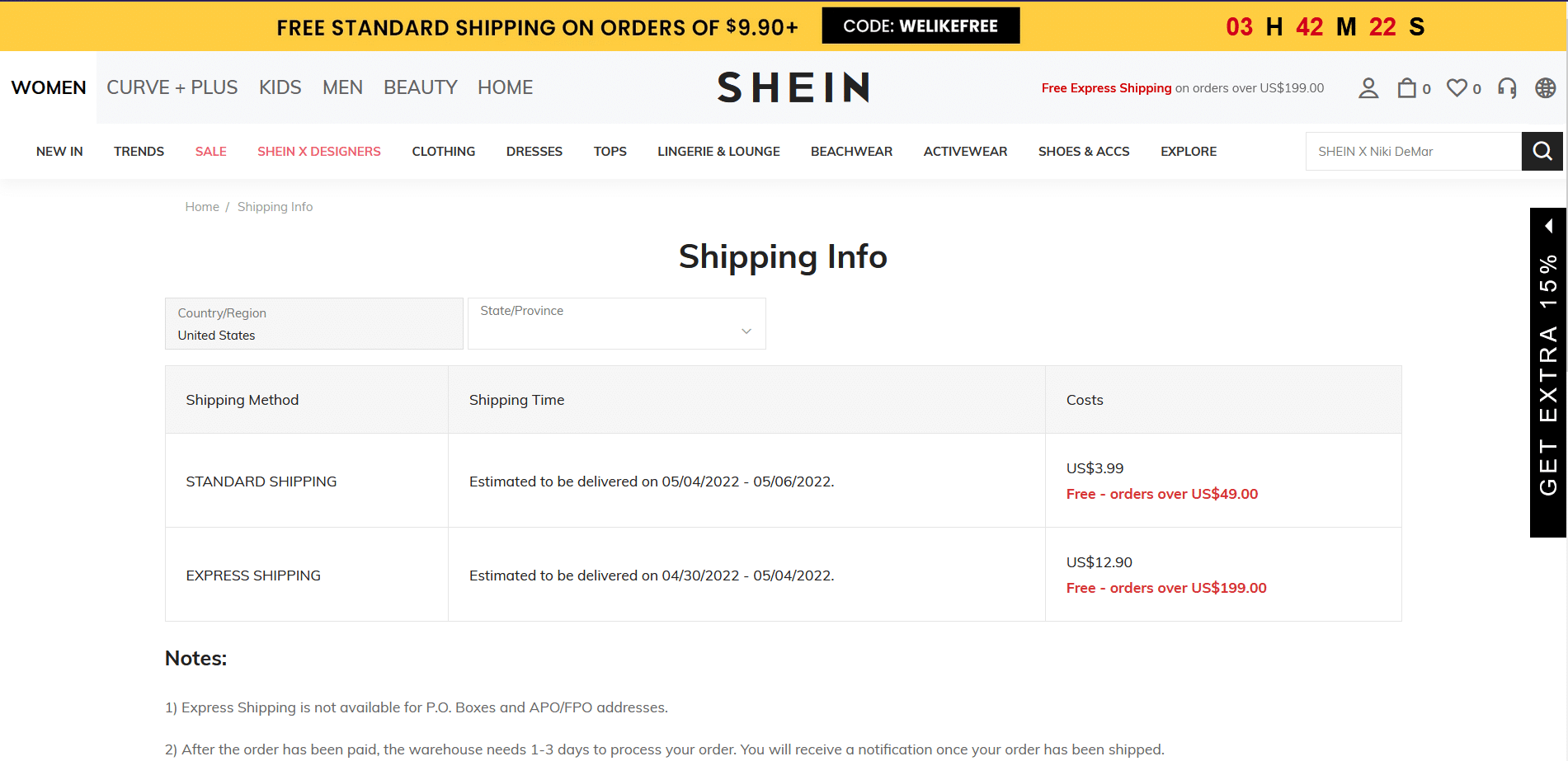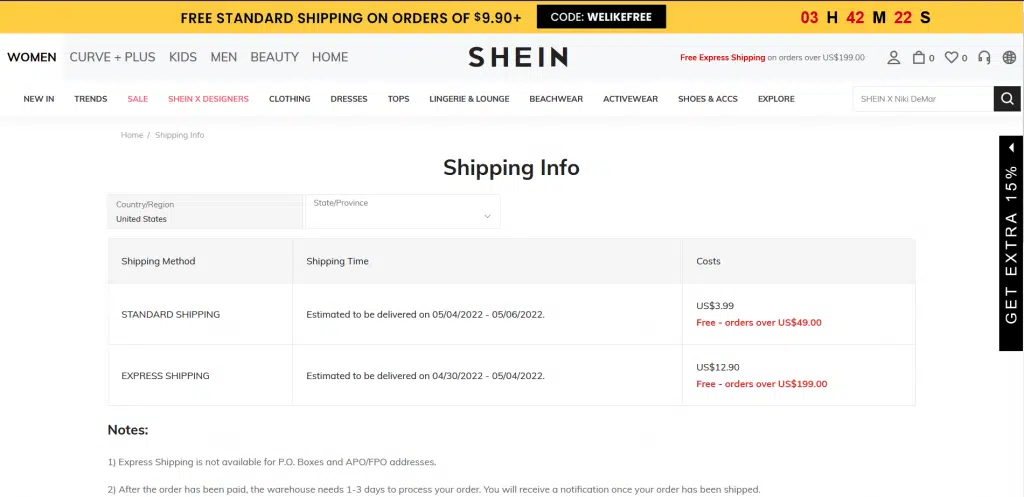 Typically, SHEIN will charge $3.99 for their standard shipping and $12.90 for orders you need faster. However, getting free shipping on any online purchase is a top priority for most fashionistas and shopping addicts!
At SHEIN, customers can receive free shipping for orders of $49.00 or more. Additionally, SHEIN lets you ship one return order back to SHEIN free of charge!
Return orders after the first one are $7.99.
Earn Bonus Points On SHEIN For More Discount
Another great feature SHEIN offers their shoppers is that they can earn a point for shopping with them!
SHEIN Bonus Points are highly valuable for several discounts, including getting up to 70% off your total amount of products in your order. However, this excludes tax, insurance, and postage.
One hundred SHEIN bonus points are equal to $1. SHEIN points may have different expiration dates, and they typically range from seven days to three months or longer.
SHEIN will delete your expired or unused points from your account, so make sure you pay close attention to their expiration dates.
Bonus points on SHEIN can be added upon completing your order.
Shop SHEIN's Holiday Deals Sales
Even though SHEIN's clothing is very cost-effective, you probably want to save as much as you can on your orders. Finding small ways to save can feel like a personal achievement! During the official holidays, you can make use of plenty of savings opportunities.
One of these opportunities is SHEIN's holiday deals/end of year sales. You can save up to 85% on gifts for your family and friends, or even yourself, without going through the guilt of spending too much.
You will also be likely to be less stressed out, as you won't have to run from shop to shop to look for the perfect gifts!
Remember To Download The Free SHEIN App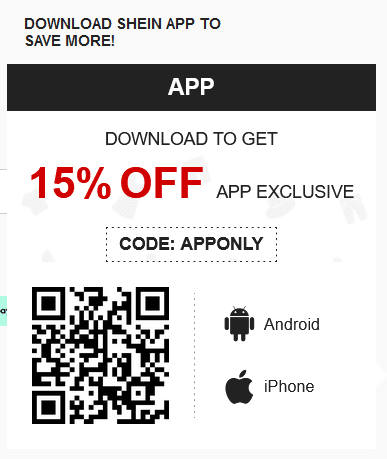 If you wish to participate in some of the point-earning activities and get points with each purchase, you will need to use the SHEIN app.
However, promotions for exclusive in-app shopping can always pop up when you use the SHEIN website, making things easier when you want to download the app.
The free SHEIN app is available for both Apple and Android smartphones.
Follow SHEIN's Social Media For Deals And Updates
Half of the reason why customers and shoppers are in love with SHEIN is because of the fantastic photo it publishes of its styles and designs.
SHEIN takes enormous pride in its images, from wooly materials to beautiful velvet materials. Besides SHEIN's adorable pictures, following their social media channels is one of the best ways to learn about their new sales and products.
SHEIN's social media is full of beautiful pictures, which they use to attract their customers.
Visit their social media accounts:
Related Questions
We may have already convinced you to go on SHEIN's website and app and make your purchase. However, you may have some questions, and it's essential that these questions be answered!
How Long Does SHEIN Take To Ship?
Once you have placed your order online, it will take SHEIN roughly one to three workdays to process it. Your order may take between eleven and thirteen days with standard shipping, including processing time.

If you make your purchase and select express shipping, you can expect your order to be delivered faster, which can take nine to ten days.

For shoppers ordering from countries other than China, you will most likely experience slight customs delays with your order.
You can, however, receive your order quicker by making sure you enter the shipping address correctly. Invalid or incorrect shipping orders may delay your package further from arriving on your doorstep!
How Do I Get SHEIN Points?
You may be unsure how to get SHEIN points, but you will be surprised to know that there are some fun and easy ways to rack up your SHEIN points quickly. When you verify your email on your profile page, you will receive 100 free SHEIN points.

Also, for every dollar you spend, you will earn one SHEIN Bonus Point. SHEIN will add your points to your account once you have confirmed the delivery of your order. When your clothes have arrived, you can also post a review on SHEIN.
This is only for shoppers over the age of 18, and you will get 5 points after posting a review of your purchased item. You can receive two extra bonus points if your review includes your correct sizing info.

A maximum of 2000 points can be earned through only posting daily reviews of your merchandise! You can also take part in SHEIN activities to earn even more points.

Daily check-ins, outfit contests, tuning into SHEIN's live videos, taking part in style contects, and being active in point-related activities are great ways to get even more SHEIN points.
How Can I Check My SHEIN Order Status?
You can check the progress of your SHEIN order by clicking on "my orders." It would be good to note that you can register your acount by email, Facebook, or Google on SHEIN's website.

Respectively, SHEIN may generate three different accounts.
It is up to you to find out under which account you make your order and make sure you log in to the right account to check the progress.
Should I Read The Customer Reviews Before I Order?
It would be best to spend some extra time reading the customer reviews for any product you plan to purchase. Some items may have more than 9,999 reviews, whereas some newer products might not have any reviews yet.

By reading genuine and honest customer reviews, you will be provided with a more realistic expectation to decide if the item you want to purchase is worth its price tag.