PaidViewpoint Review – A Survey Scam or A Survey Savior?
Important Note: When you buy through our links, we may earn a commission. As an Amazon Associate we earn from qualifying purchases. Content, pricing, offers and availability are subject to change at any time - more info.
After years of being misguided, getting disqualified (or worse) at survey sites, I didn't think I'd ever earn that promised cash for taking surveys. But I've finally found a perfectly balanced survey site that truly is a win-win-win for survey takers, businesses offering surveys and, of course, the survey platform itself. PaidViewpoint does have a few downfalls but overall it's a low time investment that can consistently earn you a little side money.
---
Advertisement
---
What is PaidViewpoint
Used to survey sites cluttered with ads and offers? You'll find PaidViewpoint's site refreshingly spare. It differentiates itself from other survey sites by getting legit responses in an engaging way – and by focusing on the quality of responses instead of quantity. The best part is that PaidViewpoint sources all their surveys from their sister company AskYourTargetMarket, which is a very large survey company that works with tons of trusted brands. What does this mean for you? No spammy offers. Just real surveys.
How hard is it to sign up?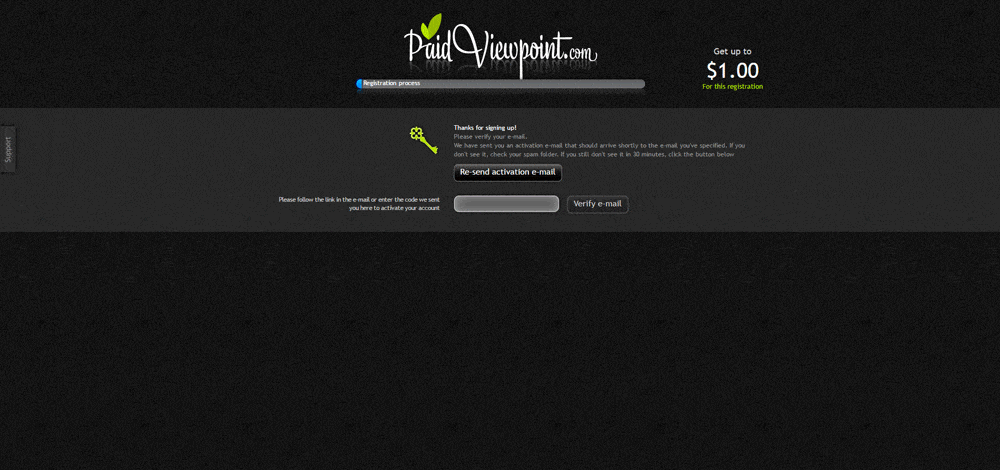 Not hard at all. It all starts with a survey or two, of course. After entering your basic information you'll be taken to demographic questions like, what is your gender, household income and so on. Each question you fill in earns you a few cents too which is a pleasing way to start a relationship. Lastly, they ask you to confirm your identity by using your cell phone. After that it takes you to their dashboard. One downfall here to be aware of is that if you want change your cell phone, it'll take 6 months after signing up due to security reasons, so make sure you pick the right number because you can't change it for a while.
TraitScore, huh?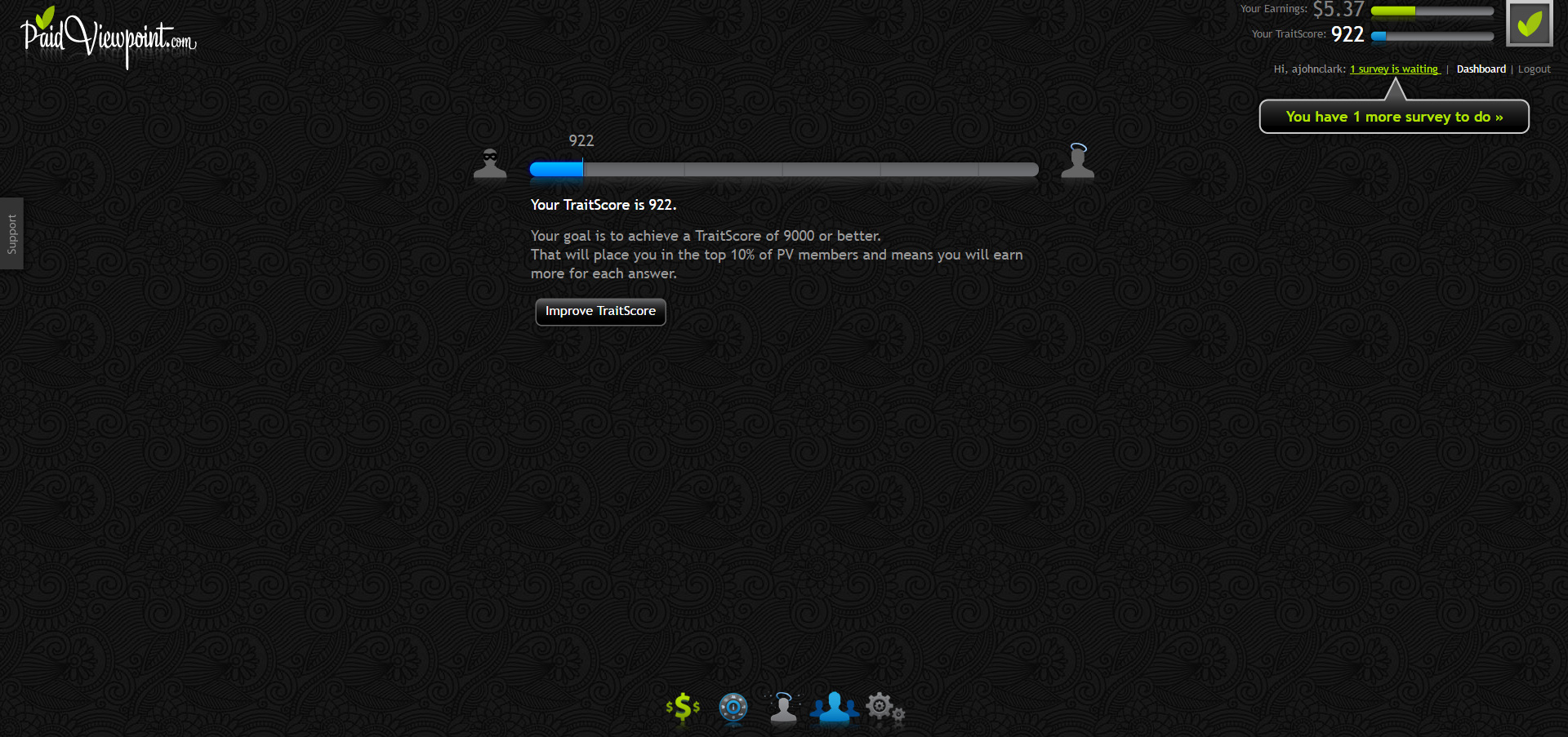 PaidViewpoint simple dashboard only measures two numbers for you: the money you earned from surveys and your TraitScore. What's a TraitScore? It measures how consistent you are with your responses. You'll notice it goes up every time you do a Trait survey. The higher the TraitScore, the higher the payout for business surveys (not the other 2 types which I'll go into below).
Once you reach a 9,000 TraitScore, you become one of the top 10% PaidViewpoint members. I noticed that as I increased my TraitScore, I got more surveys too. I ended up reaching a TraitScore of 10,000 – the highest TraitScore you can have – in the first 3 months after I signed up.
Let's dig into the survey types
The surveys appear on the dashboard as a pop up that says "You have 1 more survey to do". The surveys vary between the 3 types below.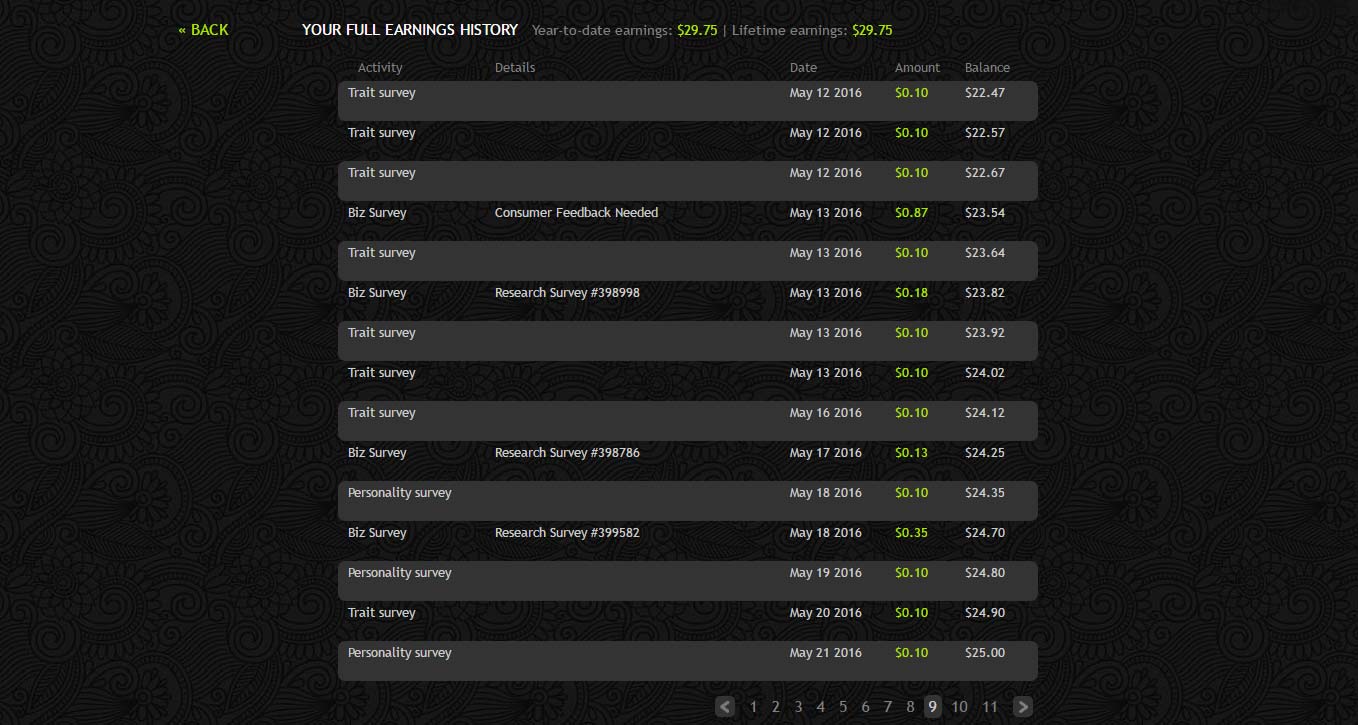 Personality Survey
These are usually about 5 questions long and use a scale to rate yourself on various personality characteristics. You'll get questions like "rate yourself in terms of caring about others." Taking under a minute, you'll get $0.10 for each completed personality survey. Compared to other survey types, these aren't offered as often.
Trait Survey
Usually 10 questions, these help determine the business surveys that you would be qualified to take. This is where you need to be consistent with your answers.
You get $0.10 and a little over 100 points added to your TraitScore for these short, maybe one minute tests. These surveys seem to slow down after you hit a TraitScore of 10,000. However, they do reappear, probably to make sure you're being consistent.
"Biz" Survey
These vary in number of questions and payout. And luckily most of the business surveys I've gotten were, dare I say, fun. There are normally some visuals to determine packaging or logos and they ask your opinion on which one is better and why. You get to really express your opinion as most of the questions not only ask you to rate specific factors, but there are also a lot of open ended questions where you can just write freely. These vary in terms of time, but none of them have taken me more than 5 minutes.
The experience I had
As I mentioned earlier, I had to supply my phone number. The next step was to enter a code they texted to my phone. This is to ensure I don't start multiple accounts. As I also mentioned, they're interested in quality responders for the actual businesses that are paying for them. Because if the businesses keep coming back to pay for surveys, that means more surveys (and payouts) for us!
Each day, I'd get at least one survey but sometimes it was as many as 5. As my TraitScore went up, I definitely saw an increase in both the number of surveys I had access to and the payouts per answer for the business surveys.
The other 2 types of surveys always get you $0.10, but that's not bad considering they only take about a minute to complete. The $0.10 surveys keep you going while you wait for the next business one.
One tip. They often ask you the same questions to make sure the surveys are read through and filled out with honest answers, so never answer a question you haven't read through. It's okay if your answers change with time, but they shouldn't be all over the place and should be thought through.
Unlike other survey sites that kick you off a survey half way through, PaidViewpoint tailors the surveys to my profile. And they were really engaging. Payout wise, compared to the $3.00 a pop for surveys on Pinecone or other sites, PaidViewpoint pays less. But there's a steady flow of surveys, they don't take long and you don't get disqualified/waste your time.
How long it takes to actually get paid
I signed up for PaidViewpoint on Feb 17th. I reached their minimum for pay out ($15) level on April 19th so it takes roughly 2 months to get your first payout. Mind you, I was checking the website on an almost daily basis for that period of time. If you don't go as often, it will take longer.
How easy is it to trigger the pay out?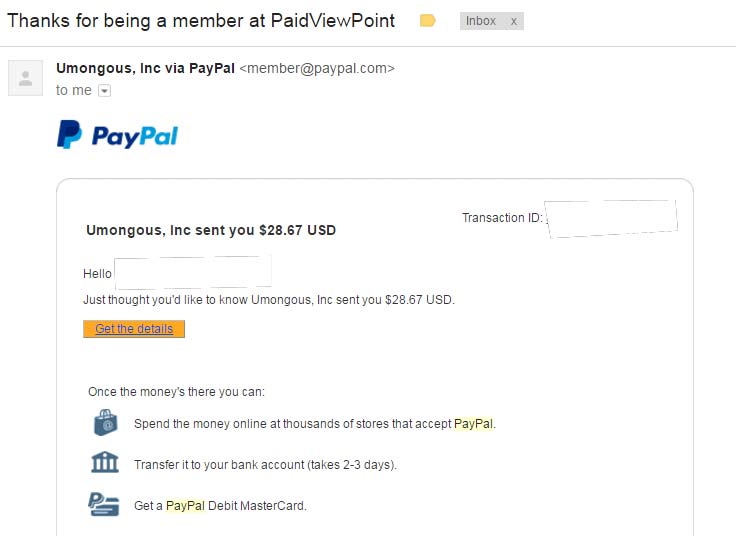 PaidViewpoint pays directly through PayPal. And the only use PayPal which is a downfall for anyone expecting more payment methods. To get paid I just needed to go through their 2-step verification process:
They texted a code that I had to enter on the website just like when I registered.
Enter the email that you have associated with PayPal.
Then you click the button to get your funds and you get a message that the money will be in your account within 72 hours. My payment came only a few hours after I requested it.
I went back to the site shortly after the payment and continued taking surveys with a smile, because nothing is better than getting paid!

Source: http://giphy.com/gifs/KJg6Znn4V1Jcs
Other observations
It appears that the site is available in English speaking countries (US, Canada, UK, AUS, NZ, etc..) with the most number of surveys coming from US companies.
You'll get an email reminder from PaidViewpoint if you don't go to the site for a while, but I almost always just had it open in a browser window while doing other things online.
PaidViewpoint doesn't have a mobile or tablet app, but is has a friendly website for both phones and tablets. I would often check it when I was just waiting in line for something. Still a dedicated app would be ideal so I wouldn't have to open the browser every single time.
Do they care about their customers?
For the 3 months that I've been using them, I've only had one issue and one question that I emailed them about. They always got back to me within a few hours. They even put some money in my account when I experienced a glitch and I couldn't complete a survey I was working on.
If you have researched PaidViewpoint on survey company review sites, SurveyPolice specifically, you may have also seen how reactive they are to complaints which is a big plus. It seems like their team truly cares about any bad experiences and how to solve them from the public responses I've seen out there.
Can you trust AYTM/PaidViewpoint to be around long enough to get paid again and again?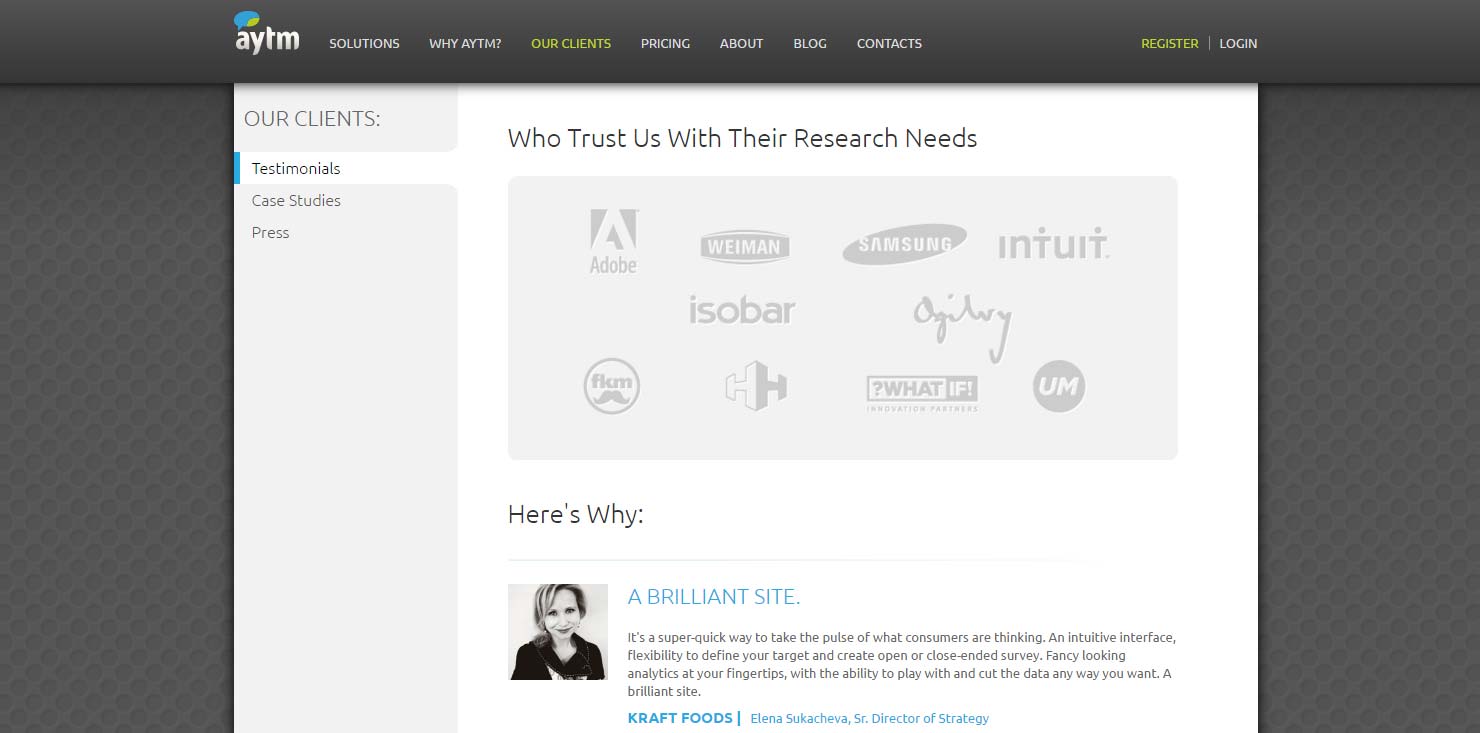 I believe so, yes. The company was created by designer Lev Mazin and entrepreneur David Handel who created the computer game Million Dollar Blackjack and started a growing radiology practice among other things. I am assuming David self-funded the company from his past successes since I couldn't find any records on fund raising for PaidViewpoint.
Besides meeting representatives from the company at conferences I've worked with them on both sides (the survey buyer and taker) and found them to be trustworthy. PaidViewpoint has also been around a while – since 2008 – and they're still going strong. As a well-established business, they've gained a long list of brands for which they've done work. I don't expect them to be going out of business any time soon – or stiffing you on payments.
Overall feeling? Good, very good.
It has a stable survey ecosystem so there are always surveys.
It does actually pay out.
It doesn't have a mobile app which kinda sucks in a mobile world.
The survey payouts aren't extremely high but they are very consistent.
PaidViewpoint tailors the surveys to you so you don't get disqualifed half way through a survey.
It takes a while to prove your loyalty but as you do, the surveys become more frequent and higher paying.
Overall? I'll keep using PaidViewpoint and I recommend trying it out if you haven't yet. My rating is 9.2 out of 10.

Got any questions, comments or suggestions? Email me directly at: blogfeedback@yofreesamples.com.
Thanks for reading my review,
-John Clark