How To Get Paid To Watch Videos & Ads
Important Note: When you buy through our links, we may earn a commission. As an Amazon Associate we earn from qualifying purchases. Content, pricing, offers and availability are subject to change at any time - more info.
Key Takeaways
Making extra money by watching videos and ads is free, quick, and easy.
The more you view, the more you'll earn! It takes time and effort like anything else but it is very possible to earn $1 a day or more realistically.
Downloading any of the apps in this article will help you make money simply by viewing ads and watching videos.
Times are tough, and earning an extra buck can make life a little easier. If I told you that you could earn money for watching videos and ads online, would you believe me? It sounds almost too good to be true, right? Well, you will be surprised to know that you can earn extra cash by viewing ads and videos online, and this is how!
---
Advertisement
---
How To Earn Money By Watching Videos & Ads Online
Getting paid to watch videos and ads may sound unreal, but it is possible. Genius money-making apps require you to complete offers, take online surveys, watch online videos, ads, and more. It's that easy!
Companies partner up with apps that run ads because they want their ads to be viewed to gain publicity and grow their businesses. These wonderful apps get paid for running ads and pay you a commission for watching the ads on their apps.
If you or someone you know are looking for easy ways to make money on the side, you've come to the right place! This article will teach you to earn money by watching videos and ads online. This is the perfect opportunity to help you save for that car you want, pay off some bills, or save up for a family vacation.
Let's have a look at some of the best money-making apps to help you get going and start making money! These apps include;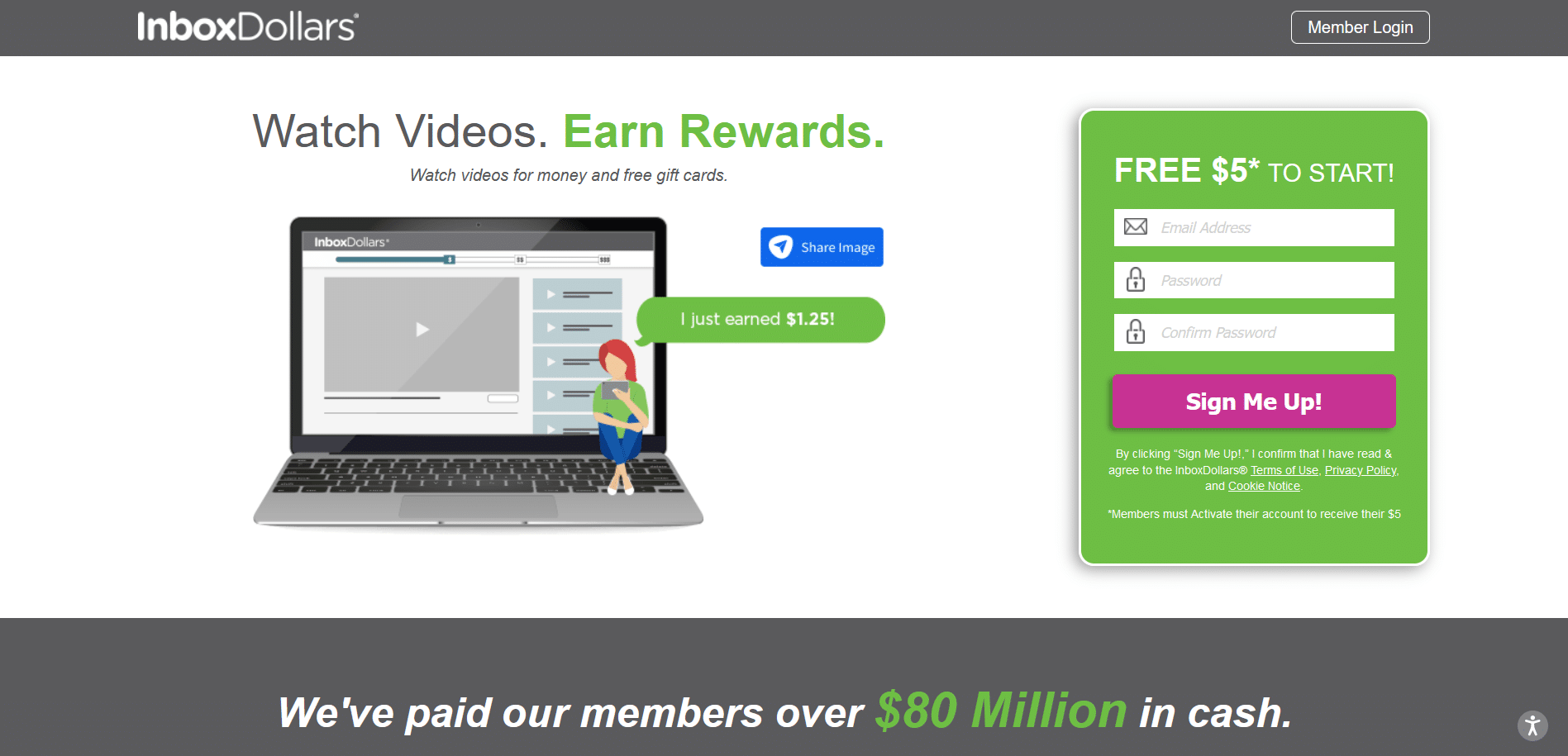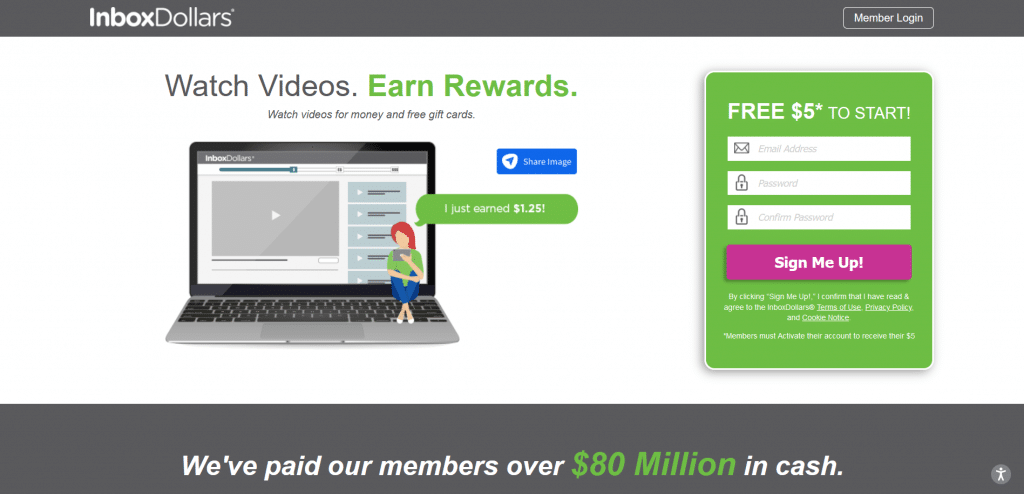 Inbox Dollars pays people in cash to take surveys and watch fun videos. They have been operating since the year 2000 and continue to help people earn extra money through their website and mobile app. You are required to watch celebrity videos, movie previews, news, upcoming movies trailers, and more.
The app tells you to view their videos for a certain number of minutes, and in some cases, you have to like the video as well. Their survey apps also enable you to earn money by taking surveys online. Unfortunately, the survey app does not pay as well as watching videos, but it is still worth it.
You can earn an additional $70 a month by spending as little as 5 to 10 minutes a day watching videos on Inbox Dollars. Though it may sound insignificant, remember that the more time you spend watching videos on this app, the more money you'll make.
You can get e-gift cards to stores like Target, Walmart, or Amazon, or you can cash out via PayPal. Inbox Dollars also pay you $5 for signing up as a "warm welcome" bonus. Join the Inbox Dollars members who earned over $50mil in cash to date.
What we are about to say will blow you away! The Nielsen Mobile Panel App does not require you to do anything other than download their app on your laptop, phone, or any other electronic device. They pay you $50 just for downloading their app! That's incredible!
How it works is the moment you download the app; it collects your viewing habits which they then send to cable providers. So just by using the internet and allowing the app to collect all your viewing history, you can make money.
From time to time, you will get an invitation via the Nielsen Mobile app to join Nielsen TV rating and search, which allows you to review comedies, commercials, and news and get paid simply for participating. In a nutshell, you will get rewarded for using your device(s).
Earn up to $1000 from sweepstakes, a variety of 15 different rewards, including televisions, and you could win up to $500 if you download the Nielsen PC app.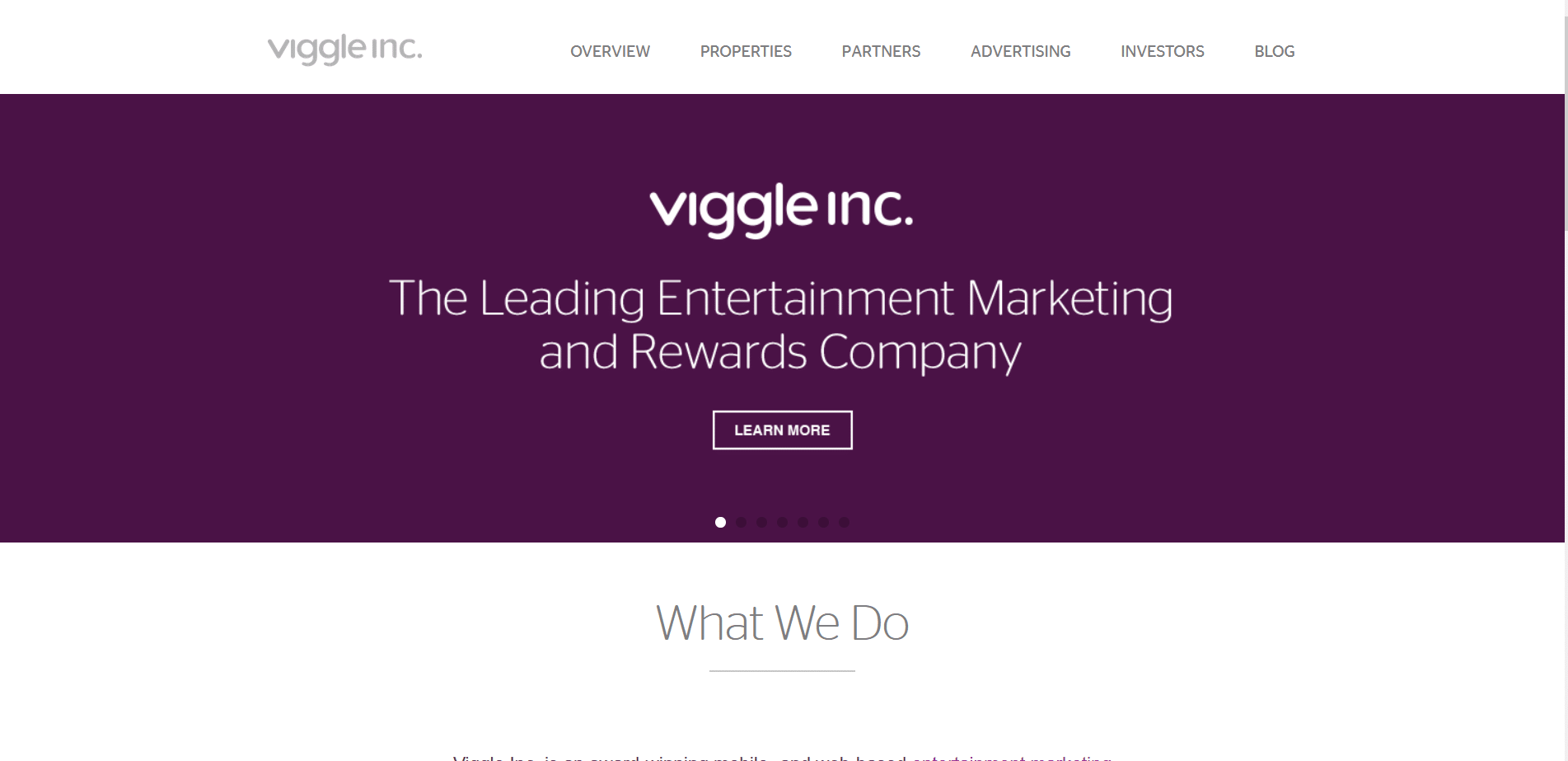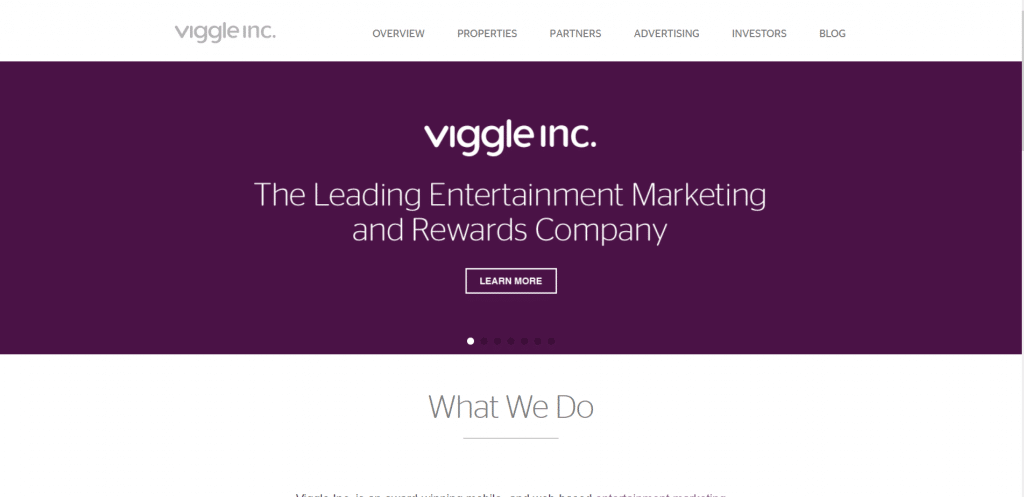 With the Viggle app, you can earn Perk Points simply by watching live TV and checking into movies and TV shows on providers like Hulu, Amazon, and Netflix. Accumulate as many points as you prefer and exchange them for real-life rewards. You earn Perk Points for every minute of viewing time. *Only available for Android phones.
"Viggle Inc. is an award-winning mobile- and web-based entertainment marketing and rewards platform providing incentives for content consumption. Companies and consumers access the platform across our entertainment properties — including the Viggle App, Viggle.com, Wetpaint.com, NextGuide, and Choose Digital — through which we connect with consumers from a fragmented entertainment landscape." – Viggle Inc.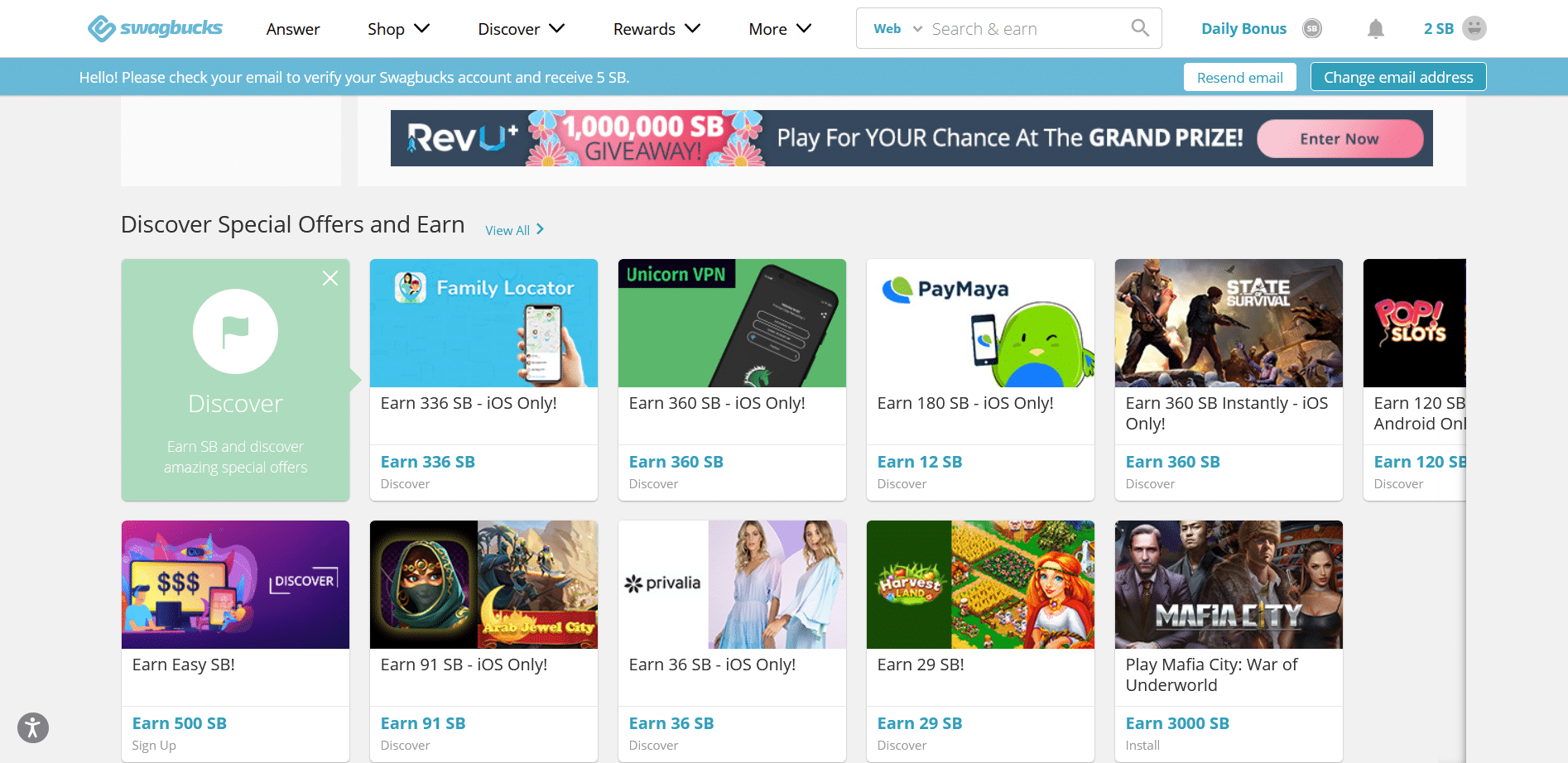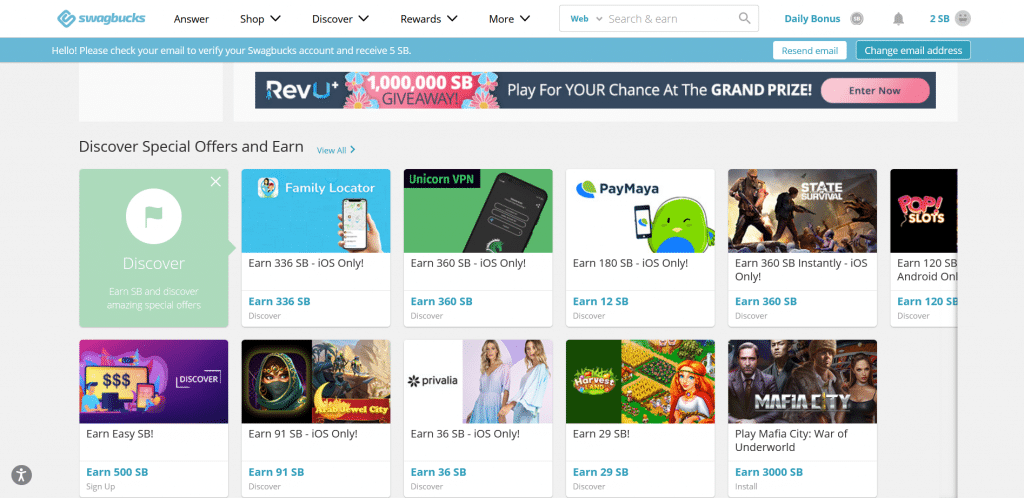 Swagbucks is possibly the most well-known platform for watching videos and ads online. They pay you $10 as a welcome bonus. This app has paid over $580 million out to all of its members, and the numbers keep on climbing.
Earn point that you can redeem for cash via PayPal by watching videos online. These videos have ads and could include travel, movie trailers, entertainment, and more (you can choose). In addition, you can also earn extra cash by taking surveys, playing online games, shopping online, or searching the internet. You can also receive free gift cards. Swagbucks is available for Android and iOS devices.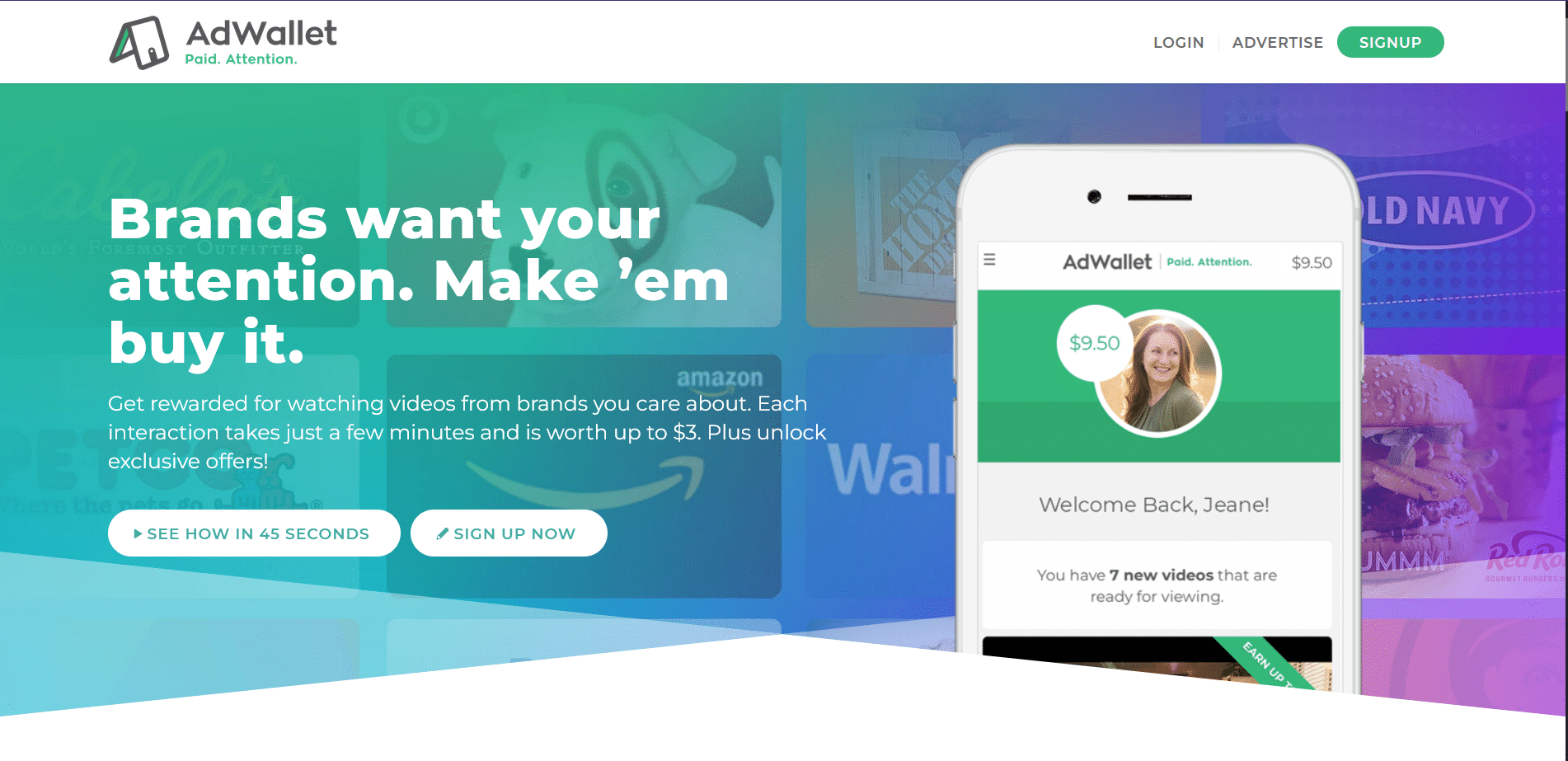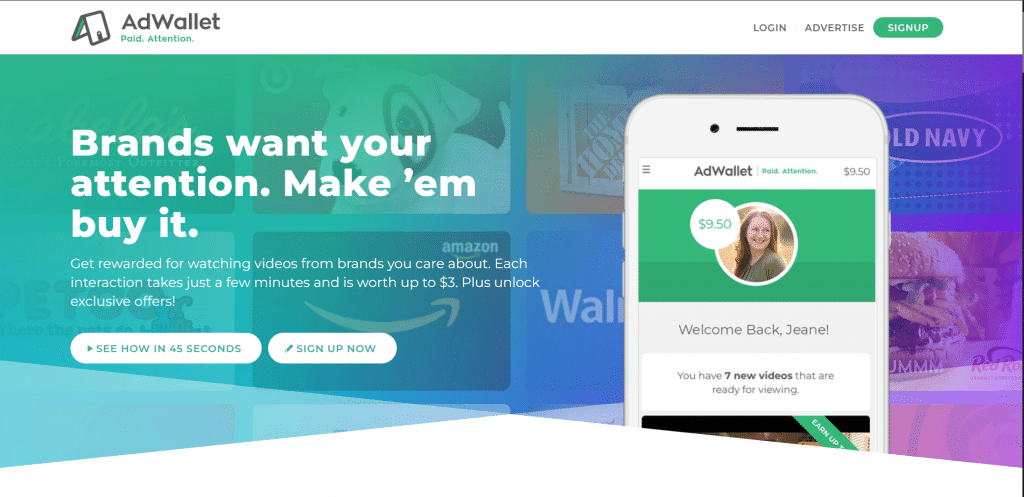 The AdWallet App is a video platform that is a little more demanding of your attention. It requires you to watch a full video, whereafter you will be asked to complete a short survey or answer a question about the content. Sometimes they only request your email address to add you to a mailing list that companies pay them for.
You can earn $10 (minimum payout amount), which you can claim via gift cards, or direct cash deposits. The only catch is that you can't simply play the video in the background and not pay attention, so make sure you have enough free time available before installing this app.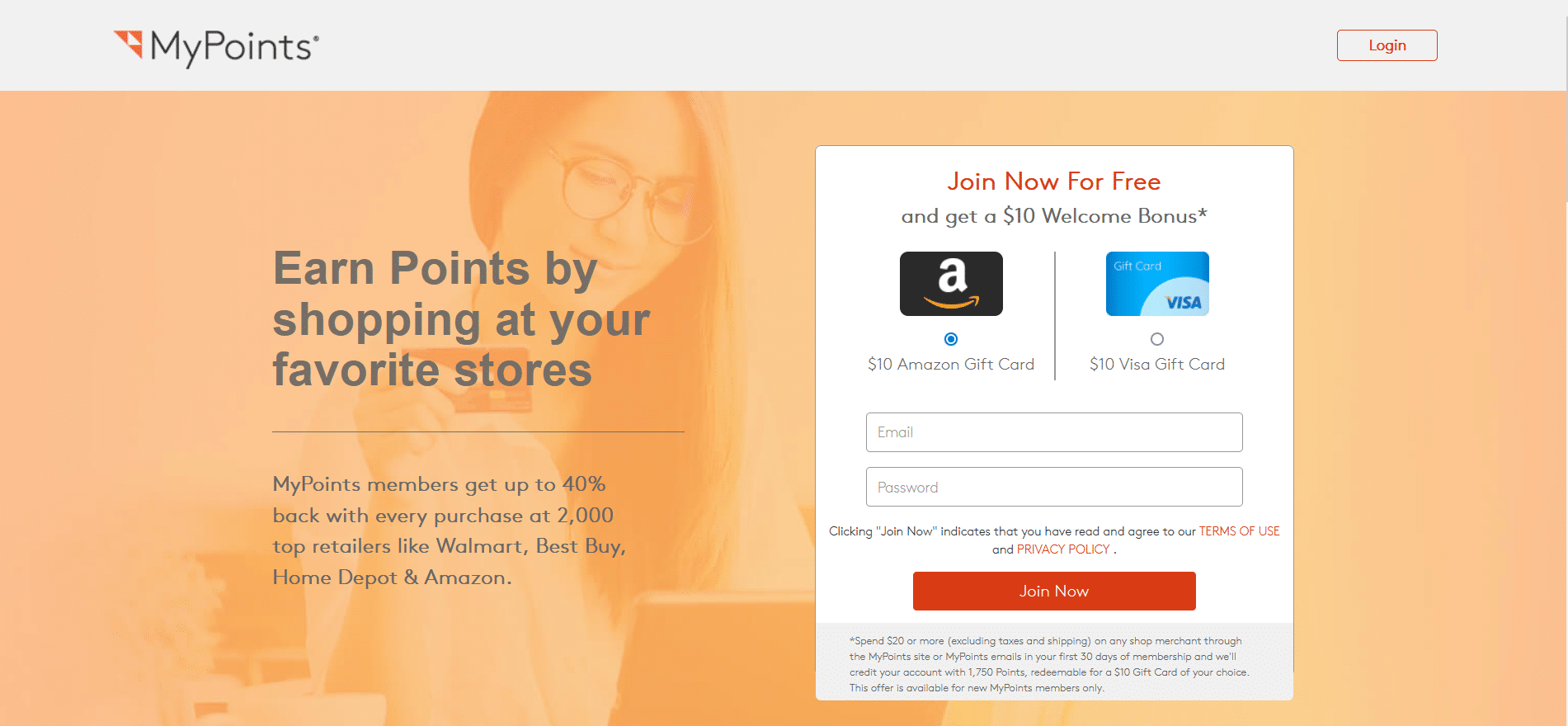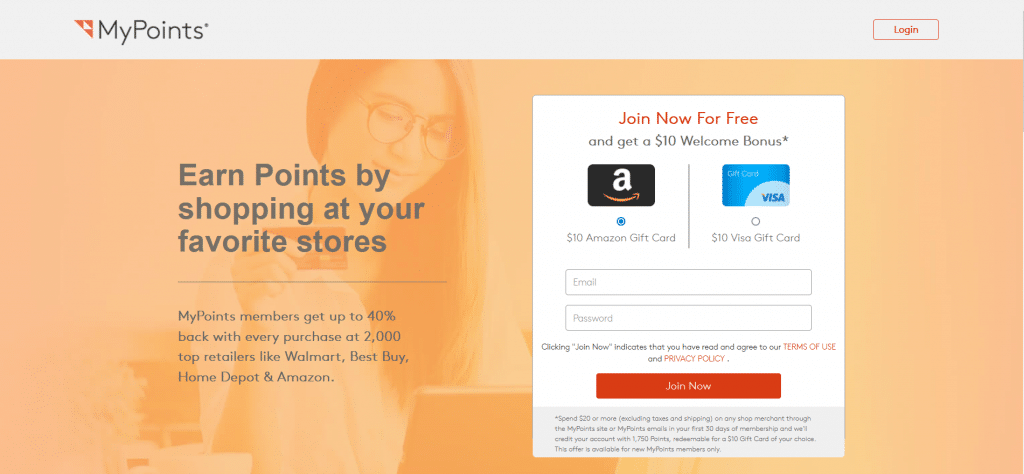 Another great money-making app is MyPoints. They have been operating since 1996, and now users can earn money through the app by watching ads and videos. You also get a whopping 40% cashback on purchases, and you can redeem the points that you earn for travel miles, gift cards, or cash via PayPal.
The great thing about MyPoints is that you don't physically need to watch your phone. You can simply start a playlist in the background and still earn your points. The playlist will play until you switch it off or when the playlist ends. You won't earn points if you do not play the full list.
Another way to get points is by watching videos, taking surveys, shopping online, reading emails, and many more. You will earn additional points if you view videos through the MyPoints TV app on your tablet or smartphone. You will also receive $10 when you sign up and earn an average of $1 for every survey you complete.
This app is available on Android and iOS. *If you refer the app to your friends and sign up, MyPoints will reward you with points equivalent to $20.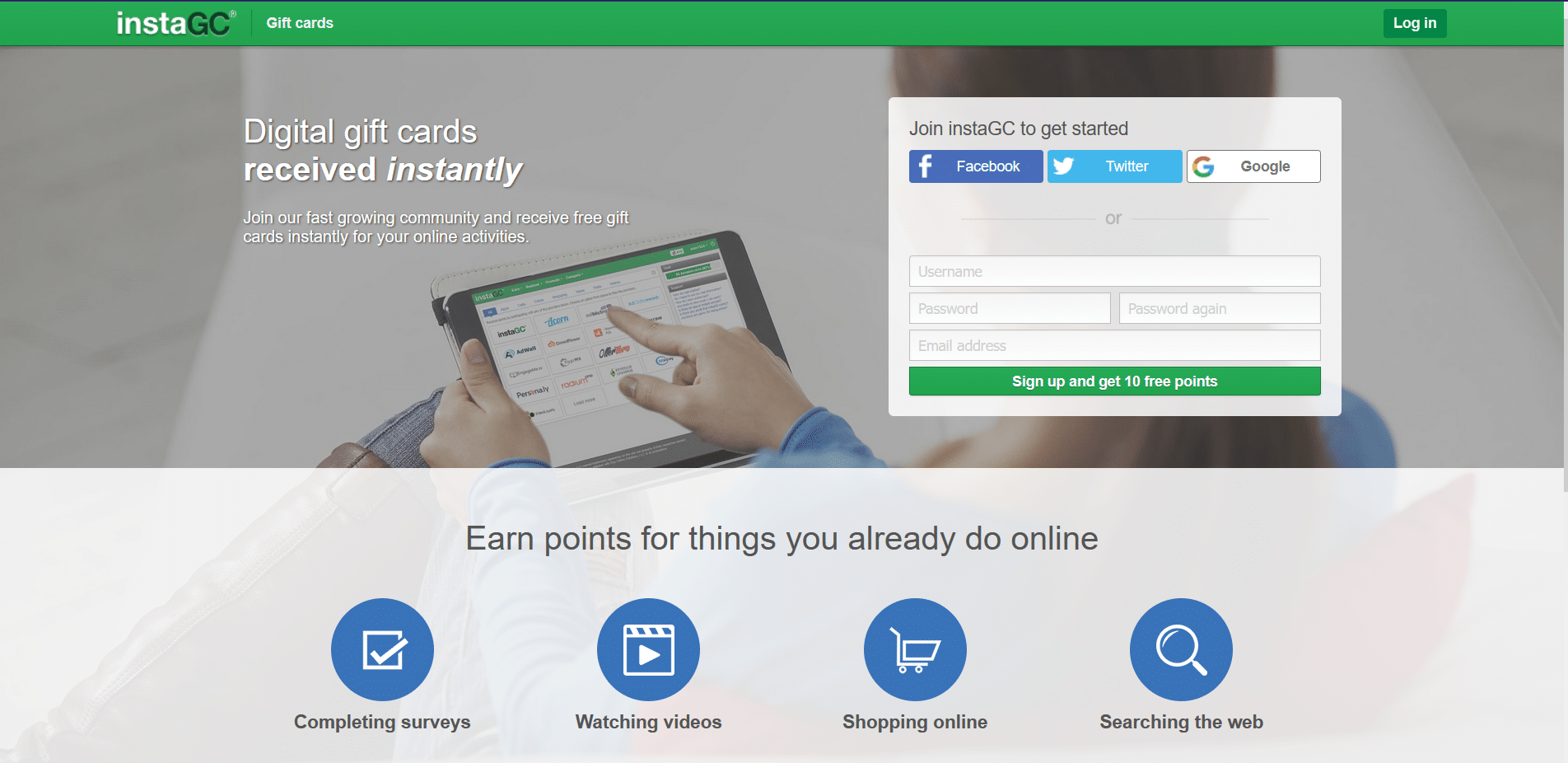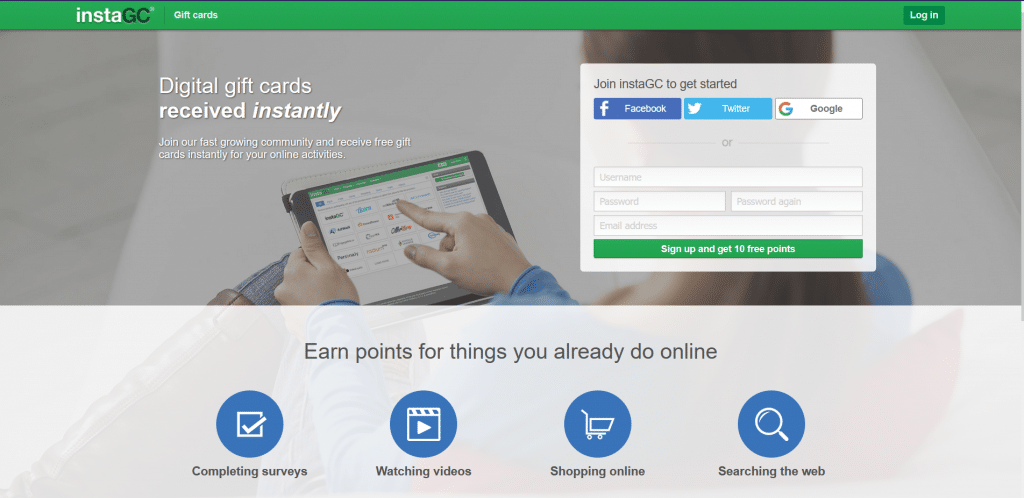 InstaGC lets you carry on with your day, as usual, only requiring you to play videos in the background in a non-active window. The lowest withdrawal is $1, and almost all earnings are paid out to you within 24 hours. Making extra money has never been this easy! *The number of videos you can view for money each day is limited.
"InstaGC is the #1 online rewards site offering instant gift cards. Earn points by completing surveys, watching videos, participating in sweepstakes, participating in contests, referring friends. Then redeem your points for an instant gift card or other rewards, including instant PayPal, check, or direct deposit. Over 650,000 gift cards have been redeemed worldwide." – LinkedIn.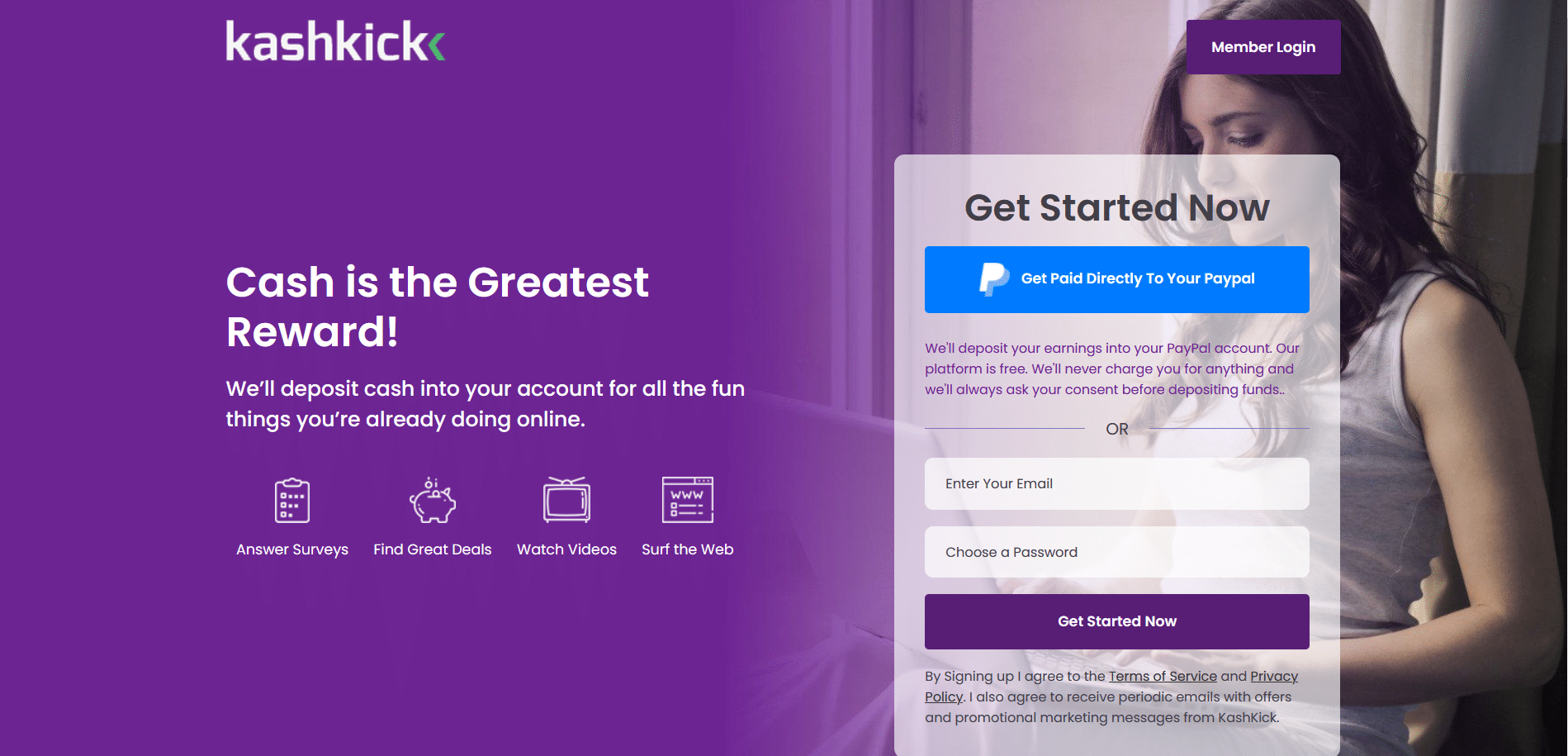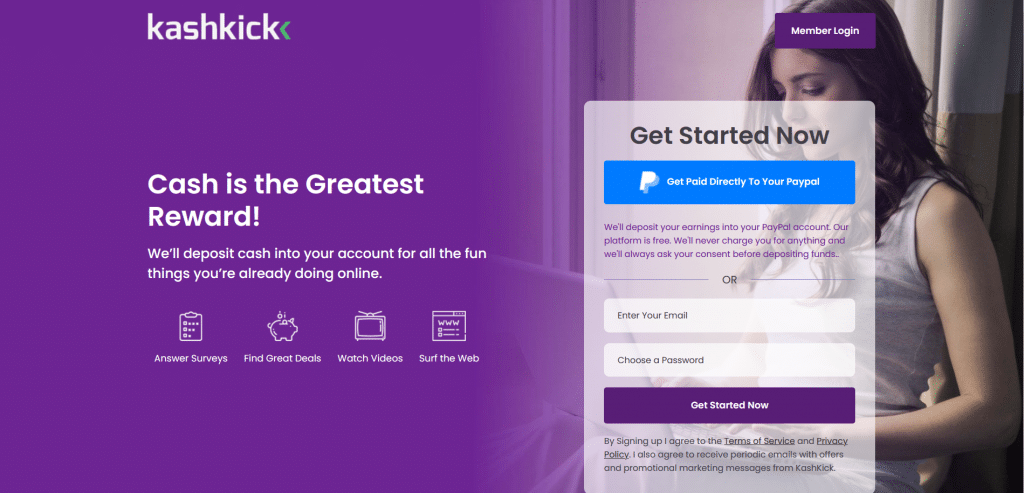 If you have some time to spare, why not use it to make some money? The Kashkick app pays you to view short ads and videos, find great deals, and take surveys. It is quick and super easy to sign up, all you need to do is complete a survey, and you're in.
From there, you can access videos on your "offers" tab located in the app's dashboard and start making money! It's that simple! If you refer the app to your friends and family and they decide to sign up, Kashkick will reward you with 25% of their earnings.
Compared to other GPT and survey sites, Kaskick offers the lowest payout threshold on the market. You can earn $0.25, and up for every video you watch, and you can redeem your earnings when you reach a minimum of $5 in the form of a gift card or via PayPal.
What Is The No #1 App For Earning Money Watching Videos Online?
While there are plenty of wonderful money-making apps out there, Swagbucks seems to be considered one of the best overall reward and survey sites. Swagbucks is versatile, and apart from watching videos and ads, you can also play games and take surveys to earn extra cash. They also have a robust inventory of videos to come back to day and day again. Among other reward earning activities.
Swagbucks is available on various platforms such as iOS, Android, Mobile Browser, and Desktop, and they have received outstanding reviews from users, including;
Trustpilot – Received 4.3/5 from 25,457 global reviews.
Google Play – Received 4.2/5 from 82,448 global reviews.
iOS – Received 4.4/5 from 60,547 global reviews.
Related Questions
Can You Earn Extra Cash By Watching YouTube Videos?
Unfortunately, YouTube does not belong to a market research company; Google owns YouTube. Therefore, there are no current options on YouTube where you can get paid by watching videos or ads. There are, however, other options (apart from the apps mentioned in this article) such as iRazoo and AppNana, where you get paid through the app by viewing DIY videos, short films, and video clips.
Can You Quit Your Job If You Use These Apps To Earn Money?
These days one cannot simply quit your job before having another job-ready as a substitute. Therefore, it is not advised to quit your current job unless you plan to join the internet subculture that has devoted their time and money to do this full-time.

These individuals usually have some start-up money saved to buy other laptops, mobile phones, tablets, and other electronic devices from which they can view multiple videos and ads simultaneously. 

It can be rather time-consuming, so you would eventually have to quit your current job if you were to go this route. If so, make sure that this is a safe decision for you and that it won't affect the quality of your life negatively. Many of these entrepreneurs have reported that they started seeing a positive return after only three months.