Best Free Texting Online Websites
Important Note: When you buy through our links, we may earn a commission. As an Amazon Associate we earn from qualifying purchases. Content, pricing, offers and availability are subject to change at any time - more info.
Key Takeaways
OpenTextingOnline, MessageBird, and mySMS permit you to send images and videos in addition to text.
MessageBird and SendSMSNow cater to businesses for sending group messages simultaneously. MessageBird also has the most significant file size limit of 100MB.
txtDrop is only available to people within the US and Canada, while all other websites can send messages internationally.
Finding the best solution to your messaging dilemmas is often easier said than done. Messages must be quick, effective, and, most importantly, reliable. Whether you're looking to keep in touch with loved ones or grow a business, these eight free texting websites will do you wonders!
---
Advertisement
---
Texting Websites Cater To Business Or Pleasure
The days of having to pay per cent for sending messages are somewhat of a distant memory. Nowadays, there are many free texting websites that offer a top-rated service. That said, even gold will have no value if you're starving in the middle of the desert.
Some websites suit businesses more effectively, while others have fewer hassles and work wonders for sending messages to friends or family. Those capable of sending a multitude of messages simultaneously while offering a slew of benefits will be invaluable in helping a business grow.
Fortunately, here's a spot-on compilation of the best free texting websites. We'll explore their attributes to discern which one best matches your needs – whether business or pleasure – or easy and straightforward to use.
OpenTextingOnline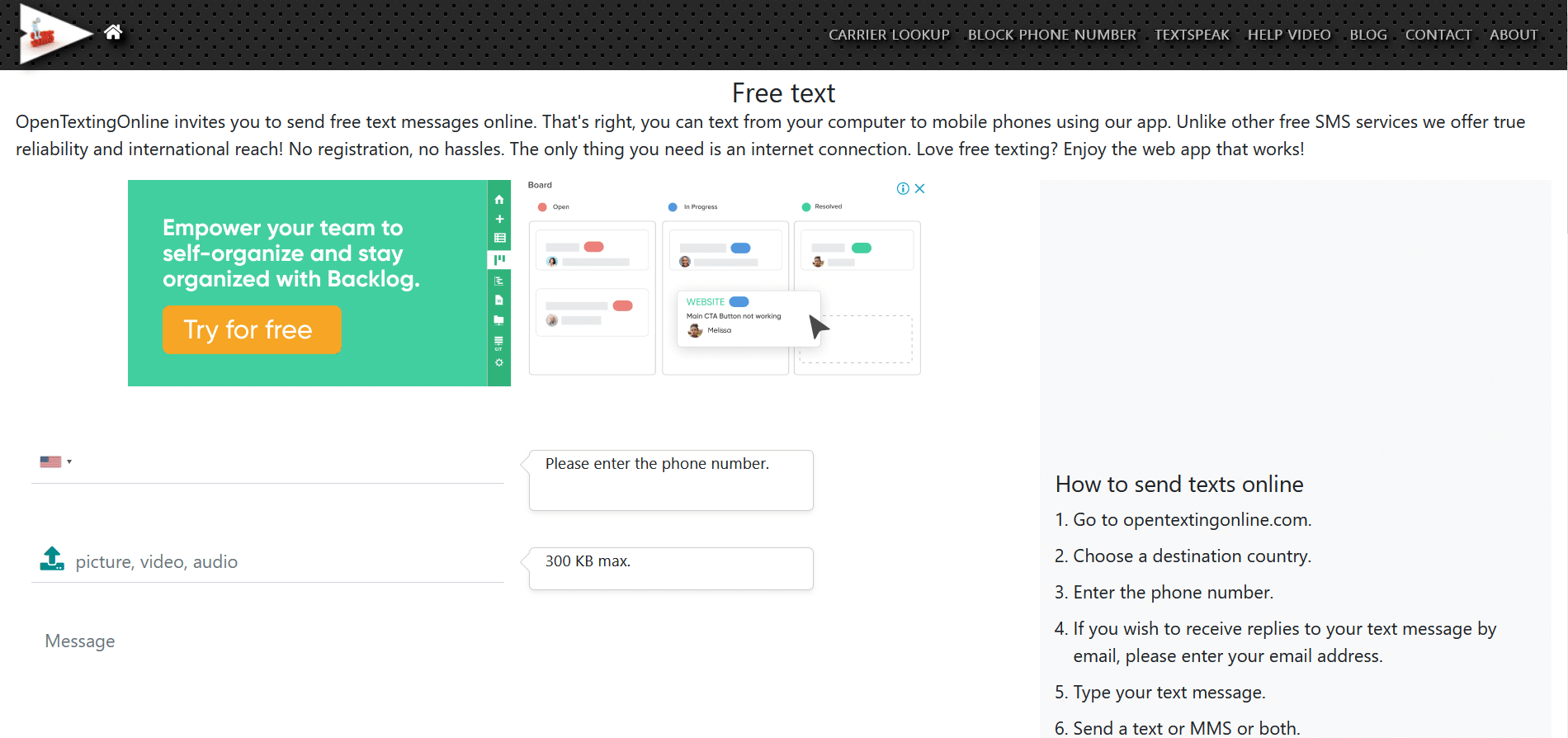 Registration required: No
SMS & MMS: Yes
Maximum file size: 300 KB
Message character limit: 600
If you have friends or family traveling internationally or moving abroad, OpenTextingOnline can make it easy to stay in touch. Calling or video call is undoubtedly more appealing, but it can quickly become expensive. Thus, if you're looking for a way to send quick messages throughout the day, this website is an excellent solution.
OpenTextingOnline does not require any registration process and enables you to send free messages worldwide, whether within the United States or even to Africa. Furthermore, you don't need any additional software or browser plugins, nor does the recipient require anything — just input your message & number and the recipient's mobile service provider, and hit send.
The website also has a catalog of the most commonly used texting jargon if you need to brush up on your texting or look up an abbreviation. Additionally, you can even choose to block phone numbers if you no longer want to receive messages from a specific number. Lastly, there's an integrated international keyboard on the website, too!
OpenTextingOnline guarantees top-notch privacy by employing reliable security measures from unauthorized access. There are also safeguards to ensure users don't circumvent or abuse their systems.
MessageBird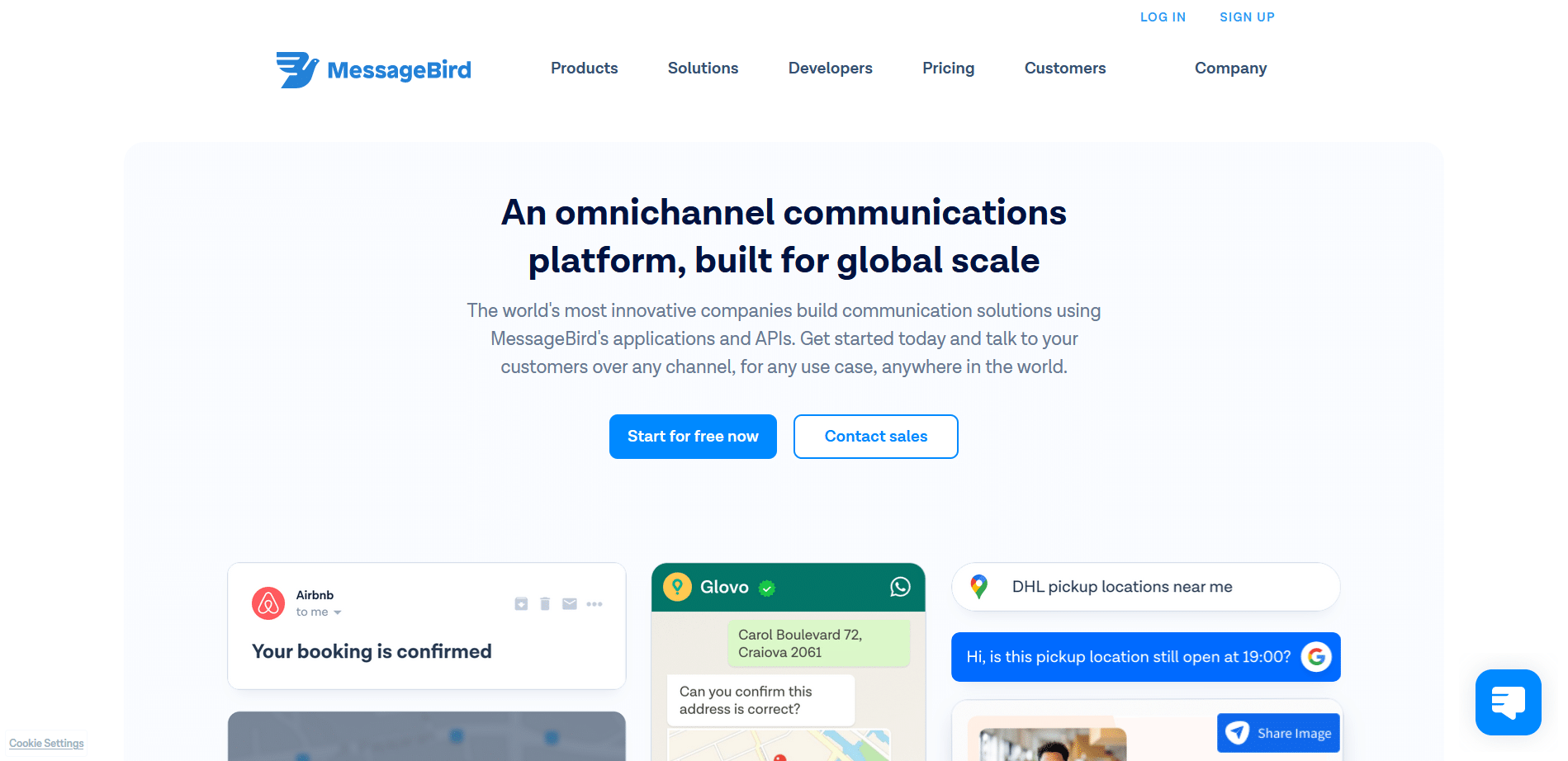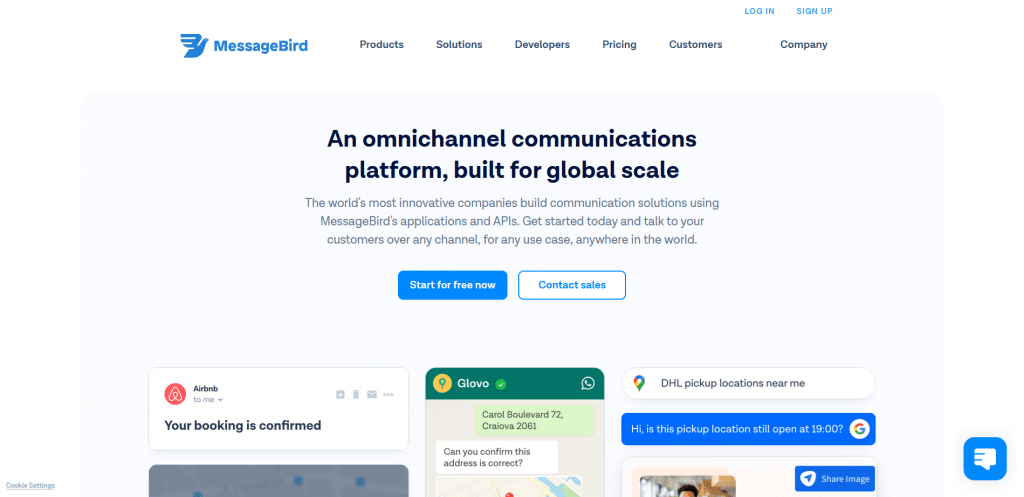 Registration required: Yes
SMS & MMS: Yes
Maximum file size: 100 MB
Message character limit: 160
MessageBird focuses on communications between businesses and their customers across a multichannel network. Some companies that use their services include Uber, Facebook, Whatsapp, Dominos, Zilingo, Hello Fresh, and Deliveroo. Thus, if you've ever ordered a package or some takeaway or requested a login, you've benefited from MessageBird's technology.
Their multiple-channel approach acts as building blocks that enable organizations to simplify interactions over their consumers' chosen channels, including SMS, WeChat, WhatsApp, Voice, Instagram, Email, and Messenger.
This adaptability provides end-users with immediate, safe, and secure access to their required information. It also means they'll spend less time waiting, avoid telling the same story to many agents, and perhaps most importantly; they'll have more time to do the things they like.
Hospitals, banks, and even government agencies are among its clientele. They pay great attention to local rules and regulations, staff screening, and data encryption to ensure ultimate safety and reliability. Consequently, they place a premium on security and privacy.
MessageBird offers both free and paid services, and account registration is necessary for both options. However, free users gain a lot of valuable benefits, including:
Unlimited conversations with up to 50 contacts
No limit on the number of team members
Free WhatsApp approval
Endless live chat conversations
Access to all channels (Twitter, etc.)
Coaching from Monday to Friday, 09:00 – 17:00
If you're interested in more features, you can choose a monthly plan or create a custom plan by talking to their sales department.
mySMS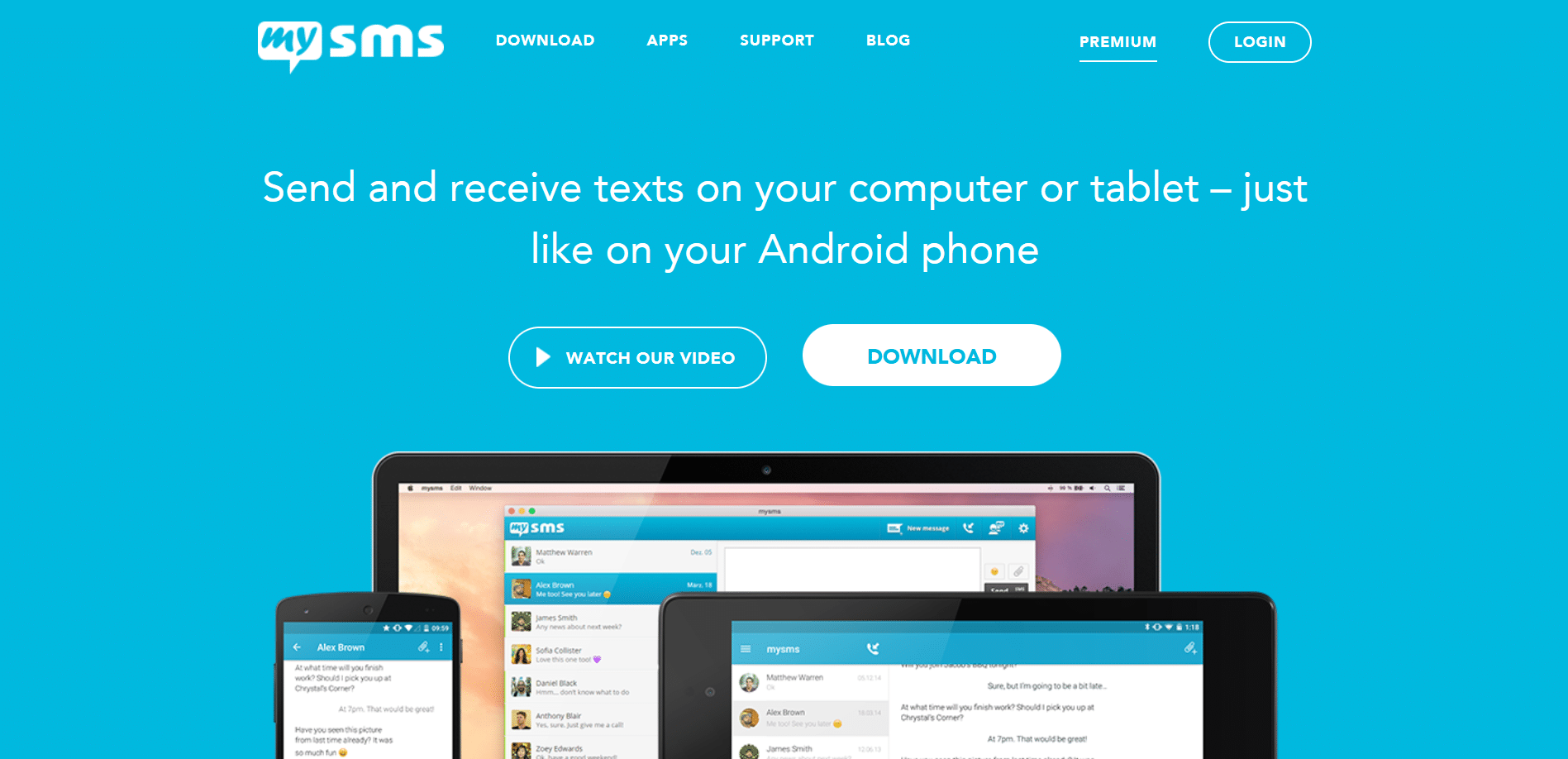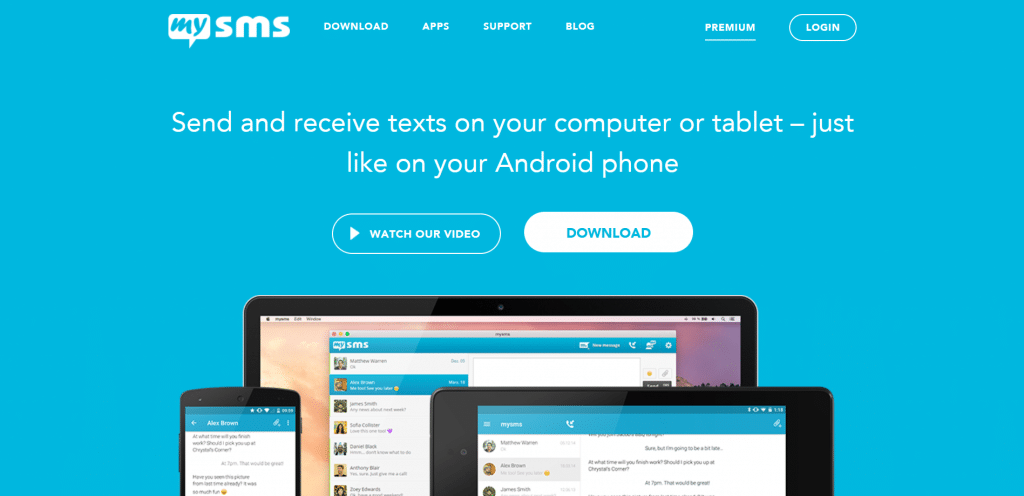 Registration required: Yes
SMS & MMS: Yes
Maximum file size: 10MB
Message character limit: 765 / 335
Link: https://www.mysms.com/
mySMS seeks to make communications more convenient and less dependent on a specific platform. They have achieved this feat by enabling users to send SMSs from any device by syncing your desktop with your Android, tablet, or laptop. In other words, if your phone receives a call, your tablet will begin to ring, even if you are browsing the web!
Before you have permission to send and receive messages via your computer or tablet, you'll need to create a mySMS account. It is necessary because your Android phone sends and receives messages from your PC and tablet. As a result, install mySMS on your Android phone and create a new account. Then log in with this account on your computer or tablet.
With features including free texting to mySMS users, multimedia support, group messaging, widgets, themes, and more, mySMS will become your new preferred SMS app for Android. While mySMS is entirely free and viable, they also offer a very cheap yearly premium service that gives you access to many additional benefits.
Users can send 765 characters in a regular SMS message and 335 characters when you include special characters.
SendSMSNow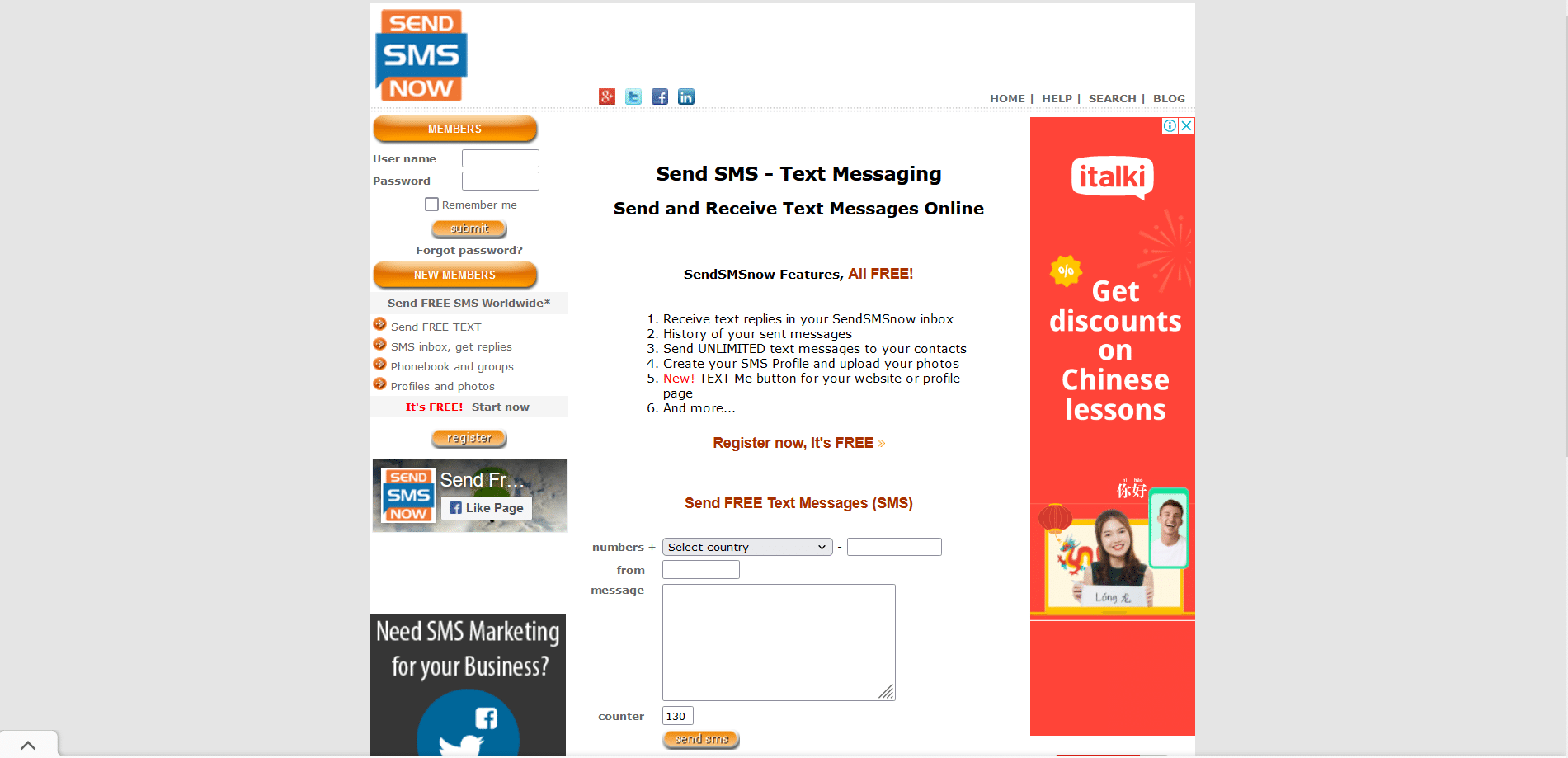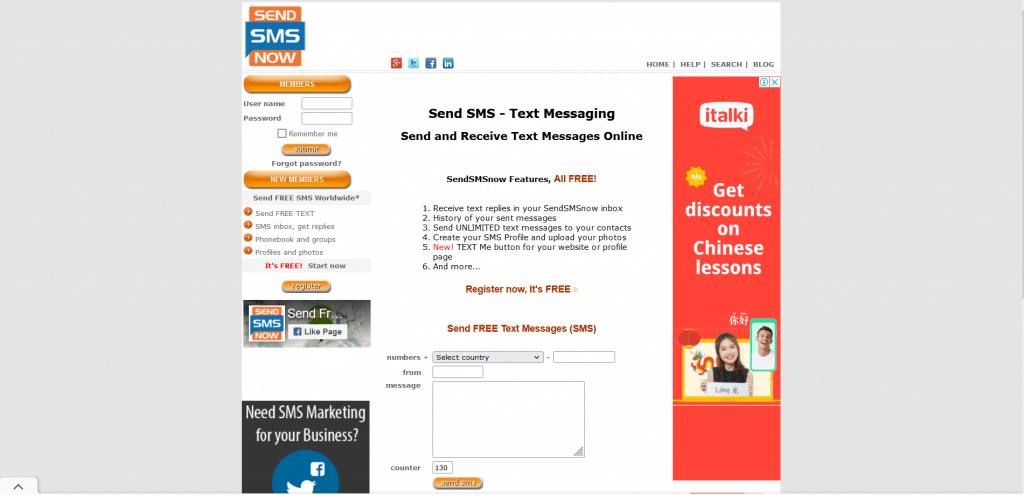 Registration required: No
SMS & MMS: No
Maximum file size: 300KB
Message character limit: 130
SendSMSNow provides an online texting service to individuals and businesses. Their service reaches a worldwide audience, and registration is not compulsory. However, if you decide to register an account, you'll be able to organize your contacts via a personal phonebook, receive replies in a personalized inbox, and gain access to group messaging features.
The website also offers users SMS profiles. These profiles enable you to target a specific set of individuals in your directory using profiles and deliver common messages that correspond to the desired communication. It also includes a function where you can post images for a detailed message that ensures all parties remain on the same page.
Users specific about receiving feedback on social profiles or websites can use a text me feature. This feature enables you to add a button to your website and link it to a phone number to enable others to text you easily.
FoxText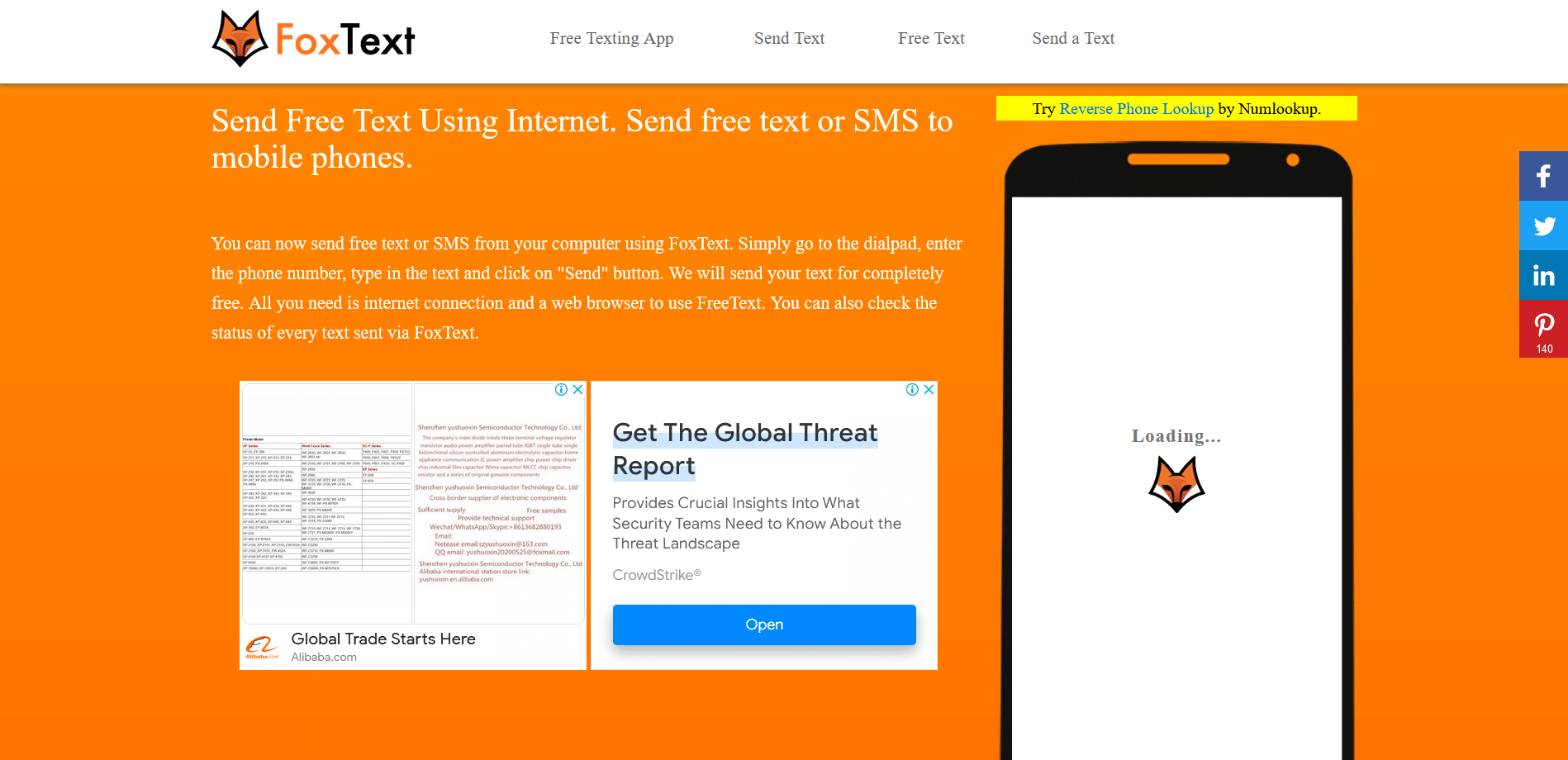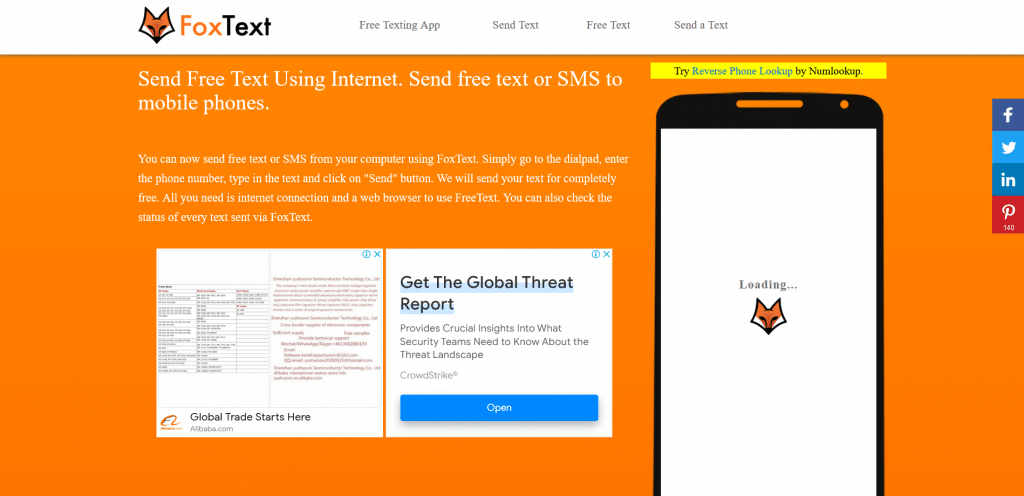 FoxText is ideal for sending free text messages even if you do not have access to mobile phone service. In fact, it can send text messages to every cell provider around the globe in seconds, and you can now use FoxText to send text messages directly from your computer.
Firstly, you need to visit the FoxText website with a dial pad on the homepage. Use the dial pad to select a country from the drop-down list and write your message in the provided text box. Afterward, ensure you input the correct phone number and hit send. It should only take seconds for the recipient to get the message, but if not, you can check its delivered status.
Furthermore, the recipient doesn't need to be on the FoxText website or install any additional apps to receive the messages.
FoxText focuses on providing a free service that allows users to send vital personal messages to their friends and family. Consequently, business owners or marketing firms looking to send hundreds or thousands of SMS to customers will have better luck elsewhere.
txtDrop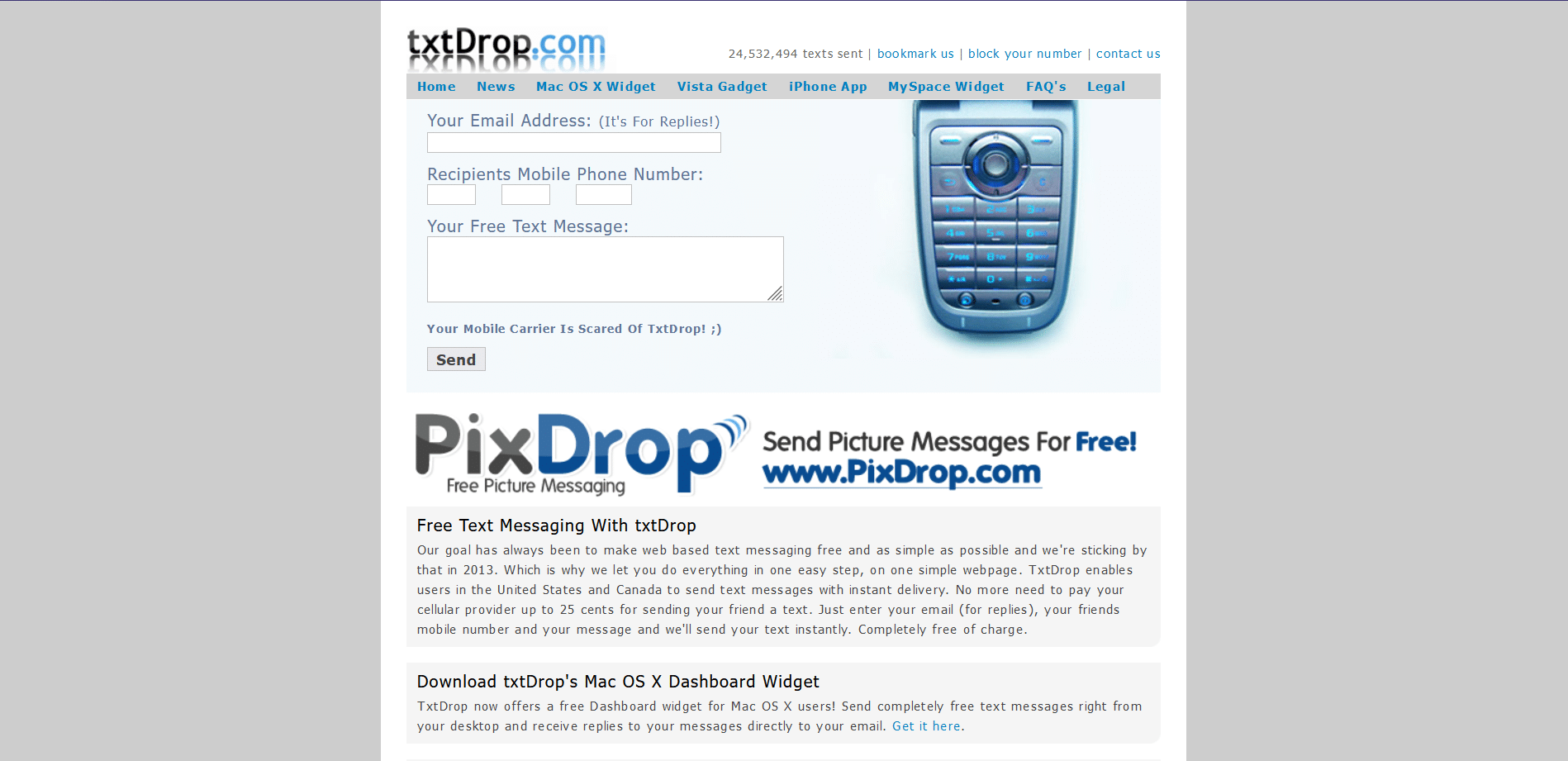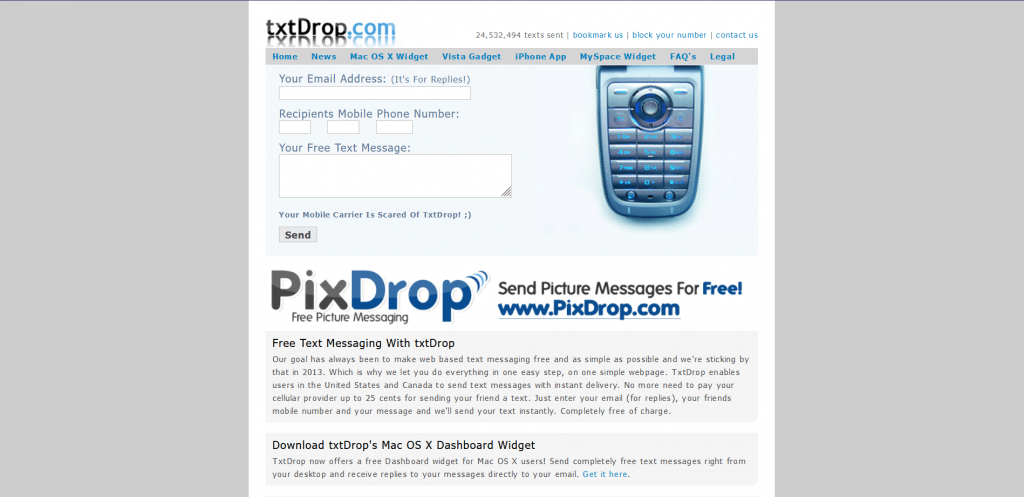 Registration required: No
SMS & MMS: No
Maximum file size: n/a
Message character limit: 120
Link: http://www.txtdrop.com/
txtDrop aims to give people in the US and Canada a quick and easy way to message one another for free. It doesn't require you to have an account, but you need to provide an email address to receive replies and input the recipient's mobile number after you type your message. Furthermore, this service only permits sending text messages, not images or videos.
txtDrop is available for Windows, macOS, MySpace, almost any mobile network, or your website. These capabilities allow you to send free text messages directly from your computer and receive answers to your messages via email. Users also can block any number from whom they no longer want to receive messages.
SendAnonymousSMS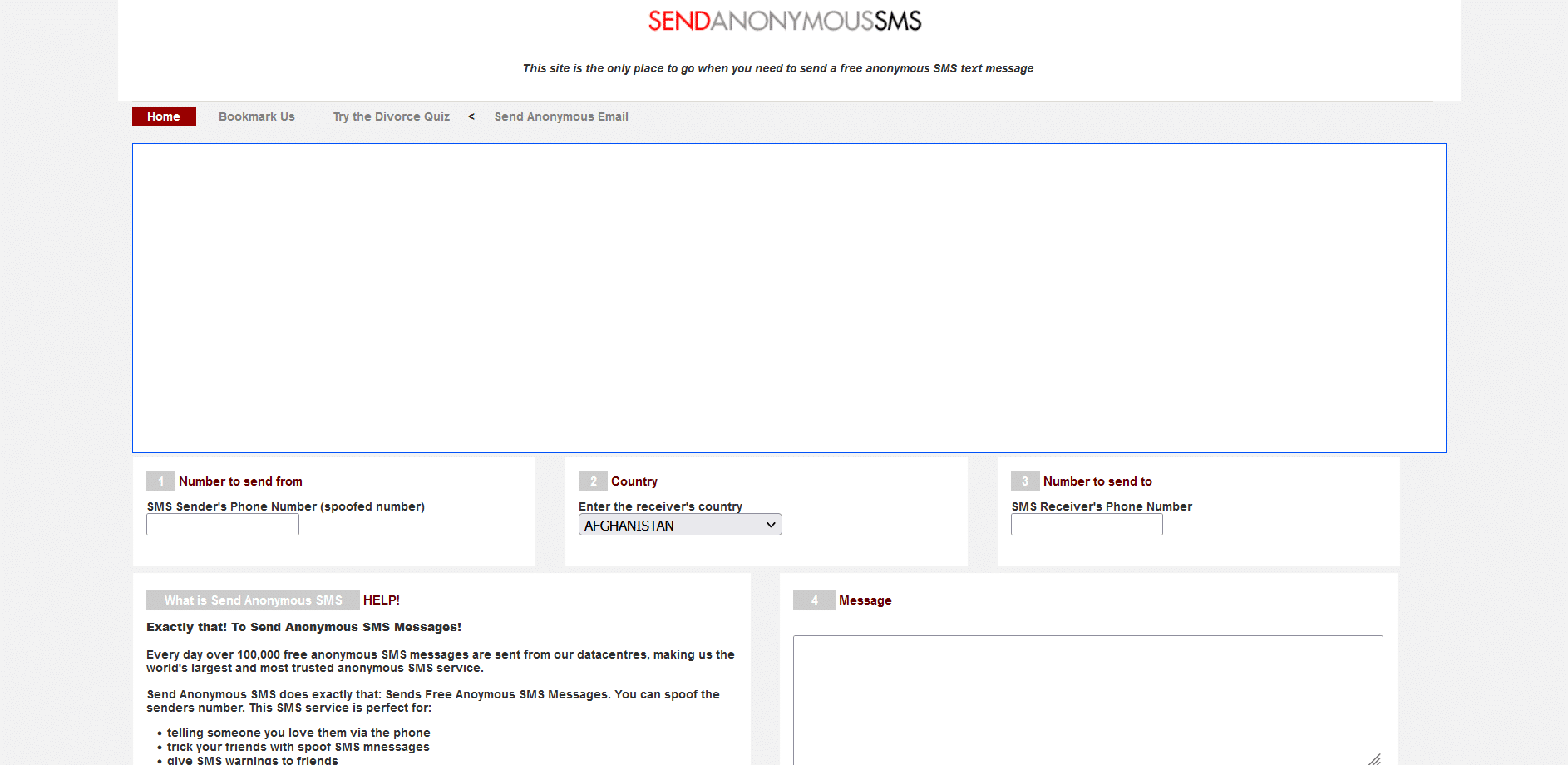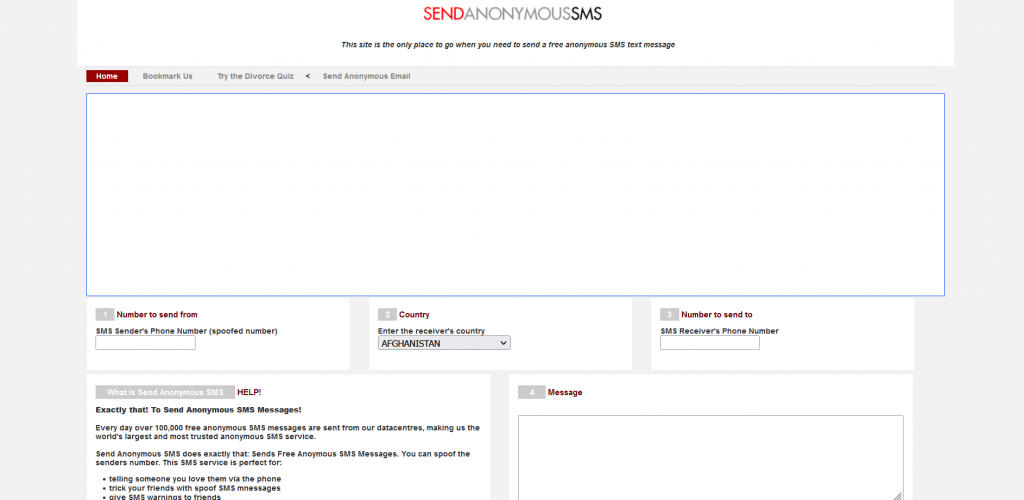 Registration required: No
SMS & MMS: No
Maximum file size: n/a
Message character limit: 145
This free website texting service keeps it simple by having you input the sender and recipient's number, followed by the 145-character message. Although you can send messages anonymously, they keep logs of IP addresses. It is useable worldwide by selecting the country of choice from a drop-down list on the website.
This texting service is an excellent option for those looking to send quick messages to friends or family, or if you want to report fraud or a crime, thanks to its anonymous element. Furthermore, it is a text-only service, meaning that it's not possible to send images or videos.
TextSendr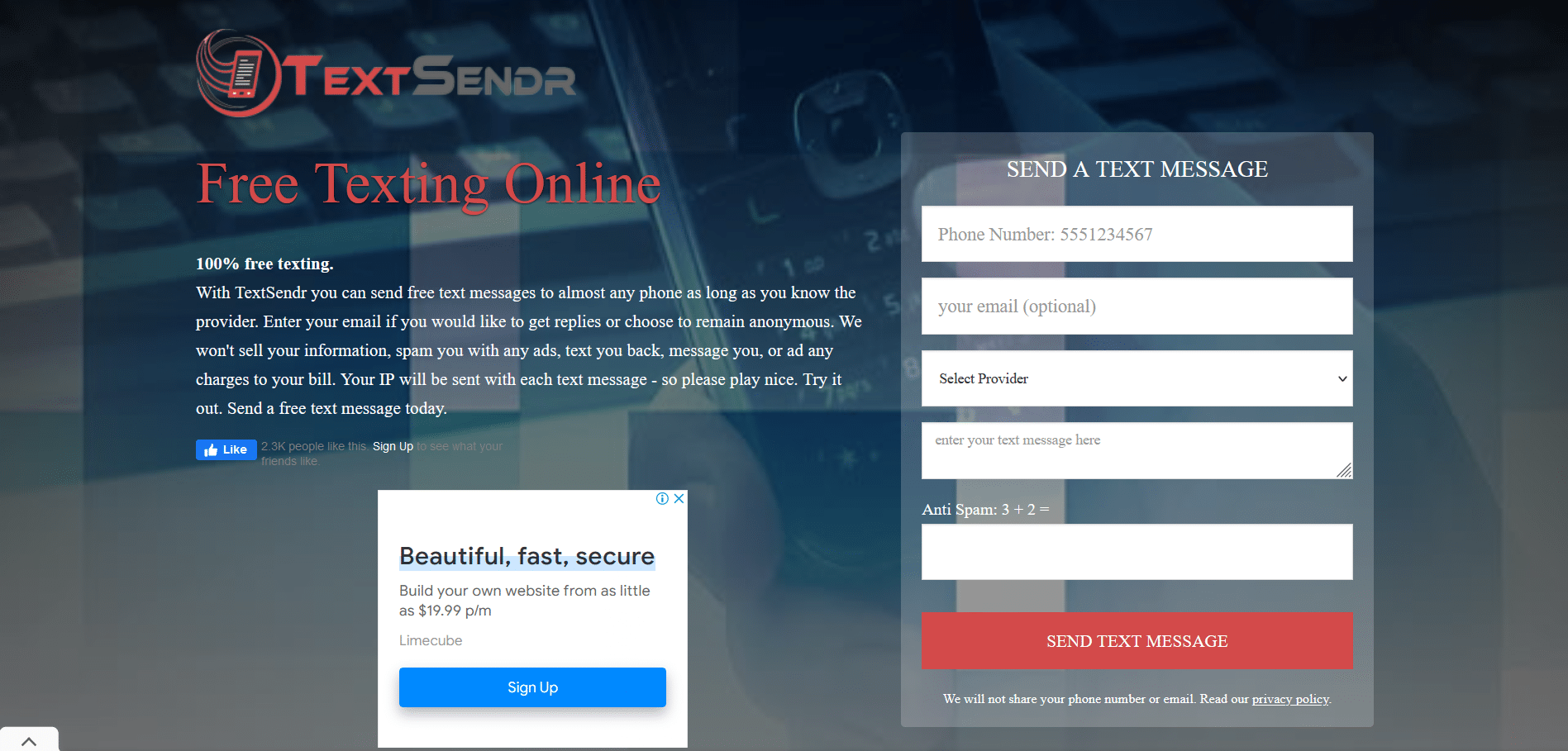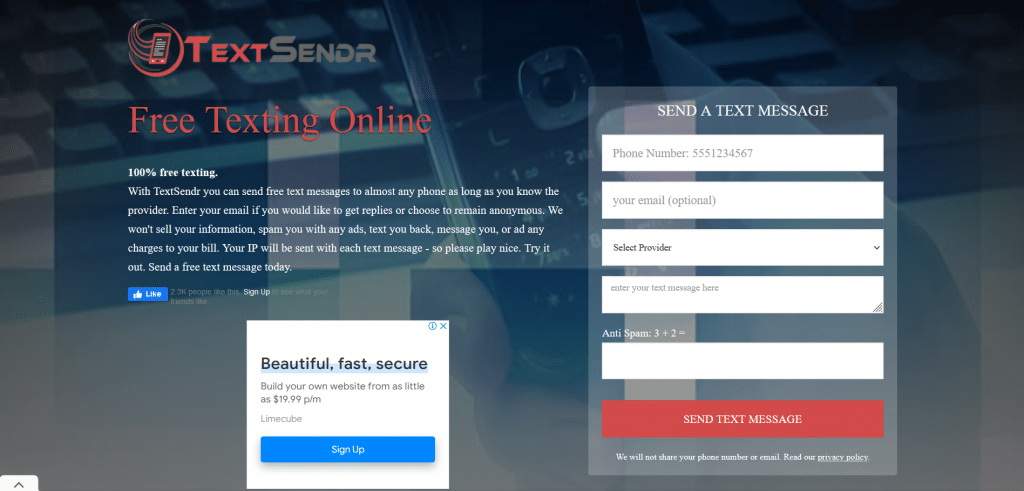 Registration required: No
SMS & MMS: No
Maximum file size: n/a
Message character limit: 160
TextSendr is a 100 percent free internet text messaging service that does not require a membership. It will not add any more costs to your phone account, attempt to sell you anything, or send you ads, calls, texts, etc.
You may send free text messages to practically any phone with TextSendr as long as you know the provider. TextSendr deals only with text, so you won't be able to send images or videos. If you want to receive responses, it is optional to provide your email address, and all messages get processed in the same way as a regular text message from your phone.
Unwanted text message recipients can use their opt-out form to blocklist their phone number. Even though they do not track, store, or share communications, all text messages will include the sender's IP address.
TextSendr generates money through advertisements on its website, so senders and recipients don't have to pay for texts. They also utilize email to transmit text messages, which allows them to keep it free. TextSendr also partners with NoSlang.com to include a Trnsl8 (translate) feature, enabling you to shorten your messages when they become too long.
Related Questions
Now that you know which free online texting browser you'd like to try let's look at some questions on your mind.
Do You Need Any Software For These Texting Websites?
You don't need to worry about downloading any browser plugins or additional software on any device. These online texting websites function as-is and in prominent browser options like Google Chrome.
Is It Safe To Use Your Real Phone Number On These Websites?
Generally, online texting websites do not keep logs of your messages, but they will track your IP address. IP in computer speak means internet protocol and refers to a unique number that identifies from where something gets sent. This feature improves security by tracking people who send threatening messages or use these services for criminal activity.
Are There Any Hidden Costs Involved In Online Texting?
Free online texting websites make their money via advertising on their website. Thus, it is unlikely that you will incur any hidden costs. Furthermore, many of these services use email at their core, which is how they manage to keep the services entirely free for the user. 

That said, there are scammers in every dark corner of the internet, so ensure that you examine the terms and conditions of the website you intend to use to avoid unnecessary hassles.