Best Family-Friendly Places For Free Online Games For Kids
Important Note: When you buy through our links, we may earn a commission. As an Amazon Associate we earn from qualifying purchases. Content, pricing, offers and availability are subject to change at any time - more info.
Key Takeaways
Skribbl.io and Toontastic are great options for kids with an artistic flair; who want to draw, color, and create.
Education.com focuses on educational games that improve Math, reading & writing, and problem-solving skills. Rento Monopoly familiarizes kids with the importance of working responsibly with money.
These online games also work on iOS, Android, iPads, certain Chromebooks, and other devices.
Mario Kart Tour is great for kids who have a short attention span and need to experience continuous stimulus and thrilling adventure.
Most kids enjoy learning through playing games, and the internet has a lot of fantastic, free online games that can teach kids valuable monetary, linguistic, and social skills. It's not always easy to find the best places for these games, but fortunately for you, we've saved you the time!
---
Advertisement
---
Many Online Websites Are Kid-Friendly
It can feel uneasy letting your child scour the internet by themselves, but in truth, many good online games can help educate them and help them stay entertained. Many of these websites design their websites to be safe for kids, knowing that these young ones are their target audience.
Skribbl.io, in particular, is a wonderful socializing and team-building game that's doesn't cost a dime. In fact, people aged in their twenties and even thirties have come to enjoy it because it promotes social interaction and helps you to build a strong sense of self-confidence.
Thus, let's explore some of the best family-friendly online game websites that will put a smile on the face of both children and parents!
Skribbl.io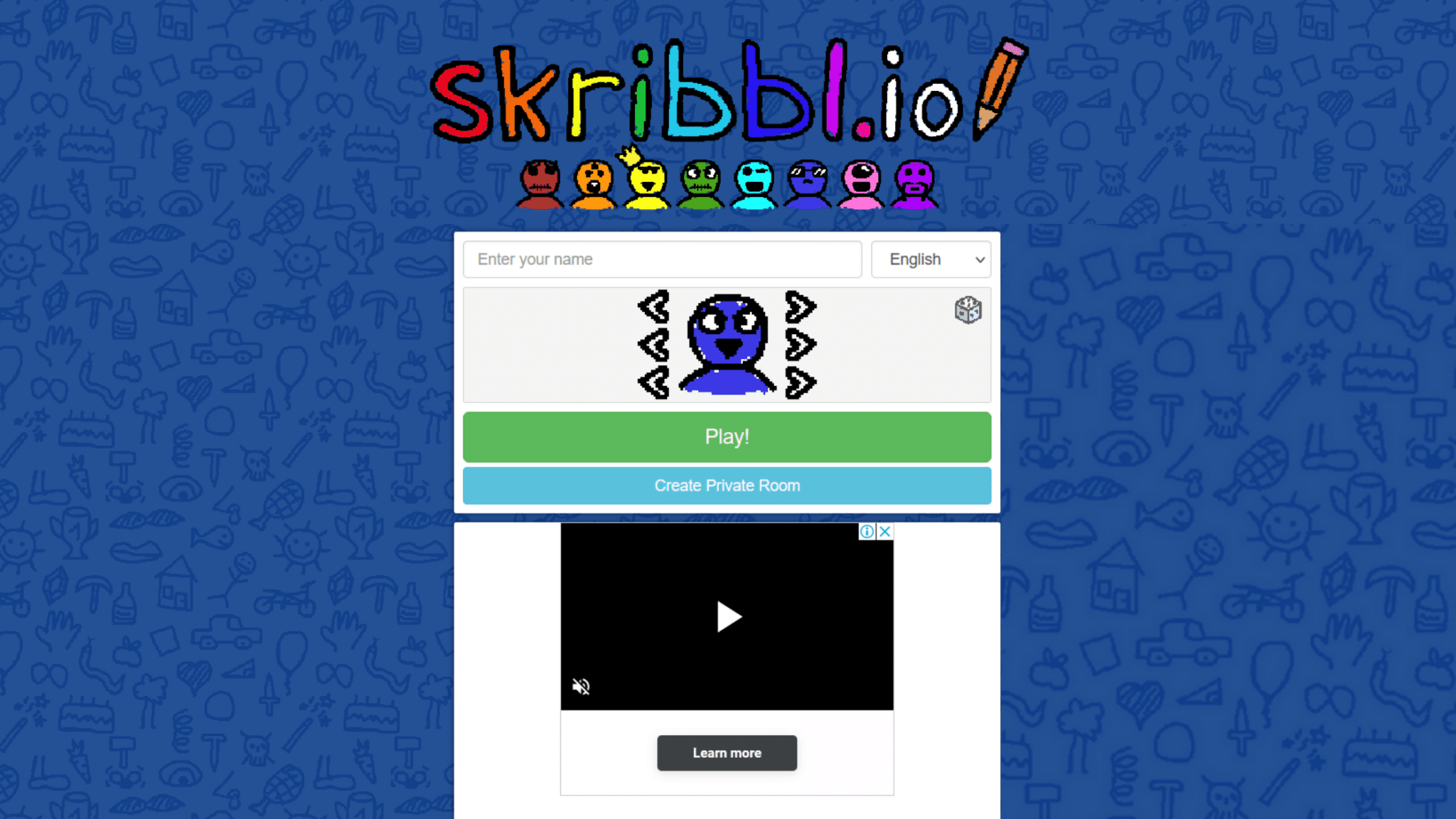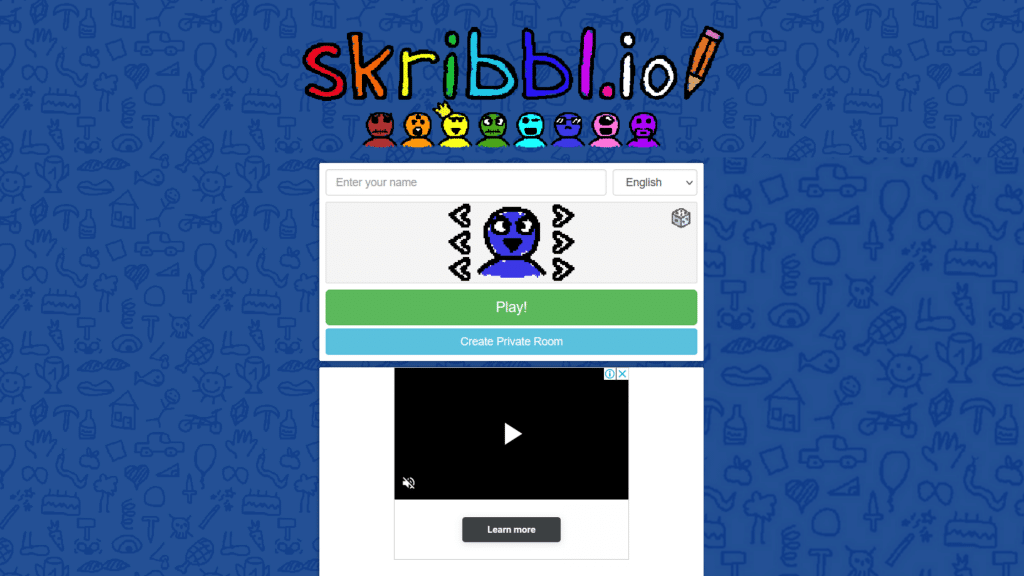 Recommended Ages: Any
Max Players: 12
Requires Registration: No
Requires software: No
Link: https://skribbl.io/
Skribbl.io (pronounced Skri-blio) is a free online sketching and guessing game for up to four players. It's the perfect sociable game for all ages and something that will bring joy to every face – even the parents.
One game consists of several rounds, each requiring someone to draw their selected word and others to guess it to get points! The winner will be the player who has the most points at the end of the game!
When it's your turn to draw, select a word from three alternatives and depict it in 80 seconds; alternatively, while someone else is drawing, put your guess into the chat to get points; be quick; the sooner you predict a word, the more points you'll earn!
Skribbl.io is an excellent pick for kids because it tests their cognitive and creative abilities while making it fun when they have to draw. It doesn't matter if you have trouble drawing a stickman –give it your best shot and have a good laugh when your fish looks like a frog!
Before you start, there's a simple yet exciting feature that allows you to create an avatar that you will use to play. You can select the shape and size of its eyes and mouth, and you can change your skin color to pink, purple, blue, or orange for the wackiest character design!
Skribbl.io allows up to 12 children to play together simultaneously by sharing a link via the internet. You can access this feature by clicking "Create Private Room" and sending or emailing every participant the link.
Uno Online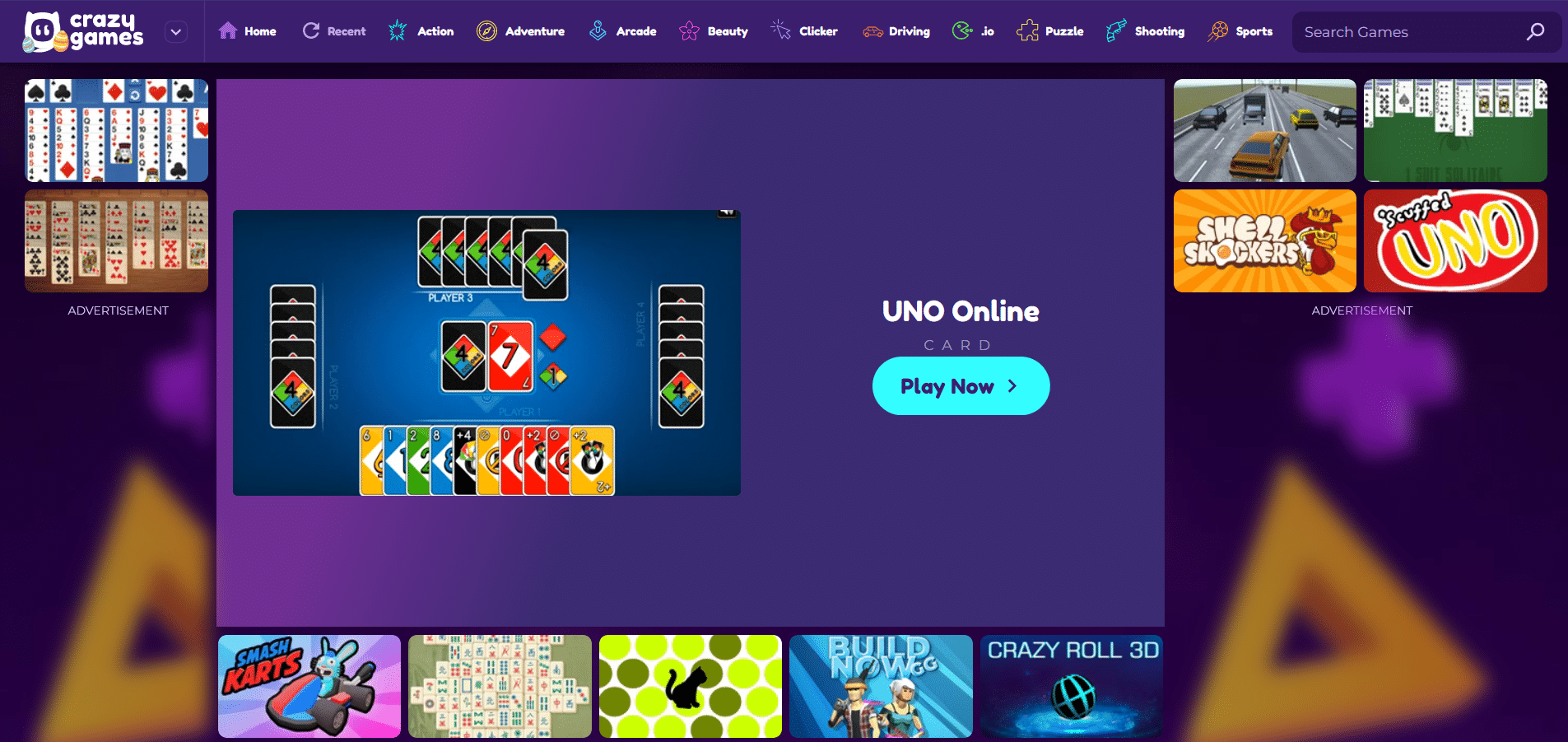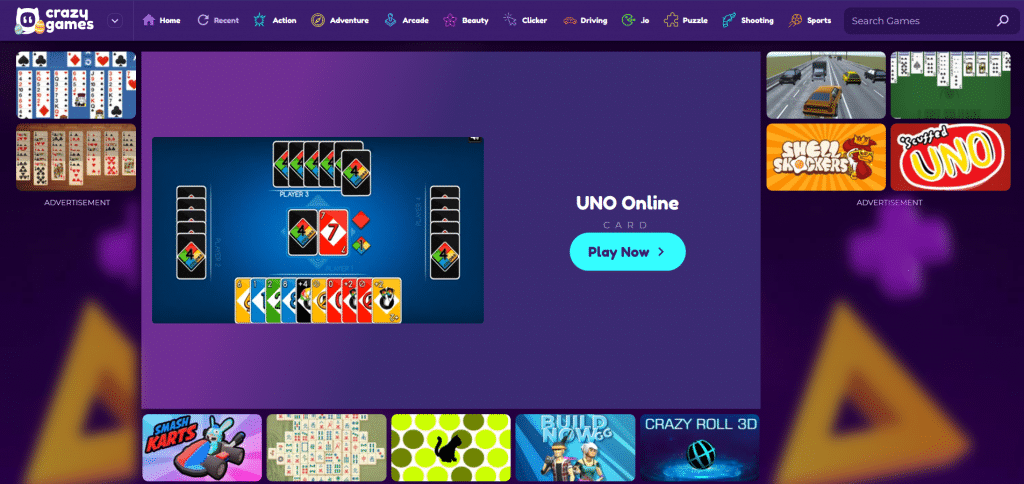 Recommended Ages: 5+
Max Players: 4
Requires Registration: No
Requires software: No
Uno is a shedding-style card game played with a specially produced deck in the United States. The game's main rules place it in the family of card games known as crazy eights, and it is comparable to the old European game mau-mau.
The game's goal is to be the first person to run out of cards in their hand.
There are 108 cards in the deck, four of each of the words "Wild" and "Wild Draw Four," and 25 of each of the four colors (red, yellow, green, blue). Each color has one zero, twos of each number from 1 to 9, and twos of "Skip," "Draw Two," and "Reverse." "Action cards" are the third, fourth, and fifth categories.
Uno fosters emotional intelligence in the same way that Chess fosters strategic thinking. Children are encouraged to engage in friendly competition with adults in a safe atmosphere when playing Uno. Children can grow emotionally by choosing to assist another player or learning to cope with the emotions of defeat.
In Uno, it's impossible to predict what will happen next or how it will affect their hand. As a result, Uno may encourage fast thinking and quick responses to what is going on in the game. These abilities will be helpful with other stressful or demanding situations in life.
Mario Kart Tour Online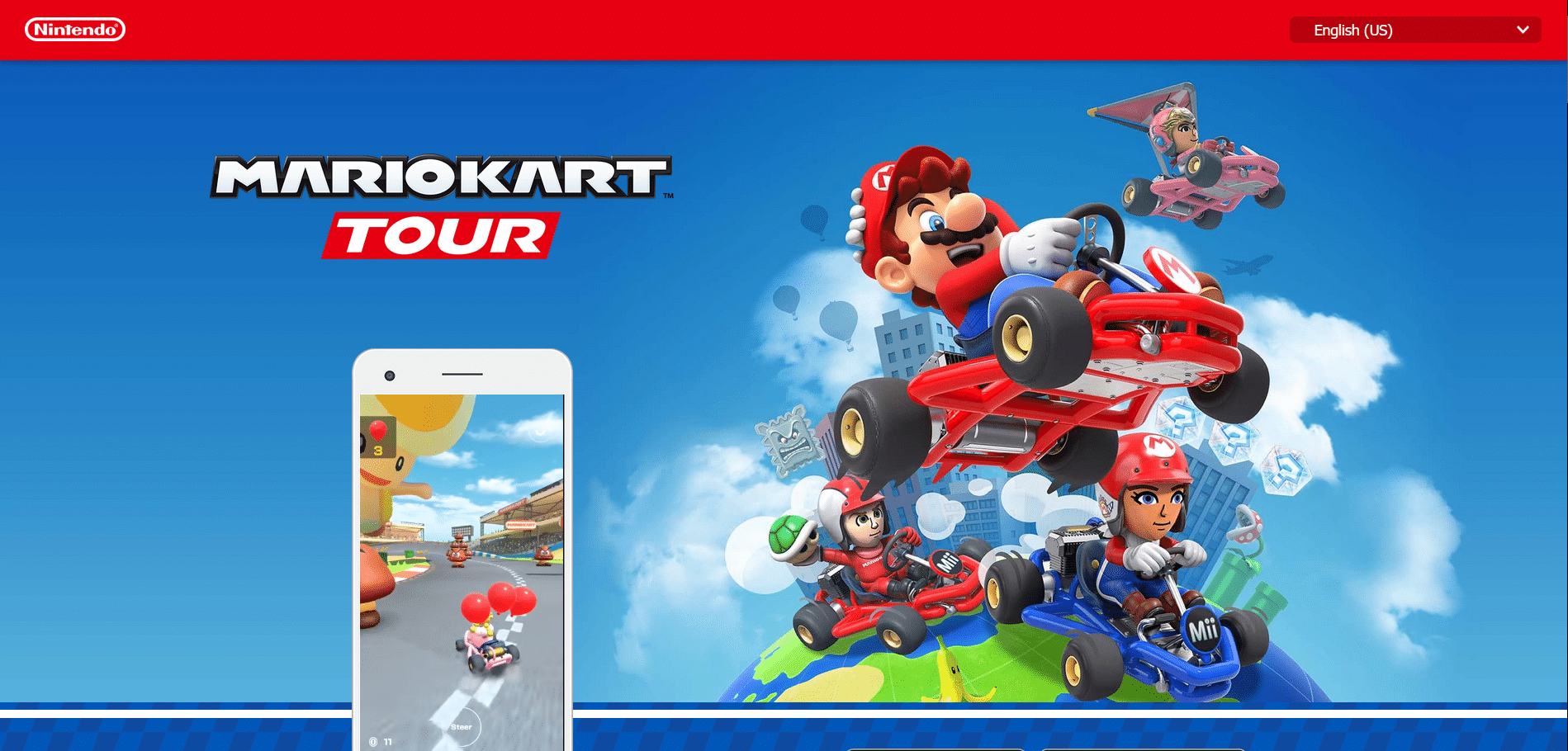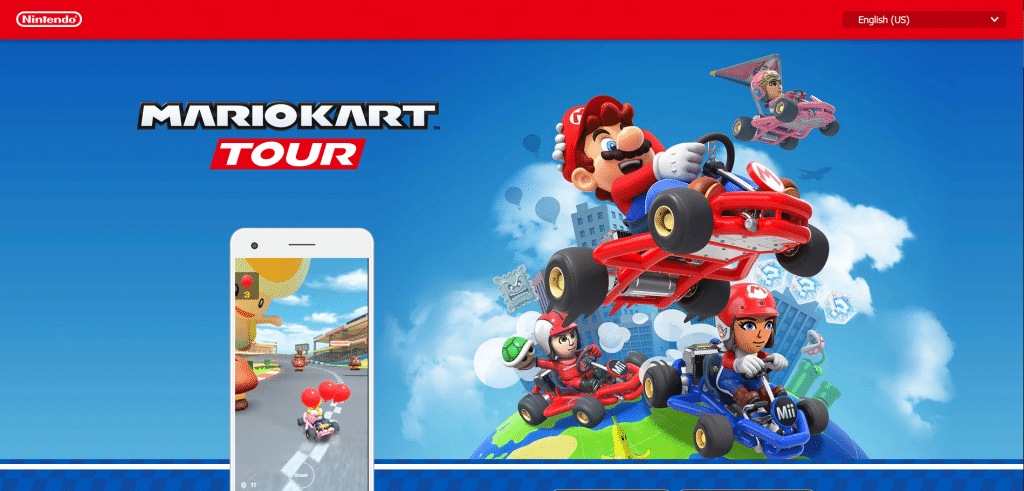 Recommended Ages: 5 – 9
Max Players: 1 – 8
Requires Registration: No
Requires software: Yes
Mario is a household video game character, and when you combine him with racing, you get Mario Kart Tour. It is a superb choice if you're looking for thrilling racing to get the heart pumping. It's available from the Apple Store and Google Play and is completely free to enjoy.
Players will be able to invite friends, participate in multiplayer races, play the career mode for free, and unlock several characters.
It contains numerous gameplay components, various vehicle types, and several tracks, all provided free to gamers. Although there is an option to buy a pass to unlock more features, it is optional and not required to have a satisfying race.
Players have different drivers, karts, and gliders to collect, all with varying attributes. Kids will be able to examine each one carefully to determine the kind of racer they want, plus they get to unlock new ones and attain a sense of accomplishment and achievement.
Of course, racing games can teach a healthy competitive spirit and the ability to stay calm and act quickly during crunch time – like when they are on the last lap and in second place.
Lego.com Online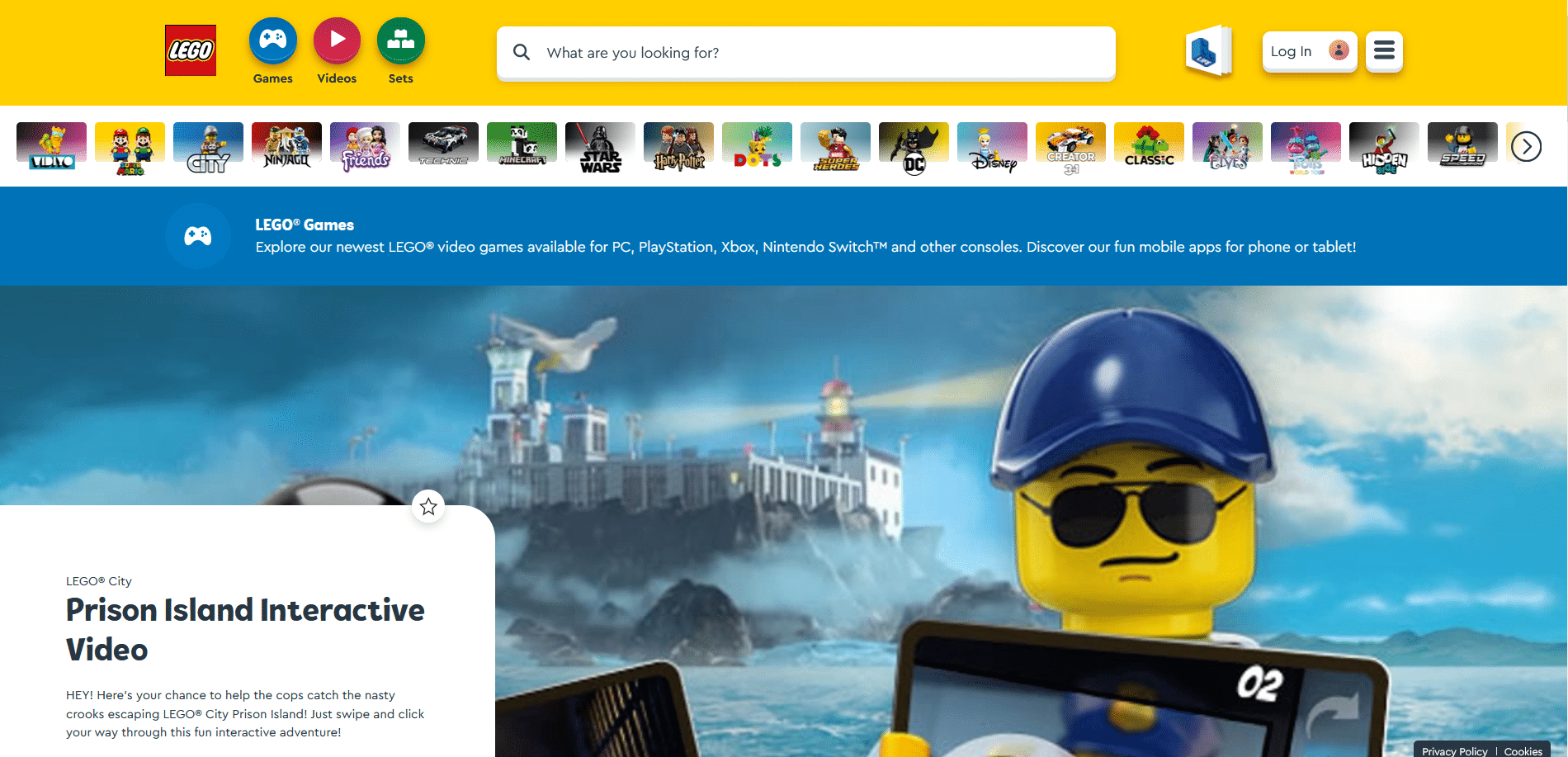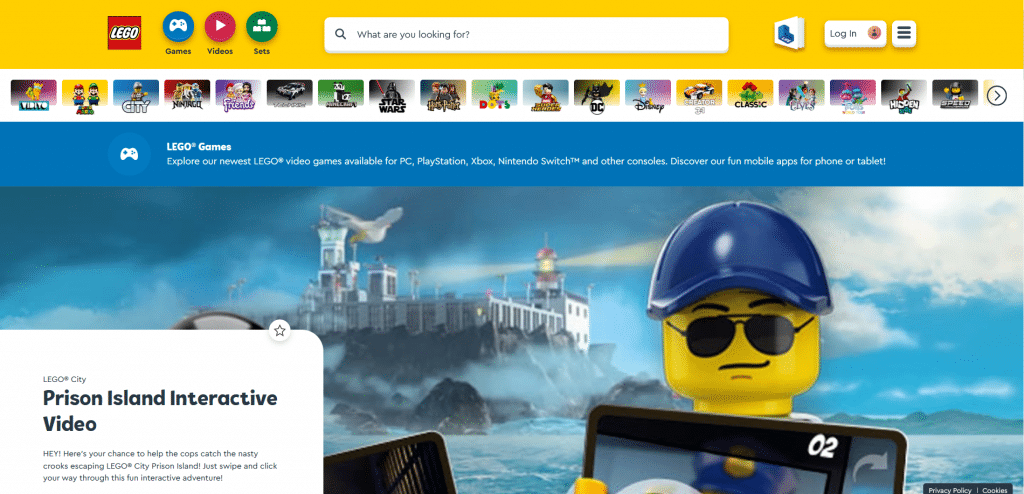 Recommended Ages: 7+
Max Players: 1
Requires Registration: No
Requires software: No
The Lego franchise has some of the most entertaining and humorous games for kids to enjoy. Their website offers the opportunity to play a series of interactive games that let kids play mini-games while watching interactive videos in first-person.
The Lego games are browser-based, so you don't need to worry about downloading any software. If your kid adores Star Wars, they'll love "The Last Jedi," a 360-degree experience, or if they want to play the role of a vigilante, they can help cops catch the crooks from escaping Prison Island. There are also games to build a city, supercar, and even puzzle games.
Rento Monopoly Online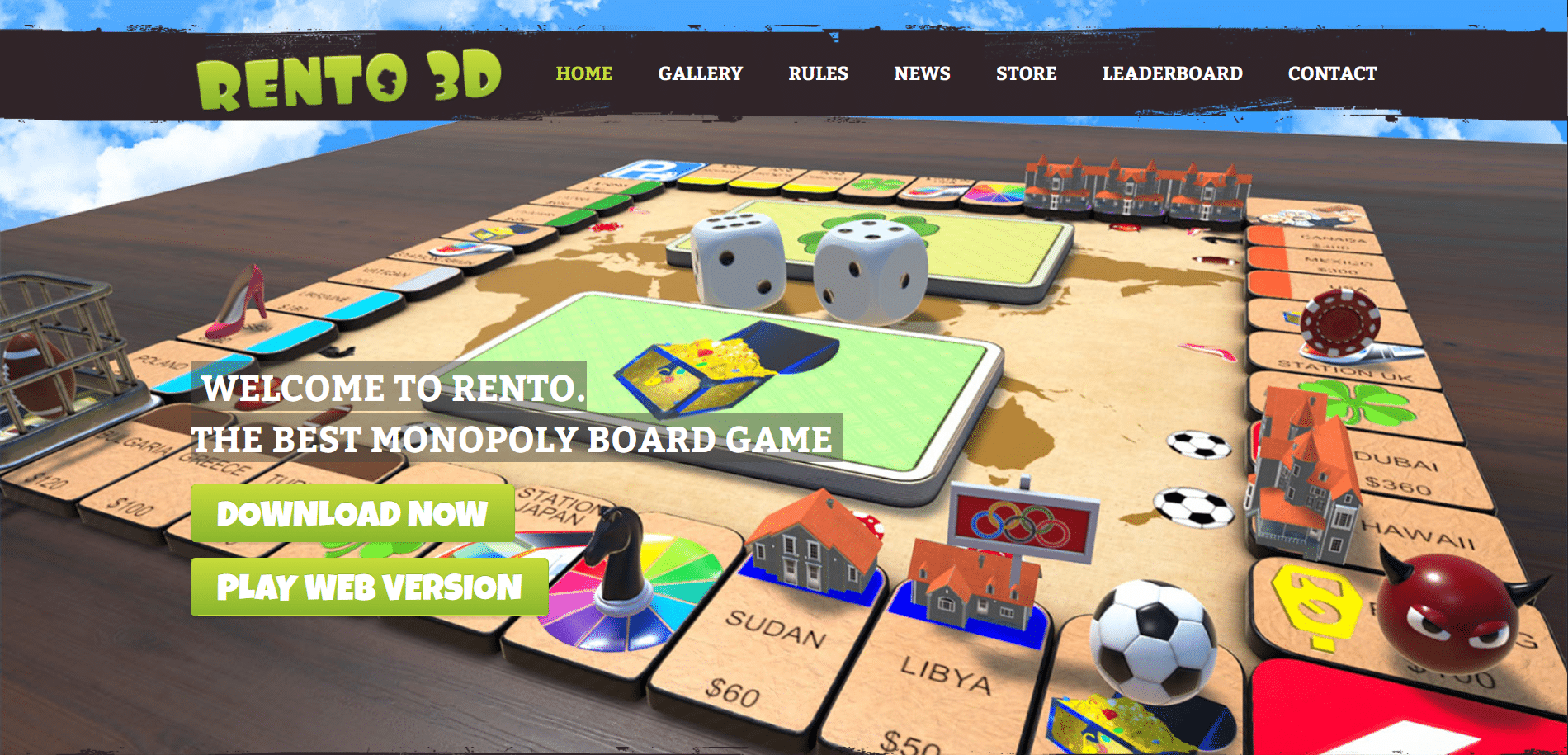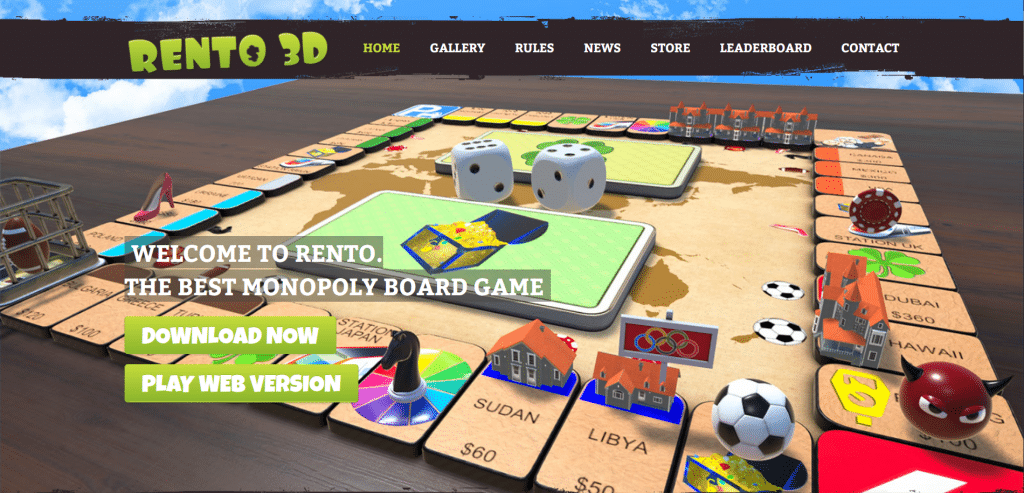 Recommended Ages: 5+
Max Players: 2 – 6
Requires Registration: No
Requires software: No
Link: https://playrento.com/
Rento is a multiplayer Monopoly board game played online with 2 to 6 people. Friends and family are welcome to join, even offline or against AI opponents. Furthermore, it is also multi-playable on the same phone or through Bluetooth – invite your Facebook friends, too!
You trade lands, build houses, win auctions, travel, and have fun in the game. The game has a variety of playing boards, custom pawns, custom dice, and additional options for distinct house rules, among other things. The aim is to gain a monopoly and put the other players out of business.
Rento is available on a plethora of different platforms, including Google Play, Apple Store, Playstation 4, Steam, Xbox One, Nintendo Switch, Windows 10 Store, and the Amazon Store. Furthermore, you can also play it through your browser via the website.
Monopoly allows your children to master mental arithmetic outside of the classroom.
When adding up the money to buy a house, obtaining change from the bank, or calculating the rent payable on their properties, addition, subtraction, and even multiplication all come into play.
Monopoly quickly shows you that waiting for the perfect properties will leave you behind. If other players have rushed across the board snatching up homes while you wait for Mayfair and Park Lane, there may be nothing available to purchase. In the same way, the earlier you begin investing in real life, the more time your money has to grow.
Education.com Online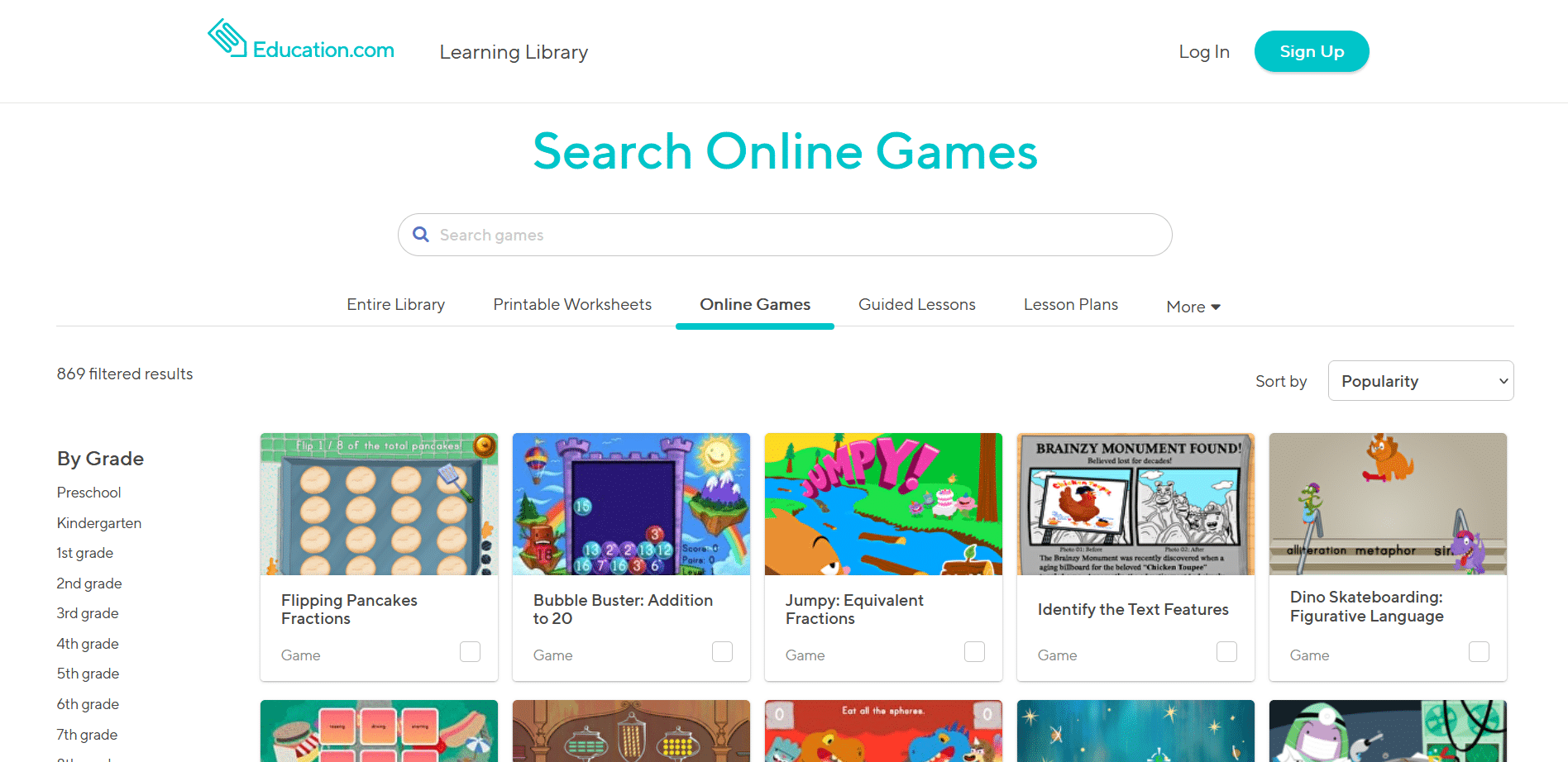 Recommended Ages: 5+
Max Players: 1 
Requires Registration: Yes
Requires software: No
If you're looking for educational games, you'll find what you're looking for at Education.com. Their games are particular, catering to different subjects like Math, reading & writing, problem-solving, and the option to select first, second, or third grade, etc.
Furthermore, these games cater to different levels of interaction. You have the option of hands-on games that require that the kid "drive the lesson," interactive stories that question comprehension and understanding, and reasoning on what may happen later.
Kids can also complete online exercises, print workbooks, and sing to online videos for a truly memorable experience.
Firstly, you must create an account by either using your Facebook account or signing in with a Google account before you can go adventuring.
Roblox Games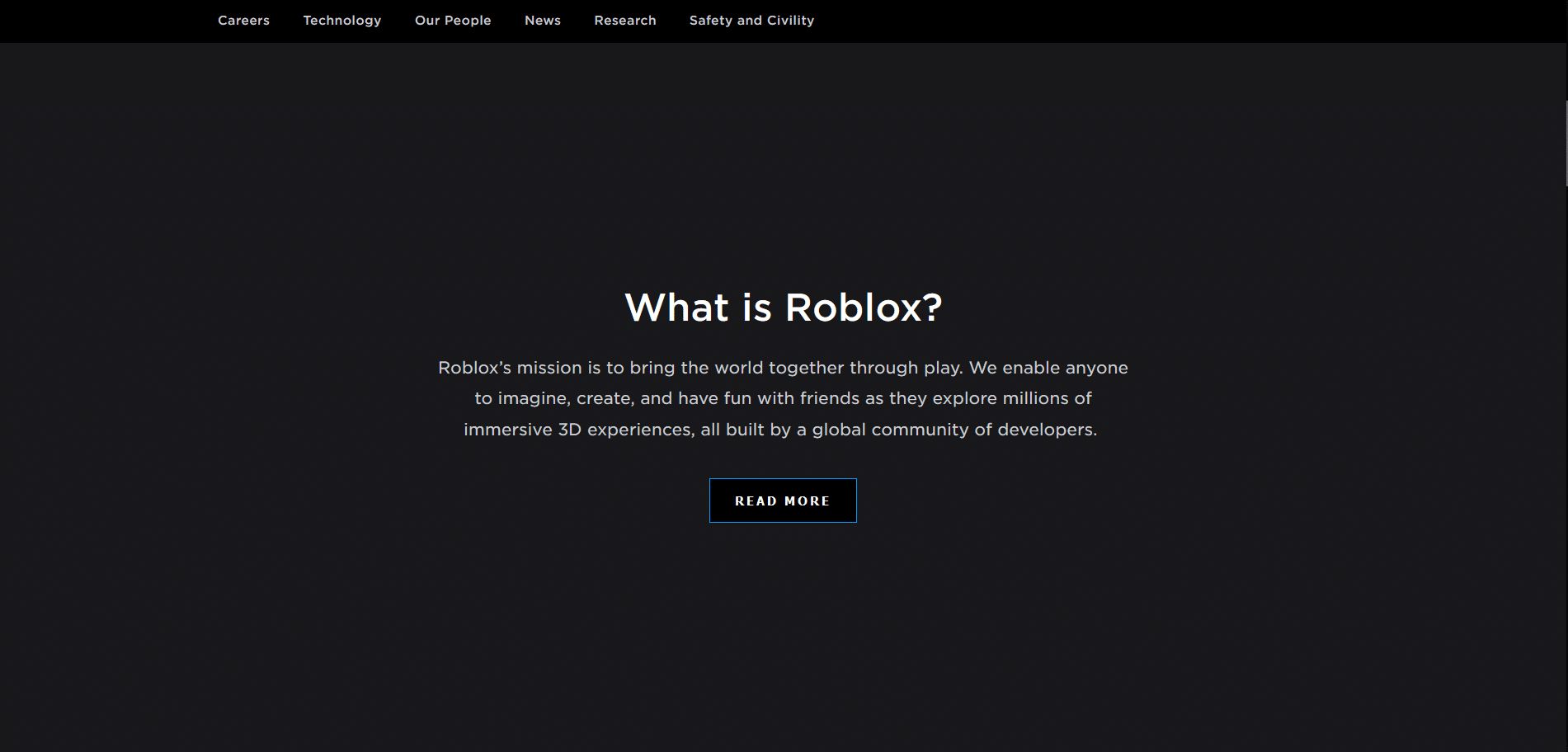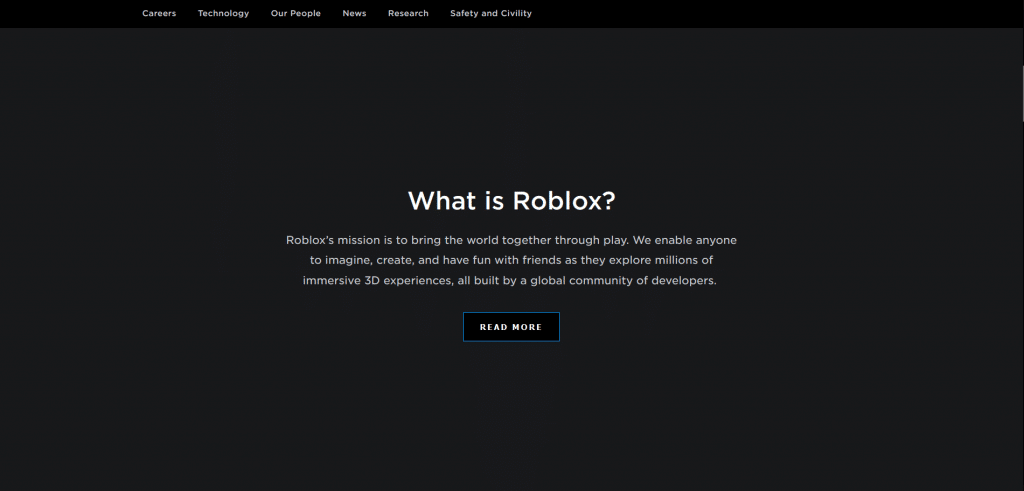 Roblox aims to connect people from all around the world together via play. Roblox has support from a worldwide community of millions of creators who use Roblox Studio, our user-friendly desktop design tool, to create their own immersive multiplayer experiences every month.
Roblox is available on various platforms, including PC, Mac, iOS, Android, Xbox One, Amazon Devices, Oculus Rift, and HTC Vive. Roblox is an entirely free game to play and download. Users can purchase Robux (our virtual money) to buy in-game improvements or accessories for their avatar if they so like.
Roblox is a fun, friendly, and instructive environment in which your child's imagination may flourish. They urge you to play with your youngster and ask them to tell you about their gaming adventures.
Games like Natural Disaster Survival and Work at a Pizza Place are just a few of the millions of games available on Roblox for you to enjoy with your kids. It's also a fantastic opportunity for family bonding.
You can instill digital citizenship principles in your child and demonstrate that the distinction between good and wrong online is similar to real life. You can also keep track of your children's online activities on Roblox, including their projects, friends, virtual item purchases, private chat histories, and more.
Toontastic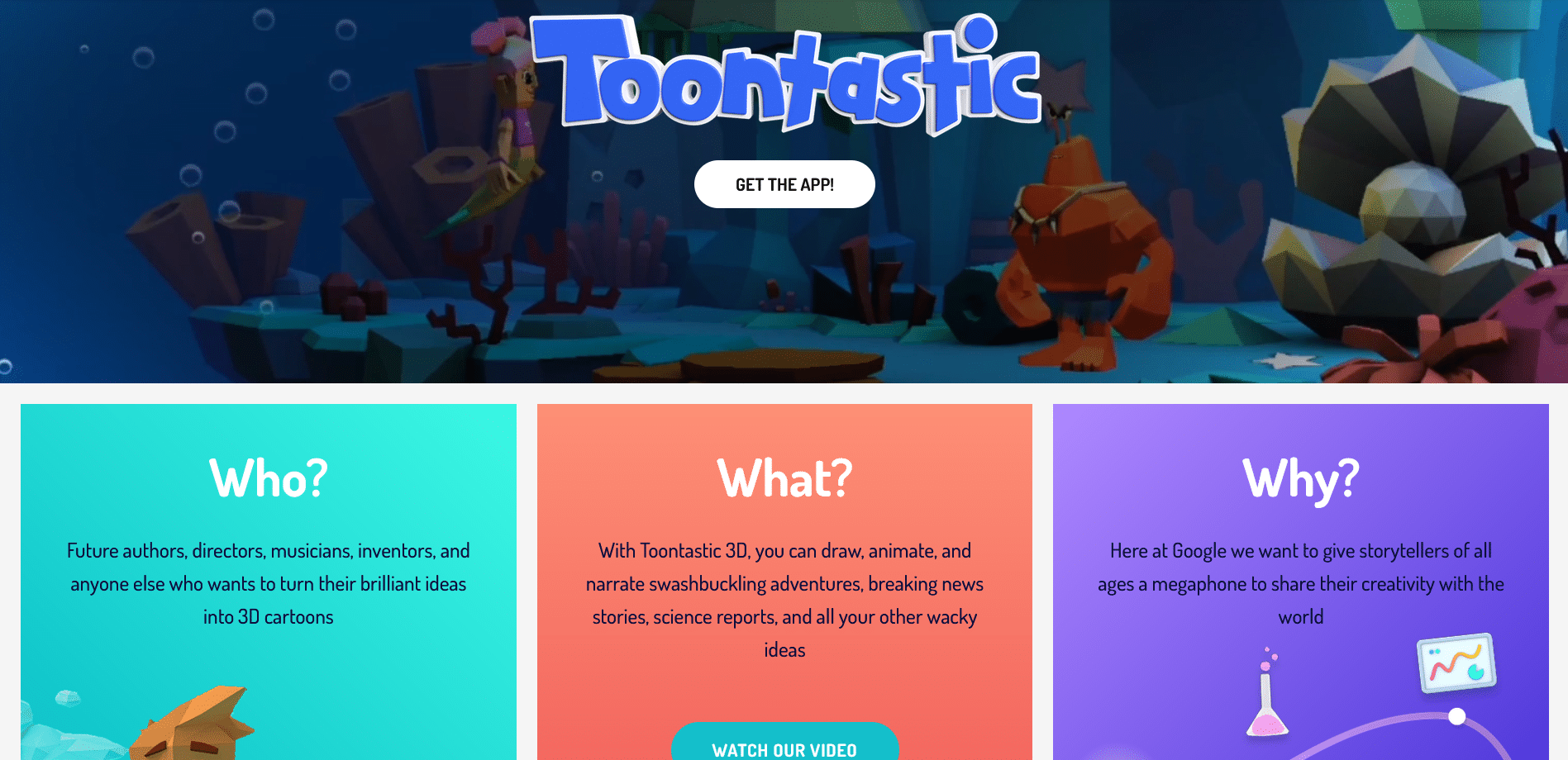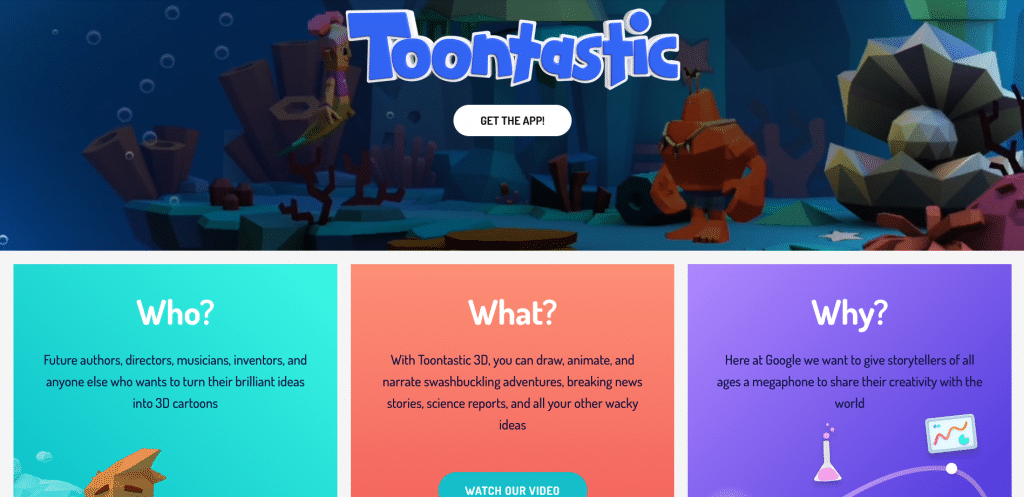 Recommended Ages: 5+
Max Players: 4
Requires Registration: No
Requires software: Yes
You can create, animate, and narrate swashbuckling adventures, breaking news stories, science reports, and whatever else comes to mind with Toontastic 3D. Future authors, filmmakers, composers, inventors, and anybody else with a spectacular idea who wants to transform it into a 3D animation.
The Toontastic app is a free download that works on iOS & Android, plus it is compatible with phones, tablets, and select Chromebooks. Furthermore, it works offline and doesn't require any logins, which means no hassles and more fun!
Google intends to inspire children and provide a platform for future storytellers of all ages to share their work with the world.
Related Questions
Now that you know where your kids can enjoy some exciting family-friendly online games, it's time to consider some questions in case of troubleshooting.
Do You Require Special Software To Play Any Of The Games?
There's no requirement for finding and installing software. All of the games work through an internet browser, while others come in the form of applications available in the Apple Store or Google Play.
Do Any Of The Games Contain Age-Appropriate Content?
All the games are family-friendly and don't contain any violence, suggestive themes, or language that may disrupt your kid's development. The games are purely for educational and entertainment purposes.
Why Won't The Game Load On The Website?
Some websites may require specific browser plugins to work. For example, you may not be aware, but even Youtube requires special software for its videos to run. Fortunately for us, that software gets directly implemented into our browsers without the need for us to get it from a third-party source.

If a website requires updating your software, it will usually tell you what your device needs when you try to play the video. For example, it may state, "you require Adobe Flash Player to play this video."