Ways To Get Free Google Play Codes
Important Note: When you buy through our links, we may earn a commission. As an Amazon Associate we earn from qualifying purchases. Content, pricing, offers and availability are subject to change at any time - more info.
Key Takeaways
Google Opinion Rewards app has 2.5 million downloads, with a user review rating of 4.5 stars. The Google Opinion Rewards app is the best approach for farming points to purchase Google Play gift cards. However, some users often claim that it may take too long to receive surveys to generate points.
Swagbucks is the runner-up and the direct competition to the Google Play Opinion Rewards app. Although Google Opinion is in the first place, Swagbucks may offer more opportunities to redeem points and different methods in doing so.
Some apps like Fetch Rewards only require you to take photos of receipts from any store to get rewards. Thus, it is one of the best approaches to rack up points over time with minimal effort to purchase free Google Play codes.
Aside from apps, some websites provide easy to complete surveys to earn points to exchange for Google Play gift cards.
There are oodles of apps on the Google Play Store; however, the most spectacular apps and games with all bells and whistles are often required to be purchased. As a result, there are numerous wonderful rewards sites, including some that provide Google Play vouchers as a cash-out alternative. If you want to access free apps and games, the following methods and apps can get you free Google Play codes.
---
Advertisement
---
8 Best Ways To Get Free Google Play Codes
You're undoubtedly acquainted with Google Play if you have an Android phone. As a result, you can earn free Google Play credits. I've scoured the web for the finest methods to get free Google Play credits, compiling a resource directory as a one-stop-shop for you.
You'll find dozens upon dozens of legitimate ways to earn rewards online if you search for "rewards sites." Some, on the other hand, are a waste of time, and just a handful allow you to redeem your hard-earned prizes for Google Play credits or gift cards, and this is when this list shines.
When you're enthusiastic about getting your hands on the latest update for your favorite game, all you have to do is trail a few simple steps to earn free Google Play credit to spend. So, starting with Google Opinion Rewards, here are the best methods to earn free Google Play gift cards legally.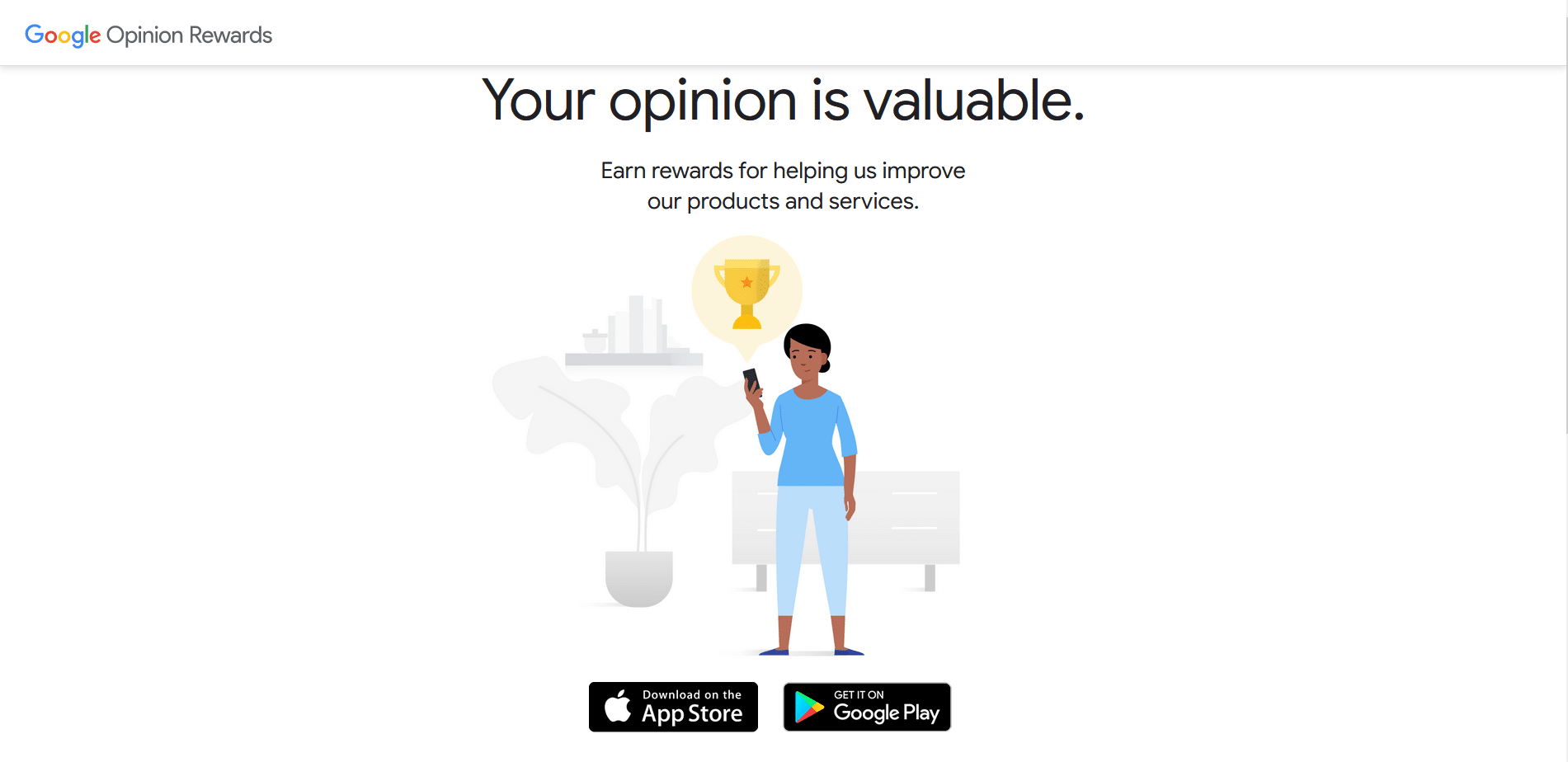 As an internal market research tool, Google built Google Opinion Rewards. It allows market researchers to develop online surveys to learn more about their clients. You won't find a cashback shopping gateway, movies, or games on Google Opinion Rewards since surveys are the only way to earn money.
It will ask you for some rudimentary information about yourself when you join up. Google Opinion Rewards sends you surveys roughly once a week after answering the signup questions; however, the frequency varies.
In addition, Google Opinion Rewards will notify you when a suitable survey becomes available. Most surveys are only a few minutes long, and you may earn up to $1 in Google Play credits for completing them (though most pay between 10 and 20 cents).
The major disadvantage is that the survey inventory is relatively small, so you may have to wait a long time between earning possibilities. However, if you prefer to get paid in Google Play credits, you may cash out your profits immediately and without a minimum.
Short surveys may be completed while waiting in line or on the metro. You'll be awarded Google Play or PayPal credit for each one you finish. Opinion polls, hotel ratings, and merchant satisfaction surveys are just a few covered topics. When a survey is ready, this Google app lets you know.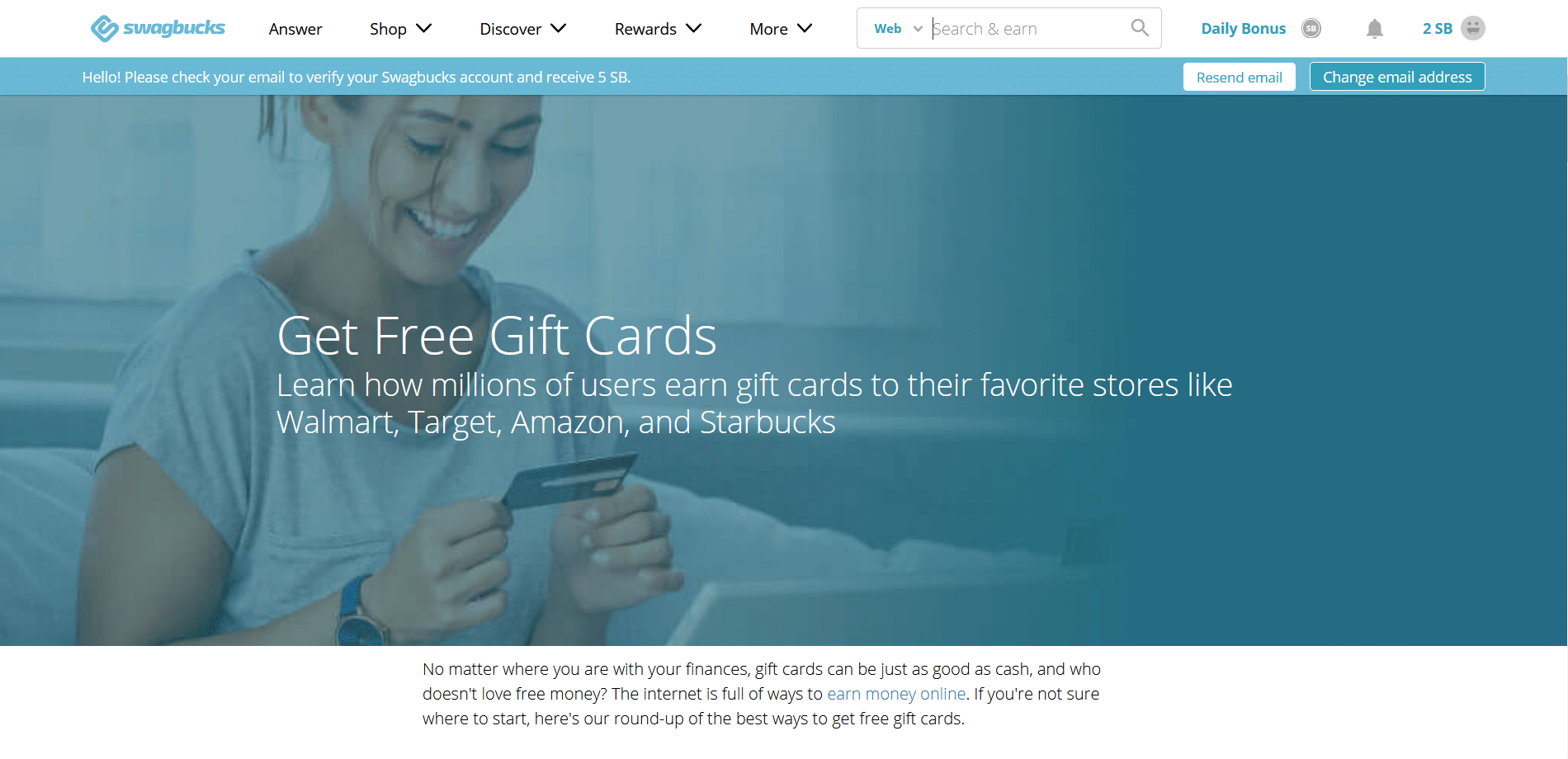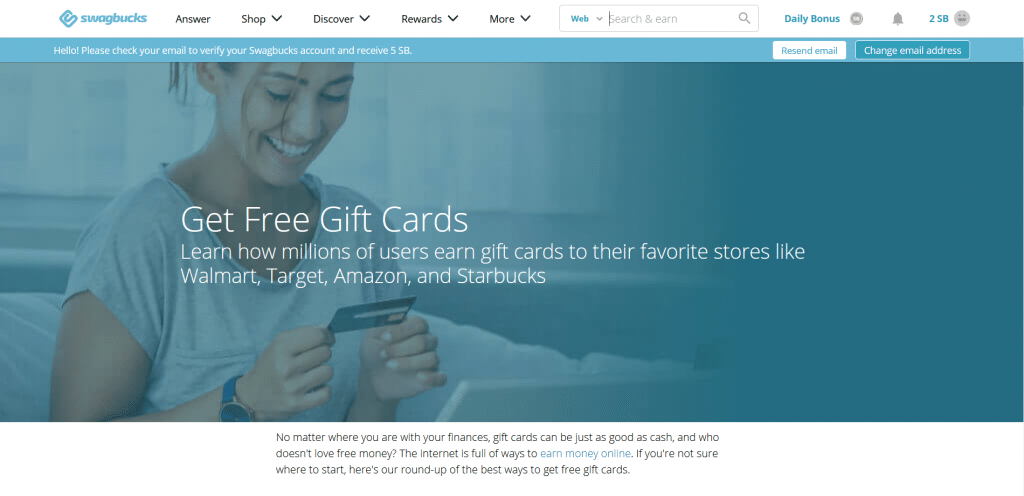 Swagbucks is a well-known get-paid-to site on the internet. Users may earn SBs by participating in surveys, polling, viewing videos, playing games, accepting special offers (such as free trial signup offers), and purchasing through the site's cashback shopping platform.
Once you've accumulated enough points, you may exchange them for cash or gift cards, including Google Play gift cards. Swagbucks frequently offers gift card discounts, allowing you to get the same gift card for a fraction of the face value.
Swagbucks is a rival to Google Opinion Rewards, with users redeeming over 10,000 gift cards every day! Swagbucks points may be exchanged for PayPal cash or free gift cards at Amazon, Google Play, Target, Visa, Walmart, Starbucks, Uber, and other retailers.
Save up and gain money with $250 PayPal deposits, or cash out your rewards for gift cards starting at $1. Spend your money on food and other necessities, as well as gifts for your loved ones. To get even more rewards, shop online with your gift cards.
Furthermore, shop at Amazon, Walmart, Target, Walgreens, CVS Pharmacy, Rite Aid, Safeway, Kroger, The Home Depot, Lowes, Groupon, and more to get cashback. You may earn cashback by buying in-store or online with our free app. Find the most recent promotions and offers from your favorite companies, from luxurious suites to a new pair of Nikes.
You may earn free Google Play Codes on your smartphone applications by using Swagbucks. You may get free Google Play codes by redeeming 5000 Swagbucks points for a $50 gift card at the Swagbucks reward shop.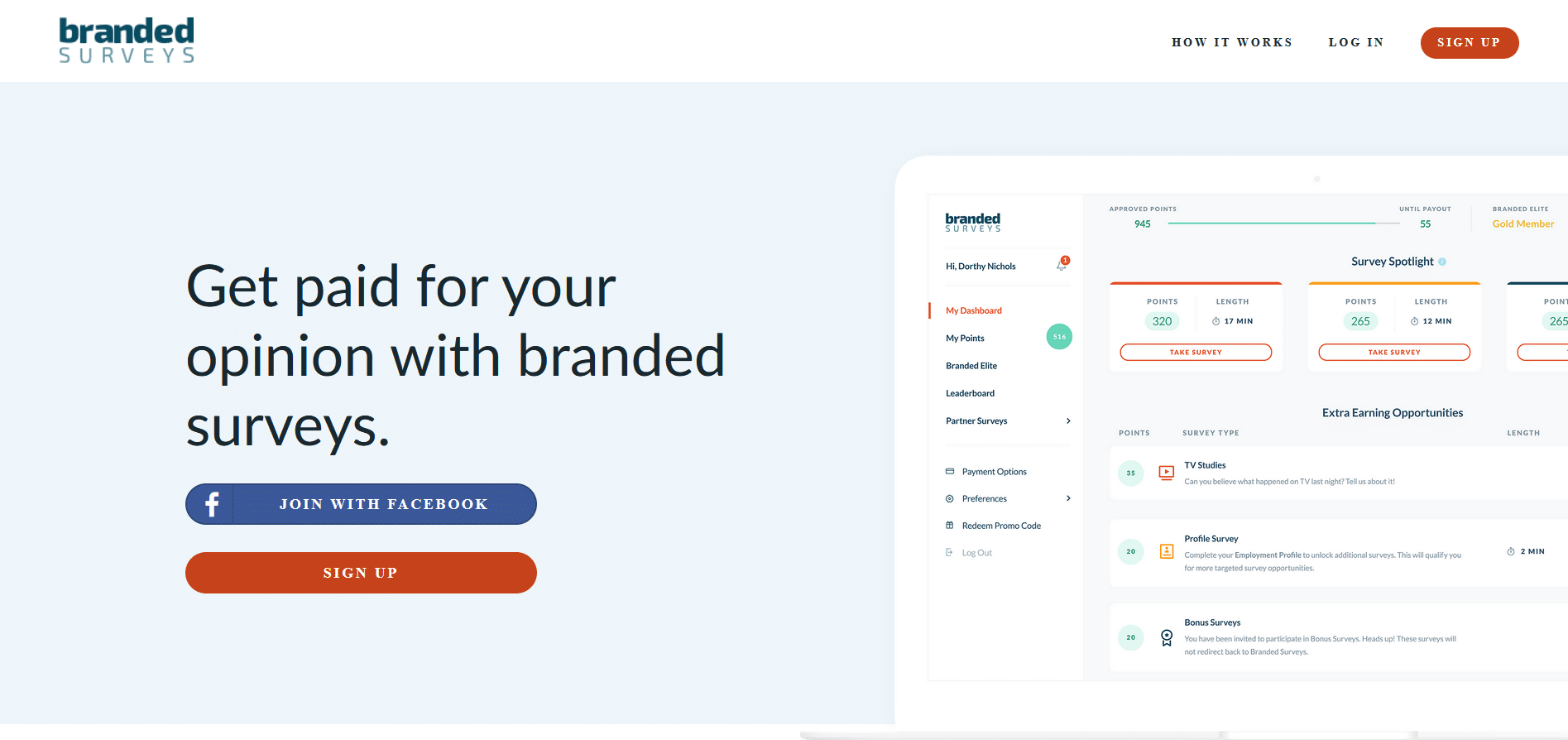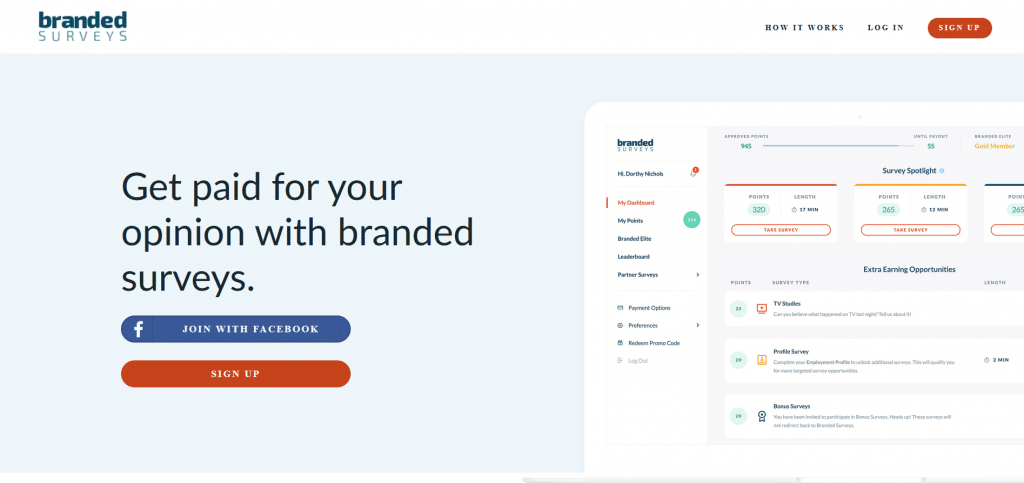 Branded Surveys is a legitimate paid survey service with a straightforward user interface and a modest $5 withdrawal threshold. During my experiment, I attempted 48 surveys, completed eight, and earned a total of $5.06 in the process.
If you think it seems like a high disqualification rate, you're right: after answering the initial screening questions, we were tossed out of 81 percent of the surveys we tried. We ended up earning only $2.20 per hour due to all that unpaid time.
Despite the high rejection rate, there are still things to enjoy about the platform if you're looking to make money with paid internet research, such as the never-ending supply of surveys and the straightforward, no-hassle cash-out method.
Because it gives you access to market research choices from a wide selection of polling businesses in a single, unified dashboard, Branded Surveys offers several possibilities to earn points toward a Google Play gift card. It also has a Branded Elite program, for which you must complete at least ten surveys each week. You can earn an additional 5% -19% points as part of the program.
You may exchange your points for several gift cards, including Google Play gift cards. There's also cash, PayPal, and the option to give your profits to charity.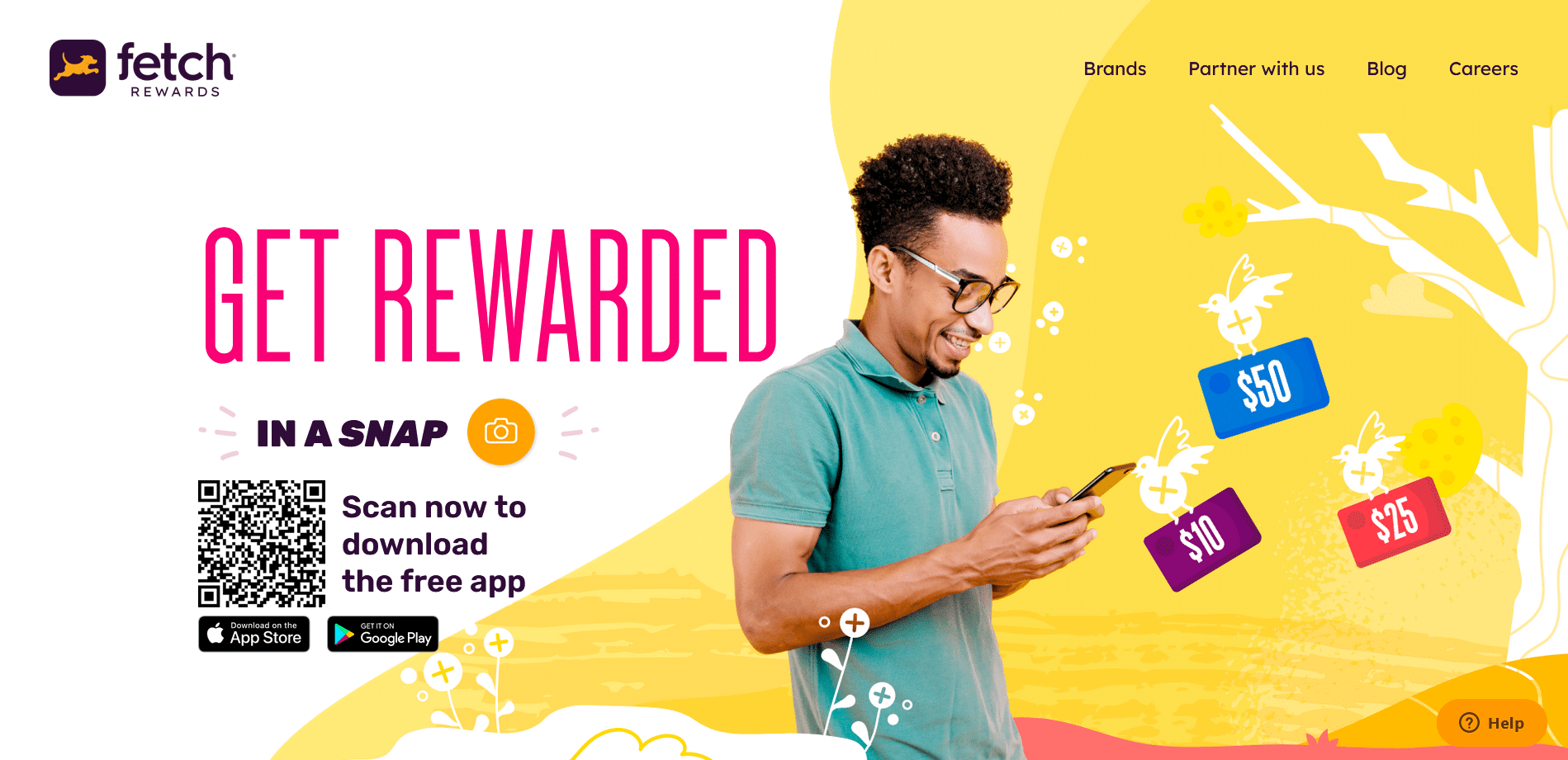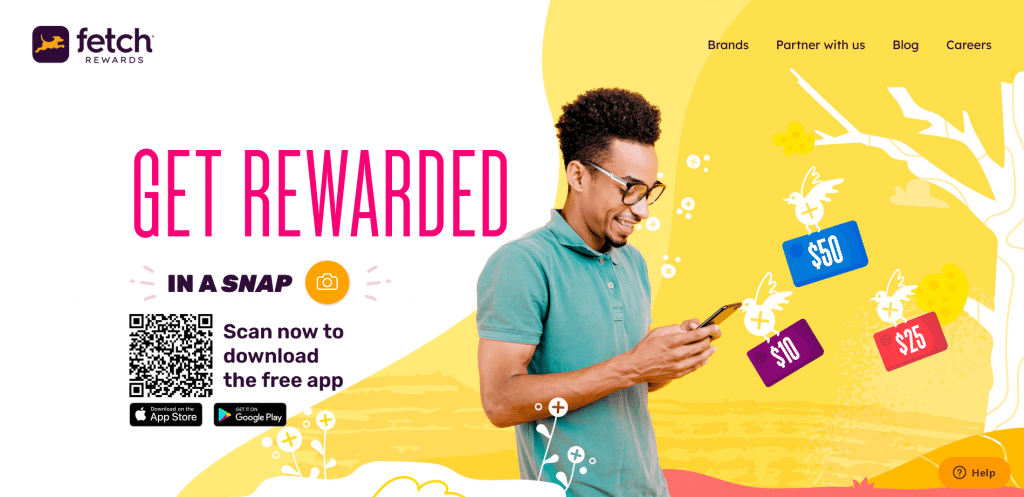 Fetch Rewards allows you to earn Google Play credits if you buy groceries every week. With a fast and easy mobile app that pays you for the purchases you already make, the Fetch Rewards app delivers everyday savings to your life.
Simply take a fast snapshot of any supermarket, hardware, pharmacy, or restaurant receipt with Fetch Rewards, and they'll credit your account with points redeemable for thousands of popular goods in seconds. Every receipt or eReceipt you scan will earn you points.
Unlike cashback and rebate applications that need you to unlock coupons before going grocery shopping or dining out, Fetch Rewards provides you discounts EVERY TIME you buy a qualifying product or eat at a participating restaurant, so you never miss out on savings.
Fetch pairs your purchases with food and beverage providers that have partnered with Fetch. Most non-grocery receipts can be scanned and rewarded with few points. With a $3 balance, you may begin redeeming your points for gift cards. Google Play credits are available in denominations of $10, $25, and $50.
You may submit any supermarket, restaurant, or shop receipt up to 14 days after the purchase date on the receipt, and you'll still collect all of your points. If you, your family, or your friends are frequent buyers, and they don't mind you scanning their receipts with Fetch Rewards, it will allow you to earn the Google Play vouchers you're looking for.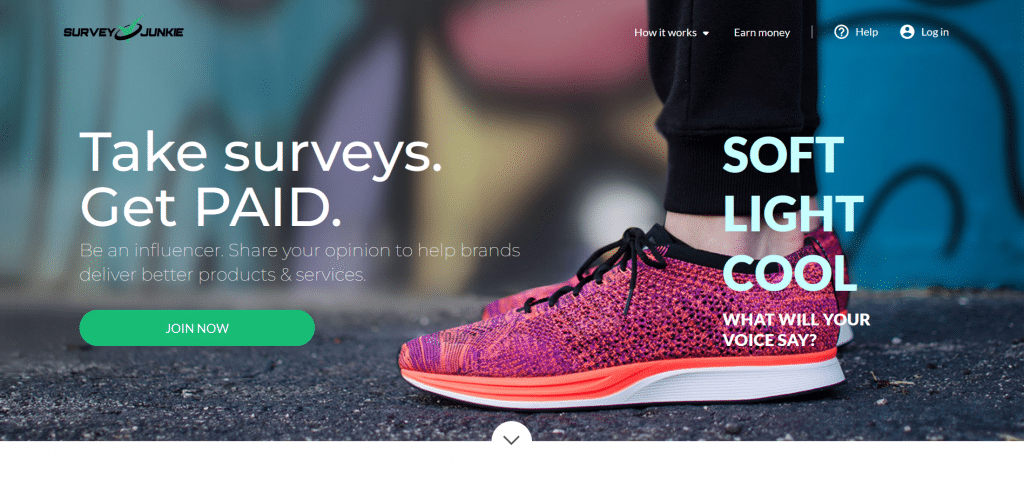 As the name suggests, Survey Junkie is a great place to earn points for taking surveys and sharing your thoughts when looking for free gift cards. With over 20 million users and a Trustpilot rating of 4.5/5 based on over 30,000 evaluations, Survey Junkie is one of the most trustworthy insights platforms.
Hundreds of thousands of individuals use their safe and secure platform every day to share their thoughts and behaviors to influence some of the world's most popular businesses and goods. It's a straightforward, user-friendly website that you can get started within a matter of minutes.
You'll need to establish an account and answer a few questions about yourself and your family to get started. From then, Survey Junkie will send you to survey opportunities through email, both in the app and on the website.
In addition, Survey Junkie periodically offers the chance to participate in focus groups, which pay higher than normal online quizzes, getting you that much closer to getting your Google Play gift cards.
On average, surveys on the site pay between 20 and 200 points for every survey, depending on duration. Points are paid out instantaneously, unlike many other survey sites, making it one of the fastest-paying survey sites on this list.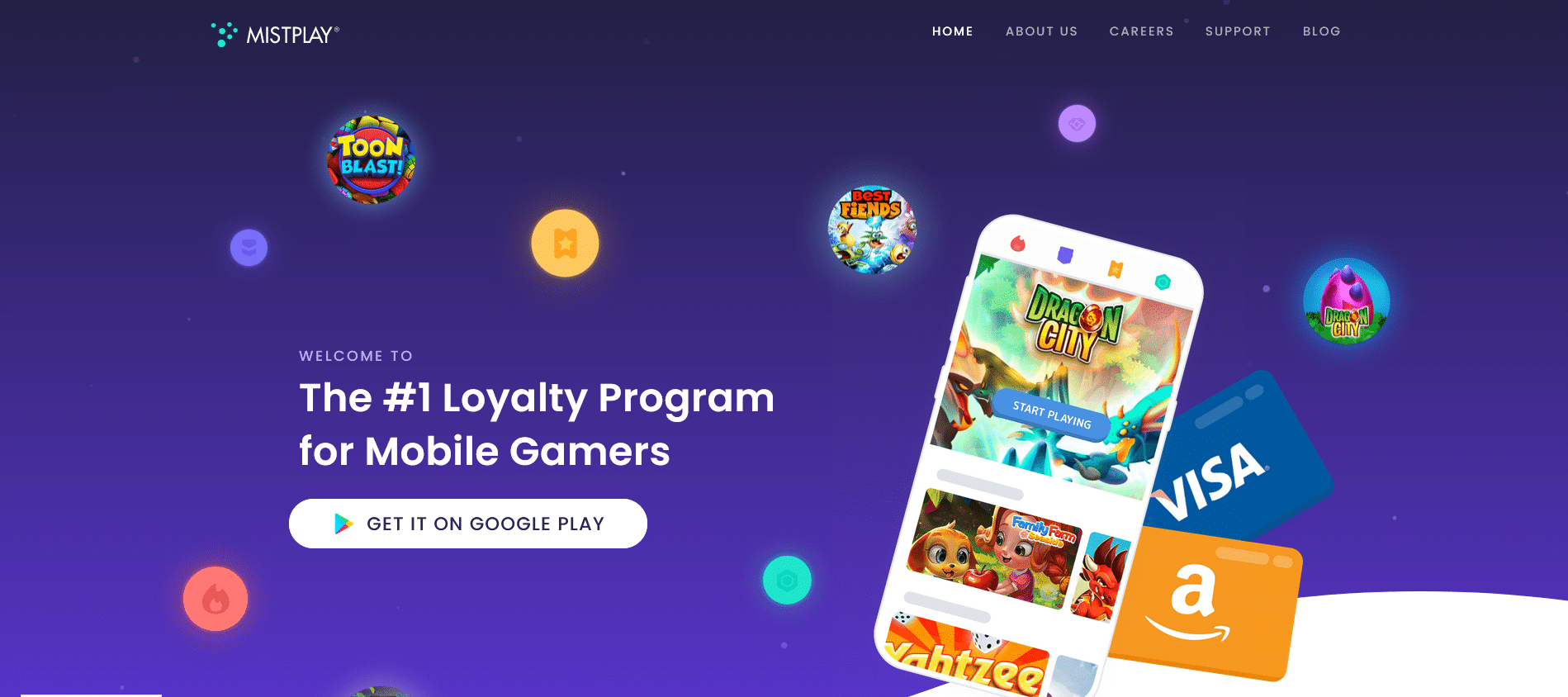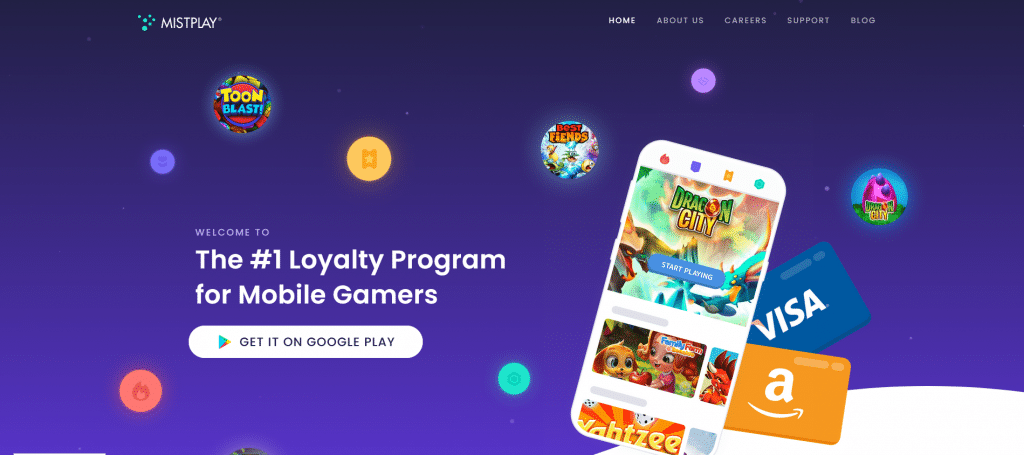 Google Play Rating: 4.5 of 5 stars ⭐⭐⭐⭐
Many individuals kill time by playing mobile games on their smartphones. Why not earn Google Play coupons by playing games if you're an Android user, so you can buy additional games?
That's indeed what Mistplay allows you to accomplish. This list has something for everyone, whether you're a hard-core gamer wanting to get into competitive e-sports or just want to make a few cash playing enjoyable games at home in your leisure time.
And yes, all of these concepts work — albeit some are far more straightforward to implement than others. Mistplay will recommend games to play once you've downloaded them. Then, using your Mixlist, you can design your own bespoke list of these games to optimize your enjoyment while earning.
Currently, Mistplay can only be accessed through Android devices. However, you may gain more points (called Units) the longer you play each game. Collect enough points to exchange for Google Play vouchers.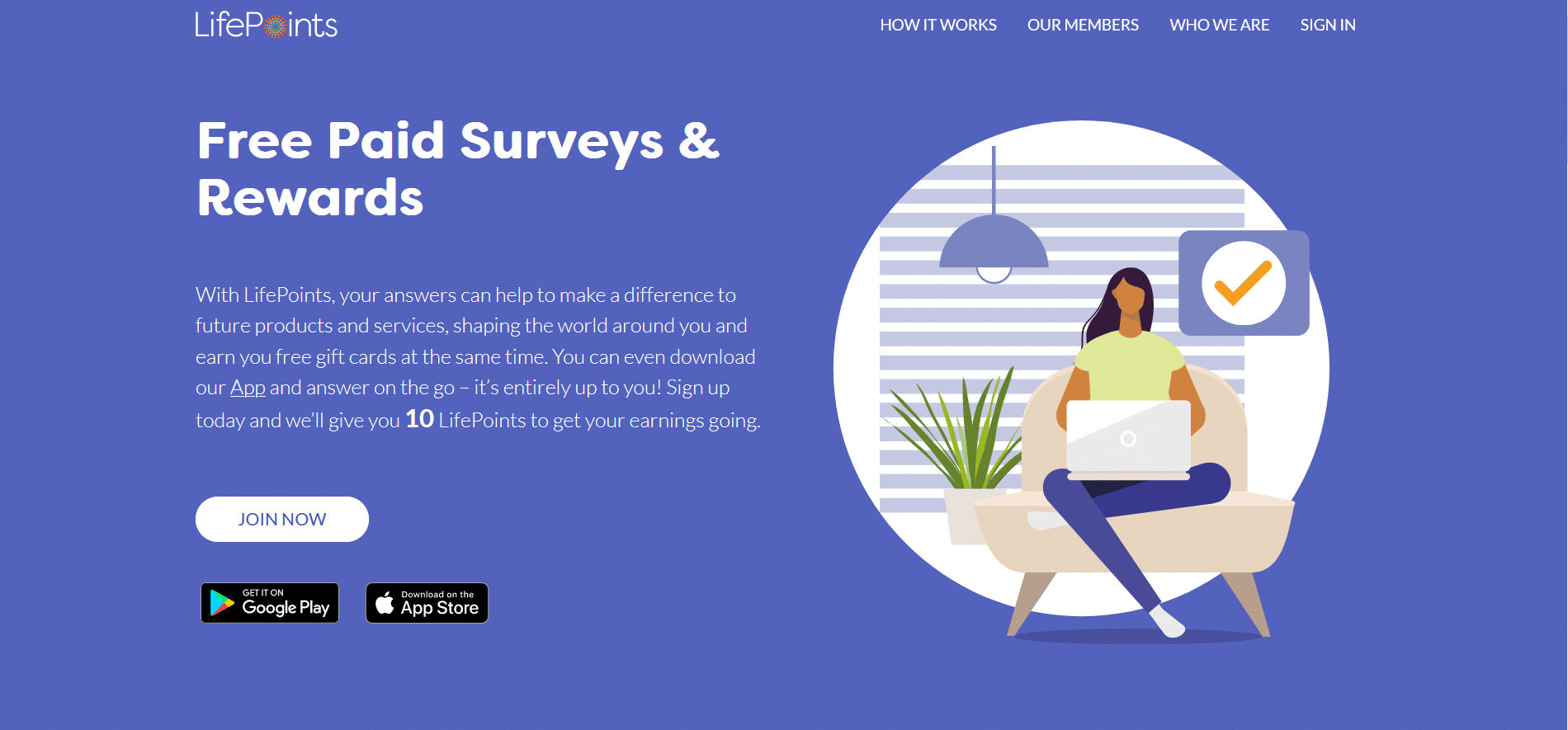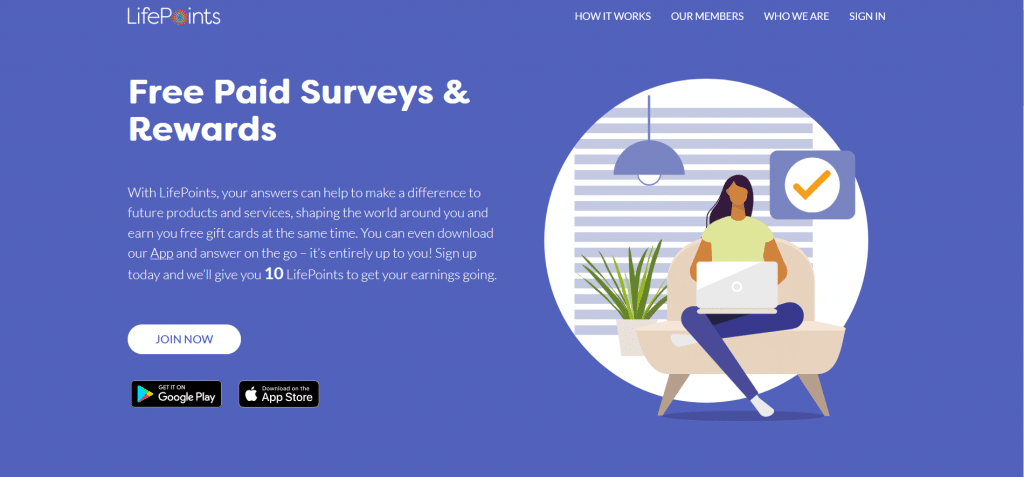 One of the largest survey communities is LifePoints. Each day, you can complete many questionnaires. Most surveys take 15 minutes or less to complete, and with 1,080 rewards points, you may earn $10 in Google Play gift cards.
When you join, you will receive a bonus of 10 LifePoints. There are also online contests where you may win points regularly. In 2019, MySurvey and Lightspeed, two worldwide market research firms, merged to form LifePoints.
When you sign up with LifePoints, you'll be able to do surveys in exchange for points, which you can then exchange for electronic free gift cards (e-gift cards, including Google Play codes), cash via PayPal, or a charitable donation.
Unlike many of its English-only rivals, LifePoints offers surveys in 26 languages from across the world. Almost anybody may express an opinion and earn points by doing so.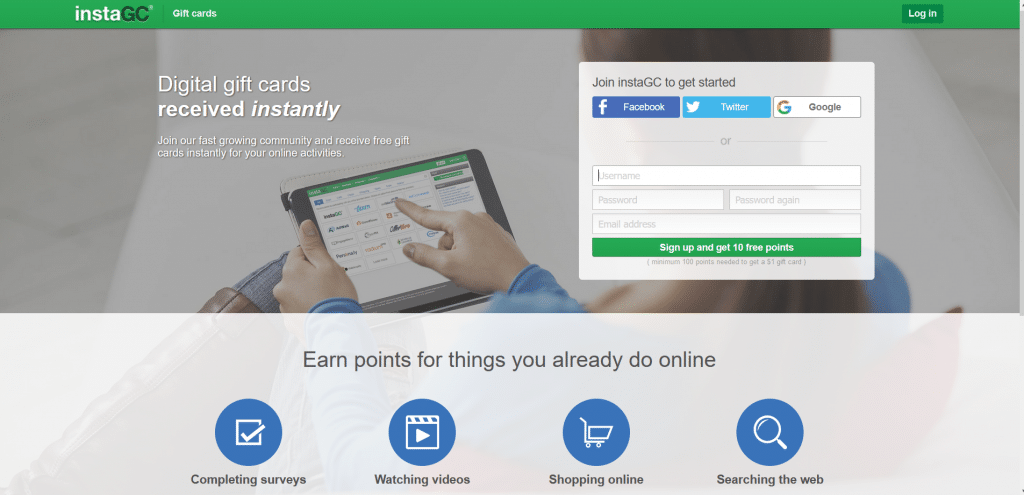 Instant Gift Cards, or InstaGC, rewards you with points for various activities, such as doing surveys or simply browsing the web. Although there is no mobile app, InstaGC does have a mobile-friendly website where you may earn while on the move.
Because InstaGC links with many of the same task networks as other online survey companies, InstaGC is a legitimate side income. It is a wonderful option if you like little, frequent payments because you just need a $1 balance to redeem points.
When you combine it with various earning options, you may receive free applications and games from the Google Play Store in no time.
Related Questions
How To Redeem Google Play Codes
It's the same process for redeeming your free credits as purchasing credits. Your credits may be redeemed in Google Play applications. You may go to the Google Play store on your PC. That said, the following is how to redeem Google Play codes:
Go to the Google Play website or download the app.
Select "Redeem" from the drop-down menu.
A window will open with a textbox for you to enter your code.
Once entered, select redeem, and Google will verify the code.
Once accepted, viola! You can use your code as you please.
The credits will be credited to your Google Play account balance immediately. Google utilizes your credit balance before charging your credit card when you purchase apps or through in-app purchases.
How Do The Apps Collect My Personal Information?
Most survey and shopping applications keep track of your name, age, and email address. You must share your buying habits and personal comments to earn rewards points. While market research firms may use this data to help develop their business goals, your personal information should stay private. 

Finally, some apps would request access to your location to add that information collected by detailed surveys. As a result, the app itself does not track you but instead shares that information with the company requesting the surveys to be completed.
Is It Possible To Convert Google Play Credits To Cash?
Unfortunately, Google Play credits can only be used to make purchases on the Google Play Store. With your credits, you may also be able to purchase a YouTube premium membership or Android products from the Google Store.