How To Get Free Cat Samples
Important Note: When you buy through our links, we may earn a commission. As an Amazon Associate we earn from qualifying purchases. Content, pricing, offers and availability are subject to change at any time - more info.
Key Takeaways
Cat lovers can receive free cat food, toys, accessories, etc., from many online pet retailers such as Young Again Pet Foods, Fauna Care, and more.
There may be a likelihood for you to grab a few samples for your cat at your local pet store or clinic and veterinarian.
Some pet product retailers send samples to pet owners for a small fee (handling and shipping). However, sometimes you must pay as little as $1 for cat samples.
A few online pet stores only ask for a review of the products you previously purchased from them. After you submit the review, they will send you free cat samples.
Let us get smart! You can get free cat samples from numerous pet retailers, local pet stores, or clinics. This is a fantastic way to test out different brands and see what your picky cat likes best, and you do not have to pay a penny! So, how and where can you get free cat samples?
---
Advertisement
---
How To Get Free Cat Samples?
Everyone enjoys freebies because not only does it help you save money, but you can test if your pet fancies the product before buying it in the future. Luckily, pet stores and clinics know how picky cats are, and they are kind enough to supply us with free samples.
Receiving the samples is relatively easy. You can request it on the websites, call the pet store or clinic, leave a review to qualify, or buy samples for as little as $1. Let us look at a list of pet stores and their websites where you can free request samples for your cat.
Yo! Free Samples
The samples in this post can expire or run of stock at any time and it's totally up to the companies actually offering the samples. We constantly update samples that companies are offering for cats, see the latest cat freebies below.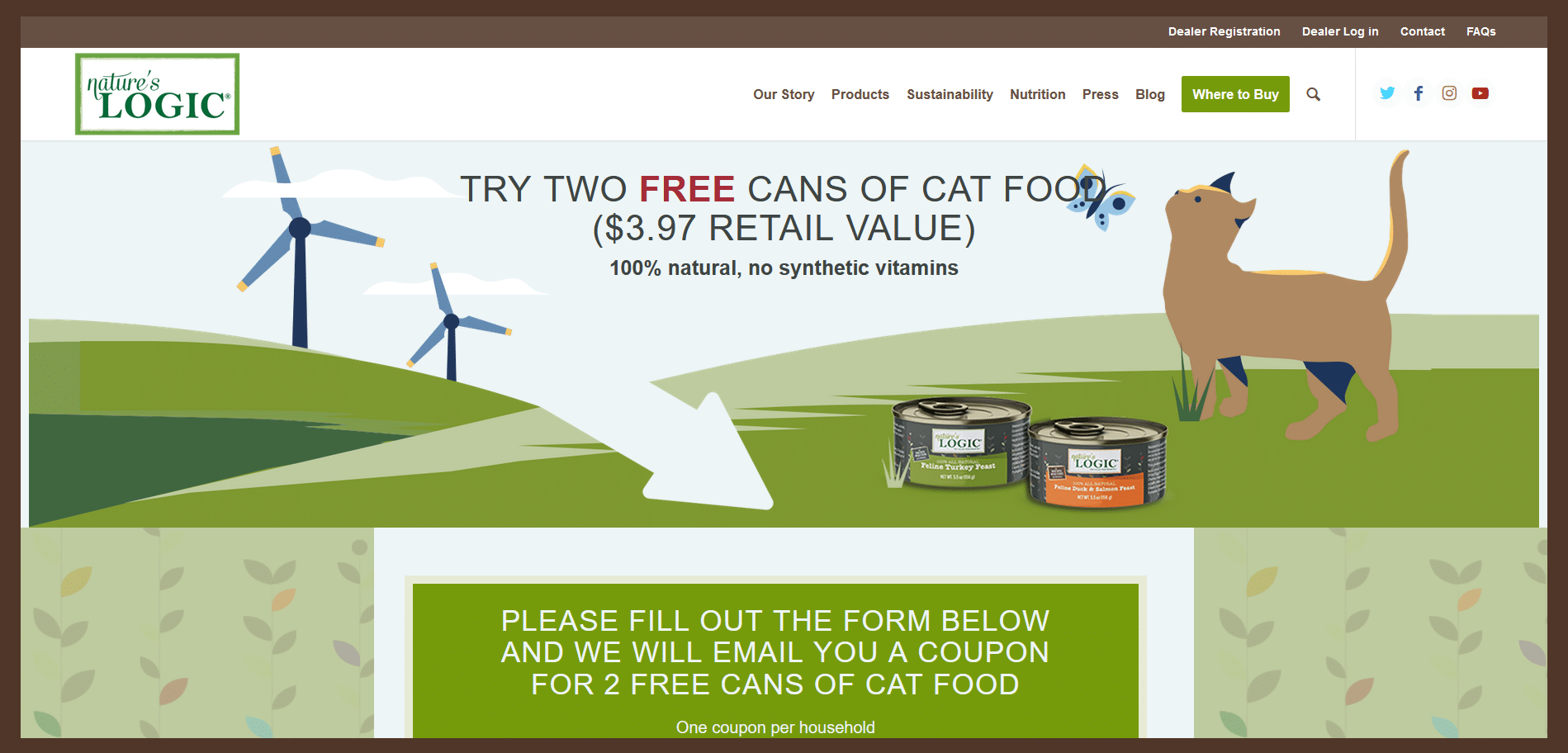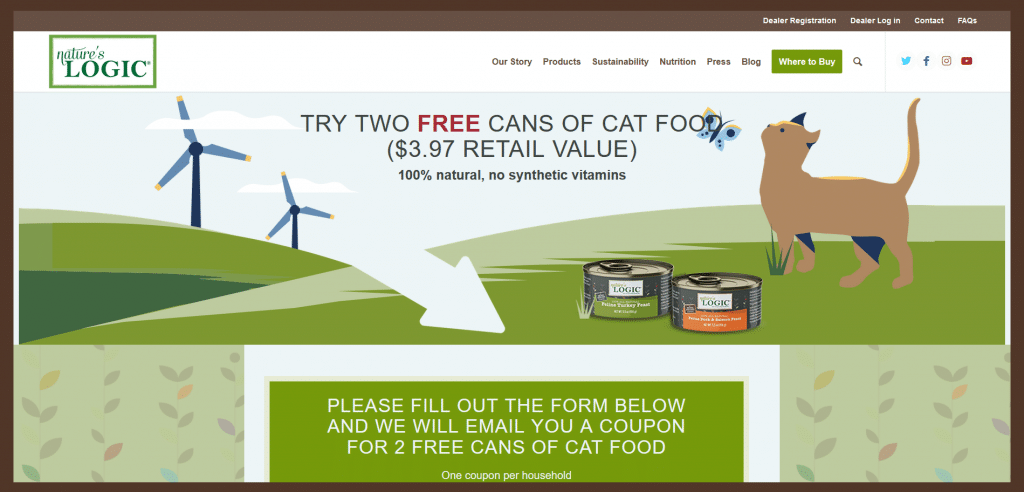 Nature's Logic opened its doors in 2006 in Lincoln, Nebraska, and their website feature very satisfied and happy pets! Their products are 100% natural, nutritious, and delicious!
To get your chance at a freebie for your cat, Nature's Logic gives coupons for two free cans of cat food (valued at $3.97). You can redeem the coupon at your local independent pet retailer. All you got to do is fill out a form, submit it, and they will email you the coupon (one coupon per household).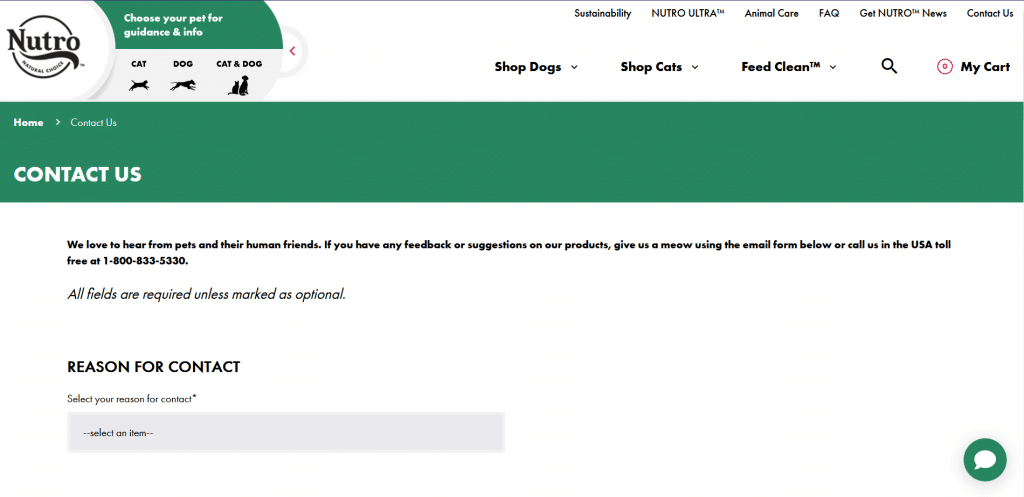 Nutro brand's headquarters is located in Franklin, Tennessee. They provide their quality pet products to major retailers and pet specialty stores. Nutro has been in operation for over 90 years and has developed a good and healthy for our pets.
Honestly, it would be fantastic if you could get your hands on a free cat sample from Nutro. The process is quick! You need to fill in the "Contact us" form on their website and select your reason for contact (coupons or samples).
The rest is required general information such as your name, surname, and email address. Once you have reached the "About your contact" section, fill in the subject and leave a comment if your pet has any allergies or distaste for specific ingredients and flavors.
You can provide details of your cat like their breed, name, date of birth, and gender if you would like to. Then, add a photo of your furry companion to really steal their heart!
Subscribe to their newsletter, complete the captcha, and send the form! They will get back to your request as soon as possible, so be patient!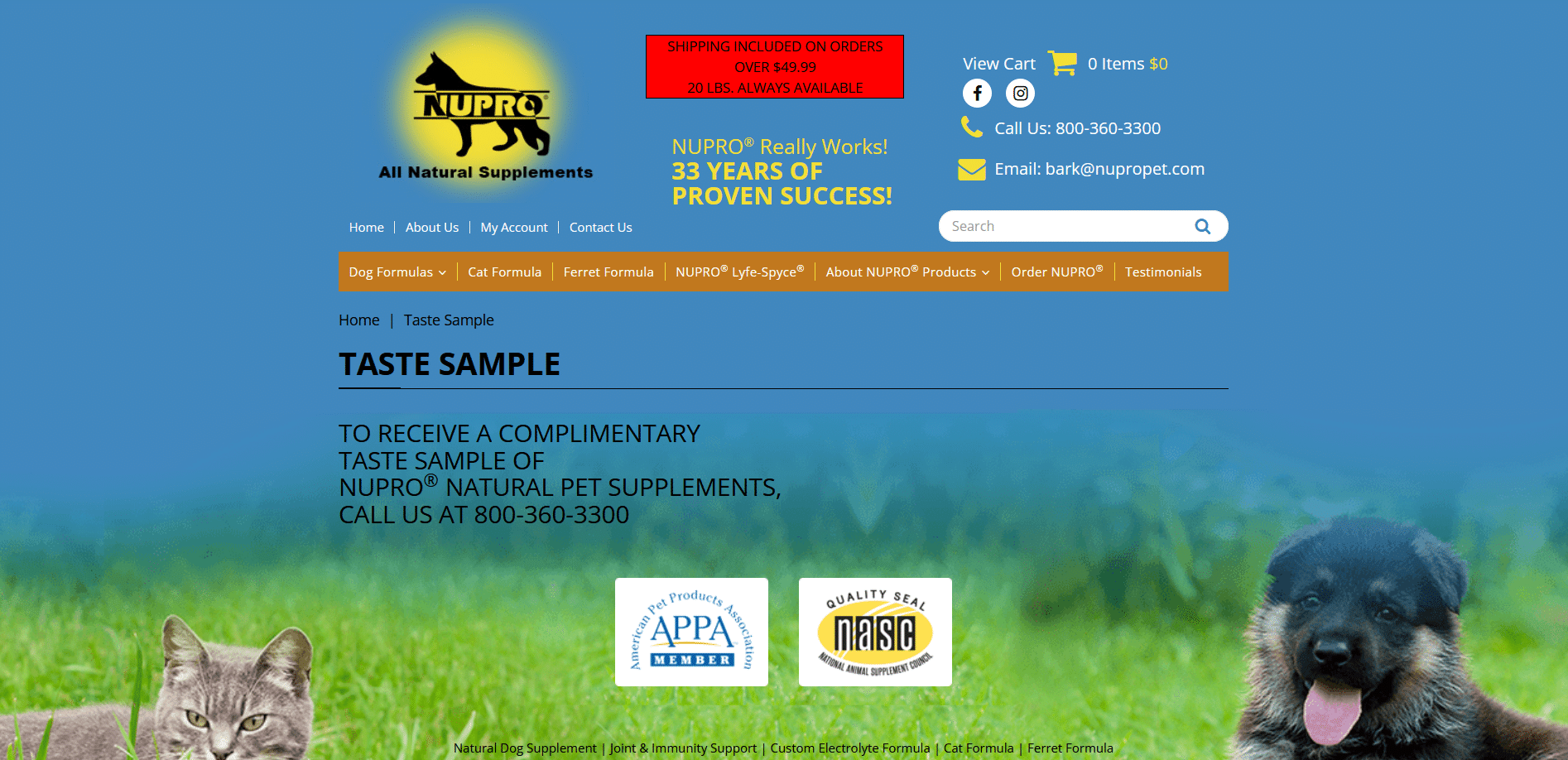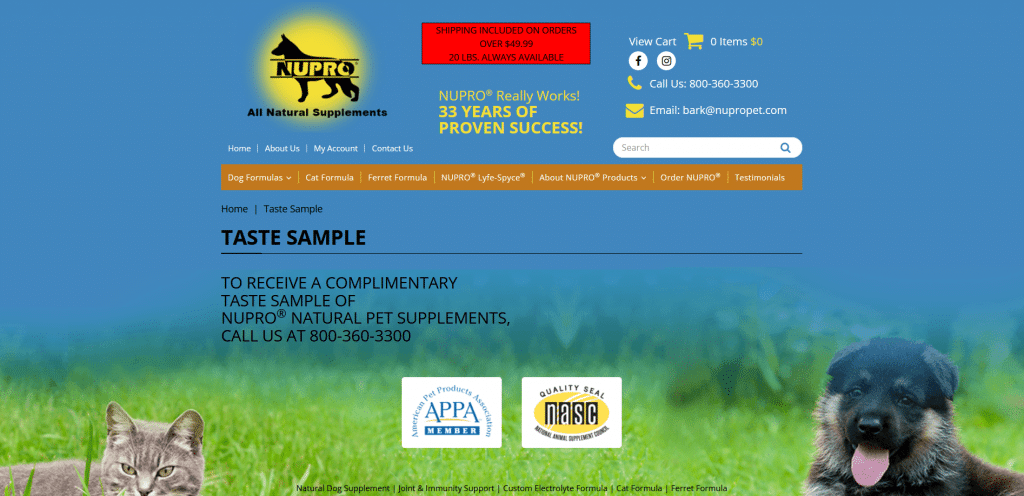 Nupro Supplements is in East Manalapan, New Jersey, and they have been in business for 33 years. It is clear from their long list of positive testimonials that Nupro Supplements offers excellent healthy, tasty, and quality pet food.
For a taste sample of Nupro Natural Pet Supplements, you can call them on 800-360-3300 and book your cat a lovely treat. Ensure you mention if your cat has any allergies or is not fond of certain flavors.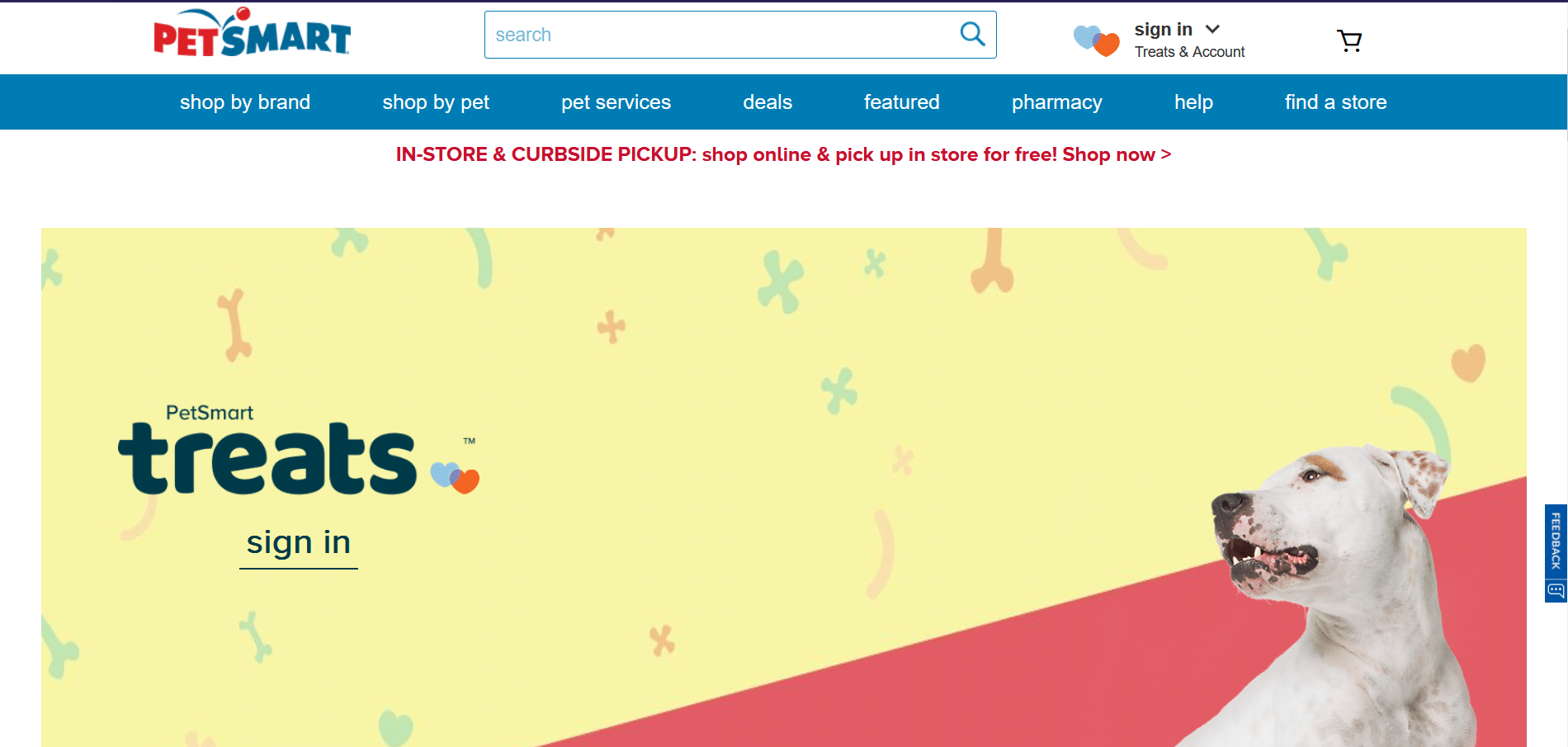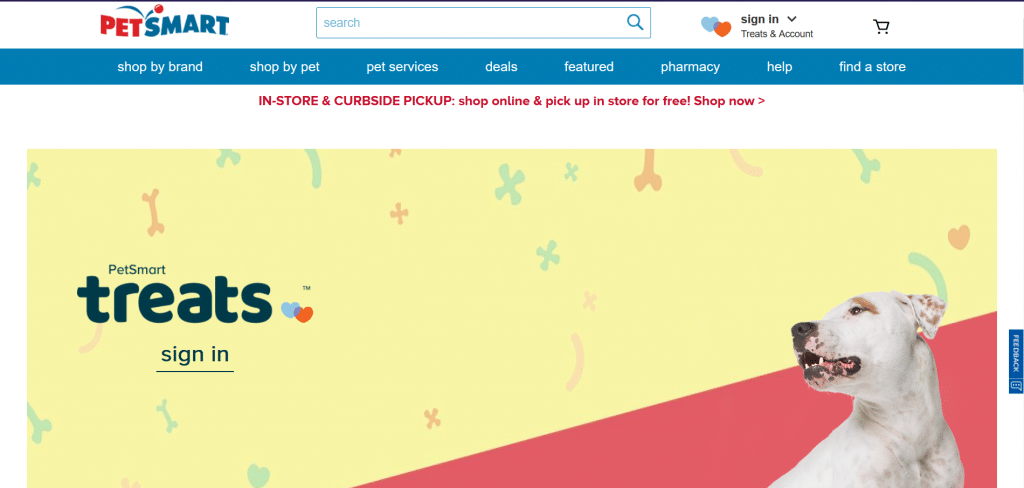 How does a free surprise gift on your cat's birthday sound? This is part of their treats program. PetSmart has about 1650 pet stores in Canada, the United States, and Puerto Rico. What makes them stand out is the services they offer pet owners like pet grooming, pet boarding, and pet adoption (they work with almost 4,000 animal welfare organizations).
PetSmart is a larger retailer than most I mentioned or will mention on this list. However, they have numerous brands, and they all provide your cat with the nutrients, vitamins, and minerals they need to keep a healthy mind and body.
PetSmart runs a treats program where customers can make an online profile in local retailers, their website (www.petsmart.com), on their PetSmart app, which is available for download on your App store.
There is a list of benefits pet owners gain when joining the program, like earning points, discounts, and free shipping. However, the best part of the program is surprising your cat with a free birthday gift from PetSmart!
You must sign up and confirm your profile to qualify for your cat's free birthday gift.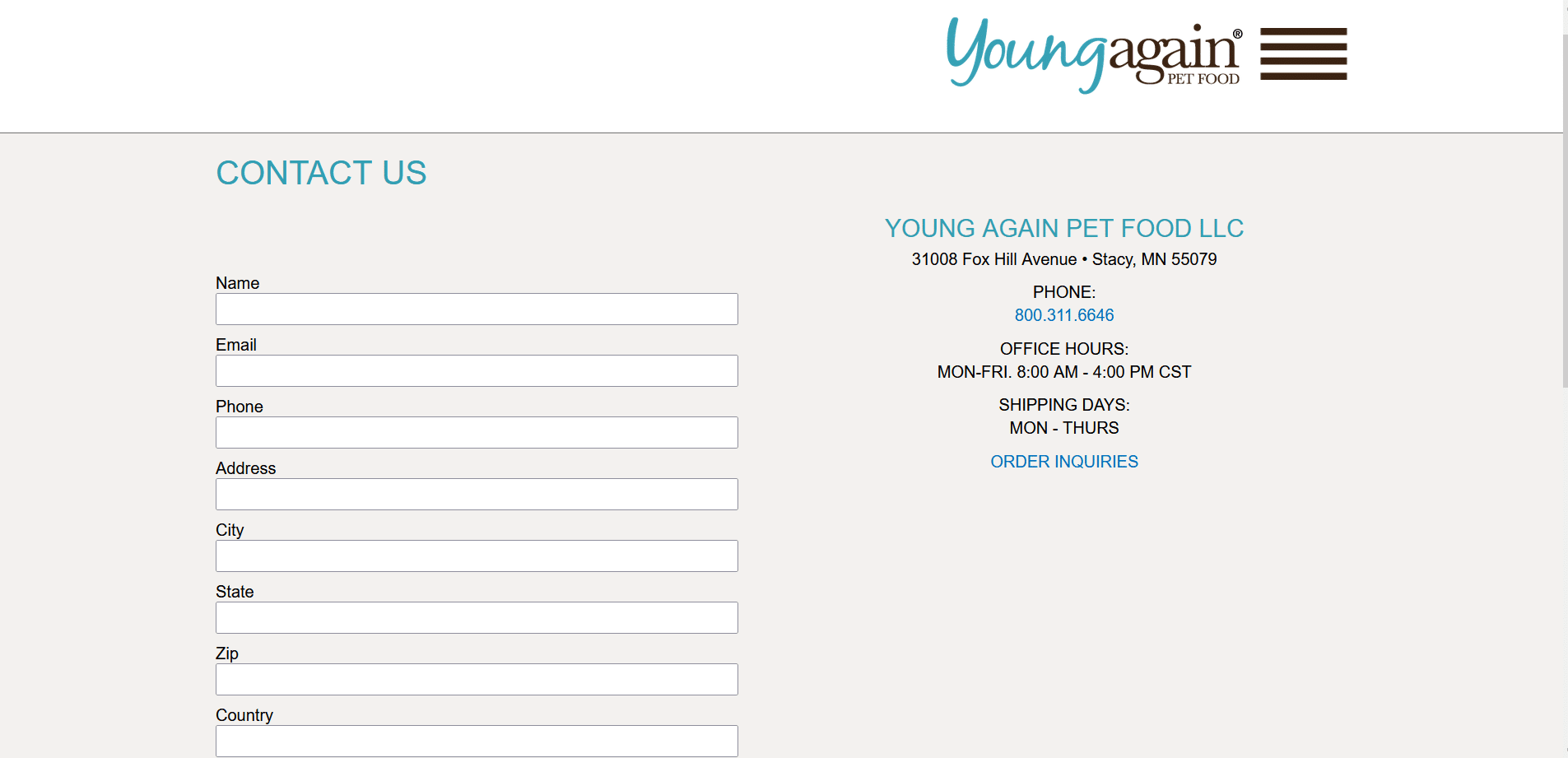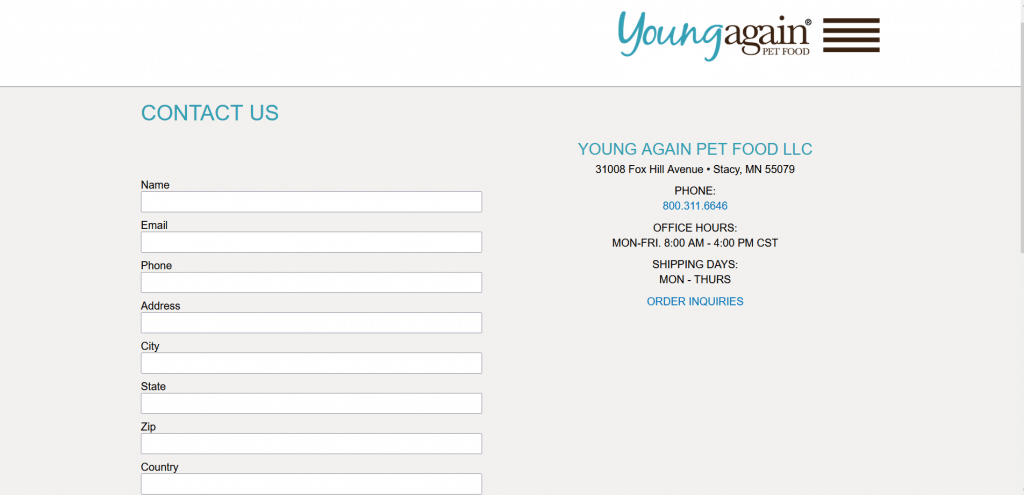 Young Again Pet Food has been in operation for over 30 years, and they are still making a huge name for themselves by ensuring high-quality and valued pet food. Young Again is situated in Stacy, Minnesota. To nourish your pets with healthy and delicious food and snacks, they use up-to-the-minute technology.
Customers may request samples from Young Again via email
info@youngagainpetfood.com, by filling in the "Contact us" form on their site or call them on 800-311-6646.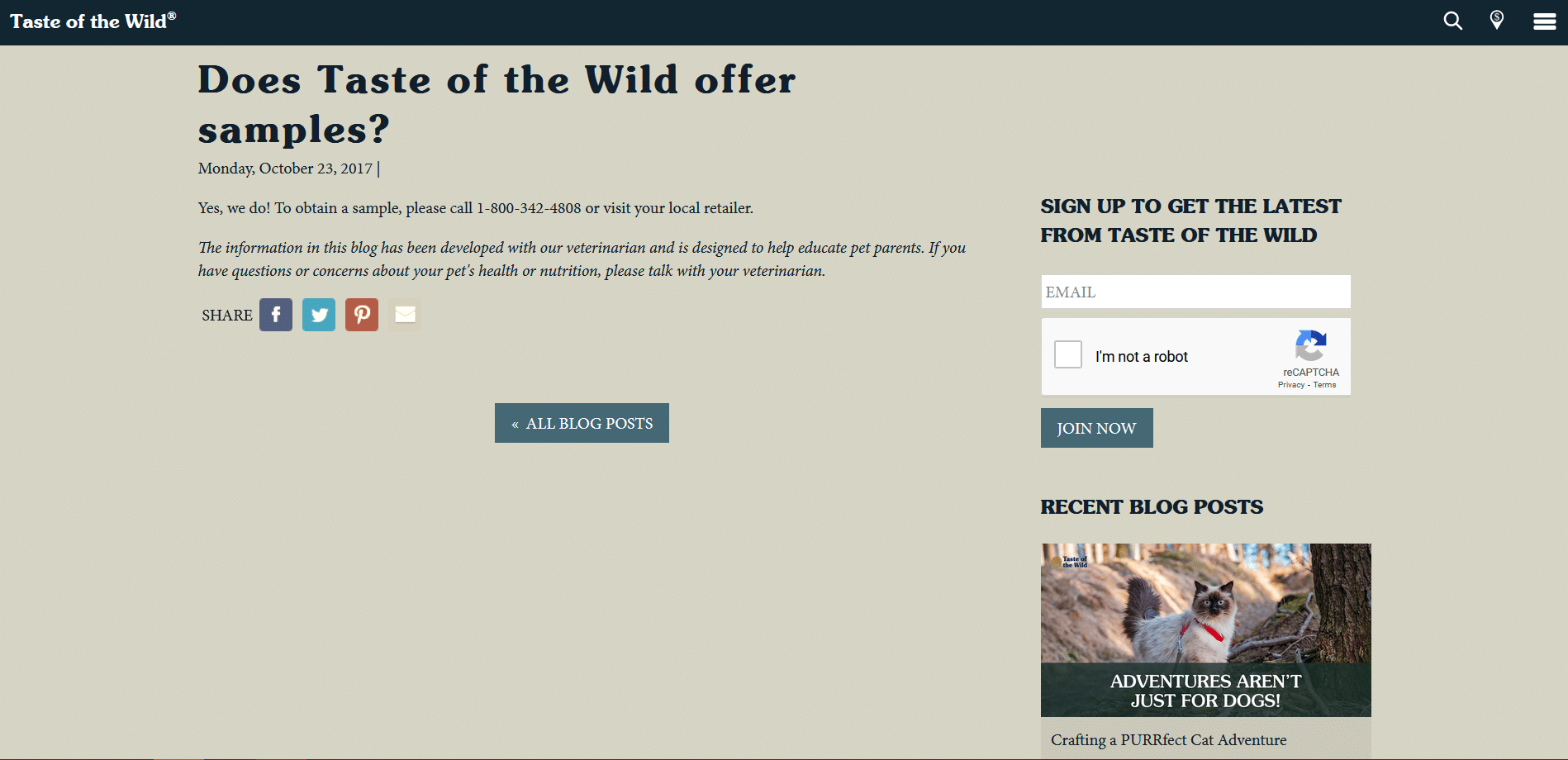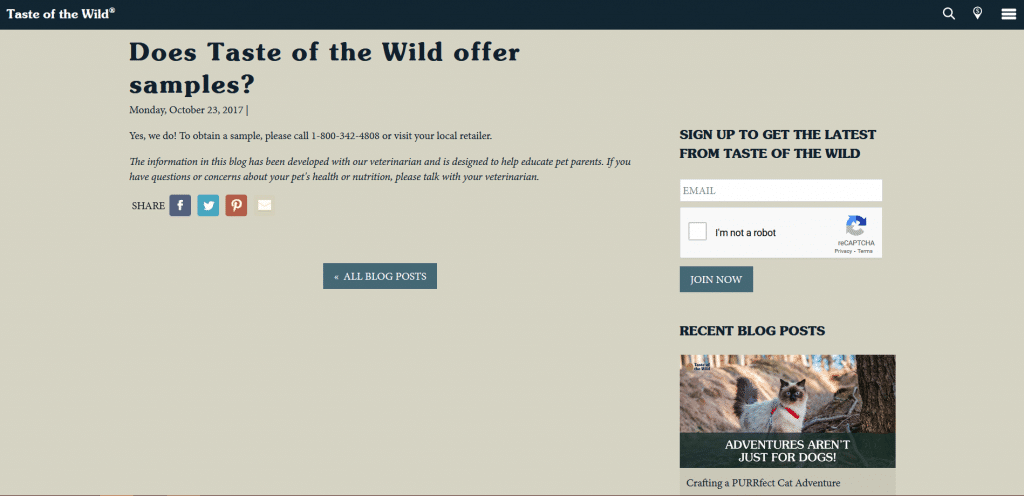 You can purchase Taste of the Wild products at any authorized retailers or online, e.g., Amazon, Petco., Mudbay, etc. In addition, they can ship their products worldwide so that every furry companion can indulge in their flavorsome range of food.
They offer free samples at their local retailers, or customers can contact them on 1-800-342-4808.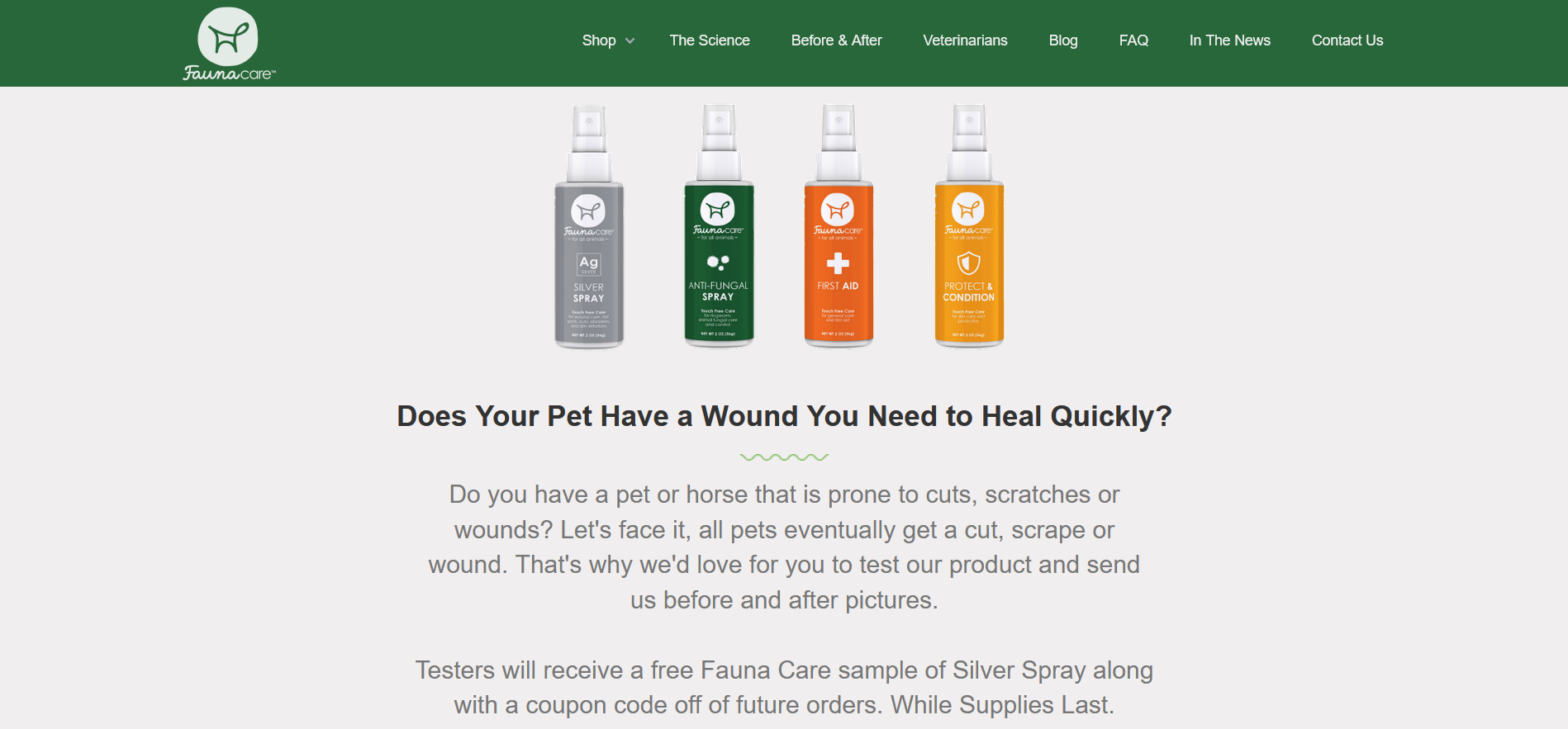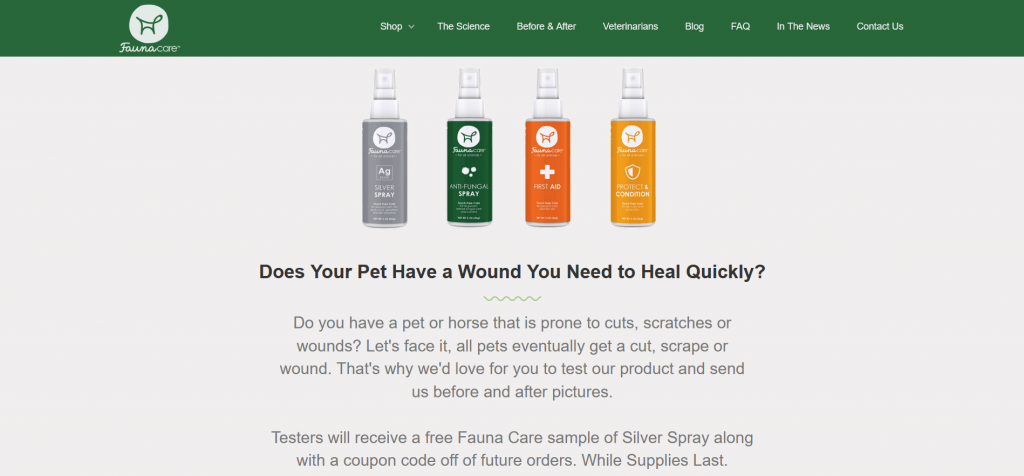 Fauna Care provides healing and care products for pets, equines, and vets. They use scientifically proven ingredients to help your animal heal fast and well. For examples, you can click on the "Before & After" tab on their website (some may find recoil when viewing the images) and see how amazing their healing products work.
Before receiving a free Fauna Care Silver Spray sample, you must test their product and send before and after pictures they can use on their website and social media.
Afterward, Fauna Care will send your free Silver Spray sample plus a coupon code for future orders.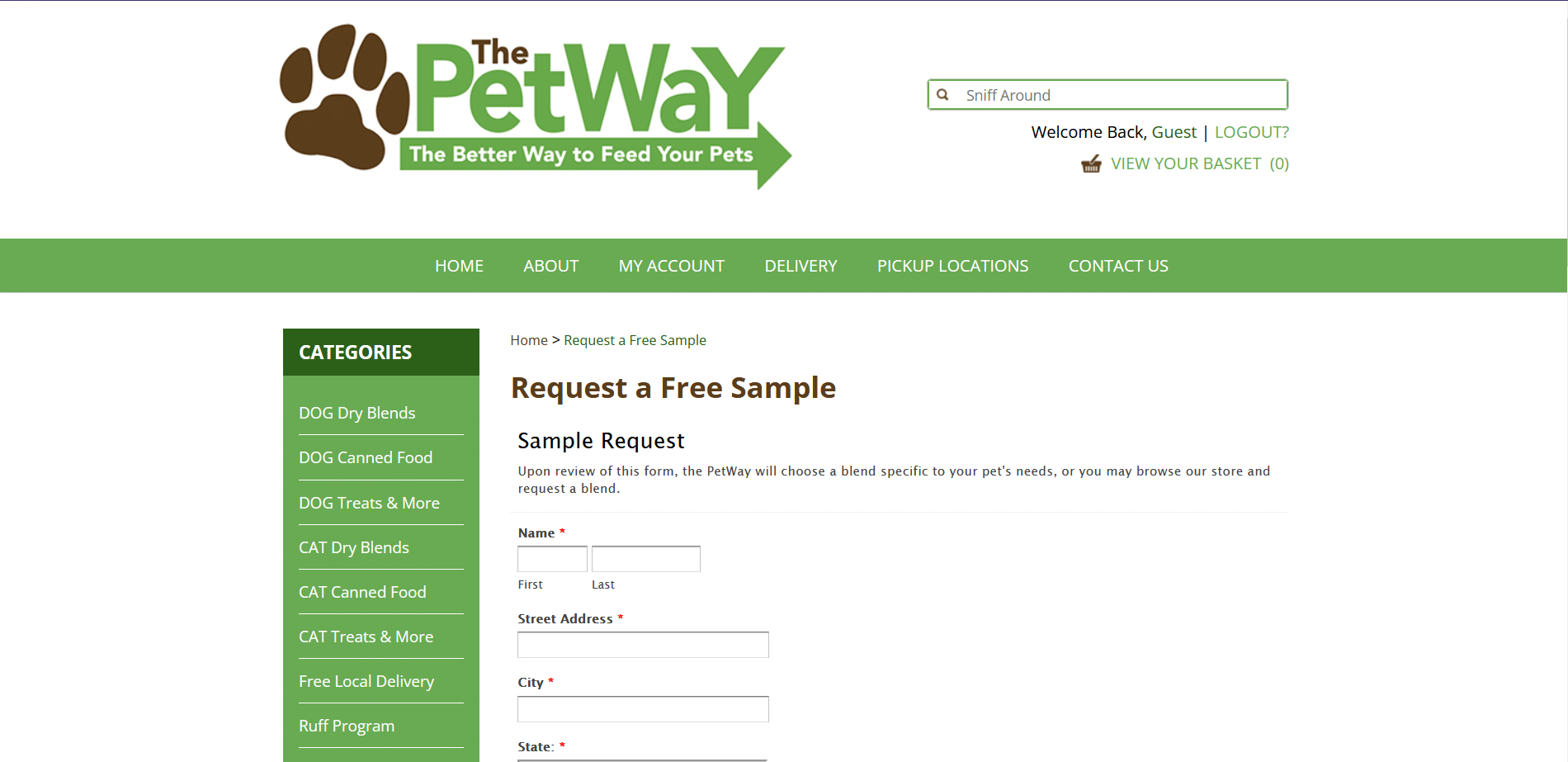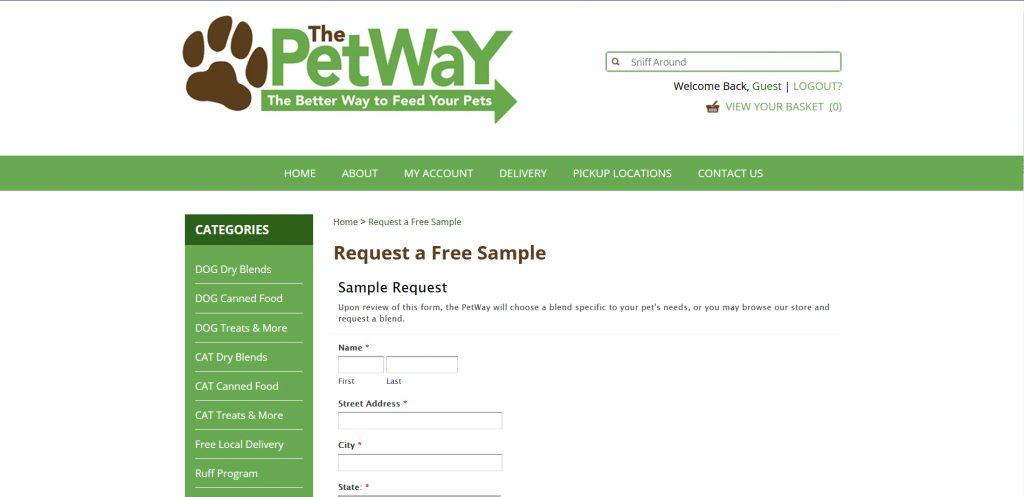 Located in Moyock, North Carolina, the Pet Way Shop was founded in 2007 with the mission to give pets food that tastes well is suitable for their overall health and digestive system.
Their high-quality food is made of a combination of probiotics, prebiotics, glucosamine, and chondroitin (joint support). You can browse their products and select your favorite one for a sample or allow them to pick a blend specific to your cat's needs.
Fill out the "Request a Free Sample" form and tell them more about your cat (mention any allergies) and whether you want to select from their range of products or get a professional to choose a specific blend for your cat.
Related Questions
Now that you know of a few websites you can visit to claim freebies for your cat, you need to get to it right away! I suggest signing up for newsletters since some retailers offer free cat samples for a limited time and people.
So, keep your eye on those emails that will help save money and award your furry companion with the quality products they deserve. Look at three common questions cat owners need the answers to:
Why Must I Check The Ingredients Before Taking Free Cat Food? 
If your cat has any allergies or may be allergic to certain ingredients, it is essential to read the food's descriptions and components before feeding it to your cat. Some ingredients are detrimental to a cat's health and affect their digestive system, so watch out for those. 

Your cat might show an allergic reaction that you were unaware of after eating the cat food and treats. The advised action is to take your cat to the veterinarian for a check-up and determine what might have caused the hypersensitivity.  
Do You Get Free Sample Boxes For Cats?
Many of the retailers that promoted free cat samples no longer do. There is no surprise that there is more dog than cat samples; however, these retailers offer discounts, coupons, or a chance to win a few items. If you stumble across pet stores that offer free sample boxes for cats, you must be lucky! There are no pet stores that offer free sample boxes that I know of. 

You would have to pay a small amount and the shipping and handling fee. Buying samples boxes for your cat is not costly, depending on what they include, but most times, they send great products and items for your cat to test. 
What Nutrients Does My Cat Need To Stay Healthy?
When purchasing cat food or requesting a free sample, ensure the product includes the following nutrients for your cat to stay healthy: 
-Good fats are present in meat and fish and essential fatty acids like Omega 3 and Omega 6. 
-Cat food must include animal protein present in chicken, turkey, eggs, beef, and fish. 
-Carbohydrates from grains like wheat and rice are digestibly mixed into wet cat foods.
-Vitamin A, D, B1 (thiamine), B2 (riboflavin), B3 (niacin), and B6 (pyridoxine) must be given to your cat in the correct proportions. Cat food should compromise out of these vitamins, so choose an excellent nutritious brand. 
-Minerals like iron, magnesium, calcium, chloride, and sodium are beneficial for your cat's health. Most of these minerals are present in wet and dry food.