Best Free AI Voice Generators
Important Note: When you buy through our links, we may earn a commission. As an Amazon Associate we earn from qualifying purchases. Content, pricing, offers and availability are subject to change at any time - more info.
Key Takeaways
The Voice Generator should be user-friendly and straightforward to use and understand.
The synthesized voice should sound as natural as any human voice without seeming robotic.
It should provide you access to a large number and accents of high-quality AI voices.
Text-to-speech conversion should be smooth, with all words correctly spoken.
It should allow for easy customization when you want to make changes.
Helping learners with learning issues with grammar is a great advantage of using voice generators.
The technology should be accessible (free) in a basic format or cost-effective, especially for small businesses.
Voice cloning no longer needs vast quantities of voice samples, nor does it necessitate the use of specialized equipment. Choose the finest AI Voice Generator for fantastic results among the various computer voice generators on the market today.
---
Advertisement
---
What To Look For In A Free Ai Voice Generator?
Many businesses and content creators rely on text-to-speech technologies to create natural-sounding content without hiring a professional voice actor or studio. A free version is an excellent way to evaluate the product before buying.
It was formerly primarily used for entertainment, but it has now expanded to include a variety of commercial and business uses. For example, thanks to sophisticated AI and voice synthesis technology, mimicking any voice has become more accessible.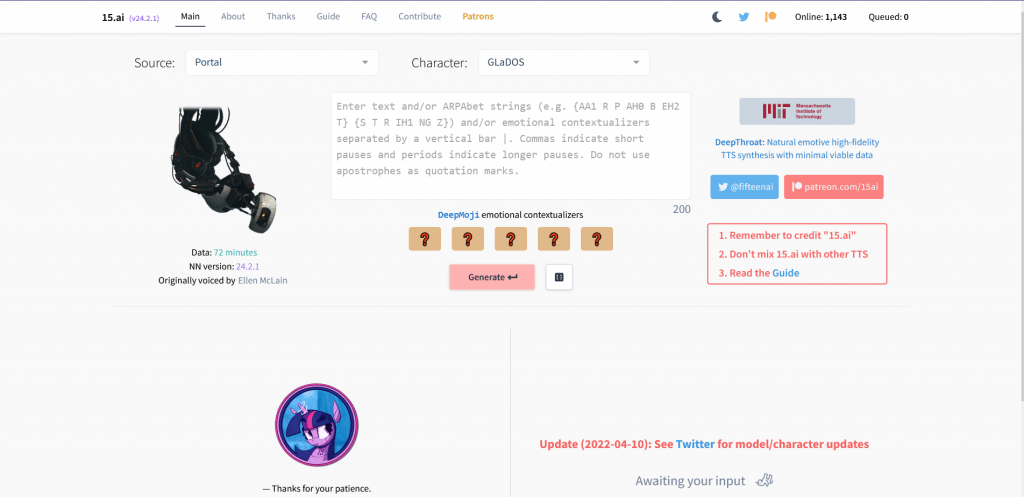 What does their free version offer:
Completely free to use with two requirements
One, you must include "15.ai" in some form in your post/video/project
Two, you may not combine 15.ai outputs with any other TTS
It employs various techniques to generate emotion, pacing pitch, and background noise
This project intends to clone voices with near-perfect human indistinguishability with very little data — in particular, 15 seconds of audio data is enough to clone a voice to match human standards. Furthermore, additional audio data makes convincing voice synthesis easier and makes it more difficult for humans to distinguish between normal voices and generated voices.
15.ai is a freeware artificial intelligence online program that creates high-quality text-to-speech voices from a range of fictitious characters from various media sources. The project was done anonymously by one developer under the pseudonym 15. It combines audio synthesis algorithms, speech synthesis deep neural networks, and sentiment analysis models to generate and provide emotional character voices quicker in real-time, even with very little input.
If you keep hitting the "Generate" button without altering the input, you'll get different results with variable amounts of tempo, emotion, pitch, and background noise.
This is top on our list because it's easy and has some of the highest quality voices you can find anywhere and it's free with attribution.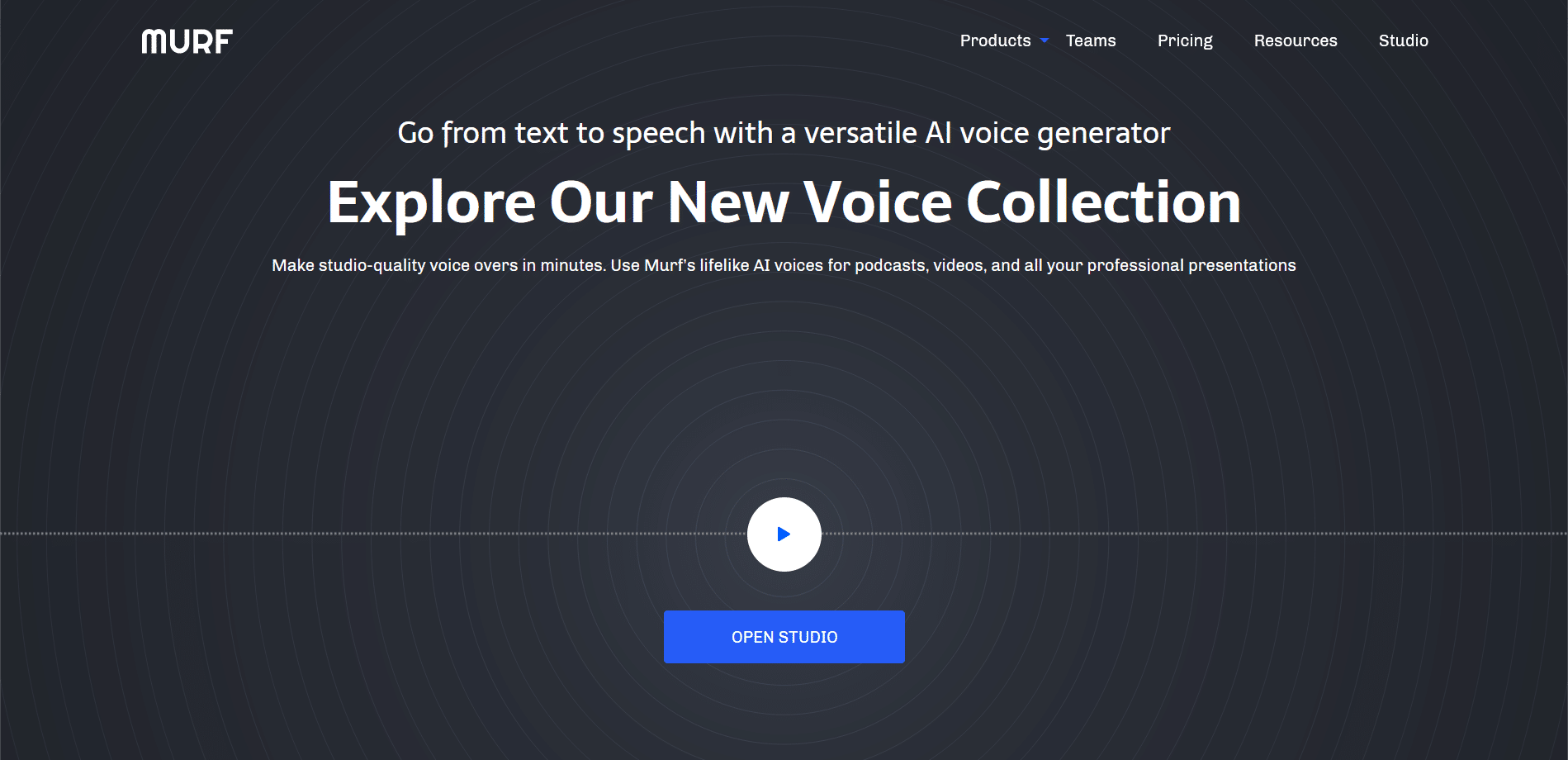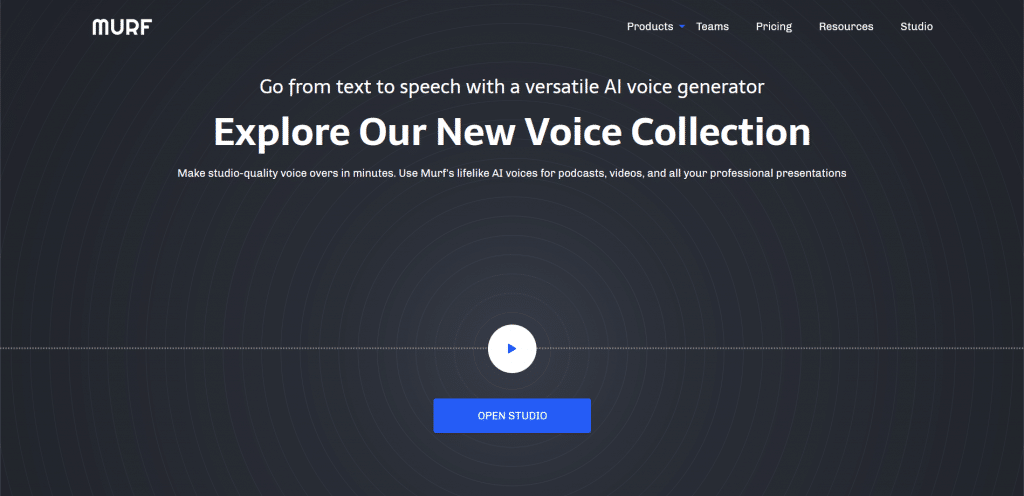 What does their free version offer:
Try out all of the 120+ voices
Voice generation for ten minutes
Transcription time: 10 minutes
Share the audio/video output URL
There are no downloads available
Single person usage only
There is no need to use a credit card to use the free trial
Murf is the simplest method to add voice-overs to video footage to enhance the appeal of your voice-over videos. You may start with a video or an image in just a few minutes and add perfectly timed voice-overs. You may also include free music in the mix.
Their voices are entirely human-sounding and have passed dozens of quality checks. The days of robotic text-to-speech are long gone, and most people can't tell the difference between their advanced AI voices and recorded human voices.
Record your voice anywhere, send it to Murf, and in seconds, it will be replaced with a professional-sounding AI voice for the same script. Record freestyle, with or without a pre-written screenplay. Surround noise, pauses or errors during recording, and any other unwanted aspects can all be edited out before generating a new voice-over.
You can produce a professional voice-over for your e-learning content by inputting a written script into Murf Studio. Then, select a voice from more than 120 options, enter your text, and record a voice-over.
Play.ht AI Voice Generator
What does their free version offer:
Word Count limit of 100-500 words
Limited to 3 downloads
Play.ht is a web-based TTS voice generator that allows you to generate high-quality text-to-speech. To improve the quality of your work, you may change the punctuation and pronunciation of keywords in your script.
Use the online AI Voice Generator and the top synthetic voices from Google, Amazon, IBM, and Microsoft to create realistic Text to Speech (TTS) audio. Convert text to natural-sounding voice and save as MP3 or WAV audio files in seconds.
Because of its primary user interface, the platform is straightforward to use. The main page has a text box where you may write your text and pick the language, gender, voice style, and conversion speed to get the job done.
The platform has 570 distinct AI voices, covers more than 60 languages, and may be used for business and personal reasons. The free version is adequate, but the number of voice types available is limited to nine male and nine female voices.
This is free but the plan is limited to 100 free words to try then if you verify your email address you get 500 more words and 3 downloads for free.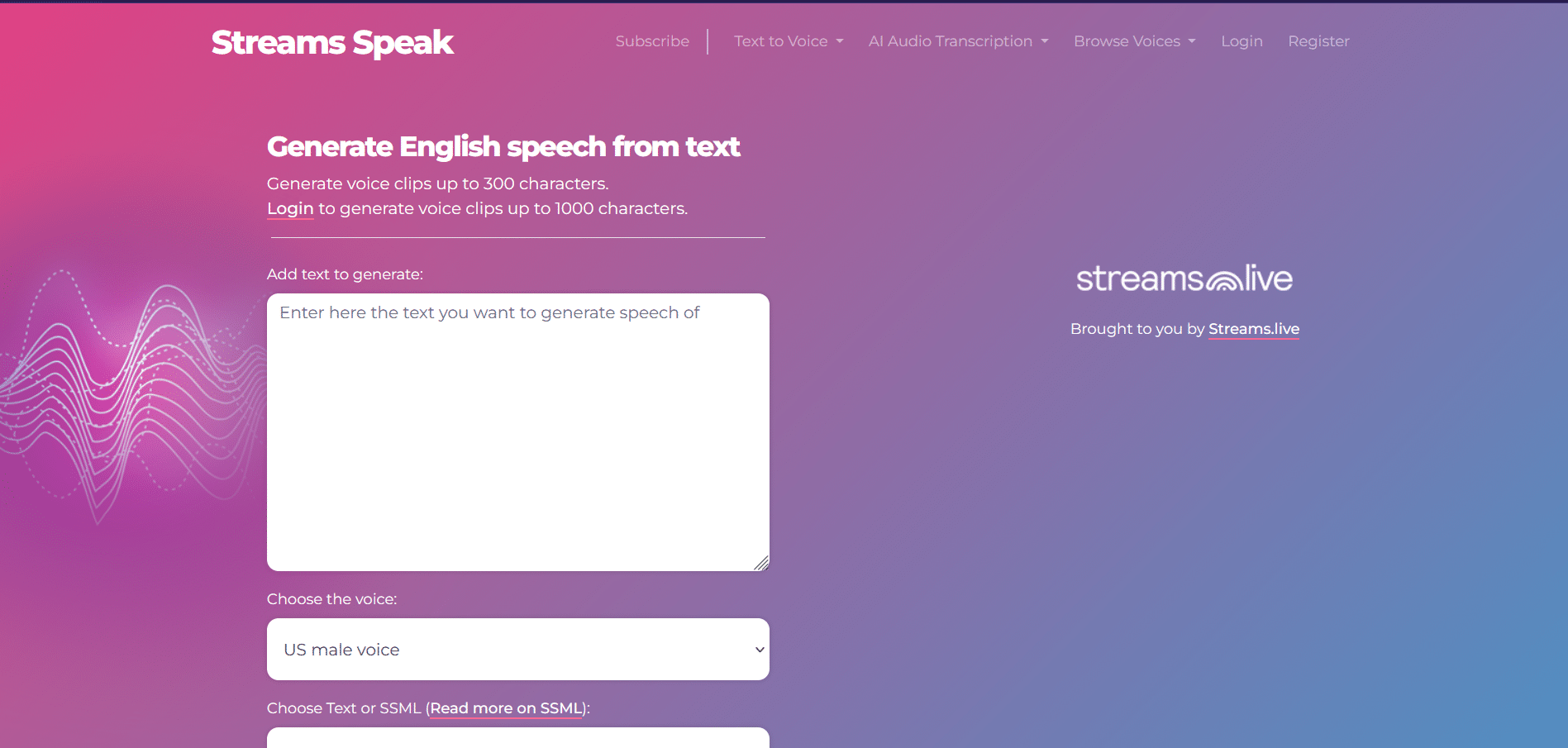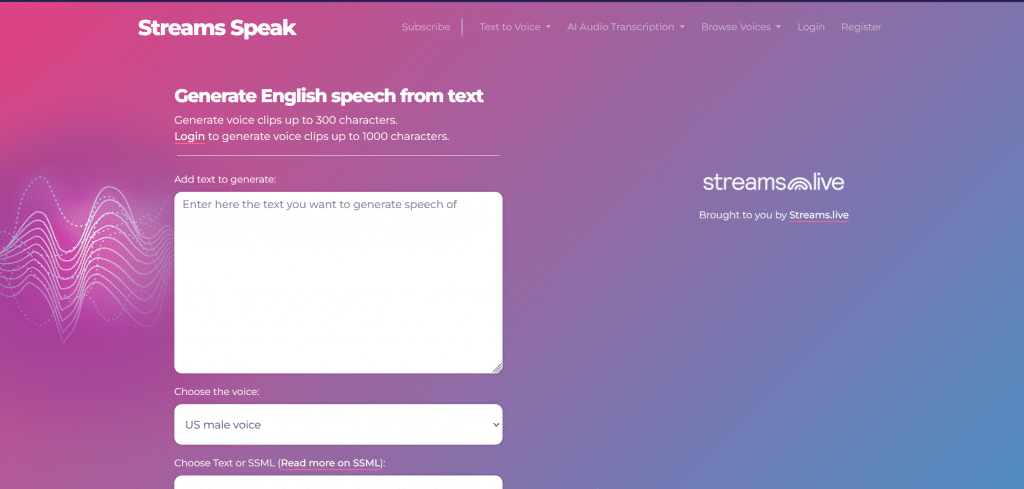 What does their free version offer:
Free speech generation for text entered on the site
300 character limit for unregistered users
1000 character limit when you register for free
It offers a 30 minute limit per month on the free version
No email support on the free version
Streams Speak, also known as Spik.ai is a powerful web-based voice generator that produces natural-sounding text-to-speech conversions. In addition, Streams Speak has a basic UI that allows new users to quickly develop a voice by typing into the text box on the Streams Speak home page.
Because of its effective machine learning technology, Streams Speak can create realistic-sounding voice effects. In addition, this software package is free to use. Non-registered users, on the other hand, can only create files from a text that is less than 300 characters long. When you register, you can generate text of up to 1000 characters.
You must register for the site's service in order to produce files with up to 1000 characters in the text. Apart from text, Streams Speak (Spik.ai) also uses SSML, or Speech Synthesis Markup Language, to improve the tone of the created speech.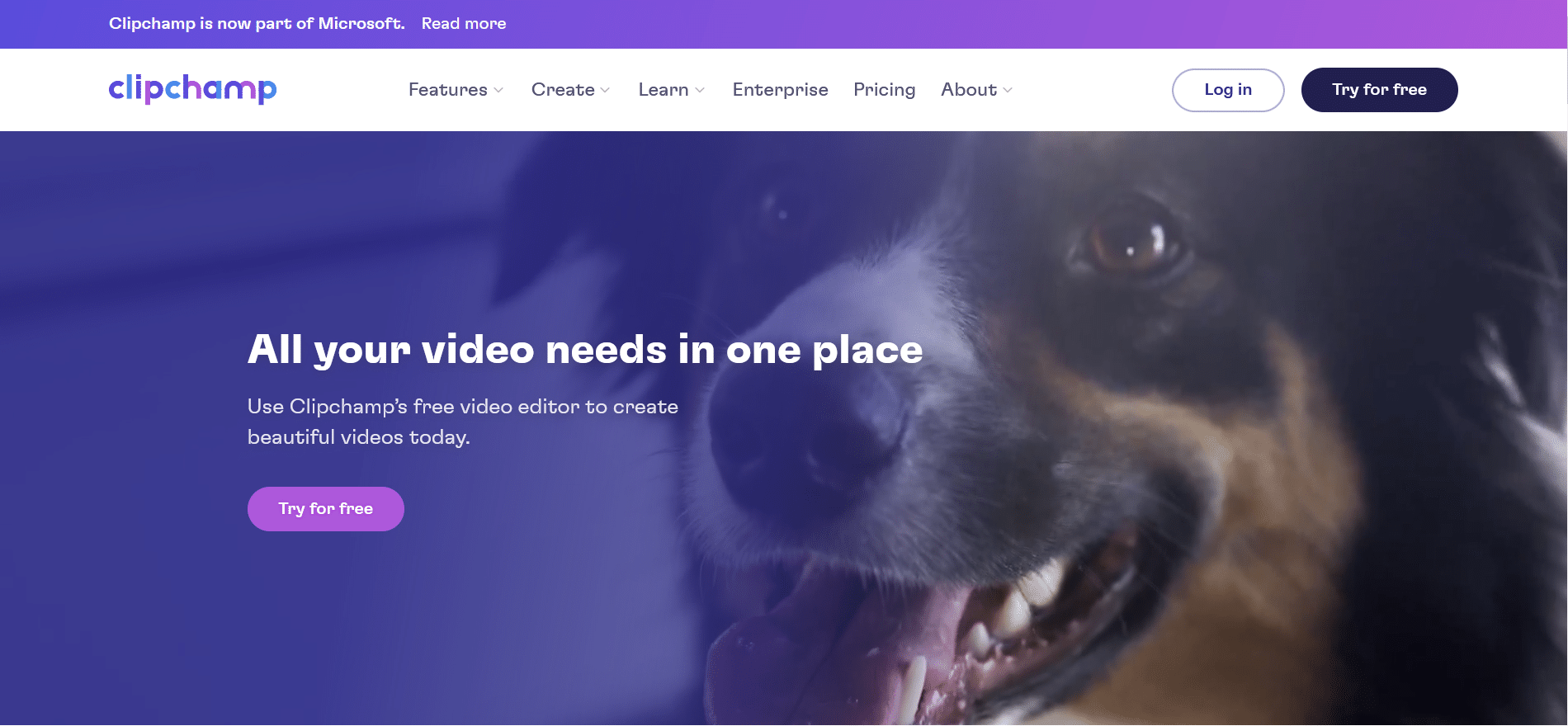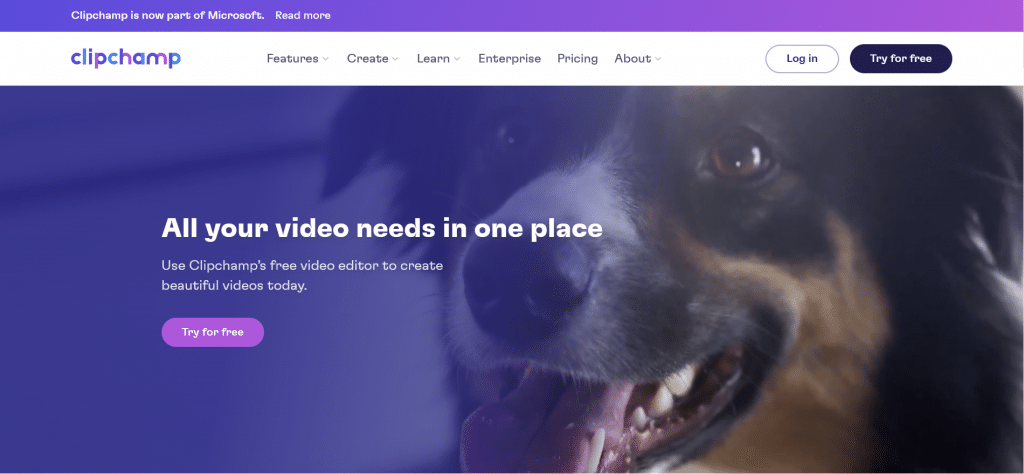 What does their free version offer:
Unlimited video exports in full HD
Limited to only personal use
With their famous and well-liked free video editor, you can make stunning films in no time. Clipchamp is the perfect place to start, whether you need to save time on uploads, money on storage, or construct a whole film from scratch. Clipchamp is compatible with all desktop and laptop computers, including Chromebooks, but not yet suited for touch screen devices like iPads or tablets.
Auto-captioning for videos is available in their Clipchamp mobile app and takes only a few minutes. They want to add auto-captioning to their desktop and in-browser apps soon.
Creating video content is as easy as 1, 2, 3.
STEP 1: Upload media assets or pick from their inventory of stock images.
STEP 2: Finish your YouTube video by adding titles and captions.
STEP 3: On the timeline, sync your video and audio files.
They also have an extended blog where you can find interesting topics and tutorials to follow and learn more about using this TTS product.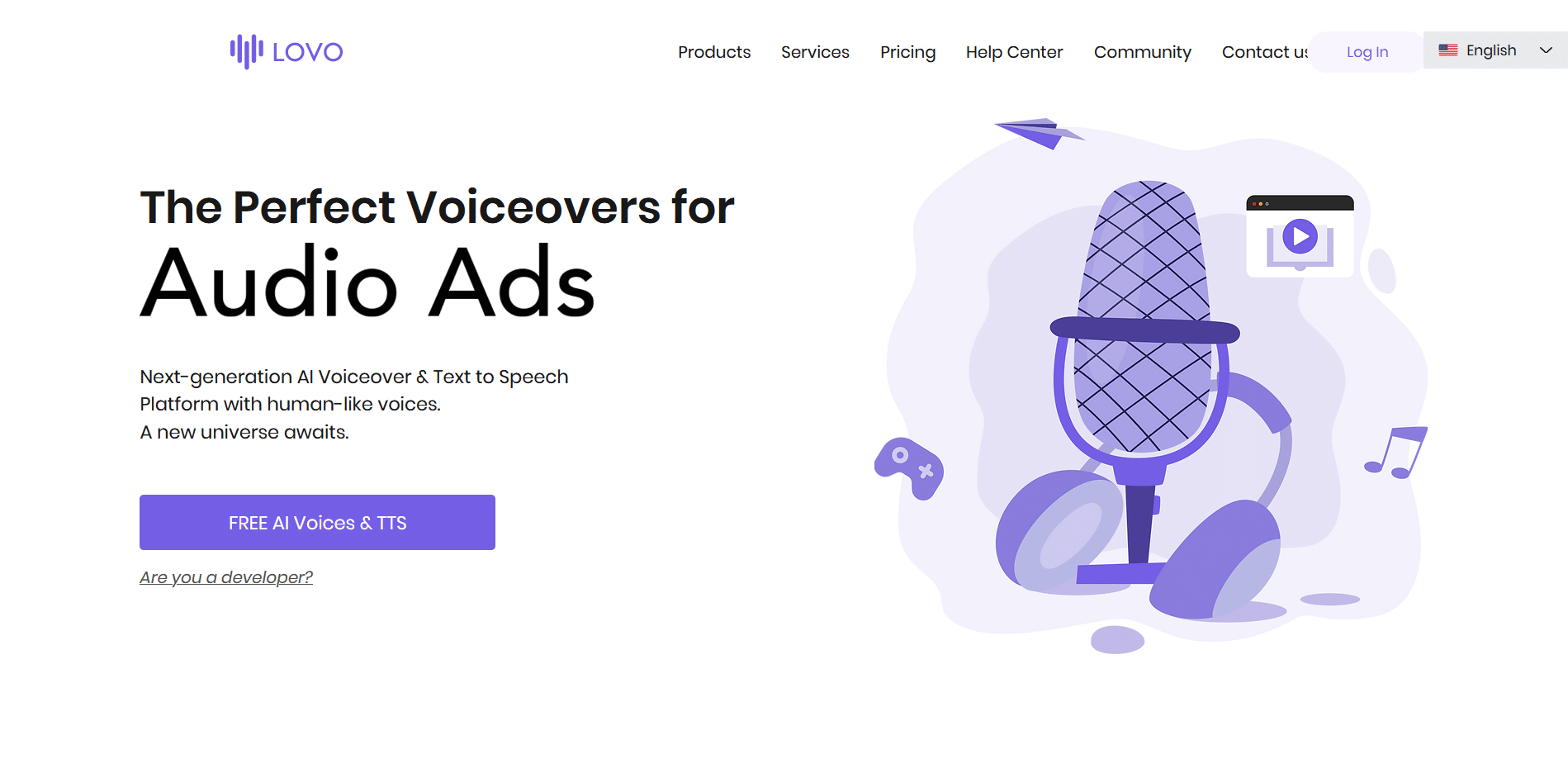 What does their free version offer:
Conversion, listening, and sharing are all available indefinitely
Three downloads per month limit
Access to Premium Voices for 3 Days to compare
Only for personal use
You are required to credit LOVO when using the free version
Their API has a two-week free trial
For personal use, Lovo provides a free version of their entire package of services, which includes over 180 voices in 33 languages, limitless converting, listening, and sharing, and up to three free downloads per month. In addition, users may store and share the audio files created by this AI voice generating platform.
Follow their three essential steps for the ideal voice-over for any form of content.
Choose: the voice that best suits your content type and tone from their expanding collection of 180+ voices in 33 languages
Type: you may type or upload a file into their workspace to enter your script
Finetune: To make the voices even livelier and more genuine, change the speed, add emphases to words, and experiment with pauses
With the LOVO API, you can incorporate world-class text-to-speech technology into your product or third-party services in under 5 minutes. In addition, because the LOVO API is based on REST, you may use any of your preferred programming languages to accomplish your goals for game development, call centers, DIY video making, mobile or web apps, or advertising and marketing.
Related Questions
What Is The Most Natural-Sounding AI Available?
Most premium brands use natural-sounding AI voices, and for most people, you will find it challenging to spot whether it is a robot or an actor. Today, AI-generated voices are frequently employed in games, branding, voice work in animated films, voice assistants, and audiobooks, among other applications.
Can A Voice Generator Sing?
Vocaloid 5 is a program designed to help you use virtual singer voices in your music productions. Unfortunately, they don't offer a free version, though.