Car Purchase Basics: Difference Between Lease and Finance
Important Note: When you buy through our links, we may earn a commission. As an Amazon Associate we earn from qualifying purchases. Content, pricing, offers and availability are subject to change at any time - more info.
Should I lease a new vehicle or finance it? Some people enjoy the privilege or status of driving a new car every couple of years during its lease term. Sometimes, they can write off the expense of a leased vehicle. Meanwhile, others derive satisfaction in owning their vehicle. Yet, before deciding which to do, you must first learn the differences between leasing and financing a new vehicle.
---
Advertisement
---
Before determining which option, you should choose, first consider your financial situation. Will you be able to afford to make the monthly installments on a lease or is a financing option more suited to your situation? Sometimes there may not be a difference between the cost of leasing versus financing a car. Other times, the savings can be significant.
Also, consider how much you would be driving the car. When you have a lease term, you may end up paying for additional mileage. For most people, this isn't an issue. However, if you are employed in business-to-business sales, or drive regularly out of state, financing may make more sense.
If you can write off the expense on your taxes, this may be an incentive to lease your vehicle over finance it.
Should I Buy or Lease a Car?
When leasing a vehicle, you are, in essence, renting it from a dealership for a specified time. Leases usually run for three to four years. After the time has ended, you have the option of purchasing it at a set amount outlined in the lease contract or returning it to the dealership.
The difference between a lease and finance is the decision as to whether to rent or purchase.
Things to Note:
Monthly lease payments are generally lower than a loan
Equity is not being established in the vehicle by making payments- car value depreciates
The vehicle can be purchased at the end of the lease at a set price should you choose to go this route.
Financing a Car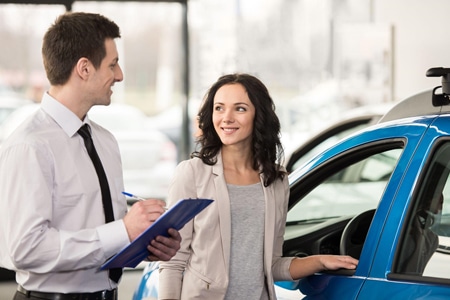 There are times when a car loan is more beneficial than leasing a vehicle. One of the greatest attractions to financing is that you will eventually own your car. After all, payments are made, you can either choose to trade it in for another car or continue to drive it. The car becomes yours.
Benefits of Financing
When a car is purchased, insurance premiums are lower than leasing. You can also put on as many miles as necessary and not pay for overages.
As the car loan is paid down, equity is built into the vehicle. This is usually true, however, payments made reflect the entire cost of the car over a set time. Depreciation can take its toll on your car's value. Buyers may end up financing more of the car and the vehicle becomes worth less than what the buyer owes.
Simply put, you won't get out of what you put into it if you maintain the status quo.
Disadvantages of Financing
The biggest disadvantage is the monthly payments. Monthly payments are generally higher on financing a car. Dealerships also require a sizable down payment, so the initial cost upfront tends to be higher.
Monthly finance payments are calculated on principal and interest. In the first year, you are primarily paying for interest over the principal. If the vehicle depreciates by 20-40% per year, and because payments go for interest, you have little equity in the car.
What Should I Know About Lease Payments?
They tend to be lower than monthly payments on a loan (new vehicle). Car loan payments are based on the interest rate, sale price, and how many months it takes to repay the loan. The factors affective lease payments are the following:
Sale Price. Sale price is negotiated with the dealership like a car purchase.
Taxes and Fees. They are added to the lease agreement and determine monthly cost.
Rent Charges. This is a dollar figure fee, but the equivalent of interest charges.
Length of the Lease. Number of agreed upon months to lease the car.
Residual Value of the Car. The value of the car when the lease is finished with depreciation factored in. If you want to purchase the car after the lease expires, this is what you will need to pay.
Expected Mileage. Leases establish the maximum number of miles the car can be driven annually. Most have a 10,000-mile allotment. Monthly payments increase slightly for a higher annual mileage. If the mileage is exceeded, the dealership is owed for every extra mile added.
There are dealerships that may require a down payment for leasing a car. The more that you put as a down payment, the lower the lease payments become. However, it may not make sense for you to place a down payment on a vehicle that you will ultimately be returning to the dealership. If you think you may want to purchase the vehicle after the lease expires, then this is a good thing to do as it will lower your monthly payments.
Advantages of Leasing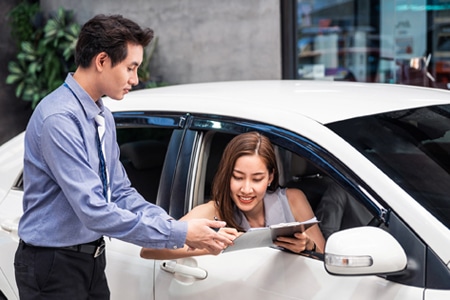 There are many benefits of leasing a vehicle, and there are times when it is very advantageous. These are:
Maximizing Your Tax Deductions. If the vehicle is used for business, a lease will allow you to use it as a tax write-off over a loan. The IRS allows people to deduct financing costs plus depreciation as part of the monthly payment. However, when leasing a luxury car, the amount written off could be limited.
No Concerns Regarding Resale. If you dislike negotiating, you may not like the haggling involved in selling a used car to a private buyer or dealership. Leases allow you to return the car. The only concern may be end-of-lease fees for additional mileage or abnormal wear.
Maintenance is Worry Free. Many dealerships have a three-year warranty for repairs. They eliminate unforeseen expenses when it comes to maintenance.
You Receive a New Car Every Few Years. Some people enjoy always driving a new car. They love the added technology that new vehicles have, or they like the prestige of a new car.
Lower Payments. If monthly costs are a concern, leasing a car eases financial woe. Monthly payments are usually less than for a loan.
For short-term considerations, leasing is very attractive. You can drive a new car for a lower monthly payment. There is no haggling, no added maintenance, and you are driving the latest vehicle.
Long-term benefits are a little different when it comes to leasing.
Disadvantages of Leasing
The biggest disadvantage of leasing is that no equity is acquired in the car. Monthly payments are being made, but there is no ownership once the lease is terminated. You are unable to sell the car or use it as a trade-in to reduce the cost of your next vehicle. Basically, you begin all over again.
With leasing, you can't customize your vehicle. Some dealerships require people to reverse any changes prior to returning the car. Also, if the car is in an accident, you may be held responsible for costs not covered under your car insurance (unless you have GAP coverage).
In assessing the differences between a lease and finance when it comes to a car, there are pros and cons of each option. If you like the idea of lower monthly payments and having a new vehicle every few years, then leasing is very attractive.
However, if you want to have equity in a vehicle, don't want to pay overages, and want to customize your ride, then financing may be the way to go.
Ultimately, do you want to rent or own your car? What is feasible financially for you? The answers to these questions will guide you in the right direction.