Can You Use Expired Coupons at Buy Buy Baby?
Important Note: When you buy through our links, we may earn a commission. As an Amazon Associate we earn from qualifying purchases. Content, pricing, offers and availability are subject to change at any time - more info.
Key Takeaways
Generally, you can use your expired Buy Buy Baby coupons in store and at the website with few limits.
You also can use Bed, Bath and Beyond coupons at Buy Buy Baby.
Dedicated customers will find that there are many ways to save significant money while shopping at Buy Buy Baby.
When families start preparing for the arrival of a baby, they are in for a shock. Babies need a surprising amount of stuff, and the total cost can add up with lightning speed.
---
Advertisement
---
Fortunately, there are retailers like Buy Buy Baby, a subsidiary of Bed, Bath and Beyond. This one-stop-shop for baby supplies has everything your new addition to the family needs, and they will even let you use your expired coupons!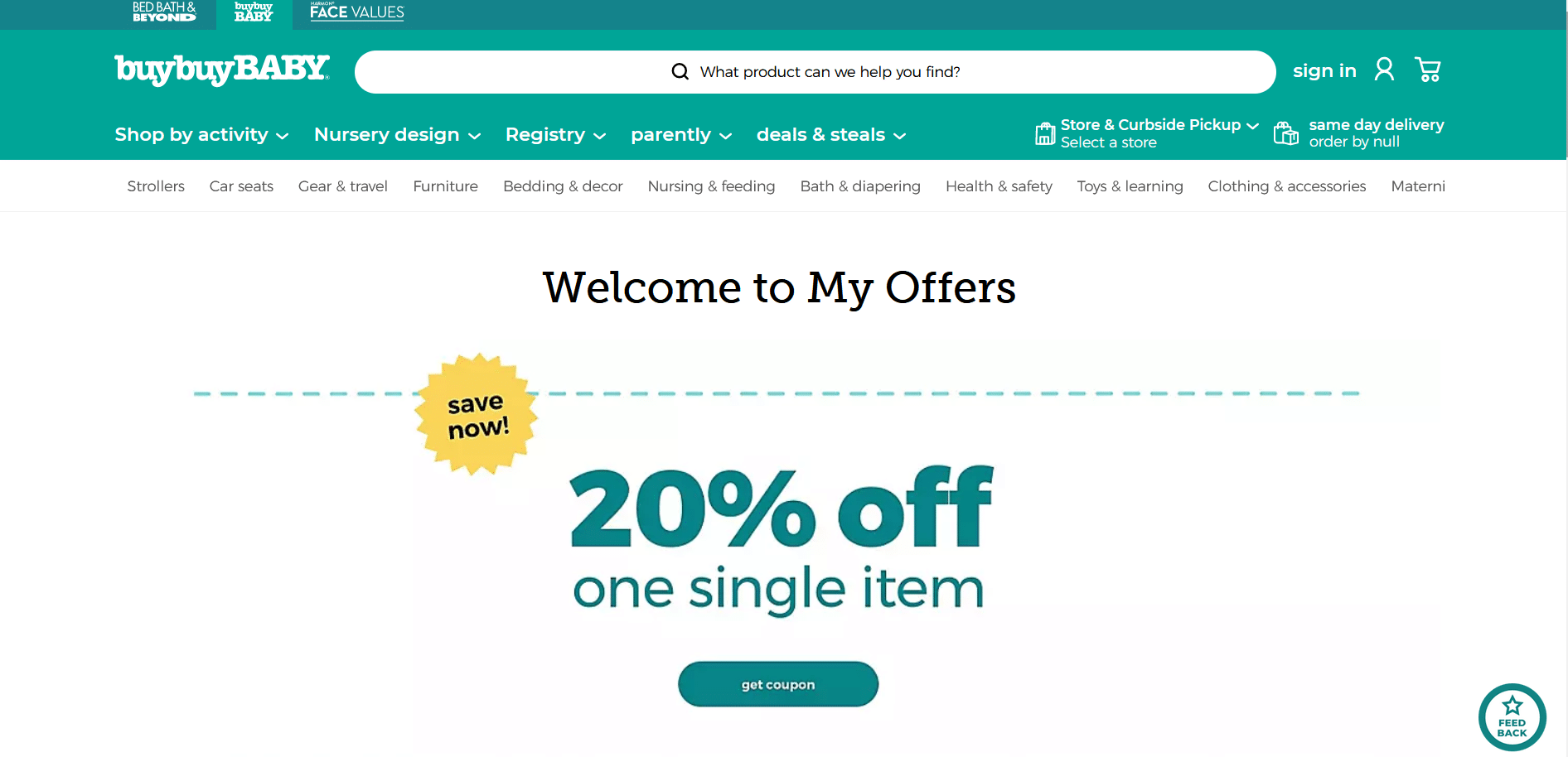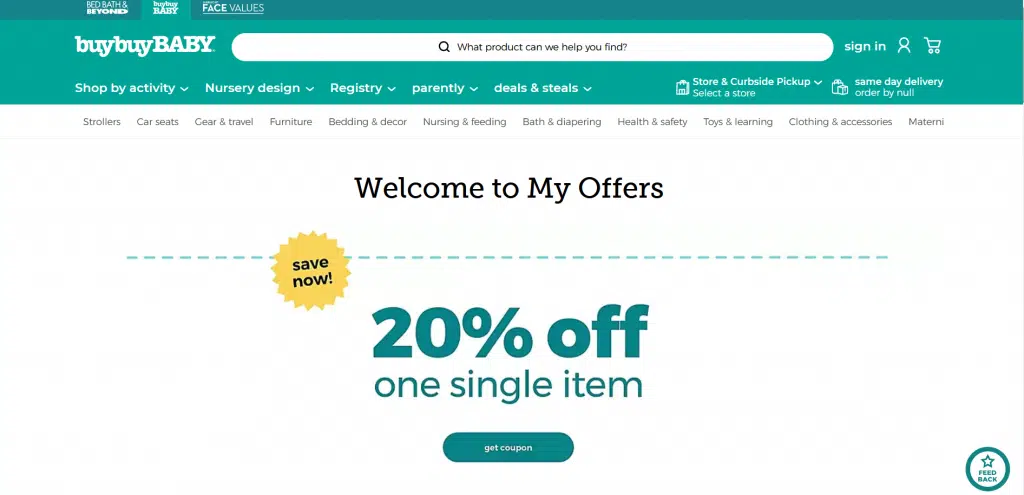 Buy Buy Baby has an outstanding reputation when it comes to coupons. Using expired discounts is never a problem, and you can even use your Bed, Bath and Beyond coupons at this related retailer.
If you want to start getting coupons, just create an account at the Buy Buy Baby website. You'll quickly begin receiving emails that contain multiple coupons and members' only discounts.
Don't forget to also create an account at Bed, Bath and Beyond so that you get email coupons from this chain as well.
Buy Buy Baby does not appear to place any limits on the use of expired coupons. Have your coupons been expired for days, weeks, months or even a year or two? Go ahead and take them to the checkout stand. Chances are good that they will be honored.
Just as exciting, this is one retailer that lets you stack coupons. For instance, you can use a manufacturer's coupon as well as a coupon from Buy Buy Baby. The store even honors coupons from competing retailers.
If you need to buy baby supplies and you're serious about saving money, then Buy Buy Baby is definitely the store for you.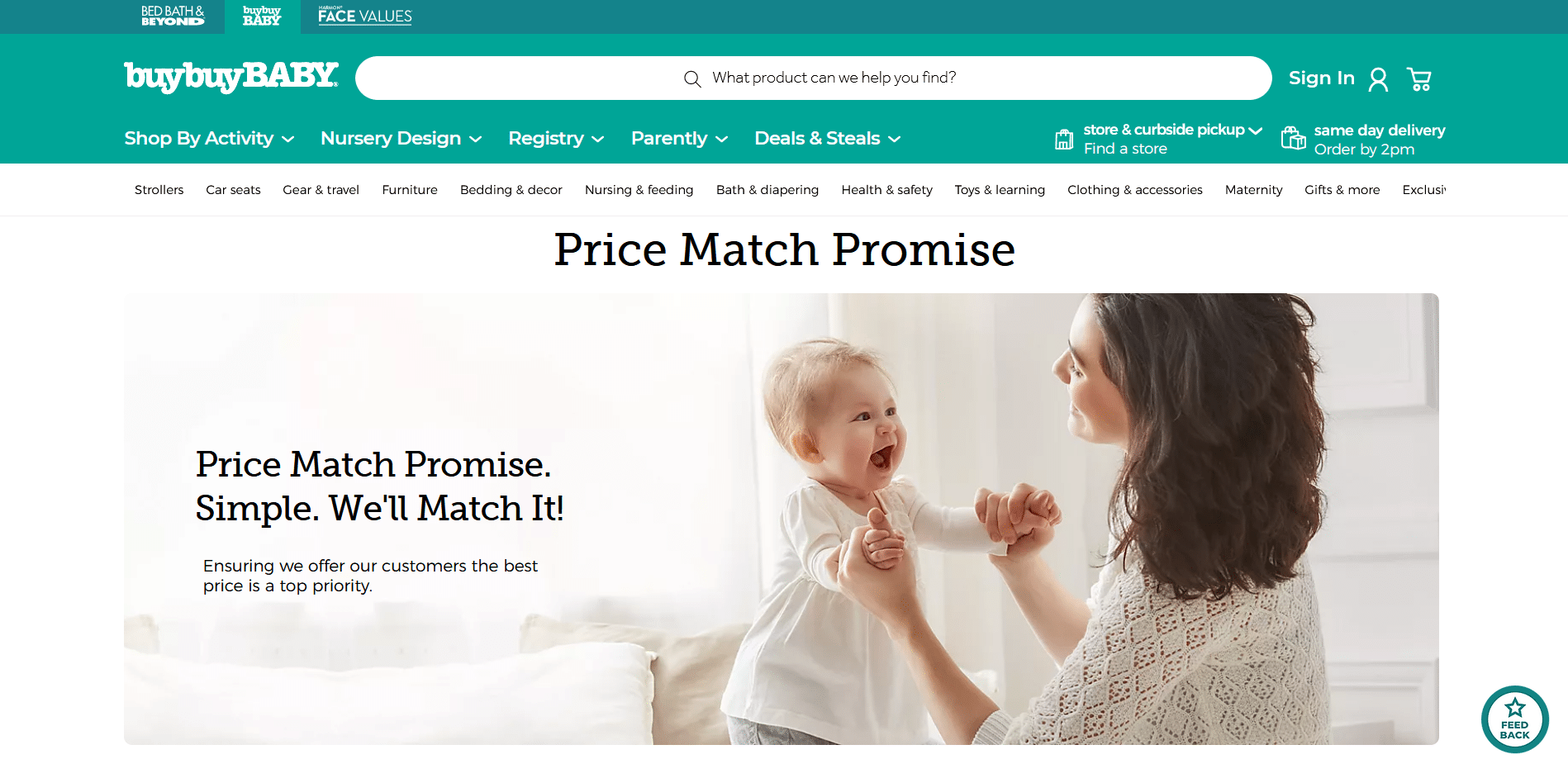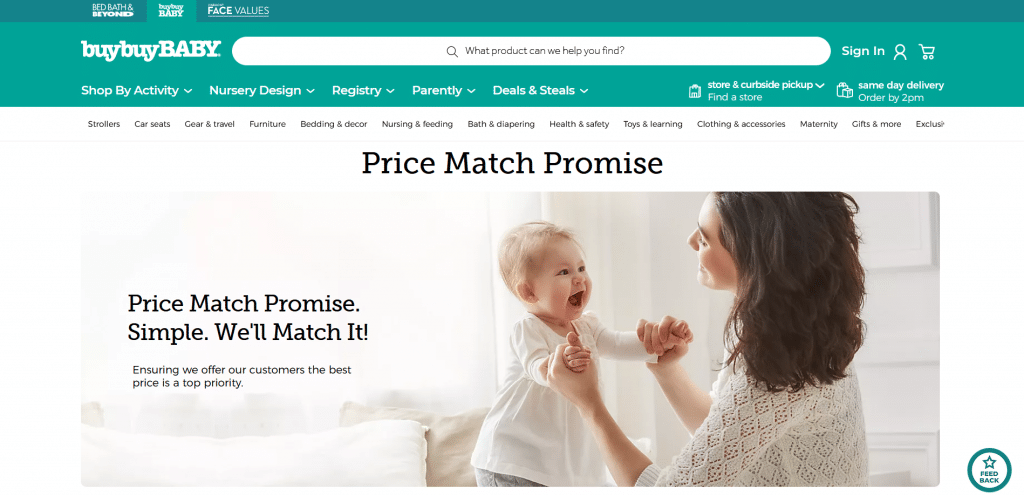 You probably won't be surprised to hear that Buy Buy Baby definitely believes in price matching. The service is available both before and after your purchase. Of course, if you are asking for a price match after purchase, it's essential that you provide an invoice, receipt or shipping confirmation for the product.
You can request a price match in store by bringing the competitor's advertisement or a printout of their website to the cash register or customer service counter. Price matches also are available by phone by calling 1-877-328-9222. Just be prepared to share the ad or website with a phone representative.
If you have a Buy Buy Baby coupon and also are hoping for a price match, the retailer is prepared to give you one or the other, depending upon which provides the greatest discount.
Exclusions On Buy Buy Baby Coupons
Unfortunately, this retailer's coupons cannot be used on absolutely any merchandise. The products that usually are excluded on coupons include wipes, diapers, formula, baby food and services at the portrait studio.
If you are using a Bed, Bath and Beyond coupon, then baby furniture also is excluded. However, baby furniture can be purchased at a discount with a Buy Buy Baby coupon.
It's also worth noting that a relatively broad selection of brands is excluded from coupon discounts. These include A Pea in the Pod, Baby Jogger, Dyson, Ring, Under Armour, Thule, Vera Bradley, Nest, Owlet, Peg Perego, Luma and various others. Refer to the small print on your Buy Buy Baby coupons to find out more.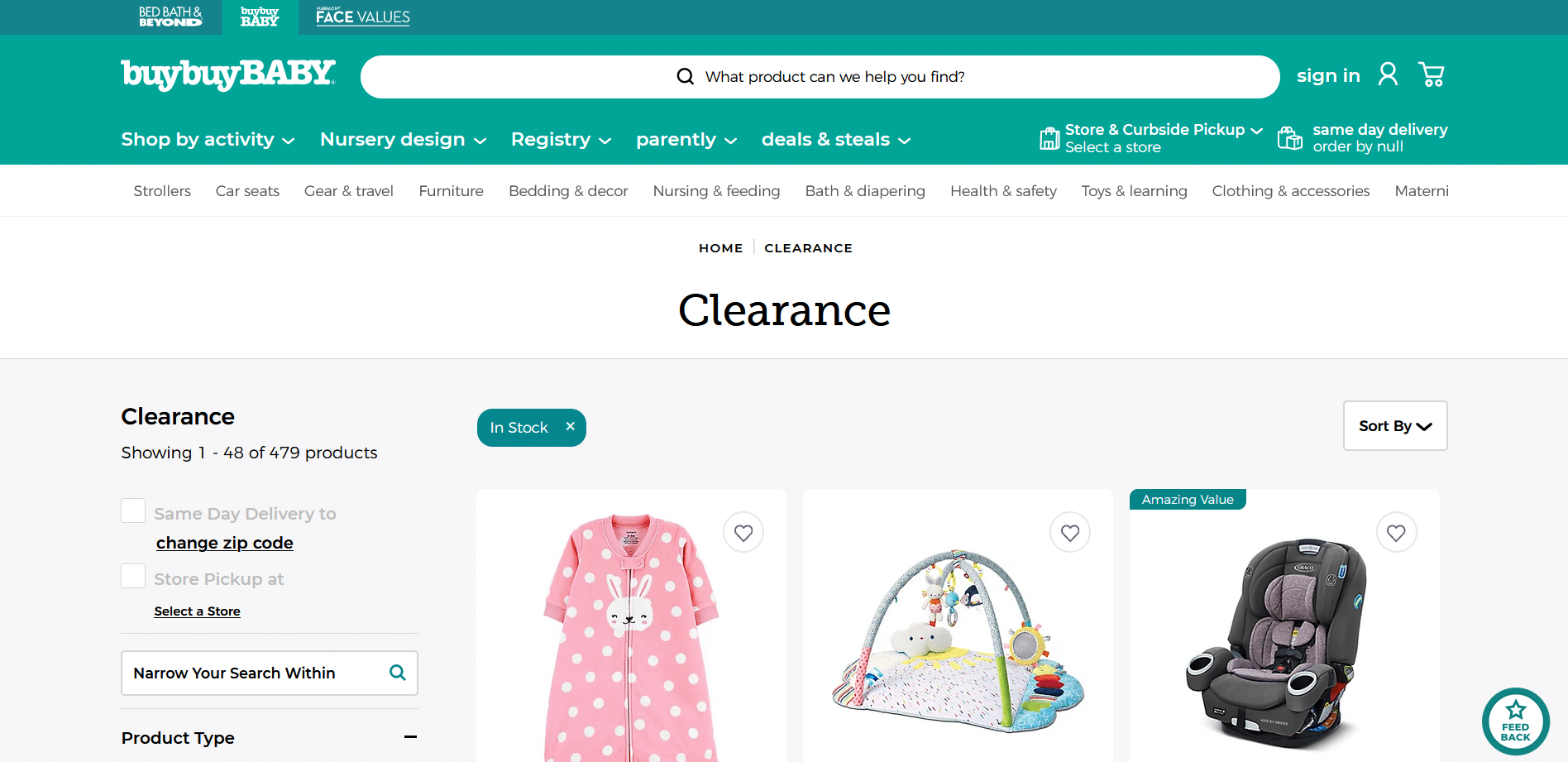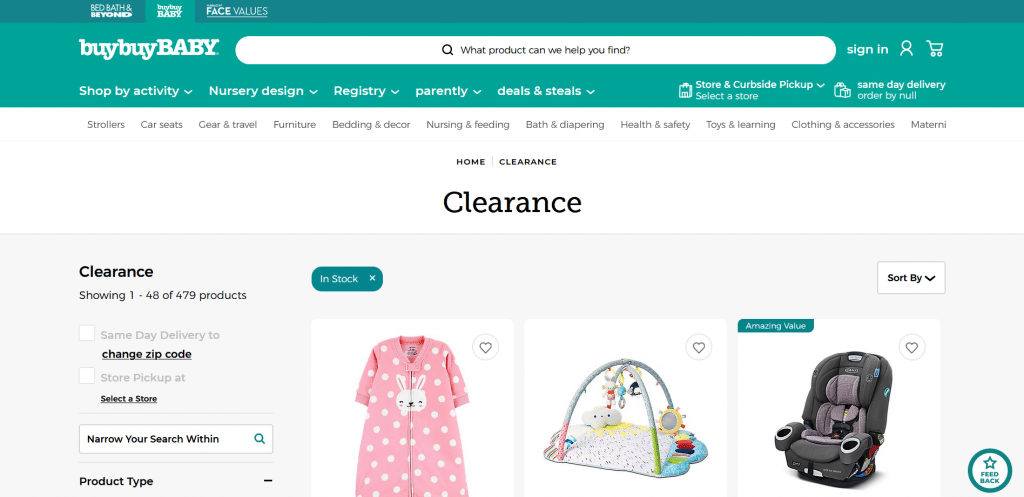 When you venture into a Buy Buy Baby brick-and-mortar location, keep your eyes peeled for clearance items and other discounted goods. Most stores have a fairly extensive section of clearance products that might help you score a major deal. There's also a Savings Center where you'll find even more deals. This is the place where you might want to stock up on supplies before you need them.
You also might be able to score a spectacular deal by purchasing floor display models, "this item only" deals and open box items. Floor display models may include strollers, cribs and a wide variety of other furniture. They go on sale as newer models are introduced. "This item only" deals usually are available on products of which only one is remaining in the store. Open box items typically were returned by customers but are undamaged and perfectly functional.
Additionally, Buy Buy Baby sometimes provides buy one get one at half price deals. This is not the most frequent sale run by this retailer, but when they do run it, it usually involves some spectacular savings.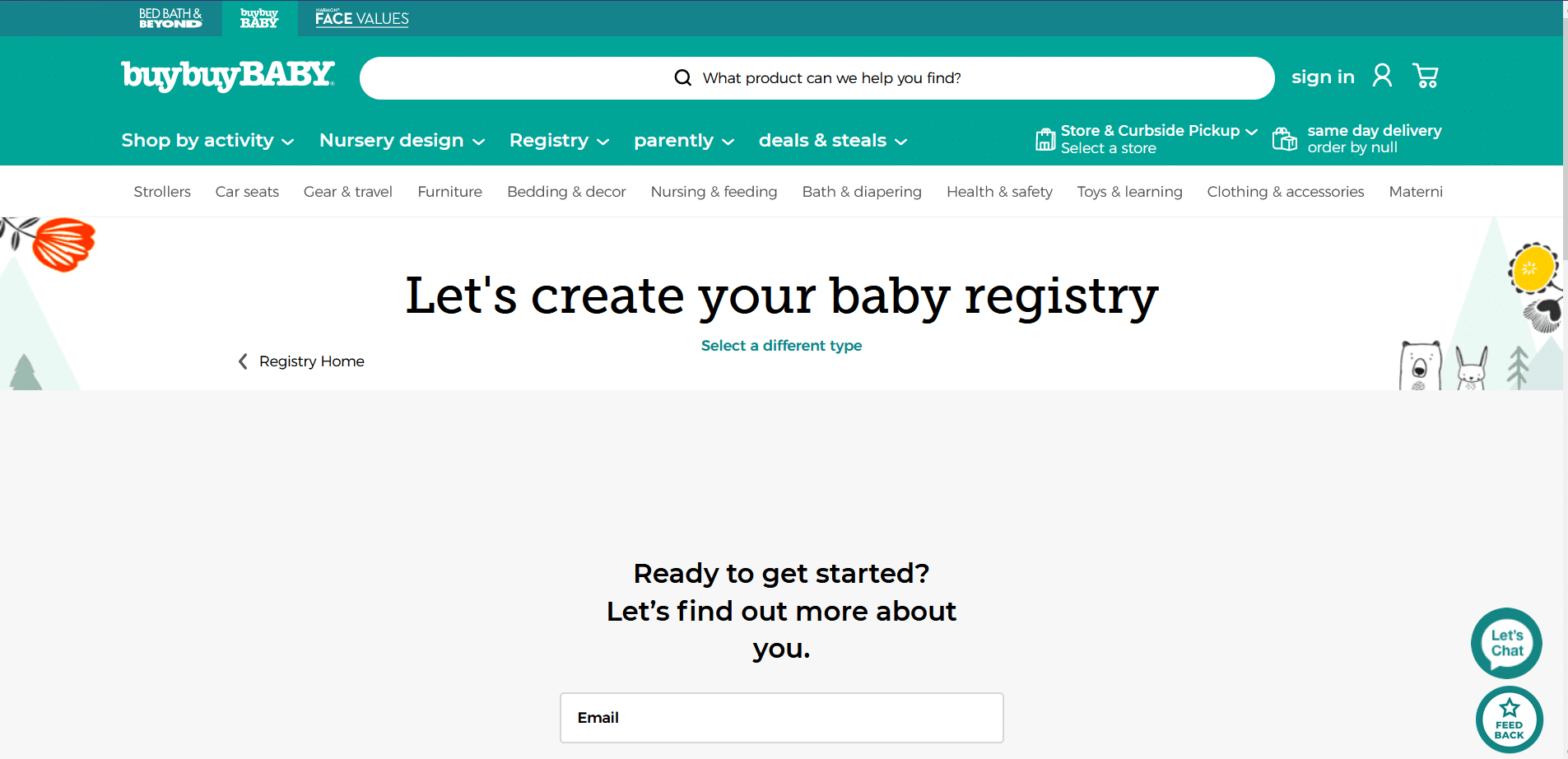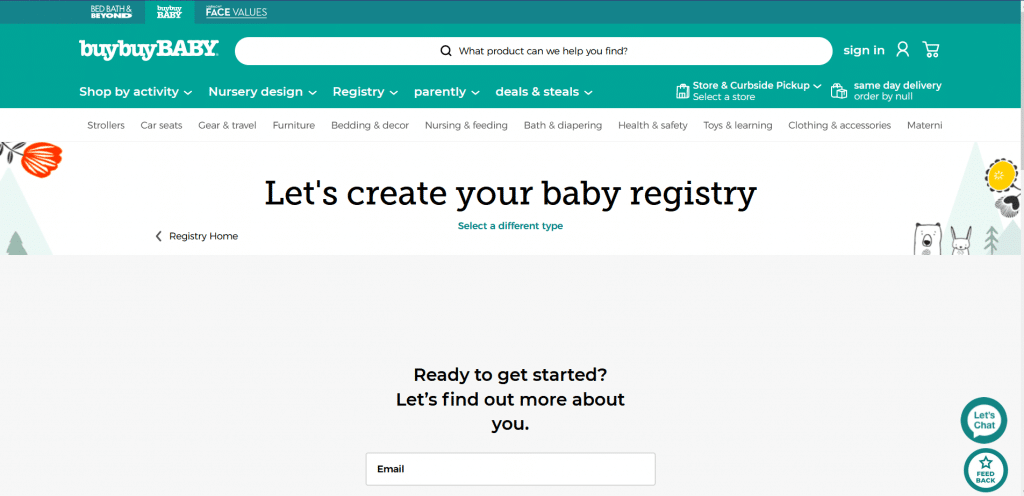 Are you expecting a blessed event? If so, then it's time to create a baby registry with Buy Buy Baby. The retailer gives you a free goody bag that's loaded with free samples and tons of coupons. Among the goodies is a 15-percent discount that can be used to buy any items from your registry that were not purchased. As another incentive, Buy Buy Baby will give you free shipping for your baby's first year if you, your family and your friends spend a combined total of $1,500 in merchandise that was listed on your registry.
One strategy that has served many expectant parents well is to move up their registry due date after the baby shower is held. Generally, the end date for the baby registry at this retailer is the baby's due date, but it is possible to move up the end date if you would like to. The best time to do this is after the baby shower because then you'll know what was and was not purchased. This strategy gives you that 15-percent discount sooner so that you can be better prepared in advance of your baby's arrival.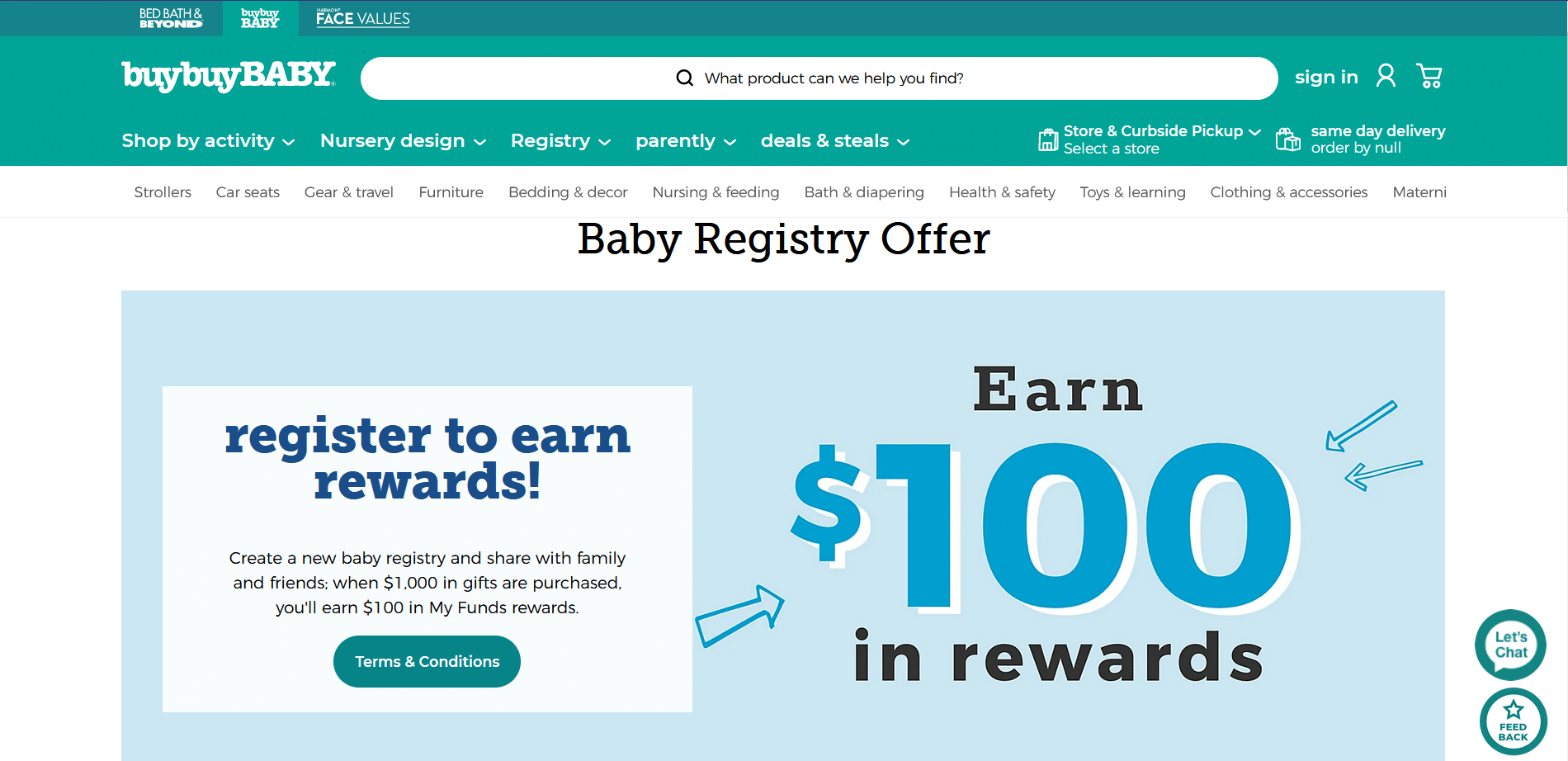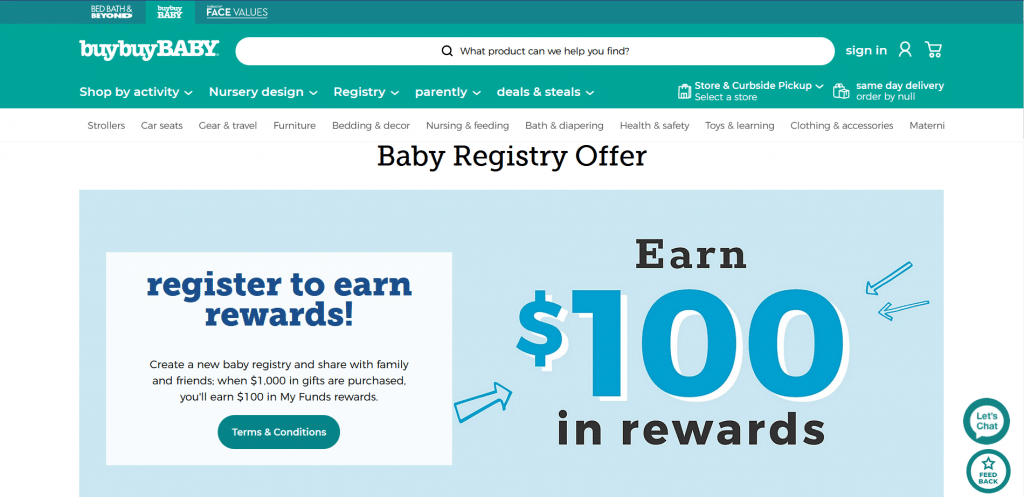 Customers who refer their friends to Buy Buy Baby receive a coupon for $25 off of a $100 purchase when their friend creates a baby registry.
It's also a good idea to download the Buy Buy Baby app to make sure that you get the specials that are only available there. The app is pretty handy anyway because it enables you to scan items into your registry and also organizes your coupons.
If you hate paying shipping fees, then make sure that you choose curbside pickup when shopping online. It saves you money and time.
FAQs
Does Buy Buy Baby really take expired coupons?
Buy Buy Baby routinely accepts expired coupons. They also take Bed, Bath and Beyond coupons as well as manufacturer coupons. That's why you can save big at this retailer.
Do Buy Buy Baby coupons work on everything?
Every Buy Buy Baby coupon is subject to certain exclusions. Make sure that you read the fine print on the coupon before you buy to avoid disappointment. Typical exclusions include certain brands as well as portrait studio services, baby food, formula, diapers and wipes.
What kind of sales can be found in store at Buy Buy Baby?
You don't necessarily need coupons in order to find deals at Buy Buy Baby. Brick-and-mortar locations of the store have a clearance section in addition to a Savings Center. With price matching, open box items, floor display models and "this item only" deals, there are plenty of ways to save.