BJ's Vs. Costco: Which Wholesale Club Is Better?
Important Note: When you buy through our links, we may earn a commission. As an Amazon Associate we earn from qualifying purchases. Content, pricing, offers and availability are subject to change at any time - more info.
With rapidly rising living costs, we all need to save where we can, so shopping for less at warehouse stores like BJ's and Costco makes perfect sense. However, as they both charge annual wholesale club membership fees, finding out who will offer you the best value for money is worth finding out.
---
Advertisement
---
BJ's annual fees are $55 for a basic Inner Circle membership and $110 for a Perks Rewards membership with 2% cash-back rewards. Costco charges annual fees of $60 for a basic Gold Star membership and $120 for a Gold Star Executive membership with a 2% store credit on certain purchases.
Like most people, I have struggled to make ends meet and have become a bulk buy, warehouse shopper to provide for my growing family. So, I decided to research BJ's and Costco's wholesale clubs, and which one is the best, but my findings might surprise you!
Table of Contents
BJ's Vs. Costco Memberships Comparison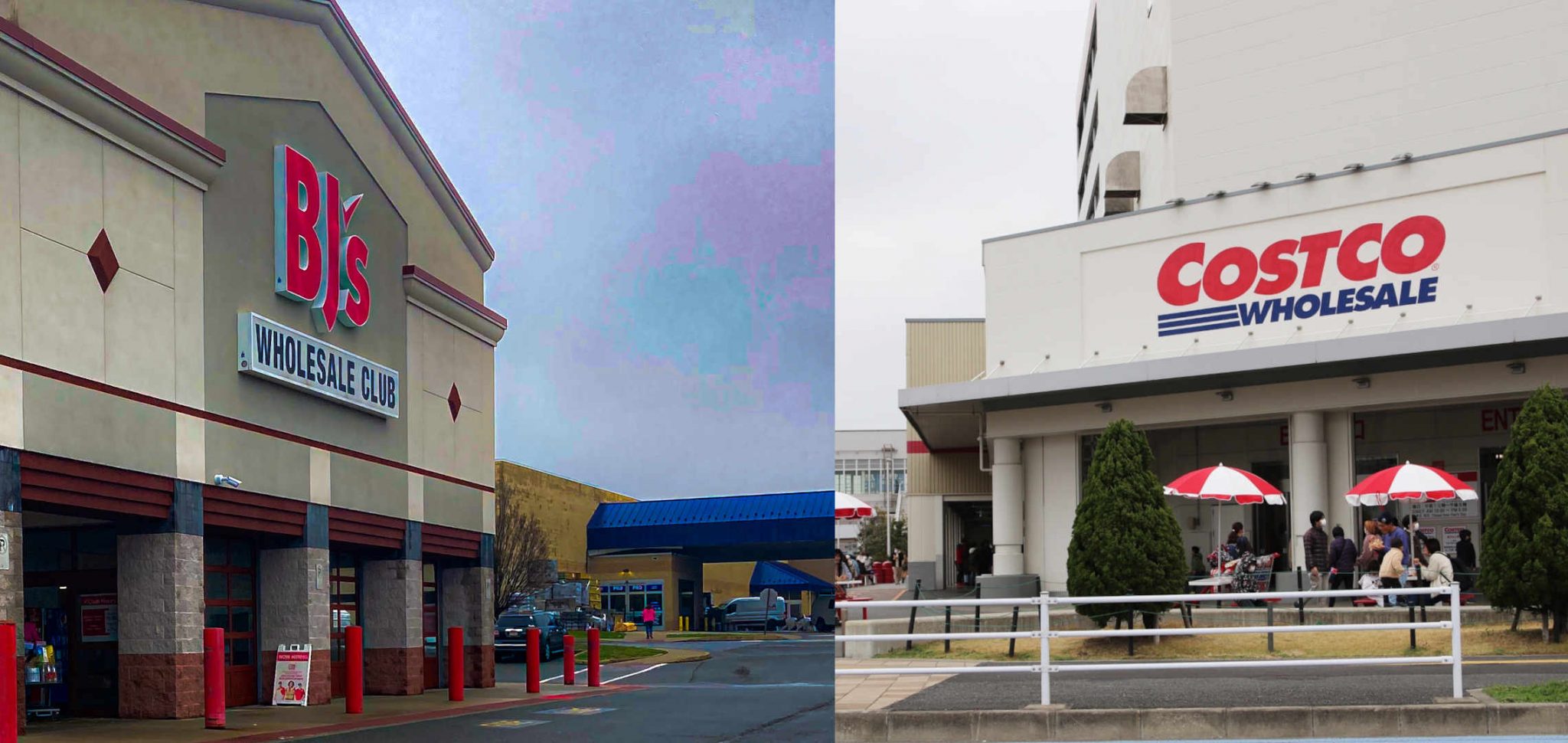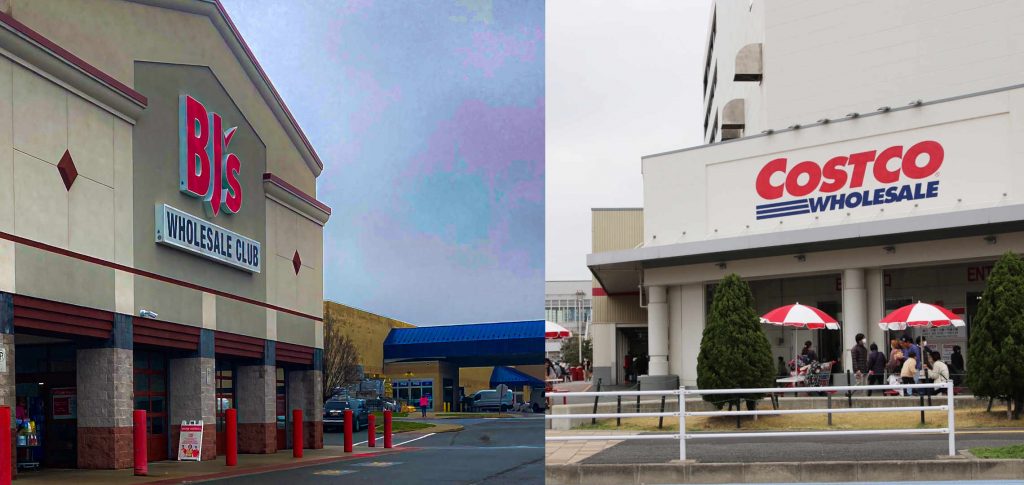 While there is no doubt that consumers can save substantial amounts of money with wholesale club memberships, it's important to compare "apples with apples."
So, here is a like-for-like comparison between BJ's and Costco Wholesale club membership fees, range of foods, pantry essentials, liquor selections, value-added services, and their respective membership pros and cons.
BJ's Wholesale Club Membership
The BJ's Wholesale Club's basic Inner Circle annual membership fee is $55, while their high-end Perks Rewards annual membership fee is $110.
The more expensive Perks Rewards membership fee entitles you to 2% cash-back rewards, including additional cash-back rewards for travel services and during special events. Although, members who serve in the military are entitled to discounted membership fees.
Range Of Foods
The in-house bakery section features a wide variety of fresh breakfast pastries, cookies, cakes, artisanal bread and cookies, and custom-made cakes, including delectable Carvel ice cream cakes.
Unlike other warehouse clubs, BJ's deli section offers customers an option to have lunchmeat sliced upon request (so you only buy what you need). At the same time, the butchery section offers a standard selection of poultry, meat, and fish.
Although the cheese section has a few imported cheese brands, they only have a limited number of cheeses on offer.
While the produce department has very little fresh organic produce, the frozen produce aisle has many plant-based frozen foods like the Beyond Burgers, appetizers, and fruit.
Pantry Essentials
BJ's packaged products are mostly dominated by their in-house Wellsley Farms brand throughout the store, and their delicious "Wellsley Farm Italian Style Marinara Sauce" which they have stocked for over 15 years, has gained a near cult-like fanbase.
While other well-known store brands are also on offer, BJ's does not stock many gourmet cooking ingredients. Although, they do offer a huge variety of special dietary products like gluten-free flours, snacks, protein shakes, and supplements.
Liquor Selections
BJ's wide selection is mostly limited to more affordable wines like Bogle and Yellowtail that cost under $10, with the most expensive item costing roughly per $50 bottle (for champagne).
While BRJ's beer varieties are rather limited, certain BJ stores offer more liquor varieties, including their in-house Wellesley Farms branded liquors.
Value-Added Services
BJ's Wholesale Club only has snack shops in Florida and Michigan, unlike other wholesale membership clubs. However, members are entitled to 20% off benefits for major appliance purchases, including home improvement service discounts.
Membership Pros & Cons
Like most things in life, BJ's Wholesale Club memberships have their pros and cons. The membership pross includes a good variety of well-known supermarket brands and a great deli. However, most stores don't have in-house snack bars, and there is a limited amount of BJ store locations.
Although, BJ's stocks all the major supermarket brands at nearly 25% less in comparison with other mainstream supermarkets.
But most importantly, it's far easier to do your weekly family shopping at BJ's as their deli counter provides smaller portions, and groceries are not sold in mega-sizes.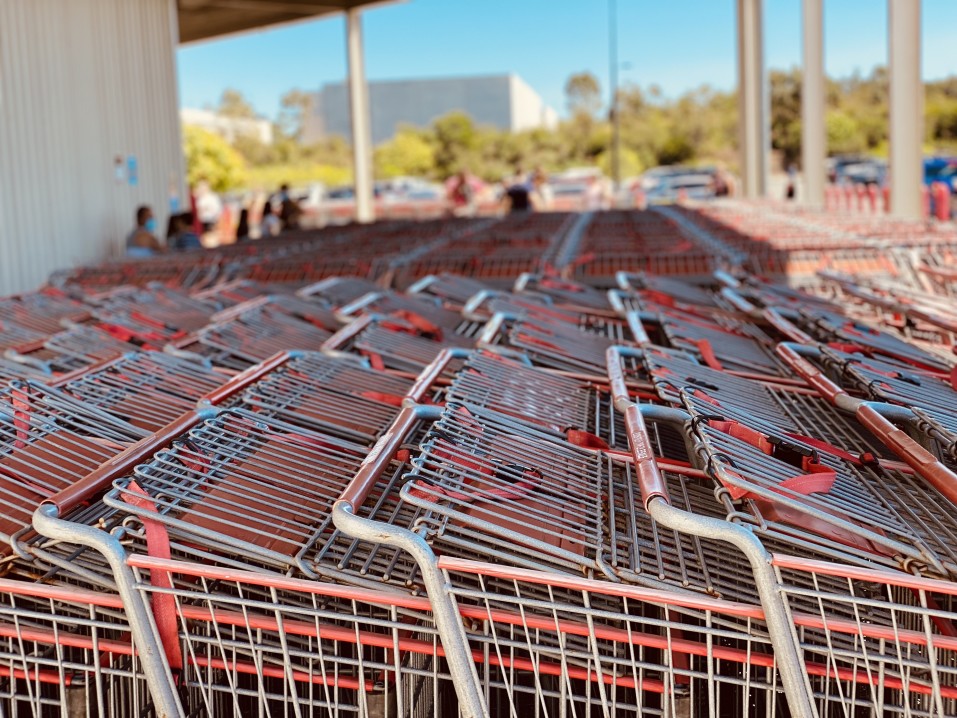 Costco Wholesale Club Membership
Costco's basic Gold Star annual membership fee is $60, and the Costco Gold Star Executive annual membership fee is $120 also entitles you to a 2% store credit on certain purchases, including discounts for other services.
Medical professionals, students, and military members are eligible for Costco membership discounts.
Range Of Foods
Costco has an impressive range of conventional and organic fresh produce, including berries, tropical and citrus fruits, salad greens, and vegetables.
The meat section offers a wide variety of gourmet items like ground bison and organic beef, including a rack of ribs, whole loins, and poultry. At the same time, Costco's outstanding seafood offering includes lobster tails, king crab legs, and littleneck clams.
The bakery department features bagels, artisan bread, pies, and a wide variety of cakes, including custom-baked cakes.
However, Costco truly shines in the cheese department with various delicious products ranging from Spanish and Italian cheeses and imported cheddars to burrata and so much more.
Costco also has a wide selection of take-and-bake products like pot pies, lasagnas, and fajita kits, including frozen meats, seafood, and pizzas.
Pantry Essentials
Costco's packaged grocery aisle is an adventurous cook's paradise with items like olive oil-infused yellowfin tuna, hemp hearts, Chinese-style sausages, almond flour crackers, mochi treats, ghee, and pink Himalayan salt, and so much more (it will make your head spin)!
However, they do stock mainstream packaged food brands that we are all familiar with.
Costco's snacks aisle also offers a mixed bag of healthy and indulgent snacks ranging from granola bars and assorted nuts to gigantic chips bags.
Unlike other warehouse stores, they also stock a wide variety of Jewish products like matzoh meal, hamantaschen, artisan matzohs, gefilte fish, and other special ingredients.
Liquor Selections
Compared with other warehouse clubs like BJ's, Costco has the widest variety of wines at different price points ranging from outstanding Kirkland blends and Trapiche wines to pricier options like The Prisoner Red Blend or Kim Crawford Sauvignon Blank wines.
Furthermore, they stock a wide variety of domestic and imported beer varieties, including adjacent liquor stores that stock Kirkland brands and other well-known liquor offerings.
Value-Added Services
Costco members can enjoy having a bite at one of their in-store cafes that offer a wide variety of affordable bites like churros, smoothies, ice creams, calzone-style meals stuffed to the brim with bacon, and chicken, smothered in a creamy sauce.
But they are most famous for their hot dog and soda meals for only $1.50. Other membership perks include discounts on kitchen countertops, major appliances, water treatments, and free grocery delivery services (with a two-day waiting period) for orders over $75.
Membership Pros & Cons
While Costco stocks more organic and gourmet products and has a great range of wines, their membership fees are the more expensive than the likes of BJ's.
Moreover, their prices are not always competitive. However, they offer great value for money for organic produce and special dietary ingredients, and before the advent of the pandemic, their free samples were incredibly generous.
The Main Differences Between BJ's & Costco
Now that you really know a little bit more about BJ's and Costco, let's have an in-depth look at other factors you need to consider before spending your hard-earned cash on costly wholesale club membership.
To make your decision easier, I have compared both stores in terms of their food courts, whether they accept manufacturer's coupons, product range, number of store locations, and surcharge fees for non-wholesale store club members.
Cost-Effective Food Courts
As previously mentioned, Costco members have access to Costco cafes that are so great (and ridiculously cheap) that people queue for miles to enjoy their onion crank, pizzas, and (ridiculously cheap) hotdogs, either before or after doing their shopping.
BJ's members only have access to Dunkin Donuts kiosks which have replaced all their food courts. So, in that respect, Costco membership offers better value for money, especially if you are a working mom who never has time to eat.
Manufacturers Coupons
While BJ's actively encourages their members to collect manufacturers' coupons to save on purchases like Nature Valley bars, Wheat Thins, or Cheerios, Costco does not accept them.
Costco's reasoning for not accepting coupons is that they already offer heavily discounted goods straight from the manufacturer's warehouses.
According got Costco; manufacturers recover the price of coupon discounts by loading it onto their original product prices, so even if it looks like a great deal, that might not be the case.
Product Range
While BJ's tends to stock a far wider range of products compared to Costco's, their product ranges are far below that of mainstream supermarkets or larger retail stores.
Store Locations
On this score, Costco is hands down the clear winner with nearly 600 stores located in 482 major cities throughout the United States, with 132 locations, or 22% of the stores based in California alone.
And let's face it, there's nothing more convenient than having a great store just around the corner without having to travel miles to do your monthly shopping (it's my pet peeve).
In stark comparison, BJ's have fewer stores, with a mere 215 stores in roughly 16 states which is reflected in their staff total of 25,000 employees versus 189,000 Costco employees.
Non-Member Surcharge Costs
BJ's "1-Day Shopping Pass" for non-members is tied to a 20% surcharge for all online purchases, which only entitles them to a ship-it service. However, they are not eligible for membership perks like free same-day deliveries or club pickups.
While Costco only charges a 5% surcharge for non-member online purchases, and non-Costco members are not eligible for member-only perks, all public members have free access to their optical centers, vaccination sites, and their pharmacies. So, in that respect, Costco is the clear winner!
BJ's Vs. Costco: Who Offers The Best Value For Money?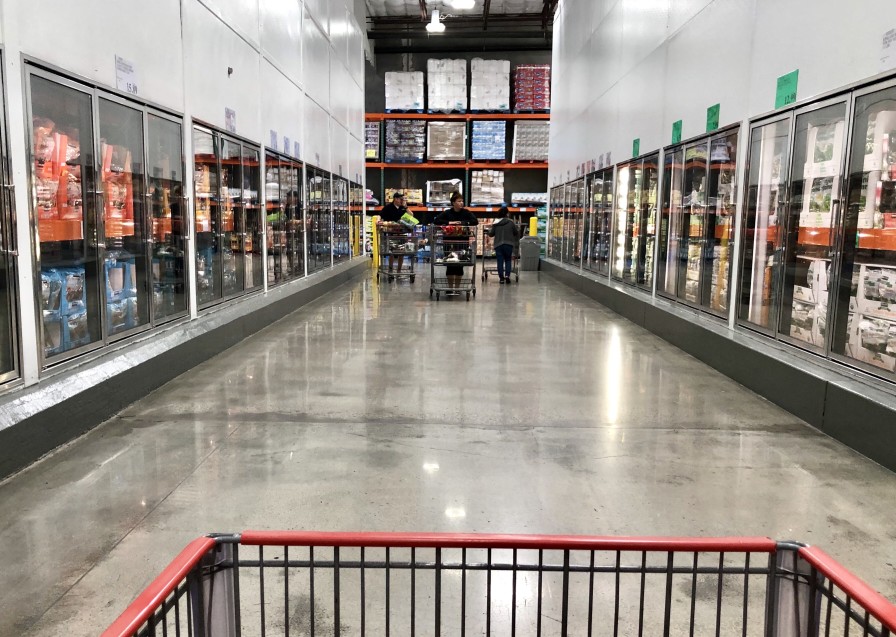 While there are so many similarities between BJ's and Costco's, as they both feature gas stations, tire centers, bulk product deals, and fresh produce, there are some stark differences between the two stores that are worth noting.
Costco's business methodology of selling massive quantities of goods in a crowded and loud environment is not really for the faint-hearted, and it can feel slightly overwhelming for the average shopper, especially moms who already have to contend with screaming toddlers!
Although, Costco's offering beats BJs in certain aspects as they have a greater variety of fresh and packaged goods, great home improvement, or DIY supplies, a comprehensive pharmacy, fresh flowers, a wide range of Asian food products, a strong brand, and more stores than BJ's.
On the other hand, the shopping environment in BJ's stores is far calmer; they have a family-friendly cut-to-order deli, card shop, smaller packaged goods, coffee grinders, including a larger baby goods department with carefully selected items.
Another great advantage of shopping at BJ's is their friendly customer service, less overcrowding, and ample parking.
Furthermore, you will also have more storage and spend far less at BJ's due to their smaller-sized packages, and you will not have to deal with the temptation of having to consume a gigantic bag of snacks as you would at Costco's (been there, done that!).
So, determining which wholesale club membership is best is not a straightforward decision as it ultimately depends on your needs and which shopping environment you can tolerate.
Costco Wholesale club memberships offer the best value for money if you need to purchase industrial-sized ingredients for commercial ventures like restaurants, especially because they stock such a wide variety of cooking ingredients.
However, BJ's Wholesale club memberships may be best suited to a small household's weekly shopping due to the store's smaller-sized packaging and cut-to-order deli options.
Although, BJ's is not an ideal shopping destination if you are looking for bespoke imported products or a wide variety of cheese and wine for a dinner party.
So, BJs Or Costco?
On the whole, BJ's Wholesale club memberships are best suited to small-scale family shopping in a peaceful environment, while Costco's is the best bulk buy store for a variety of bespoke products. Ultimately, they both offer great value for money! The only time it doesn't make sense is perhaps if you are only shopping for yourself or two people, however, if you have storage to save the bulk products, you can get amazing value from both places.