Best Free Streaming Services
Important Note: When you buy through our links, we may earn a commission. As an Amazon Associate we earn from qualifying purchases. Content, pricing, offers and availability are subject to change at any time - more info.
Key Takeaways
Netflix and Disney Plus aren't supposed to compete with the top free streaming services. They lack the most recent TV programs, blockbuster films, and high-quality originals. That's OK since, after all, they're free!
This list of the best free streaming services includes services that excel at providing the best access to free vintage movies, classic series, popular movies, live sports, and more.
Nothing is truly free, but the top free streaming services are all ad-supported. They often play 30-second to 60-second advertisements at the same rate as a cable network.
You can watch popular movies and TV series without spending a dime with the top free streaming services. These free streaming sites include live TV and on-demand material, focusing on older and classic titles and some current releases. As a result, what are some of the best free streaming services available today?
---
Advertisement
---
The Best Free Streaming Services
Many free streaming services let you watch TV shows and movies whenever and wherever you want. In addition, there are a plethora of free cable options accessible if you don't mind watching occasional advertisements.
In truth, large networks control many of the most excellent free streaming providers. Peacock TV, for example, is owned by NBC (if you hadn't guessed), while PlutoTV is owned by Paramount (previously ViacomCBS).
Comcast refuses to be outdone and has launched XUMO, a live and on-demand TV streaming service. In addition, you may use a web browser or an app to access free TV and movie websites. Tubi, one of the best choices of free streaming services on this list, is accessible for iOS, Android, Xbox One, PlayStation 4, and smart TVs as a free download.
While popular premium subscriptions like Netflix and HBO Max provide ad-free watching, these services may add up quickly. Monthly costs are subject to grow over time, as seen by Netflix's price increases in January 2022.
As a result, you've come to the precise place if you want to augment your subscriptions or stream for free. So, starting with Peacock as the overall best choice, here are our top selections for the most incredible free streaming services available right now.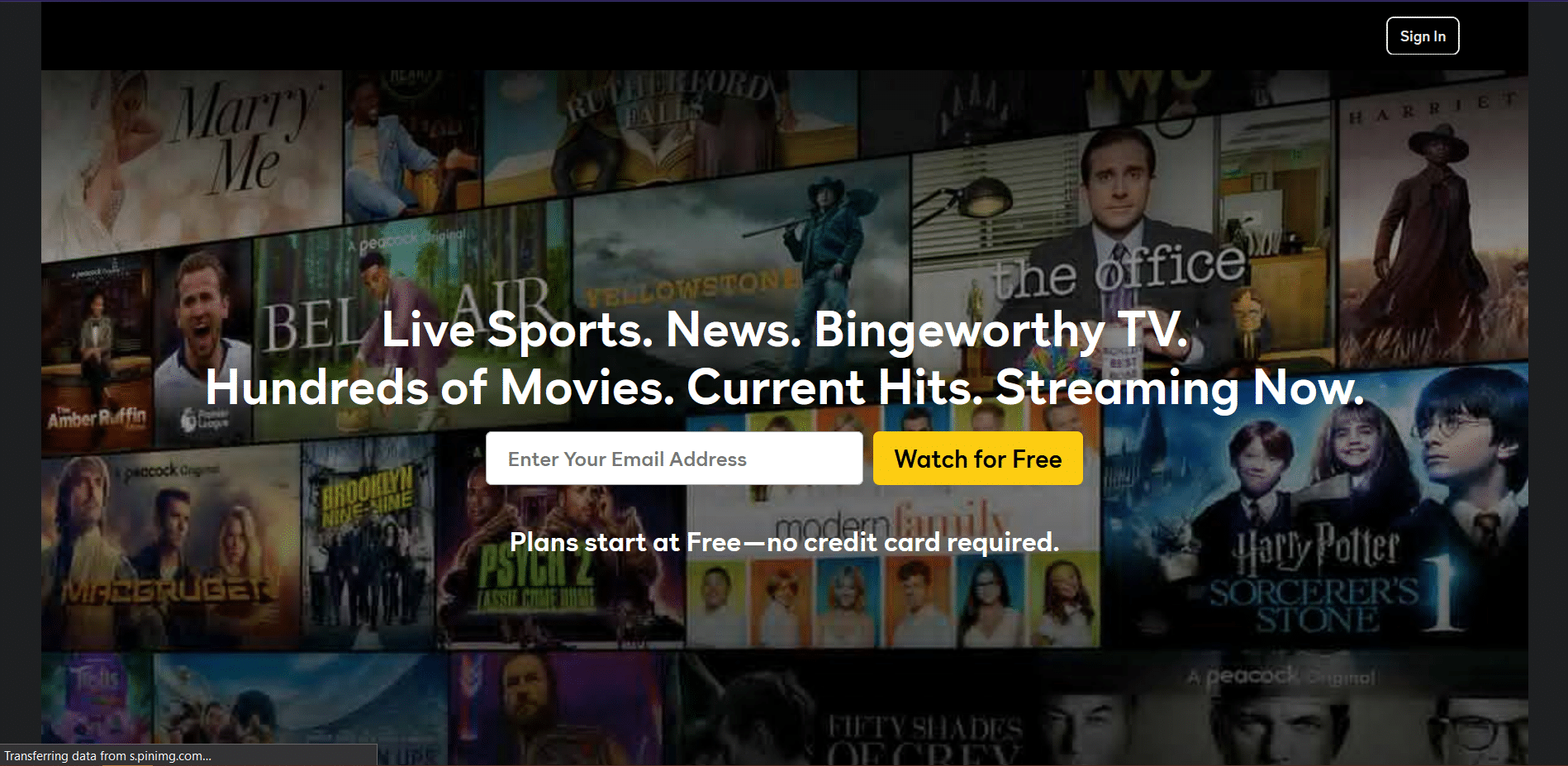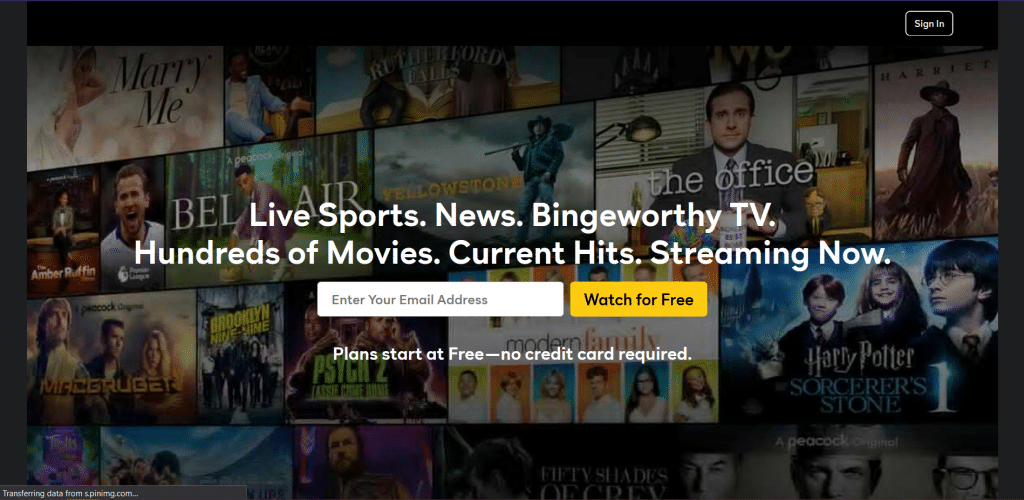 NBC's Peacock TV is a giant with over 13,000 hours of material available in its Peacock Free tier. Their free content is also excellent. The Office, 30 Rock, Battlestar Galactica, Cheers, Friday Night Lights, Parenthood, and Parks and Recreation are among the shows available.
There are also numerous films, ranging from Harry Potter to Jurassic Park. In addition, you won't have to input your credit card information to use Peacock Free. Still, you will have to view advertisements, including spots for Peacock Premium, a tier with even more programs and originals.
As a Peacock Free subscriber, you may check out the service's originals, such as the Saved By the Bell reboot. There are also "live" networks modeled on Saturday Night Live and the Today Show. If you're stuck for anything to watch, go through the channels and see what's on. Overall, we'd call Peacock Free a bargain – but it's completely free!
All you need is a valid email account to watch Peacock for free, and you'll get access to thousands of hours of video. In addition, users may upgrade to Peacock Premium or Peacock Plus to have access to additional material and restricted or no advertisements.
Peacock is accessible on almost every platform, allowing you to access your favorite material from wherever you are. Stream on Chrome OS, macOS, Windows desktops, iOS, Android smartphones, and tablets. Peacock is also available on Smart TVs and PlayStation, and Xbox consoles.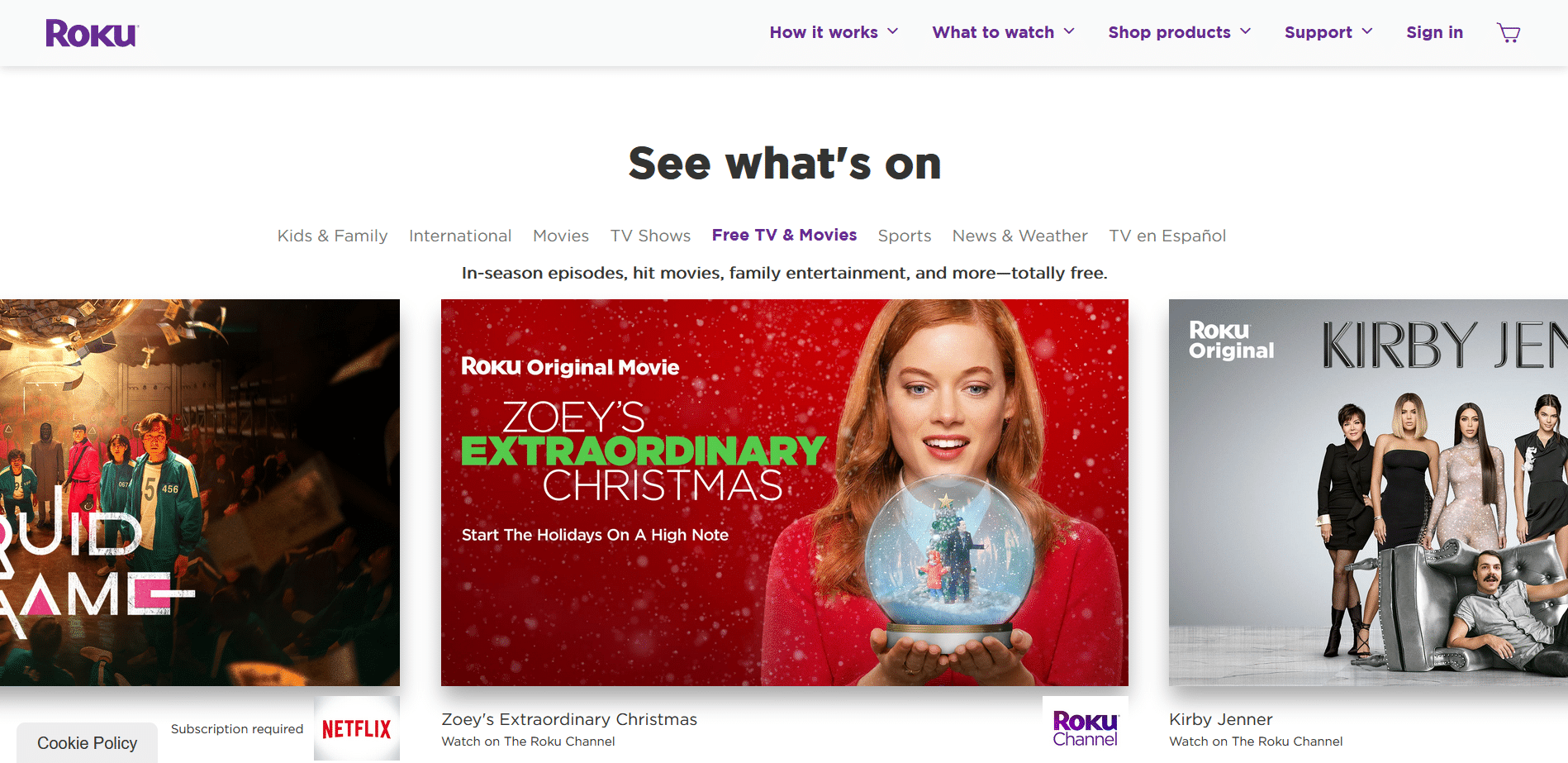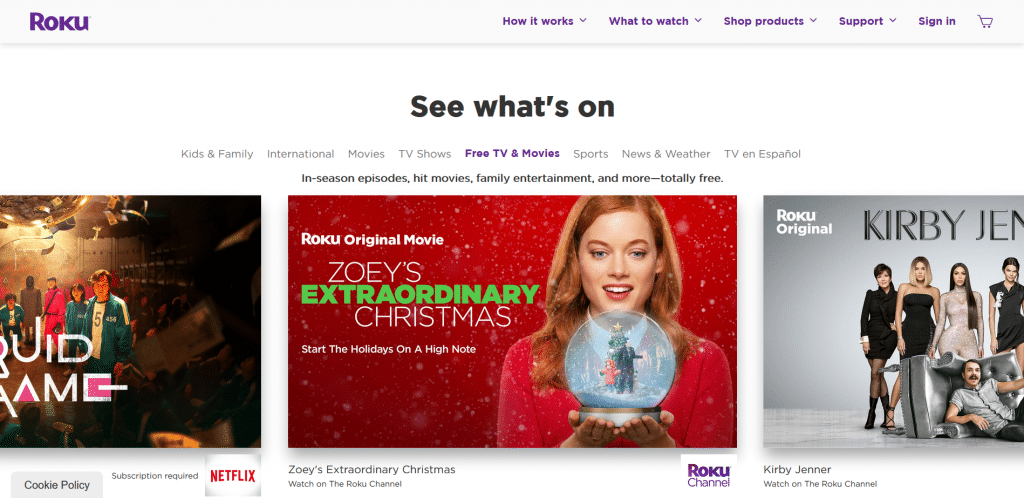 The Roku Channel app comes pre-installed on each Roku TV or device, but it can also be downloaded on smartphones and tablets. Of course, it's also available on the internet.
Although you are not required to register for an account to view the Roku Channel (you may watch as a guest), doing so allows you to continue watching content on another device.
It offers on-demand movies and TV shows, much like the other services. In addition, the Roku Channel has also launched a Roku Live TV Guide, allowing viewers to navigate between channels.
However, Roku Channel's most attractive feature is that it frequently broadcasts premiere episodes of major cable series like Game of Thrones, Billions, Outlander, Watchmen, and more.
After acquiring all of the originals from the now-defunct Quibi, the Roku Channel has surged in our free streaming service rankings.
It contains some excellent shows such as #FreeRayshawn and #Reno911. They also deserve our gratitude for rescuing the NBC sitcom Zoey's Extraordinary Playlist with a Christmas special. The Roku Channel is accessible on all Roku devices, including streamers and TVs, as you might anticipate.
Furthermore, you can watch the Roku Channel on its streaming website in any browser or through the Roku applications for iOS and Android. Unfortunately, it does not allow you to download its free online movies and TV series to watch offline. On Samsung Smart TVs, there's also a Roku Channel app.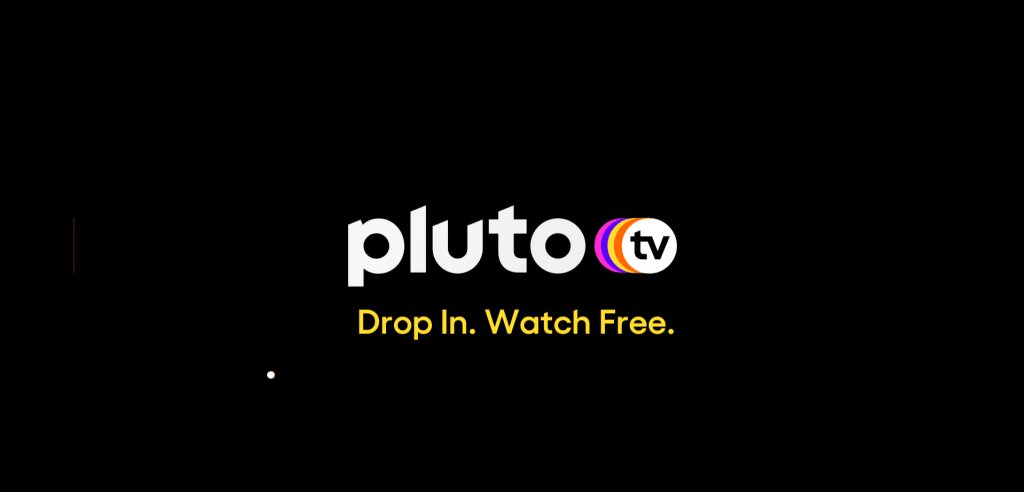 I recommend starting with Pluto TV if you want to dip your toes into the world of live free streaming TV. Because ViacomCBS owns this service, you'll get access to several very mainstream television alternatives.
Pluto TV also performs a great job of gathering some of the most popular free streaming options from around the web, allowing you to quickly duplicate the "channel surfing" experience you get with cable or satellite TV. Comedy Central, MTV, BET, VH1, Spike TV, and Nickelodeon are among the popular live channels available.
It's vital to realize that these aren't standard channel live feeds. Instead, they are distinct streams exclusively focused on specific categories of material. There are six Nickelodeon channels, for example, ranging from Nick Kids to Nick Movies.
Fox Sports, the MLB, the PGA Tour, and the NFL are among the sports possibilities. These aren't, however, live athletic events. Pluto TV also has news feeds from CBSN, NBC News, CNN, Bloomberg, Newsy, etc.
Pluto TV is a desktop browser-based service that also has a Windows app. In addition, apps for Android, iOS, and various smart TVs are available and channels for Apple TV, Fire TV, and Roku.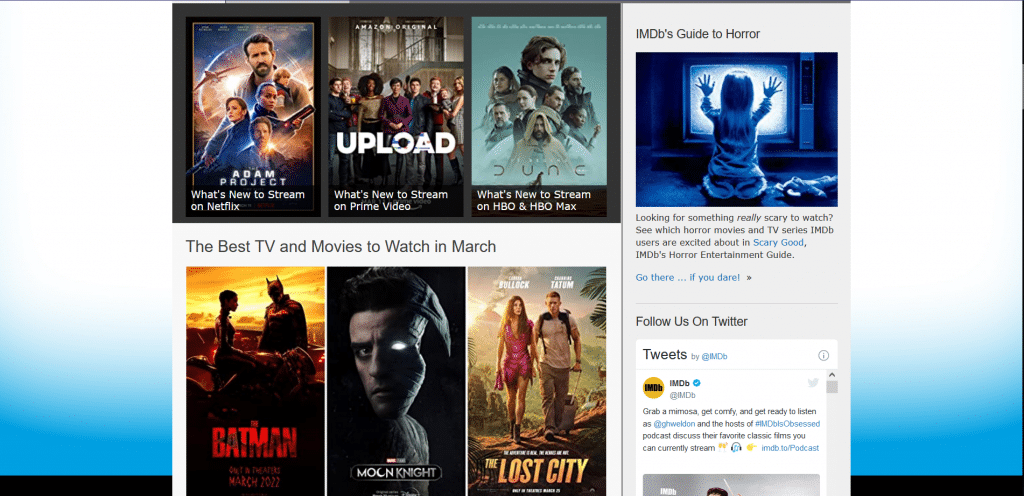 This website, which was first launched as FreeDive early last year, now has the venerable branding of the Internet Movie Database, a treasure trove of movie trivia that has been an Amazon subsidiary since 1998.
With its Fire TV devices, Amazon is Roku's most significant streaming hardware competitor, so you'll probably need a Fire TV — or a PC linked up to a TV — to view IMDb TV on an actual TV.
The service is mainly focused on classic movie streaming, as you might anticipate. Popular movies such as Paddington, Spider-Man (the 2002 version), and Elf are accessible, but there is also a good collection of TV shows.
Starting July 15, you'll be able to watch all seven seasons of the AMC classic Mad Men, as well as five seasons of the feel-good TV comedy Schitt's Creek, through the service (which is also available on Netflix commercial-free). Other shows include A&E's Cold Case Files, History's The Hunt for the Zodiac Killer, and more.
IMDb TV may be streamed on any PC or Mac browser and any Amazon Prime Video app on a phone or tablet; however, only Fire TV streamers and smart TVs running the Fire TV Edition software have access. You'll also want an account, though any Amazon account would suffice.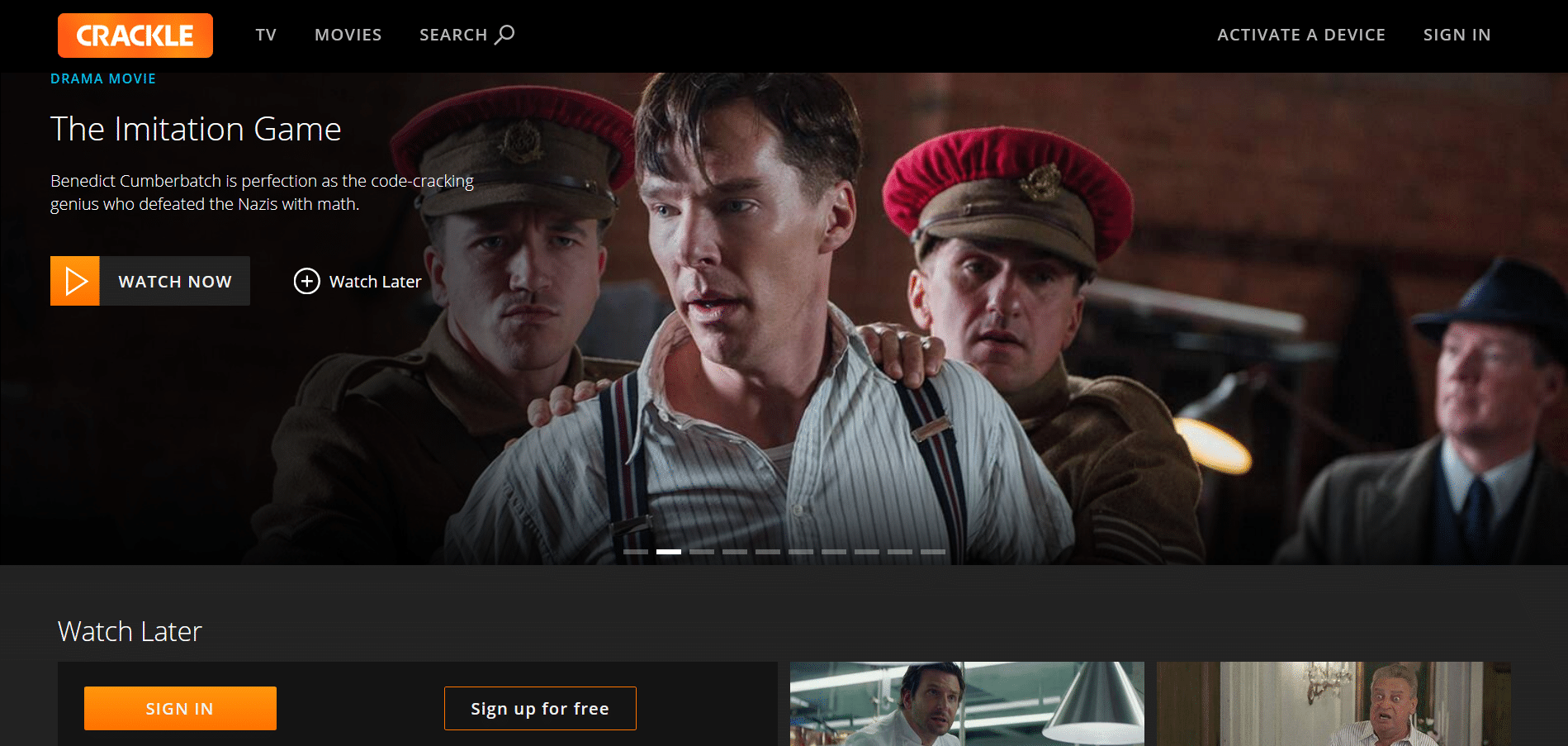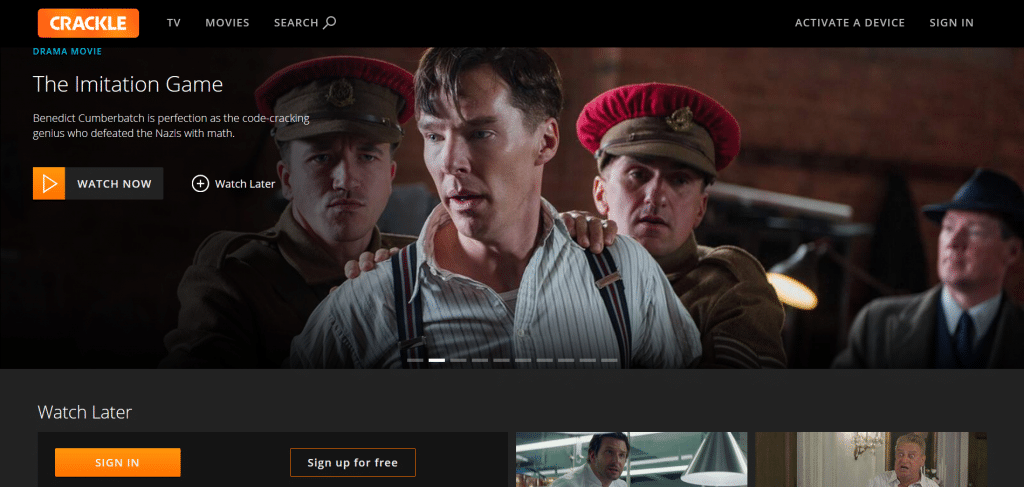 Crackle was one of the first free streaming services, beginning in 2004 while Netflix was still sending DVDs. Crackle, which Chicken Soup for the Soul Entertainment owns, offers a wide range of free movies, TV series, and even original content, distinguishing it from many of the other free streaming services on our list.
Crackle contains over 700 movies and a little over 100 TV programs at the time of writing. The major attraction of Crackle is its movie library, mainly because most TV programs are missing at least a few seasons. As a result, Crackle's collection is vast, but it pales compared to Tubi's reported 20,000 titles.
There is considerable content overlap between the two platforms as well. Crackle's movie catalog, however, is more significant than other premium choices, such as CBS All Access. In addition, although HBO Now has a similar amount of films, most of them are of considerably higher quality.
Crackle does not need registration; however, an account allows you to store your progress while viewing a movie and add favorites.
The movie collection is far more extensive and intriguing than the television library. Crackle is one of the most incredible free streaming services because it goes above and beyond the competition, with originals starring Martin Freeman, Bryan Cranston, and Rupert Grint.
The devices in Crackle's list span the majority of platforms. The Crackle apps are available for all major mobile platforms, game consoles, and streaming devices. In addition, many smart TVs have it built-in. However, it does not allow you to download shows to watch them later.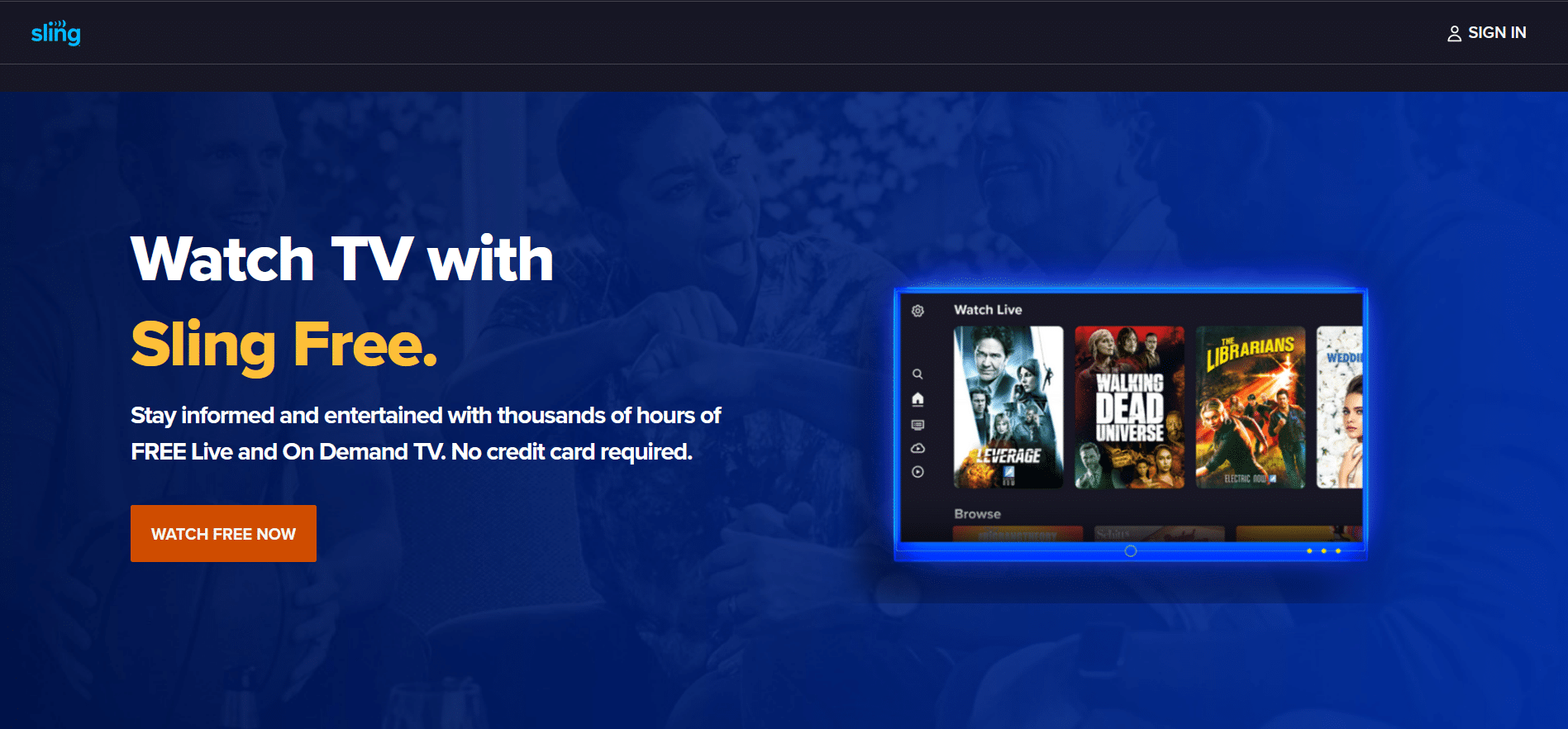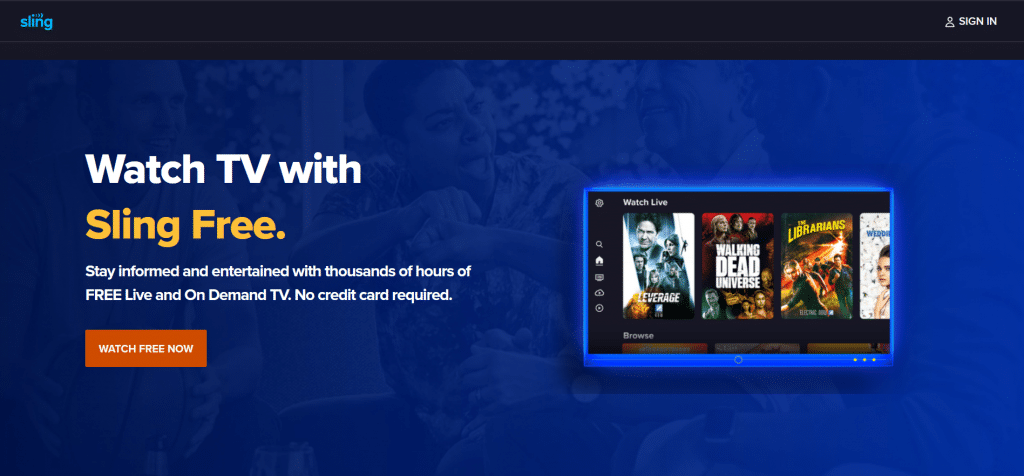 At $30 a month for 50+ channels, Sling is one of the best live TV streaming services on the market. They just launched a free zone featuring live and on-demand programming. Unfortunately, there aren't many free live channels, and most of them, except for ABC News, aren't well-known.
The on-demand section offers more material; however, it includes many of the same TV shows as other free services, such as Forensic Files, Hell's Kitchen, Unsolved Mysteries, Roseanne, and 3rd Rock From the Sun.
Crocodile, Howl, The Illusionist, and Double Identity are among the recent releases in the movie department. However, sling Free appears to be more of a marketing tool for the pricier subscription options.
Sling TV's Free service works with the same devices as Sling (they utilize the same software), and the list is long: from streamers to consoles to mobile devices.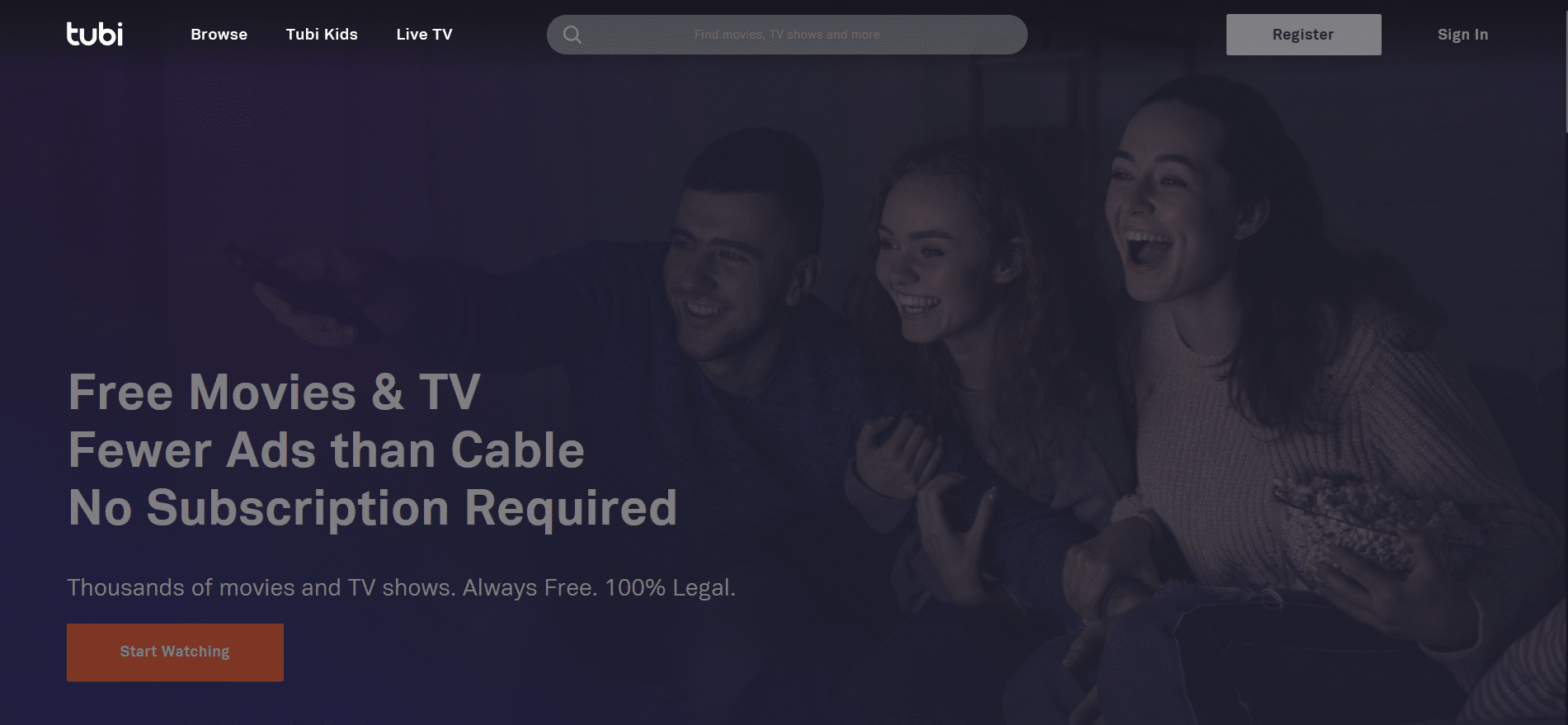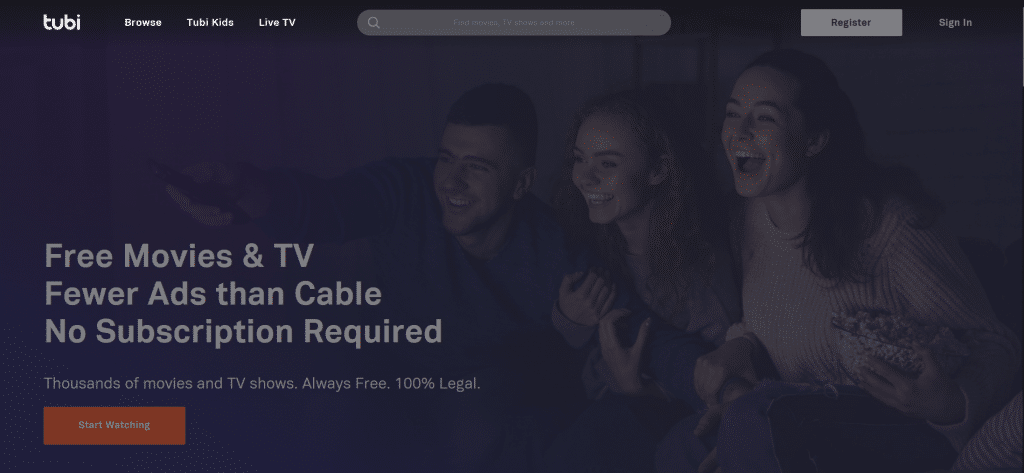 Consider Tubi to be a free version of Netflix, with over 20,000 movies and TV series available on demand. On the other hand, Tubi lacks the newer, high-profile titles that a subscription platform offers and unique content. However, for a free streaming service, its library is still outstanding.
Tubi (now owned by Fox Corporation) created it by forming partnerships with over 250 different companies, including Hollywood heavyweights Paramount, Lionsgate, and MGM. The Terminator, Foxcatcher, Kill Bill, The Craft, and Fruitvale Station are among the most recent titles accessible.
Tubi offers an easy, simplified user experience. Recently Added, Family Movies, Action, and Black Cinema are among the areas on the home page. In addition, more genres and selected collections, including the witty, humorous genre not on the Netflix section, may be found by clicking the menu.
Tubi may be used without registration; however, registering provides access to parental controls, a queue, and your watching history.
Tubi TV has a device list that rivals Crackle. Apps for Tubi are available for Android and iOS, the major gaming consoles and streaming devices, and select Samsung TVs. Unfortunately, it does not allow you to download items to view offline.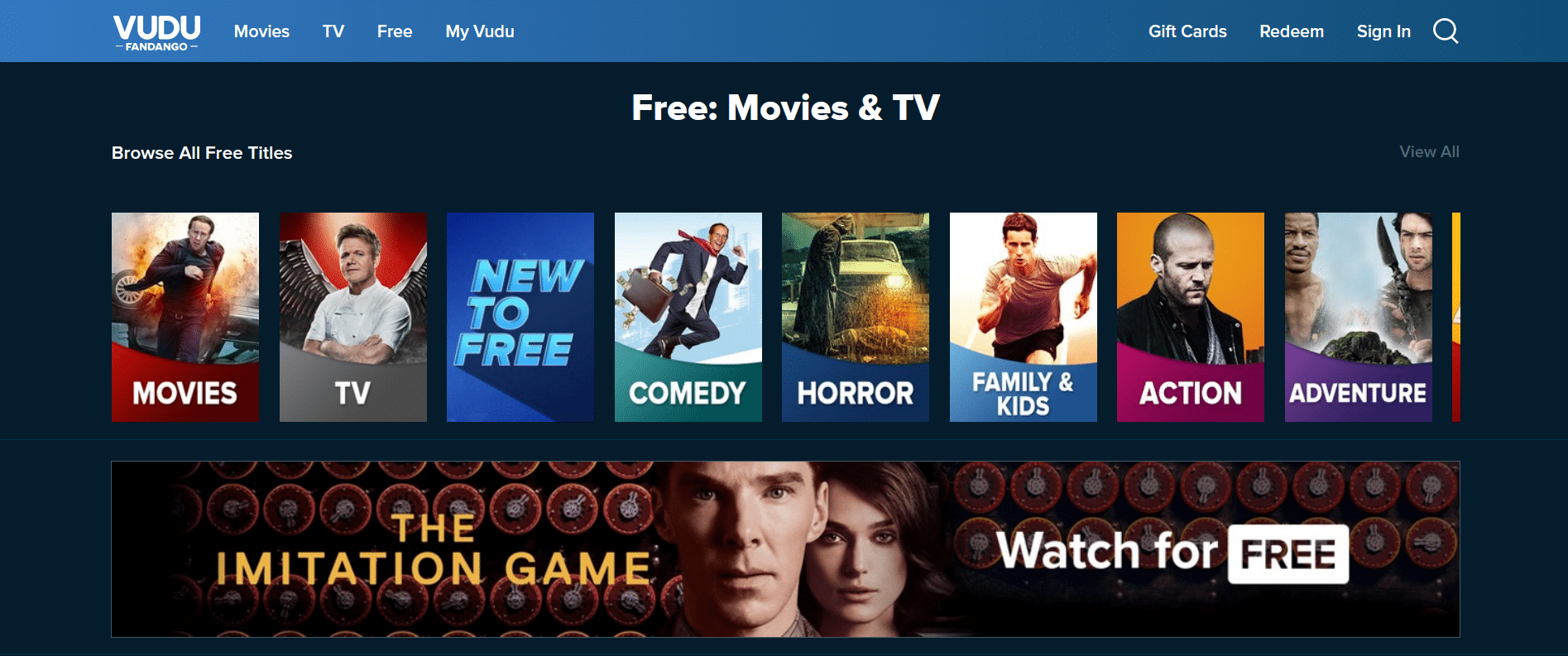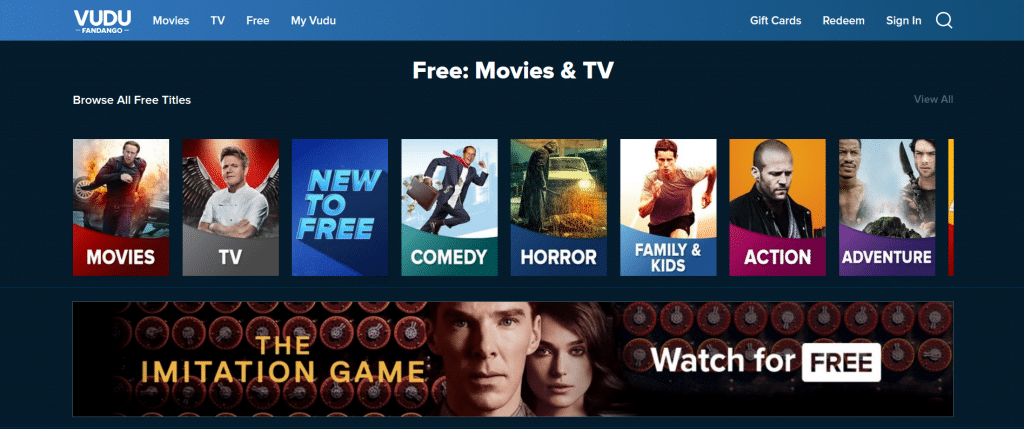 The Walmart-owned company Vudu is a digital marketplace where you may buy and stream new movies and TV episodes. So, to use Vudu, you must first create an account (or use your Walmart account).
After that, you'll get access to over 10,000 free movies and TV shows. Even though none of them are recent blockbusters, the collection is superior to other free streaming providers.
The movie selection is superior to that of television, including current releases such as Troy, The Prestige, All Is Lost, Hoosiers, and Four Weddings and a Funeral. In addition, Vudu intends to create unique content, such as the sci-fi series Albedo starring Evangeline Lilly, unlike other free sites.
Vudu has a user-friendly UI. Free material is clearly identified, and you may search for titles that are only available for free. Unfortunately, the advertisements are nearly as frequent as those seen on other free sites, although they are more repetitious (and sometimes annoyingly interactive, requiring you to choose an option).
Vudu may be accessed through various devices, including smartphones, tablets, PC web browsers, and smart TVs.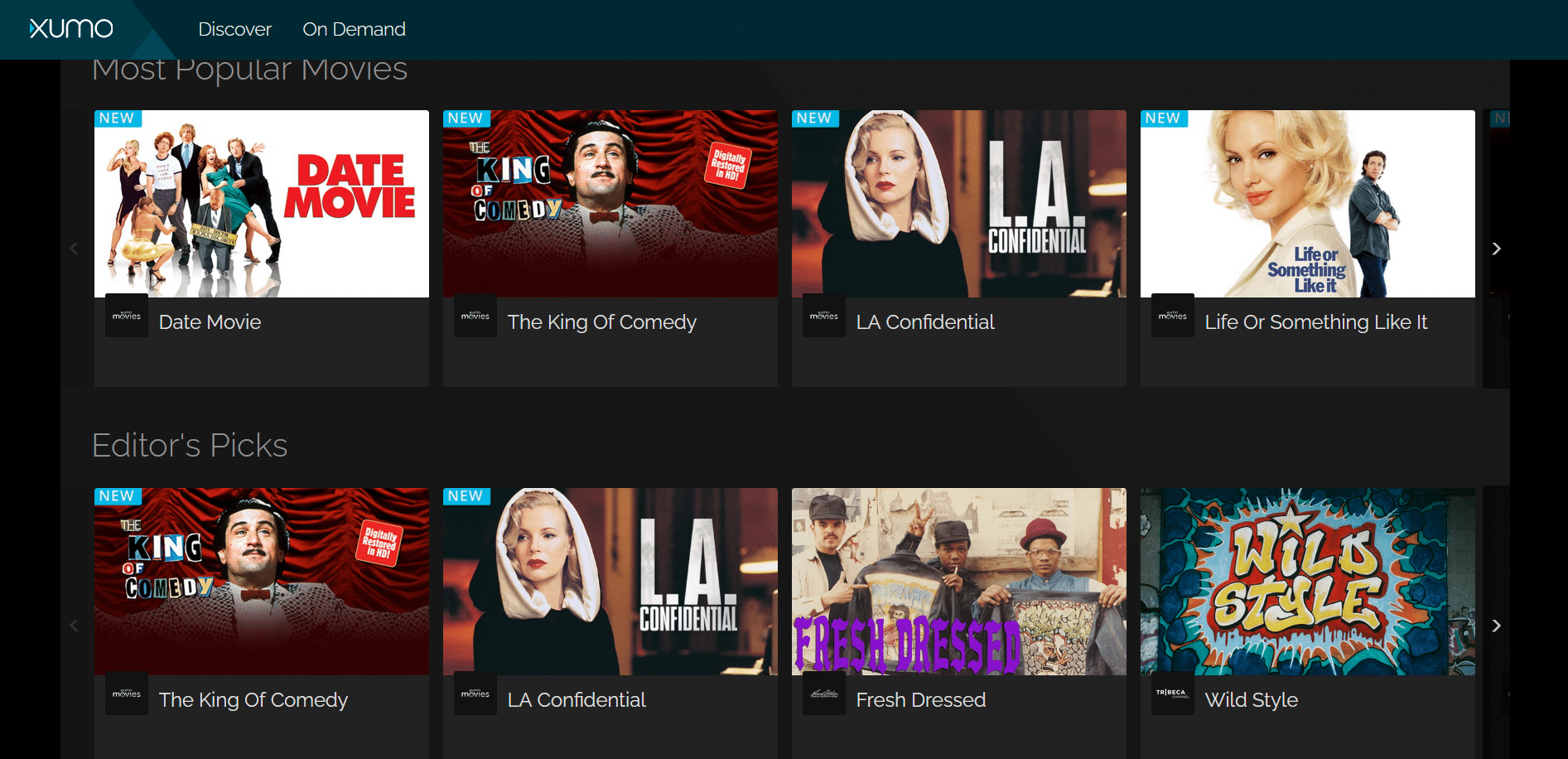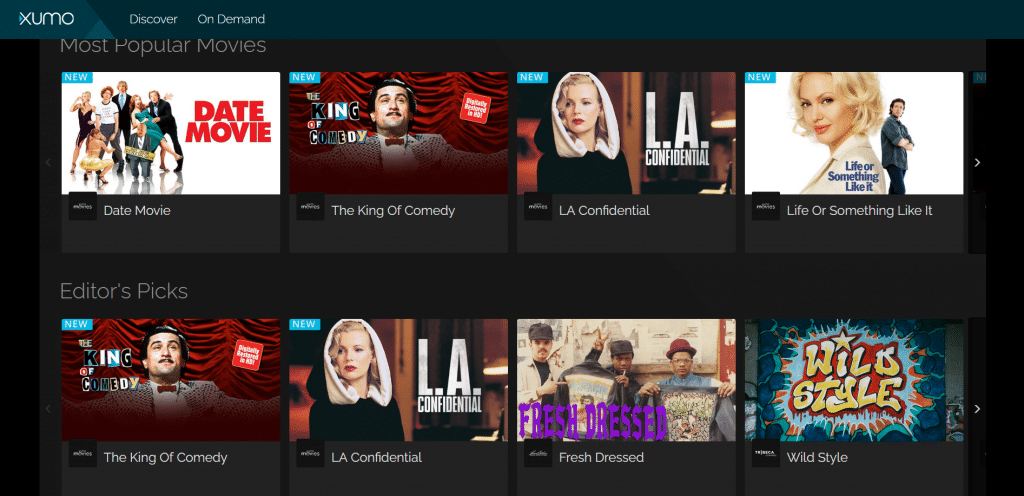 Next up is Xumo, a free streaming service that offers live and on-demand programming. The app is available on numerous major smart TV models and Roku, iOS, and Android. Again, there is no need to register. NBC News, Fox Sports, Funny or Die, and TMZ are among the more than 190 channels available on Xumo.
The central feature of Xumo is a grid-style guide, similar to what you'd find on cable TV. While channel surfing, you may watch live. The on-demand section organizes all of the channels by genre.
On the other hand, the UI makes it difficult to see what TV series are accessible. However, the typical free fare appears to be available on Xumo: 21 Jump Street, Forensic Files, Family Feud, and Unsolved Mysteries.
At the very least, the mobile app provides a movies option that you may peruse. Xumo is a free live and on-demand TV and movie streaming service that wants to be your one-stop-shop. It has a growing library of 190+ distinct channels spanning several genres.
Viewers may watch special programming dedicated to Black History Month on channels like Kevin Hart's LOL! Network, Xumo Black Cinema, Bounce XL, and Fox Soul. In addition, with the Vevo '80s, Vevo Pop, and Billboard channels, music fans can groove out to their favorite tracks or keep up with the latest music news.
If you want to watch music videos, news, stand-up comedy, sports, and other content across various devices, Xumo is a good choice. Xumo is available on the web, mobile devices, and Smart TVs, much like its competitors.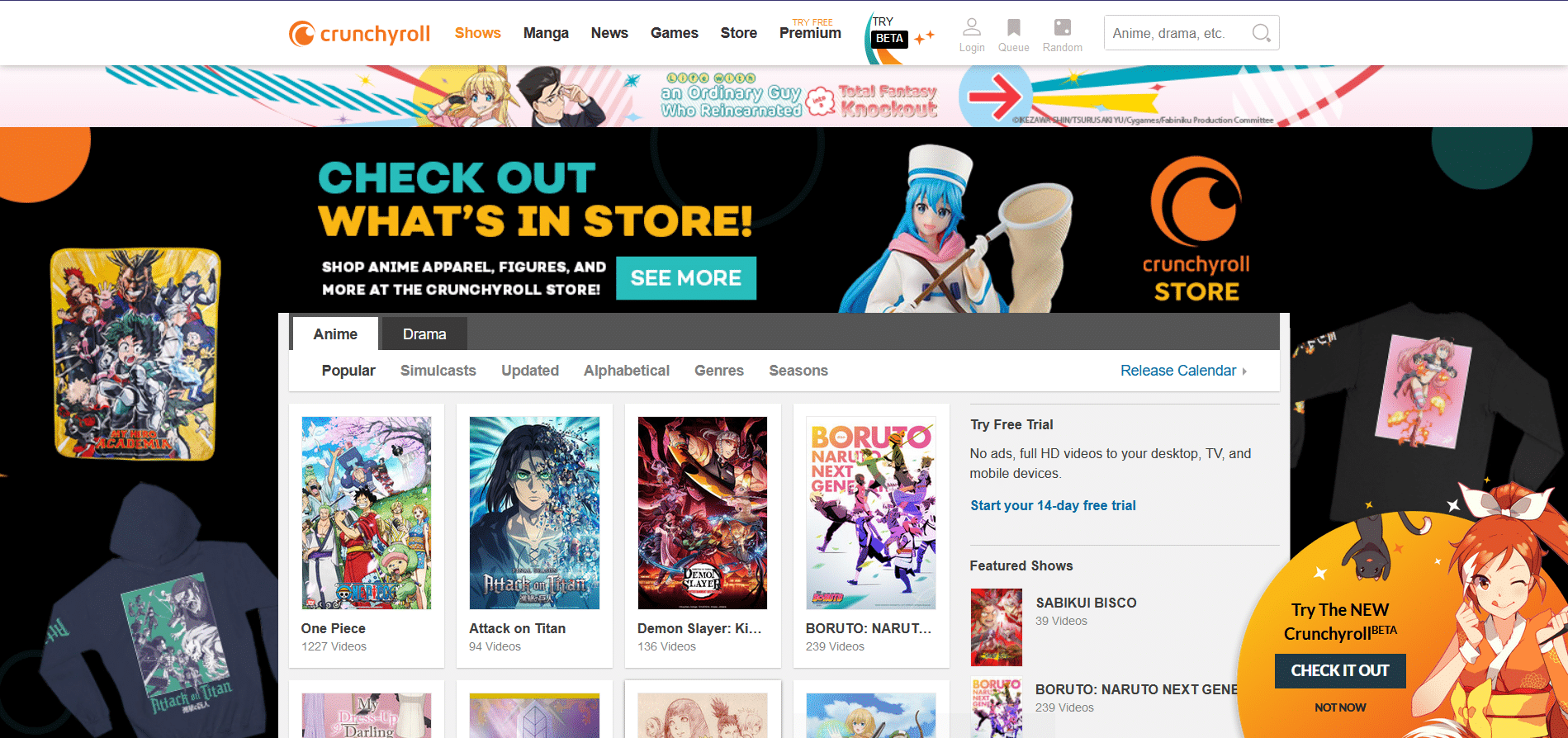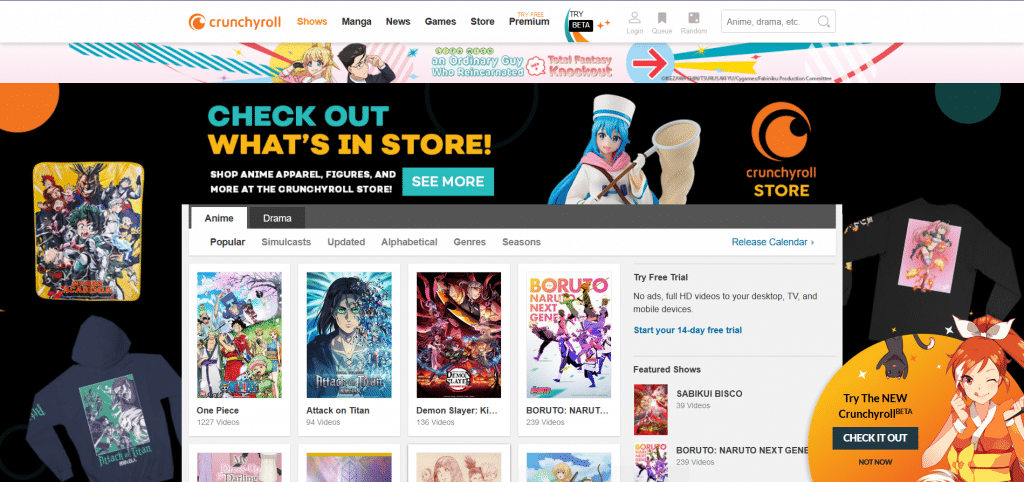 Crunchyroll's large library and robust simulcast support will be enough to let its specialized, anime-loving audience overlook its flaws. When it comes to video streaming services, anime enthusiasts are spoiled for choice. One of the most well-known names in the industry, Crunchyroll, is one of the greatest locations to watch anime.
There are over 1,200 series available, several simulcast shows, and an ad-free tier. However, Crunchyroll is a service for anime enthusiasts only; if you want to watch cartoons or other animated programs, you should go elsewhere.
Also, if you prefer dubs over subs, you'll be dismayed to learn that the latter dominates Crunchyroll's collection. Nevertheless, Crunchyroll is worth looking at if you want to see anime series right after they premiere on mainstream television.
The drawback of Crunchyroll is that the adverts may become overwhelming, especially for popular anime.
However, during a streaming experiment, I used a simple adblocker and found that to be the solution to remove the ads when streaming off PC web browsers. I was excited that there were absolutely no ads during my streaming experiment, which ultimately provided a paid user experience.
Alternatively, Crunchyroll also provides a 14-day free trial to new users for those who would like to binge a free season of their favorite series and not pay a penny to remove ads or those who would like to test out the paid experience before deciding to commit.
When it comes to Crunchyroll streaming, PCs or laptops work best for queue management. Unfortunately, the interface on the PS4, FireTV, and WiiU is not as simple as that of a computer or mobile device; however, users still find themselves able to stream off them.
The ease of use of a tablet's interface is superior to that of a phone due to screen size (less scrolling). The phone is ideal for fast and on-the-go streaming.
Related Questions
How To Choose The Right Free Streaming Service?
You don't have to select just one of the best free streaming services because they're all free. However, you may find it tough to balance a variety of applications and prefer to concentrate on one or two. When it comes to options, the first thing you should think about is whether or not you want to be able to view live networks. 

Whether that's the case, try Pluto TV, Sling Free, Xumo, Peacock, or see if the Roku Channel's new live TV guide is available in your area. Try Peacock, Crackle, IMDBtv, Tubi, or Vudu if you simply want to watch movies and TV series on demand.

If you are looking for something detailed for the youth, or even if you are an anime fan yourself, then Crunchyroll is the ideal choice. You don't have to select between the best free streaming services since they're all free. That said, balancing various applications may be tough for you, and you may choose to concentrate on just one or two.
Is Free Steaming Categorically Free?
There is no such thing as a forthrightly free streaming service. While free video streaming services may appear free, you are almost likely paying with your personal information. Therefore, your ad views are important with most free video streaming providers. Kanopy is an exception; it does not display advertisements.

The specifics of ad behavior differ depending on the provider. Crackle, IMDb TV, Peacock, and Xumo, for example, use markers on the playback interface to show you where adverts will appear. But, at least for on-demand entertainment, it's a good bet that you'll have to wait through adverts every 10 minutes or so.

When we tested various streaming sites, we had to go through five adverts (each between 15 and 30 seconds long) while streaming a 43-minute episode. Although Crunchyroll, Crackle, Tubi, Vudu, and Xumo do, various sites do not contain advertisements in streams.

Using a mix of ad-blocking and privacy-enhancing extensions, we could get past adverts on the online versions of certain free services. Then, to avoid commercials, upgrade to a higher tier or switch to a service that doesn't have any ads at all, such as Disney+, HBO Max, Netflix, or Prime Video.