Best Consumer Rewards Programs
Important Note: When you buy through our links, we may earn a commission. As an Amazon Associate we earn from qualifying purchases. Content, pricing, offers and availability are subject to change at any time - more info.
Key Takeaways
Several merchants provide loyalty programs that provide consumers with benefits and prizes for their repeated purchases.
We prepared a list of 10 of the best loyalty programs from businesses ranging from pharmaceuticals to clothes, fast food, and beauty products.
A rewards program is a competitive strategy. As a result, it must satisfy specific requirements, such as fitting with corporate capabilities, consumers gaining value from the program, and organizations providing more desired choices than their competitors.
The most effective customer rewards and loyalty programs improve customer retention, revenue, and brand evangelists. In today's hypercompetitive industry, they're critical for brands, and most of them provide competitive benefits. That said, what are some of the best consumer rewards and loyalty programs?
---
Advertisement
---
Ten Best Consumer Rewards & Loyalty Programs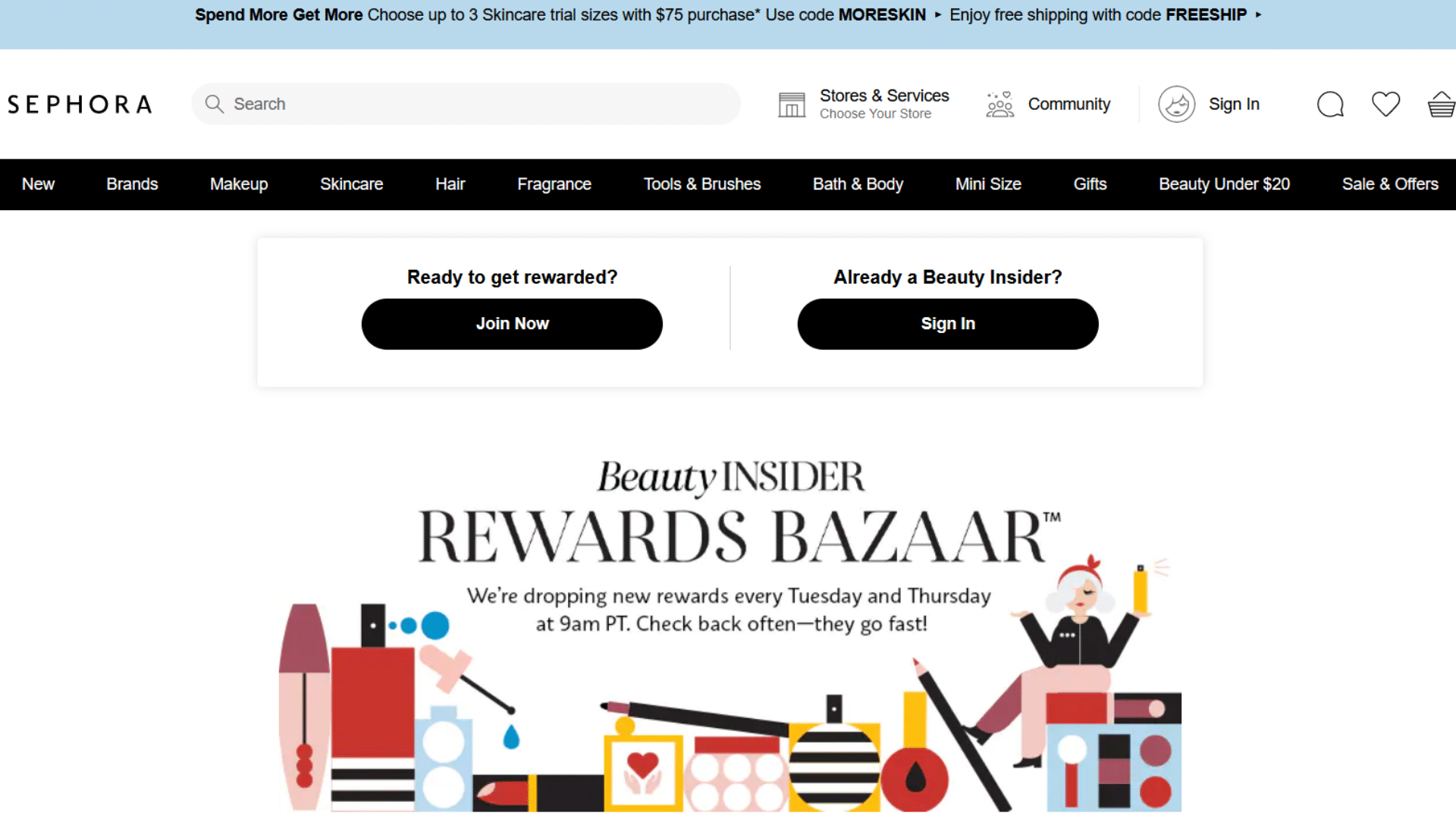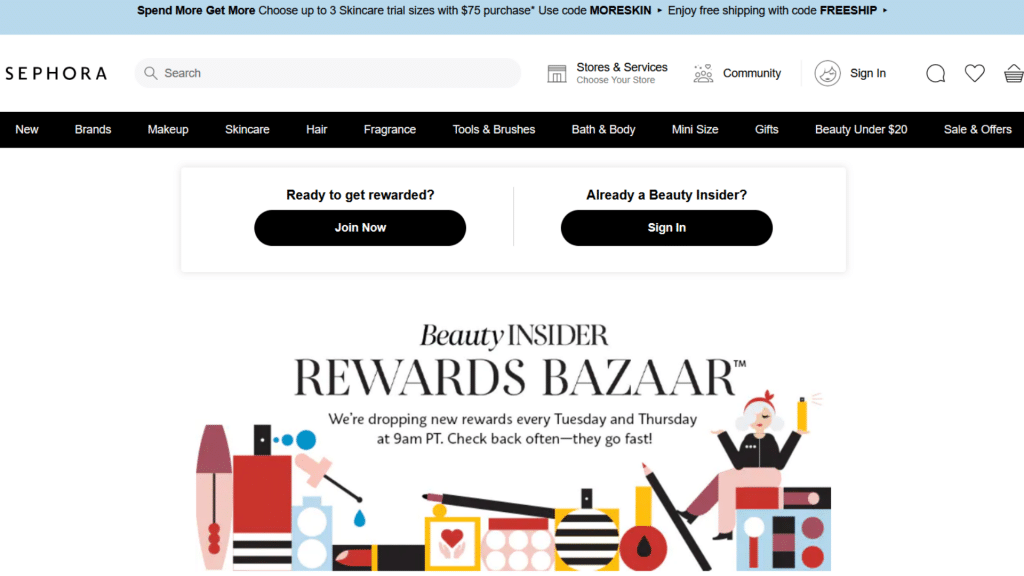 The Beauty Insider loyalty program is one of Sephora's brilliant marketing methods, resulting in the brand having a loyal following of consumers and brand advocates. In addition, Sephora has significantly benefited from the campaign to keep customers engaged and increase customer retention.
With over 25 million dedicated members, Sephora's Beauty Insider program is top-rated. You might be surprised to learn that Sephora's loyal customers account for up to 80% of the company's annual revenue.
It's a free loyalty program that lets users in the United States and Canada earn points on every transaction. Insiders, VIB, and Rouge, are the three tiers of Sephora's loyalty program as of 2021. Every tier has its own benefits and rewards, and a general guideline that every dollar spent earns a client one beauty insider point.
Insider membership is open to everyone. To become a VIB member, you must spend more than $350 at Sephora every year. A Rouge membership costs more than $1000 each year.
Members receive exclusive privileges, exclusive bonuses, and prizes, as well as gifts on their birthdays, free makeovers, free beauty, and cosmetics lessons, and priority delivery on their online shopping.
The VIB Rouge card also grants entry to VIP events. In addition, customers in each tier of the program enjoy exclusivity, giving them a sense of belonging to the Sephora elite.
The pricing is one of the most significant downsides for Sephora clients. The goods from Sephora are a little costly. However, the Beauty Insider program allows its users to exchange their reward points for items such as:
Gift cards
Free delivery or free samples are available
They may even use their points to get special events and meet-and-greets.
In brief, Sephora retains consumers by allowing them to pick how they spend points and acquire the goods and discounts they desire without lowering the perceived worth of the products.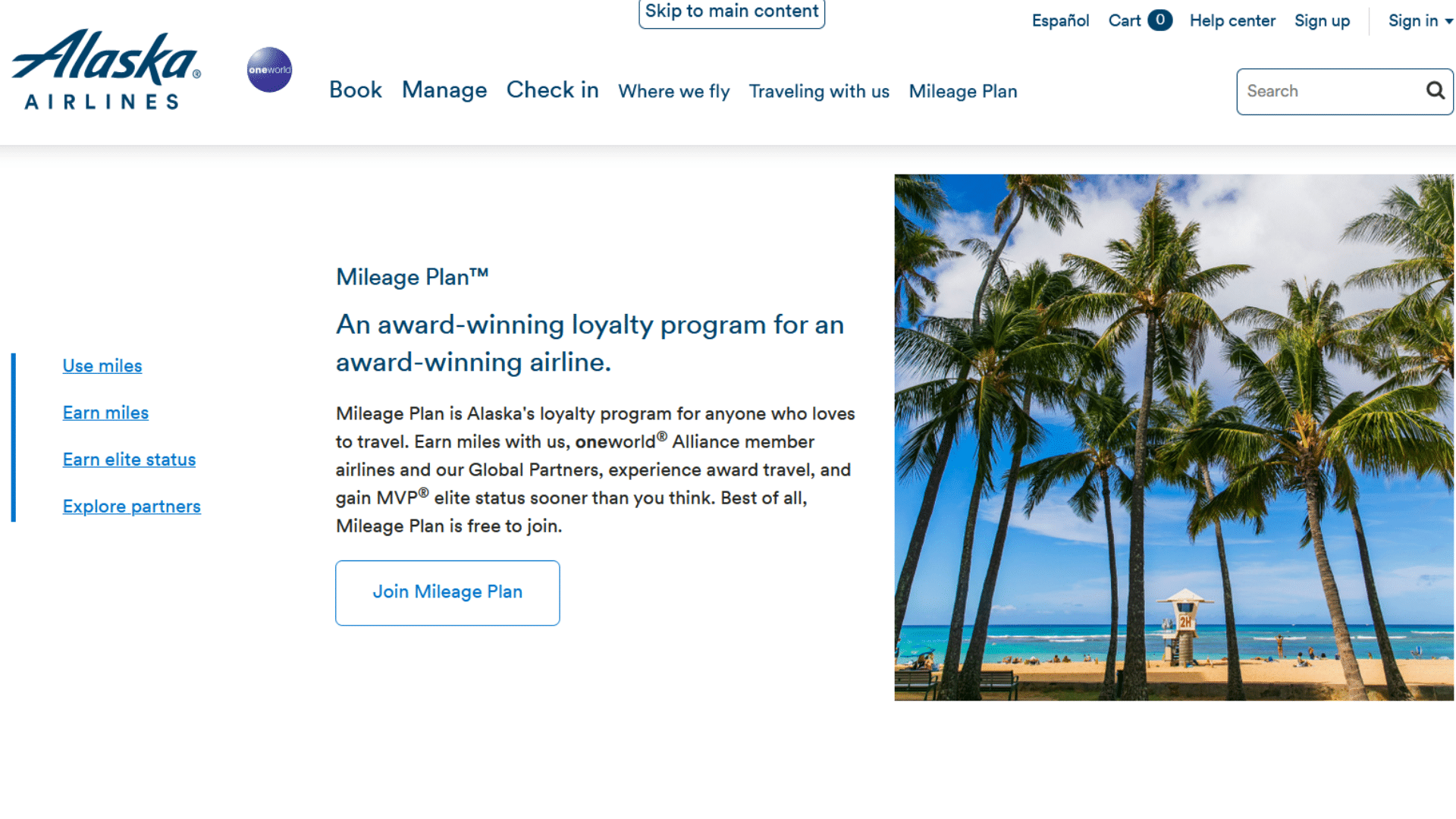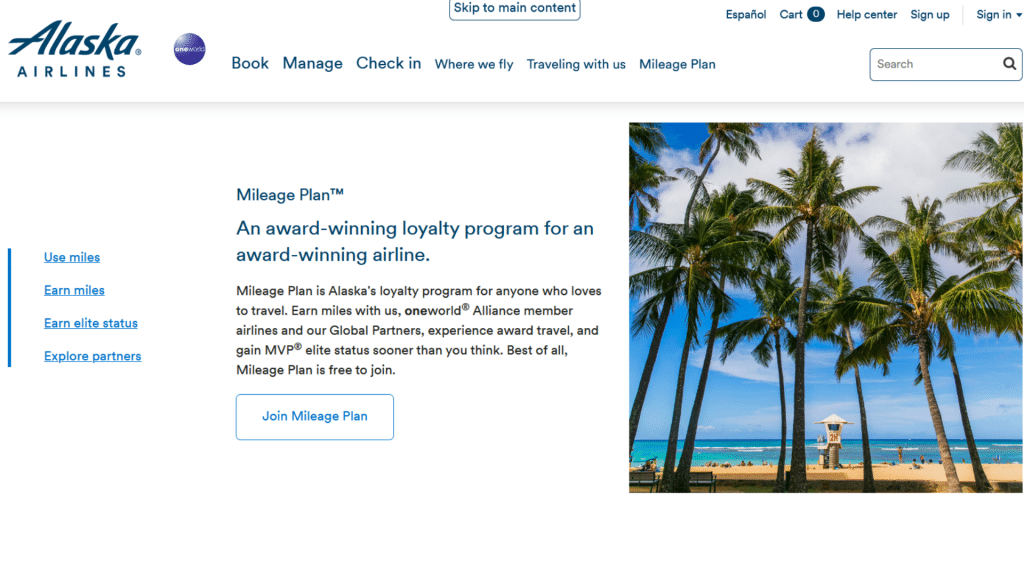 Alaska Airlines ticks all the requirements for passengers flying from the West Coast: It provides free Starbucks in-flight, has a ridiculously lucrative co-branded credit card, and gets you where you need to go. Anchorage, Alaska, and Portland, Oregon are other Seattle-based airlines.
If you travel Alaska frequently, Mileage Plan, the airline's frequent flyer program, is worth joining because of the carrier's extensive network of airline partners and attractive credit card offers. It's also an excellent program for people wishing to use miles to book long-haul overseas trips.
Miles can be exchanged for flights on Alaska or its partner airlines through Alaska Airlines' reward program. Alaska Airlines miles are valued at 1.1 cents apiece on average, but with savvy redemptions, you may make a lot more out of them.
The Alaska Airlines Mileage Plan is free to join. After that, if you fly sufficiently in a calendar year, you can qualify for elite status. Free improvements and other perks come with Elite membership.
If there is no activity in your rewards account for two years, your account may be canceled, and your miles may be forfeited. If this happens, you can retrieve your points for a price within one year.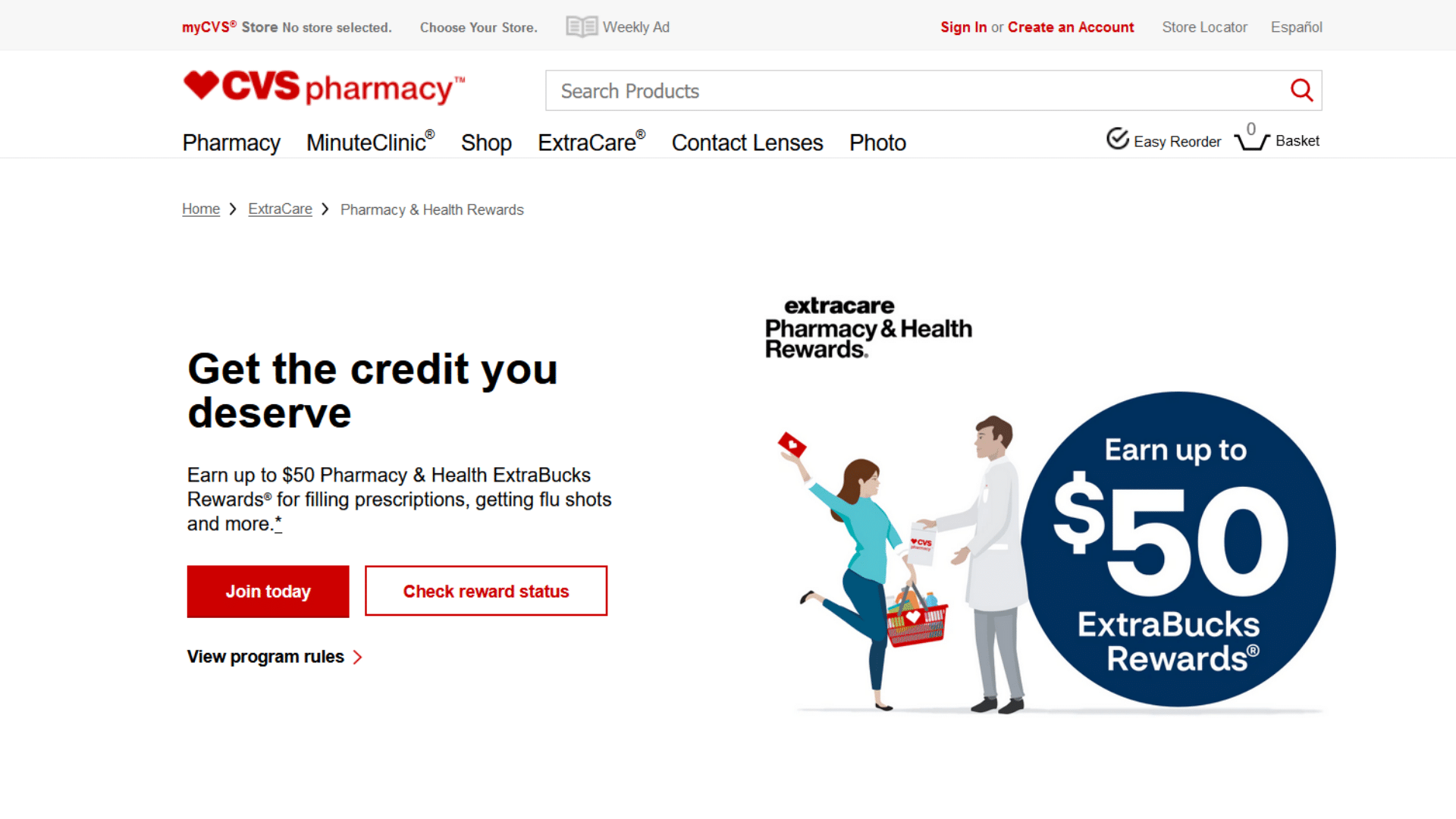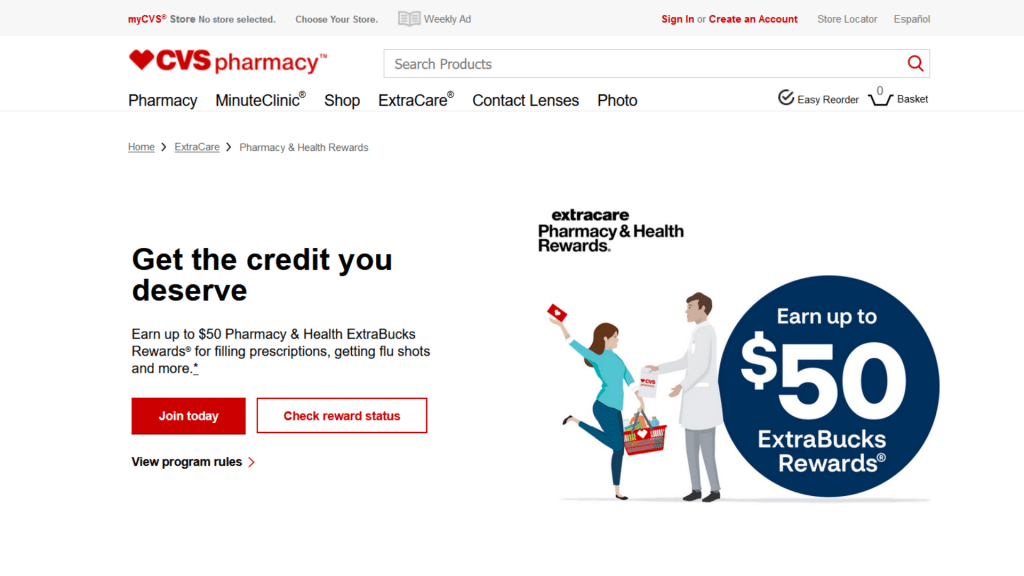 CVS announced significant improvements to its loyalty program in July 2021, enhancing its already strong ExtraCare program with new advantages and more frequent awards.
Nearly one in every four people in the United States is a member of the program, which gives them access to unique, tailored deals and discounts on most purchases at CVS Pharmacies. The following changes were made to the rewards program at the time:
The ExtraCare rewards program, which pays 2% back on most purchases, had been simplified starting in July 2021. Users will track and spend their rewards via mobile devices thanks to a redesigned CVS App experience.
ExtraCare users will now be able to receive their 2% rewards instantly after each shopping trip, according to CVS. Members have been waiting for quarterly distributions to earn their 2% back via Quarterly ExtraBucks for almost two decades. After extensive research, CVS changed this program component and found that most CVS customers want their rewards sooner and with greater freedom and flexibility to use them as they choose.
Members can use their rewards on their next visit or save them up to spend later.
CVS will provide all members with a birthday reward as a bonus to the program.
CVS is starting a special event at the end of June that will go through July, during which all ExtraCare members will be able to get handouts via the app.
The ExtraCare program has had quarterly ExtraBucks since its inception more than two decades ago. Still, with new program modifications, CVS is making it easier and faster for customers to save the way they want while also converting the CVS App into an even more powerful savings hub.
ExtraCare has over 74 million members, who may also join two other free CVS loyalty programs — ExtraCare Pharmacy & Health Rewards and ExtraCare BeautyClub — to receive extra discounts and earnings perks, offering even more value from shopping at CVS.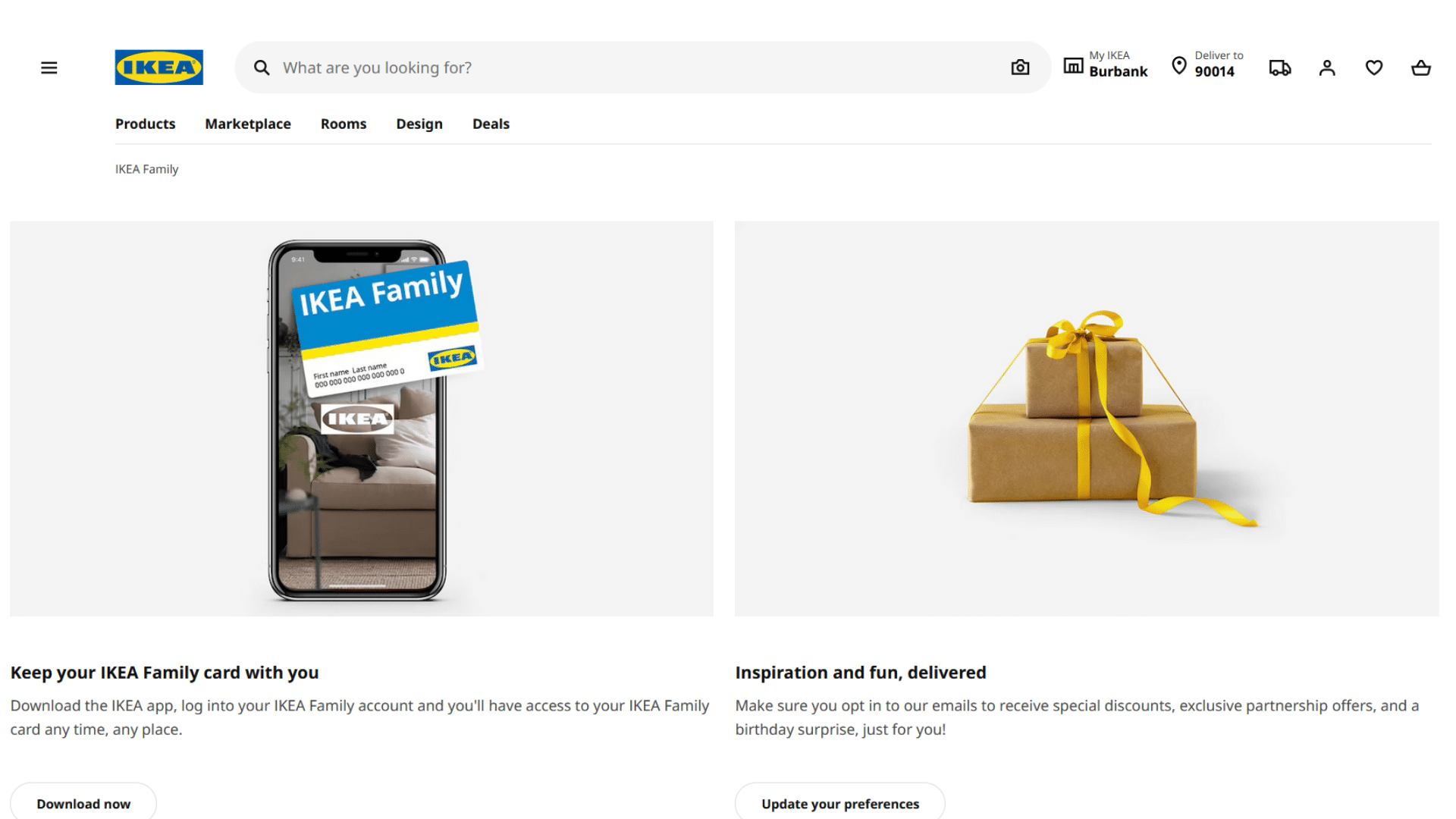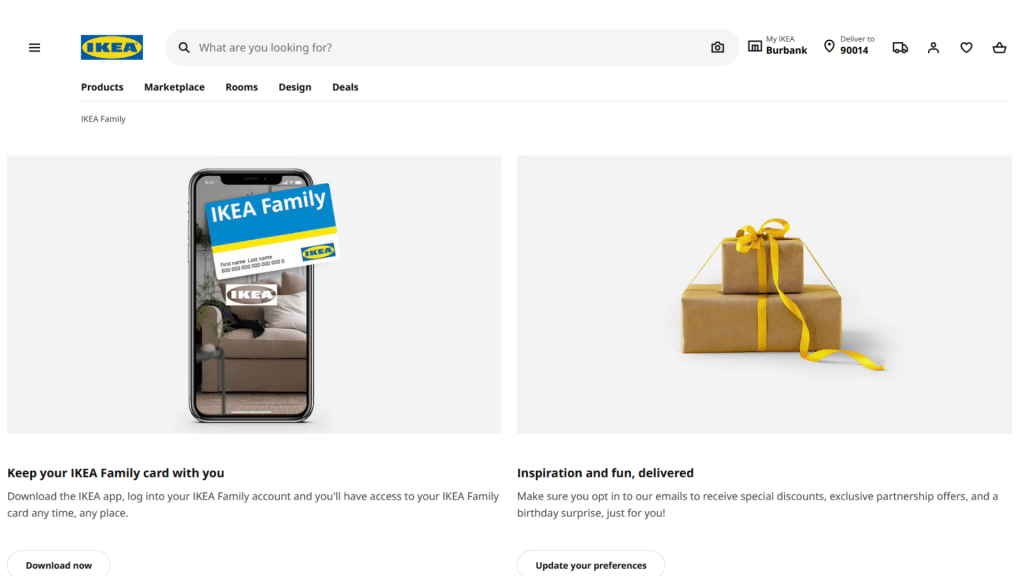 IKEA has a lot of positive aspects. Within the walls of one huge store, you can find fashionable yet economical home furniture and décor, exotic houseplants, a do-it-all bag for about $1.30, and even a whole dinner. The store's loyalty card, on the other hand, is likely something you're neglecting.
Members of the IKEA Family Card are entitled to various privileges and freebies detailed in the terms and conditions. Monthly product discounts, free coffee or tea throughout your stay, 30 more minutes in the kids' play area, and BOGO frozen yogurt are just a few of our faves. That said, here are a few of IKEA Family's many advantages:
After signing up, you'll receive a voucher for a free ice cream cone from the café.
Every time you visit the store, you'll get a free cup of coffee or tea.
On some goods, the IKEA Family price is available.
For your birthday, you'll get a $15-off voucher.
For your birthday, you'll get a free meal and cake.
You have the right to a price adjustment as an IKEA Family member within 90 days. Of course, there are apparent advantages to this all year. Still, it's especially beneficial if you can arrange a significant purchase—such as kitchen remodeling items—around some of IKEA's most considerable bargains.
If you know an IKEA blowout sale is coming up, such as the Kitchen Sale, stock up before the event. You'll skip packed aisles and long lineups at checkout, but you'll save even more money if you return your receipt. IKEA will compensate you for the difference.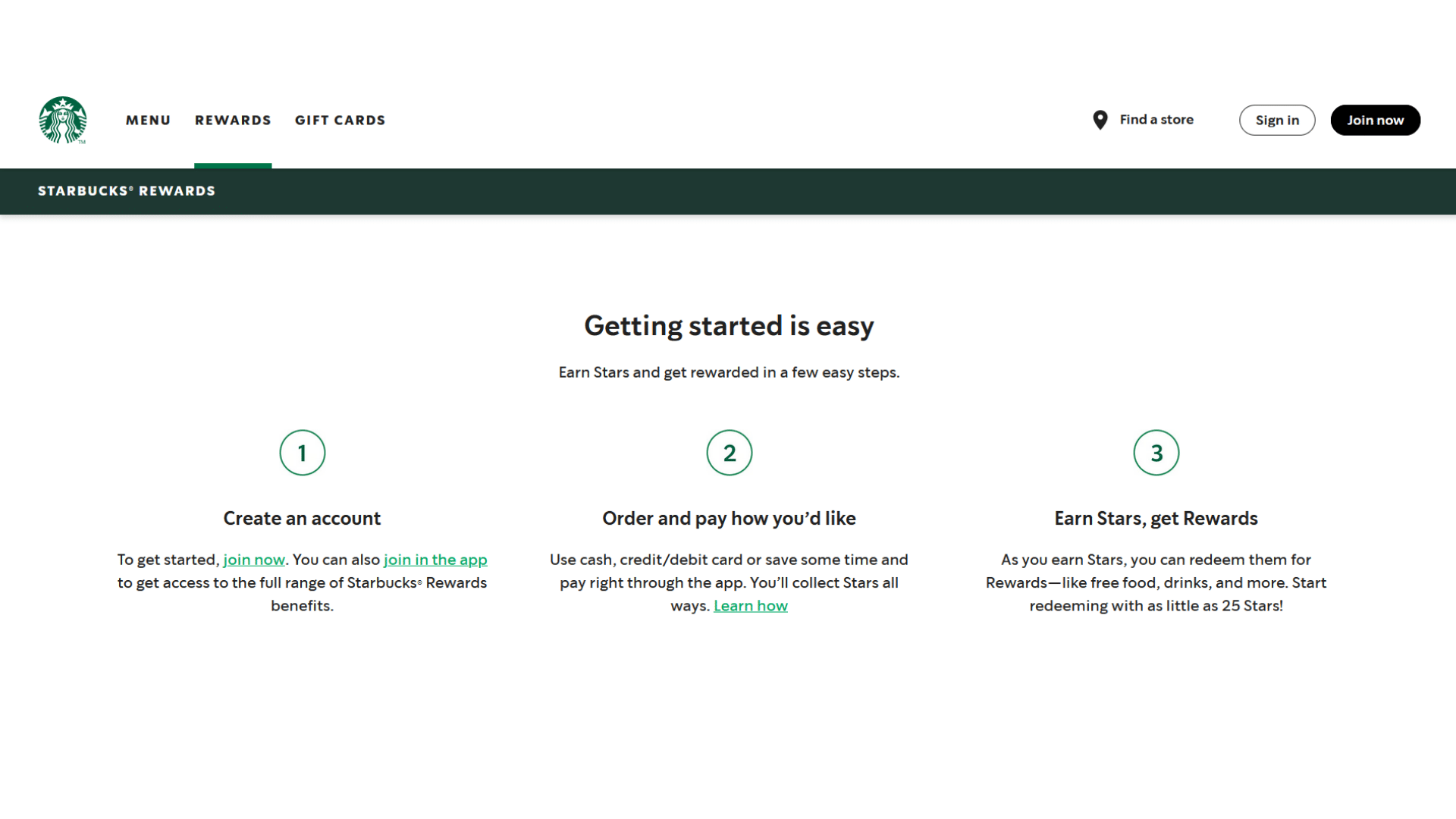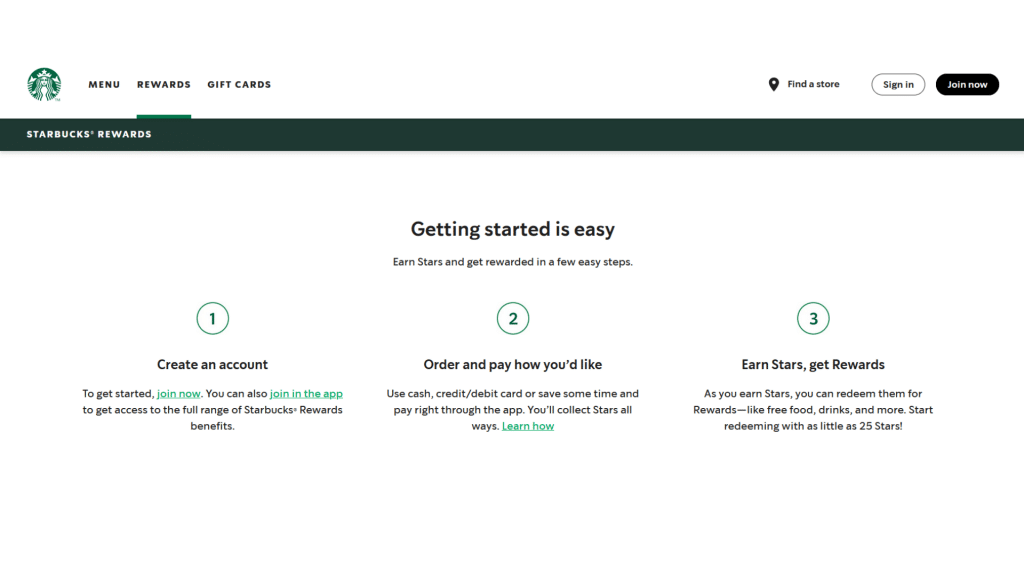 The deal is well worth it, as long as you visit Starbucks at least twice a month. Even if you never achieve Gold status (which comes with additional benefits), most individuals will find it to be a cost-effective decision to join. There are, however, certain exceptions.
Members of the Starbucks Rewards reward program receive complimentary beverages and other benefits. It's free to join, and members get a free drink on their birthdays. It also promotes members' events and unique bargains, offers free in-store refills (of basic coffee or tea), and allows users to earn "stars" toward complimentary beverages.
You may join Starbucks Rewards by enrolling on the company's app or by linking your registration to a gift card or a digital imitation of one. You don't have to pay anything to join, and once you do, you'll get "Green" status, which comes with the following benefits:
Per $1 spent, two stars are gained.
On your birthday, you'll get a complimentary drink or snack item, and it expires 24 hours after the actual day.
Pay using your phone with a gift card balance or make deposits to your account via an attached credit card.
You gain the ability to use the company's mobile ordering and payment service.
Refills are available for free in-store – no matter what you ordered initially, refills are basic coffee or tea, and they must be attained during a single visit where you purchased the app or on a linked card.
Members-only activities and promos are available.
A consumer reaches the "Gold" level after spending $150 and earning 300 stars, and it comes with its own set of benefits:
Gold members receive double the Stars on certain days each month.
In addition, you will receive a "Gold" membership card with your name on it.
Every 125 stars earned ($62.25 spent) earns you a free drink or beverage.
To keep their Gold rank, users must earn at least 300 stars in the 12 months after their promotion.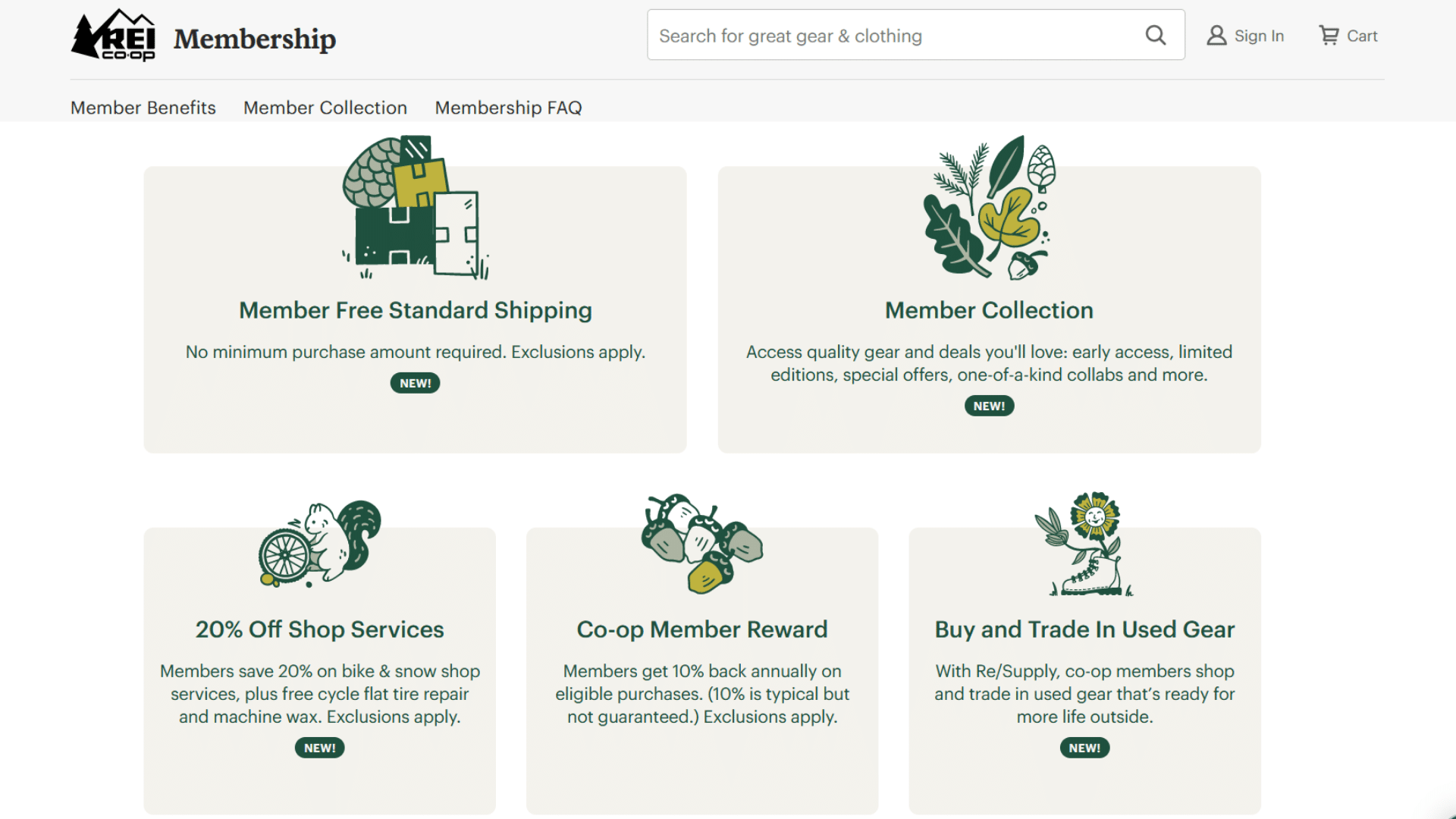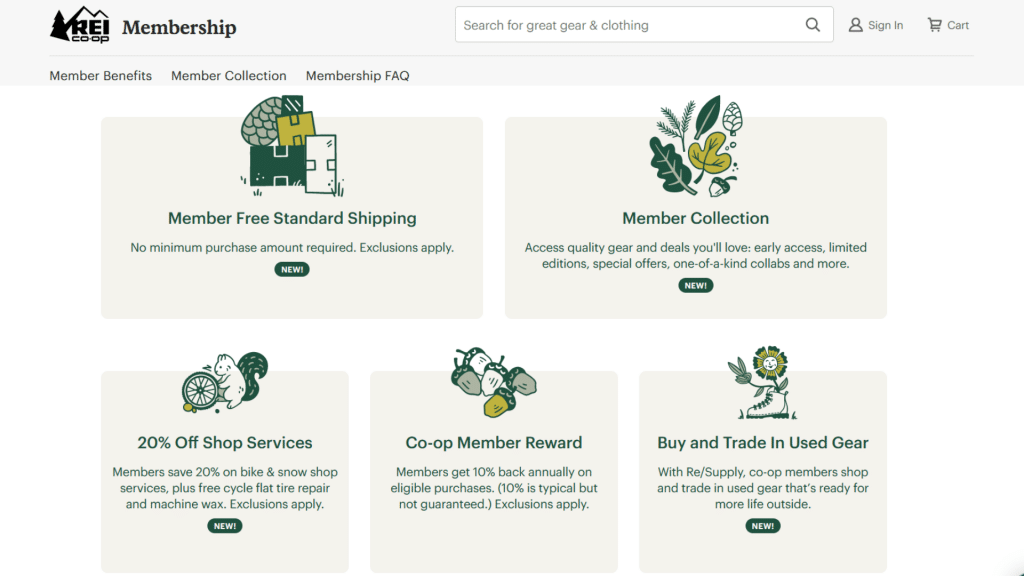 You've probably heard of REI if you're an outdoor enthusiast or have purchased a winter coat at least once in your life. Their $20-lifetime membership package, on the other hand, may come as a shock.
Although paid retail memberships are subject to some skepticism, this one is, on the whole, a fantastic deal.
There are clear advantages: REI is a well-known name in the outdoor sector for a reason, and it offers a bewilderingly large assortment. They have a strong feeling of community and excellent customer service, which I'm willing to bet is inspired by the former. If you buy more than $50, you will receive free delivery.
You may also check online to see whether a product is in stock locally so you can buy it and pick it up when it's convenient for you.
It is unlikely that you will believe that $20 upfront is worth it – even if the benefits are lifelong. Moreover, you may be afraid that you will not buy there frequently enough because you are more price-tag loyal than merchants.
If you currently have a lot of stuff or like to travel light, you might be wondering how often you'd actually use it. In light of all this, I believe REI's co-op is worthwhile, even if it's just to get a new pair of boots every four years.
REI offers one of the most excellent no-questions-asked return policies, though it has been reduced due to policy abuse in recent years. So, if you buy the identical pair elsewhere for cheaper, you could regret it when it's not as easy to replace after an unlucky break.
And, if you misplace your receipt, as most of us do, your membership maintains track of everything you've purchased, ensuring a smooth transaction. When everything is taken into account, the $20 price tag turns out to be an incredible deal. That said, here are some of the included benefits:
Special deals are only available to members. For example, REI frequently holds member-only deals where members may save up to 50%.
For a lower price, you may play, study, and travel. Outdoor seminars, events, rentals, store series, and REI Adventures are all heavily-reduced or entirely free for REI members. In this scenario, membership is typically defined by how you use it.
You gain access to in-store garage sales at REI. The Members Only Garage Sale is a huge hit, and with good reason. You'll find heavily discounted gear and apparel that has been slightly worn or returned.
Have an immediate influence on the retailer. As a result, members may impact the company's future with which they have gotten involved in a lesser-known but highly fascinating aspect of the REI membership.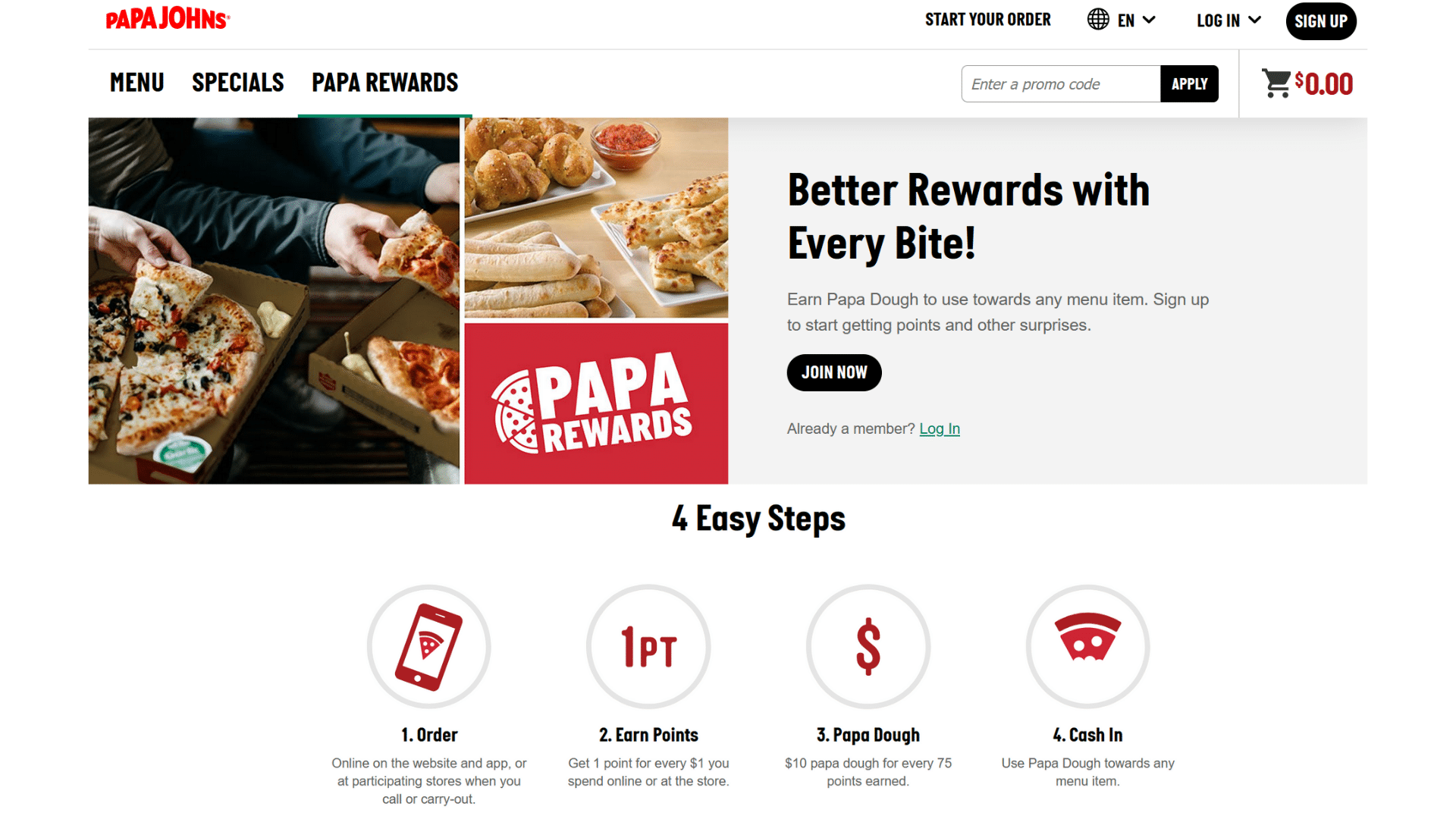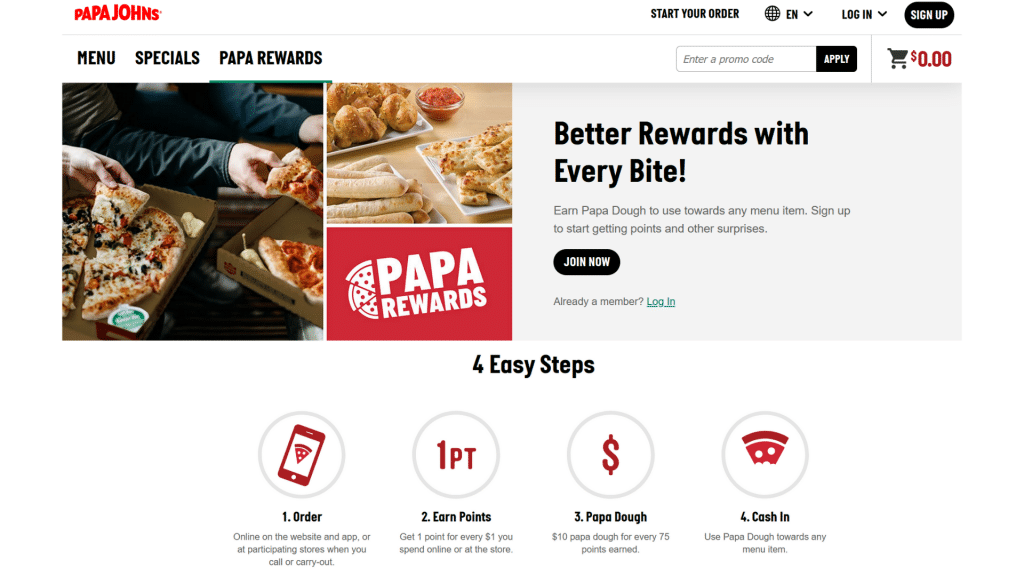 Having signed up its 20 millionth member in July 2021, Papa John's loyalty program has reached an important milestone. The program, which launched in 2010, has witnessed remarkable growth since its inception in early 2020, with more than 100,000 clients enrolling each week.
The rewards program is expected to account for nearly half of the brand's revenues by 2022. The Papa Rewards program is an integral part of Papa John's business strategy for increasing repeat purchases and consumer loyalty.
The program allows the company to interact with clients regularly, delivering tailored offers that can lead to more transactions and higher overall purchase totals. In addition to offering early access to breakthrough product releases, the program offers several levels of user choice.
Customers can earn one point for every $1 spent online or in-store, according to the new earning scheme introduced in 2018. For example, customers may redeem $10 in Papa Dough for every 75 points they earn, which they can apply to any menu item.
The personalized experience given through the rewards program is just one example of how Papa John's evolves across the board. Papa Rewards is simply one of several touchpoints to deliver significant consumer value.
Customers may also take advantage of their app's smooth digital navigation and continual menu items that highlight our high-quality ingredients, like their new Parmesan Crusted Papadias.
The Papa John's loyalty program's continuous success and our overall innovation are critical to attracting new customers to our brand and creating relationships that will support their following creative projects. All customers may join Papa Rewards for free, and it's simple to do so online or through the Papa John's app.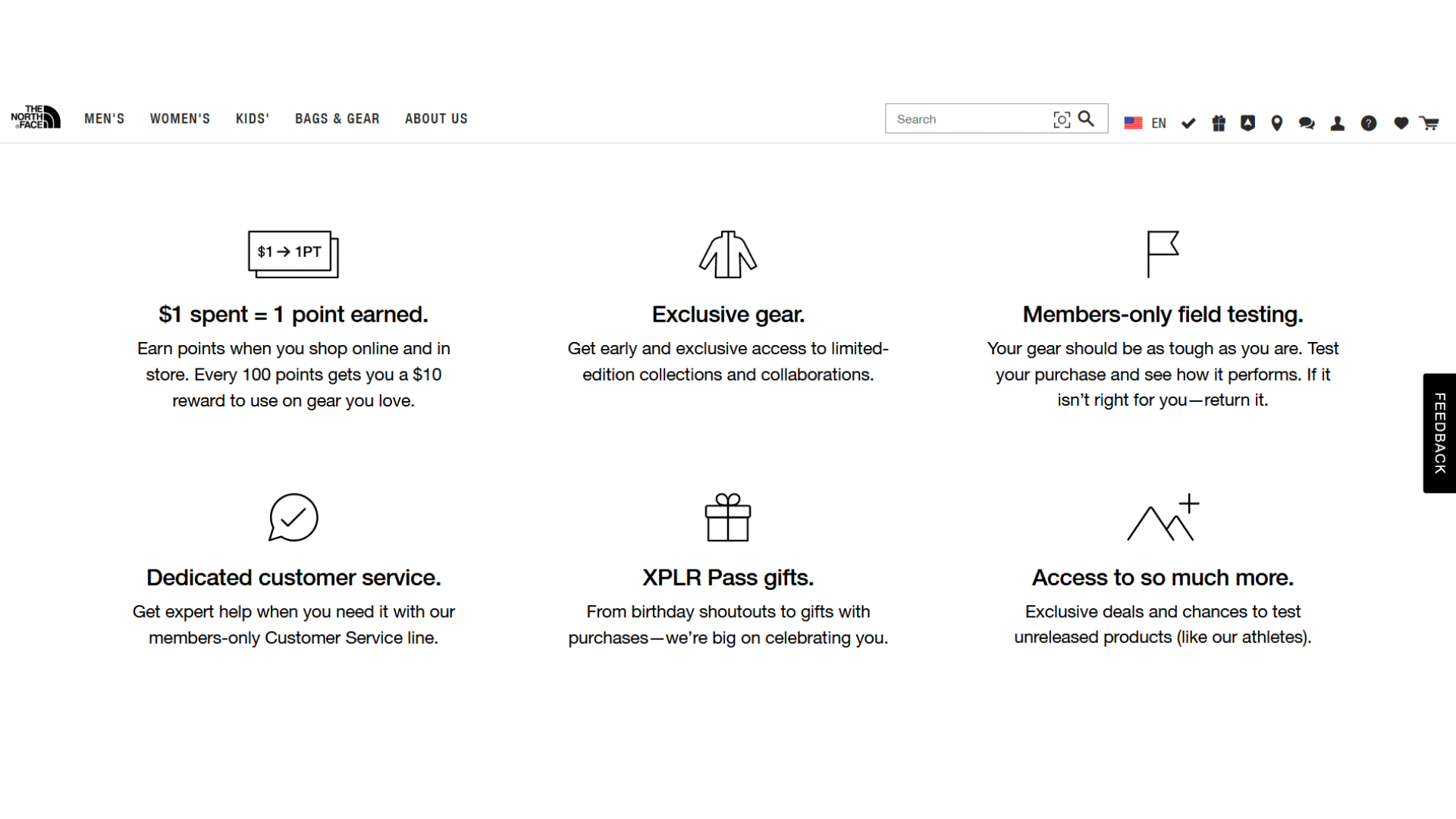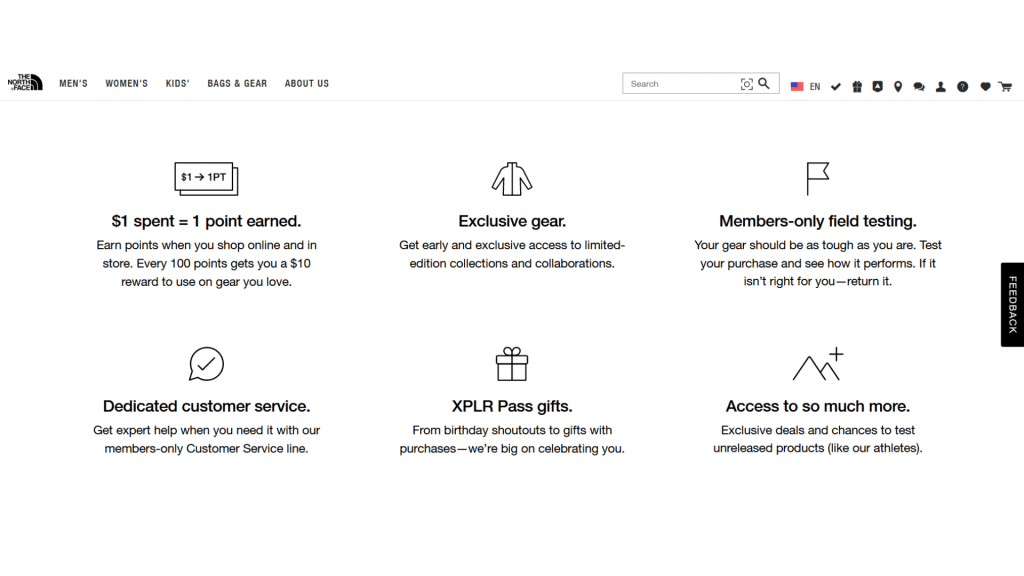 Customers may also pick how to use their rewards points through The North Face's XPLR Pass program, which is tailored to their lifestyles. For example, customers may earn loyalty points by attending events, checking in at specific locations, or downloading the North Face app, in addition to making purchases.
Customers may use their points to book unique vacation activities like mountain climbing in Nepal when redeeming their awards. Apart from such adventures, The North Face provides its members with a slew of unique perks, including:
Get first dibs on limited-edition collections.
The ability to try on things before they are released to the general public.
'Field testing' of a product.
Apart from recurring purchases, the program now provides other ways to earn points, which will appeal to their younger, more socially active member base, including:
When you shop for an extra ten points, bring a reusable bag with you.
For ten points, download the app.
To gain 5 points, check-in and discover natural marvels.
Earn 25 points for shopping from the refreshed range and supporting sustainable fashion.
You may get 25 points by referring a friend.
For 5 points, take part in member surveys.
Use the app to get 5 points by checking in at their stores and outlets.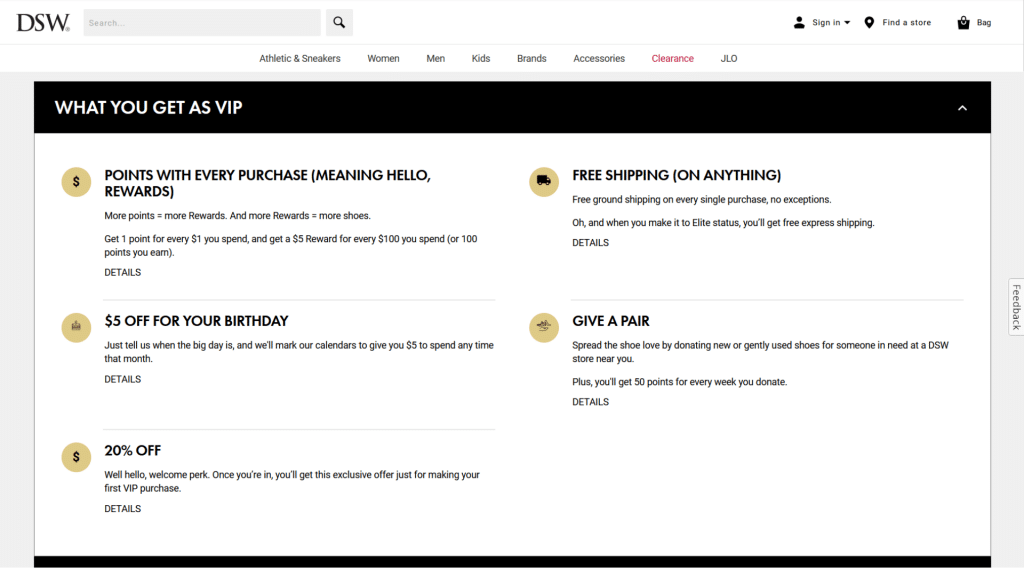 DSW's standard VIP loyalty program awards consumers with points for each purchase as well as tiers of incentives that unlock as users spend more.
DSW's loyalty program does not include a loyalty card. Instead, clients are recognized online by their name, phone number, or payment information. The issue with such a scheme is that clients may completely forget about it. So, how does DSW keep its consumers interested in its reward program?
Simply said, clients who are unaware of the loyalty program are less likely to spend more and earn more. So in 2017, the company also began an email marketing effort to remind people about the offer. The following were included in the email campaign:
They still have enough points to obtain their next $10 off voucher.
Customers are presently eligible for special offers.
A summary of their engagements with the brand (points gained, money saved, and so on).
DSW members receive tremendous benefits as soon as they join the VIP program. The free VIP Club tier comes with perks like free delivery and a birthday gift. So even if you don't intend to spend a lot of money on shoes every year, the first tier offers enough perks to entice buyers to sign up.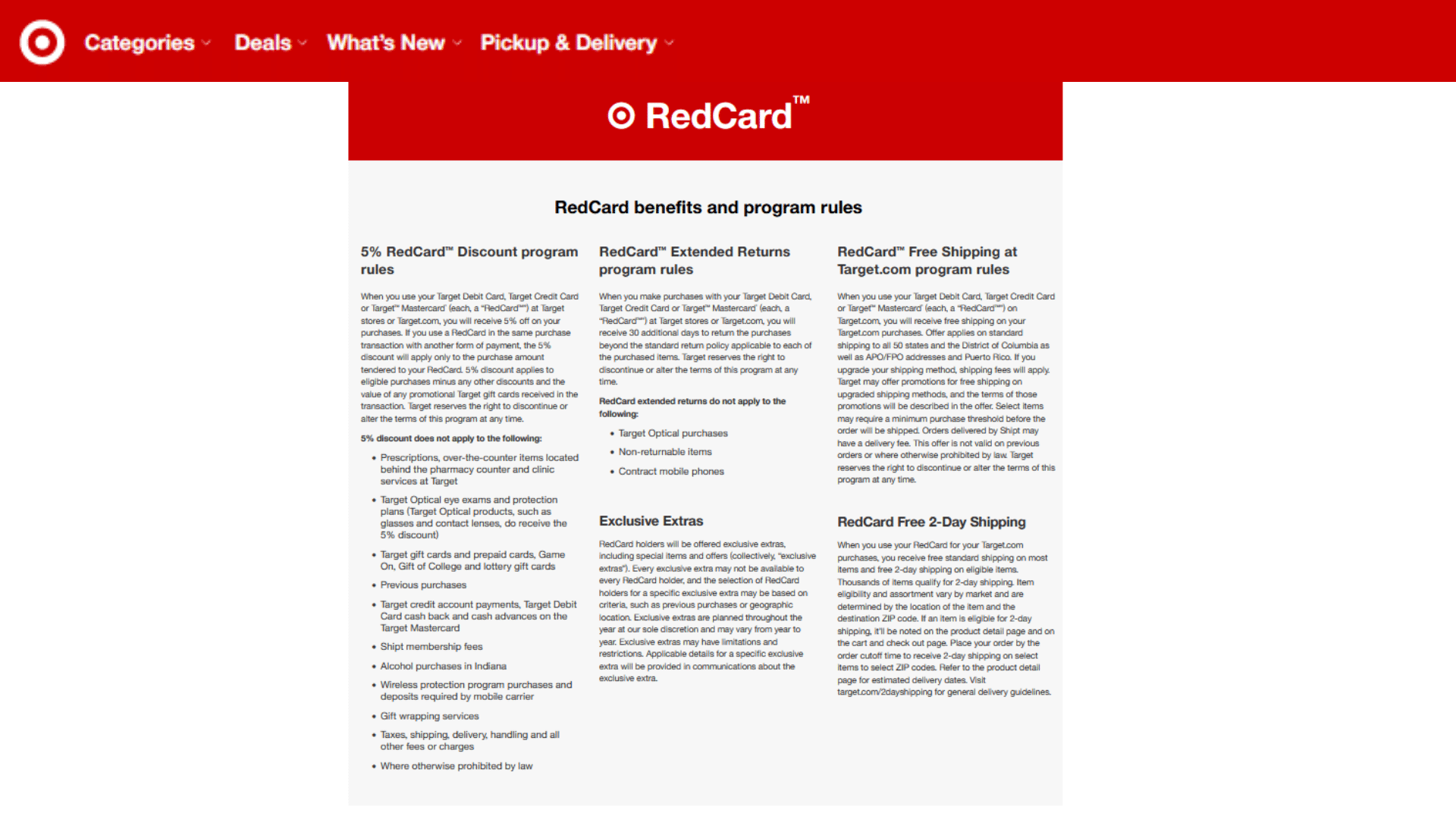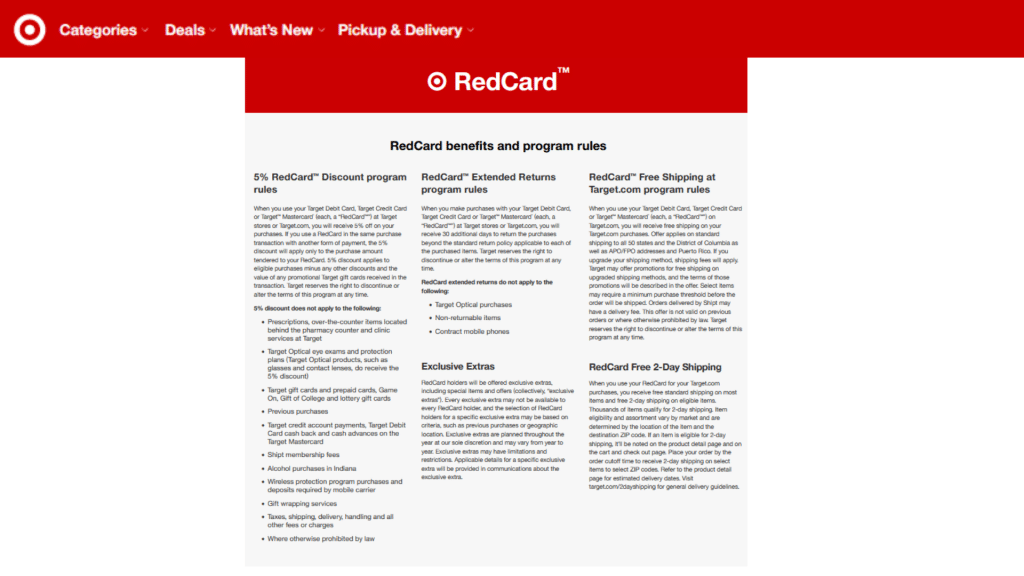 With the Target RedCard, Target fans can access top-of-the-line savings and unique rewards. In addition, cardholders get immediate points at the store, which may add up to significant discounts on Target trips.
Because the RedCard is a retail card, it can only be used at Target and on Target.com. But on the other hand, this no-fee card can benefit frequent Target buyers.
Target RedCard members enjoy a 5% discount at checkout on most in-store and online purchases. It is a fantastic method to save money on your Target runs right now. Of course, you won't earn points as you would with other rewards or cash-back credit cards, but you won't have to go through any hoops to redeem them either.
Target.com offers free two-day delivery to RedCard customers on hundreds of thousands of goods, without the $35 minimum purchase needed for non-cardholders. Normal shipping to all 50 states, D.C., APO/FPO locations, and Puerto Rico are included in this deal.
Shipment costs will apply if you upgrade your shipping method. Before an order may be dispatched, some goods may require a minimum purchase quantity. Additionally, purchases shipped through Shipt may be subject to a delivery cost.
Beyond the regular 90-day return period, cardholders get an extra 30 days to return products. Target Optical purchases and non-returnable products are not eligible for extended returns.
RedCard holders may take advantage of various exclusives throughout the year, including exclusive merchandise, gifts, and discounts.
It's worth noting that not every cardholder will have access to every unique bonus. For example, when you sign up for Target marketing emails, you'll get a voucher for 10% off your next purchase every account anniversary year.
Related Questions
Is Amazon Prime A Loyalty Program?
Amazon Prime, its premium loyalty program, is at the heart of the company's expansion. Due to the program's success, prime members tpically spend more than twice as much as non-Prime members. As of the first quarter of 2019, 62% of all U.S. homes were Amazon Prime customers.
How Does A Standard Loyalty Program Work?
A customer loyalty program, by description, is a marketing strategy that acknowledges and compensates consumers who purchase or interact with a brand regularly. 

For example, consumers may be awarded points or bonuses when purchasing more from a business. As a result, customers may progress to higher degrees of loyalty as they purchase more, providing unique rewards.
What Makes A Great Loyalty Program?
The great benefits of the loyalty program are the primary key. The benefits must be beneficial to customers participating in the loyalty program, whether receiving free stuff, VIP treatment, special privileges, or cash-back. Popular or new goods are a wonderful place to start when deciding what rewards to present.

Other features that help define a great loyalty program include:
By identifying who the target customers are. Some programs are tailored to meet different lifestyles and routines.
It is a well-managed program that their customers are motivated to buy to keep up with the great rewards system. 

The company that your commit to should have excellent business goals.
A great loyalty program offers various payment methods.
A loyalty program with a dedicated department towards the fulfillment of the customer rewards features is a key factor to an excellent loyalty program.