Apps To Earn Free Gift Cards
Important Note: When you buy through our links, we may earn a commission. As an Amazon Associate we earn from qualifying purchases. Content, pricing, offers and availability are subject to change at any time - more info.
Key Takeaways
Swagbucks, InstaGC, PrizeRebel, MyPoints, and Microsoft Rewards are fantastic alternatives for those who live online and want to earn points browsing, completing surveys, watching movies, reading emails, and playing games.
For those who love to explore the online shopping world for something special, Inbox Dollars, Fetch Rewards, Ibotta, and Drop offer tangible benefits for purchasing things that, in fact, you initially wanted to buy.
PocketFlip, ShopKick, and National Consumer Panel are where you want to be if you don't mind photographing or scanning in things you purchase.
Receiving rewards doesn't always require time, as with Panel App and Sweatcoin. They work in the background of your mobile while collecting data and rewarding you with benefits.
Apps that reward you for spending money or performing specific tasks may not be for everyone, but everyone can benefit from smart shopping! My reward apps often grant me gift cards for Amazon or Starbucks, and varying rewards mean there's something extraordinary for every reward-seeking enthusiast! So, here are apps to earn free gift cards!
---
Advertisement
---
Fourteen Apps To Earn Free Gift Cards Include: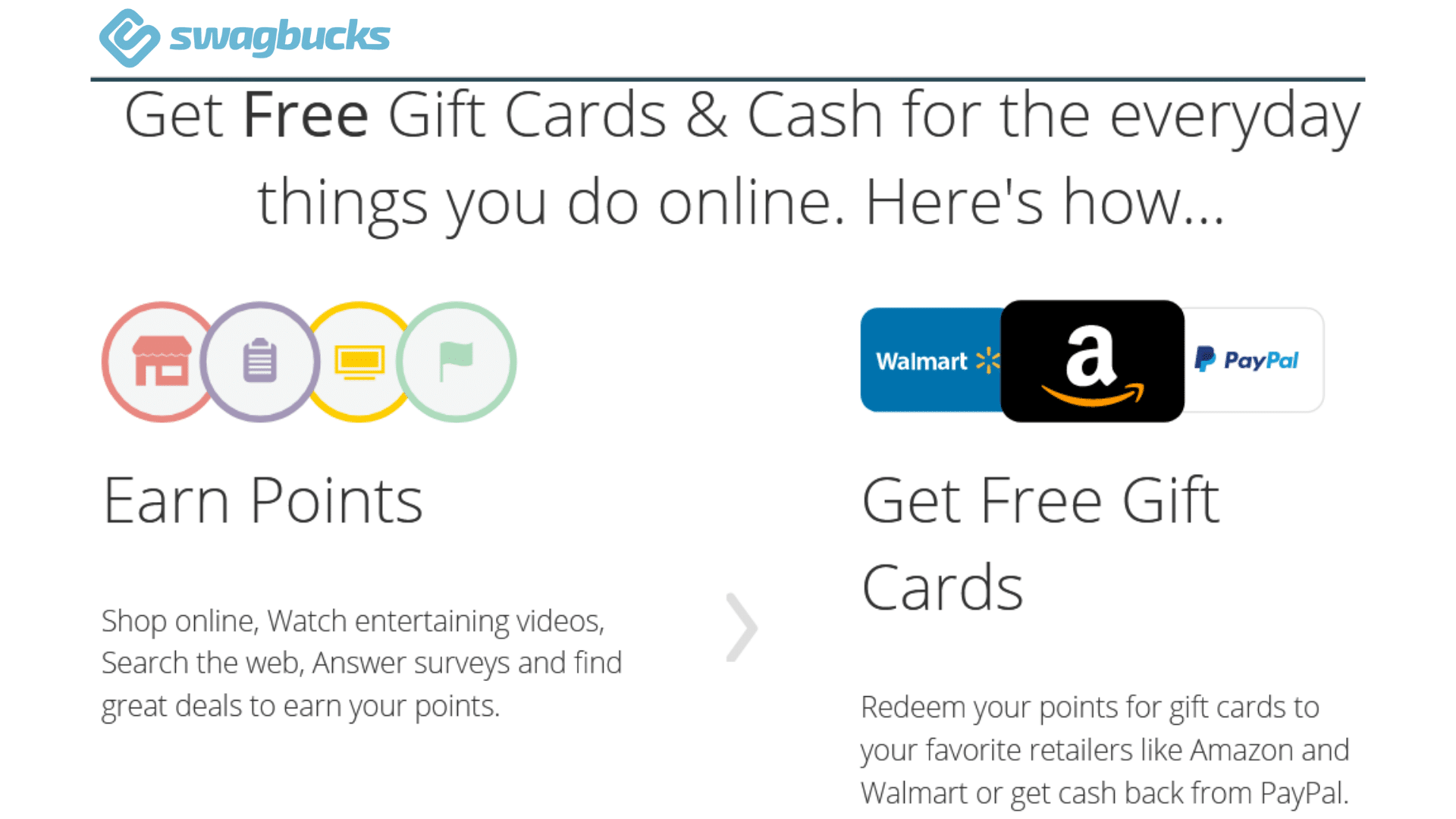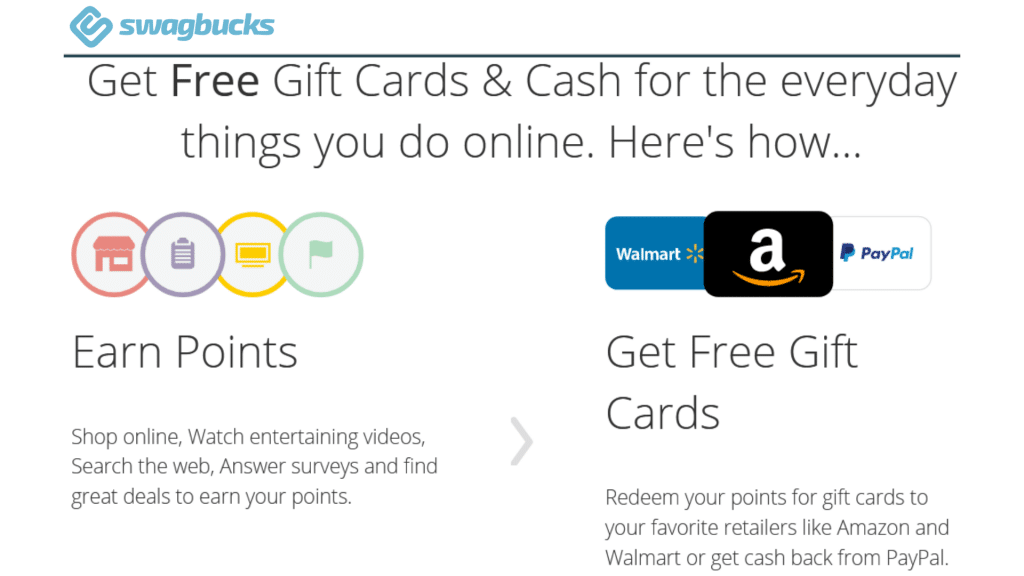 Swagbucks allows you to make money while you're sitting around by conducting surveys, buying at partner merchants, watching movies, or playing games. Swagbucks are the rewards currency, and the exchange rate fluctuates based on which gift cards you buy.
A $10 Banana Republic gift card, for example, costs 1,100 Swagbucks, while a $10 Amazon gift card costs 1,250. Gift cards from various other retail businesses, such as Target, eBay, and Walmart, are also available.
It's simple and involves minimal extra effort in exchange for the quantity of money you'll earn. While Swagbucks provides a variety of ways to earn points, the easiest is to make Swagbucks your homepage and then use it to conduct standard searches — you'll receive Swagbucks at random.
The program, accessible for iOS and Android, gives exchangeable incentives for cash or gift cards via PayPal. It's worth mentioning that games don't provide as many Swagbucks as viewing trailers or taking surveys. If you want to optimize your earning potential, it's best to avoid them unless your sole purpose is to have a good time.
Those who like doing social media quizzes will find that answering online surveys is a simple method to earn gift cards. You'll be able to generate money no matter what your schedule is with polls ranging from a single question to full-length market research.
Consider turning them in for gift cards at popular shops if you have any unused devices. It's a fantastic method to get discounts on upgraded things. Popular merchants such as Walmart, Target, and Best Buy provide these opportunities.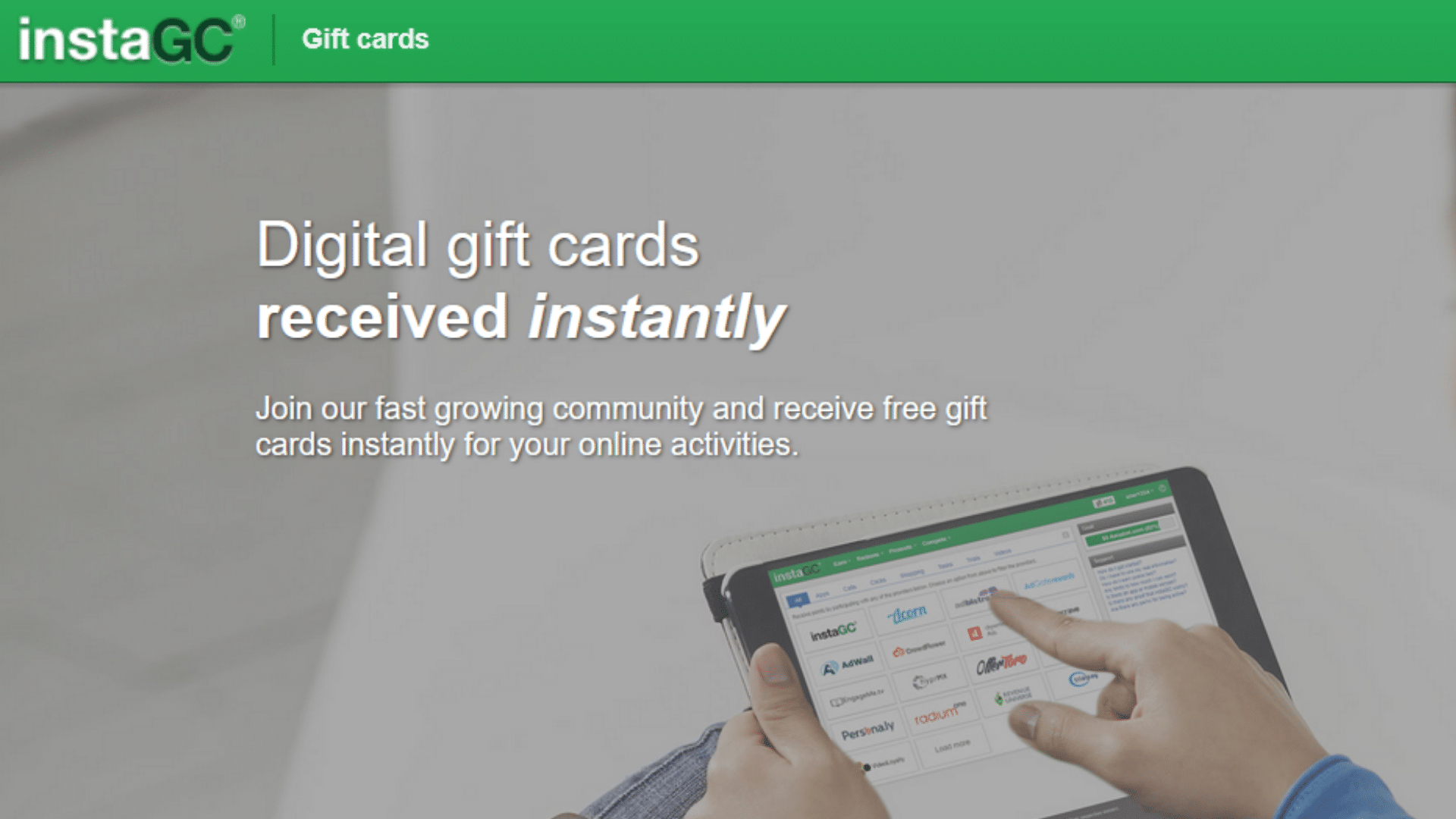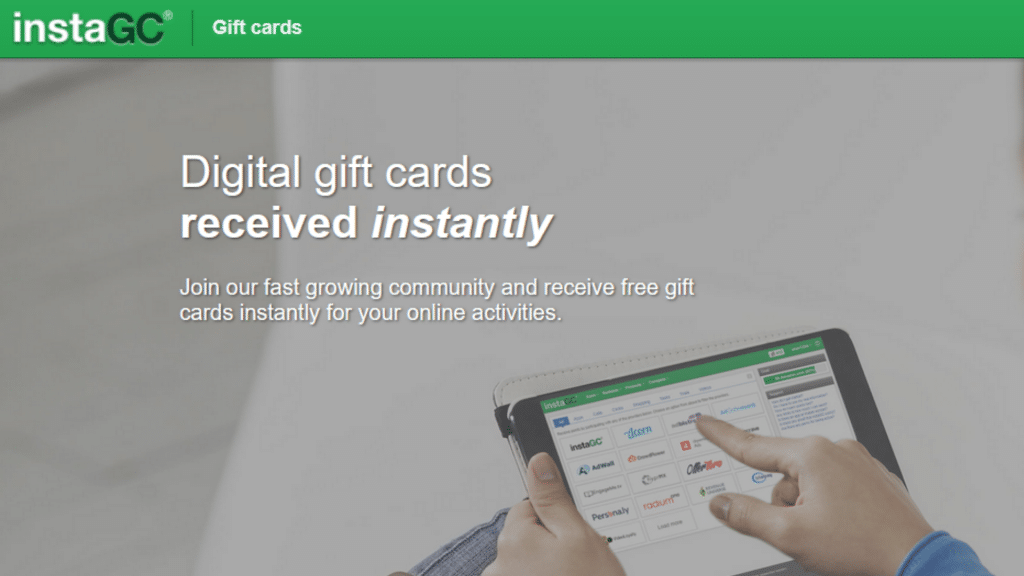 InstaGC is a great tool for getting free gift cards by watching movies, purchasing online, exploring the web, and taking surveys.
One of the most appealing features of InstaGC is its straightforward and easy-to-understand reward system; every 100 points you earn awards you a $1 gift card. They offer gift cards redeemable at multiple places, such as iTunes, 1-800 Flowers, and even American Airlines.
Gift cards come with over 350 redemption possibilities, and you may start getting them with only a $1 amount. Furthermore, you will receive a gift card right away when you decide to claim, meaning there is no waiting period.
Not only are these gift cards immediate, but they also have an instant PayPal option. These are two compelling reasons to consider instaGC.
Depending on your task, you'll receive a varying number of points. In general, polls earn the most points, but you can also earn points by watching movies. You may get incentives for viewing slideshows or printing coupons on some websites.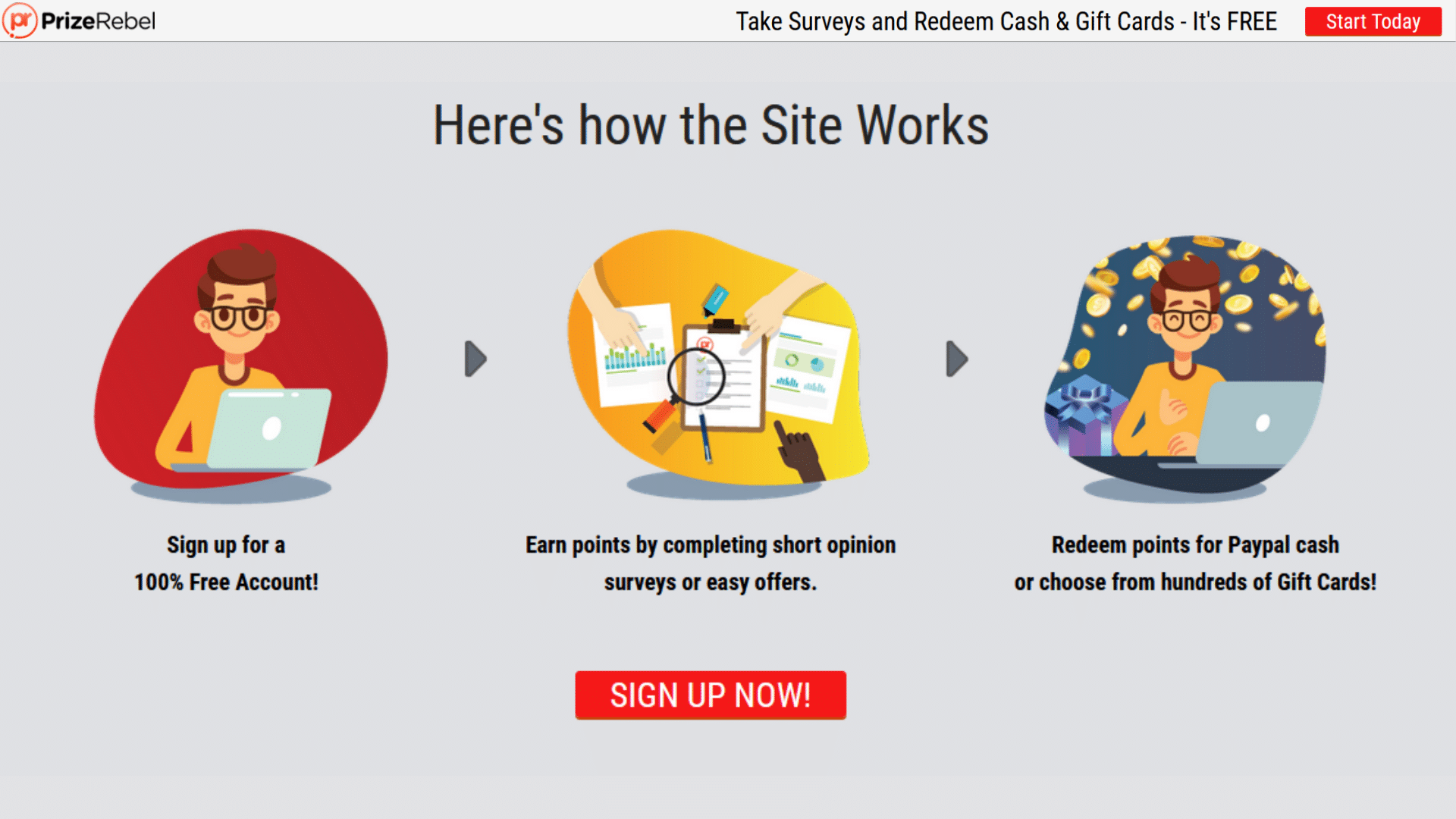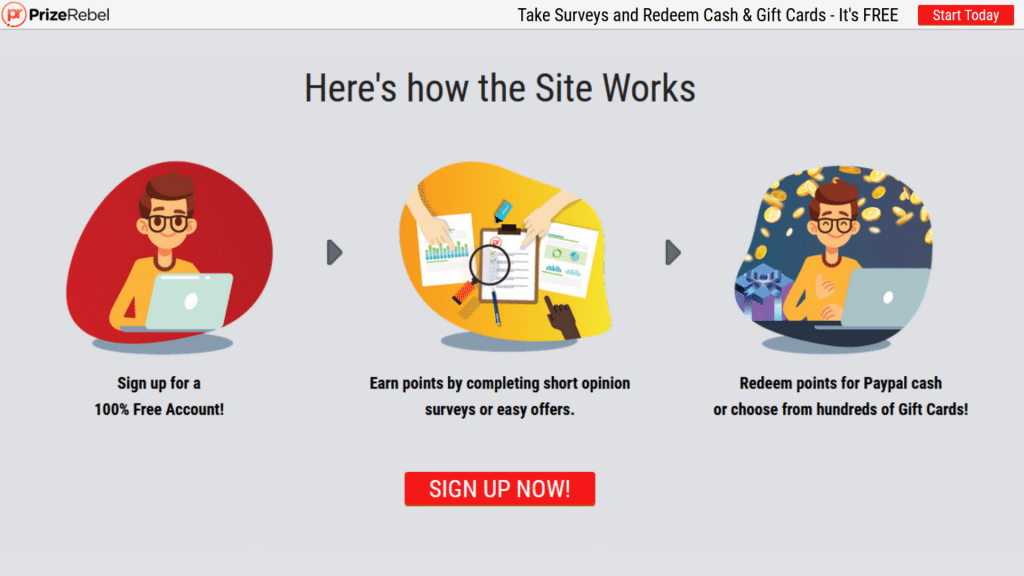 PrizeRebel is a free survey panel founded in sunny California in 2007 that links market researchers with people who want to do surveys. It has over ten million members globally, with users from the United Kingdom, the United States, Canada, and Australia having the highest potential to win prizes.
Prizerebel's signup process is as basic as it gets: you to enter your name, email address, and preferred password on the main page, and you'll be ready to go. If you so choose, you can register using your Facebook account.
After completing your registration, the app will redirect you to the main Prizerebel dashboard. It's an easy-to-navigate portal that lists all the money-making options available to you.
The available gift cards cover many retailers, including Amazon, iTunes, and Southwest Airlines. PrizeRebel has gift cards from Taco Bell, Spotify, GameStop, Hulu Plus, etc. Although this is primarily a survey site, users may also make money by doing small tasks like viewing movies and referring friends to the service.
Because the current conversion rate is $1 for every 100 points, and some of the gift cards are just $5, you should be able to cash out at 500 points, which isn't terrible. Additionally, you must earn at least 500 points before you can begin cashing out.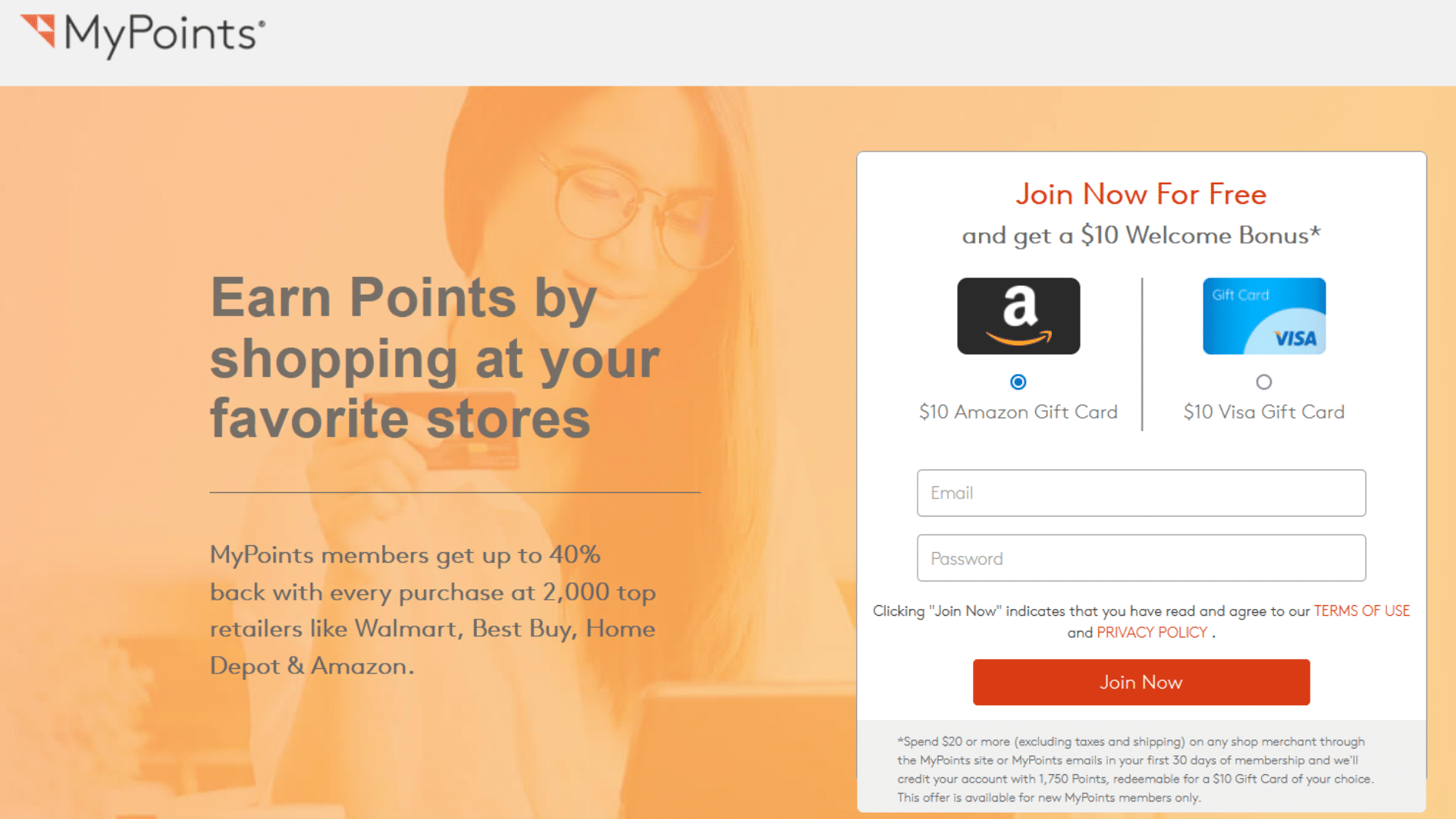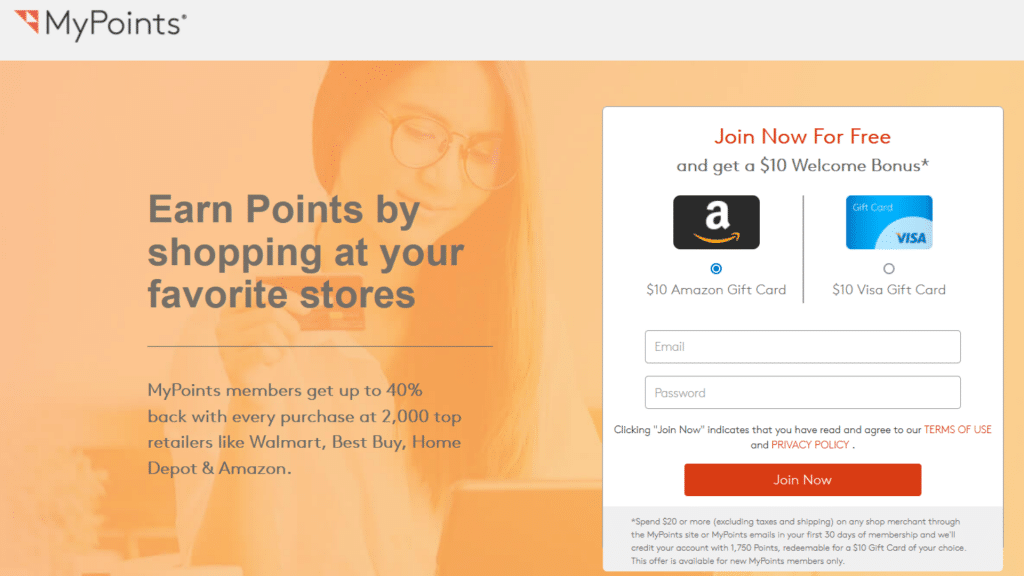 MyPoints is affiliated with Swagbucks, and while it began as a cashback program, it now provides various ways to earn extra points.
However, keep in mind that, while both sites appear to be highly similar, the payments for each activity are different. The exchange rate from points to dollars changes based on the brand name of the gift card you're buying, just like it does with Swagbucks. Gift cards come with a variety of redemption values.
You may earn points by reading emails, shopping online, watching movies, or searching the web. After that, you may trade them in for an Amazon gift card. It also includes a $10 welcome bonus.
This prize, however, can only be redeemed if you first make a $20 purchase through the MyPoints gateway. Target, Walmart, and other retailers offer gift cards ranging from $5 to $20.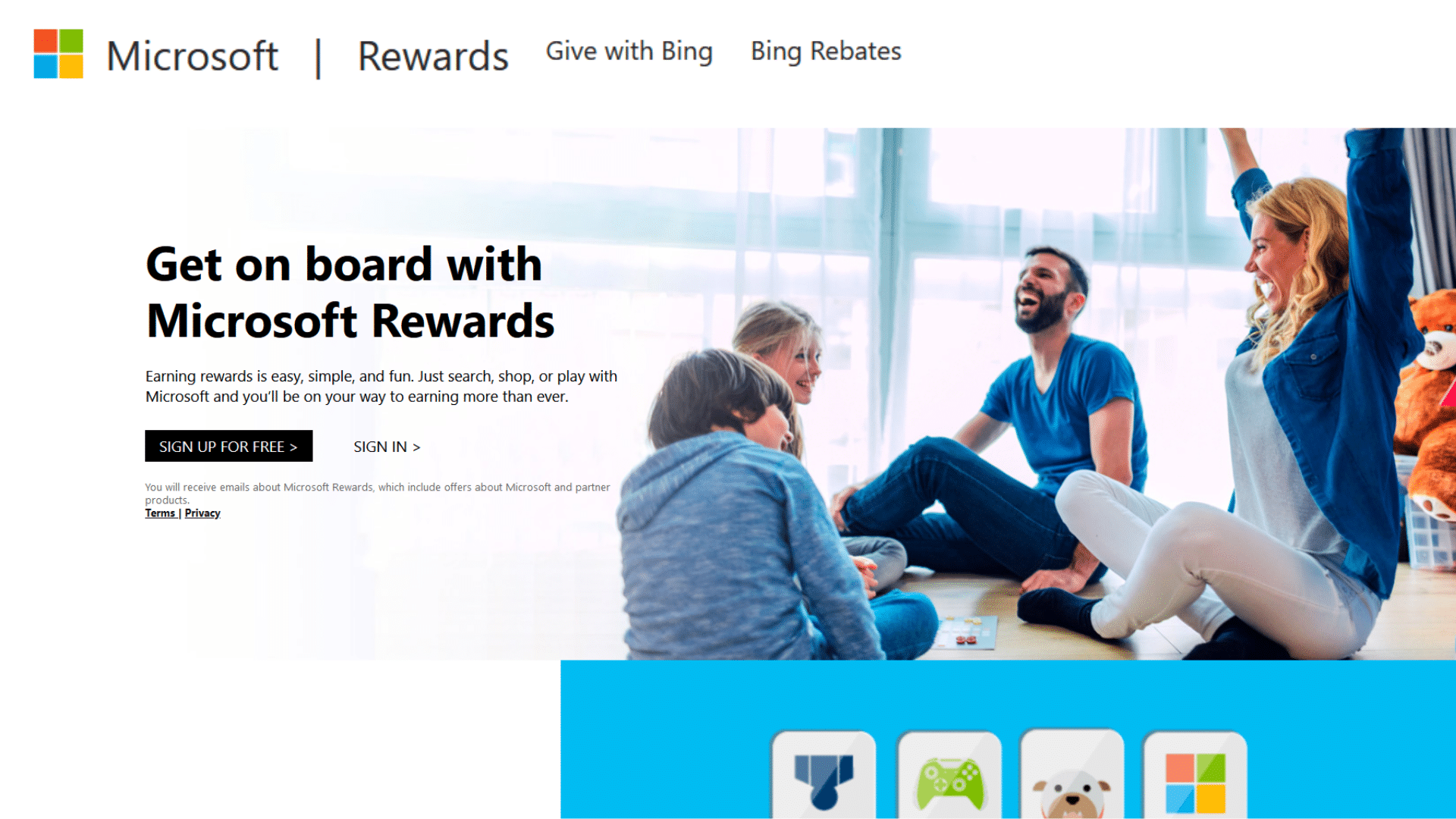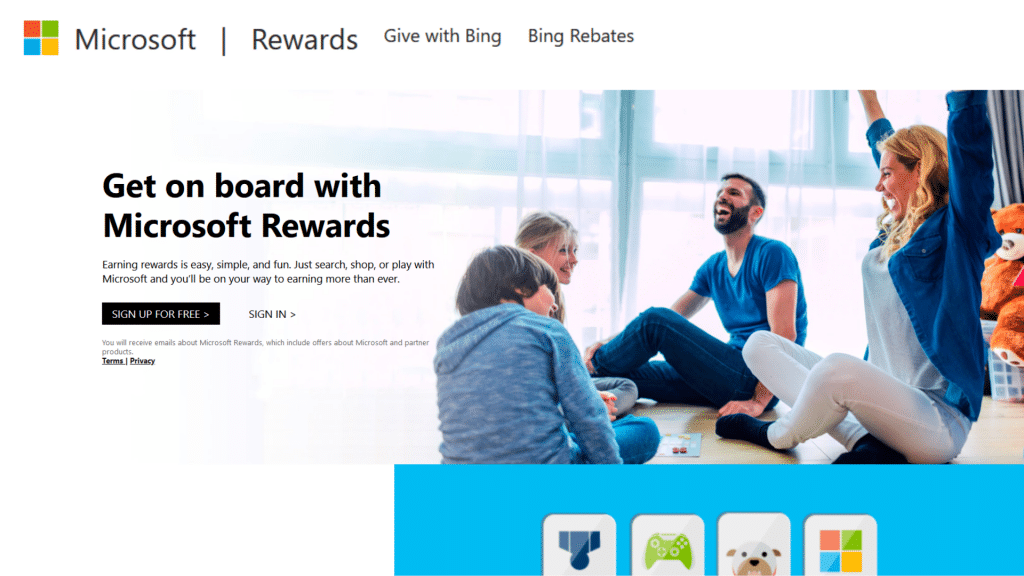 Microsoft Rewards will pay you to utilize the Bing search engine on your PC or mobile device. They also provide daily quizzes and promotional opportunities for bonus points.
You may earn points by keeping your account logged in and using Bing as your primary search engine, as well as by participating in daily polls and quizzes. Each day, Level 1 users can earn five points. Users at the Level 2 level can earn up to 20 points each day by searching Bing.
Bonus points are redeemable to purchase music, movies, games, and Microsoft software from the Microsoft Store. Every time you type a search word into your browser's address bar, you may earn points!
The majority of the quizzes are exciting and straightforward to finish, plus you receive bonus points if you accomplish your point targets multiple days in a row.
Consequently, you may rapidly rack up several hundred points if you have a few minutes to spare during the day. When you shop at the Microsoft store, you may earn up to 20 points for each dollar spent.
Do you have a philanthropic streak? The points are great for getting a Microsoft gift card or joining sweepstakes for prizes like an Xbox One. You may also contribute your points to a charity of your choice. However, remember that you can only exchange your points for Microsoft incentives.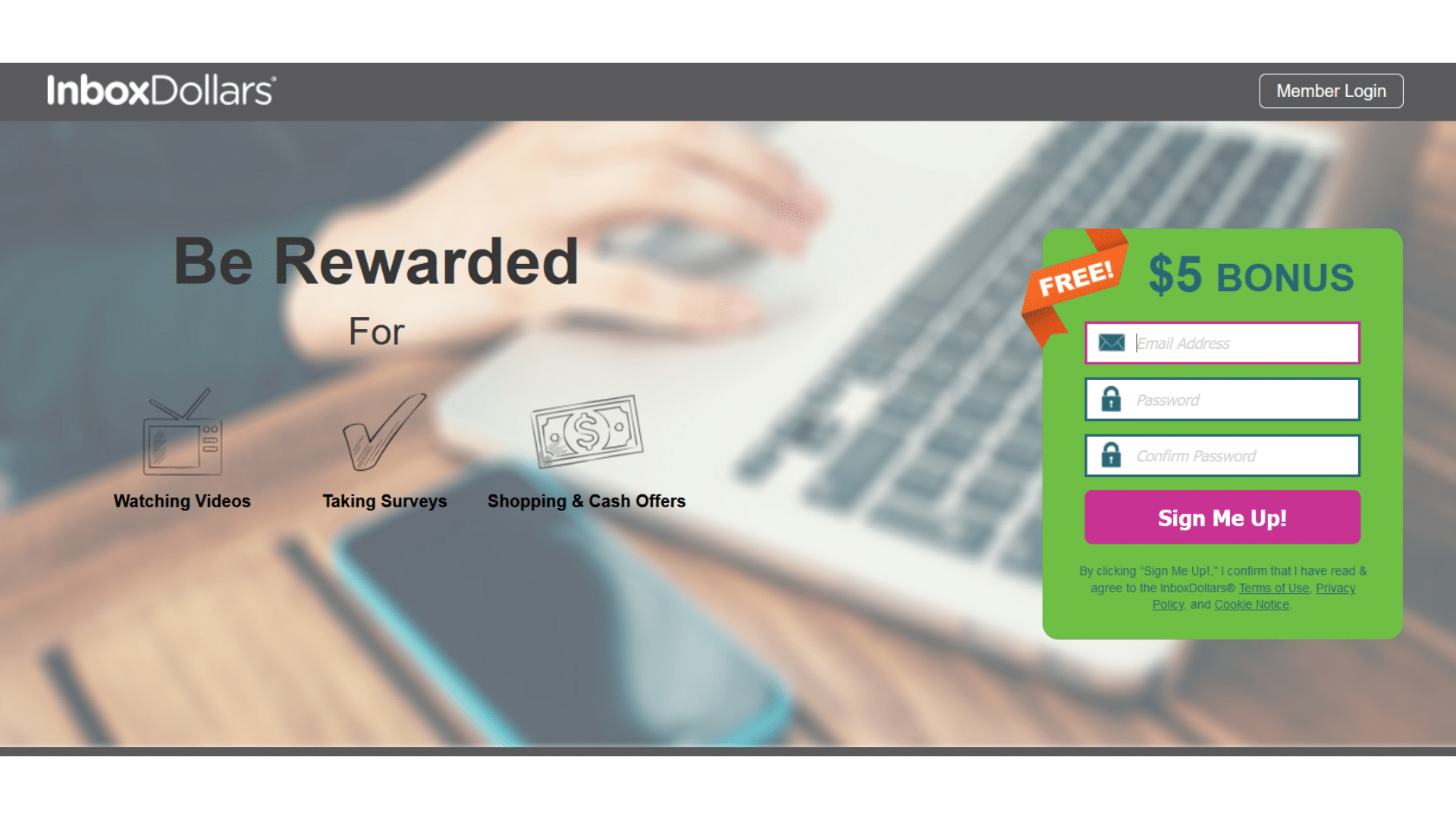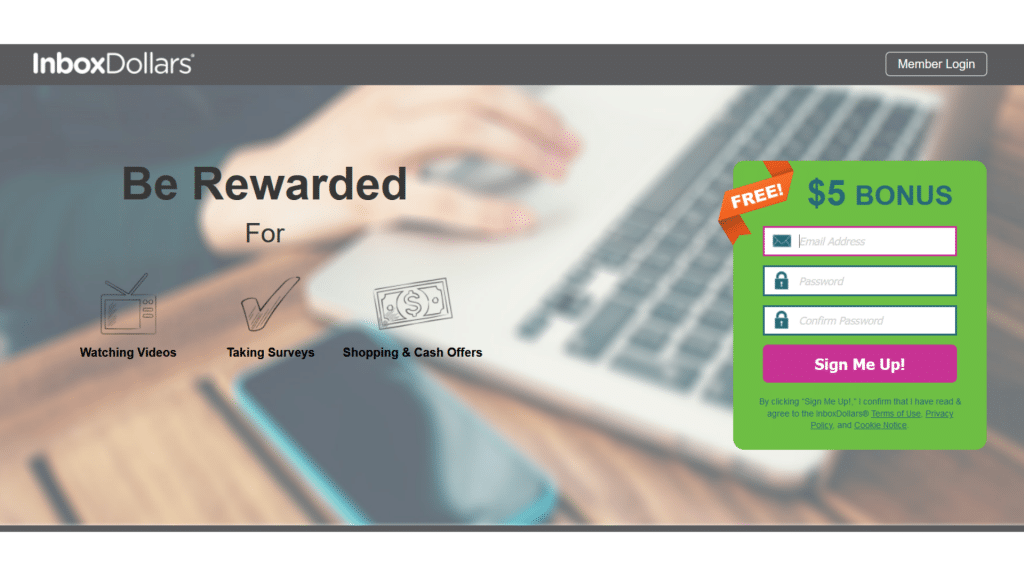 Inbox Dollars is another app leader that rewards you with gift cards and other great benefits. The software allows you to earn money by purchasing items you had planned to buy. You can, for example, get compensated for downloading apps that you intend to use. You may also get cashback when you buy at your favorite retailers.
Inbox Dollars matches you with companies searching for feedback on their services or goods when you join up. When you do surveys, play games, view videos, utilize coupons, purchase, or receive specific emails, you can earn a small amount of money.
Although the gift card selection is limited, Inbox Dollars does provide gift cards to some of the most popular shops, like Amazon and Walmart. There is no scoring system in place with Inbox Dollars. Instead, completing activities adds money to your account, which you may subsequently transfer to a gift card of your choosing.
The cash prizes vary from 50 cents to $10 and above, and even if you don't have time to conduct a survey, you may still make money by signing in every day and doing basic activities.
Before the app permits you to cash out, you must have a minimum of $30 in your account. You can also give your profits to charity or exchange your points for gift cards from various restaurants and businesses.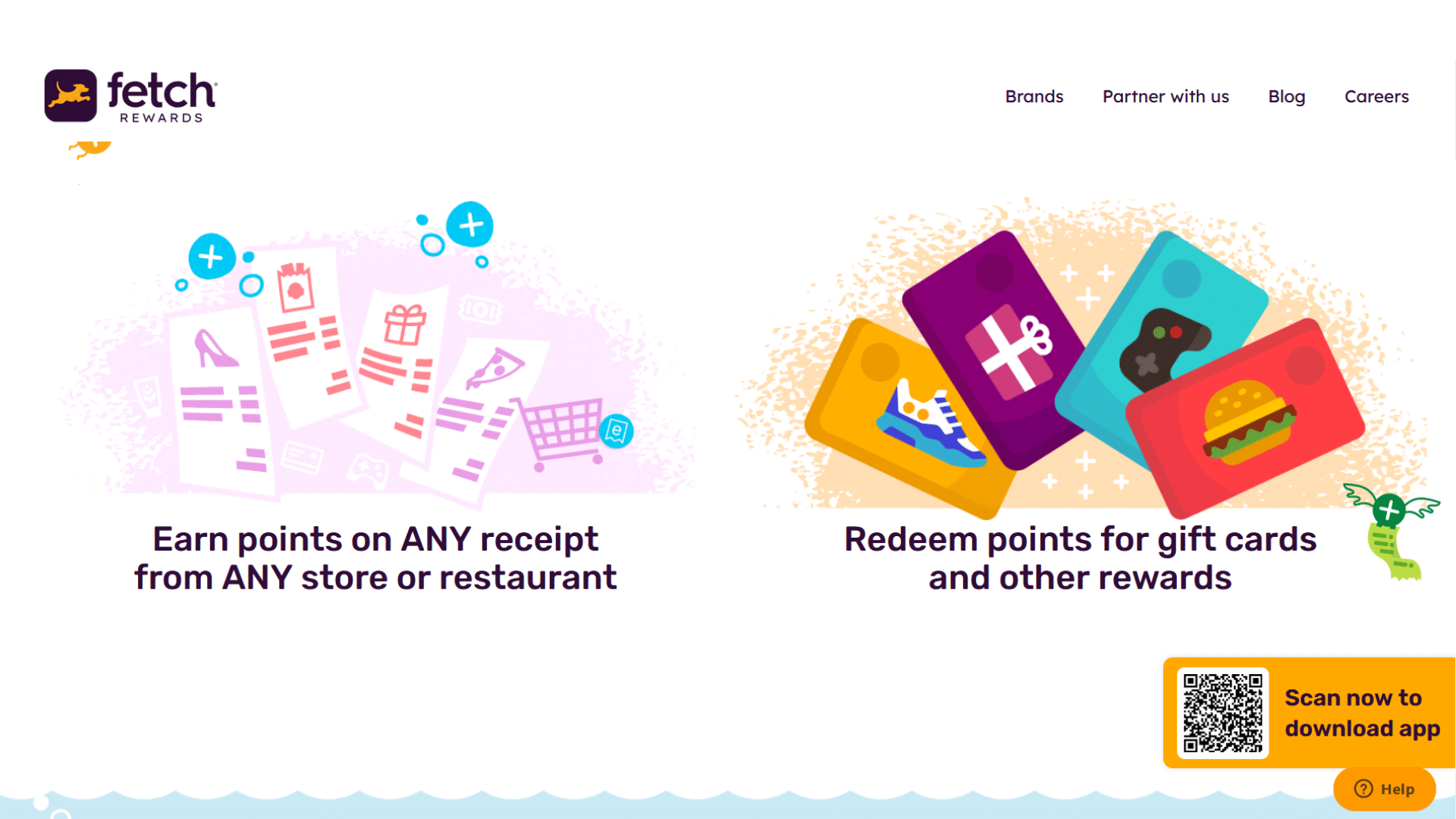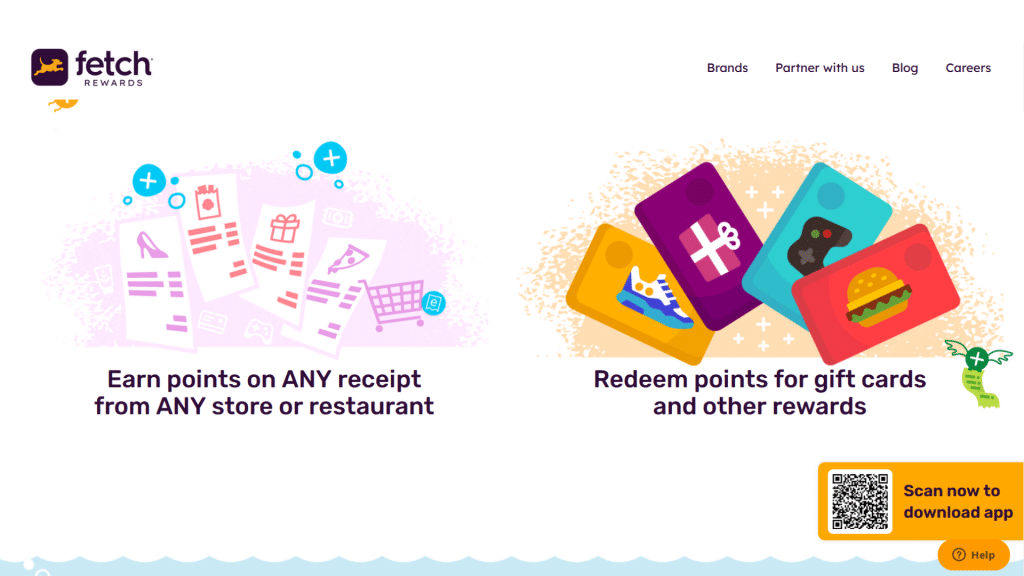 Fetch Rewards has more than half a million 5-star ratings on Google Play and App Store, ranking it in the top three most popular applications for earning gift cards. When you shop at linked retailers or eat at partner restaurants, you may save money and earn gift cards.
You can earn points when you buy a participating product or a unique product on offer. The list of products is extensive, and it includes many items that you purchase and use regularly. Furthermore, the Fetch Rewards app allows you to earn points by scanning your receipt after each purchase.
The "Discover" feature is particularly unique in that it allows you to browse special deals that, when purchased, reward you with a large number of points that you can use to buy things. These goods are everyday items, such as baby food, yogurt, and shaving kits; all you have to do is buy them and scan the receipts to win!
Remember to check in every week for great offers that can help you earn more points. You may spend your points to buy gift cards from places like Burger King, Dunkin' Donuts, Starbucks, Papa John's, CVS, and others. The app also includes a receipt scanner to streamline the process and help you wrack up points quicker.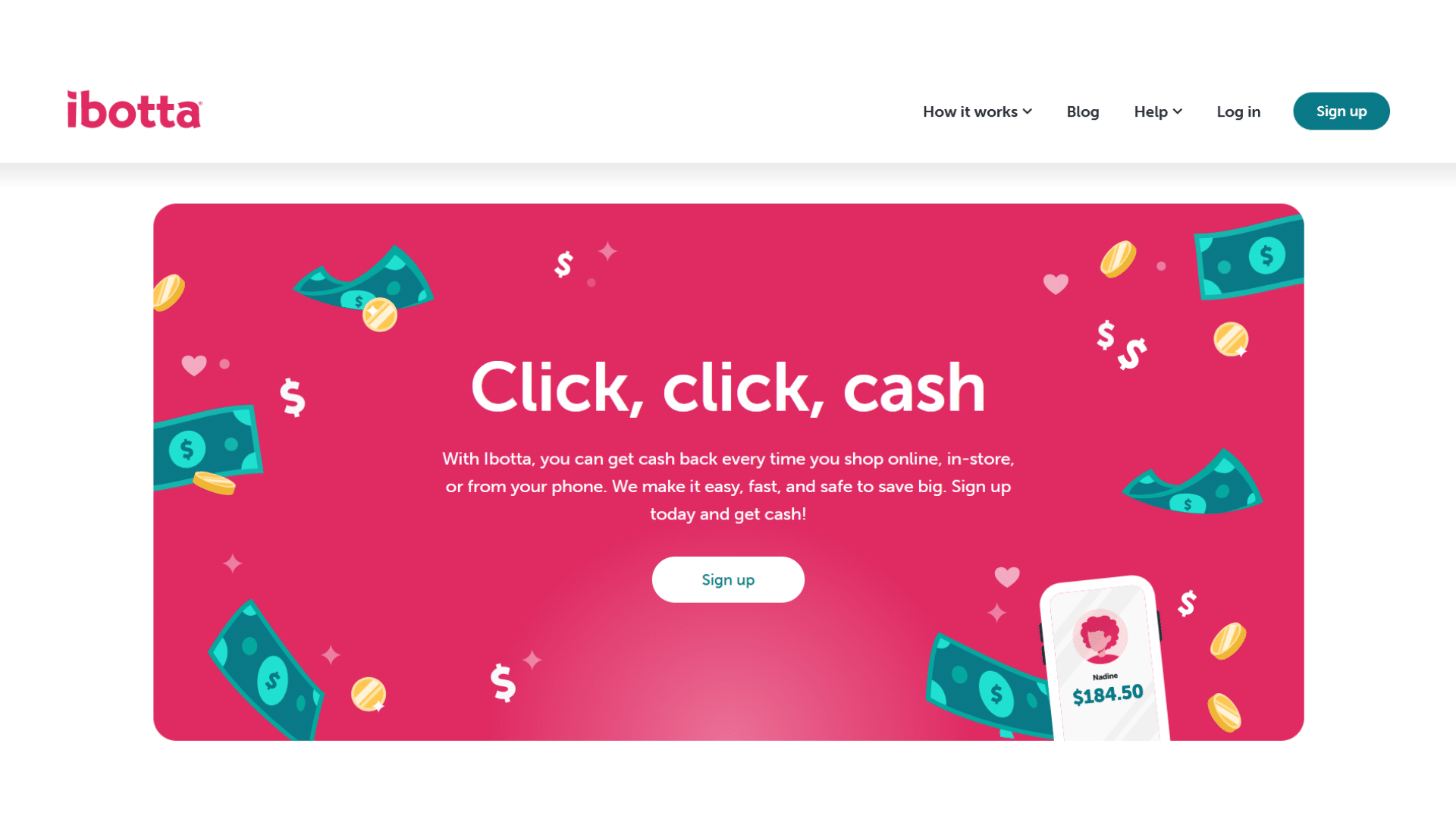 Ibotta helps you save money in stores by swiping your grocery store loyalty card while also earning money by purchasing highlighted goods within the app. You can also choose to download a browser extension that earns you cashback simply by installing it and browsing.
Log in to the app before shopping and choose goods or tasks for your trip. Take a snapshot of your receipt and send it to the app once you've finished your transactions. Within 48 hours, Ibotta puts the money you've earned into your account. The software may allow users to purchase orange juice or bread for 25 cents back.
Ibotta does not employ a points system like most other applications that reward you with prizes. Instead, they make a direct transfer into your account. The money may then be sent to Paypal or used to purchase a gift card for one of the many popular companies available, such as Best Buy, Applebees, and Amazon.
Ibotta also rewards you for using the app regularly or recommending friends. That said, you won't likely make a lot of money soon, but saving $20 or more in a month shouldn't be too tough.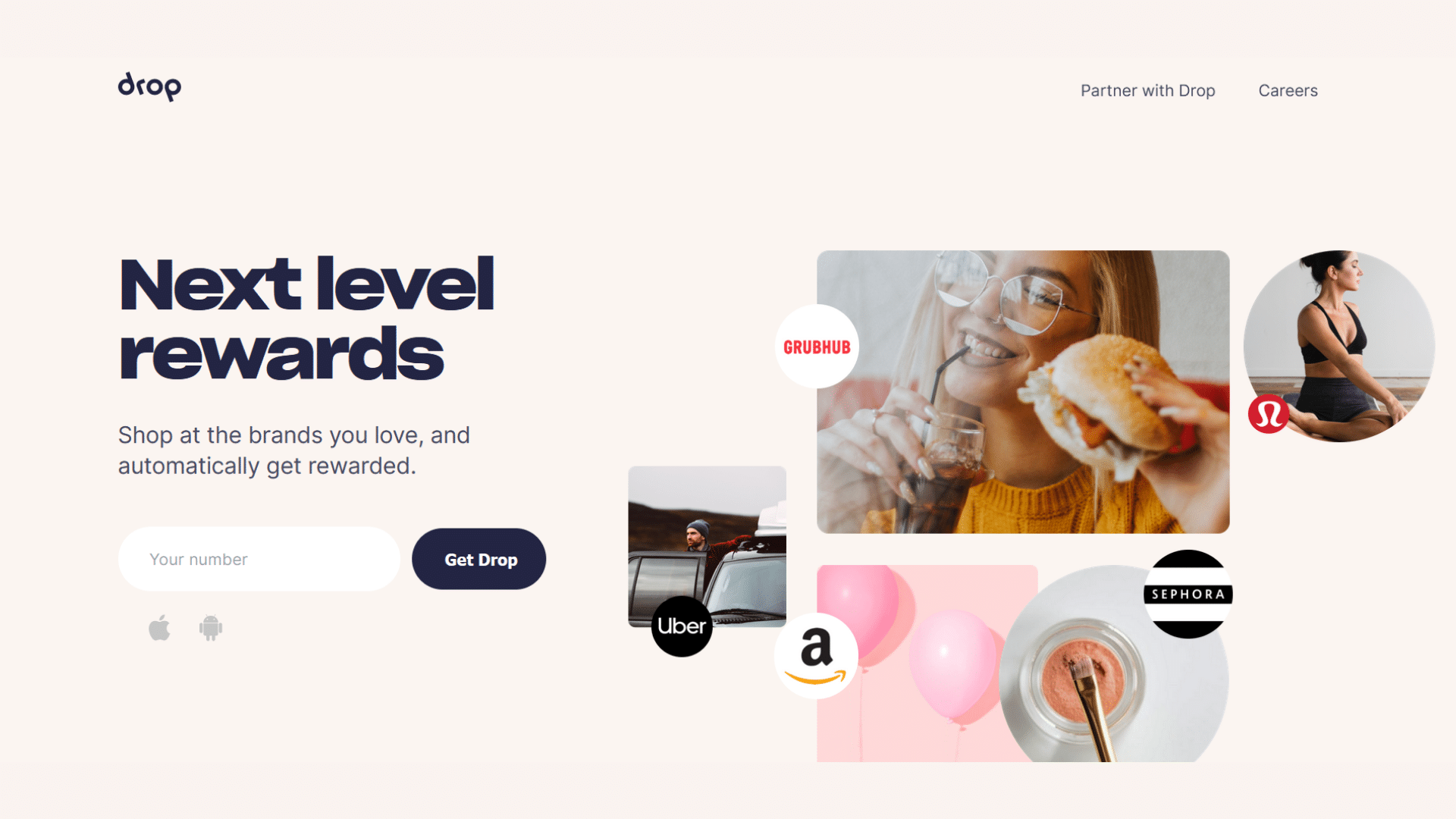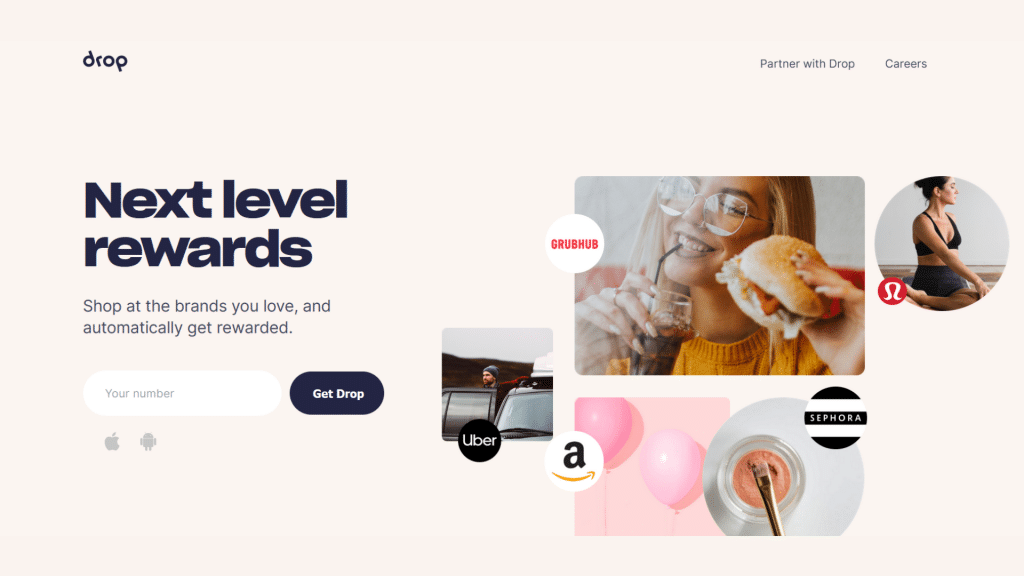 Drop is a consumer-driven rewards network that you can use on your phone to earn points while shopping. The idea of this program is that you receive incentives for goods you'd usually buy, so you don't need to spend additional money, yet it still gets rewards.
Drop is a free gift card program that allows you to earn gift cards by linking your debit and credit cards. You get points whenever you spend money with one of your connected cards. These points are exchangeable for a variety of gift cards.
The idea behind this app is to offer rewards for shopping at certain places rather than referring to brand loyalty. Users receive rewards for daring to make the switch between sites and brands!
You may earn points by adding a second card to Drop, introducing friends, and spending money where you regularly do. While most points get credited to your account within three days, more significant purchases may take longer. It's also worth mentioning that Drop occasionally provides in-app discounts with substantially greater payouts.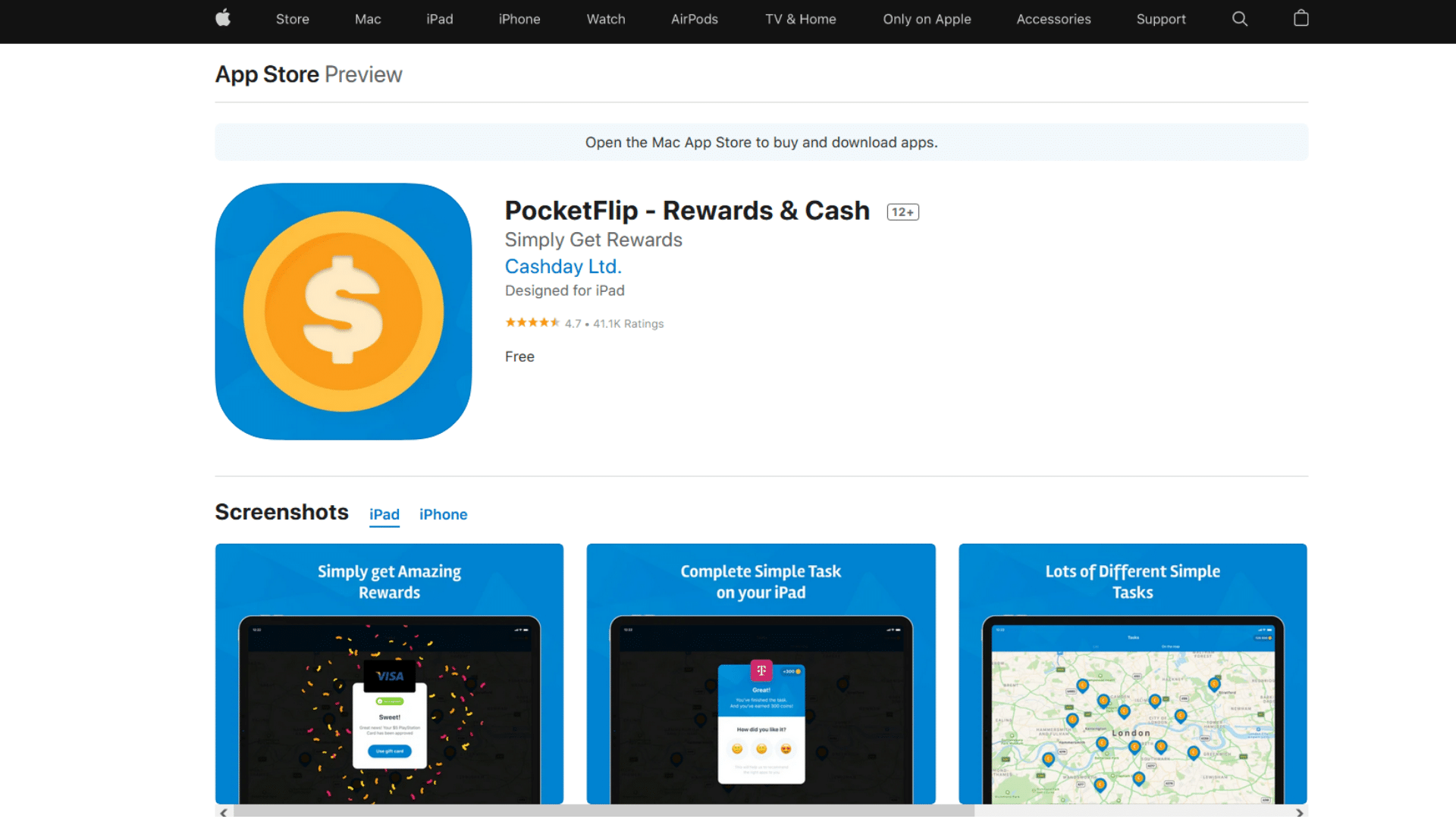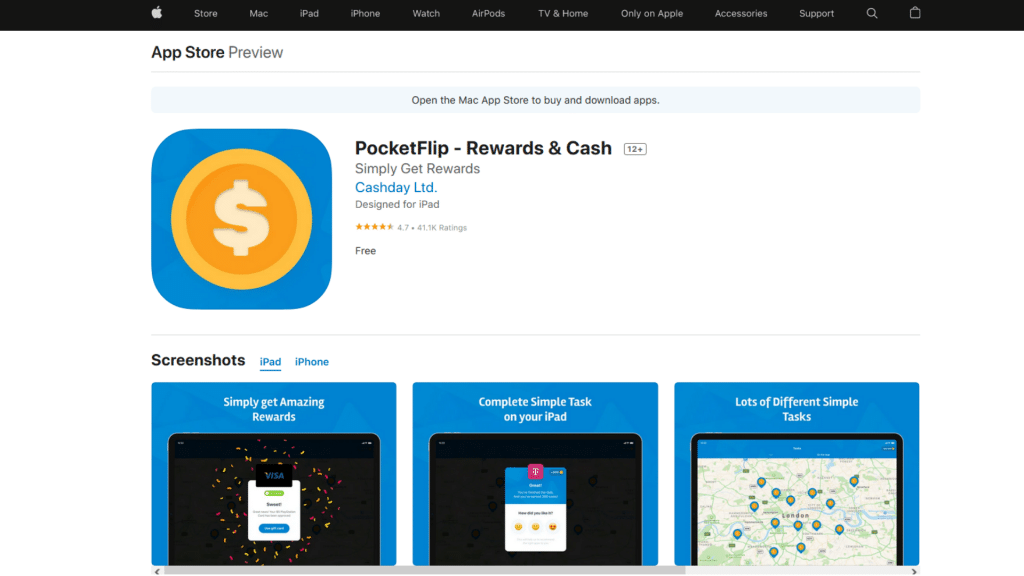 This app allows you to complete surveys or photograph a specific product or receipt from a recent shopping trip to earn free gift cards! You can further your earnings by taking photos in response to local businesses' location-based assignments or recommending others to test the app.
Earning rewards is straightforward and only requires downloading applications from PocketFlip and completing the activities. They will earn you coins, which you can exchange for free Amazon gift cards, and in some cases, for cash. Aside from the massive choice of gift cards available, PocketFlip also has a $5 minimum payout.
Only users of the United States, the United Kingdom, Canada, Australia, and a few European nations are eligible for work on the site. On the other hand, users from other countries may download the app and earn money by introducing friends.
PocketFlip, unlike other apps, does not need you to register an account. Understandably, some people may find this a little skeptical, while others welcome the ease of use.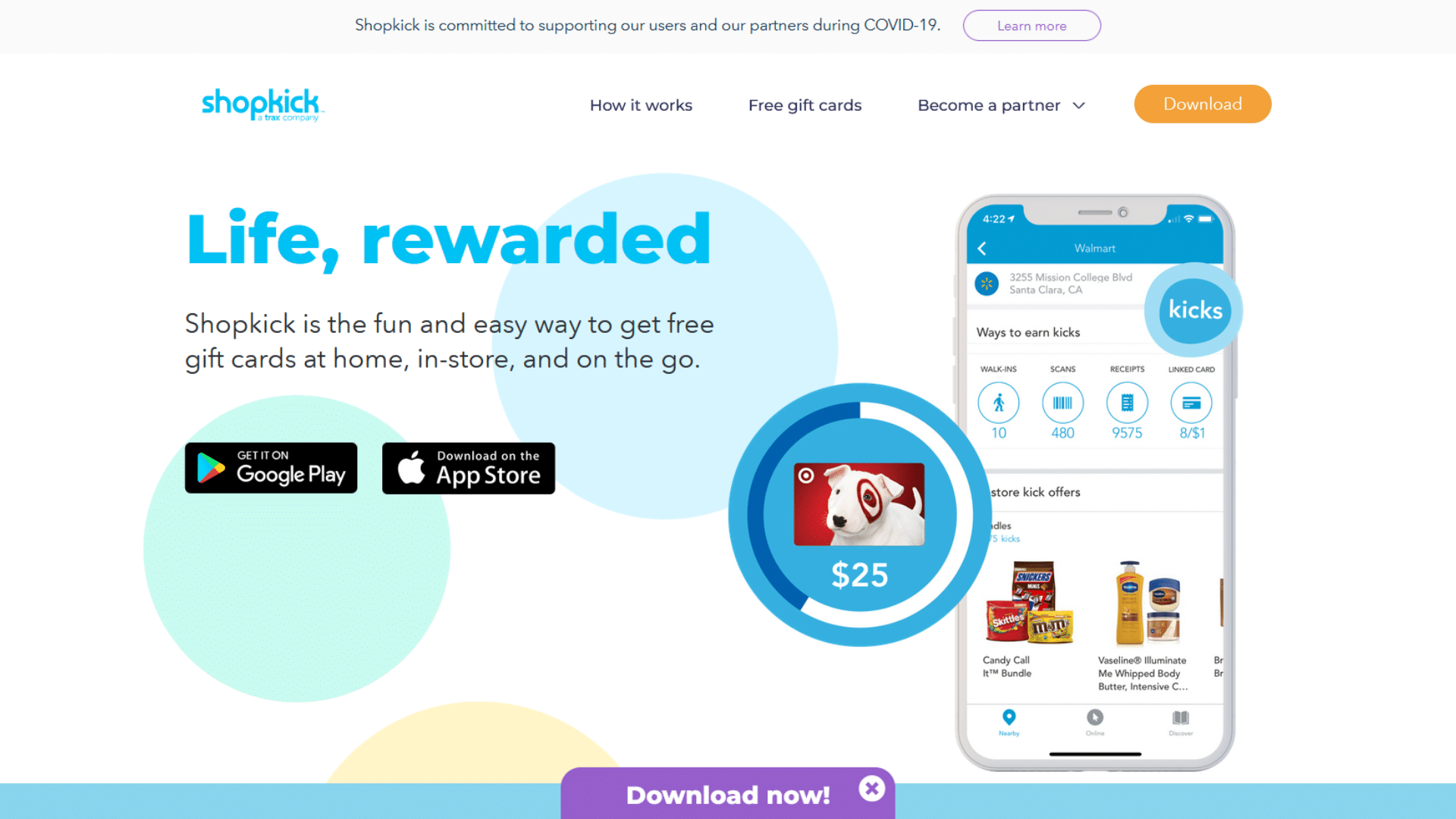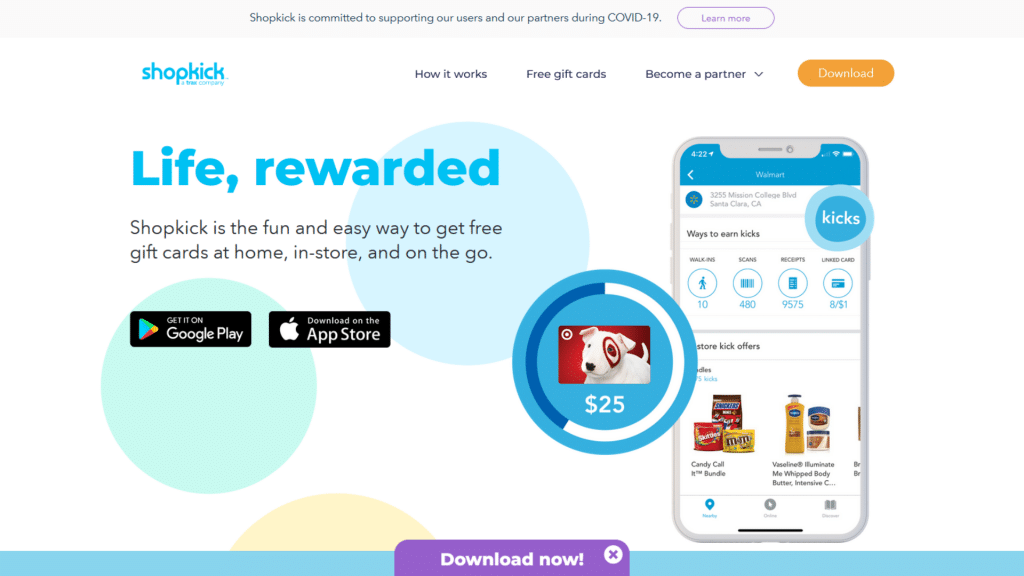 Shopkick is one of the most excellent free gift card applications available, allowing you to earn kicks or rewards points exchangeable for gift cards at businesses such as Sephora, Amazon, Target, and Starbucks.
To start is, download their app (iOS or Android) on your smartphone and make sure location services are active, so Shopkick knows which store you're visiting. You may accomplish objectives in the Shopkick app by scanning barcodes of selected goods and submitting the current selling price.
Walk into participating stores, use the in-app scanner to scan selected things in-store, buy specified items, then submit the receipt via the app to get points. To earn extra points, purchase at participating retailers with the credit card you linked to the app, shop online with Shopkick's online store partners, and view videos.
If you make a purchase, you will be awarded bonus points for the amount spent. It might be a fun way to earn money while shopping or a novel way to get some exercise by strolling the store aisles, as your points can help you redeem gift cards to most stores and restaurants!
New Shopkick users can earn their first gift card within the first week of membership, so that first reward is within reaching distance!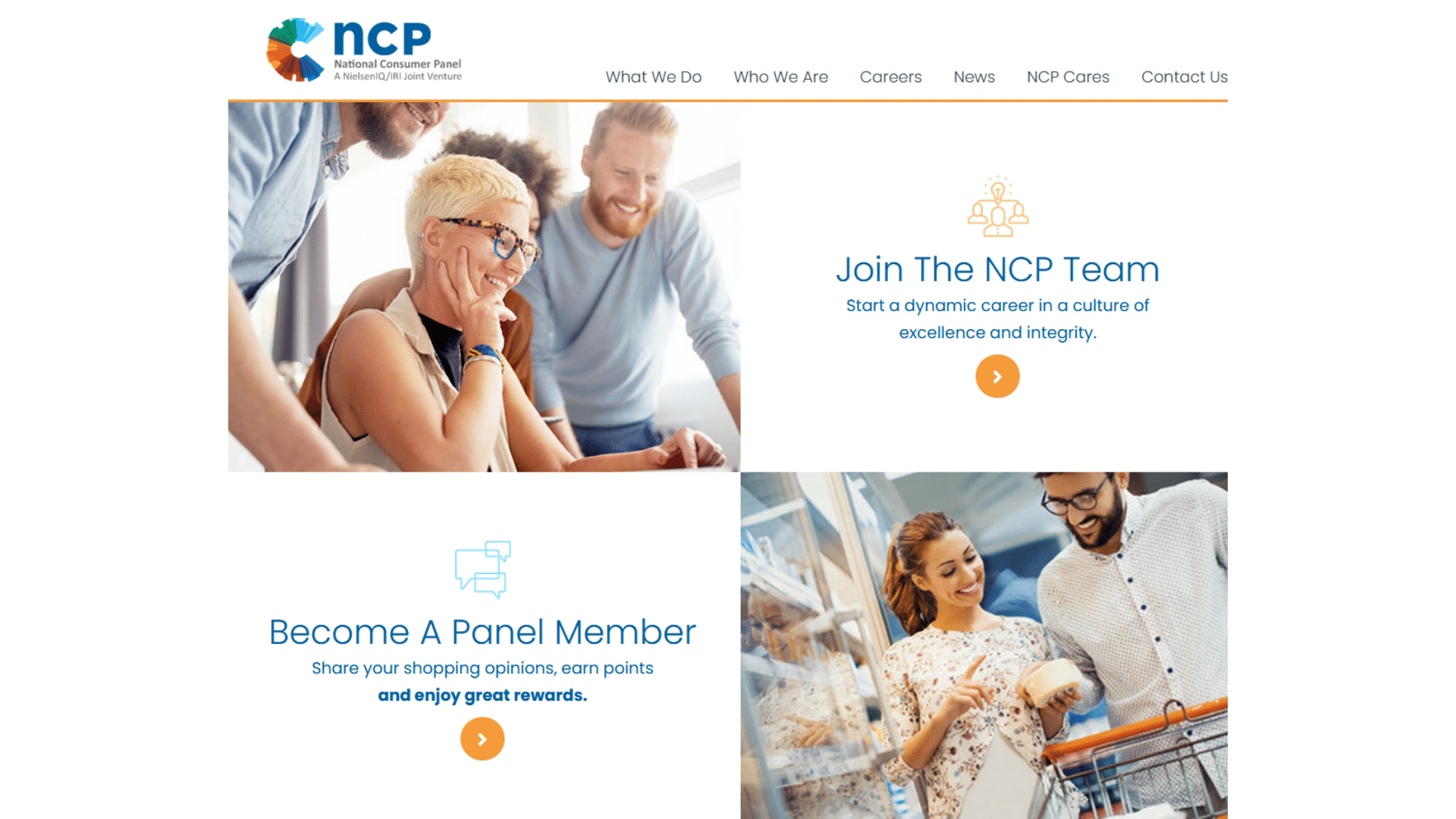 Another app that makes it simple to earn free gift cards is National Consumer Panel. Unlike other applications, you can scan the barcodes of the things you buy with your smartphone once you get home, rather than having to activate the rewards offers before you shop.
This flexibility might be helpful if you have small children and wish to cut down on your shopping time or forget to check the app before you buy and lose out on extra possibilities.
When you become a member of the National Consumer Panel and gain access to the NCPMobile app, allowing you to scan the barcodes of qualifying goods earns you points that you can exchange for gift cards and other prizes.
NCP, unlike other programs, sends you a scanner in the mail. For scanning things purchased at the grocery store, the market research firm gives gift cards as a reward. Rewards come from completing brief surveys, and the panel will notify you when a space becomes available in your region.
You submit the information to the panel, which converts it into points that you may save or redeem for free gift cards or other rewards. The NCP isn't constantly searching for panelists in every field, but you never know. You can try again in a few months if you're lucky.
Regular users can also stand a chance to win $5,000 in the company's quarterly cash offer.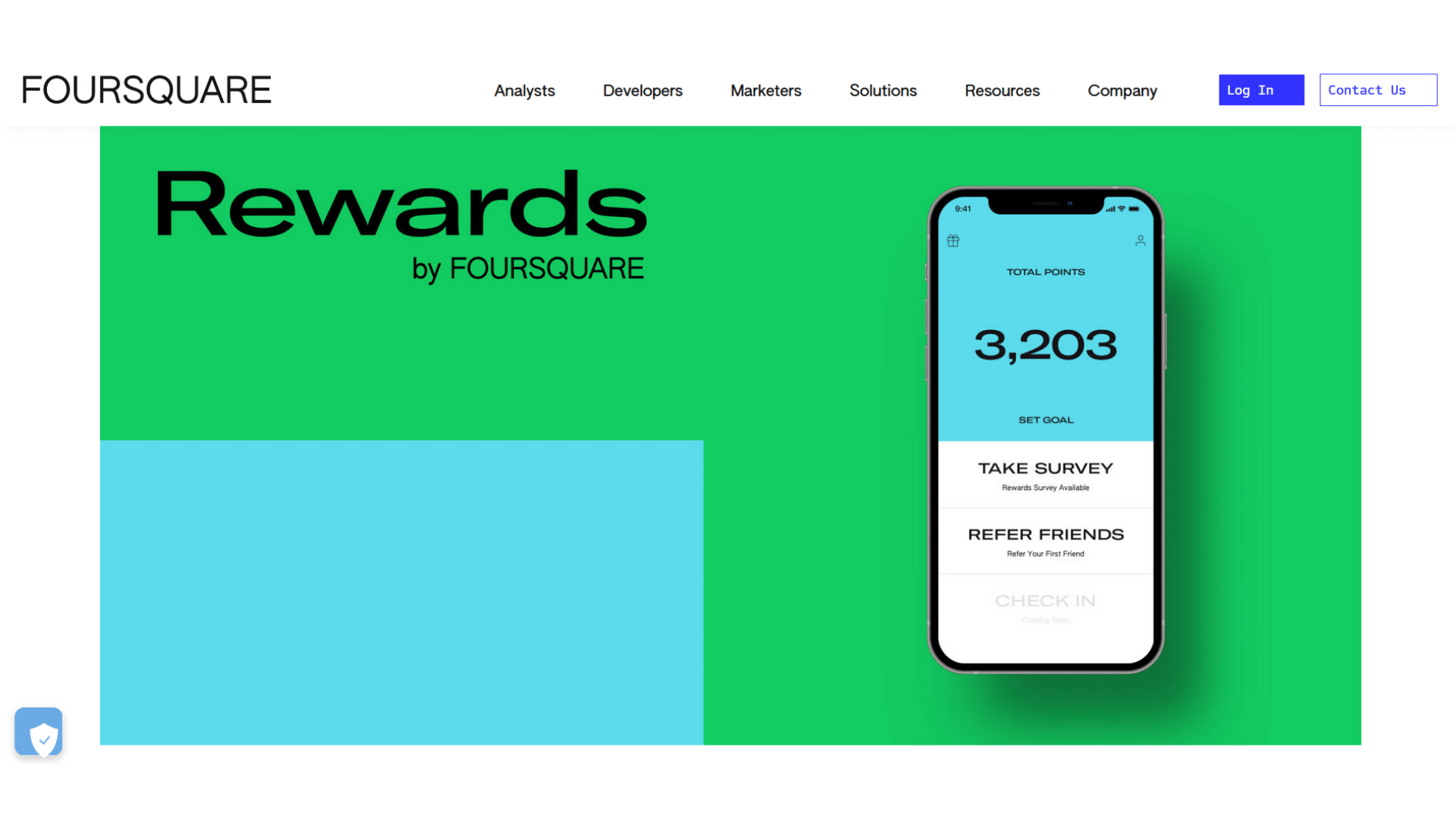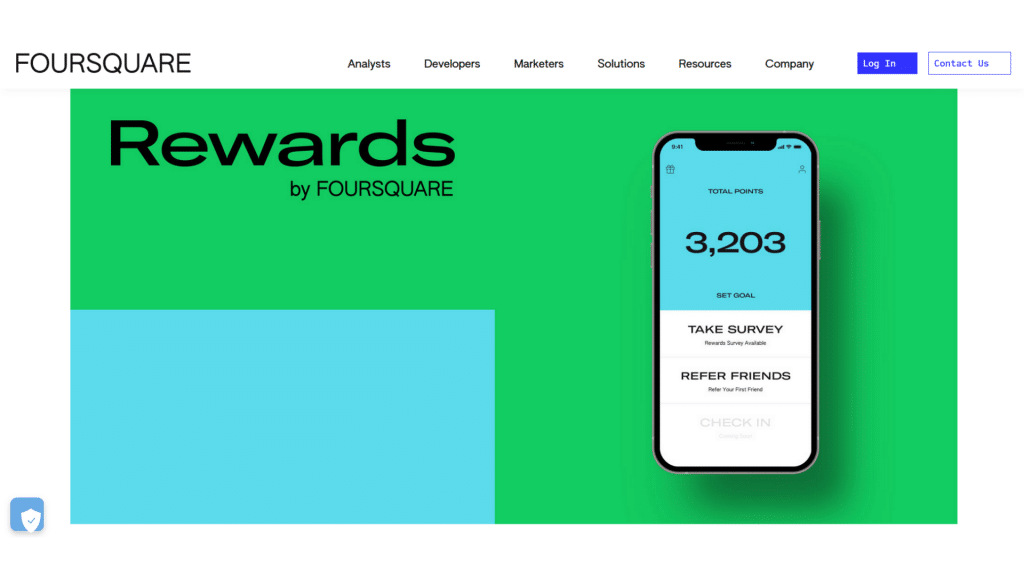 The Rewards App was previously known as "Panel App" but was later relaunched by Foursquare. It enables you to receive incentives by making an account and downloading the app on your phone.
Even if you restart your phone, it automatically opens and collects market data, rewarding you for the information it collects. Compared to other free gift card reward programs, this one involves the least amount of work.
In other words, it means you only need to access the app when you want to payout. You don't have to worry about the app slowing down your phone because the CPU utilization is so low. You may also increase your benefits by participating in location-based surveys, earning you free gift cards from places like Amazon, Starbucks, and more.
While the amount you may earn with Panel App isn't enough to make you rich, the fact that it's passive can help save a lot of time. You may use your points to enter prizes or purchase a gift card of your choice.
On average, you gain 33 points every day, for a total of 3,300 points per month. One thousand points are worth around $1, so you're spending a bit more than $3 every month.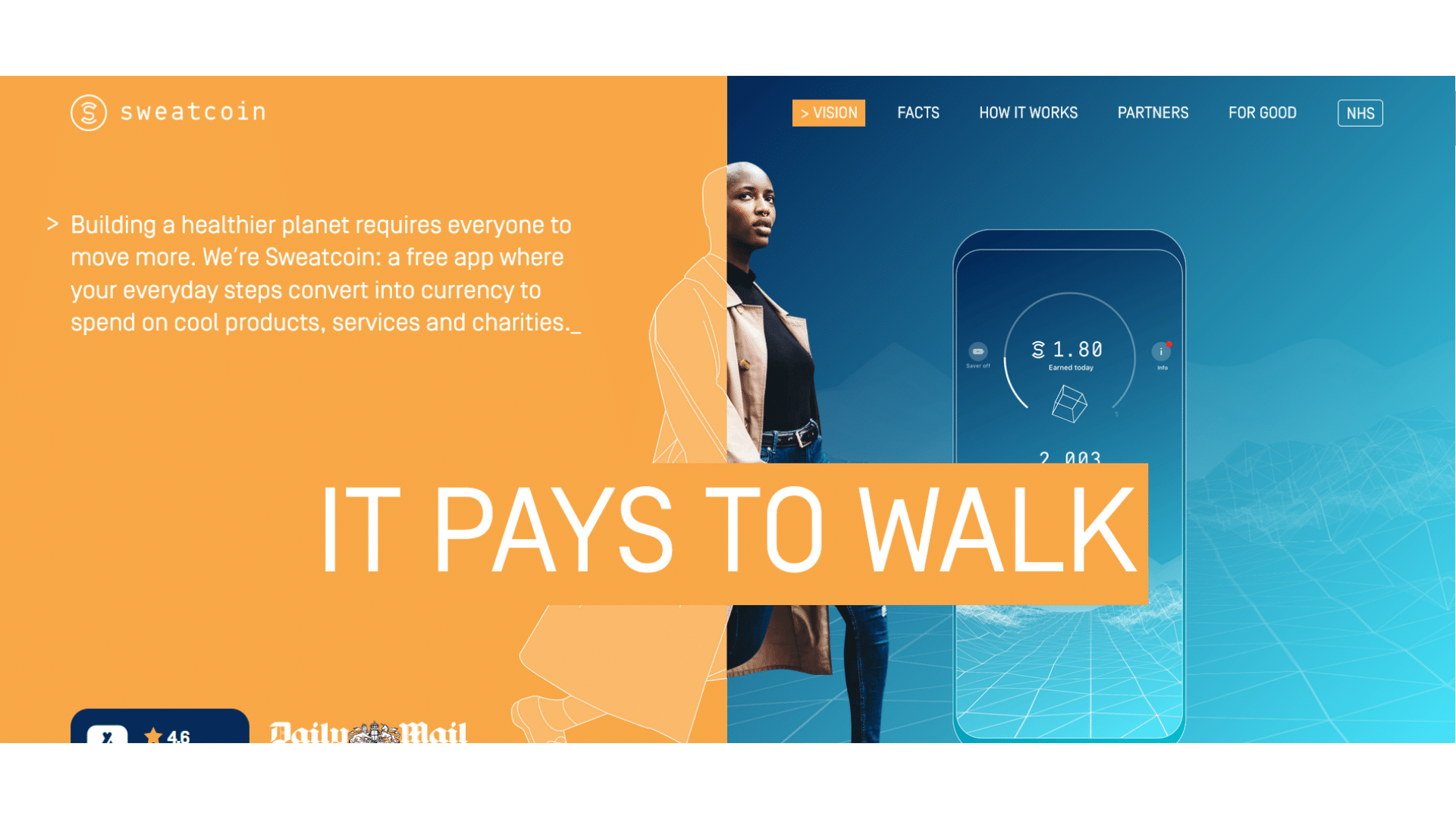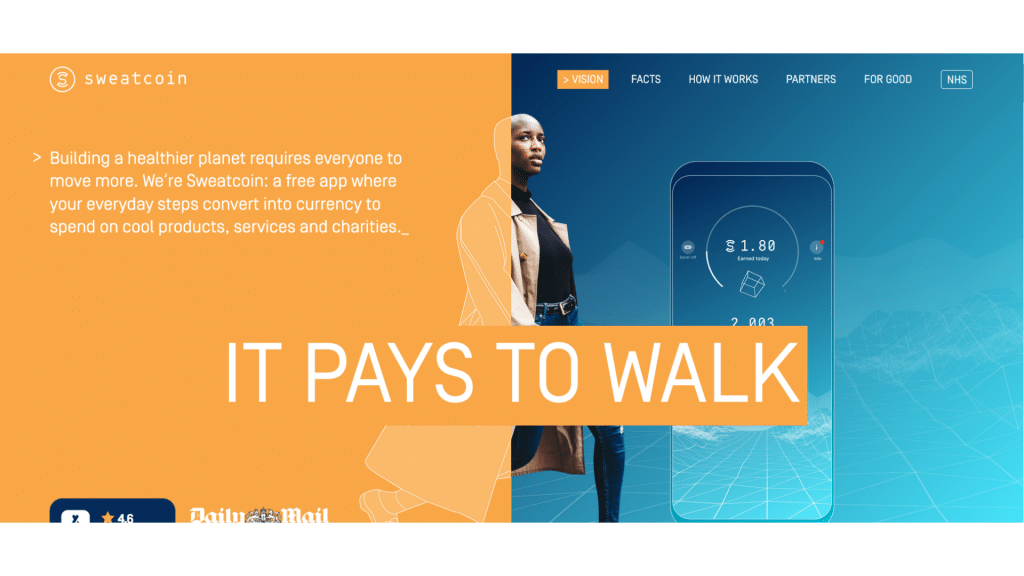 This app is a little different from its competitors and rewards those who do a lot of walking. It's also worth noting that it only counts if you step outside, so treadmills are unfortunately not viable!
There are some essential truths to note, the first of which is that the app only allows you to earn five coins every day. To earn larger gift cards, you'll need to put in some real street time, but if you're already strolling the outdoors a lot, it's a thoughtless and straightforward method to get gift cards.
Sweatcoin may be the motivation you need to get active if you're attempting to fit more steps into your day. Per 1,000 steps, you earn 0.95 coins. Once you've accumulated enough coins, you may exchange them for various gifts, including money off your energy bill and gift cards.
Related Questions
Why don't I earn points when I complete tasks or watch videos?
Not getting something in return for your efforts can be frustrating, but these app companies explain that they too are victims of fraud by advertisers who do not compensate them for the offers you complete. In such a situation, the app developer will not pay you out of their own wallet.
Which app activities earn you the most reward points?
Typically, tasks that require more mental acuity to complete will reward you with the best points. For example, playing games may take up more time, but they are easy to do and don't require you to stir the intellectual pot that often. Surveys, however, require that you use your skills in analytics and decision-making and your communicative skill set.
Can reward apps violate your privacy when they request personal details?
Some reward apps request that you install a cashback program on your phone or browser, and even though it may initially seem harmless, these apps could contain malicious software that aims to steal your sensitive data. So, research the company before agreeing to anything.

You should never trust software that promises to be free but requires you to pay a fee to claim a reward. It should never be necessary to pay a charge to acquire "free" money.

Finally, many cashback applications require connecting your credit card, debit card, or bank account to earn rebates and make purchases. Keeping your data safe should take precedence over rewards, so look over the company's privacy policy with a fine-tooth comb before sharing any sensitive information with them.