Important Note: When you buy through our links, we may earn a commission. As an Amazon Associate we earn from qualifying purchases. Content, pricing, offers and availability are subject to change at any time - more info.
Key Takeaways
What products does Social Nature offer? The company focuses on organic snacks and beverages, body and bath items, skincare products, and wine.
What about coupons and redemption values? Social Nature typically offers you coupons to places like Whole Foods and Sprouts and similar retailers where you can get 100 percent off the price of the product. You receive the coupons via snail-mail and take them to the store yourself.
Note: The product you use the coupon for must be the *exact* one listed on the coupon. For example, if the coupon says "Vegan Chicken Patties," you can't use it for the company's "Vegan Chicken Wings." Also, the coupon you receive might have a value of $5. But, if you reside in a more expensive area like LA or NYC, $5 may not cover the entire cost of the product.
Do you have to pay for shipping? Usually not. However, some offers take you to the merchant's/brand's website where you will have to pay for the cost of shipping. Most of the time the offers are free coupons sent to your house that you redeem in-store.
What goes into your profile? When you first sign up, you answer several questions about your habits, product preferences, etc. Based on this basic data, the site matches you with initial offers. With each new product you choose to receive, the site will ask you a few more questions to place you in the correct demographic. You won't always get what you select.
Do you get every product you apply for? No. See above.
Can people increase their chances of receiving more offers? By posting reviews on the Social Nature website and your socials (and tagging them properly), you can earn attention and credit for your efforts. The website states that the more fully engaged you are with reviews and tagging, the more likely you are to receive offers.
If you like organic and healthful products like snacks, drinks, skincare goods, and wine, signing up with Social Nature can be a good idea. You don't ever have to pay anything for shipping, and you'll receive offers for free stuff based on your preferences and demographic profile. Here's what to know before signing up as a member.
---
Advertisement
---
Signing Up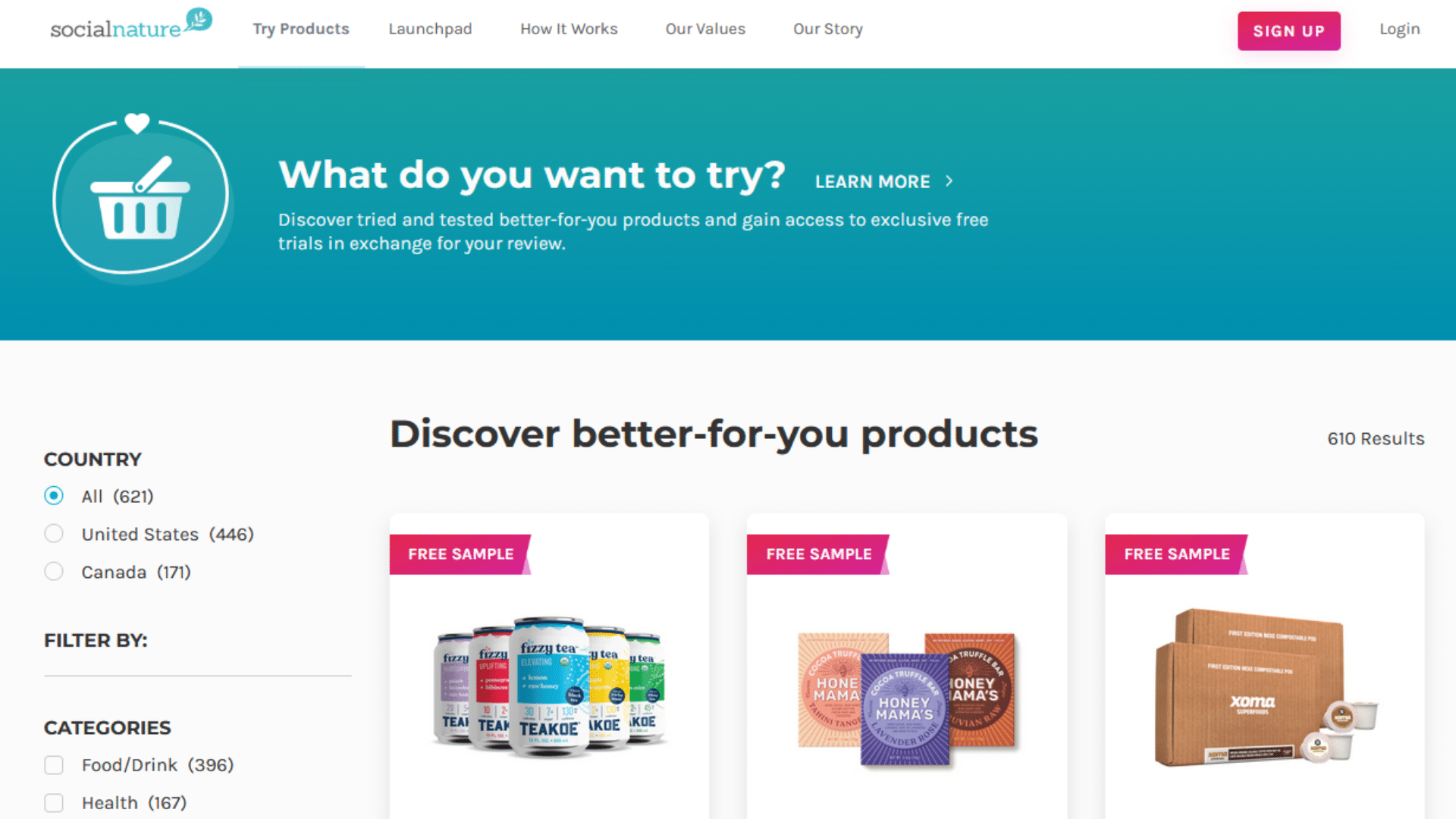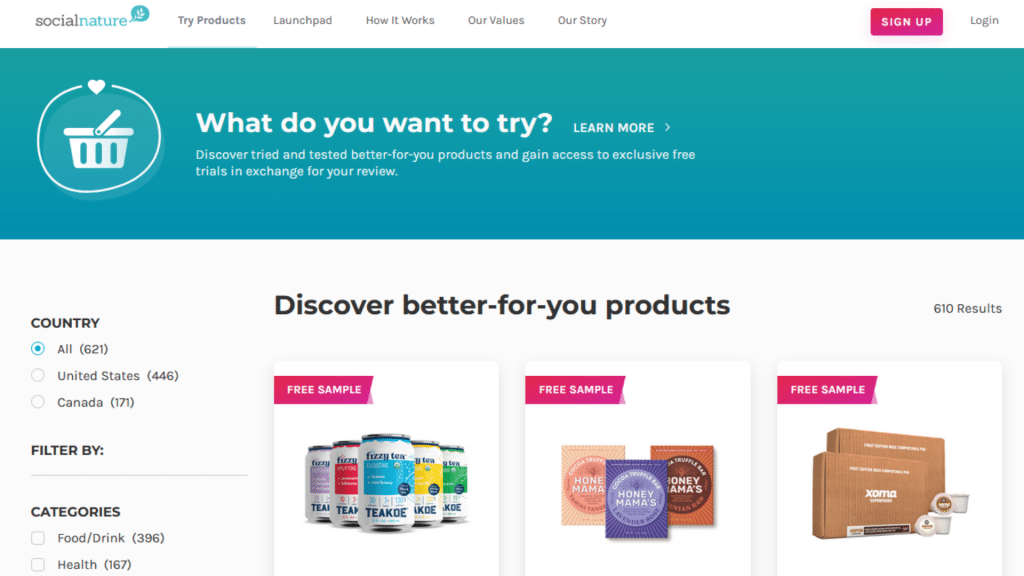 All you do is visit the Social Nature website and sign up with your email address or Facebook account. There is no Social Nature app to download. The initial questions you'll answer are fundamental and focus on whether your shopping includes organic and natural products, your main online shopping sites, where you go to purchase personal care and groceries, and your age.
Matching and Applying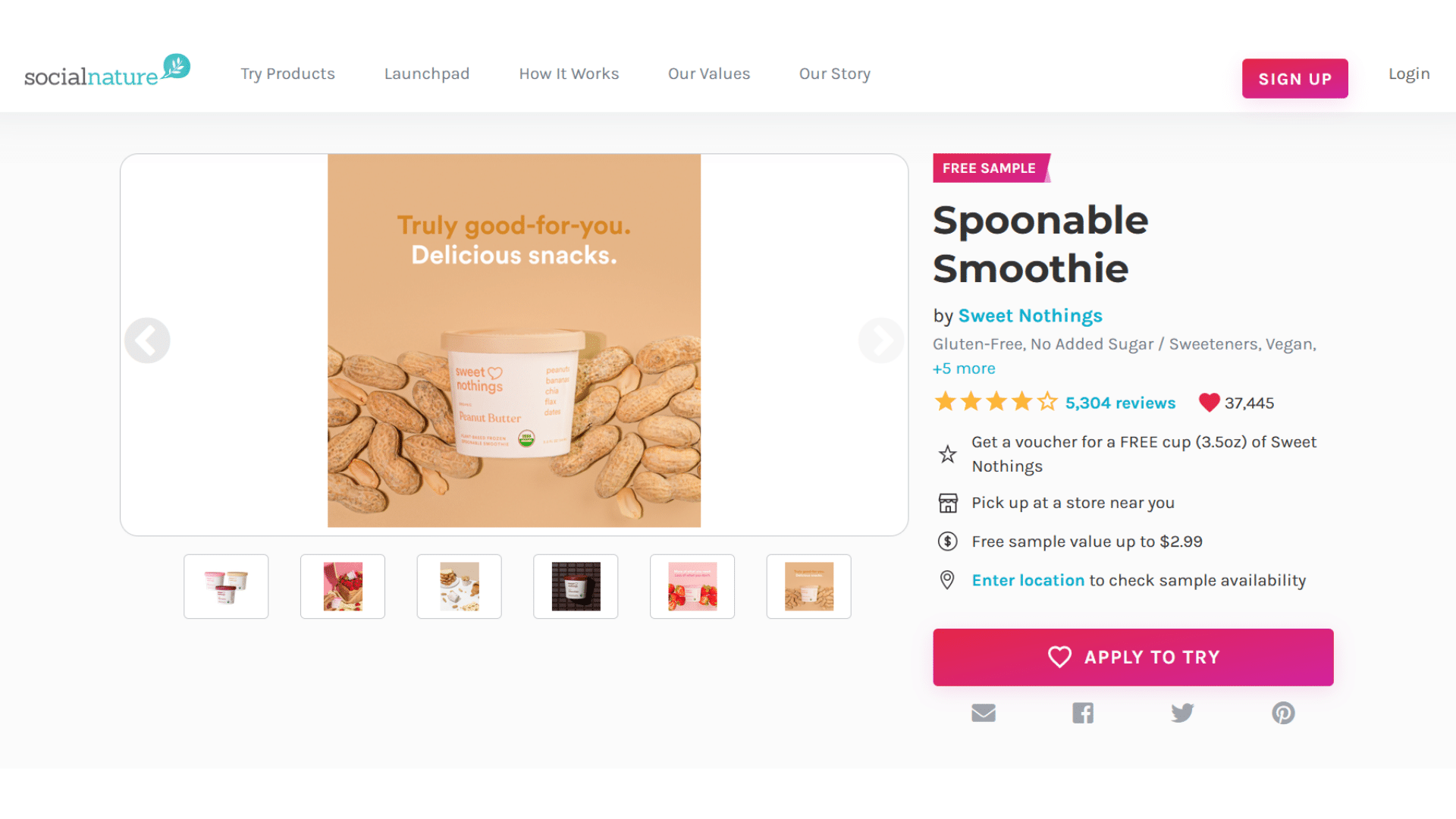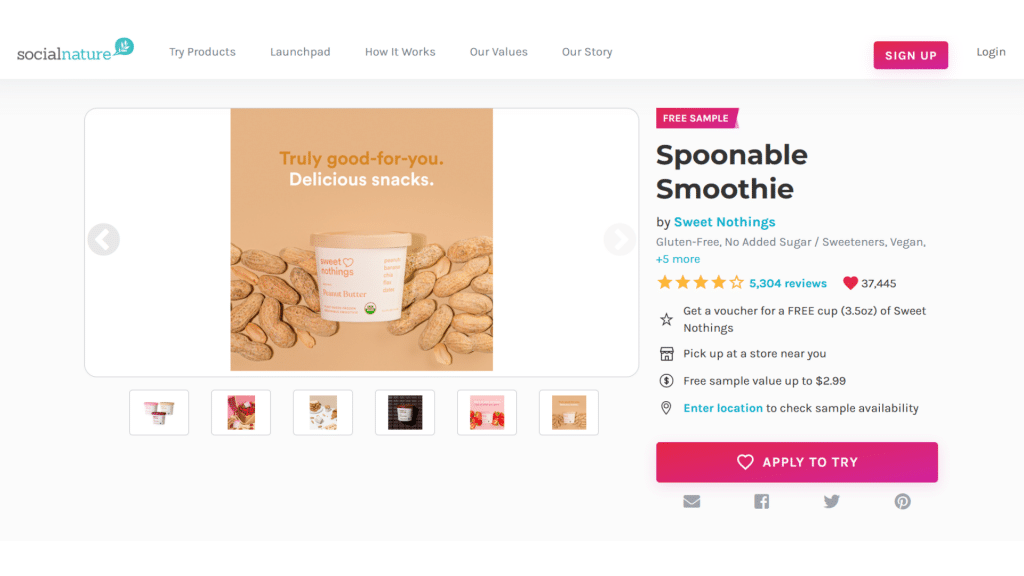 After the first round of questions, new members will be automatically "matched" with one or more products they can accept or reject. To accept an offer, use the button labeled "Apply to Try." Click it, and you'll have to answer a few more questions. Once you finish answering, it's time to click the "submit" button.
As soon as you hit "submit," you'll see one of two instructions: that you need to confirm shipping or you are on a waitlist. Don't worry because even if you end up on the waitlist, most brands will offer you a coupon code to get a discount on a purchase at a local or online store.
Recent Social Nature Promotions
Who Gets Stuff?
Social Nature is not secretive about its process. They plainly state that they decide who gets what based on several different factors. First, you must indicate that you want a product by clicking the Apply-to-Try button.
From there, it's all about demographics, namely where you reside (you must be in the U.S. or Canada, by the way), your interests (based on survey questions), and your lifestyle (again, based on your responses to questions). Social Nature looks at their social media activity and engagement levels for people who have already received items, whether they have written reviews, etc.
Leveraging the Power of Social Media
To become a "power user" of Social Nature and receive frequent offers and freebies, visit the site after logging into your account and look at the "My Social" tab within the My Account section. There, you can connect your social media pages to Social Nature. Choosing Pinterest, Twitter, and Facebook will get you off to a good start to earn status as an "engaged member" and thus get more offers for freebies.
Other Ways to Save
Social Nature offers standard coupons you can select on a vast number of organic items, and they're yours for the asking. You need to click on items in the coupon section to receive the codes.
Other sellers are trying to get their goods into stores, so they offer you the chance to get a coupon to "boost" their brand. Click on "Boost It" under designated products, reply to a few short survey questions, hit the submit button, and you'll receive an instant coupon code.
Adjustments
If your preferences change or you made a mistake in your original profile, visit the "My Profile" tab within your account heading and edit as needed. Check back at least once per week because Social Nature adds fresh products frequently.
Pros and Cons
What do current and past users like and dislike about Social Nature?

| | |
| --- | --- |
| Pros | Cons |
| Sign-up is quick and easy, and there's no app to deal with. | You might not get many offers, if your demographics and preferences don't match up with the site's merchants. |
| You don't have to shop for anything to get discounts or cashback. The entire business model of Social Nature is about handing out free organic products to people who meet the basic demographic profiles of potential customers. | Becoming an "engaged" member takes time and a considerable amount of effort. Yes, the items are free, but you pay for them by giving up some of your time to post reviews, tag photos, and talk it up on your socials. |
| It's relatively painless and costs nothing to get a few items once you sign up and answer the initial survey questions. | There's no guarantee you'll like all the items you receive. Many are sample-size and are things like snacks that are being test-marketed. Don't forget that if you do like something, you are likely to add it to your permanent shopping list in the future, which adds to personal expenses. |
FAQs
Is there an app to download?
No. They try to keep things simple at Social Nature by using Facebook or email addresses for signup. You don't do any shopping on the site. Instead, you click on vouchers when Social Nature offers one to you, and you want it. You subsequently receive a voucher or code to get the items for free at retail stores where you shop, either online or in-store.

Sometimes, you'll receive actual items in the mail and won't have to deal with coupons or vouchers. It all depends on your demographic profile and the offers you accept.
What is waitlisting?
When you visit your Sampler page to see what offers are available for you to order, you might receive a message after ordering that says, "You are on the waitlist for this item." Translation: You have been rejected. However, you almost always get a coupon code just for expressing an interest in the offer.
Where should you leave reviews for products you try?
Go to the Social Nature website first and leave a written review. Of course, you can leave reviews elsewhere if you wish, including on YouTube, Facebook, and personal websites.
What's the best way to get more stuff?
The official Social Nature website encourages members to engage via leaving reviews on the SN site and your socials. Remember to use #trynatural and tag @socialnature when you leave reviews on your socials and other places on the web. That way, you'll get credit for being actively engaged and will likely receive more items in the future.