Just because we could, we created a boat load of maze puzzles that we're offering to our readers. Because what's better than doing something that's not only fun, but challenges your brain – and for free!
We've got all our mazes on one page divided by how complex they are. At each difficulty level, there are downloadable PDFs with 20 mazes you can download and print out. Easier mazes are great for the kids – or to get you started on maze puzzles. Or download insanely difficult mazes just to see what they're like.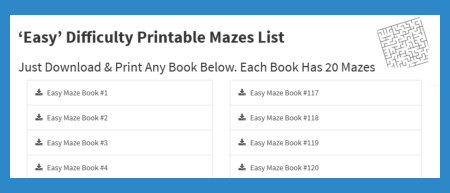 How can something like maze puzzles help your brain? If you think about it, we use our maze solving skills all through life – when we figure out how to get somewhere or the best way to do something. But, once we figure things out, we do them without thinking. Solving maze puzzles gets those parts of the brain working again. And making your brain learn new things is what helps guard against memory loss.
So, get to our free printable mazes page! We've got over 20,000 of them for you to download and enjoy.