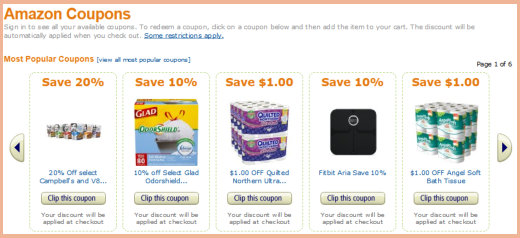 Great news for online shoppers. Amazon just opened a coupon store!  It's an easy to use list of coupons and discounts on many types of products that you can "clip" when you buy.
At the top of the coupon page, you'll see the most popular.  Scroll down the page and you'll find various categories – household, baby, electronics, grocery, kitchen and personal care items.
How good a deal are these coupons?  I checked on the 80 count Glad Odor Shield Tall Kitchen Trash Bags.  The price at Walmart was $12.97 – same as amazon's price.  But with the current 10% off coupon, you'd get it for $11.67.  I also checked out the Quilted Northern Double Roll Ultra Plush toilet paper – $22.94 for 48 rolls at amazon with the $1 off coupon.  Walmart didn't carry the 48 roll package, but they did have a special on the 24 package rolls, 2 of which would cost $23.94.
Some of the other items were good deals as well.  If you're in the market for a pressure cooker, you can get the Cuisinart 6 quart version for $78.51 at amazon (includes the $15 off coupon).  The lowest price I could find for this was $79.99 at BJ's with the average price of around $99 (it "lists" for almost $180).
Now good prices and coupons won't save you much if the shipping costs are high.  Luckily, amazon ships orders over $35 for free.  Walmart, on the other hand, makes you spend $50.  Sure, you can always just go to the store if there's one nearby.  But if you're like me, the hassle of driving and battling the crowds isn't worth it unless I need something right this minute.  So I couldn't be happier that amazon has put their coupons all in one place.  This is one link I'm going to bookmark!