Last year you couldn't sign up for text-based/SMS alerts, and now, unsurprisingly, you cannot even receive SMS/text messages for accounts you follow on Twitter officially. This was an inexpensive way for Yo! Free Samples to offer SMS/text alerts. It normally costs up to 4 cents or more to send even one text message, so if you have 500 people get an alert it could cost $20 or more each time you broadcast a freebie. Imagine a larger website with thousands of followers. I am thankful they had this service for so long as it is. As of right now there will be no more SMS alerts, I may introduce a paid one-time and/or monthly plan to get a set amount of SMS alerts in the future if you are interested please let me know what you are looking for in this as a feature.
That being said there are still good alternatives to stay updated on the latest time-sensitive freebie/deal alerts.
You can still follow on Twitter for all posts here or only hot/time-sensitive offers here. You can enable push notifications in the Twitter app in the setting page or click here to set them up in your browser. These push notifications are a good alternative to SMS alerts. Once they are enabled you can simply click the 'bell' icon (image below) next to any account you want push notifications from.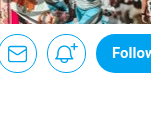 Instagram has all our time sensitive alerts, you can follow here.
You can subscribe to browser push notices even if you denied them in the past. Just click the lock icon next to the address/URL bar and unblock notifications then reload the page or clear cache and reload the page. It also may have a 'Get Notifications' bar on the side of the page after you unblock notifications as well. These are only time-sensitive alerts.
Telegram has is a great way to follow as well, you can learn about the options here.