Possible FREE Marlboro Litter Pouch (Select Accounts + Adults Only)
Important Note: When you buy through our links, we may earn a commission. As an Amazon Associate we earn from qualifying purchases. Content, pricing, offers and availability are subject to change at any time - more info.
You can score a possible free Marlboro Litter Pouch when you login Marlboro. Request this for a limited time only! Just follow the instructions below to request this freebie.
Note: Keep checking again if, after logging in, you don't see the free pouch offer on the homepage.
How to get free pouch:
Visit the companies website by clicking "Get This Offer (External Website)"
Login or register for Marlboro.com (Tobacco company, requires thorough identity verification possibly including social security number)
Login to find the offer and click "Clean It Up" button then claim your free pouch! It should be on the homepage immediately after logging in and look like the image below.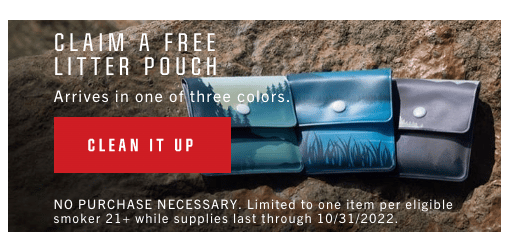 * US only. Limit one per eligible smokers 21 years of age or older. While supplies last. Through 10/31/22. Additional terms & conditions may apply. Offer may change at any time. more info