Two major polling companies are looking for survey participants – and they're willing to pay you for your time.  Harris Interactive, based in Rochester NY and now part of the Nielsen Company (the ones who provide TV ratings), has been around since 1963 and collects market data for top companies across the world. Ipsos is a global market research and polling company headquartered in France. They've been around almost as long as Harris.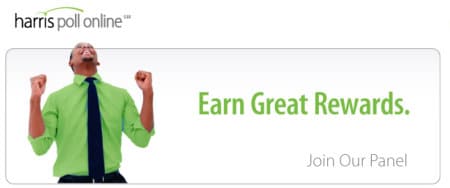 Like most survey sites, you earn points that can be redeemed for credits, gift cards and other items. Both also offer ongoing sweepstakes for points and sometimes prizes. And, like most survey sites, you need to answer questions to see if you qualify to complete the survey. Harris does give 15 points for trying even if you don't qualify, but Ipsos only awards points upon completion – though there may have been a recent change at Ipsos to credit the "tried and failed" with a few (5) points. However, Ipsos has a loyalty program that gives you extra points for meeting benchmarks – like a certain number of completed surveys.

Since they've been around so long, there are a lot of reviews from satisfied – and unsatisfied – users. In Harris Interactive's case, the new web interface – which probably has something to do with Harris' recent acquisition by the Neilson Company – seems quite glitch especially for users who had existing accounts that were transitioned.
In both cases, long time users complain of fewer survey offers and more difficulty in qualifying – and after spending several minutes answering questions just to find out. That's where Harris has the edge over Ipsos since they give more points for just trying. Harris also has a lower point redemption level than Ipsos and, if the reviews are correct, pays out faster than Ipsos.
There are also plenty of complaints about account deactivations (Ipsos mostly) or being unable to log in/being informed that your personal information is incorrect/doesn't match (Harris). Whether these are a result of site bugs or the company's way of saying they don't want you any more – who knows?
But along with the bad reviews are also some good ones. And when it comes down to it, your success depends on your demographics. Participants in that all important 18-49 age group are likely most prized as are those under 18. Income levels, gender, marital status, education, locations, occupation and ethnicity also play a part.
If you want to try them out, they're accepting US and Canadian citizens over the age of 13.  And, in the US at least, since they both have political polling, you may find more surveys available because of the Presidential election. Let your voice be heard!
You'll need to validate your email address, provide personal information and fill out a personal survey to get started. The links to sign up are below.  (NOTE – The Ipsos links may not work on mobile devices.)