How To Get Free Calendars
Important Note: When you buy through our links, we may earn a commission. As an Amazon Associate we earn from qualifying purchases. Content, pricing, offers and availability are subject to change at any time - more info.
Key Takeaways
Many companies and organizations offer free calendars and many folks sign up for free calendars, making some of them expire fast.
Some calendars are available through mail order. Often times they run out of stock and only digital copies are available.
Other free calendars need to be collected in-store.
Aside from hard copies, there are many free electronic resources to print or use on a device.
How & Where To Get Free Hard Copy Calendars By Mail
Many companies offer free calendars either as a promotional special or a "staple" practice. You'll often need to contact them and request one.
---
Advertisement
---
Below are some examples of companies and organizations that offer free calendars by mail order.
See the latest free calendars being offered by companies from Yo! Free Samples
Before we begin, calendars can expire fast so here are the most recent free calendar offers from this website, Yo! Free Samples.
Colleges And Universities
Some colleges and universities will send a free calendar to you upon request.
One such example is:
The University Of North Carolina Of Chapel Hill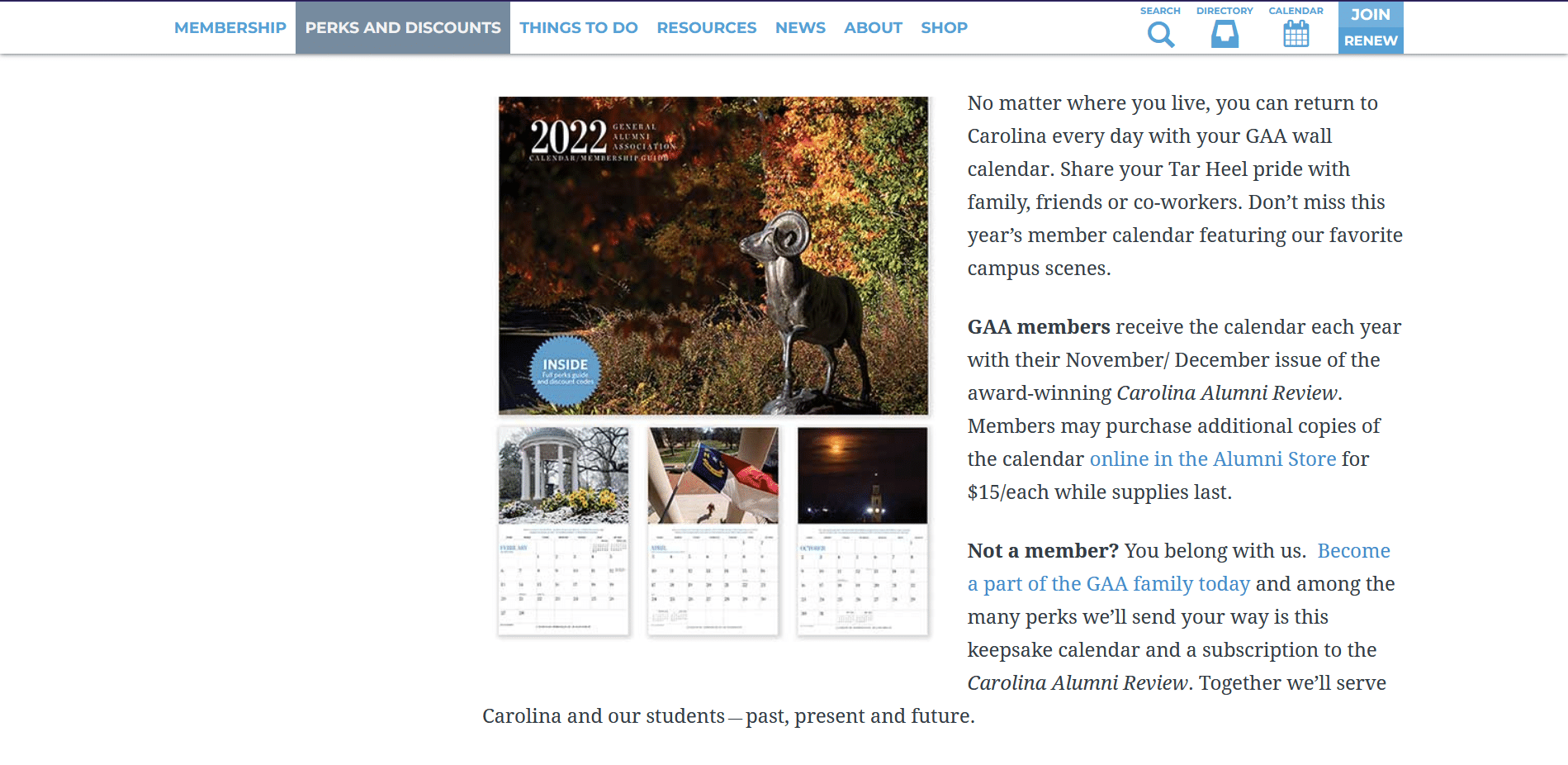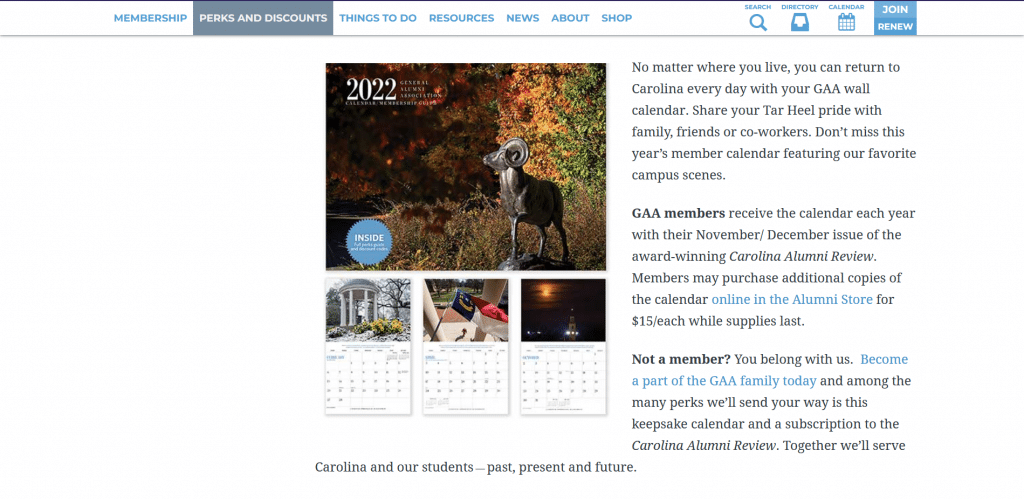 Members of the UNC receive a free calendar as one of the membership perks. If you'd like to purchase additional calendars, they are available for $15 apiece.
Membership requires registering online and a monthly, annual, or once-off fee, but at least the calendar is free!
Dairy Farmers Of Canada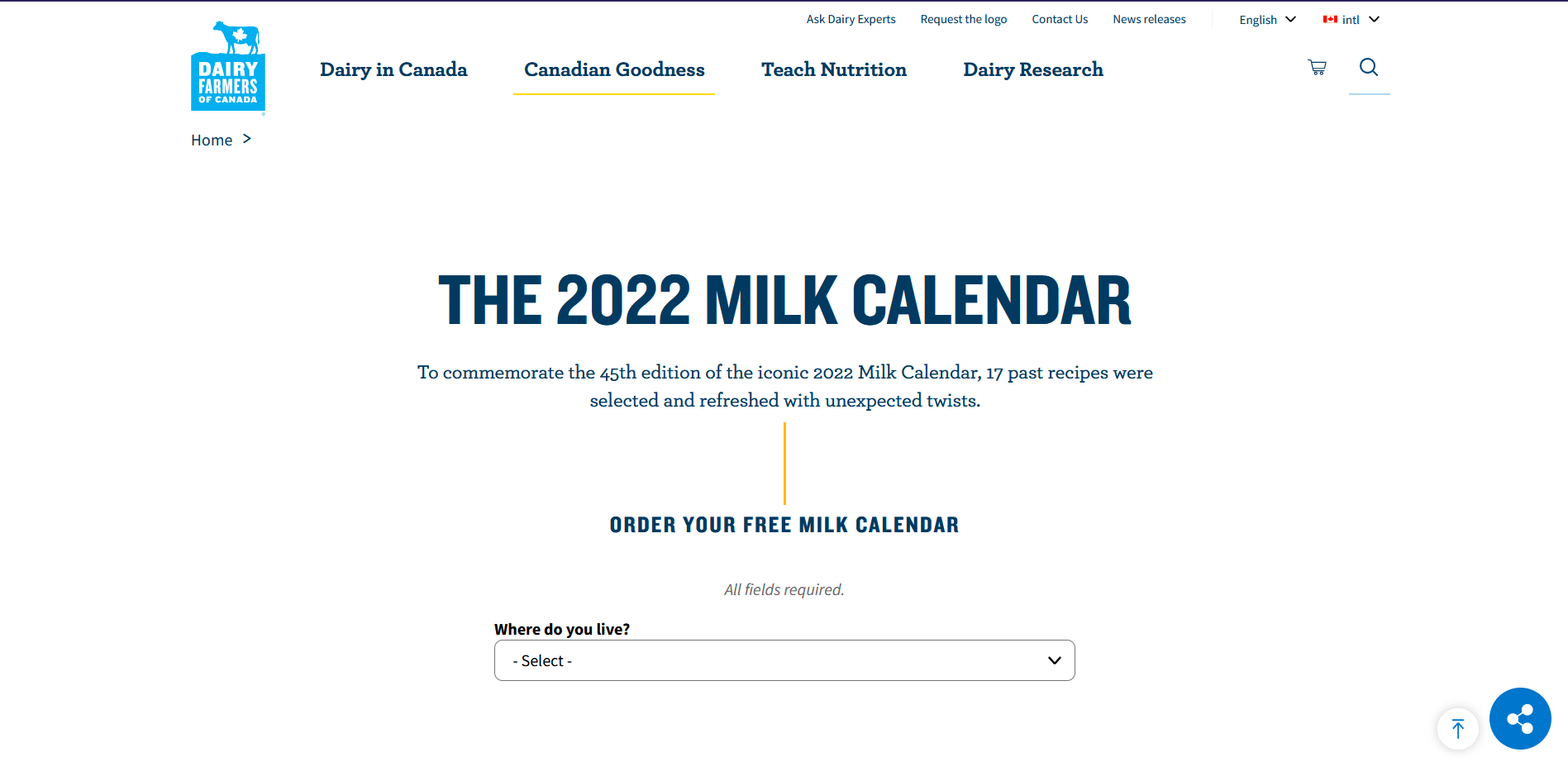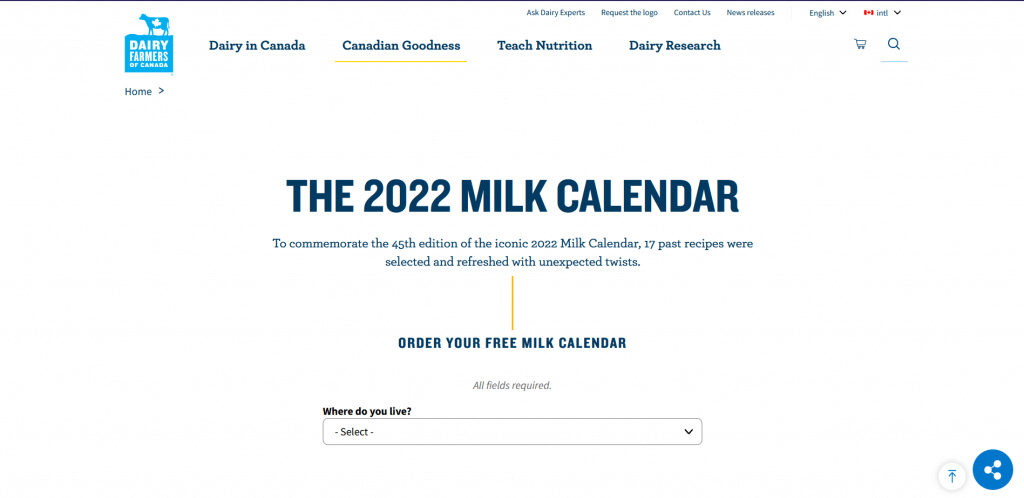 The Dairy Farmers Of Canada offers a free calendar once you've completed the online application form for those who live in Canada. These calendars contain 15 recipes for baking/cooking that include the use of milk.
Unfortunately, the catch is you need to live in Canada to qualify, but if you have family on that side, then this is another option for you.
DeLallo
DeLallo often runs an annual calendar give-away. These calendars fly like hotcakes, so you need to be quick to grab one while they are available.
These calendars feature various recipes as inspiration for cooking.
Fashionphile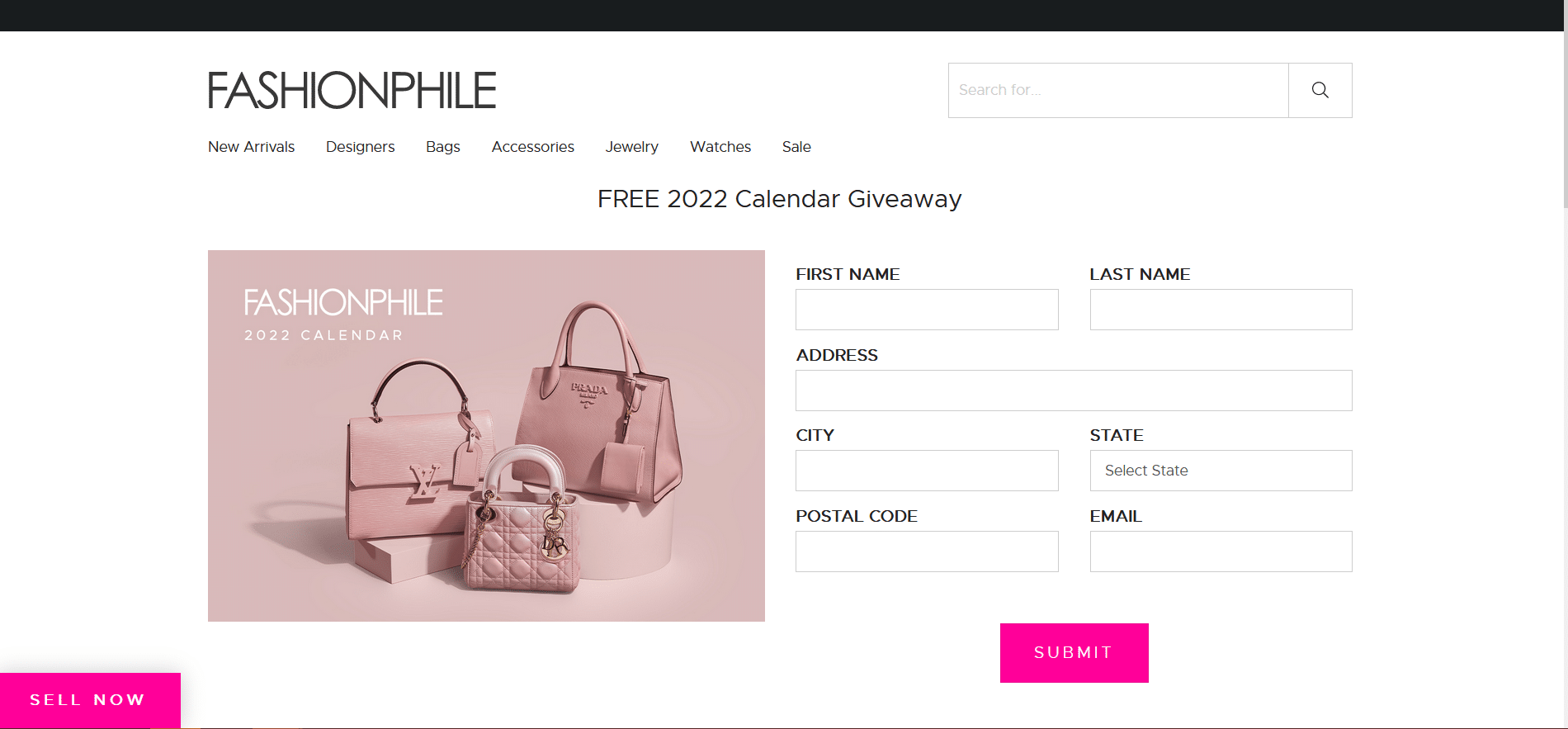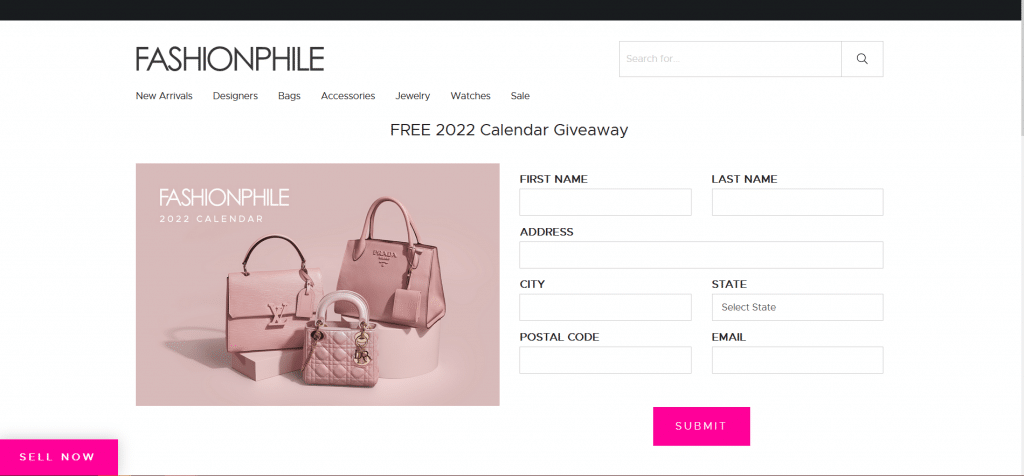 For those who enjoy all things fashion, Fashionphile has free calendars up for grabs for those who fill in the application/request form on their website.
Only one calendar per customer, with free shipping included. However, the cut-off date is in January, so if you want a fashionable calendar, it's prudent not to be "fashionably late" with your ordering.
Frigo Emily Ellyn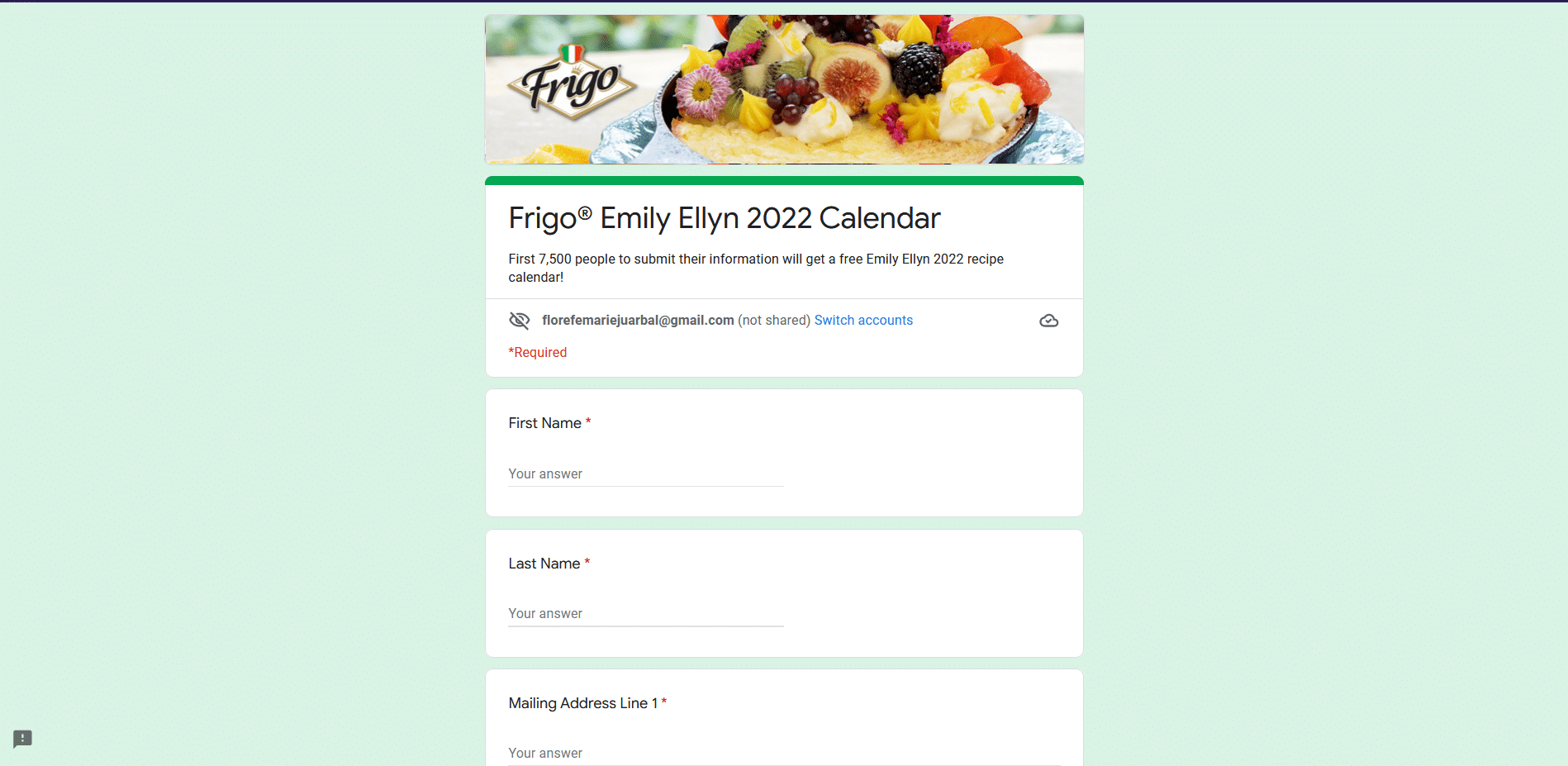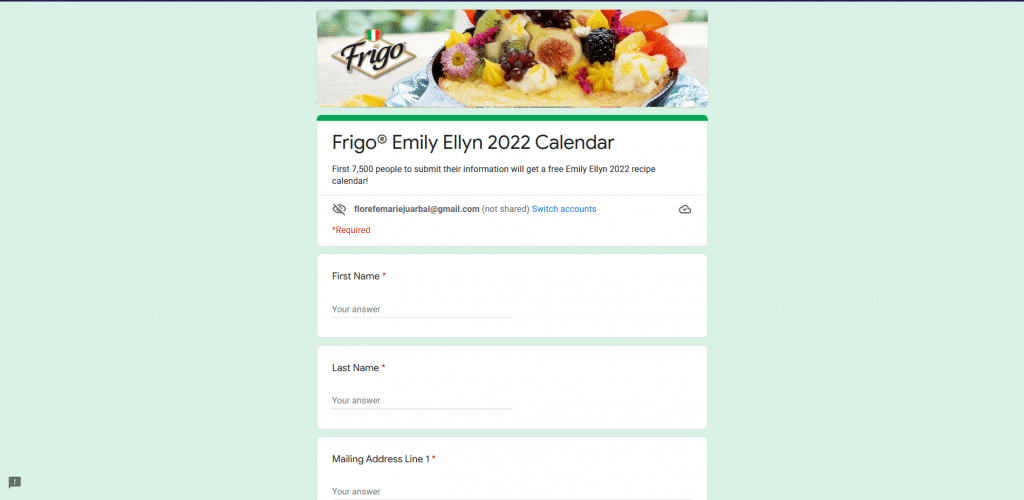 This calendar is actually a confirmed fake calendar and should be avoided.
General Shale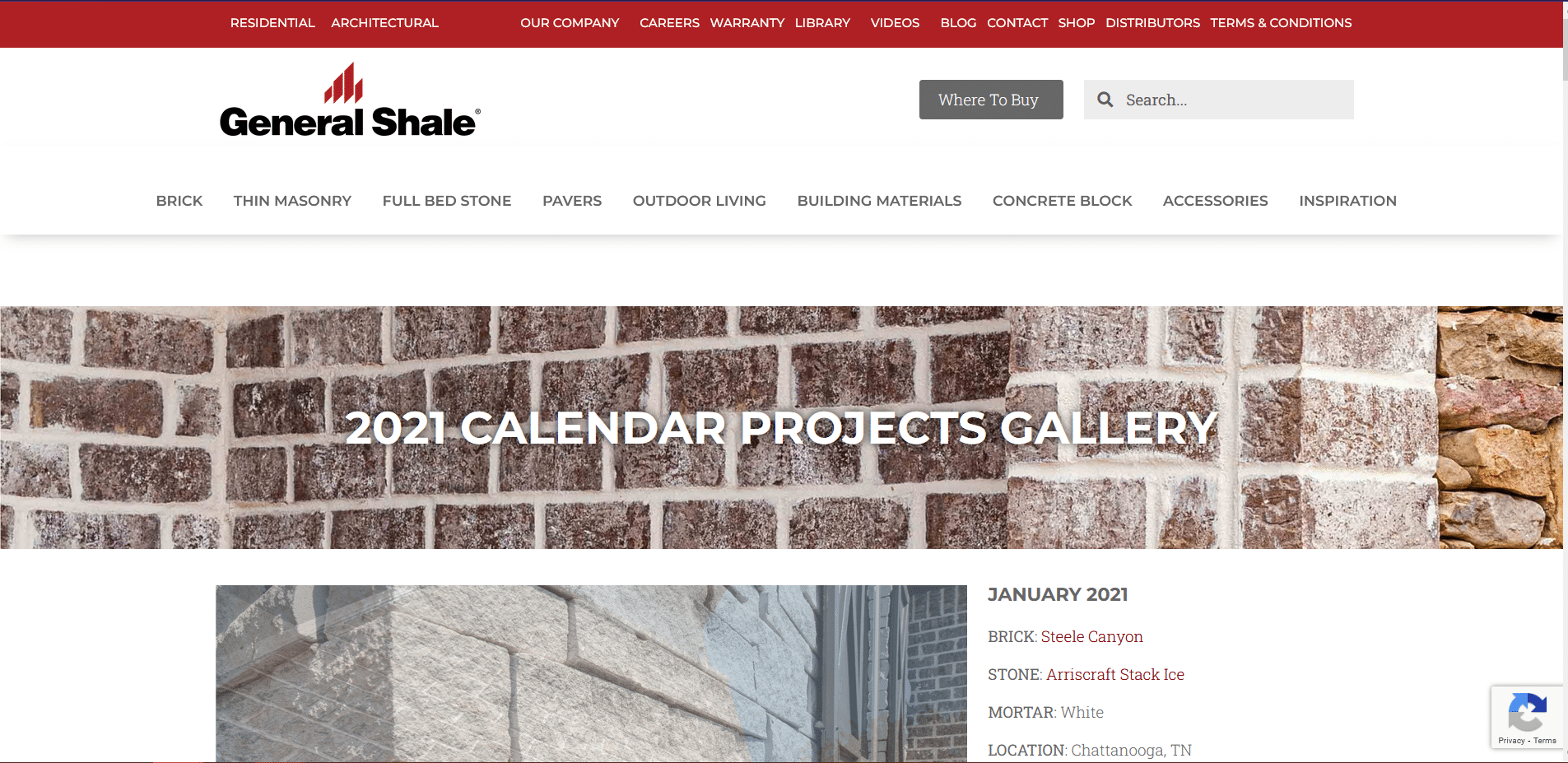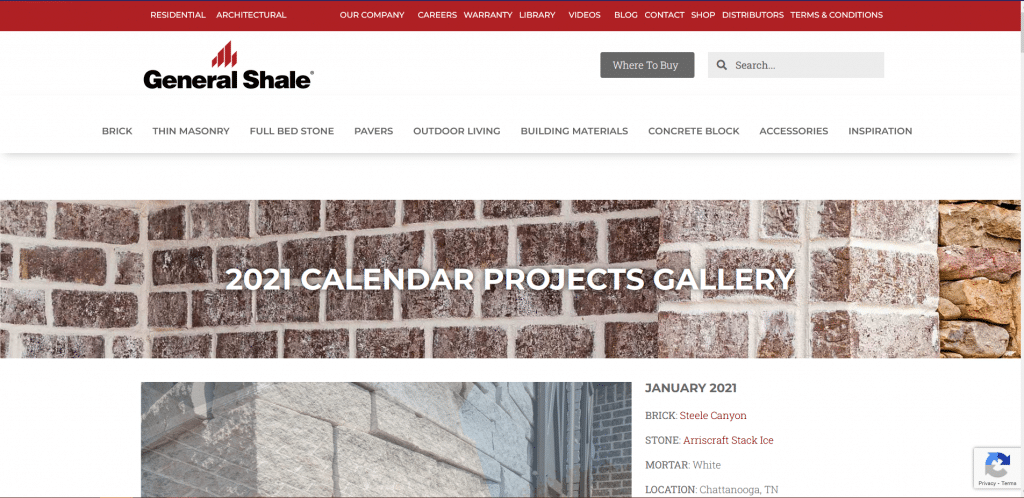 General Shale is a prominent general masonry store in the states. They offer free calendars for anyone who fills in the request form on their website. These calendars showcase various houses.
There is a catch; however, the calendars are only for 2021, so although they are not up to date, they are still free, which is of some benefit.
Liberty Tourism & Convention Commission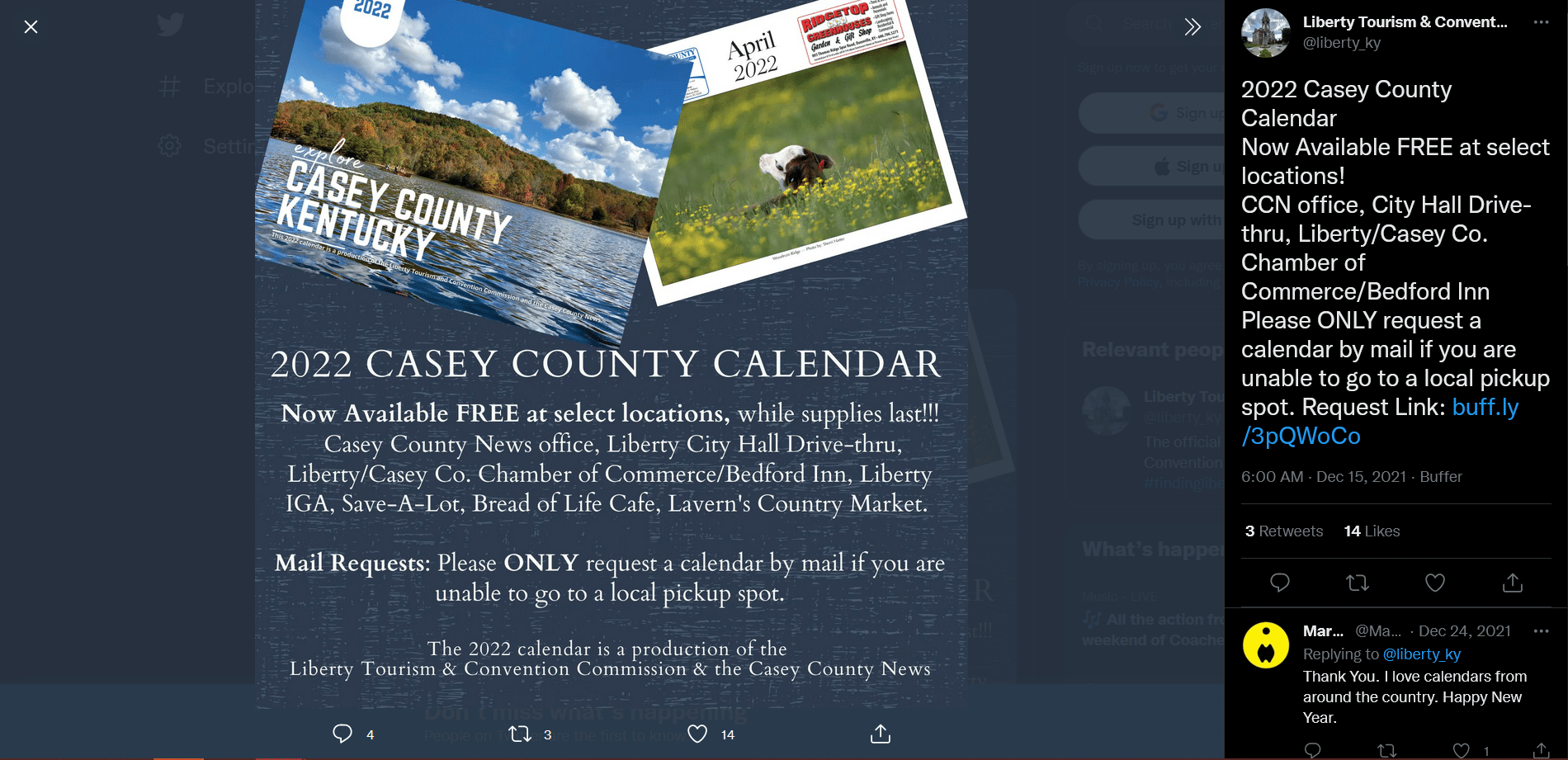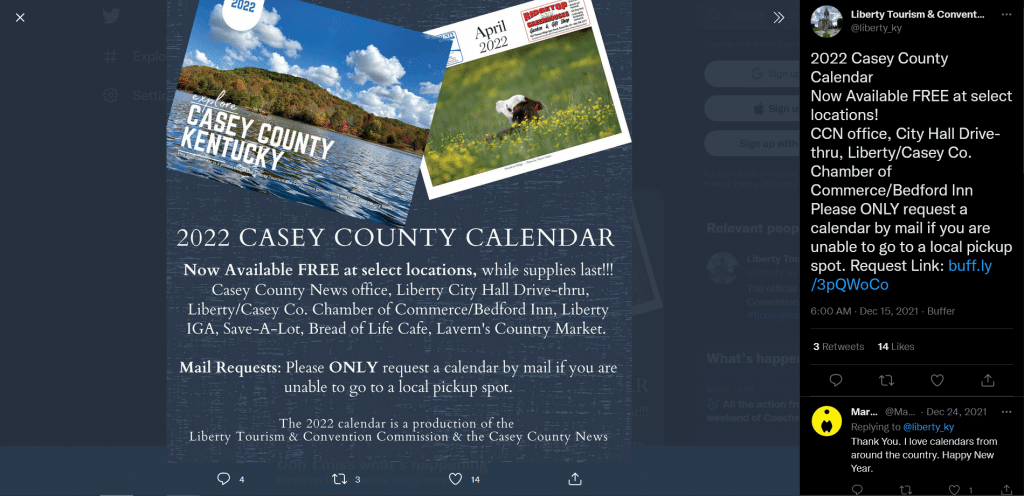 Casey County calendars are available for pick up at select locations around the state. A mail option is also available (they do, however, ask that only those who cannot collect them in person use the mail service).
Collection sites include Casey County News office, Liberty City Hall Drive-thru, and Liberty/Casey Co. Chamber of Commerce/Bedford Inn.
Supplies are limited (2022 calendars are all gone), so it's best to ask ahead before taking a long trip to collect one.
Mary Queen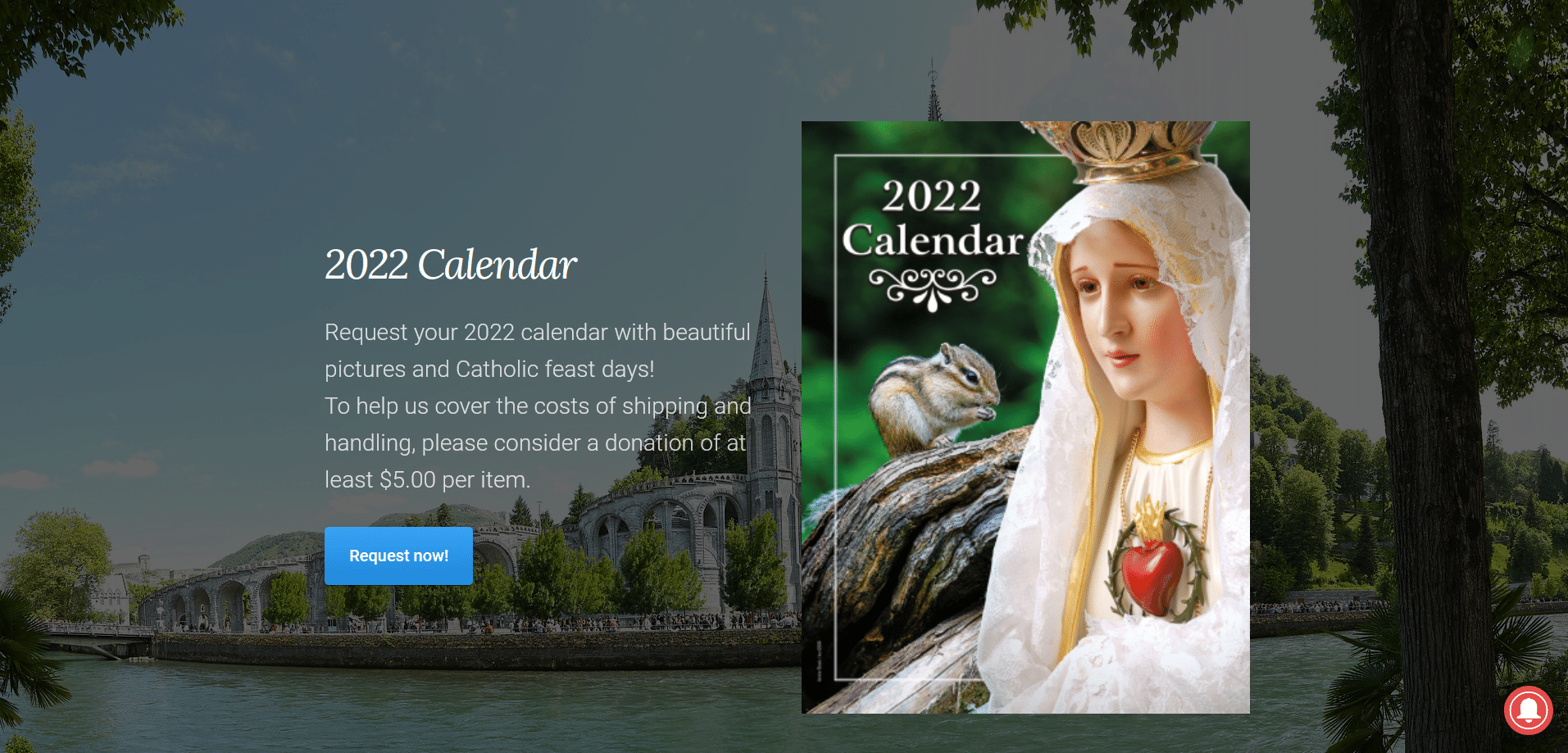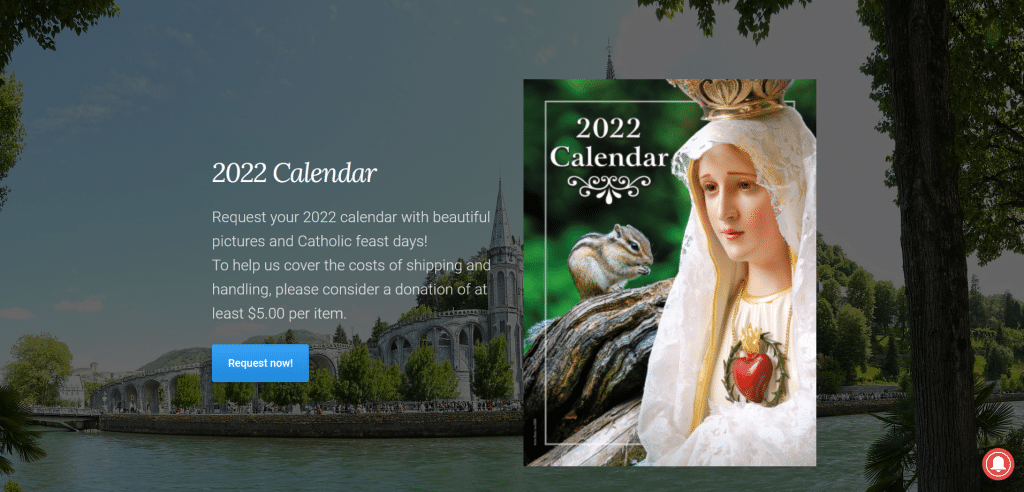 The Mary Queen organization offers a free Catholic-based calendar with important dates and imagery.
Although the calendar and shipping are free, they ask for $5 donations to help cover the costs.
Mettler Toledo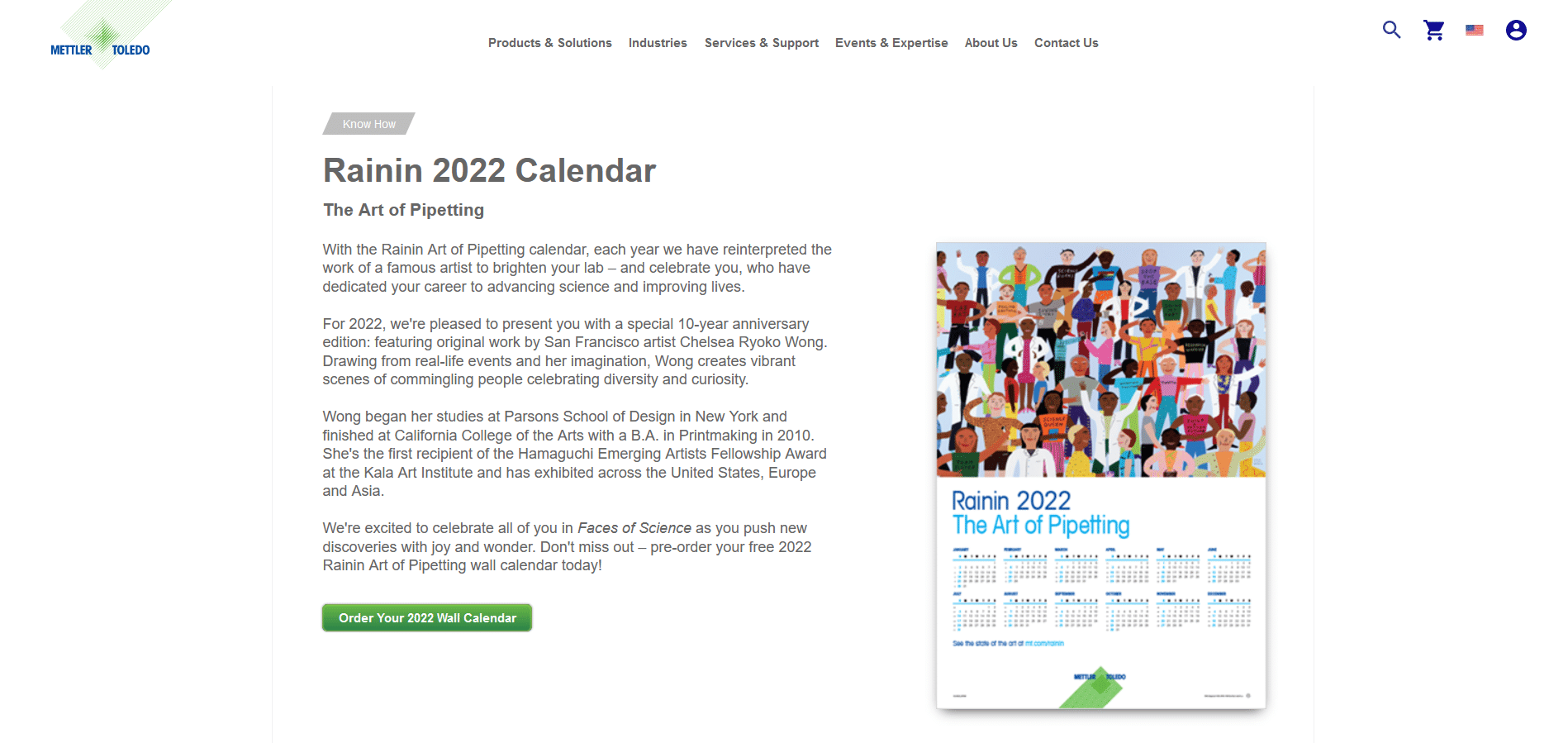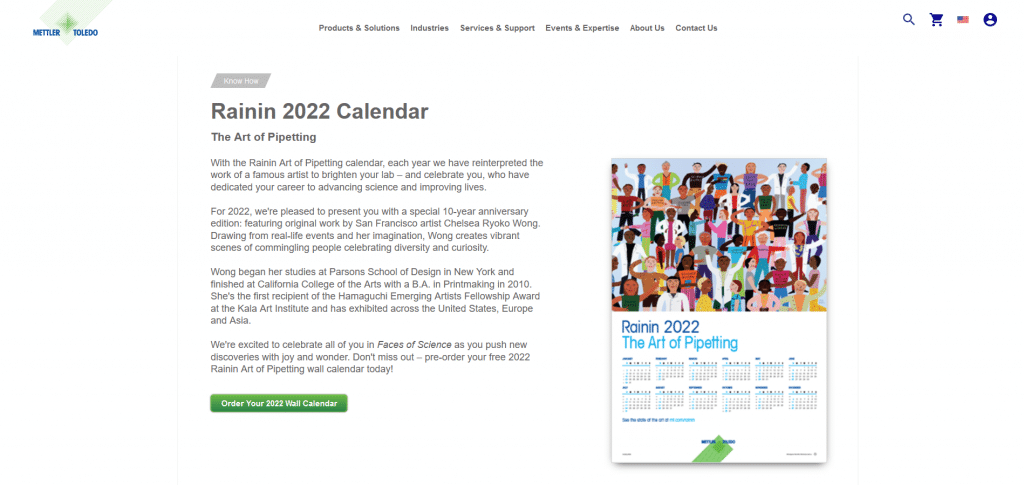 Each year, Mettler Toledo offers a free Rainin (Art of Pipetting) calendar.
Due to the Mettler Toledo company manufacturing science equipment, their calendars showcase the work of famous Japanese artists, reimagined with a scientific spin.
Sand Script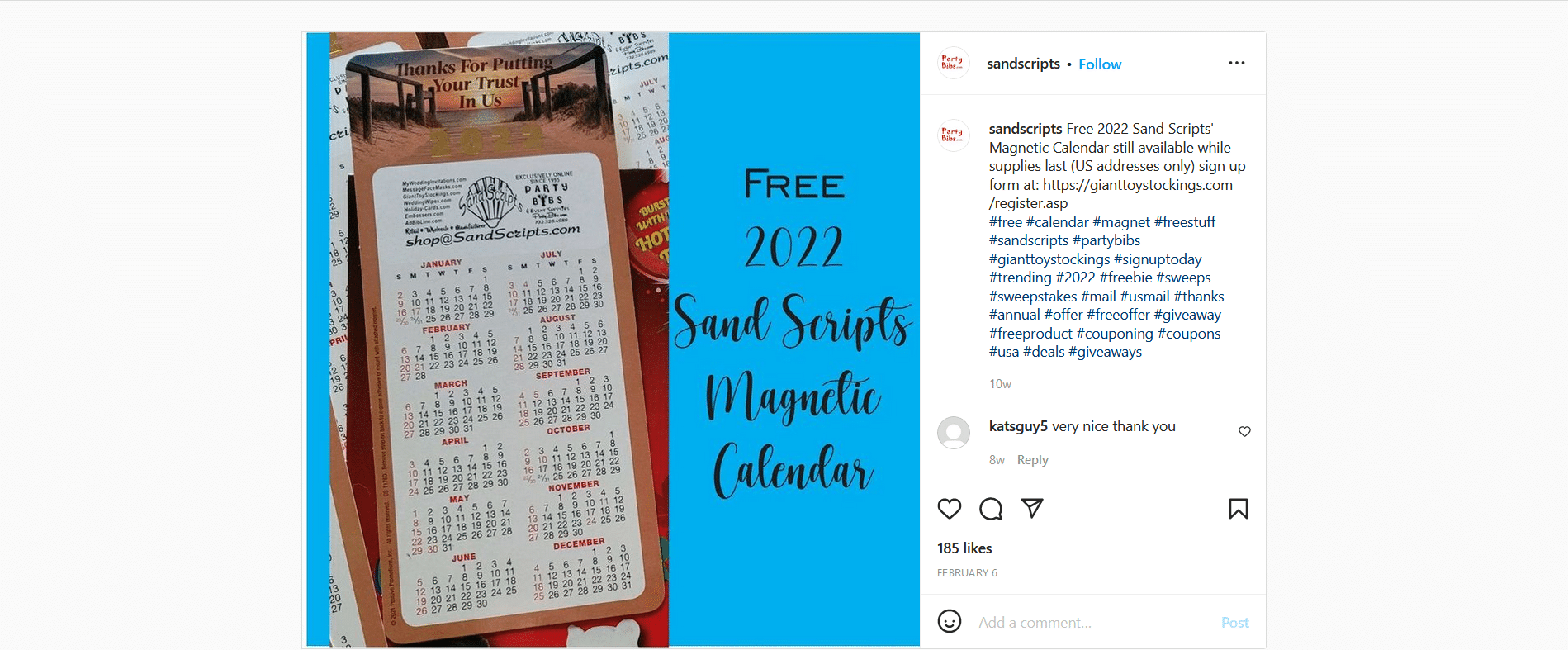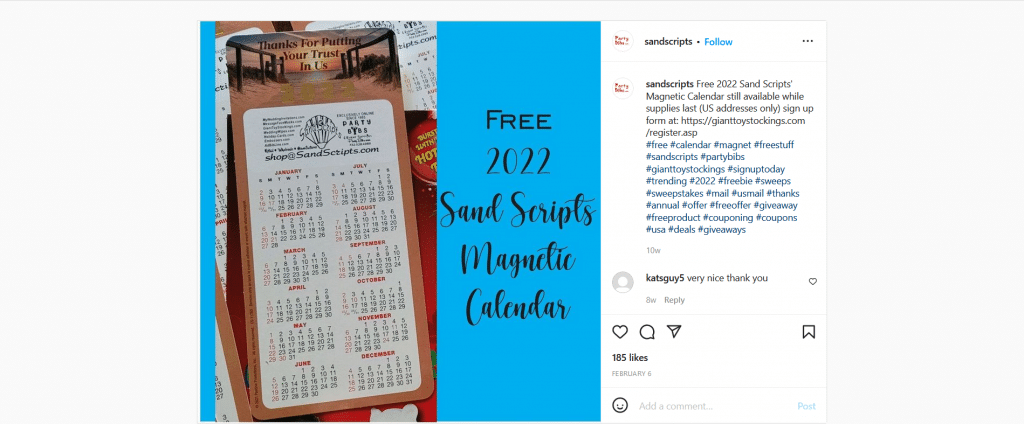 Sand Scripts occasionally run special promotions, giving away free calendars. In 2022, they will offer a free magnetic calendar to US residents, limited to stock and availability.
To qualify for a free calendar, you need to complete a sign-up form at https://gianttoystockings.com/register.asp.
School Mate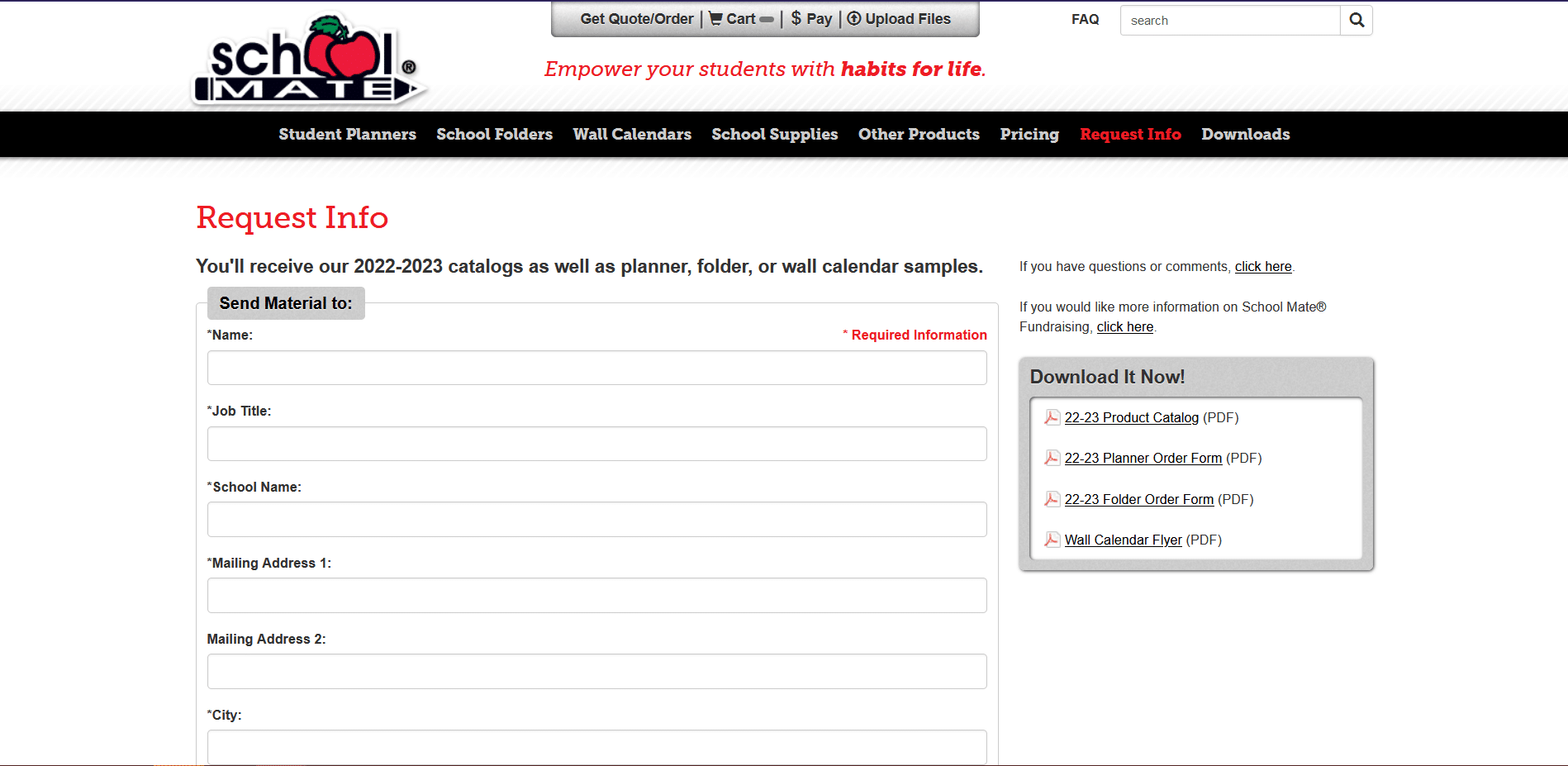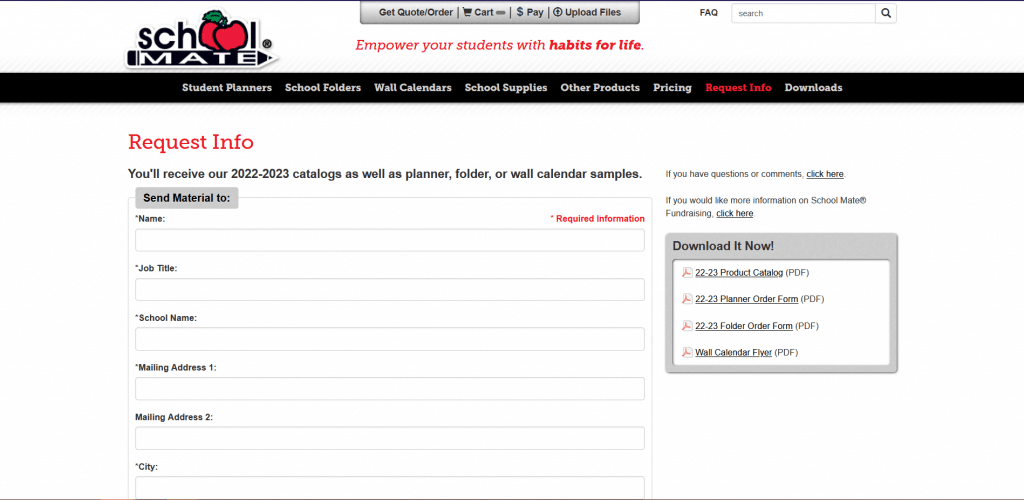 School mate is a fantastic hub for academic resources. When you sign up online, they'll send a calendar sample, planner, catalogs, and folder to you.
Unity.org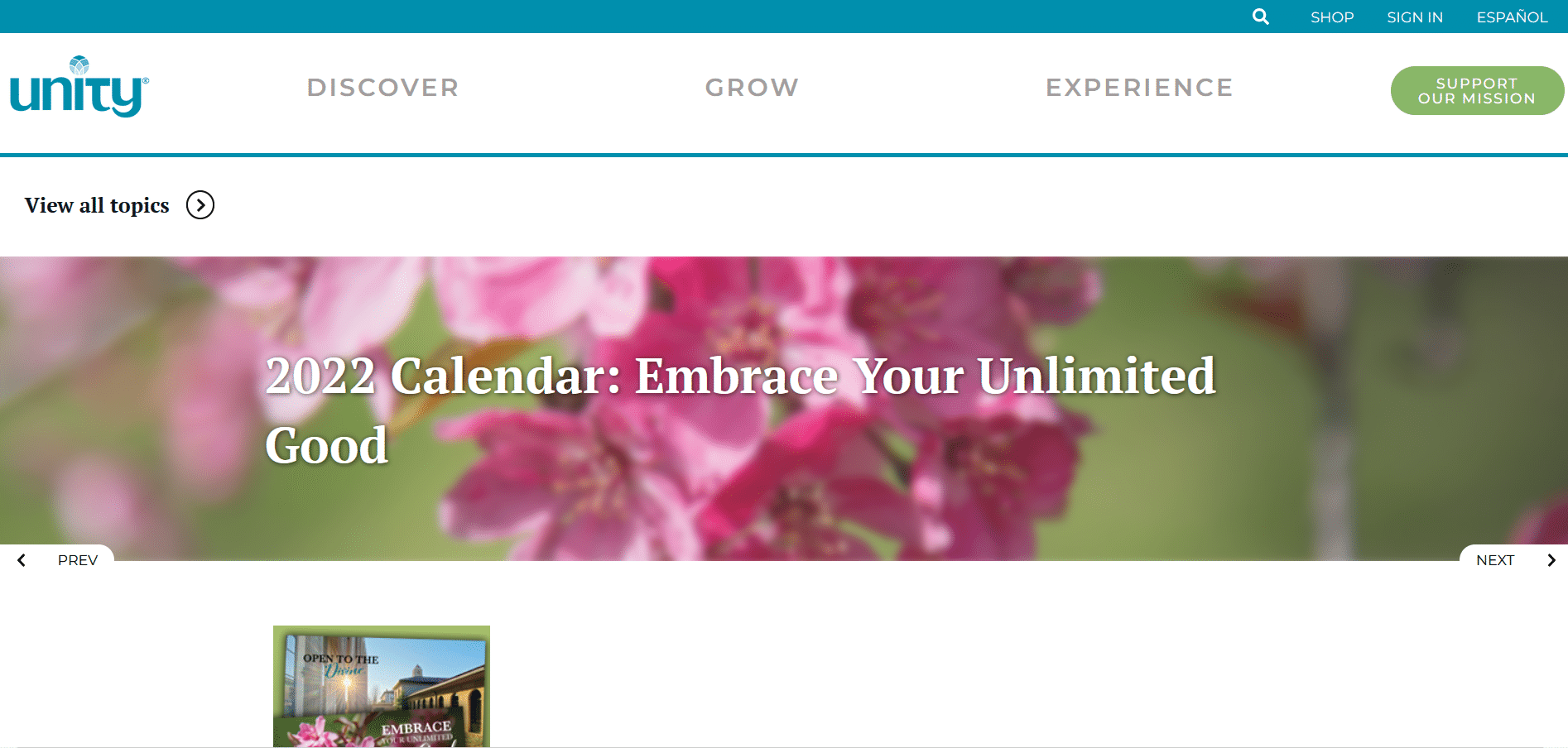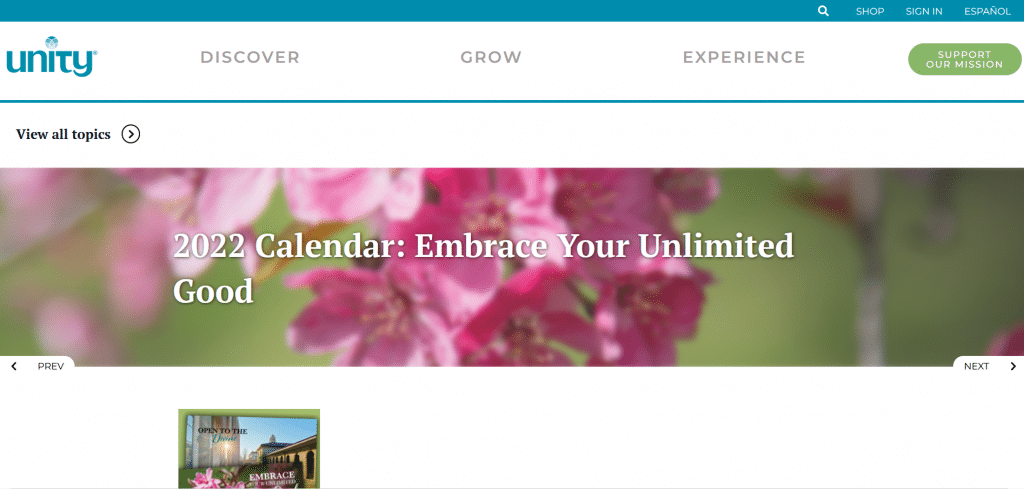 Unity.org is a health and wellness type of website which focuses on mindfulness and spirituality. They offer free calendars to those who sign up/request one on their website.
Each year has a different theme, but these calendars generally have uplifting messages, uplifting spiritual habits/practices, and beautiful pictures to inspire.
USDA Defend The Flock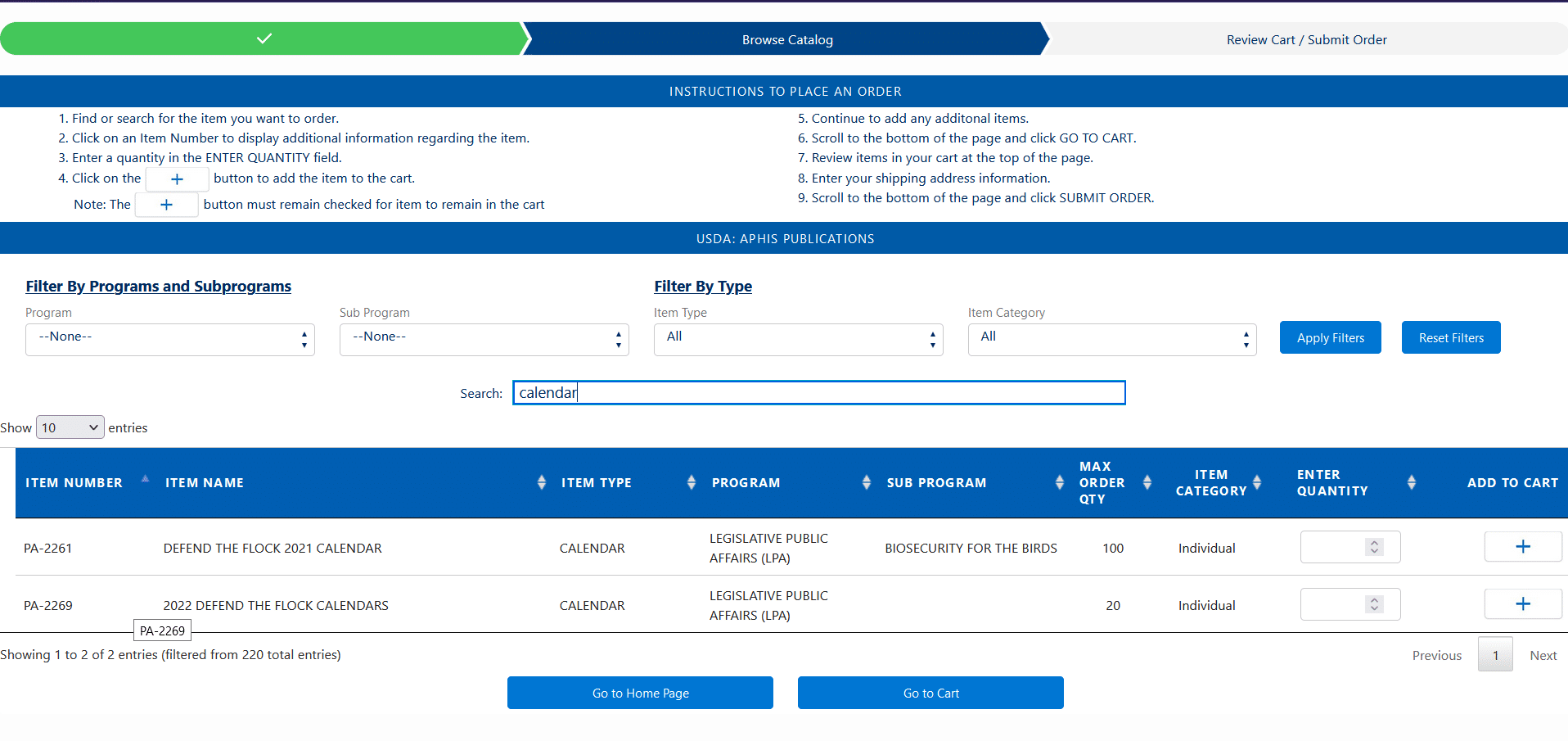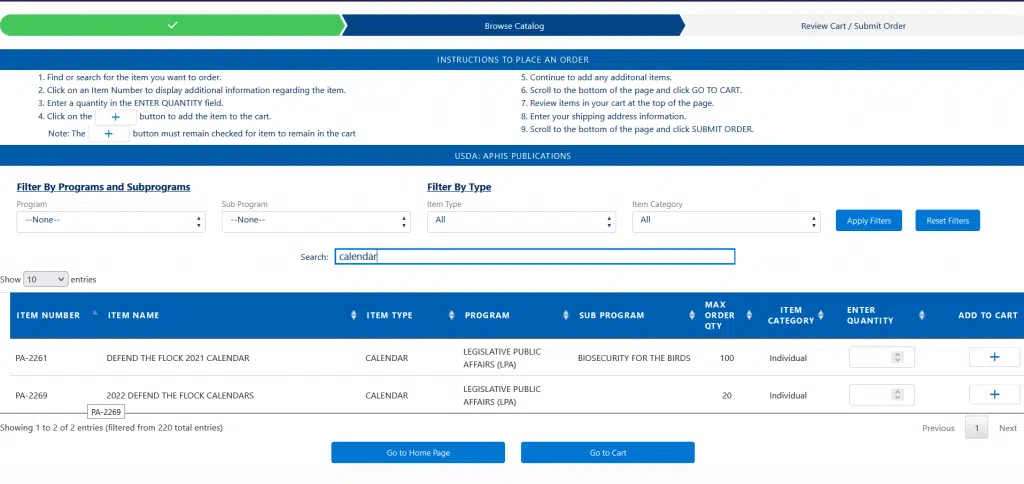 The Defend the flock calendars are part of the Legislative Public Affairs program. These calendars are available in bulk orders. Add them to your cart and fill in the submission form.
West Virginia Department Of Environmental Protection
Calendars from the West Virginia Department of Environmental Protection, the West Virginia Roadsides in bloom, are in limited stock, and unfortunately, 2022 calendars are already all gone.
When calendars are available, you can request one either through signing up online for one or find out more info by calling 1-800-322-5530. They tend to favor residents, so you may struggle to get a calendar if you're out of state.
They seem to release these calendars annually, so if you missed this year, try and apply early for next year's one.
World Challenge Inc.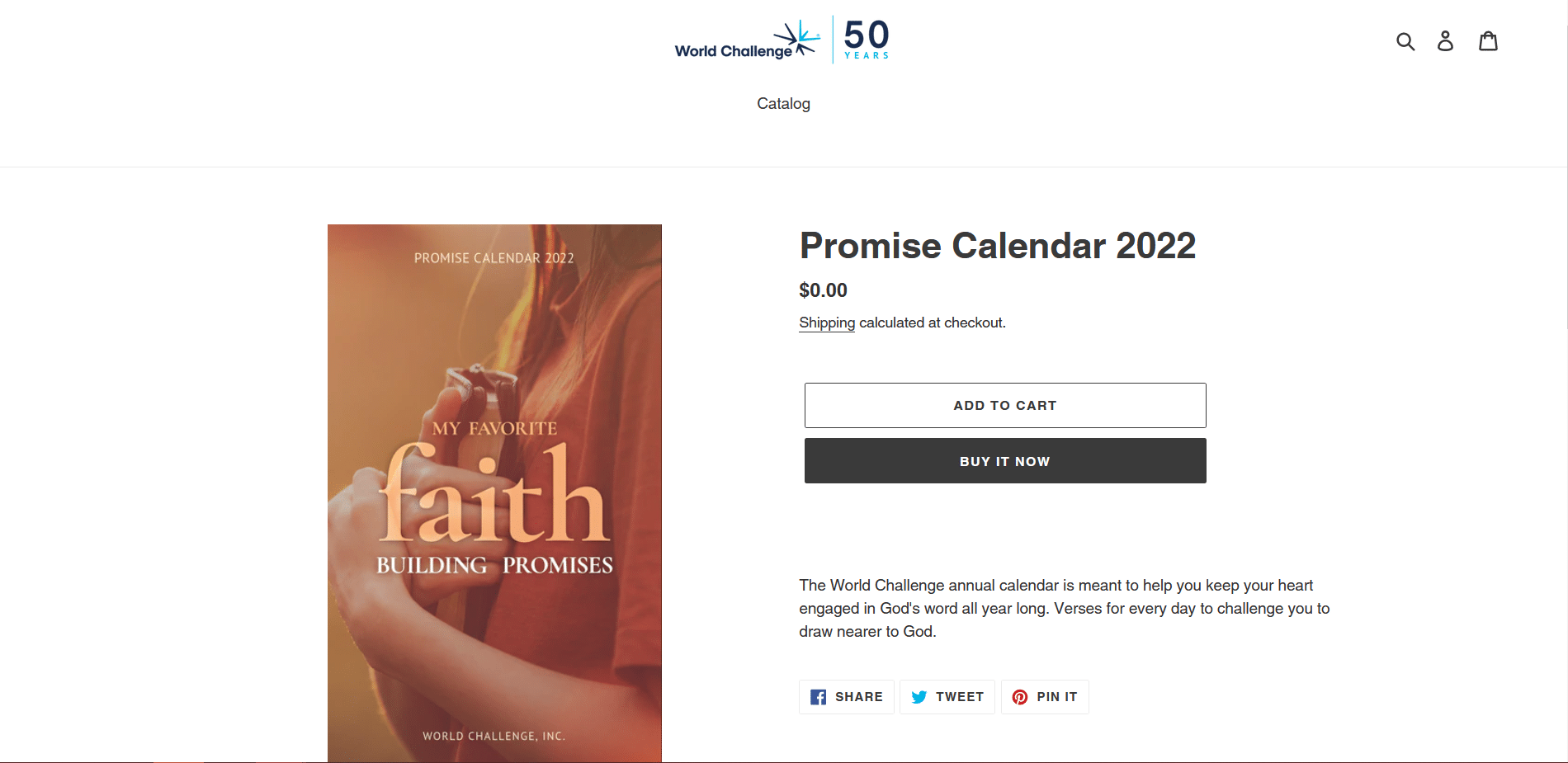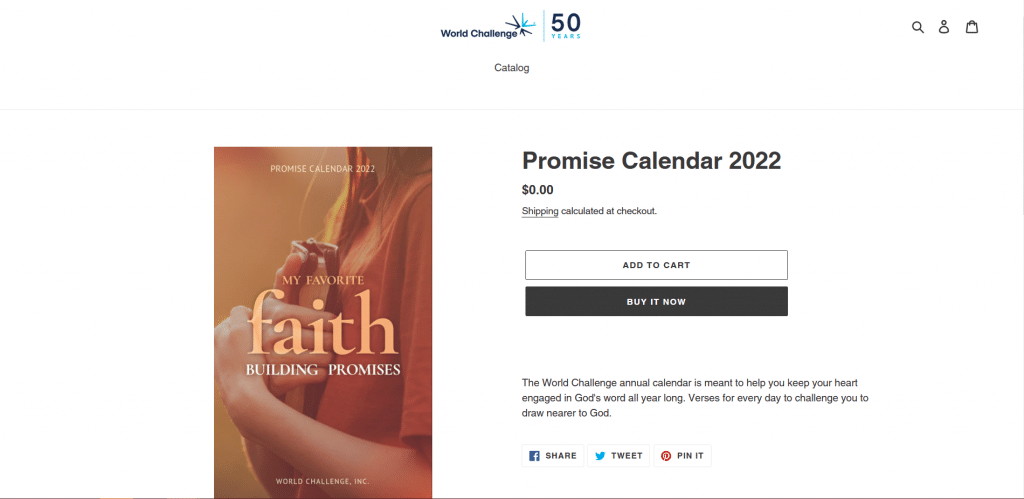 World Challenge is a Christian-based company that offers free promise calendars full of inspirational scriptures.
Log into the store and add a free calendar to your cart to receive one of these free calendars by mail.
Free Calendars Collected In-store
Some stores offer free calendars to those willing to pick them up in-store (they don't offer a mail order). These stores include:
Banks
Banks are a potential source for free calendars. During promotions, banks are more likely to give away calendars but probably won't always have them available as it is "expensive."
Car Dealerships & Auto Parts Shops
Another great source of free calendars is dealerships and auto spares. These shops are usually happy to oblige if you go in and ask ("free" marketing), but only if you target the big "names," like Ford, Chevy, Toyota, etc.
Insurance Companies
Insurance and investment companies are other sources of potential calendars. Everyone likes free marketing.
Real Estate Companies
Estate agents always try to sweeten the deal and may give you a free calendar, should you ask for it.
Restaurants
Certain restaurants (especially Chinese and smaller restaurants) may give you a free calendar. Again, it doesn't hurt to ask.
Related Questions
Is A Free Hard Copy Calendar Worth It?
Whether a hard copy calendar is worth it depends on you as a person. Most of us in modern times are content with electronic calendars. Electronic calendars are great because they are always accessible (on your phone), have a search function, recurring dates, and don't waste paper.

That said, paper calendars are great for visualizing at a glance the entire year. You can make quick notes and write essential details/"doodles" as needed. 

Ultimately, paying for a calendar seems silly (unless it's an advent calendar filled with chocolate) when many freebies are everywhere.
What Do I Do If I Don't Want A Hard Copy Calendar?
An alternative to calendars collected from stores is one downloaded and printed or used on a device. These calendars include:
iMom Calendars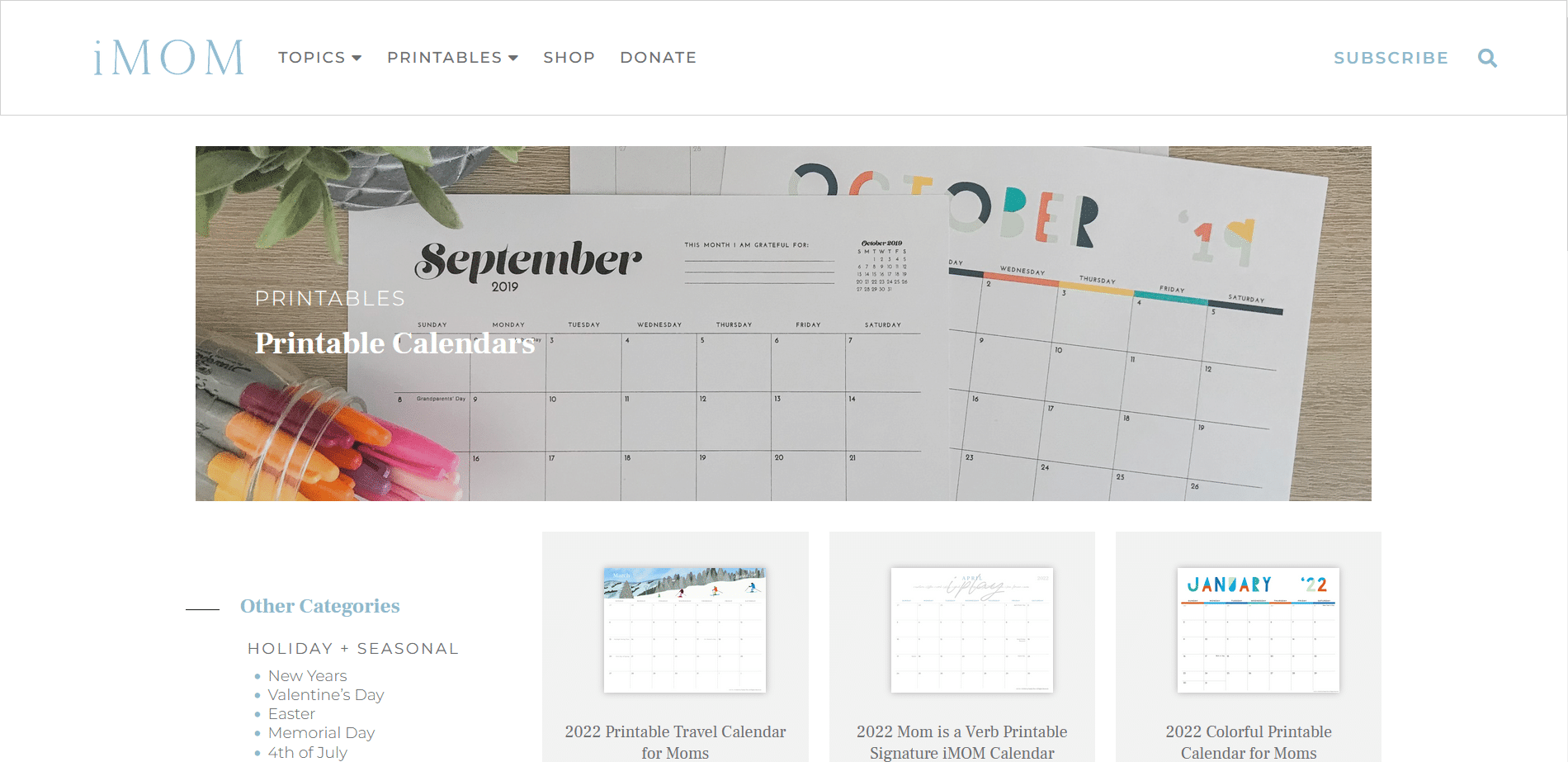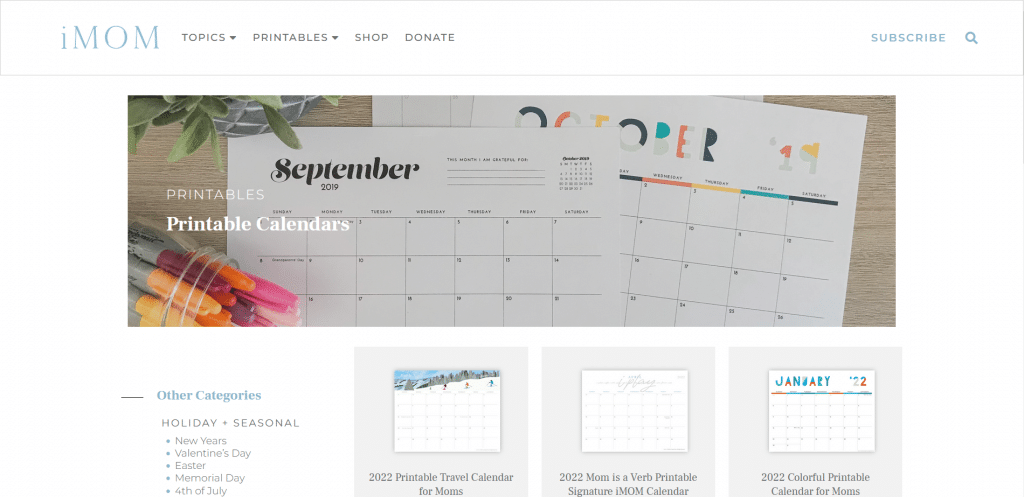 iMom is another site with a fantastic range of free calendar designs that are downloadable and printable, including calendars for moms, "foodies," and advent calendars for kids.
South Carolina African American History Calendar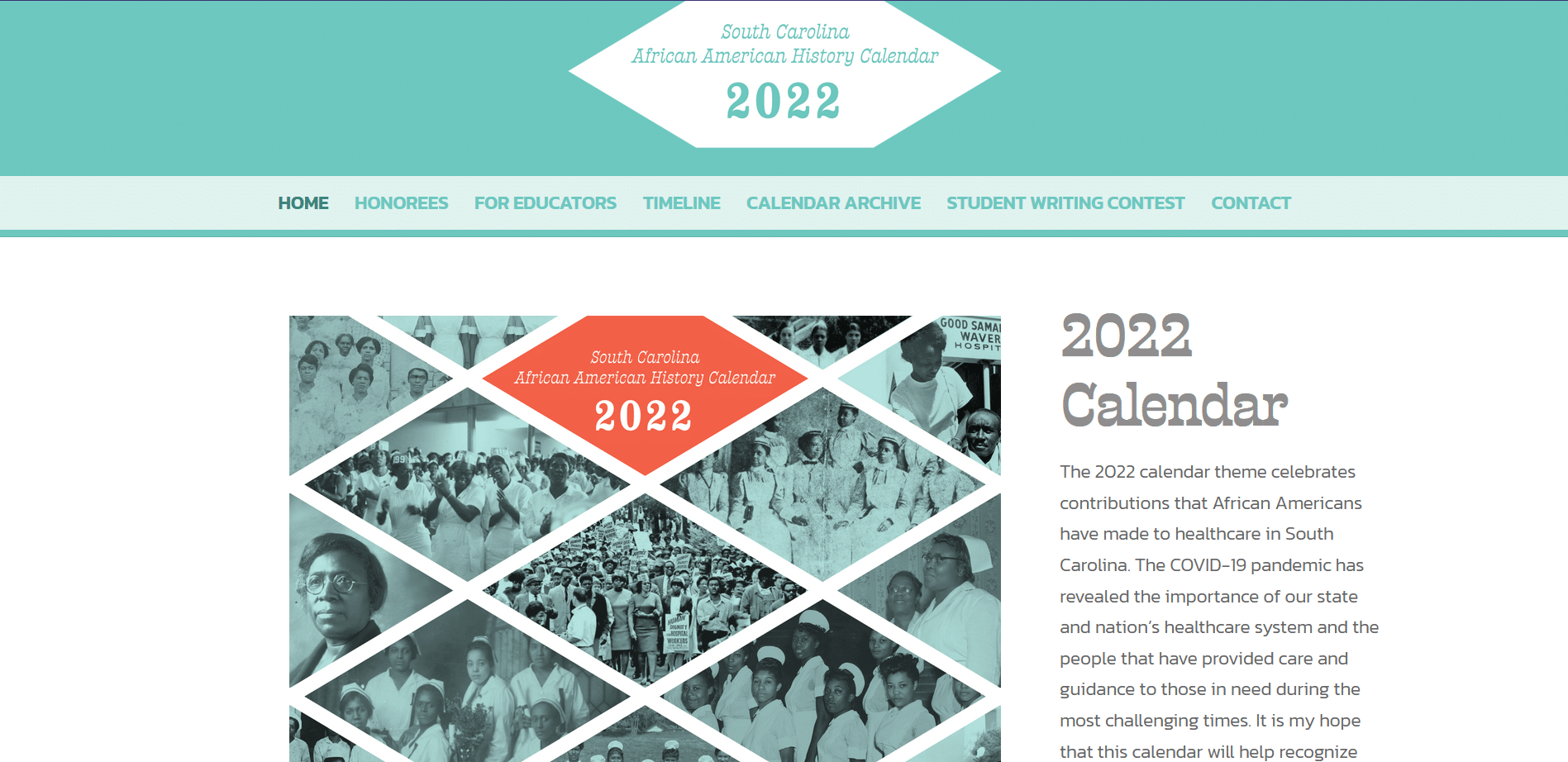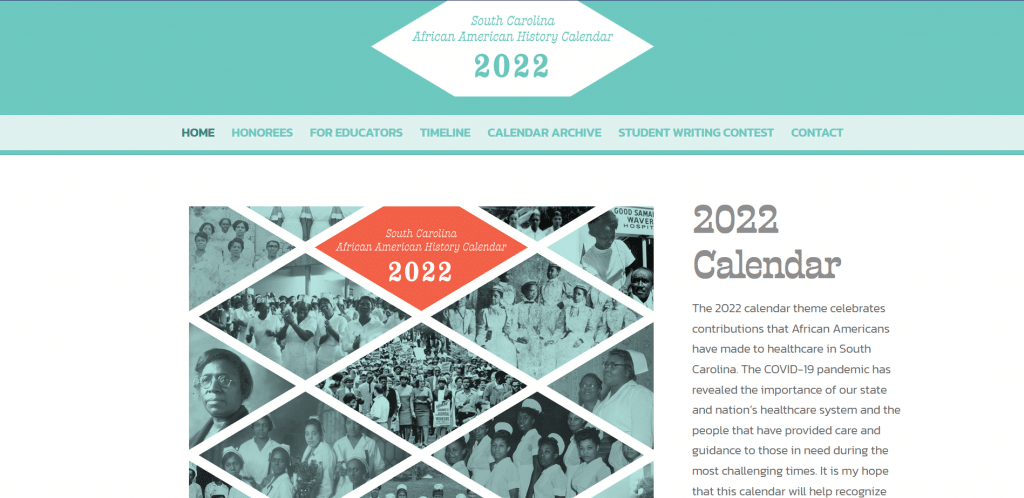 The South Carolina African American History Calendar is available for download from the associated website. These calendars showcase prominent and influential African Americans in their contribution to healthcare in South Carolina.
Vertex 42 Calendars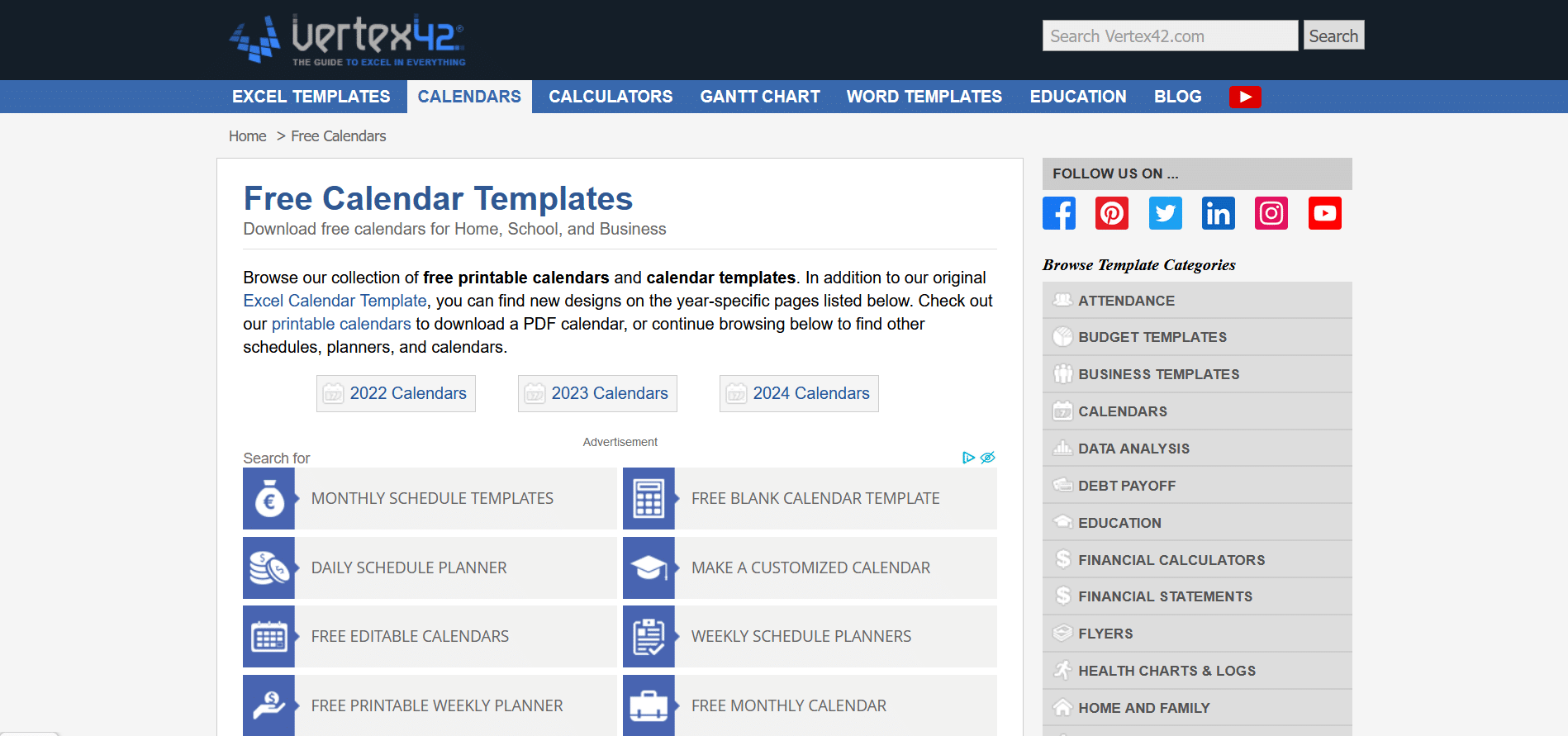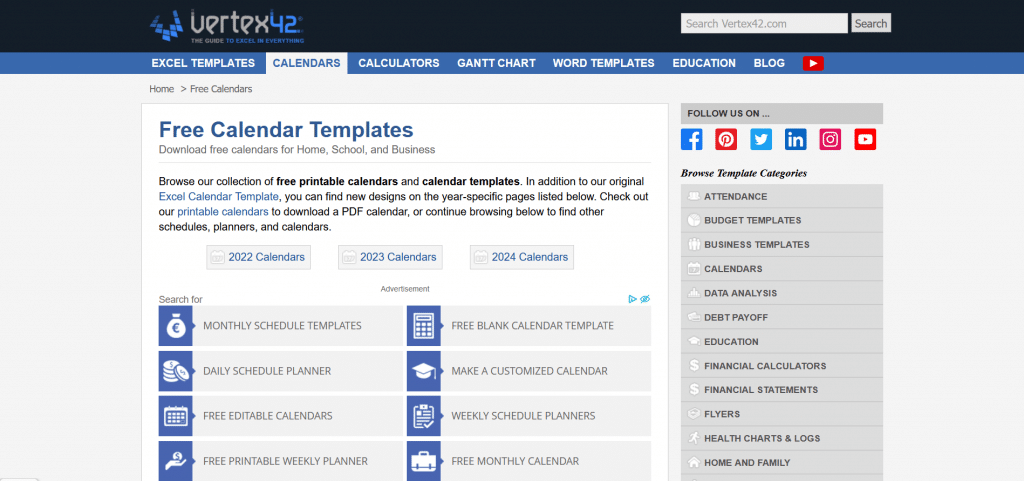 Vertex42 provides free calendar templates for download, printing, and general use. This website's calendars are excel based, so using them online is also feasible, and PDF format for easier printing.
They also have a range of designs, including moon phases, year planners, and monthly or yearly templates.
What Is An Alternative To A Calendar?
Sometimes calendars are not enough for all of our planning purposes. In these situations, we can turn to:
Journals. These are great for keeping track of things that happened during the day and your thoughts and personal agendas. Journals often don't have set dates.
Scheduling Books/ day planners. These books are similar to journals but generally filled with meetings and other essential events on specific days. These are great if you run out of space on a calendar.
Whiteboards. When you need to see a calendar at a glance, these are great. Blocking off and planning over a few months is made easy when you have a lot of space with which to work.