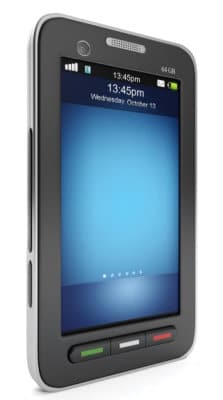 Millions of cell phones are stolen every year.  No doubt, it's easy to lose one but what makes them an even easier target is that phone users do little to secure their phones.  So when a recent study showed that cell phone thefts dropped dramatically when cell phone carriers had built in protections, consumers started clamoring for more security features.  Look for automatic locks, data wipes and automatic registration in stolen phone databases.
Until that happens, you can do a lot to secure your phone.  Here are our best tips.
Set up any security features for your phone. iPhone's "find my phone" feature helps you locate your phone if you lose it AND can wipe the phone clear of any data.  Android devices may or may not have this built in but there are several good (and free) apps for this.
Make sure you regularly backup your phone data just in case.  Check your phone's instructions to see if it's something you need to do manually or if it can be set to automatic.
Use a pass code!  Or if your phone has other security (like iPhone's fingerprint) use that.
Keep your phone separate from cash, credit cards or IDs.  Those phone cases or wristlets with built in slots or storage seem like a great idea, but if your phone is stolen, all that stuff goes with it.
Turn WI-Fi off when you don't need it.  With it on, stores, businesses and who knows who else can locate you and/or try to hack your phone.  You might also notice better battery life since your phone is no longer searching for networks as you wander around.
Though your location can be found via cell tower transmissions that's something only law enforcement types can do. Most other will locate you via GPS so turn that off when you don't need it.
Check your mobile browser settings (and do this for each browser if you have more than one installed) for the following:
— Remember passwords – turn that off, especially if you refuse to use a pass code for your phone
–Turn off auto-fill because it remembers things like credit card numbers and security codes.
–Block pop-ups
–Some phones have a turn off tracking option. Keeping it on lets advertisers and websites follow you around the web as you surf.
–Clear cookies and your browsing history each time you close the browser.
Image from the morgueFile.