Every spring stripes and polka dots return. But this year, they're back with a vengeance. If you haven't mastered the art of wearing these, we've got some tips on how to pick them and even mix them.
Horizontal Stripes
Wide
Don't rule out wide horizontal stripes. It's the evenly spaced contrasting ones that widen. Pick stripes with less of a contrast so that they "blend" into each other. Or look for strategically placed stripes like a dark sweater with one or two bold lighter stripes at an area you want to focus on.
Narrow
Narrow stripes – as in about a quarter to half inch – keep the eye from focusing on one area. Even high contrast stripes will look good if the stripes are narrow enough. Clusters of narrow stripes at the top or bottom only of an otherwise solid color sweater will draw the eye to the striped area – good to highlight an area you want to show off or draw attention away from a problem area.
Vertical Stripes
Vertical stripes can legnthen and slim – even wide ones – on the right piece. For wide vertical stripes think dresses or skirts where even high contrast colors will work their magic. Thin vertical stripes will work on tops, bottoms or dresses and while not as bold, they're a classic choice. Pinstriped suits haven't been around forever for nothing.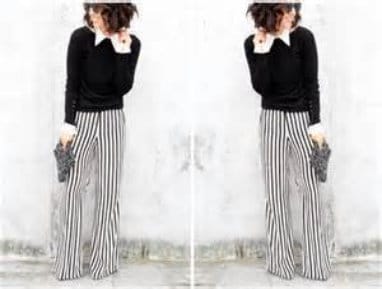 Diagonal Stripes
Whether going in one direction, meeting in the middle, or in multiple blocks, diagonal stripes of any size are supposed to be slimming. That's because they create an optical illusion resulting in a curvier or taller appearance. Just beware of a single swath of diagonal stripes on a solid color garment. If they're in the wrong place, you'll create an unflattering illusion!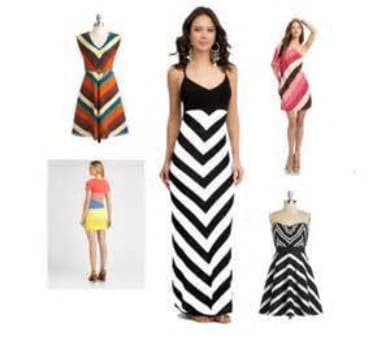 Polka Dots
You either love or hate polka dots. But for those who love them, they have an uncanny way of cheering you up.
Size
There's lots of different advice on polka dot size. In general, very large polka dots can create curves depending on where they're placed. Smaller dots are supposed to be slimming and larger dots add bulk but in reality, it depends. Color contrast and closeness counts, so it's best to try polka dotted garments first.
No matter what the size, polka dots always look good in small doses. On a blouse, collars, and cuffs or on accessories like scarves or handbags are safe choices. But if you've got your eye on a polka dress, consider wearing a sweater or blazer over it if you're unsure that it will be too much. On pants or skirts, they can look quite edgy but since that's the first place everyone will look, make sure you don't mind showing off your hips or thighs.
And don't forget linings. A polka dot lined coat, blazer or purse is a good way to get your dot dose without worrying about how they affect your figure.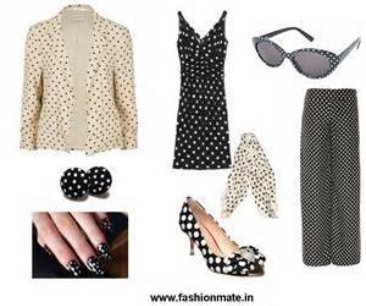 Mixing Dots and Stripes
The "rules" say you shouldn't but as we know, rules are made to be broken! A foolproof way to wear dots and stripes together is to use opposite sizing – like thin striped pants (pinstripe) and a mid-sized/large polka dot top. Or a thin but widely spaced striped top and large polka dot skirt. Keeping the pieces in the same color scheme can look sophisticated especially in black and white.