If you've ever been to Pinterest, you know how addicting it is. But that's because it's chock full of great ideas for DIY projects, recipes and of course, holiday inspiration. Here are some of my favorite Christmas decorating ideas this year from Pinterest.
Miniatures in A Jar
Pinterest is full of creative uses for Mason jars, but this cute miniature in a jar project really caught my eye.  It's perfect for me since I never did finish buying that whole Christmas village… and now I can create little vignettes like this.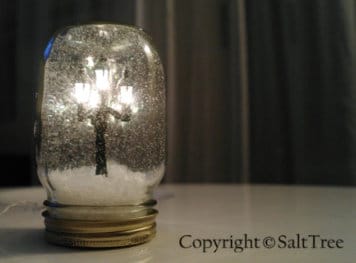 Curtain Christmas Lights
No how to for this, but you get the idea – highlight a window with a drapery of tiny white lights.  The candelabra in front is optional but you can use the window as a setting for anything beautiful or Christmasy that you want to highlight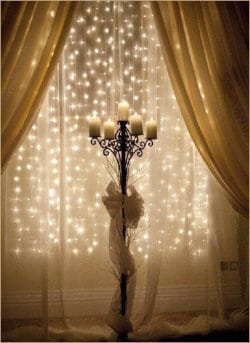 Keepsake Ornament
Besides being beautiful, these are easy for kids to make.  Have them write about their favorite things, what they're thankful for or best moment of the year.  Years later everyone can have fun reading them.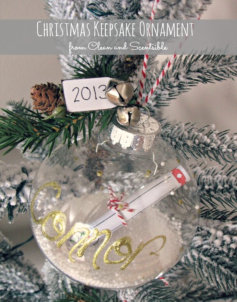 Lighted Wood Box
Until I saw this on Pinterest, I would never have thought to use a string of lights like this!  Great idea for an unusable fireplace but I could see this in a hall, bedroom or even the kitchen.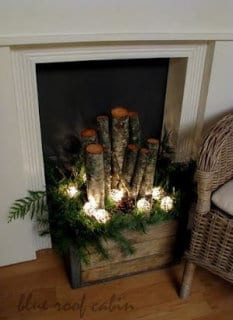 Pine in a Pot
How cute is this?  And it's super easy to make.  Make a bunch of these in small pots to place on a mantle or table.  Or you can use them as place cards for Christmas dinner – personalized with each guest's name.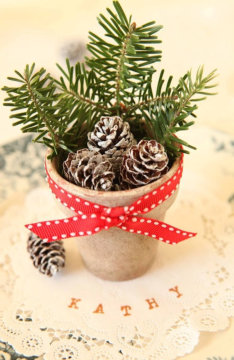 Gingerbread Tree
An alternative to the traditional Gingerbread house, these trees are much easier to make – and eat!  And powdered sugar for snow has a lot less calories than all that icing, right??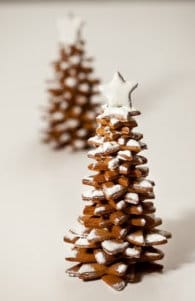 Origami Ornaments
Those stars or birds are above my "folding skills", but these cute paper balls are easy to make.  They'd look great in foil or Christmas themed paper.  Besides decorating the tree, use them on gifts or hang from chandeliers.
Crepe Paper Pine
This tutorial shows you how to make mini trees from the ever versatile crepe paper.  You can also use this technique to make pine sprays if you don't have the "real" stuff handy.