Update: BevRAGE Shut Down!
Note: I have no relationship with BevRAGE beyond using the mobile app and this review was not paid for in any way.
My head is pounding from a hangover and my bank account hurting from a pricey night out. I just got paid $5 on PayPal though. Ah, sweet redemption. That is how I can sum up using the BevRAGE app for the first time. What is BevRAGE and how does BevRAGE work? To put it simply, you find an offer for alcohol on BevRAGE, purchase it at a store, bar or restaurant, then submit a photo of an itemized receipt to BevRAGE. The approvals to get a cashback payment are insanely fast. Sometimes, the cashback payments come faster than a hangover would subside. Let's explore this new BevRAGE app in a little more in detail.
BevRAGE is the first app that gives you cash for buying alcohol in stores, bars or restaurants.
Yes, you seriously can get money to drink booze with BevRAGE. Here is how it works:
First, you need to be over 21 and you need to drink in a responsible fashion, obviously. Secondly, you need to download the app for iOS or Android and register an account which is easy with just email, Facebook, Twitter or Google+ registration options. At the time of this writing there are no crazy surveys, you just enter your basic information, age and location to create an account.
So signing up was really easy and most folks would feel no regrets so far. Now, here are the 3 steps you need to follow to get paid broken down in a little more detail:
Buy some alcohol. Find an alcohol offer by browsing the app and buy it at any location.
Take a picture. Upload a photo of an itemized receipt so they can verify the purchase.
Get cash. After 48 hours to verify your purchase, they will send you cash via check, PayPal or Venmo.
Let's explore the first step of the process. One second, let me get my mobile phone out…
Okay, Step 1: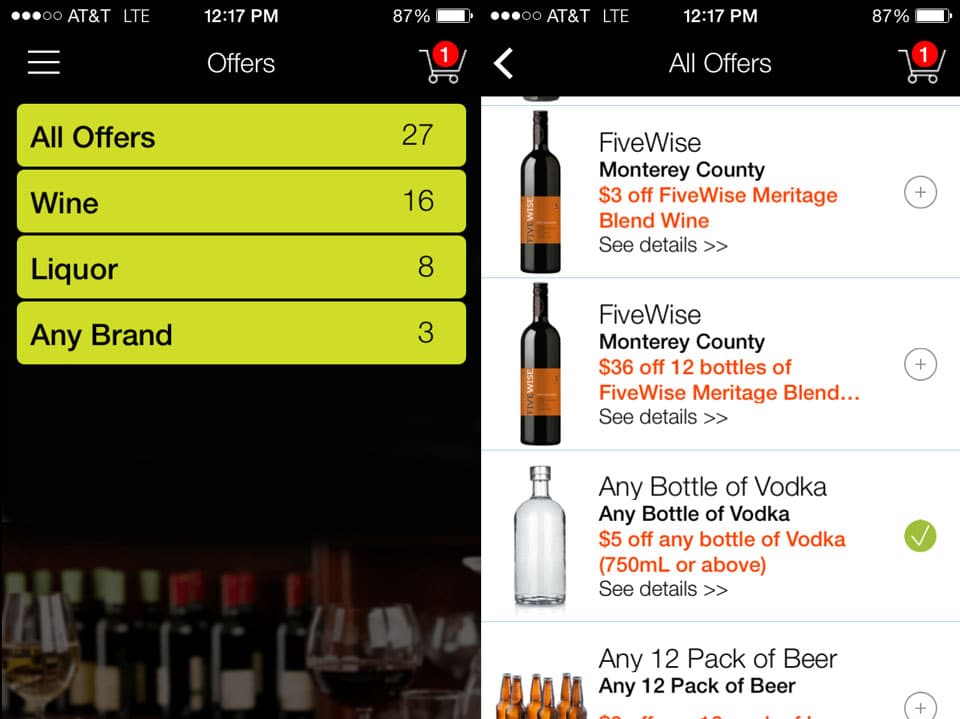 It is painlessly easy to find an offer on the app. However, I found at times there are a limited set of brands. BevRAGE balances this out with generic offers like "any bottle of beer", "any bottle of vodka" or "any Tito's vodka at any bar" for example. These generic offers are great but if you redeem them all and are not interested in the mostly wine offers, you may feel a little restricted with this app.
I choose any bottle of Vodka and any glass of Tito's at a bar. Now, the fun part, you buy the alcohol at a bar or store nearby. I did both, you know for the review and all. Ahem… anyways here are a few brands and generic offers I rounded up visually.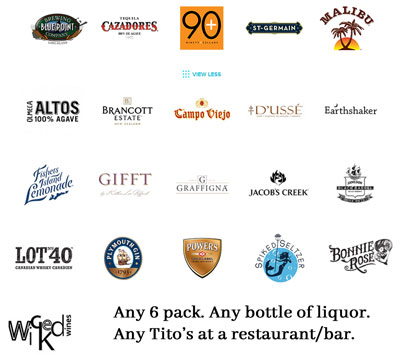 Alcohol has been acquired? Yes. Time to take a photo: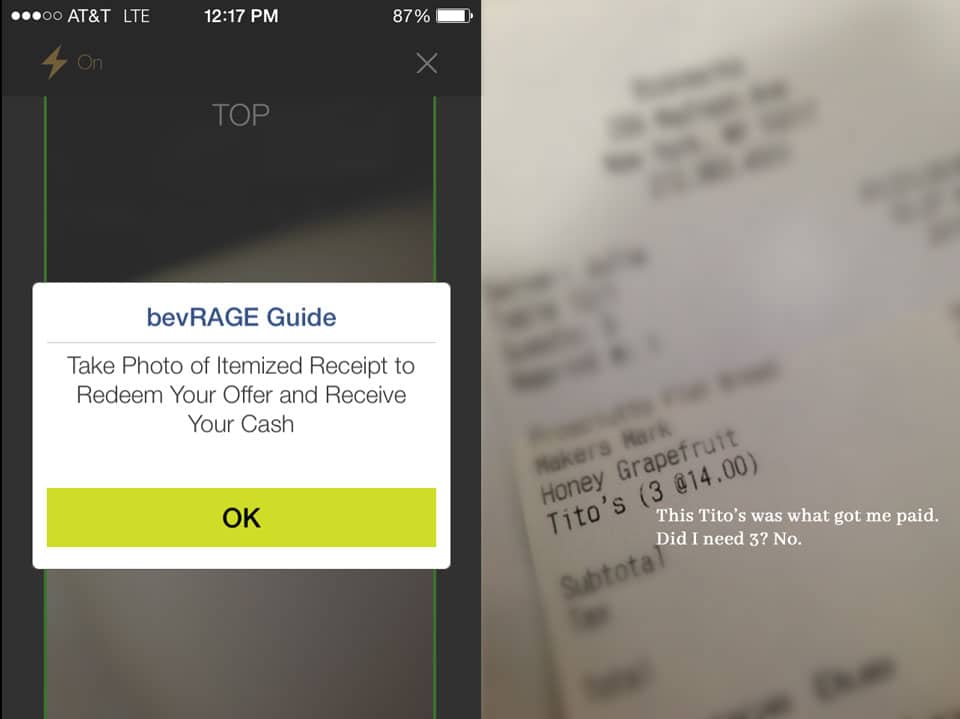 No, not a selfie with the handle of liquor you just bought, a picture of the itemized receipt from the bar, restaurant or store. Sometimes you need to ask for this specifically. There were a couple of missed opportunities to get paid because I forgot to ask. The process of taking the photos is easy, just make sure you aren't too buzzed or it'll come out blurry. Once you take the photo, just wait for verification over the next 48 hours.
A few hours later… Yes! Got paid for drinking.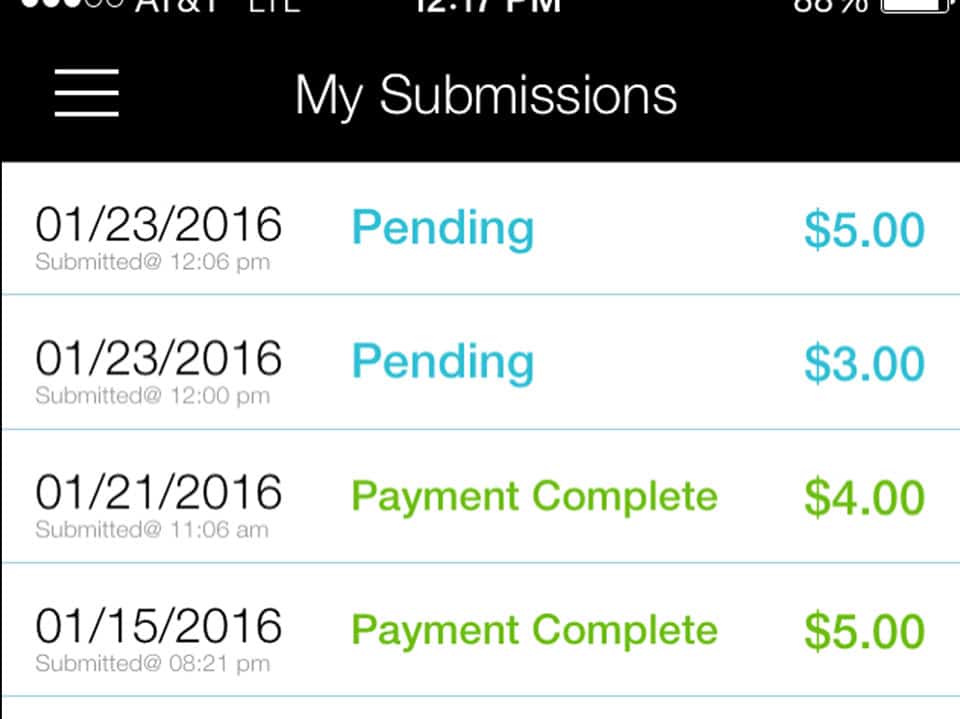 Success. That'll cure any hangover. So far we've scanned 4 receipts (my partner in crime, MySweetDeals actually did the scanning of receipts) and we got paid for all 4 of them at this point. The two pending did go through via PayPal. I didn't try Venmo or check payment but considering how smooth this was, I would expect it to go just as fast. BevRAGE really does follow through on the promise of receiving your alcohol rebate within 48 hours, it is the most impressive part about this app.
Is BevRAGE In My Area?
Nationwide? Yes! As of the end of 2016 it's been rolled out nationwide in 40+ states. However that does exclude AL, AR, HI, IN, MS, MO, PA, TX, NC & UT but it continues to grow.
How does BevRAGE make money?
BevRAGE is bringing mail-in rebates entirely online. It makes sense, mail-in rebates take forever. So BevRAGE works with the food & beverage industry to make the rebate process faster and easier for you. The brands/stores/bars/restaurants get us a customers, us customers save money and BevRAGE takes a fee somewhere.
Can you trust BevRAGE to be around longer than your liver?
My gut says you can be scanning receipts for your daily alcohol purchases without a worry. Why? BevRAGE is part of the Loeb Accelerator which is a private investment fund and start up lab, so they are backed by some of the best teams in the consumer marketing business. That being said, you should not have to worry about them going out of business and BevRAGE appears to be in business for the long run. However, time will tell, they are still regional and still pretty new so I am not 100% certain due to that fact.
May 2017 Update
The app has been updated since writing the review and it's now blazing fast. It has a cool blue hue to it and the offers keep rolling in. Not only can you trust them but they are invested in making continuous improvements to make it easier for you.
Concluding thoughts
I will continue to use BevRAGE. As for you, what are you waiting for? Go drink and save money.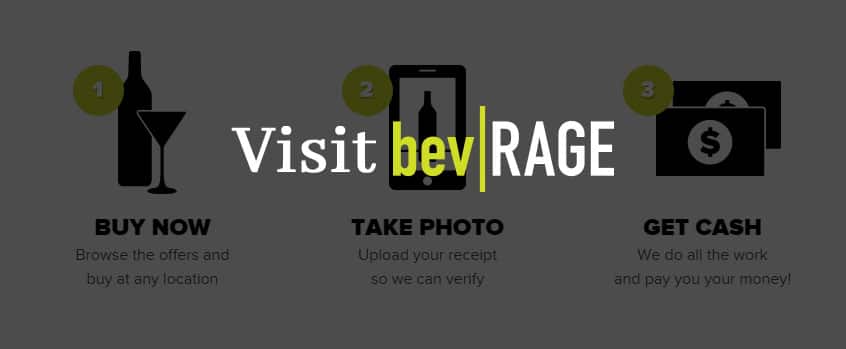 Here are the BevRAGE app links (please use referral code "XOWRPLKY" if you found this review useful):
Get BevRAGE For Android
Get BevRAGE For iOS
If you have any experiences to share about bevRAGE, any questions or comments please email me them here at bevrage-review@yofreesamples.com. Thanks for reading!
Cheers!
-John 'Samples' Clark