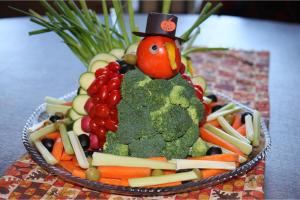 I'm an avowed meat lover but it seems like more and more people are turning away from meat – especially younger ones. For several years, I had to prepare meals for my then vegetarian daughter and her vegetarian and vegan friends.
First, what's the difference between a vegetarian and vegan? Neither will eat meat or poultry, but vegetarians will eat dairy products and vegans don't. Vegetarians are easier to deal with since you can still use milk, cream and butter in your recipes.  For the vegan guests, things get a bit trickier.
Now there's no substitute for turkey, but when planning your menu, add an extra vegetable side dish, rolls/breads and maybe a hearty rice dish to give them (and everyone else) a little variety.
The rest of the traditional foods?  It turns out you can modify your recipes to please everyone.  Here are some tasty tricks I've learned that taste just as good so you don't have to make multiple versions.
Stuffing
You always need more stuffing so fill the bird if you want (just mark it for "meat" eaters only) and make some stuffing outside the turkey using vegetable broth. It really doesn't taste any different from regular stuffing – and we meat lovers can douse it with gravy anyway.
Mashed Potatoes
Substitute margarine (make sure it's oil based and has no milk or cream in it) for butter and soy or almond milk for cow's milk. Do a taste test before hand to see which type of milk tastes best. Or, use vegetable broth in place of milk.
Pies
Fruit pies make the most vegan friendly desserts. You can use shortening in the crust and margarine or corn starch to thicken the filling. Most canned fillings don't have dairy in them either.
Green Bean Casserole
Butter and cream of mushroom soup in the traditional recipe make this a no-no for vegans (okay for the vegetarians, though!).  Once again, vegetable broth comes to the rescue.  Use flour and vegan margarine to thicken the broth you'll substitute for the soup. Everything else stays the same. (Check out the recipe here.)
Gravy
You can actually buy vegan/vegetarian gravy, but it's easy to make with vegetable broth thickened with margarine and flour. Use soy sauce, mix in sauteed onions and/or mushrooms (cooked in broth – not oil which makes the gravy really greasy – trust me!) and other spices to give it a little kick.
Photo by mtsofan.