Calling all Joe Exotics: enjoy a virtual safari, zoo, aquarium or aviary in your own home with Google's Augmented Realty 3D Animals! You can even take photos of you and your family next to a lion, panda, alligator, penguin and other animals in your living room, bedroom or back yard. All you need is a compatible phone – no other devices or plugins are necessary.
How to see 3D animals in your home:
View a list of compatible devices by clicking "Get This Offer (External Website)".
On a compatible phone, enter any of these search terms into Google: alligator, angler fish, ball python, brown bear, cat, cheetah, deer, dogs (bulldog, Pomeranian, Labrador retriever, pug, Rottweiler), duck, eagle, emperor penguin, giant panda, goat, hedgehog, horse, leopard, lion, macaw, octopus, raccoon, shark, Shetland pony, snake, tiger, turtle, and wolf .
Click "View in 3D" displayed after the first result (as shown below).
You will need to allow Google access to your phone/ camera.
It make take a while to load, then point your phone down at a surface and enjoy 3D animals in your homes!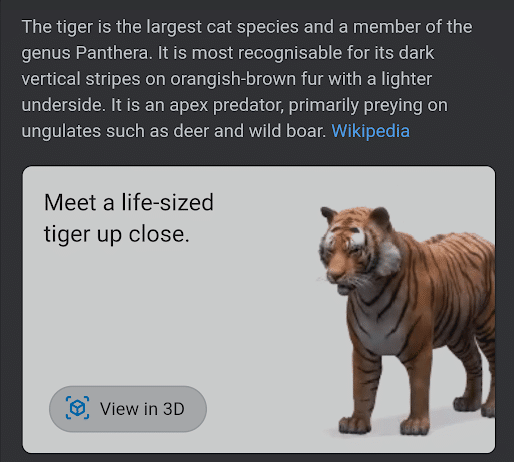 * Compatible phone required.