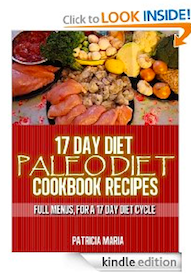 eBook: 17 Day Diet – Paleo Diet Cookbook Recipes
By
|
On January 3rd, 2013
Kickstart a new diet for the New Year when you download this FREE ebook,  17 Day Diet: Paleo Diet Cookbook Recipes eBook. If you don't have a Kindle, keep in mind that you can still read books on your computer or other mobile devices with the FREE Kindle Reading Apps found here.
This eBook contains a full menu for 17 Paleo Diet cycle:
- Recipes for breakfast, lunch, snacks, and dinner, divided by day one, day two …
- Shopping lists for each 6 days.
- Photos for all lunches and dinners recipes. You will know how it will look, even before you start cooking
- Easy, step by step instructions
- List of allowed foods, for the Paleo Diet
What's on your mind? Leave a comment!