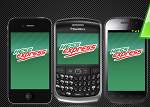 16 oz Pepsi Brand Product at Hess Express
With the NEW Hess Express app, you can locate the nearest Hess station, see the latest gas prices, and even get deals and coupons! Click on the link below to download the app now and add your birthday to it.  On that day you'll get a coupon for a FREE 16 oz Pepsi brand product! The coupon will be valid for several months.
What's on your mind? Leave a comment!