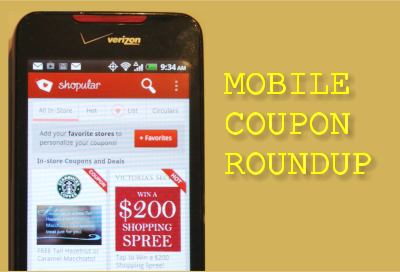 Mobile coupon apps have been around for a long time but iPhone's Passbook, a virtual "wallet" for your coupons, gift cards and even "cash" has really got the retailers on board.  You shouldn't have any trouble using mobile coupons anymore.  So each week we'll be looking at the mobile coupon offers, highlighting some of the best offers  and give you a heads up about expiring ones.
Mobile coupons are only good in-store, but often the retailers have a similar offer online, sometimes even with free shipping.  So if you can't make it to the store, check out the website.
iPhone/Passbook Coupons (from Coupons.com)
On your iPhone, open your web browser and go to coupons.com.  Select the Passbook mobile coupons link.  To add coupons to your Passbook, click on the "add to passbook" button under the offer.
Ending This Weekend/Saturday (3/16/2013)
AC Moore – 40% off one regular price item
Ending This Weekend/Sunday (3/17/2013)
$10 off $50 Old Navy Purchase
Yankee Candle $20 off $45 or more purchase
Good Deals
Ace Hardware – $5 off $25 plus purchase (expires 3/31/2013)
Family Dollar – $5 off $25 plus purchase (expires 3/31/2013)
World Market – 10% off entire purchase (expires 3/31/2013)
Android (Shopular App)
Get the Shopular App from the Google Play store on your phone.
Ending This Weekend (3/17/2013)
20% (10% off home, jewelry) off  Macy's purchase
JC Penney – $10 off $50 purchase
15% off everything at The Children's Place. But save more if you spend more – 20% off $40; 25% off $50.
Hot Coupons
$10 off $50 Old Navy Purchase (expires 3/20/2013)
H&M – 25% one additional item when you purchase a pair of pants
Ulta $3.50 off any $10 purchase (expires 3/30/2013)
Payless 15% off your purchase (expires 3/31/2013)
Spotlight on Kid's Stuff
P.S.  – $10 off $50 purchase (expires 3/31/2013)
The Children's Place – 20% off $50 or more purchase through April 30, 2013
Gymboree – 30% off everything